The best combination with Fire splinter [EN-ES]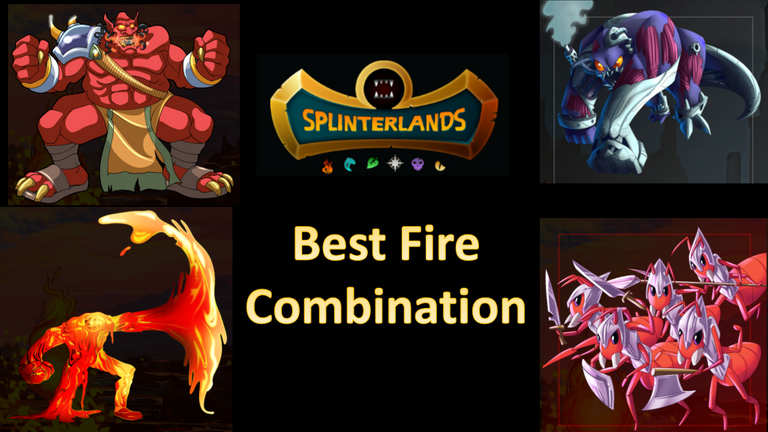 I am going to explain a tactic that is giving me spectacular results playing with the fire splinter.
Les voy a explicar una táctica que a mi me está dando unos resultados espectaculares jugando con el splinter de fuego.
The important cards
The tactic is based on reducing the opponent's melee attack as much as possible, so you have to use the creatures that have the Demoralize ability. There are several cards that have this ability, but I am going to indicate the two that I have and that I use, which are Molten Ogre and Disintegrator, which have this ability since level 1, so this tactic can be useful to any league.
La táctica se basa en reducir al máximo el ataque de melé de los rivales, así que hay que utilizar las criaturas que tienen la habilidad de Demoralize. Hay varias cartas que tienen esta habilidad, pero os voy a indicar las dos que yo tengo y que utilizo que son Molten Ogre y Disintegrator, que tienen esta habilidad ya desde nivel 1, así que esta táctica puede ser útil a cualquier liga.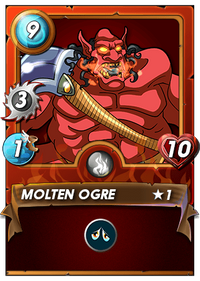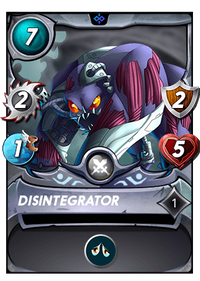 And these two creatures have to be combined and used with the ones that have the shield ability, which decreases the damage that will receive even more. My favorite tank is the Living Lava, one that we will always use, but we must also take into account the Antoid Platoon.
Y estas dos criaturas hay que combinarlas y utilizarlas con las que tienen la habilidad de escudo, lo que disminuye aún más el daño que recibirán. Mi tanque favorito es el Living Lava, uno que vamos a utilizar siempre, pero también hay que tener en cuenta el Antoid Platoon.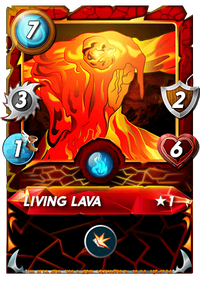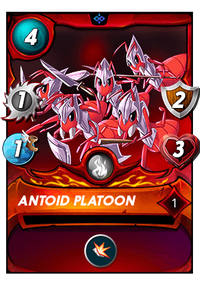 When to use it
As we can see, the cards we have to play cost a considerable amount of mana, so we can only use this tactic in games that allow a high amount of mana.
Como podemos ver las cartas que tenemos que jugar cuestan una cantidad considerable de maná, así que esta táctica solo la podremos utilizar en las partidas que permitan una cantidad alta de maná.
Secondly, we will use this tactic when we believe that the enemy is going to use mostly (or entirely) melee attacks, and if these conditions allow our melee attack creatures to attack from any position, better than better.
En segundo lugar ésta táctica la utilizaremos cuando creemos que el enemigo va a utilizar mayoritariamente (o del todo) ataque de melé, y si éstas condiciones permiten que nuestras criaturas de ataque de melé puedan atacar desde cualquier posición mejor que mejor.
Up Close & Personal
.
When only monsters with melee attack can be used it is ideal, because the tactic is focused on neutralizing the melee attack, so it will be very effective. The only drawback is that the two creatures with Demoralize won't be able to attack, but it shouldn't be a problem to win.
Cuando sólo pueden utilizarse monstruos con ataque de melé es ideal, porqué la táctica se centra en neutralizar el ataque de melé, así que será muy eficaz. El único inconveniente es que las dos criaturas con la habilidad de Desmoralizar no podrán atacar, pero no debería ser problema para ganar.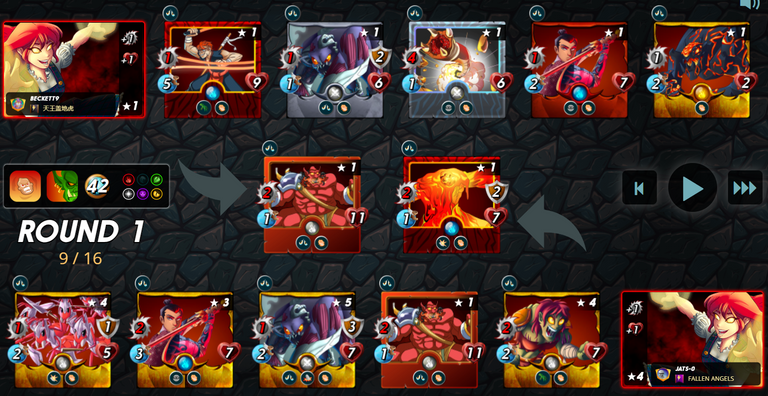 My battle link
In this case the opponent used a similar strategy, but didn't put up a shield tank so I hope to finish off this Molten Ogre before I gets in trouble. Of the rest of the rival cards, the only one that can also cause me damage is the Sand Worm, a card with a great attack. Despite this I was able to win comfortably.
En este caso el rival utilizó una estrategia similar, pero no puso un tanque con escudo así que espero acabar con este Molten Ogre antes de que tenga problemas. Del resto de cartas rivales la única que también me puede ocasionar daño es el Sand Worm, una carta con un gran ataque. A pesar de ello pude ganar cómodamente.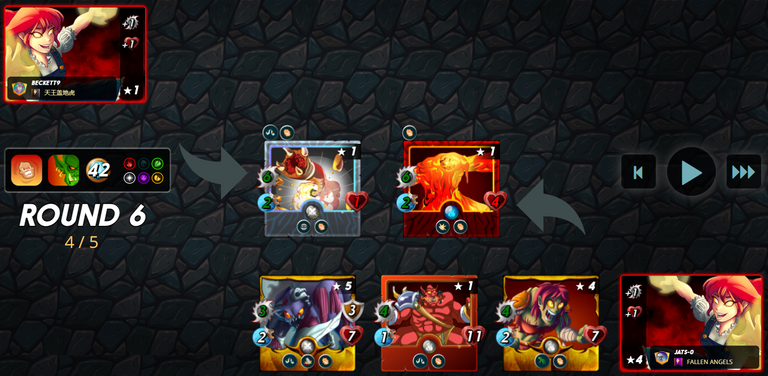 Malee Mayhem
.
When the melee monsters can attack from any position it is also very useful because in principle the opponent should use more melee creatures, and ours will be able to continue attacking.
Cuando los monstruos de melé pueden atacar desde cualquier posición también es muy útil porque en principio el rival debería utilizar más criaturas de melé, y las nuestras podrán seguir atacando.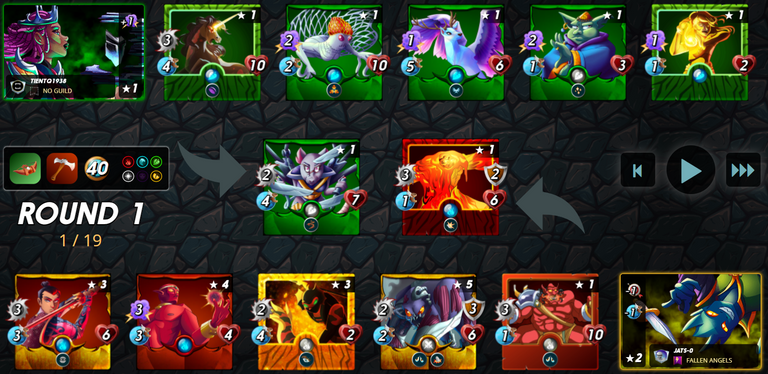 In this case I apologize because I have not been able to find the link of the battle, but you can see the idea. I expected the opponent to use ranged attacks as well as melee attacks, so I used Quix the Devious as my summoner to also protect myself from ranged attacks. Despite this, the rival surprised me with a magical attack, but it was not very difficult for me to end up winning the battle as well.
En este caso pido disculpas porqué no he conseguido encontrar el link de la batalla, pero se ve la idea. Esperaba que el rival utilizara a parte de ataque de melé también ataque a distancia, así que utilicé a Quix the Devious como mi invocador para también protegerme del ataque a distancia. A pesar de ello el rival me sorprendió con ataque mágico pero no me fue muy complicado acabar ganando la batalla también.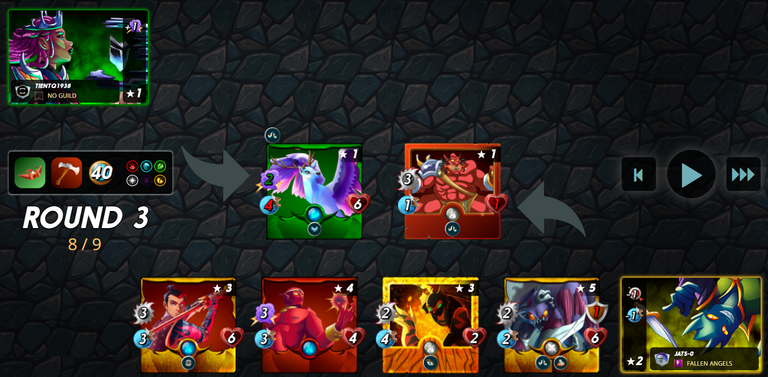 Super Sneak
.
This is my favorite situation, where I expect opponents to use a lot of melee attack. In this case I put Living Lava as the last tank because I expect more attacks from behind and Antoid Platoon as the first tank.
Esta es mi situación favorita, dónde espero que los rivales utilicen mucho ataque de melé. En este caso pongo a Living Lava como último tanque porqué espero más ataques por la espalda y a Antoid Platoon como primer tanque.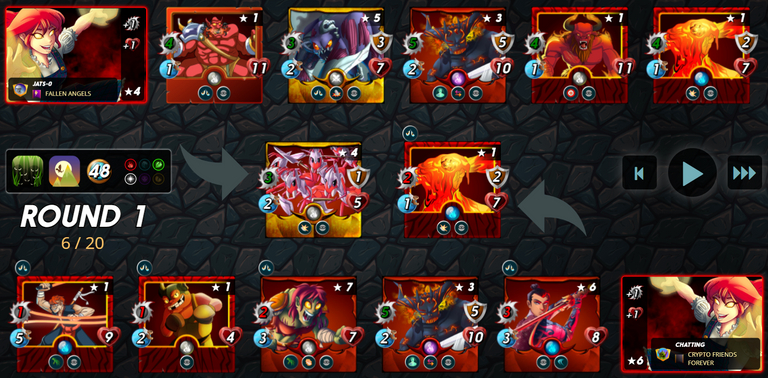 My battle link
In this case where the opponent uses Tarsa (with a higher level than mine) and Forgotten One who is immune to the Demoralize ability, the battle can get a bit complicated, but definitely my team was clearly superior.
En este caso dónde el rival utiliza a Tarsa (con más nivel que la mía) y a Forgotten One que es inmune a la habilidad de Desmoralizar la batalla puede complicarse un poco, pero definitivamente mi equipo fue claramente superior.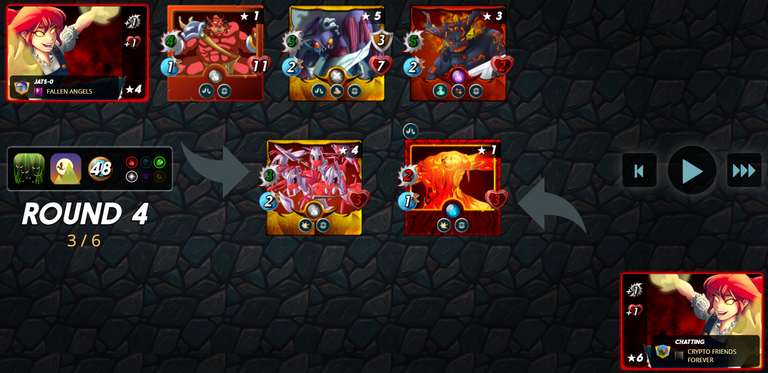 Equal Opportunity
.

As in the previous case, our creatures, even if they have a melee attack, will be able to continue attacking from any position because they will have the opportunist ability. In this case it is important that the creature with less life is Antoid Platoon, because having the shield ability will take very little damage.
Igual que en el caso anterior nuestras criaturas aunque tengan ataque de melé podrán seguir atacando desde cualquier posición porque tendrán la habilidad de oportunista. En este caso es importante que la criatura que tenga menos vida sea Antoid Platoon, porqué al tener la habilidad de escudo recibirá muy poco daño.
Lost Magic
.

The weak point of this tactic is when the opponent uses magic attack, so in these conditions we make sure that the opponent will not use this type of attack.
El punto débil de esta táctica es cuando el rival utiliza ataque mágico, así que en estas condiciones nos aseguramos que el rival no utilizará este tipo de ataque.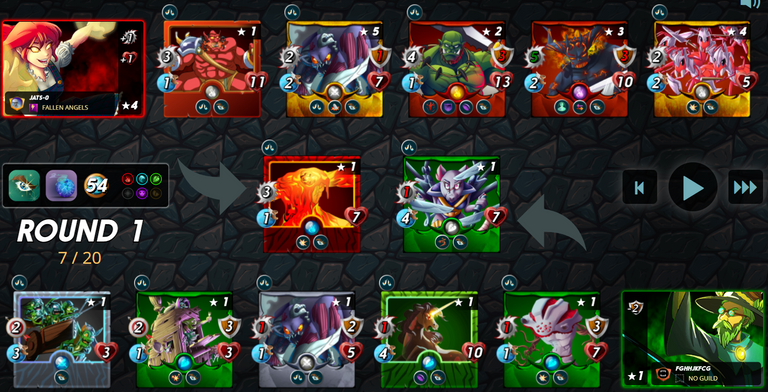 My battle link
Perfect conditions, maybe I could have played Quix the Devious to also reduce the ranged attack, but I still ended up winning without taking a single kill.
Condiciones perfectas, quizá podría haber jugado con Quix the Devious para reducir también el ataque a distancia, pero aún así acabé ganando sin tener ni una sola baja.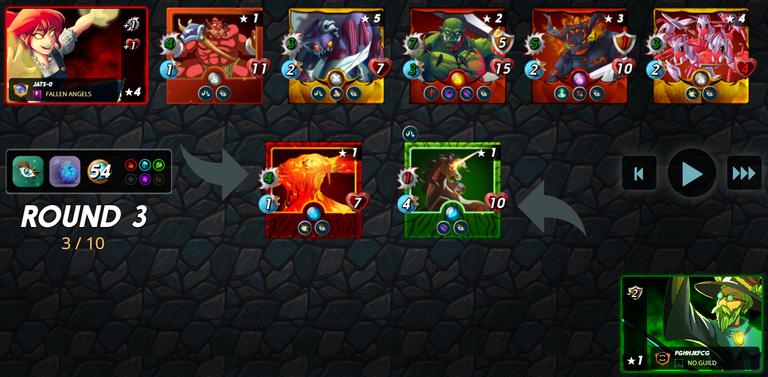 The Week point
The weak point of this tactic is the magic attack. We are very protected against melee attack, also somewhat protected from ranged attack by having two creatures with the ability to shield, but with a great magic attack it would be easy to finish this team. So if the mana is high enough I like to also protect myself from the magic attack by putting Grum Flameblade as a second tank, so when my first tank goes down I'll have a second one with the Void ability that will take the magic attacks very well.
El punto débil de esta táctica es el ataque mágico. Estamos muy protegidos contra ataque de melé, también algo protegidos del ataque a distancia al tener a dos criaturas con la habilidad de escudo, pero con un gran ataque mágico sería fácil acabar con este equipo. Así que si el maná es suficientemente alto me gusta protegerme también del ataque mágico colocando a Grum Flameblade como segundo tanque, así cuando cae mi primer tanque tendré un segundo con la habilidad de Vacío que aguantará muy bien los ataques mágicos.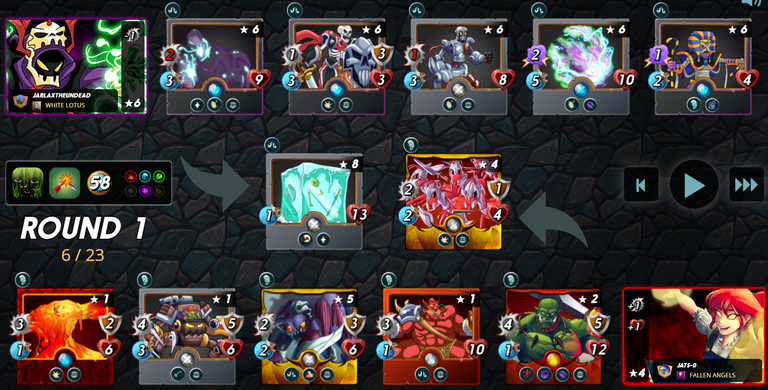 My battle link
In this case we can see that even if it wasn't much, the opponent had two cards with a magic attack that could cause me problems, but they could hardly finish off Grum, and that's how it was.
En este caso podemos ver que aunque no fuera mucho el rival tenía dos cartas con ataque mágico que podían causarme problemas, pero difícilmente podrían acabar con Grum, y así fue.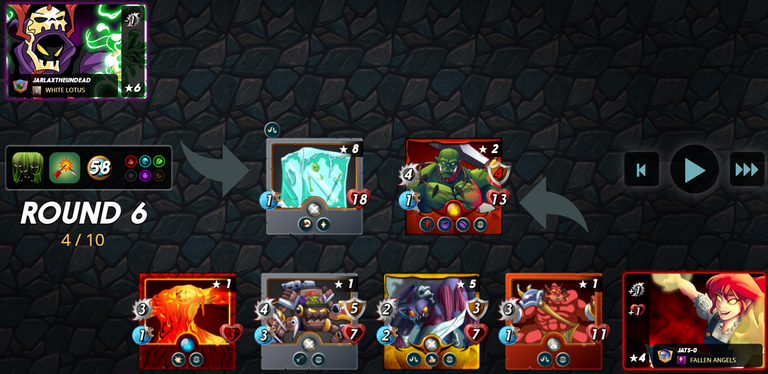 I leave you another example that despite the fact that the rival did not use a magic attack, I ended up destroying the rival without having a single death.
Os dejo otro ejemplo que a pesar de que el rival no utilizó ataque mágico acabé arrasando con el rival sin tener una sola baja.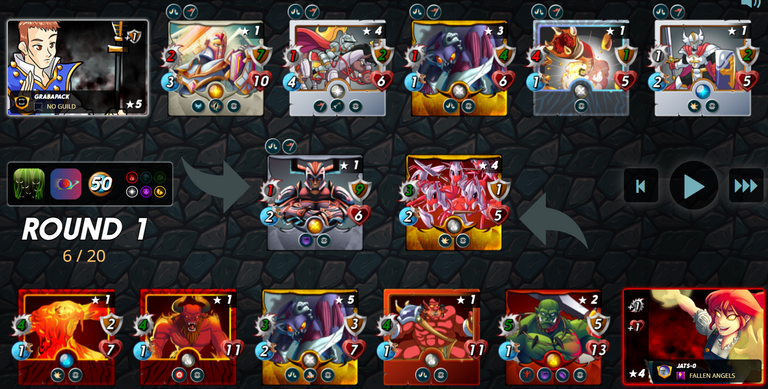 My battle link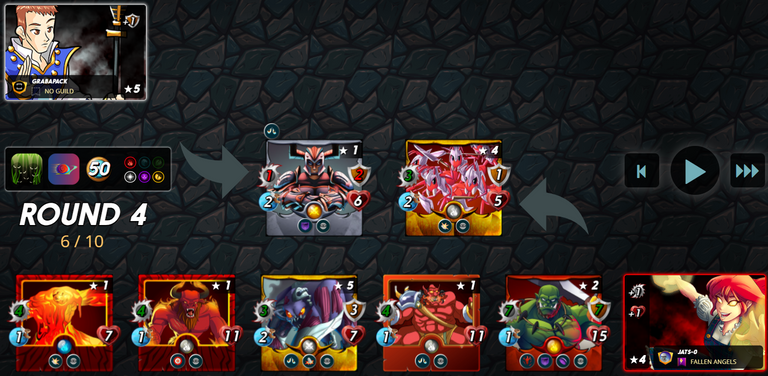 The perfect Battle
Finally to finish I leave you a battle that is the perfect of perfects where I receive 0 damage. But 0 means I didn't lose a single life point or a single shield point.
Finalmente para acabar os dejo una batalla que es el perfect de perfects dónde recibo 0 daño. Pero 0 significa que no me bajaron ni un sólo punto de vida ni tan solo un punto de escudo.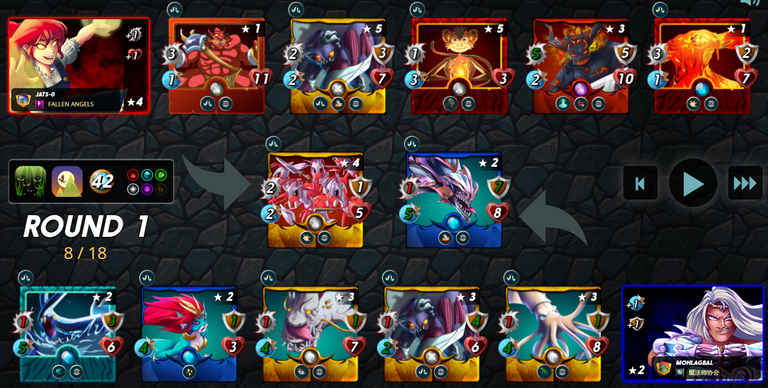 My battle link
As you can see, all his creatures were reduced to only 1 point of damage, so the opponent would not have the slightest option. And so it was... I ended the game with the same health and shield that I started with.
Como podéis ver todas sus criaturas quedaron con 1 solo punto de daño, así que el rival no tenía la más mínima opción. Y así fue... acabé la partida con la misma salud y escudo con la que empecé.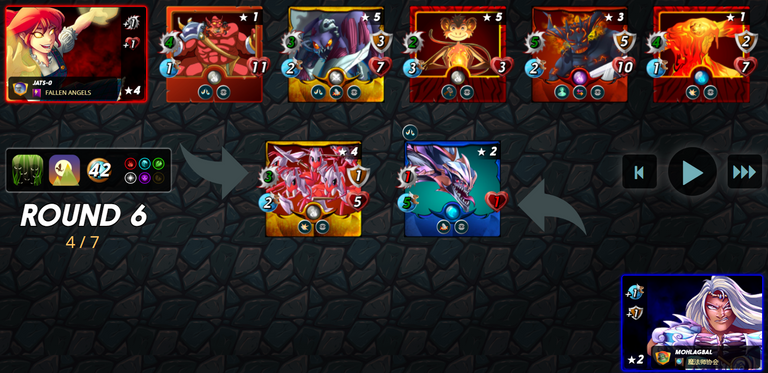 I hope you liked this post and that this tactic is as useful to you as it is to me. And if you use it please leave me a battle link in the comments.
Hasta aquí mi post. Espero os haya gustado y que esta táctica os sea tan útil como me esta siendo a mi. Y si la ponéis en práctica por favor dejadme algún link de batalla en los comentarios.
(Photos I used in this post are taken from splinterlands.com for this post purpose only)

---
---