My report "Fallen Angels 2" Guild Brawls - Cycle 69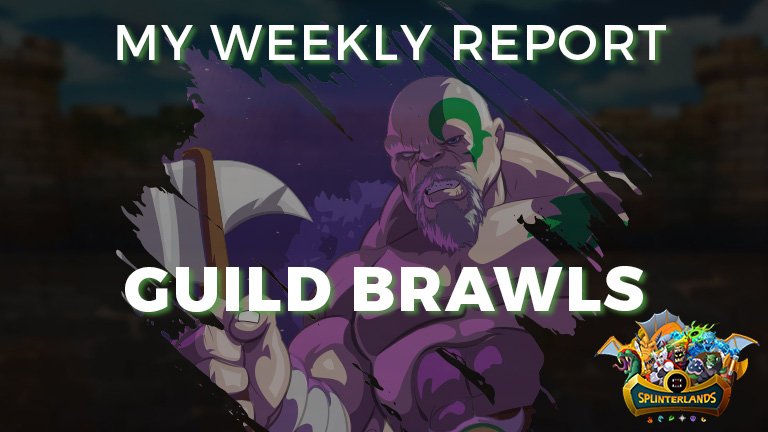 Images obtained in @splinterlands | Giphy
Hi Splinterlands friends. Cycle 69 of the Brawls has just ended and as always we have been present fighting for glory. We are still fighting against clans far superior to us but the results have been very good.
Qué tal amigos de Splinterlands. Acaba de finalizar el ciclo 69 de las Brawls y como siempre hemos estado presentes combatiendo por alcanzar la gloria. Seguimos luchando contra clanes muy superiores a nosotros pero los resultados han sido muy buenos.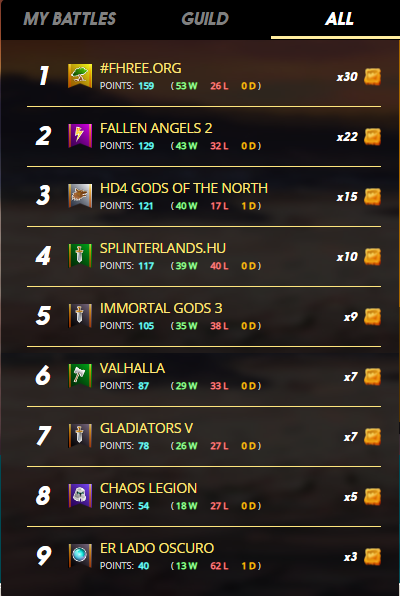 The clan finished in second place with 43 wins and 32 losses, 10 points behind the first place. For my part, things went well for me once, with 5 wins (one of them by forfeit) and only 2 losses.
El clan terminó en segundo lugar con 43 victorias y 32 derrotas, a 10 puntos del primer clasificado. Por mi parte, una vez me han ido bien las cosas, con 5 victorias (una de ellas por abandono) y sólo 2 derrotas.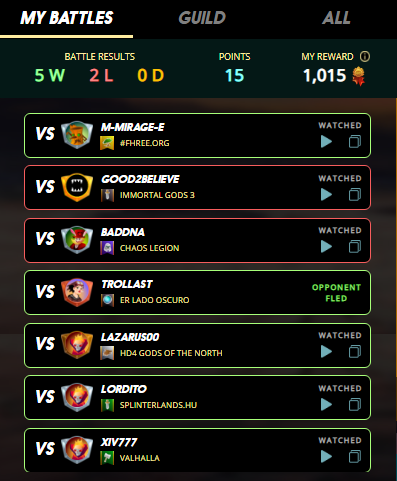 This week Fallen Angels 2 is in 426th place worldwide, climbing 60 places and maintaining the 14th place in the Spanish-speaking world. We continue to achieve merits to get new Gladius packs and be more competitive.
Esta semana Fallen Angels 2 se encuentra en el puesto 426 mundial subiendo 60 puestos y manteniendo el puesto número 14 de habla hispana. Seguimos consiguiendo méritos para conseguir nuevos packs Gladius y ser más competitivos.

Strategy
To tackle this week's Braw, I rented the following cards. Looking for a purely offensive strategy with very powerful magic attacks.
Para afrontar la Braw de esta semana, he alquilado las siguientes cartas. En busca de una estrategia puramente ofensiva con ataques mágicos muy poderosos.
This has been my choice:
Esta ha sido mi elección:
Cart

Comment

Dec/day

Phantom of the Abyss one of the best Splinter Water cards. Combined with Alric Strombringer it is deadly.


Phantom of the Abyss una de las mejores cartas del Splinter Agua. Combinada con Alric Strombringer es mortífero.

8.750
Coral Wraith, another card I will play with the Splinter Water, cheap and with a great magic attack.


Coral Wraith, otra carta que jugaré con el Splinter Agua, barata y con un gran ataque mágico.

0.829
Grund for use with melee attack rules, with its double attack of 3 points of damage it can eliminate many creatures.


Grund para usarlo con reglas de ataque cuerpo a cuerpo.Con su doble ataque de 3 puntos de daño puede eliminar muchas criaturas.

0.233
Haunted Spirit a good tank with healing in case I have to use Splinter Death.


Haunted Spirit un buen tanque con curación por si tengo que utilizar el Splinter Muerte.

0.148
Cerberus another good tank with healing for Splinter Fuego.


Cerberus otro buen tanque con curación para el Splinter Fuego.

0.229
Alric Strombringer to base my entire strategy on the Splinter Water, a must.


Alric Strombringer para basar toda mi estrategia en el Splinter Agua, imprescindible.

0.190

Total amount spent .....10.379 DEC
We can see how the rent has increased from last week to this week, increasing by almost 25%. This gives us an idea of how the market is evolving, making rents more expensive.
Cada vez mi colección de cartas es más poderosa y es por ello que no necesito hacer un gasto exceso para afrontar las Brawls. Esta semana he subido de nivel varias cartas del Splinter Earth y con eso las cartas Gladius que ya tengo y estos alquileres vamos a luchar por obtener un buen resultado.
Ready to fight!
¡Listos para luchar!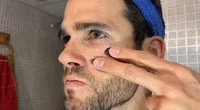 Fights
Fight 1 vs m-mirage-e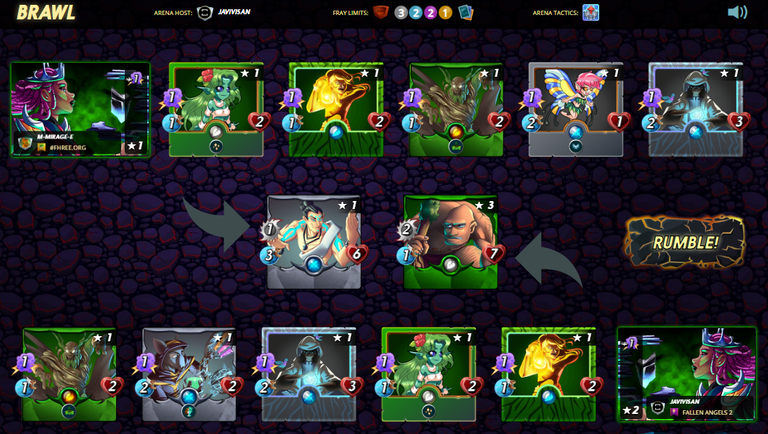 Mana Cap: 19 # Rules: Reverse Speed|Little League
Fight 2 vs good2believe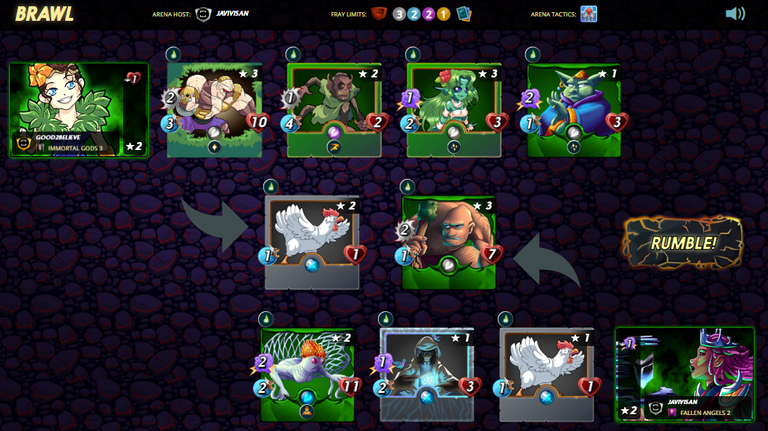 Mana Cap: 20 # Rules: Noxious Fumes|Lost Legendaries
Fight 3 vs baddna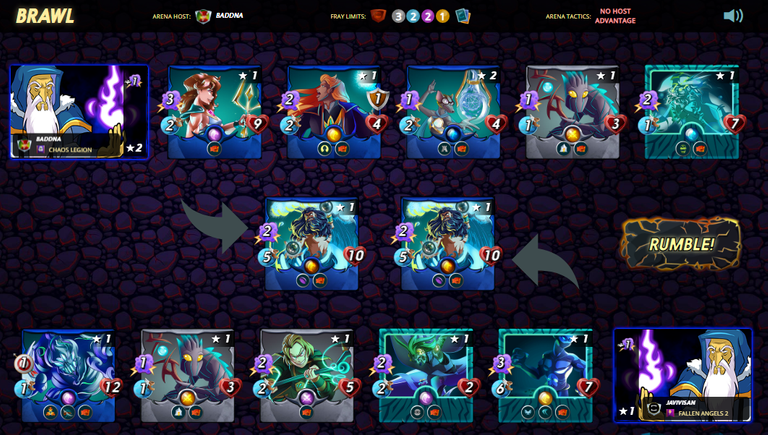 Mana Cap: 56 Rules: Heavy Hitters
Fight 4 vs trollast
Opponent Fled
Fight 5 vs lazarus00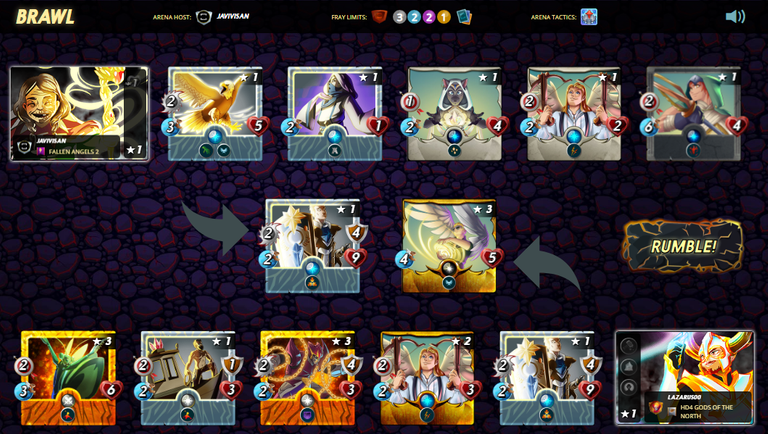 Mana Cap: 44 # Rules: Silenced Summoners|Lost Magic
Fight 6 vs lordito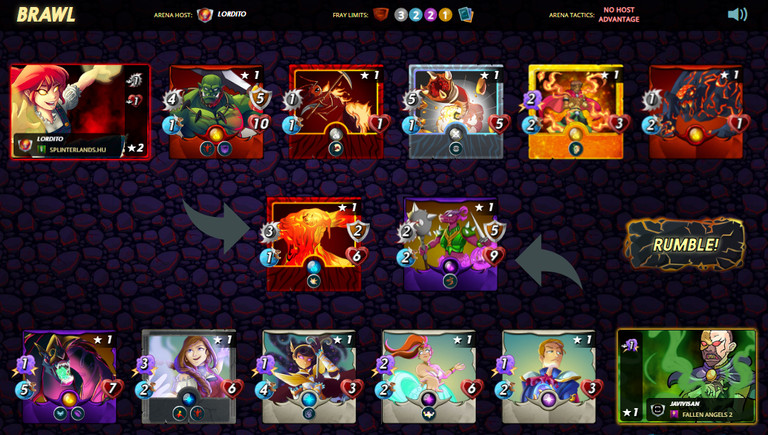 Mana Cap: 38 # Rules: Close Range
Fight vs xiv77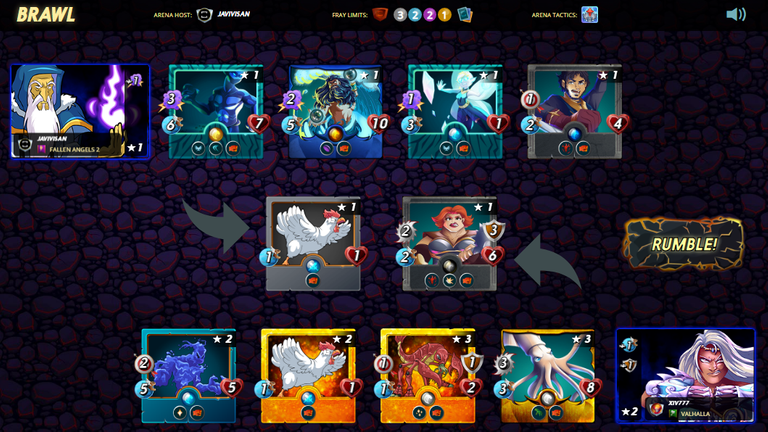 Mana Cap: 25 # Rules: Heavy Hitters

Conclusion
Of the 8 clans we faced, 6 of them were far above us in the ranking. In the end, the reward was 22 Crowns and 1015 Merits.
De los 8 clanes con los que nos hemos enfrentado, 6 de ellos estaban muy por encima de nosotros en el ranking. Al final, la recompensa ha sido de 22 Coronas y 1015 Méritos.
Congratulations to all members of the clan:
Enhorabuena a todos los miembros del clan:
@alsiferro20217 @anaiak @ernesto88x3 @elfino28 @f3rtx0 @venapboyz @jerson1231 @felix10581 @iasplan @renovado @vvgm @cryptojouse @quiquet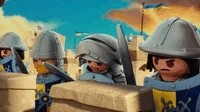 ---

---
---