Splinterlands Town Hall Summary: Nov 26, 2021 - Condensed Edition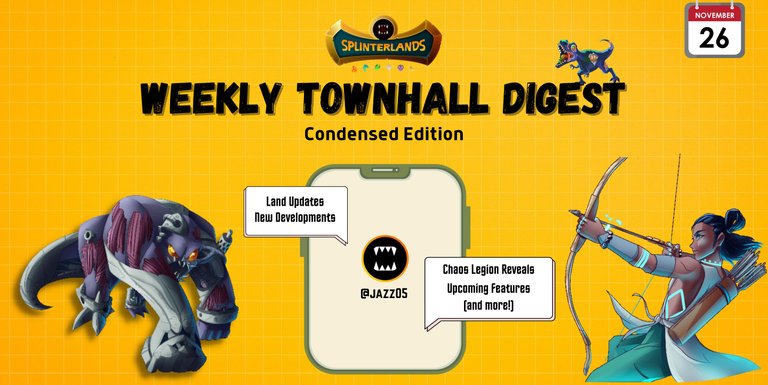 My previously posted summary is a very detailed, 10 minute read so I thought a quick condensed version would be ideal for readers on the go.
PRESENTERS
Aggroed (CEO)
Richard Adleta (VP of Engineering)
Nate Aguila (Creative Director)
---
CHAOS LEGION UPDATES
Team's topmost priority - Successful CL edition release
Initial goal reached: 1 million CL presale packs sold
Phenomenal achievement - Beta Edition's 900k packs took over a year to sell whereas 1 million CL packs sold out within a month!
All things considered, Aggroed called presale a wild success
Top 6 players on the presale leaderboard will be collaborating to design the cards. Full involvement with no restrictions
---
CREATIVE UPDATES
A total of 10 CL cards revealed (Life, Neutral, Dragon)
Animations will soon be incorporated in battles - starting with an experiment in four areas (Idle, Attack, Defeat, & Victory)
Monsters will be seen breathing, settling in for a battle. After being defeated, they'll be all bloody and beat up. A victory will lead to raised arms or a final salute.
Before any of this, accessibility is the main focus - Ensuring the gaming interface runs smoothly for everyone with just a basic need of any browser
Team is exploring innovative ways to incorporate animations so it doesn't mess up with games' performance
Nate's been busy onboarding new team members. He's now overseeing things and hiring creative talent, unlike before when he used to do it all by himself
Anyone in the creative industry with experience in the Gaming sector - contact Nate if you wish to be a part of the team
Plans on growing the creative team by up to 10-20x (currently about 20 people)
Some classified environmental artwork in progress (will be revealed soon)
Aggroed wishes to see Splinterlands comic books, novels, cartoon versions of the characters in the future
---
LAND UPDATES
Next big thing after the CL release
Creative assets for land ready to go
Developers are waiting, making sure the UI makes sense
Land will entirely change how people interact & play the game
Players will be able to use a map in the guide to select what arena they wish to play in
Will soon be available to buy/sell on Splinterlands website
---
DEVELOPMENT UPDATES
Dev team has tripled in size within the last six weeks
Land and packs will soon be available to buy/sell on the Splinterlands website
Lots of suggestions/feedback from players on feedback.splinterlands.com
-Top-requested feature: auto-claiming and staking SPS
---
SPS UPDATES
SPS utility one of the major follow-ups
Aim to allow players to have a direct say in steering the direction of the game by holding SPS tokens
More utility to come soon
Occasional 'Under Maintainance' screen fixture
Security - Lots of resources put in to make the game more secure
---
SCALABILITY, ACCESSIBILITY, AND SECURITY
10K active players in the summer with now over half a million
The team aims easy, smooth access to the game all across the world
Scalability is being looked into to avoid a potential crash during the CL edition release and with Splinterlands' explosive growth
Aggroed wishes to have a live feed mechanism for all the crucial moments in the game (new edition release, season end, etc)
It would allow him and the players to watch the big players on the leaderboards fighting live for the top spot
How best to scale this game to the millions? The team is currently looking into it
Security: The team takes it very seriously. A lot of resources put in the back-end to harden the outer walls.
2FA is on the to-do list! It is also on the 3rd spot for the most requested feature on feedback.splinterlands.com
---
OTHER EVENTS - TIMESTAMPS
Here are a few things I didn't include that you can check in the full recording if you want:
Waffles Kitty (DYGYCON Coordinator) Introduction at 48:42
Conversation with MORIARTY95, No.6 on the presale leaderboard at 58:25
Conversation with Slapshot, the new developer in the team! at 1:03:25
Conversation with Cyguy, No.3 on the presale leaderboard 1:08:27
Conversation with Chatter, Marketing at Splinterlands at 1:13:36
The Town Hall ended with the usual Q&A session. Here are the questions that were addressed (excluding the ones on the discord chat). If you find any that you've wanted to ask as well, feel free to tag along from 1:19:30.
---
WRAPPING UP - KEY TAKEAWAYS
Land is the next big thing after the CL edition release!
Animations will be rolling out in the game soon!
Players will be able to buy/sell lands and packs on the Splinterlands website!
SPS will definitely be of much more value in regards to the game!
Accessibility and Scalability are the current focus, getting ready for further expansion of the game and adding new players.
Prefer a longer version or one similar to this? Let me know in the comments!
For a longer version of the townhall summary, check this blog!
---
---