Splinterlands Silver League Skill Maximalist Guide [Part I]



Splinterlands gated league system with level caps is a saving grace for my gamer's dignity. Imagine getting your level 4s and 5s matched up against a fully maxed out team. I know that the constant curb-stomping would probably destroy both my ego and sanity.


So here I am now, deliberately sticking to the Silver Leagues.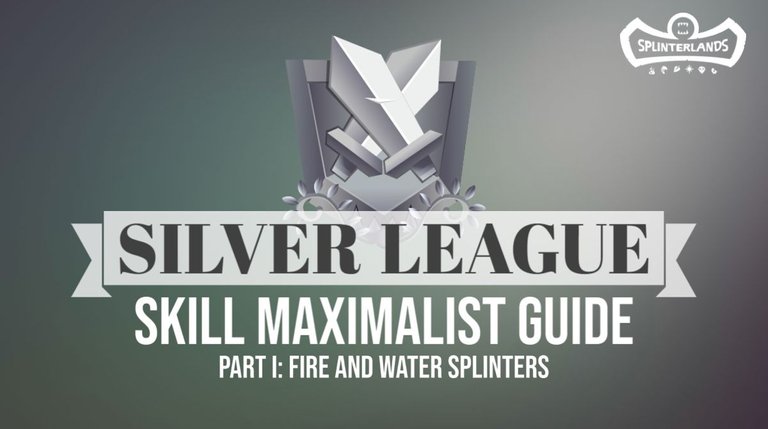 You may have seen some Splinterland cards which become unbelievably powerful by just progressing one level higher. All because of that one new skill that often drastically alters the game tide. If I may coin Pokemon, it's like the card evolves into an entirely different beast.


If you're like me who's staying put in the Silver League, either by choice or collection power constraint, then you may want to have that extra edge in your battles by using these evolved cards. I'm sharing the list of all those monster cards with potential to get a new skill within the Silver League level cap. To utilize these cards to the fullest, your corresponding Summoners must be at the Silver cap maximum first. That means Level 4 for Rare-type Summoners.



Some notes:
---------------------
I was surprised to see that the full list of Silver-maxables reaches 100+ monster cards. For simplicity's sake, I'm excluding all Legendaries. Just note that ALL Legendaries get a sparkling new skill each time they level up. And I'm excluding Gladiolus edition cards too. Are you asking me what's Gladiolus? I got zero clue what Gladiolus is. Thus, I'm excluding them XD
🔥 FIRE SPLINTER 🔥
Goblin Shaman unlocks Slow at Level 5

Weaken and Slow debuffs for the price of one card? Wow. There are also Earth's Swamp Thing and Death's Undead Priest with a similar combo. But in the Silver Leagues, the Goblin Shaman reigns supreme. Only this card, have access to this ultimate debuff duet.
Serpentine Soldier unlocks Dodge at Level 4

Serpentine Soldier is already pretty hard to hit with its Speed stat 5 on Level 3. But it gets extra slicker on Level 4 with a second skill, Dodge. This Shield and Dodge combo makes Serpentine Soldier a perfect agile tank for no-magic fights.
Pit Ogre unlocks Enrage at Level 4

Sure, Pit Ogre can be handy with its Stun skill. But I find it lacking overall as a melee tanker. Poor defense and a bit slow. Getting the skill Enrage might liven it up if it survives the first round though. Iffy but I will still evolve this card. It's great for some rulesets, and quite cheap for a Rare card.
Fire Demon unlocks Splash at Level 3

Fire Demon was all the rage back in the early Splinterland days with its unlocked mighty Splash Skill. But that was before Yodin Zaku came along. So if your primary summoner is Yodin Zaku for the Fire team, just keep Fire Demon at level one or two.
Serpent of the Flame unlocks Poison at Level 3

Poison is quite terrifying. It causes an unblockable two damage that gets triggered for every round until the affected monster is destroyed. Retaliate and Poison together is vicious. Serpent of the Flame may attack multiple times in one round because of Retaliate, giving it as many chances to inflict Poison.
Goblin Fireballer unlocks Snare at Level 5

Snare is a distinct counter skill to a specific type of monster. It has little general utility. But Goblin Fireballer is a very cheap card to upgrade so it may not be a bad idea to go for Level 5 if you are not far off. However, if you are leveling up from the bottom, just ignore this card and upgrade others.
Exploding Dwarf unlcoks Piercing at Level 3

Exploding Dwarf is such a feeble melee fighter with strong skills. I feel its creator is trolling all of us lol. But this card gets to shine in Melee Mayhem where it's allowed to attack from the back, and Equalizer ruleset where its health gets increased. It's an early edition Reward card so it only needs 5 cards to unlock Piercing at Level 3. Maybe even push it to Level 4 for that +1 attack.
Flame Monkey unlocks Repair at Level 5

Repair is an annoying skill to battle against with that two-armor point regeneration every round that covers not just the tank, but any monster on its side. Flame Monkey is one of the few cards that have the skill in the Silver Leagues. But it stands out among them for its one mana cost. You'd just have to be thoughtful in synergizing this card in the Fire Splinter because Reds aren't as armor-heavy as those like in the White team.
🌊 Water Splinter 🌊
Spineback Turtle unlocks Thorn at Level 4

Every player knows that Thorn is a very painful skill to fight against. It reflects two damage to its melee attackers. For Silver Leauge, you can upgrade Spineback Turtle to as high as Level 5 to get a +2 attack with a -1 health nerf. But maybe just stick to Level 4 to keep its health at 7. The unlocked Thorn skill more than makes up for its 1 attack point.
Medusa unlocks Stun at Level 3

Stun. Nuff said.

No, really. This is a great card to own. The Stun skill gets activated at a really low level where you only need a total of 5 Medusa cards to combine. Also, Medusa attacks with a 100% hit rate Magic, thus, better chances to inflict Stun.
Mischievous Mermaid unlocks Dodge at Level 3

I have a Level 2 Mischievous Mermaid and I find it pretty reliable. Perhaps most players do since it's one of the priciest Epic monster cards at around $100 each (Beta). However, I don't think Dodge is a compelling skill for the Mermaid since it is usually in the back, out of immediate harm's way. Thus considering the expensive cost, it may not be worth chasing its evolved form.
Tortisian Fighter unlocks Shield at Level 4

Tortisian Fighter is one of the cheapest Untamed cards to own or rent. The Shield skill at Level 4 is not bad but the card's still lacking as a tank. A few magic hits and its 3 health points are gone. Maybe get this evolved card as a reserve for Little Leagues ruleset where only four-and-below mana cards are allowed.
Wave Runner unlocks Stun at Level 5

Targeted abilities such as Poison and Stun has a 50% chance to inflict the skill. So it's a bit infuriating when monsters with this skill are awfully slow that it misses most of the time. Fortunately, Wave Runner isn't, as it boasts a decent 4-speed stat. It can also sit unexposed at the second position, granting it more opportunities to launch an attack and land a stun hit.
Kelp Initiate unlocks Cleanse at Level 3

The first time I saw Kelp Initiate, I thought it was weird that a monster with no attack has a high speed stat. Then I fought it and understood its shtick. It's kelp so it's exceptionally slippery, essentially avoiding most physical attacks. With a two-mana cost and Cleanse at Level 3, it somewhat borders on the realm of Epic level cards.
Lobstradamus unlocks Magic Reflect at Level 3

It's magic so it can attack from the back. Also sturdy with Shield skill and that humongous 11-health point. Then at level 3, you'll get Magic Reflect. This quirky card truly lives up to its Epic class. Lobstradamus will give you a definite edge by being a massive meat shield from snipes or sneaks, or even the main tanker for when melee monsters are restricted in Keep Your distance ruleset. I gotta have this card!
Giant Squid unlocks Blind at Level 4

While reaching Level 4 offers little stat growth for Giant Squid, its unlocked skill, Blind, is incredibly handy. Take this evolved card in the Lost Magic ruleset and observe how your opponents miss every other attack. And get this. Giant Squid is one of the only two cards that has the Blind skill in the Silver League. The other is the summoner, Lir Deepswimmer.
To be continued ...



I feel this post will get really long If I add one more splinter so I'll be continuing the list of Silver League's max evolutions of monster cards next time. Look out for the continuation in the next few days.

Attributions: All Splinterland images belong to Splinterlands. Header image created with Adobe Spark.
---
---