Armored Up - This ruleset CAN make a difference ...if not...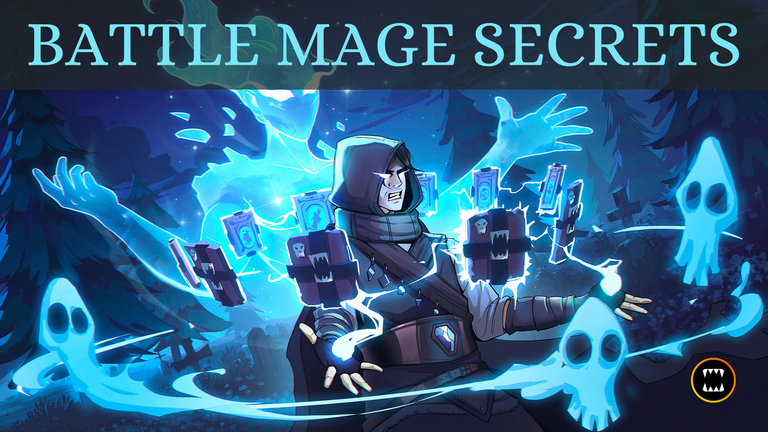 So it is a new week in the Splinterverse and I start to develop some kind of routine in the new writing format of share-your-battle. However I still see a lot of room for growth and my style of writing in this format still as 'in progress'.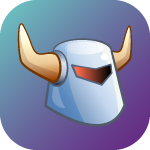 This week's ruleset is called 'Armored Up' and I personally feel like I encounter it rather often. Rules are rather simple to understand here: "All monsters get a +2 armor buff at the beginning of the game."
"+2 armor buff", this is where I think its biggest flaw lies. As it is always the case with armor stat, you can bypass it with magic damage. (At least in most of the cases! Eg. given availability of magic damage.) My most developed summoner is Obsidian so you barely have to guess how often this ruleset is really a game changer in my battles...
Still I think it has a lot of implications on ranged and melee attacks and therefore this is to me a highly relevant ruleset with the potential to have some big impact on a player's strategy.

So let us go next to a battle of mine including the 'Armored Up' ruleset:
https://splinterlands.com?p=battle&id=sm_QYHds6S8ZkD0IenfGUz3&ref=jdike
Again this battle comes from brawl format (as mentioned before I still find it hard to find THE relevant battle for a given week's topic).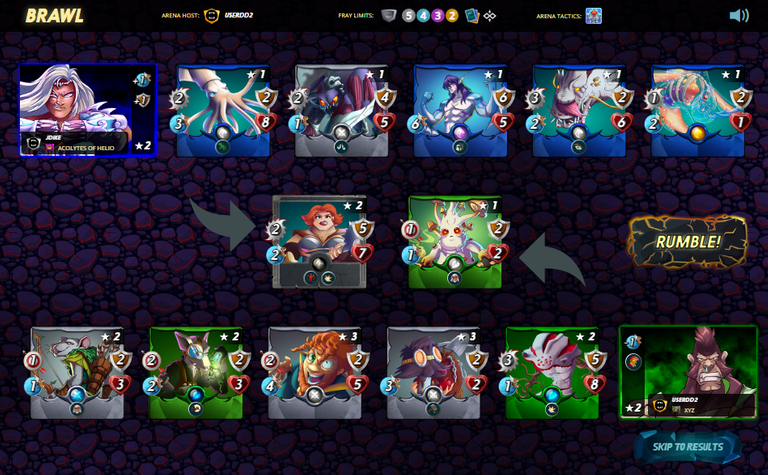 So my idea was to make full use of the 'Hardened Up' ruleset and also giving 'Noa the Just' (which is one of the new soulbound reward cards) a try. Noa should make the enemy more vulnerable by reducing the enemy's armor with his 'Rust' ability.
As it turned out right at the beginning this was a very beneficial idea as it greatly weakened the enemy's setup with the Scavo smith. However his 'Martyr' ability units would be a real nuaisance.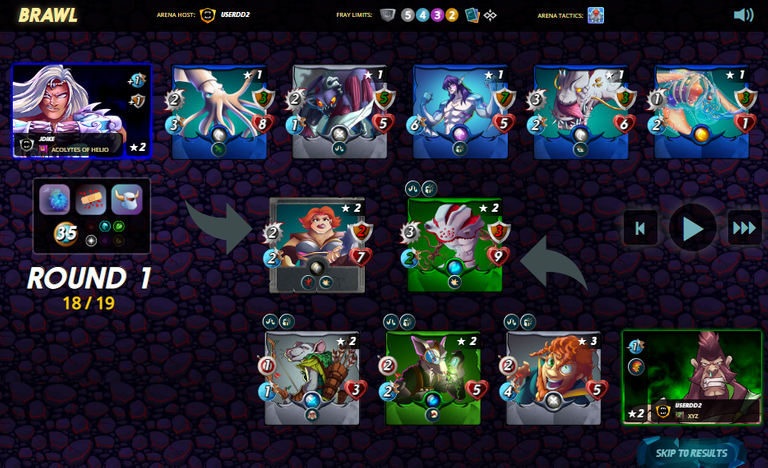 Round 1, here we go! The first of the enemy's 'Martyr' ability units went down, but that only made his Mycelic Infantry stronger. My Deeplurker took the enemy's Scavo smith off the board which was really nice as otherwise the Mycelic Infantry would be even worse.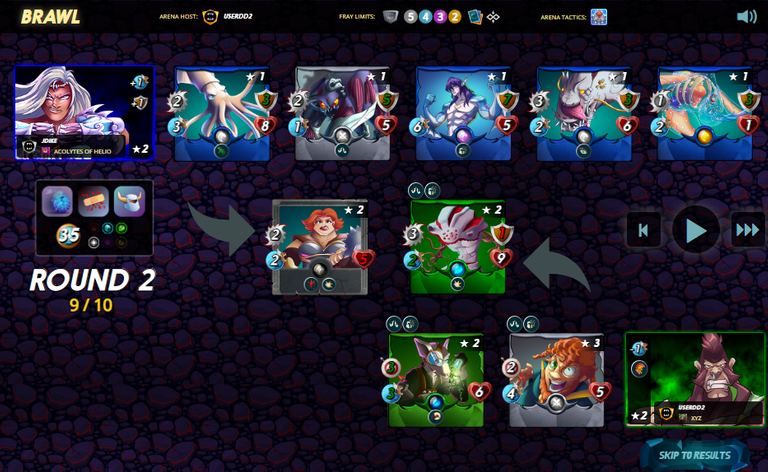 Round 2 saw the enemy's next 'Martyr' unit go off the board which in turn only strengthened the Seedsmith on the other side of the board. All the while most of my units still tried to fight off the enemy's Mycelic Infantry.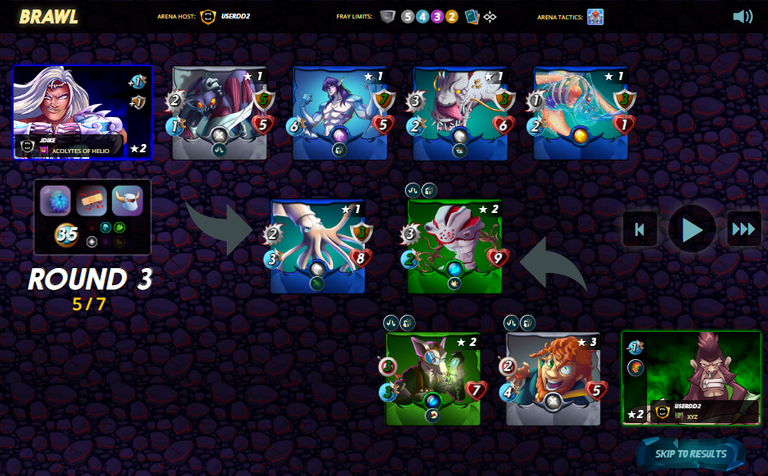 Round 3 saw my Gladiator unit in frontline go down and my Flying Squid unit took over. Luckily all my units had the armor boost and thus were able to digest at least one hit more by the enemy's Mycelic Infantry!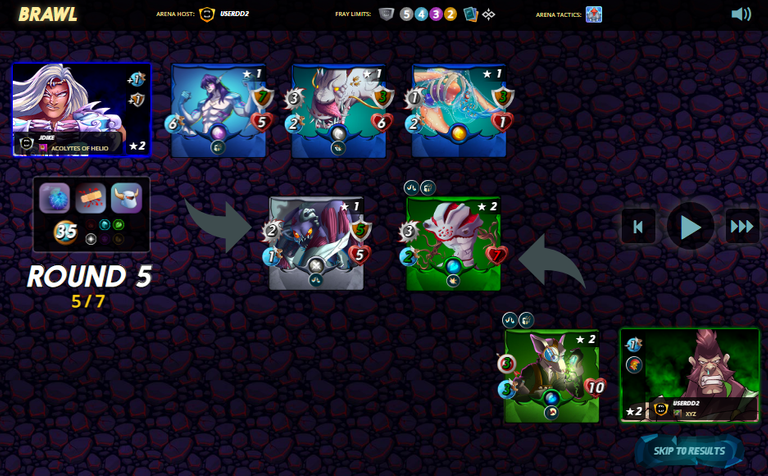 Up round 5 my Flying Squid went off the board, as well and the enemy's boosted Infantry/Seedsmith combo still hit hard...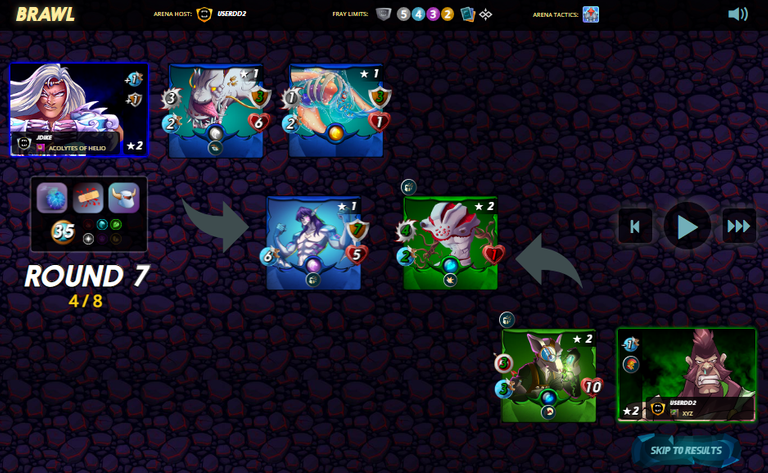 Only in round 7 my Deeplurker was finally able to take down the enemy's Mycelic Infantry and afterwards (ranged attack) Venari Seedsmith stopped firing on me.

So I think in conclusion of this battle: If it was not for all the armor boosting my units, I would have clearly lost this battle.
This is in line with my thesis above that the 'Armored Up' ruleset sometimes really can make a difference ... if it does not have to face magic attack, of course!
That's it for this week here! You are stil not into the Splinterverse, but you consider joining? -Consider using my sign-up link, too: https://splinterlands.com?ref=jdike
---
---