The Barrel Fallacy
Disambiguation: This article is about a blockchain card trading game Splinterlands. If you are interested in the double barrel question fallacy, please refer to the Wikipedia link instead.
Party Time
Let me take you to a party. We obviously start by visiting the wine barrels. Splinterlands parties tend to be busy these days so you only get a second or two at the tap. You do not need a degree in physics to know you should prefer to visit a full barrel over a near-empty one. Full barrel means more pressure and the wine pours faster in your limitied timeframe. If you ask anyone around, they tell you the same.
When they find out your new here, they are also going to tell you to keep your DEC Capture Rate as high as possible. They are wrong but it has been repeated thousand times and has become a truth by now.
Thinking time
You guessed right, your Splinterlands account is the barrel that holds DEC. Unfortunately, your practical experience may not translate well if the conditions are tweaked slightly.
For starters, it is your private barrel. You do not have to compete with anyone to get your turn. You can still waste a full afternoon if you mismanage the tap but I am going to show you there are no hidden leaks.
The only existing leak is a common knowledge. Your barrel is filled through a slow and steady influx of value wine from an external source (the game). As long there is a space in the barrel, it stays in. If the barrel is full, the value is wasted in overflowing. Do not allow your DEC Capture rate hit 100 % - just don`t.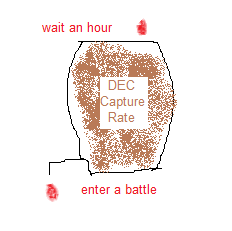 Your barrel can hold enough wine for 100 glasses. The DEC Capture Rate is simply the percentage showing how full your barrel is. One hour always refills one glass of wine (which is one per cent of the barrel) - the influx is steady.
Fineprint: You actually get 25 glasses a day so it is only 57.7 minutes to get one glass.
You are obviously not that steady when it comes to taking the wine out. Every time you enter a Splinterlands ranked battle you basically press a button that is supposed to fill your glass. You can finish the glass immediately and press the button again. You can take your time if you prefer.
If you drink a couple in a row, you should notice your glasses are actually not filled properly. No, you are not drunk yet. The button is not perfect. If the pressure goes down, it cannot fill the glass. In fact, it happens to always transfer exactly 1 % of the current amount of wine in the barrel right to your glass (although this is probably caused by some tampering of the button rather than purely based on the laws of physics). If your barrel is half-full (or half-empty depending on your point of view), you get exactly half a glass.
Splinterlands DEC Rewards
That is how DEC rewards work. You play a game at 50% DEC Capture Rate? No problem. You get half the rewards only but you are charged half the price in the Capture Rate decrease. You have to play two games to get the same value for the same recources as you would if your DEC Capture Rate was 100%. You spend more time but you do not lose the value. Your wine does not disappear, it is only served slow.
Fineprint: You obviously get to drink the wine only if you win but in the longterm, your ranking leads you to a spot where you win about 50% of the games. Improving your deck/skills is vital but independent of the Barrel Fallacy.
If you enjoy playing Splinterlands, play as much as you feel like. You are not penalised for playing too much.
If you are in for the money and prefer to save the time, fine. Keep that DEC Capture Rate high. Just do not keep it as high as possible. If you value your time, it means you cannot guarantee you can be always around to play when your bar hits 100 %. If you are in for the money, you can never allow that - the full barrel is the way to waste it. Keep enough of a cushion. Find your personal balance between saving a game or two in a day and missing a couple if an emergency happens and you cannot play when planned.
If you are nearing zero DEC Capture Rate, maybe it is time to take a break. Check out dCity game or consult an addiction specialst.
Fun fact: If you are using the Hive blockchain social media apps, you should note that your Voting mana works the same for both Hive and tribe tokens (such as LEO or ARCHON). The parameters vary. A Hive upvote serves double-sized glasses (2% of the barrel contents per vote) at once and you are refilled ten upvotes (twenty standard glasses or 20 % mana) a day.
---
---