GEM METEOR SCATTERSHOT > TAUNT [Splinterlands - Share your Battle]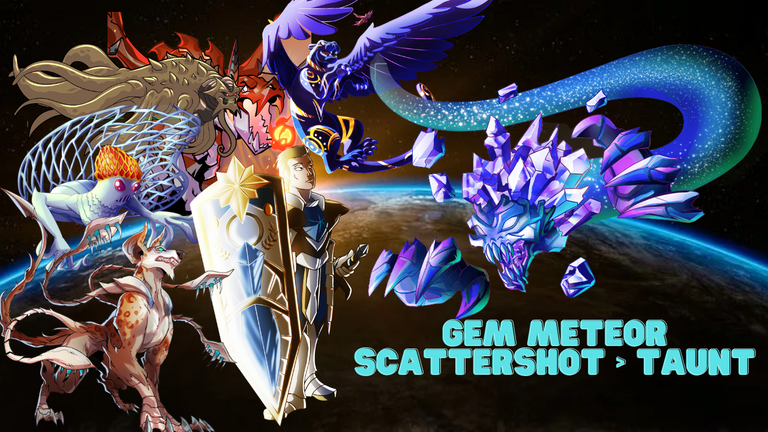 Imagen obtenida editada en canva

Hello friends, today we are going to analyze GEM METEOR an epic Chaos Legion edition card with ranged attack, a peculiar card that is not often used. However all the cards in the game are useful according to the necessary battle conditions and it is in this post where we are going to analyze this card in depth.
If we check the Splintercards page we have a 180-day price history of all Splinterlands cards, but you can check Here to have more information about the card.
As of today we can see that the price of the chart is:
| Card | Regular | Gold |
| --- | --- | --- |
| GEM METEOR | $ 0.45 | $ 4.62 |
A neutral card that we can use in any battle except when there is the battle condition Taking Sides where you can not use neutral cards, the price of $0.45 can be considered a little high but it should be considered that it is an epic card, in the same way the gold version is currently at $4.62. As we can see in the following image a history of the last 180 days where you can see that the card had a peak at $1.60 and a lower value of $0.30.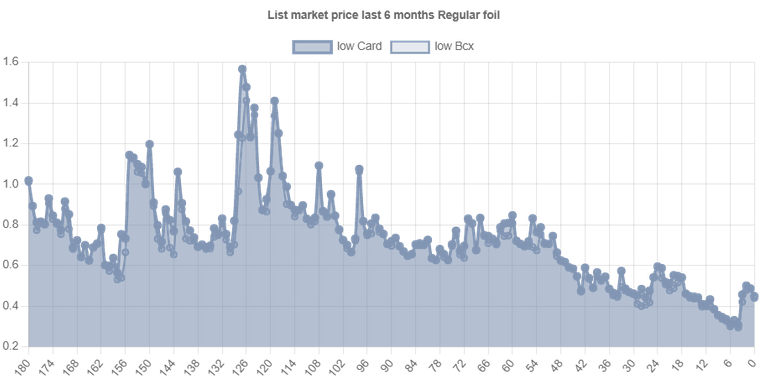 Price GEM METEOR in Splintercards regular card
The gold version has fetched even higher prices but have come down but the current prices are still too high to consider.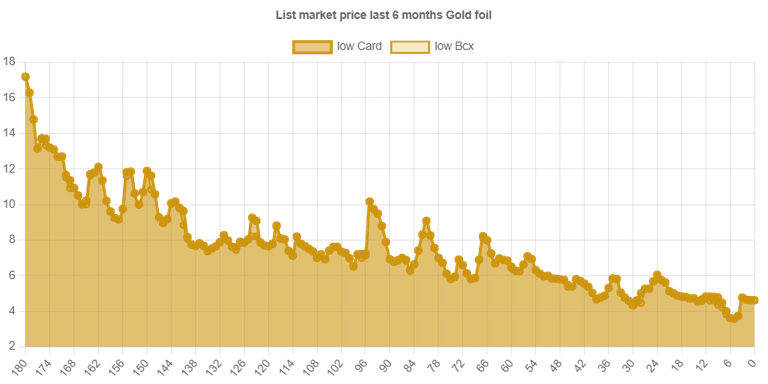 Price GEM METEOR in Splintercards gold card
League Bronze
At the time of writing this post, we are 3 days away from the end of the season, therefore the prices that I will show for each league may be a little high considering other days of the season, even so you can take them as a reference point to consider them in your investment planning. As of today we can obtain this card level 2 for 0.439 DEC/DAY, you can think of an investment to rent this card, although it could take years to recover this investment.

League Silver
Para la liga de plata podemos usar la carta a nivel 3 y la podemos encontrar en el mercado por 3.123 DEC/DAY, un precio accesible para los que juegan en esta liga. A este nivel la carta adquiere un punto de ataque de rango, ahora tendrá 2 de daño.

League Gold
For the gold league we can use this card at level 5, where the card attacks with 3 rank points and also acquires the ability to drill. In the market we can find it for 17.412 DEC/DAY we must take into account that this card is at level 6 and it is cheaper than at level 5 which is 21.63 DEC/DAY so we must be aware of the prices.

League/Champions
Finally for the Diamond league and champions, it can be used at the maximum level and here we can find this card for 17,411 DEC/Day, besides, at maximum level it attacks with 4 attack points in addition to the two abilities such as Piercing and Scattershot.

ESTRATEGY BATTLE
This time I am going to show the strategy that I usually use for this card, its Scattershot ability is very useful for those battles where the enemy uses Taunt, because it concentrates all the damage on a single card while it heals or recovers armor, for this reason our ability will target any card of the opponent and even more if we boost it with 1 point of additional damage.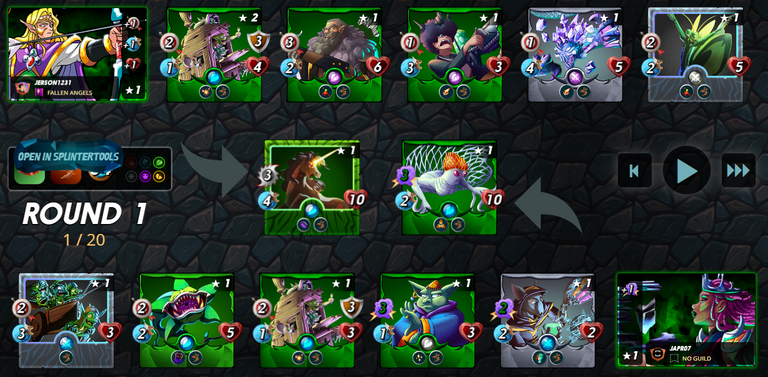 SUMMONER
The summoner is very important normally as we are going to use ranged attack the important thing is that we have to enhance that attack, the ideal is to use a summoner that increases the ranged attack for this reason our options are, PRINCE RENNYN, GENERAL SLOAN and SELENIA SKY, I have decided for Prince because it gives other buffs such as +1 speed, +1 life.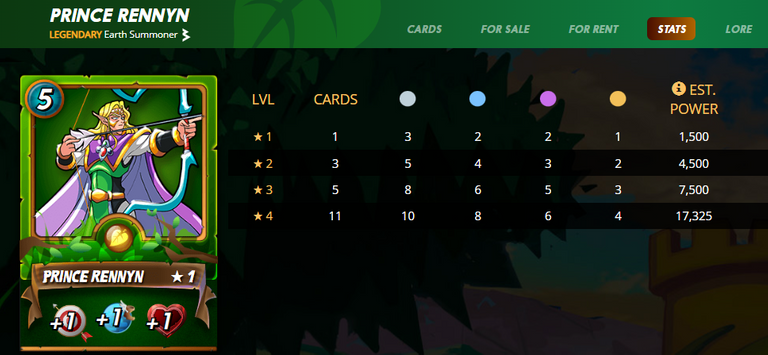 UNICORN MUSTANG
In first position the perfect tank UNICORN MUSTANG which is a very versatile card, with a lot of attack and above all with the ability of VOID that makes it resistant to magic attacks, I consider it one of the best tanks for Splinter Earth bronze league.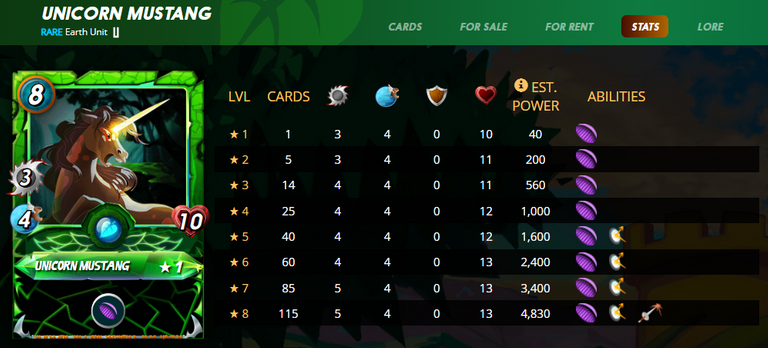 GOGLIN TOWER
For the second position it would seem incorrect to use this card because as it is a ranged attack card it becomes obsolete when it reaches the first position, however its BLAST ability can end the battle as soon as possible before our cards are destroyed.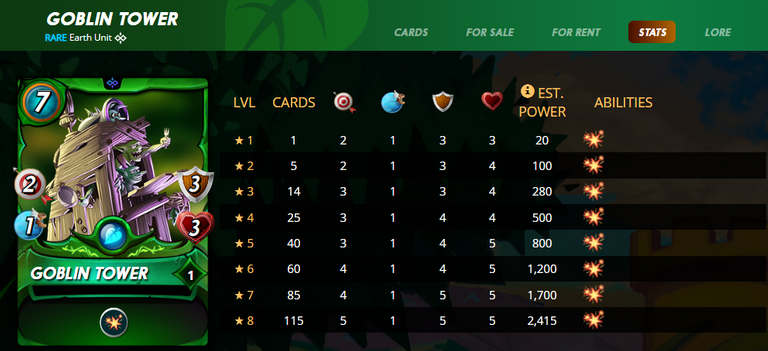 HUNTER JARX

The third card with 3 rank attack a card with a lot of damage even more if we boost it with the right summoner, its weakness can be said to be the speed, that is to reduce with the summoner that increases by +1 its speed to try to do as much damage as possible.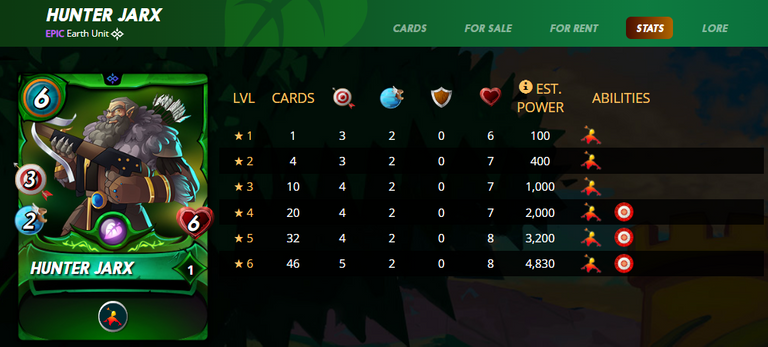 ACID SHOOTER

An epic card of only two mana with a speed considered good, one of my favorite cards for this type of battles where the opponent uses Taunt The problem is its low attack, for that reason it is necessary to combine it with a summoner suitable to its range attack. As of today it is at $0.52, if we review its history this card has reached almost $2.0, so it is a card to consider to invest.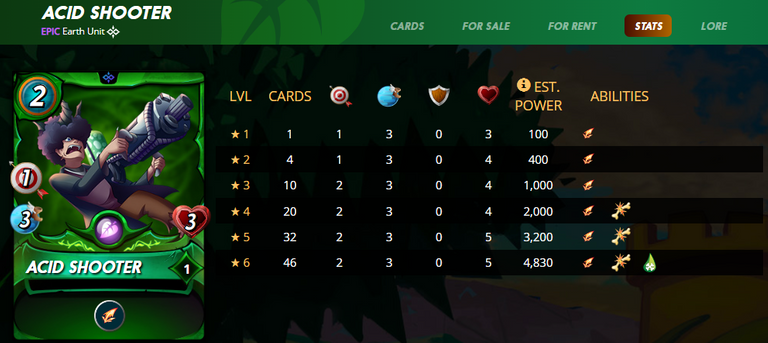 GEM METEOR

Our star card with its SCATTERSHOT ability is the potential to defeat the opponent's strategy, its speed is very important to do damage as soon as possible.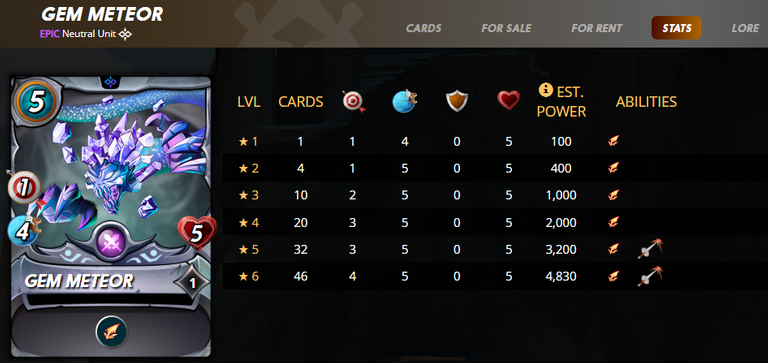 MANTOID
Finally for the card in last position is Mantoid that could cause 3 damage a very important neutral card that manages to cause a lot of damage his ability is also key clearly after destroying the card with the ability of TAUNT, in the market we find it at $0.72 too high for my taste but certainly an important card in our formation.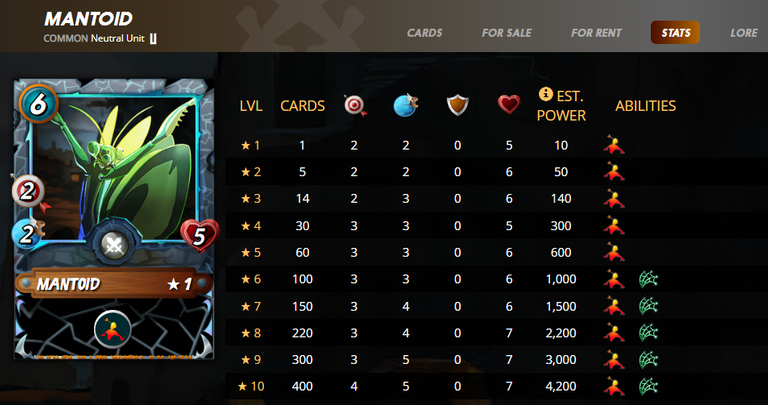 BATTLE
The battle can be seen at the following link:
My strategy worked
In the new meta many players use the Taunt skill very often, and that usually causes a lot of annoyance among players, as it is usually very difficult to win, the strategy that can make COUNTER if used correctly and it can be said that luck can also intervene, because if we destroy the strongest enemy supports can be a more comfortable victory.
¿What would you try differently next time?
I would like to try Selenia to see if the same results are obtained, or even General Sloan although they have that increased range attack, but PRINCE RENNIN has additional buffs that make a big difference.
¿You like GEM METEOE, why or why not??
The design I did like reminded me a lot of Haunter from pokemon anime, I would like to think that its design is inspired by this anime, regarding its playability I think that with one more point of range attack it would be a very strong card and considered much more in battle, as I think that right now it is only useful for specific battles like the ones mentioned in this post.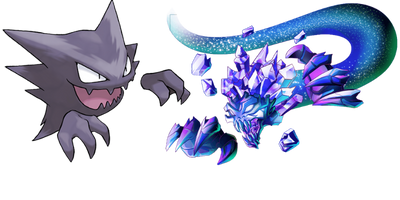 Image editED in canva y obtain in Pokemon
END POST
---


Hola amigos, el día de hoy vamos a analizar GEM METEOR una carta de la edición Chaos Legion tipo épica con ataque de rango, una carta peculiar que no suele ser muy usada. Sin embargo todas las cartas del juego son útiles de acuerdo a las condiciones de batalla necesarias y es en este post donde vamos a analizar a profundidad esta carta.
Si revisamos la página de Splintercards tenemos un historial de 180 días del precio de todas las tarjetas de Splinterlands, pero puedes revisar Aqui para tener más información sobre la carta.
A día de hoy podemos ver que el precio del gráfico es:
| Card | Regular | Gold |
| --- | --- | --- |
| GEM METEOR | $ 0.45 | $ 4.62 |
Una carta neutral que la podemos usar en cualquier batalla excepto cuando exista la condición de batalla Taking Sides donde no se pueden usar cartas neutrales, el precio de $0.45 se puede considerar un poco elevado pero se debe considerar que es una carta épica, de la misma manera la versión gold está actualmente en $4.62. Como podemos observar en la siguiente imagen un histórico de los últimos 180 días donde se ve que la carta obtuvo un pico en $1.60 y un valor más bajo de $0.30.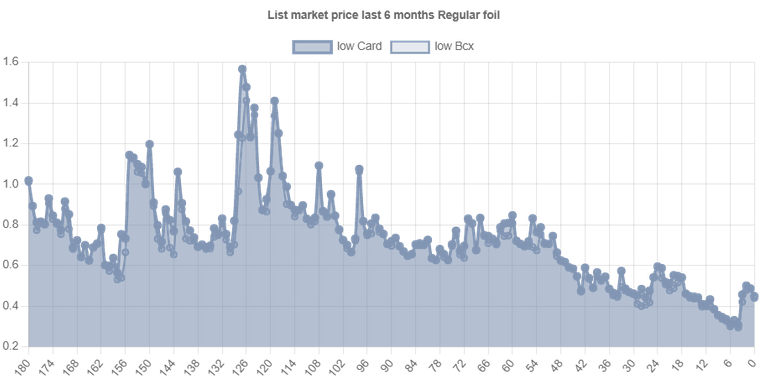 Price GEM METEOR in Splintercards regular card
La versión dorada ha obtenido precios aún más altos pero han venido en bajada aún así los precios actuales son demasiado altos para considerarlos.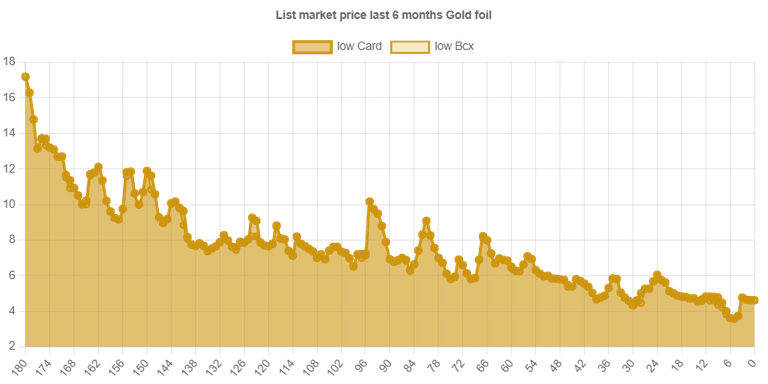 Price GEM METEOR in Splintercards gold card
League Bronze
A la hora de escribir este post, estamos a 3 días de finalizar la temporada, por tal motivo los precios que mostraré para cada liga pueden estar un poco elevados considerando otros días de la temporada, aún así se los puede tomar como punto de referencia para considerarlos en su planeamiento de inversión. Al día de hoy podemos obtener esta carta nivel 2 por 0.439 DEC/DAY, se puede pensar en una inversión para poner a alquilar esta carta, aunque podrían pasar años para poder recuperar esta inversión.

League Silver
Para la liga de plata podemos usar la carta a nivel 3 y la podemos encontrar en el mercado por 3.123 DEC/DAY, un precio accesible para los que juegan en esta liga. A este nivel la carta adquiere un punto de ataque de rango, ahora tendrá 2 de daño.

League Gold
Para la liga de oro podemos usar esta carta a nivel 5, donde la carta ataca con 3 puntos de rango y además adquiere la habilidad de perforar. En el mercado podemos encontrarla por 17.412 DEC/DAY hay que tener en cuenta que esta carta es a nivel 6 y resulta estar más barata que a nivel 5 que consta en 21.63 DEC/DAY de tal manera que se debe estar pendiente en los precios.

League/Champions
Finalmente para la liga Diamante y champions, se puede ocupar en el nivel máximo y aquí podemos encontrar esta carta por 17.411 DEC/Day además de que , a nivel máximo ataca con 4 puntos de ataque a más de las dos habilidades como son Piercing y Scattershot

ESTRATEGY BATTLE
En esta ocasión voy a mostrar la estrategia que yo suelo usar para esta carta, su habilidad de Scattershot Es muy útil para esas batallas donde el enemigo use Taunt, pues concentra todo el daño en una sola carta mientras la cura o recupera armadura, por tal motivo nuestra habilidad tendrá por destino a cualquier carta del oponente y más aún si la potenciamos con 1 punto de daño adicional.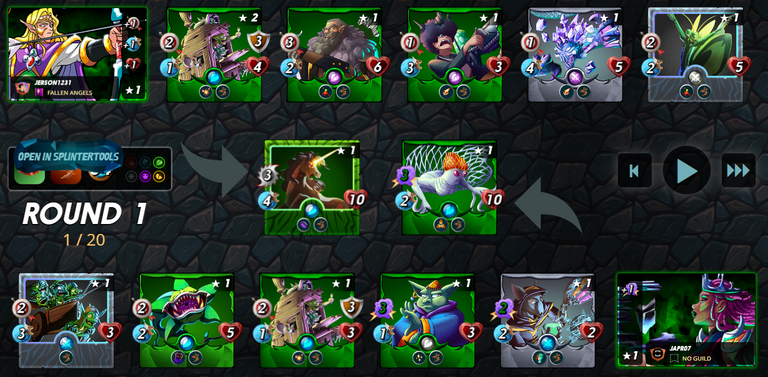 SUMMONER
El invocador es muy importante normalmente como vamos a usar ataque de rango lo importante es que hay que potenciar ese ataque, lo ideal es usar un invocador que aumente el ataque de rango por tal motivo nuestras opciones son , PRINCE RENNYN,GENERAL SLOAN y SELENIA SKY, me he decidido por Prince porque otorga otros buff como +1 de velocidad, +1 de vida.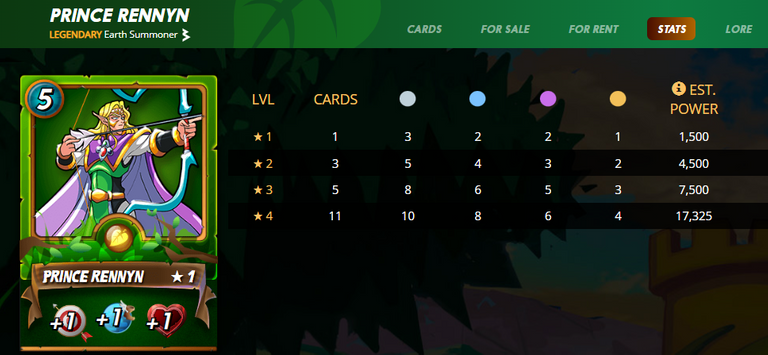 UNICORN MUSTANG
En primera posición el tanque perfecto UNICORN MUSTANG que es una carta muy versátil, con mucho ataque y sobre todo con la habilidad de VOID que lo hace resistente a los ataque mágicos, considero que es de los mejores tanques para liga bronce del Splinter Tierra.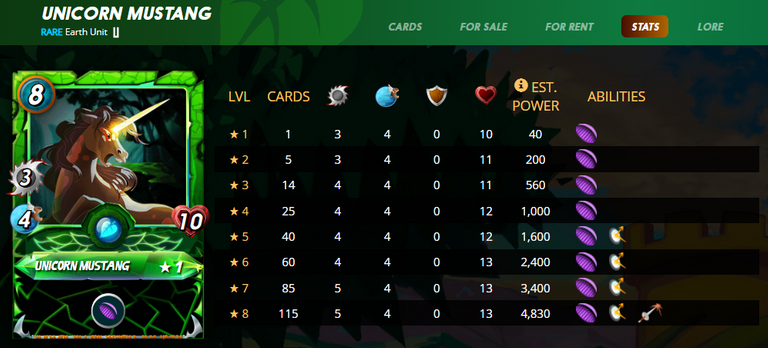 GOGLIN TOWER
Para la segunda posición pareciera incorrecto usar esta carta pues al ser de ataque de rango al llegar a primera posición queda obsoleta, sin embargo su habilidad de BLAST puede terminar la batalla lo más pronto posible antes de que nuestras cartas sean destruidas.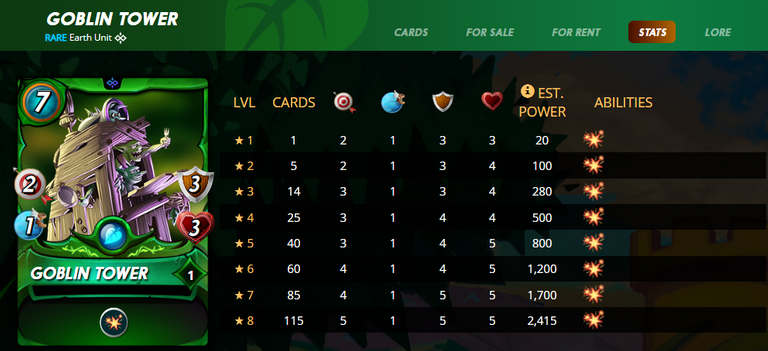 HUNTER JARX

La tercera carta con 3 de ataque de rango una carta con mucho daño más aún si si la potenciamos con el invocador adecuado, su debilidad se puede decir que es la velocidad, eso se trata de reducir con el invocador que incrementa en +1 su velocidad para tratar de hacer el mayor daño posible.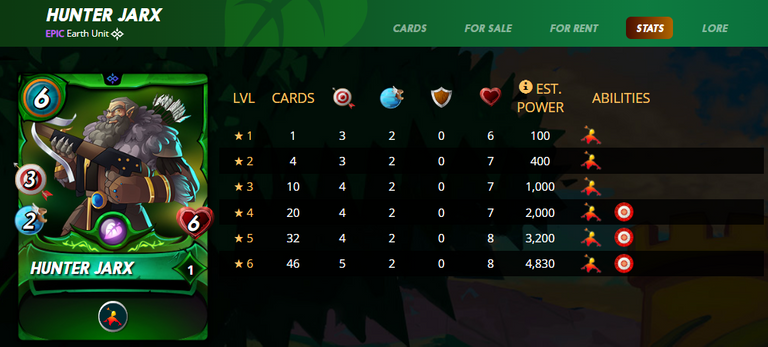 ACID SHOOTER

Una carta épica de solo dos de maná con una velocidad considerada buena, una de mis cartas favoritas para este tipo de batallas donde el oponente use Taunt El problema es su poco ataque, por tal motivo es necesario combinarlo con un invocador adecuado a su ataque de rango. Al día de hoy se encuentra en $0.52, si revisamos su historial esta carta ha llegado a casi $2.0, así que es una carta a considerar para invertir.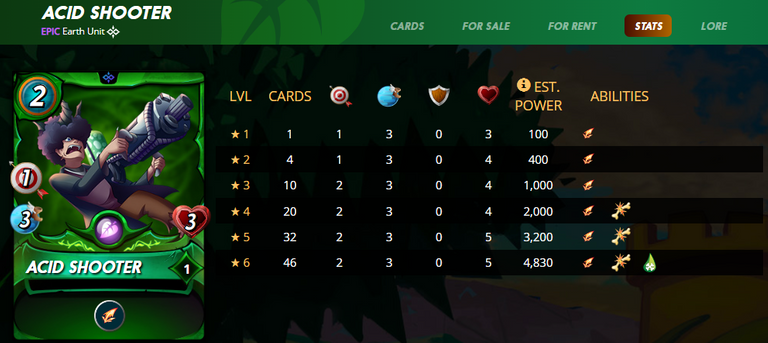 GEM METEOR

Nuestra carta estrella con su habilidad de SCATTERSHOT que es el potencial para poder vencer la estrategia del oponente, su velocidad es muy importante para realizar daño lo más pronto posible.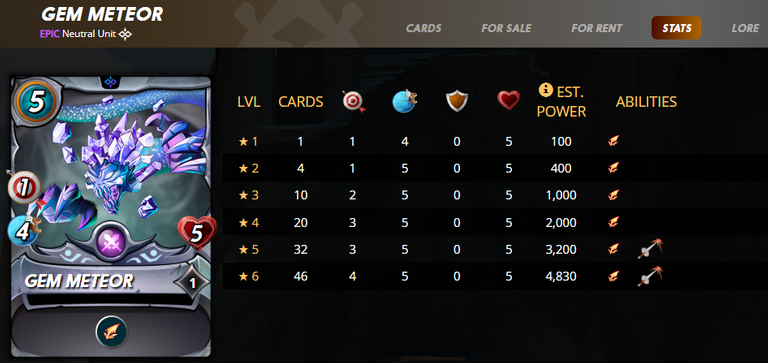 MANTOID
Finalmente para la carta en última posición se encuentra Mantoid que podría causar 3 de daño una carta neutral muy importante que logra causar mucho daño su habilidad también es clave claramente después de destruir la carta con la habilidad de TAUNT, en el mercado la encontramos a $0.72 demasiado elevado para mi gusto pero sin duda una carta importante en nuestra formación.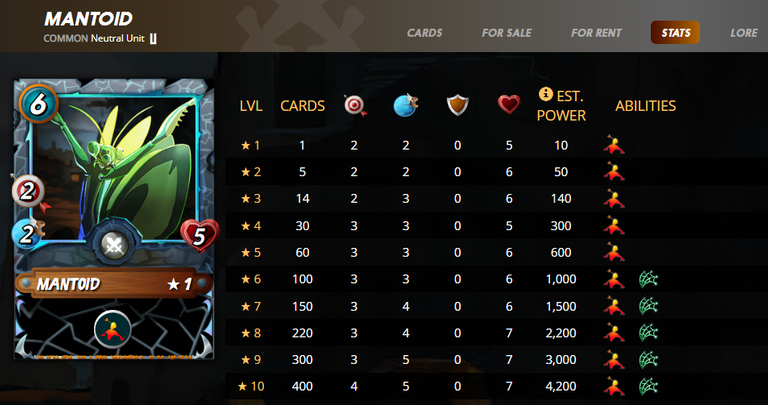 BATTLE
The battle can be seen at the following link:
My strategy worked
En el nuevo meta muchos jugadores usas la habilidad de Taunt muy seguido, y eso suele causar mucha molestía entre jugadores, ya que suele ser muy complicada ganarle, la estrategia que le puede hacer COUNTER si se la usa correctamente y se puede decir que la suerte también puede intervenir, ya que si destruimos los soportes enemigos más fuertes puede ser una victoria mas comoda.
¿Qué probaría de forma diferente la próxima vez?
Me gustaría probar con Selenia para ver si se obtienen los mismos resultados, o inclusive con General Sloan si bien tienen ese incremento de ataque de rango, pero PRINCE RENNIN tiene buff adicionales que otorga una gran diferencia.
¿Te gusta GEM METEOR, por qué o por qué no?
El diseño sí que me gustó me recordó mucho a Haunter del anime de pokemon, quisiera pensar que su diseño está inspirado en este anime, con respecto a su jugabilidad creo que con un punto más de ataque de rango seguro fuera una carta muy fuerte y considerada mucho más en batalla, ya que creo que ahora mismo solo sirve para batallas específicas como las que se mencionó en este post.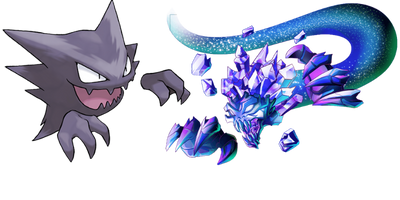 Imagen editada en canva y obtenida en Pokemon
END POST
---
---