REGAL PERYTON a promising splinterlands card? [ENG/ESP]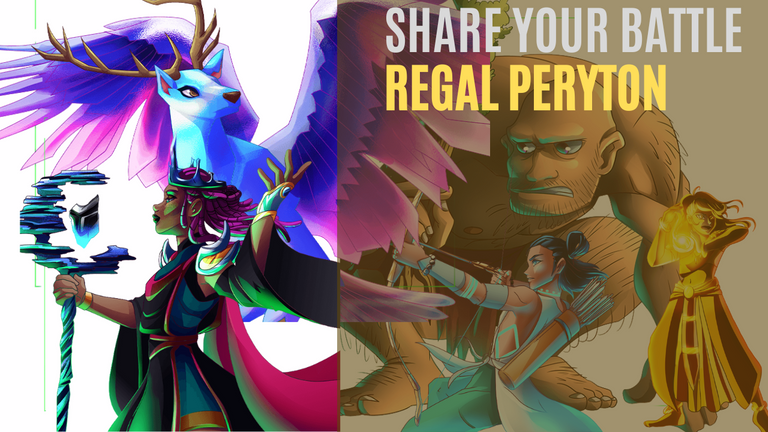 Image obtain and edit in canva

Hello friends for today I bring you a card of the edition of the legion of chaos, earth type, with magical attack and a speed that few cards have, I speak of REGAL PERYTON a peculiar card that if you look closely is one has a deer head with wings.
If we check the Splintercards page we have a 180 day history of the price of this card, in the regular version being at a price of $0.36 with a peak of $0.50 and the lowest price of $0.20 per BCX, while in the GOLD version we have a current price of $3.09 with a peak of $8.36 and the lowest price of $3.00.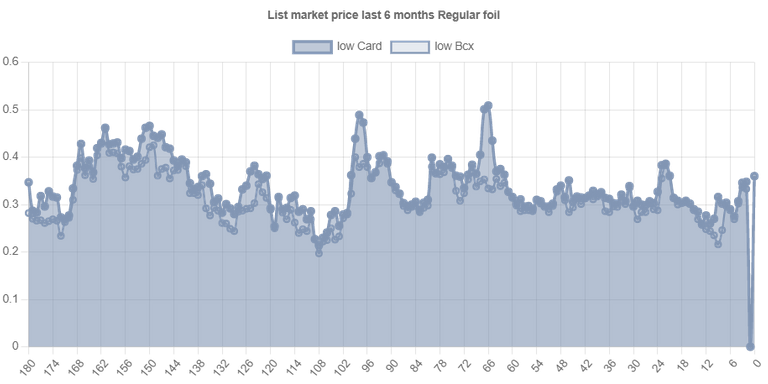 Price REGAL PERYTON in Splintercards regular card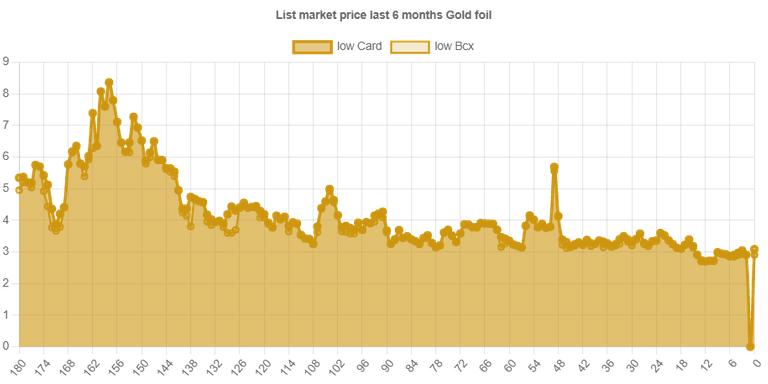 Price REGAL PERYTON in Splintercards gold card
League Bronze
At the time of writing this post we are at the end of the season so the rental prices are very high, for bronze league we can see that it is at 8.76 DEC/DAY a high price, although we must take into account that in bronze league is played with rare cards lvl 2 right now there is none and the card we have available in the market is a lvl 5, despite that we can only use the stats of the card at level 2 which are: 1 point of magic attack, 6 life and 6 speed.

League Silver
Here we can take as a reference the previous image, because in silver league you can use the rare cards at level 4, having 2 points of magic attack, 6 of life and 6 of speed.
League Gold
For the gold league we can play this rare card at level 6, finding it on the market at a price of 25.48 DEC/DAY to be rented, having 2 points of magic attack, 6 of speed and 8 of life.

League Champions
Here we can use the card at maximum level where its speed is 7 points, with 8 life and 3 points of magic attack and finding a price of 92.55 DEC/DAY. No doubt I think that its speed can be a decisive card for certain occasions.

BATTLE STRATEGY
For low mana battles I think it can be a very useful card because there are no cards with a lot of relatively low mana speed, even so it must be taken into account that it only has one attack point so it is necessary to combine it with magic for its attack to cause damage. In this case we have the following formation.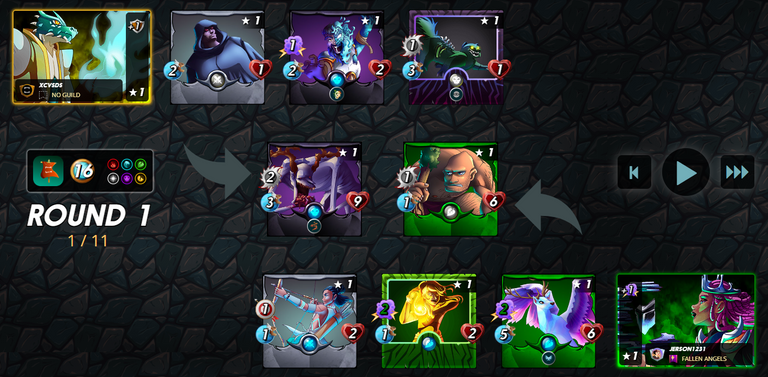 SUMMONER
I think that in low leagues, magic attacks are the ones that dominate and having a magic summoner for this occasion is what we are looking for to get the victory, we use the Earth summoner Obsidian from the new edition of Chaos Legion that gives us 1 point of magic for our magic attack cards.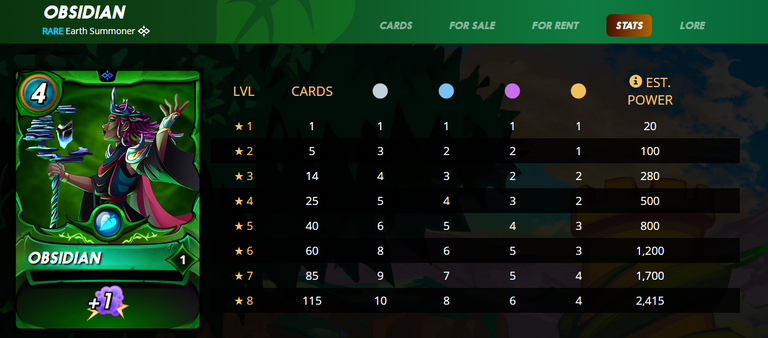 HILL GIANT

It is always good to have a good tank that can resist all enemy attacks and in this case Hill Giant is the best option.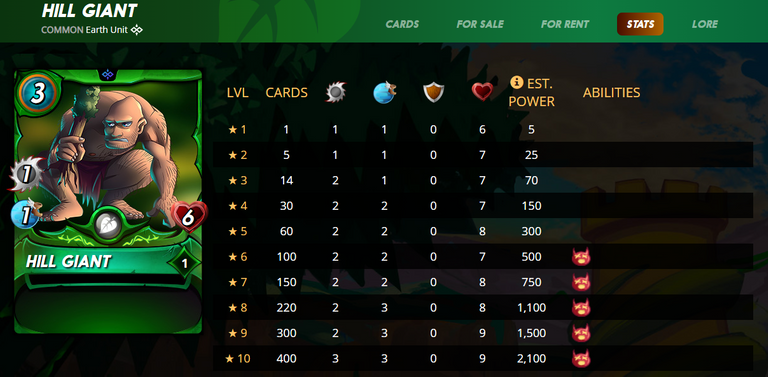 REGAL PERYTON
This is the theme card of the week and I firmly believe that for lower leagues it is a very powerful card thanks to its speed and its ability to fly that can cause many failed enemy attacks.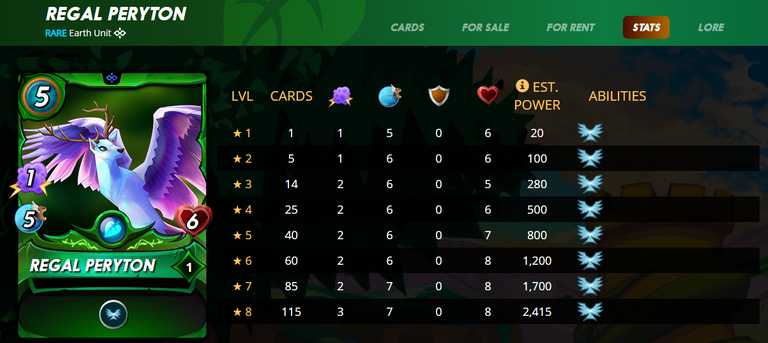 KHMER PRINCESS

A card that for only 2 mana does 1 magic damage, combined with Obsidian is a card to take into account, and even more so at level 4 where it acquires the Tank Heal ability.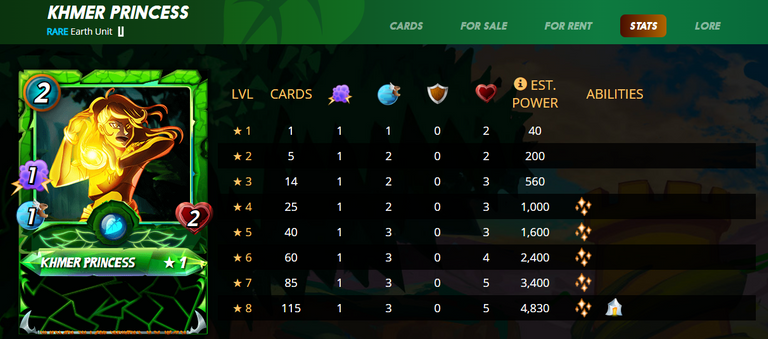 XENITH ARCHER

Finally to complete the team we have a card that although it is not very powerful is very used in high leagues for its low mana and ranged attack, nothing more than Xenith Archer, this card has had a very important price increase, right now it is at $0.35 but watch out that it will surely reach $1.00.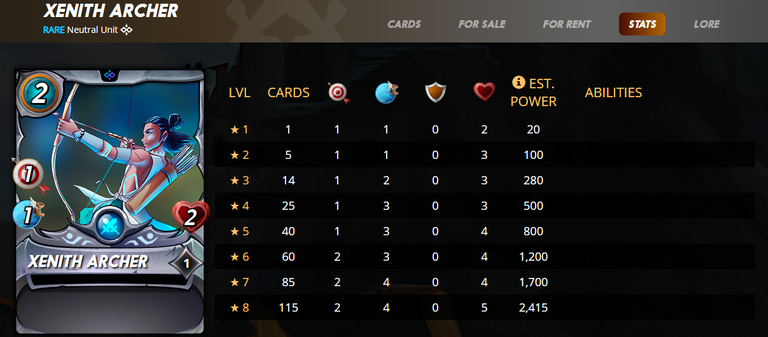 BATALLA
The battle can be seen at the following link:
My strategy worked
Undoubtedly for this battle it worked but it must be taken into account that the Splinter Death is a direct counter of my strategy and even more if THADDIUS BROOD is used it would have been an easy victory for the enemy despite that the opponent preferred a dragon type summoner which benefited me directly.
What would you try differently next time?
In case we see that the opponent uses a lot of Thadius or Bortus who are magic counters, we should use melee or ranged attack.
Do you like REGAL PERYTON, why or why not?
I like it a lot but only for low leagues, although it is a good card but clearly it is not decisive for a battle, I analyzed in detail the top world players, and few or no one uses this card despite having very good stats, I think that for 5 mana points we can opt for better strategies.
---
END POST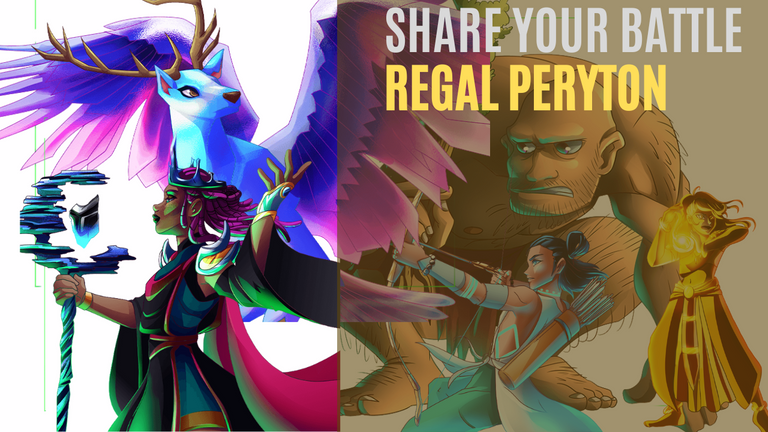 Imagen obtenida editada en canva

Hola amigos para el día de hoy les traigo una carta de la edición de Chaos legion, del tipo Tierra, con ataque mágico y una velocidad que pocas cartas poseen, estoy hablando de REGAL PERYTON una carta peculiar que si nos fijamos bien es un tiene una cabeza de ciervo con alas.
Si nos revisamos la página de Splintercards tenemos un histórico de 180 días del precio de esta carta, en la versión regular encontrándose en un precio de $0.36 tendiendo un pico de $0.50 y el precio más bajo de $0.20 por cada BCX, mientras que en la versión GOLD tenemos un precio actual de $3.09 con un pico de $8.36 y el precio más bajo de $3.00.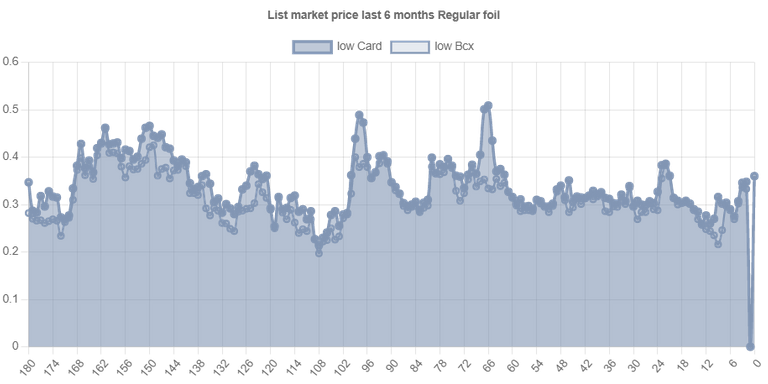 Price REGAL PERYTON in Splintercards regular card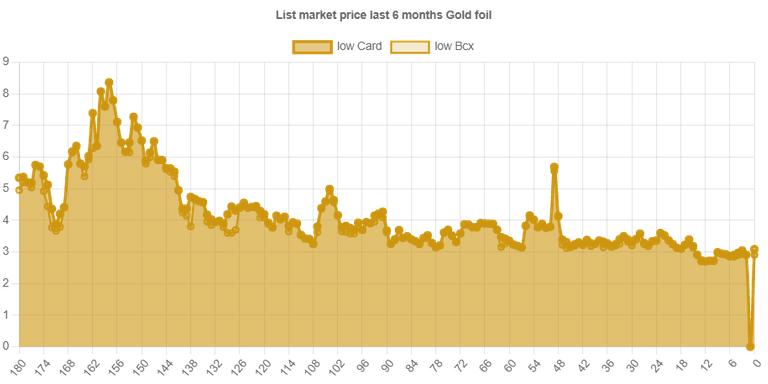 Price REGAL PERYTON in Splintercards gold card
Liga Bronce
Al momento de escribir este post nos encontramos al final de temporada por lo que los precios de los alquileres están muy altos, para liga de bronce podemos ver que está en 8.76 DEC/DAY un precio alto , aunque debemos de tener en cuenta que en loga bronce se juega con cartas raras lvl 2 ahora mismo no existe ninguna y la carta que tenemos disponible en el mercado es una lvl 5, a pesar de eso solo podemos usar los stats de la carta a nivel 2 que son: 1 punto de ataque mágico, 6 de vida y 6 de velocidad.

Liga plata
Aquí podemos tener como referencia la imagen anterior, pues en liga plata se pueden usar las cartas raras a nivel 4, teniendo 2 puntos de ataque mágico, 6 de vida y 6 de velocidad.
Liga oro
Para la liga oro podemos jugar esta carta rara a nivel 6, encontrándola en el mercado en un precio de 25.48 DEC/DAY para poder ser alquilada, contando con 2 puntos de ataque mágico, 6 de velocidad y 8 de vida.

Liga Diamante/Champions
Aquí podemos usar la carta a nivel máximo donde su velocidad es de 7 puntos, con 8 de vida y 3 puntos de ataque de magia y encontrando a un precio de 92.55 DEC/DAY. Sin duda creo que por su velocidad puede ser una carta determinante para ciertas ocasiones.

ESTRATEGIA EN BATALLA
Para batallas de bajo maná considero que puede ser una carta muy útil pues no existen cartas con mucha velocidad de maná relativamente baja, aún así hay que tener en cuenta que solo tiene un punto de ataque por lo que es necesario combinarlo con magia para que su ataque cause daño. En este caso tenemos la siguiente formación.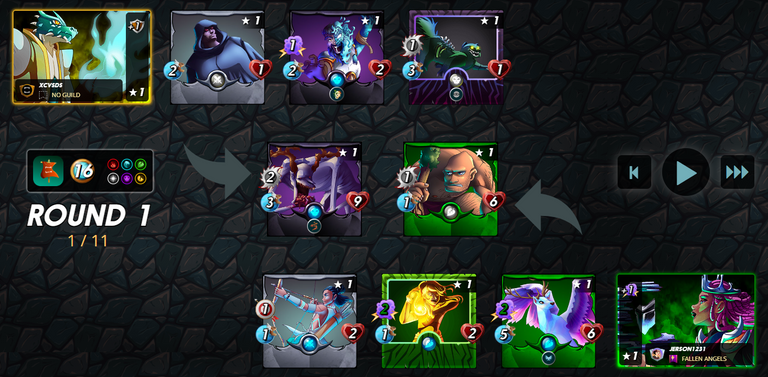 INVOCADOR
Creo que en ligas bajas, los ataques mágicos son los que dominan y tener un invocador mágico para esta ocasión es lo que buscamos para obtener la victoria, usamos el invocador de Tierra Obsidian de la nueva edición de Chaos Legion que nos proporciona 1 punto de magia para nuestras cartas de ataque mágico.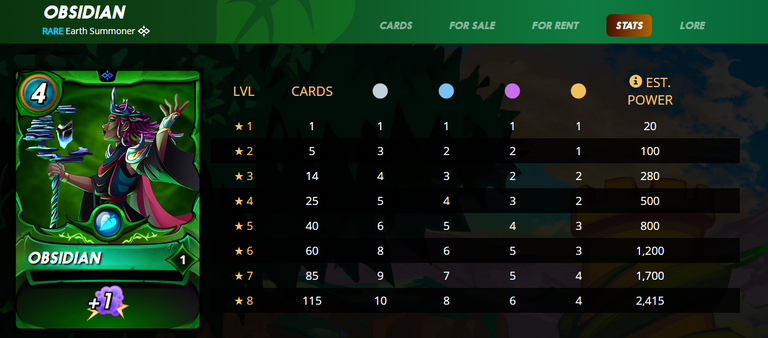 HILL GIANT

Siempre es bueno contar con un buen tanque que logre resistir todos los ataques enemigos y en este caso Hill Giant es la mejor opción.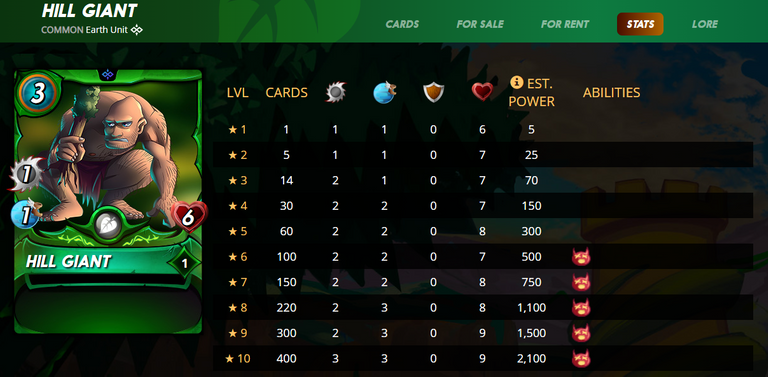 REGAL PERYTON
Esta es la carta temática de la semana y creo firmemente que para ligas bajas es una carta muy potente gracias a su velocidad y su habilidad de volar que puede ocasionar muchos ataque enemigos fallidos.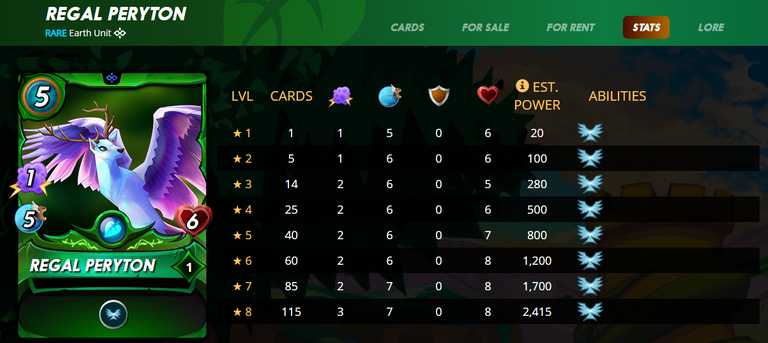 KHMER PRINCESS

Una carta que por solo 2 de maná hace 1 de daño mágico, combinado con Obsidian es una carta a tomar en cuenta, y más aún en nivel 4 donde adquiere la habilidad de Tank Heal.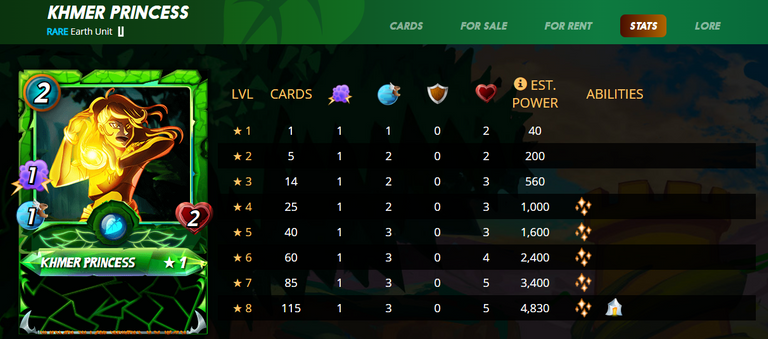 XENITH ARCHER

Finalmente para completar el equipo tenemos una carta que si bien no es muy potente es muy usada en ligas altas por su bajo maná y ataque de rango, nada mas que Xenith Archer, esta carta ha tenido una subida de precio muy importante, ahora mismo está en $0.35 pero ojo que seguro llega a $1.00.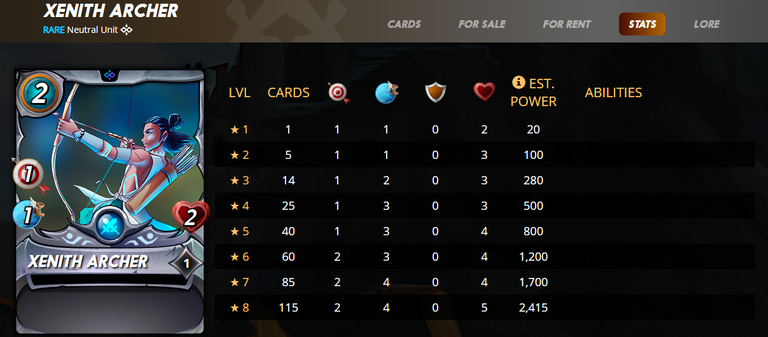 BATALLA
La batalla la pueden ver en el siguiente link:
Mi estrategia funcionó
Sin duda para esta batalla funcionó pero hay que tener en cuenta que el Splinter muerte es counter directo de mi estrategia y más aún si se usa a THADDIUS BROOD hubiese sido una victoria fácil para el enemigo a pesar de eso el oponente prefirió un invocador tipo dragón lo que me benefició directamente.
¿Qué intentarías diferente la próxima vez?
En caso de ver que el oponente use mucho a Thadius o Bortus que son counters de la magia, deberíamos usar ataque de melee o rango.
¿Te gusta REGAL PERYTON? ¿Por qué o por qué no?
Me gusta y mucho pero solo para ligas bajas, si bien es una buena carta pero claramente no es determinante para una batalla, analicé detalladamente a los top mundiales, y pocos o nadie usan esta carta a pesar de tener stats muy buenos, creo que por 5 puntos de maná podemos optar por mejores estrategias.
END POST
---




In our clan @fallen.angels we have innovative ideas to benefit everyone, see the next post, you will not regret it Information Here

All info & images are copyright Splinterlands and Splintercards with the help of Photoshop.
The separators were obtained from the Post 1 edited in photoshop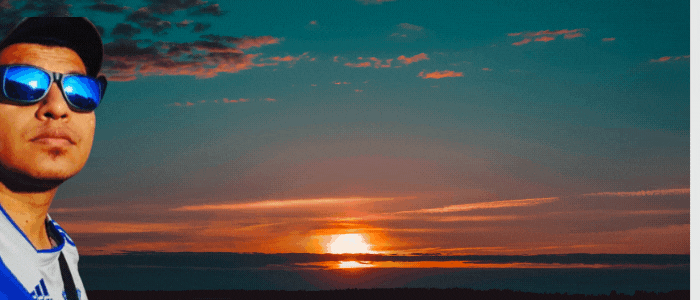 ---
---