Jim-Crypto Splinterlands Brawl Report - 6th February 2023
THGaming Guilds - 1st, 6th, 4th
My first brawl report of 2023 in the THGaming Brawlers guild. As mentioned in previous posts, we have levelled up our Brawl Arena to Tier 3 so are looking for active Brawlers to join us and win some $SPS. Also, if you'd like to see what @THGaming Guild has been up to, please have a look at the THGaming Hive Community where our most important Posts are pinned at the top.
@beffeater is also planning on doing a THGaming #BrawlReport this week so give him a follow and check out his battle reviews from a few different THGaming splinterlands Guild members!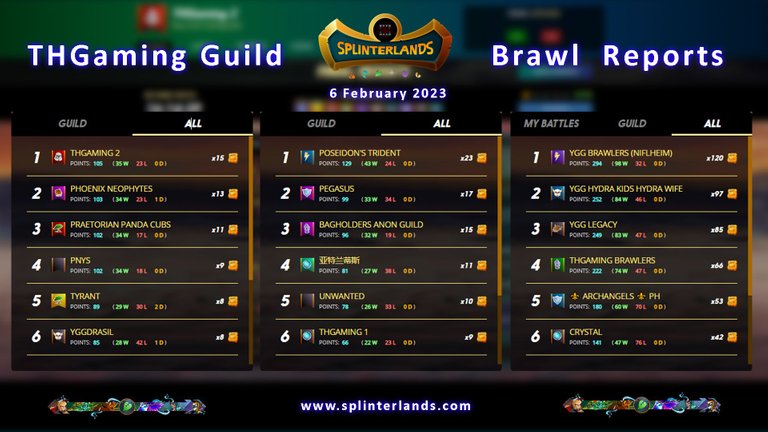 For my first Brawl Report of 2023 THGaming2 emerged as our highest placed Guild with a first placed finish! Below you can see the summarized Guild performances and $SPS winnings.
THGAMING Guild Brawl Finishes and Rewards
🏆 THGaming Brawlers (4th place) TIER 3 BRAWLS - The guild has won spoils of 66 Crowns in the latest brawl! Also, each fully participating member was awarded 3,300 Merits and 51.154 staked SPS.
🏆 THGaming 1 (6th place) TIER 1 BRAWLS - The guild has won spoils of 9 Crowns in the latest brawl! Also, each fully participating member was awarded 485 Merits and 7.977 staked SPS.
🏆 THGaming 2 (1st place) TIER 1 BRAWLS - The guild has won spoils of 15 Crowns in the latest brawl! Also, each fully participating member was awarded 692 Merits and 10.918 staked SPS
We currently have spaces free in ALL of our Guilds so feel free to request to join any of them. If you'd like priority access let me know in the comments and we'll see which of our Guilds best suits your playing style.
I'm sure most of you already know that @splinterlands has made Guild Brawls truly profitable and Guild Brawlers now win staked $SPS Tokens for Brawl participation. The amount of $SPS you earn is dependent on your Guild Tier (Arena level), Guild Participation (how many Freys are filled) and how well you actually finish in the Brawl each week.
My Brawl : 4 Wins 3 Losses
➡️ 51.154 $SPS for 4th place finish
My Guild THGaming Brawlers have moved up to Tier 3 Brawls after getting our Guild Arena up to level 5. The competition is a lot fiercer and we often find ourselves matched against Top 10 Guilds and some real 'Splinterlands Whales'.
My Goldfoil Brawl Performances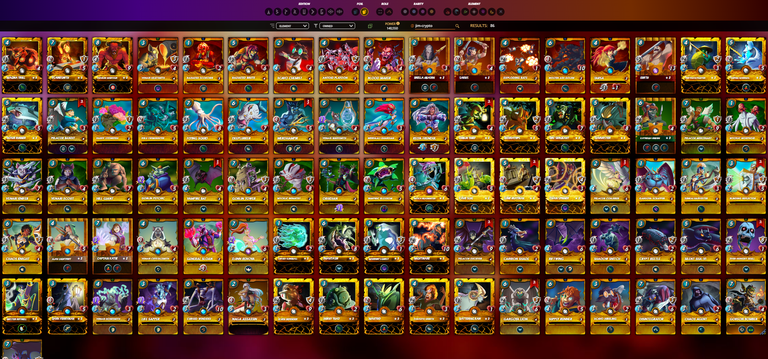 This week I was able to win 4 out of 7 Brawls. The competition is a LOT harder in Tier 3 and I'm up against accounts with levelled Gold Summoners and Monsters. As usual in almost every battle I was 'outgunned by card levels' so a lot of strategic renting is needed to consistently win Brawl matches.
Brawl Deets : I played BRAWL FREY 15 (Silver Level GOLD CARDS, all Series allowed). I currently own 86 Gold Cards including 5 Summoners (Water, Earth, Fire, Death, Life), however I rent a number of Cards for Gold Brawls, including a DRAGON Summoner. The Gold card rentals also add to my Card Power and allow me to be more competitive when playing Wild or Modern league matches.
Reviewing Three Brawl Battles - Frey 15
Most readers don't have time to go through overly detailed posts, so I will summarize three battles - 2 wins and 1 loss. If you have any questions feel free to ask them in the comments.
---
58 Mana - RULESET : Fire and Regret (Return Fire)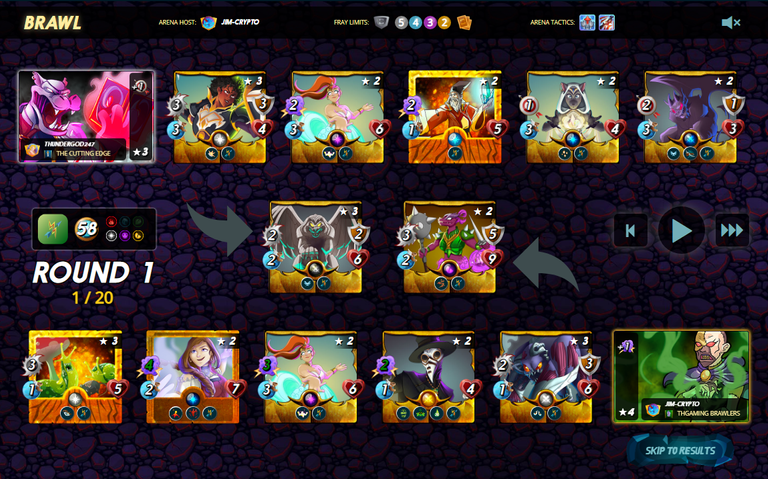 In this battle I have 3 rented Goldfoil Cards :
DELWYN DRAGONSCALE : a Common Summoner and must have for Gold Brawls. He allows me to use CAPTAIN KATIE (Gladius) and other LIFE Splinter card with increased +1 magic damage.
DOCTOR BLIGHT : a Legendary card considered by some to be THE BEST Monster card in Splinterlands. I splurged a bit this Brawl and rented him, and his poison attack and 3 magic damage were influential in taking down the enemy lineup.
DJINN CHWALA : the Epic Dragon melee attack tank with Thorns (damage). It costs around $4 on the market so perhaps it's time for me to buy one!
THE FIGHT : The battle was over quickly with my strong magic attack taking down my opponent in 3 rounds. The person I was up against made the mistake of using 2 ranged attackers and perhaps didn't consider the RULESET closely enough, or didn't have strong Goldfoil cards to use in this high mana battle. However with this combination I would have been able to take down a much stronger hand.
LESSON LEARNT : As usual DELWYN DRAGONSCALE (Summoner) and CAPTAIN KATIE (Gladius) combined exceptionally well and KATIE was once again my MVP. Using DJINN CHWALA in the front with the Return Fire Ruleset meant he was able to do damage back to Melee and Ranged attacks alike.
>> View Battle 1 Here (58 mana, 3 rounds) <<
---
30 Mana - RULESET : Magic Reflect, Lost Legendaries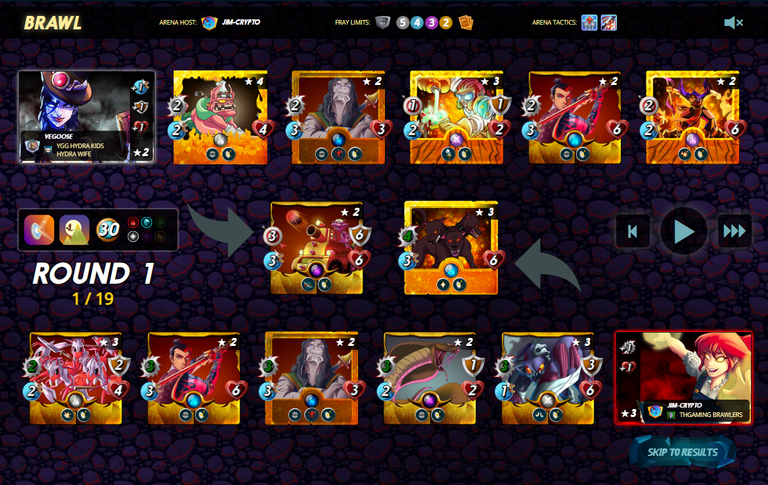 In this battle I have 2 rented Goldfoil Cards :
CEREBUS : the Gold Rare dog is one of the few Healers in the FIRE Splinter, and his Goldfoil rents for 4 $DEC so is often a Monster card I'll rent for my Brawls. I usually use him for low mana battles as he only costs 4 mana, but with the Magic Reflect Ruleset I knew he'd tank some damage in the front.
TENYII STRIKER : another Rare Melee damage card. This guy can do so much damage and I've often been taken down by him. He rents for less than 1 $DEC per day and if you often play FIRE Splinter you need him on your team.
THE FIGHT : Because of the Magic Reflect I knew my opponent would use a strong Melee attack -most likely also with Fire - and as we all know Fire has some serious sneak attacks in it's arsenal. Using DISINTEGRATOR in the 2nd row nerfed (reduced) my opponents magic attack (Disintegrator has the DEMORALISE ability), so his monsters could not do any damage with sneak to my ANTOID PLATOON which has the SHIELD ability.
There were a few MVPs this battle, but I'd say using TARSA (Summoner) was a great choice working well with DISINTEGRATOR, ANTOID PLATOON (at the back) and ORELLA ABADON (Gadius) proving too much for my opponent. ORELLA ABADON managed to trigger his Bloodlust ability 4 times and ended up with 7 attack and 7 Speed, taking down a lot of the enemy lineup on his way victory!
LESSON LEARNT : Work with the Ruleset and try to use strong gladius cards wherever possible.
>> View Battle 2 Here (30 mana, 8 rounds) <<
---
48 Mana - RULESET : Heavy Hitters (Knockout), Lost Legendaries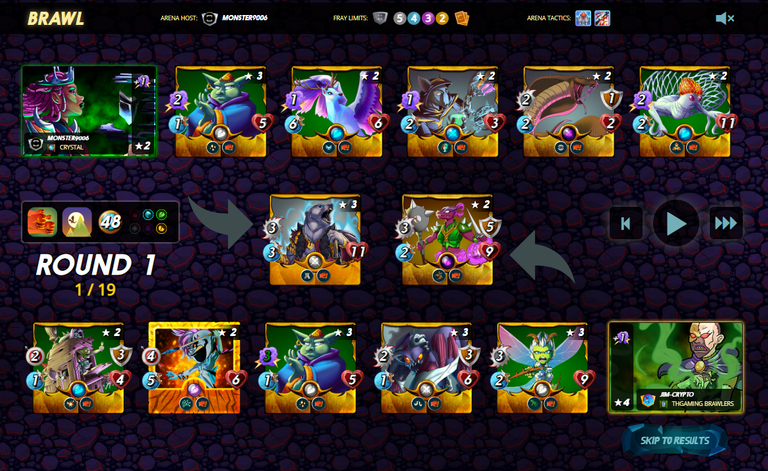 It's important to review your losses and figure out where you went wrong. I was melted by Magic in this battle and simply didn't have the cards to match up to such high DMG numbers.
THE BATTLE My Opponent threw SHIELDBEARER at the back of their lineup which drew a lot of my fire and helped to secure their victory. I wanted to use more Magic attack cards but sadly didn't have any more to add to this battle. Perhaps next brawl I should rent some extra EARTH / NEUTRAL / DRAGON magic cards for just such an occasion.
LESSON LEARNT : You never know what your opponent is going to do but in this battle I was unable to stop the exceptionally high magic damage that would be coming my way. I often rent the UNICORN MUSTANG (a great front row tank against Magic) for brawls but at 20+ $DEC per day it's getting quite pricey so for this brawl I didn't have him, to my detriment!
>> View Battle 3 Here (48 mana, 5 rounds) <<
---
HERE ARE ALL MY BATTLES THIS BRAWL :
Finally I would like to announce that I was able to pull another GOLFOIL GLADIUS CARD after this last brawl. KATRELBA GOBSON (seen below) welcome to my Gold Gladius family. She is my first Goldfoil Gladius card in the EARTH Splinter and is going to come in very useful for future brawls!

---
Join a THGaming Guild
As mentioned we do still have positions available in all of our Brawling Guilds (our top 3 guilds seen in the picture below). If you'd like to join a THG Splinterlands guild you can simply apply to join and we'll let you in. We have a Discord server Private Channel for our Guild members!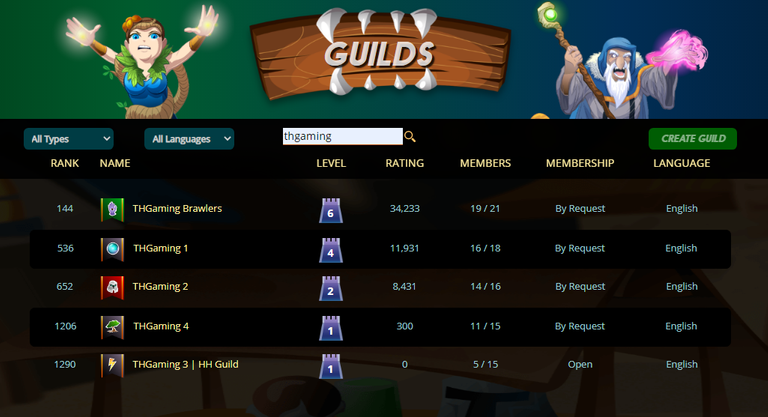 I hope you enjoyed this Brawl Report. Let me know in the comments what you think about @splinterlands Brawls, or any general Splinterlands strategy, and I'll be sure to upvote (tip) the best remarks.
Thanks for joining me in my Gaming and Crypto journey. As always...
Trade safely, Game hard.
THE END
---

Linktree Official - All Social Media links


$THGAMING on Tribaldex
---
---