Be a Tournament Gladiator | Another way to earn in-game rewards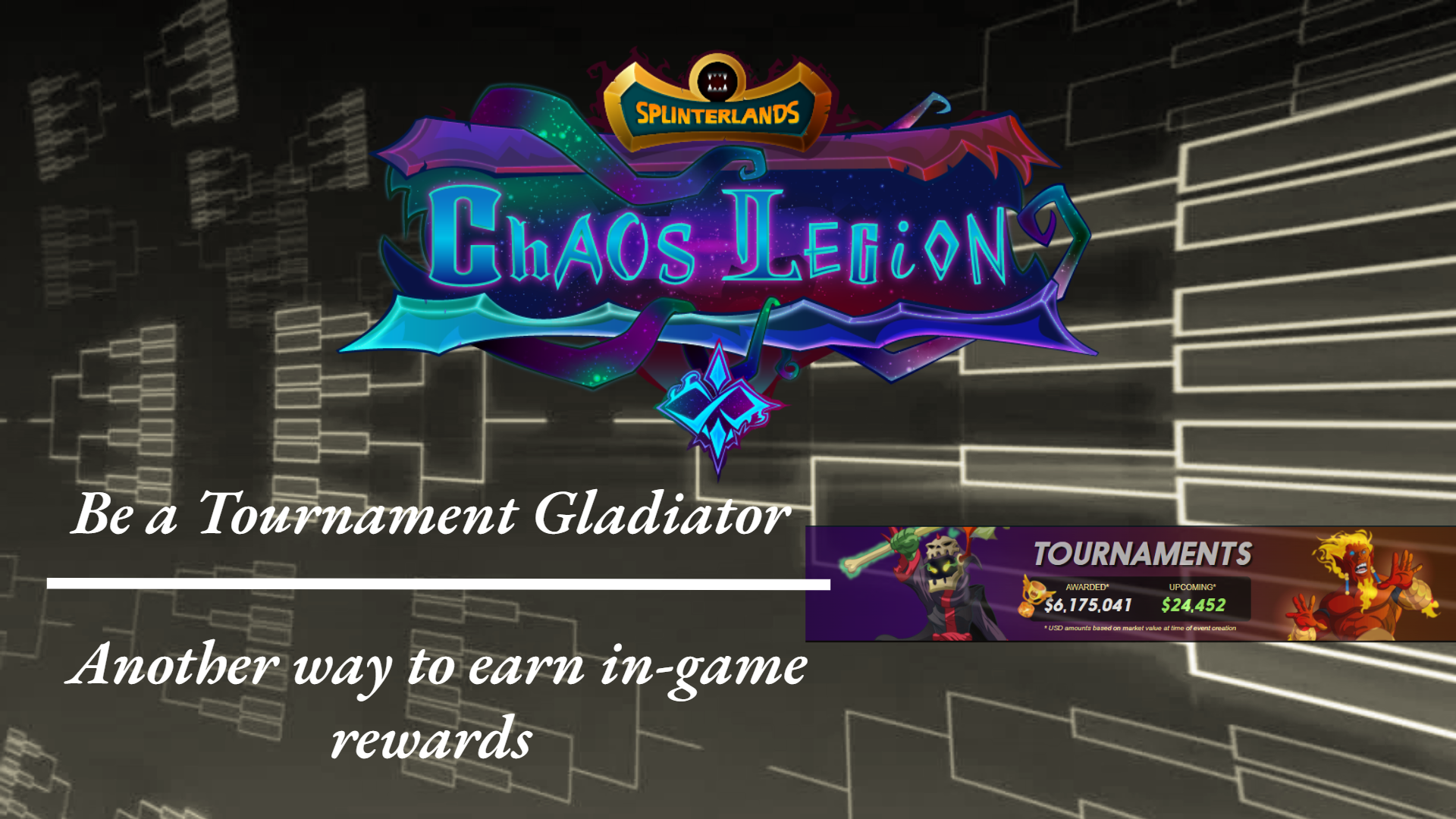 Aside from earning DECs from Ranked battle, you can also earn in Splinterlands by joining tournaments. There are tournaments you can find in which the entry fee is almost the same as the consolation prize. You will receive the same amount of entry fee even if you finished last. This is something you need to explore if you want to have some other forms of earning thru the game.
There are some few requirements like the Collection Power, Staked SPS, and your current League. Let's break it down per items.
Collection Power : The Collection Power will be counted based on the cards allowed to play. For example, in Alpha edition tournament, only cards from your Alpha cards will be counted to the Collection Power required. Collection Power from Gladius cards do count if there are no specific editions mentions aside from Modern or Wild format.
Staked SPS : Most of the tournaments created by sps.tournaments requires player to have staked SPS in order to join. These tournaments are the one I join since the entry fee is almost the same as the consolation prize for the lowest ranked. Needless to say, you won't lose anything if in case you are the bottom ranked, but there's a big chance to win something even if you place something in the middle.
Current League : In order to give chance to beginners, there are tournaments that has lower entry fee when you are in a certain league like bronze or silver, but the entry fee sometimes go up to 100 times for players in the gold league and above. This will discourage high ranked players to participate in beginners tournament as they will pay higher entry fee that the prize they can possibly get.
Aside from the tournaments created by sps.tournaments, you can also join those tournaments created by @clove71, @sketchygamerguy, @woo-events, @splinterrents and many more. You can check it out by going to Events tab.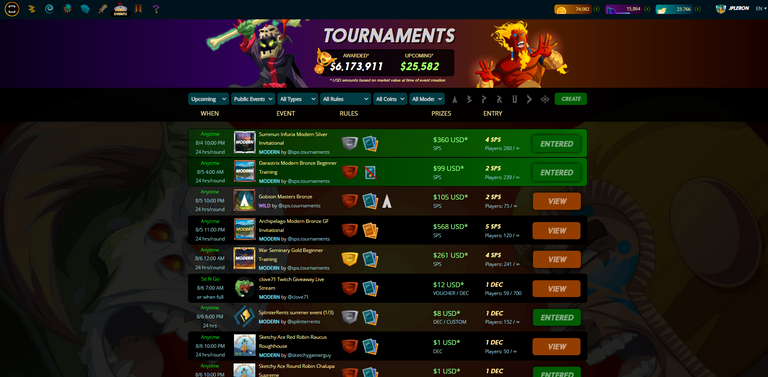 I will now show some of the tournaments I've participated starting from last month. But before that, just a disclaimer, I know I am not that good enough to finish at the top. Usually, I don't rent cards for tournament alone and mostly uses the cards I owned to battle. I only rent cards for grinding and guild brawl (which I usually plan to play both grinding and brawl at the same time in order to maximize my rented cards). Also, since the rental duration is at minimum 2 days, it is perfect for those tournaments that has round1 and round2 (if ever you make it to the next round, woohoo!!!)
---
1. Godmode Tournament Series by @cairo005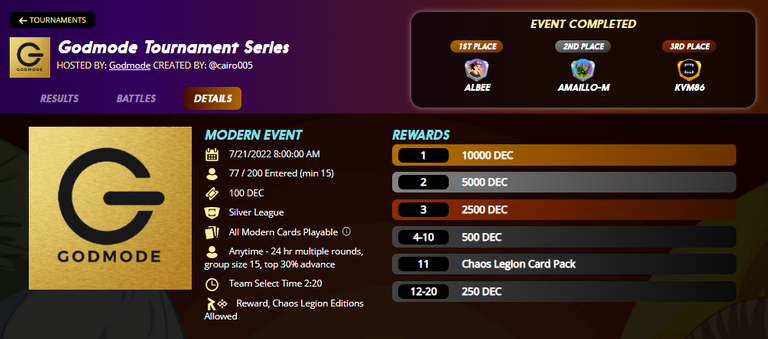 I finished 12th placed from 77 players who joined in the tournament. I was very close to winning a Chaos Legion pack (11th place) but still winning 250 DECs was already good especially since they will refund your entrance fee. You will have to just message them in the discord group.
---
2. Scarred Hand Gold Beginner Cup by @sps.tournaments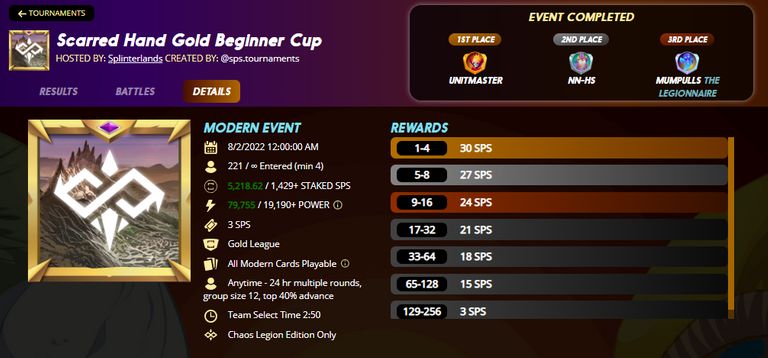 I've finished 142nd, short of 14 to earned some 15 SPS with only 3 SPS entrance fee. Again, I earned the same 3 SPS I paid. This is a Gold league and I am only using Silver league max cards.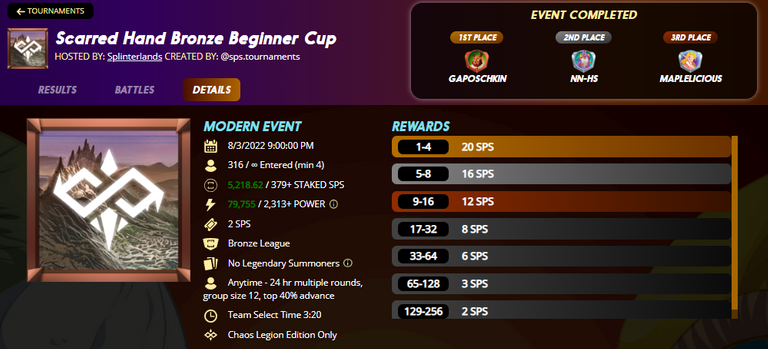 For this one, there were 316 players joined and only upto 256th place was guaranteed with a 2 SPS rewards. It is something you need to avoid in case you are just trying out tournaments. I managed to finished 53rd with 3 SPS rewards, earning 1 SPS for this tournament hahaha.
---
3. Darastrix Modern Bronze GF Beginner by @sps.tournaments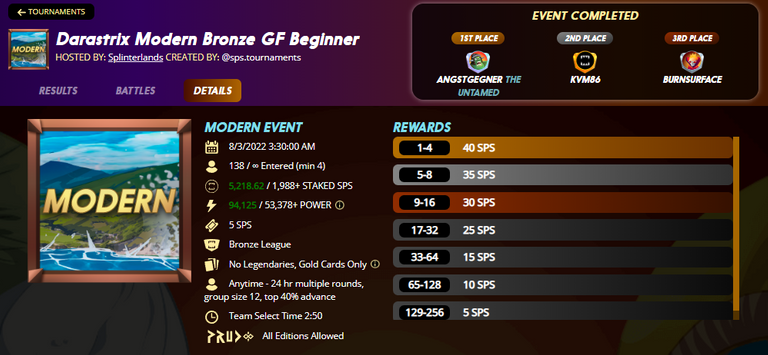 I earned 10 SPS by just finishing 108th in this tournament. Take note only 138 players joined in this tournament. You only need to defeat 10 players and you are already guaranteed 10 SPS.
---
4. Summun Infuria Modern Silver Invitational by @sps.tournaments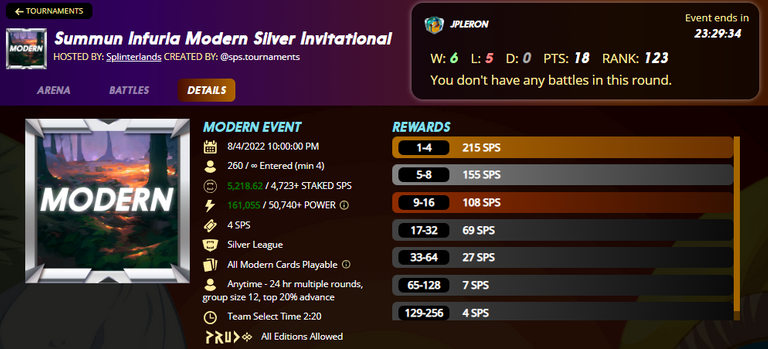 This is still ongoing although I am already eliminated at 123rd place getting 7 SPS rewards (earning 3 SPS).
---
These are the tournaments I joined but not really give a 100% effort. Not sure if I was able to submit my battles or not. But as mentioned, even if you placed at the bottom rankings, you will still earn consolation prize equivalent to the entry fee. No harm trying it out right?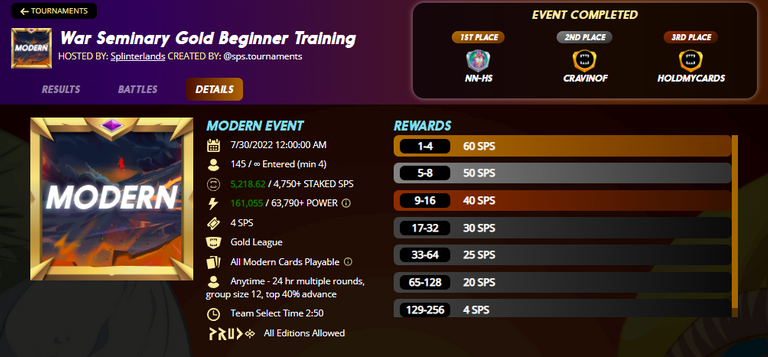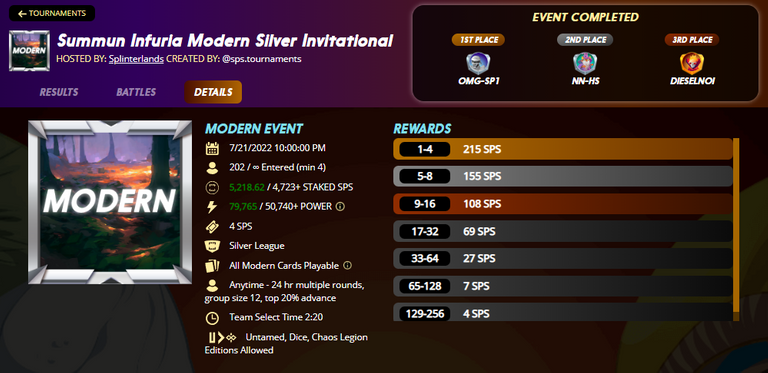 Final Thoughts
Participating at tournaments is another way to earn in-game rewards. There are a lot of tournaments coming up, so you do not have to worry finding the perfect match for you to join.
Playing games at the tournament won't consume ECRs so while waiting for your ECR to refill, why not participate in the tournament games. You will still earn from it.

If you want to know more about the game, you can visit their website at https://splinterlands.com?ref=jpleron
Splinterlands is a digital, collectible card game built on blockchain technology. It is similar in concept to games like Magic the Gathering and Hearthstone where you build up a collection of cards, which all have various different stats and abilities, and use them to battle other players in skill-based matches. By using blockchain technology, players can buy, sell, and trade their digital assets freely just as if they were physical cards, and all transactions are recorded publicly and immutably.
Use my referral link to register and I will give you some cards to help you start your own Splinterland journey.
Posted using Splintertalk
---
---