SPLINTERLANDS | Guild Brawl Result 01/25/2022 and Gladius Pack opening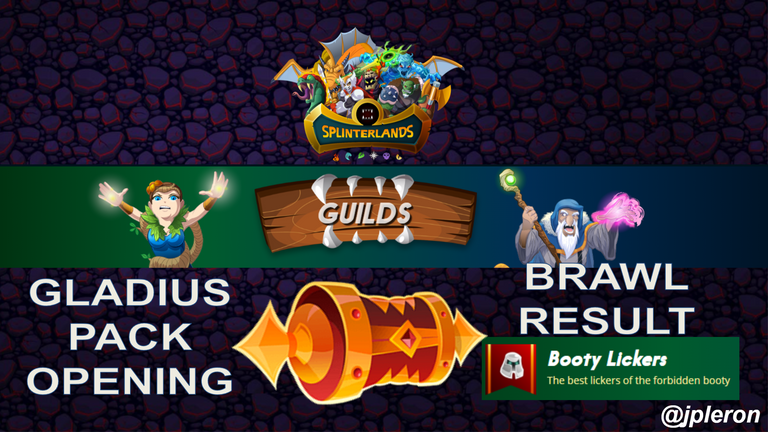 Hey Guys, its time to give the results of our guild brawl last Jan. 25, 2022. I'll also show the latest cards we got from opening our 4th Gladius case. If you want to check my previous post about guild brawls, check this link
---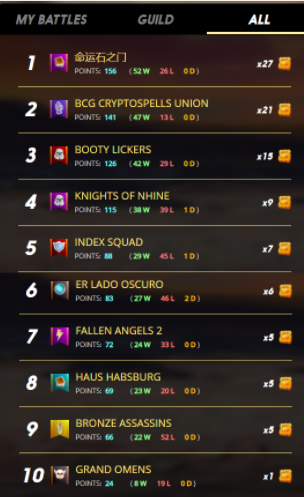 Our guild manage to finished 3rd in this brawl receiving 15 crowns and 692 merits (enough for me to buy a new Gladius case).
On average, we finish either 3rd or 4th spot. And just this year, we managed to get our first ever Top1 in brawl wherein we got 1,108 merits as rewards. That's half the required merits for one Gladius case already. 2000 merits = 1 Gladius case
We are now working with leveling our Guild Store to level 3 to increase the merit bonus for every brawl. The higher the Guild Store level is, the higher bonus merits.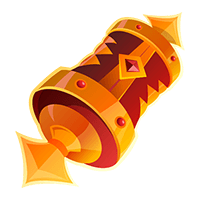 My Battles
I was able to get a 6 wins and 3 loses. 3 of my wins was due to opponent fleeinghe battle. You'll received a free win when your opponent fled the match. Either they did not submit a team or they use a rented card but unfortunately the rental expires before the match even begin.
Tips on how to avoid the "Opponent Fled" due to expired card rentals:
Take note of the monsters you used in each fight, so you can extend your rent for that card in case the result of the match is not yet determined. Once the match is completed, there is no need to extend the rental for that card.
Rent the cards that you will use in brawl within the 24 hour countdown, and start submitting your team for each match. This way, you won't bother to check the expiration of your rent.
Match 1: Victory - https://splinterlands.com?p=battle&id=sm_xSqvidOEXzknWNt9OWci&ref=jpleron
I utilized the mana cap with a balance deck and high level monster. As for my opponent, Chaos Knight's position is out of place. It would be better if it will be on the front replacing the Sunkai Harvester. My opponents line-up also misses some Magic and Supports abilties.
Match 2: Victory - https://splinterlands.com?p=battle&id=sm_TGEMmgV0Bar2t5RnK3wj&ref=jpleron
This was a long battle and I just got lucky at the very last moment. An enraged Djinn Oshannus with 8 speed was the main reason why my opponent last upto round 23. If Palidon Rakk missed his attack on Djinn Oshannus, I won't be able to survive it. The added stats from the Bloodlust really helps me on this one. Also, since Sneak and Snipe were not available, both of us opt to use a double heal combo.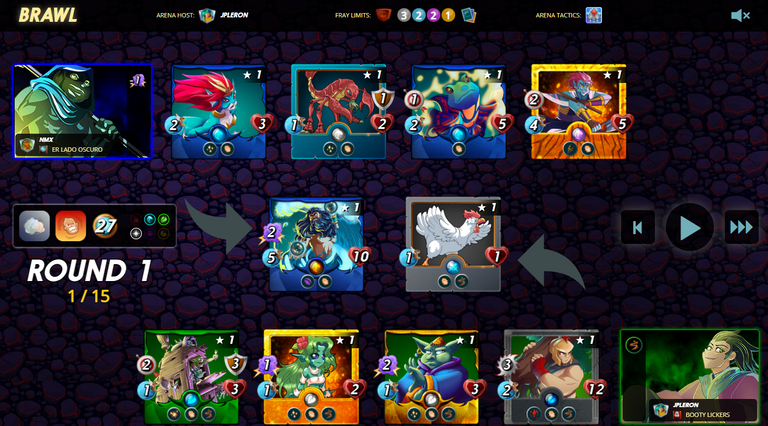 Match 3: Defeated - https://splinterlands.com?p=battle&id=sm_yrqnm8lKsmPWW1ADFs9K&ref=jpleron
I force myself to use a Gladius card even though the mana cap is not that high. Instead of using Kelya Frendul as my summoner, I ended up using Bortus to fit the mana requirement. Although I think I can still win this match if I have Torent Fiend as additional 0 mana monster on the field to take additional sneak attacks.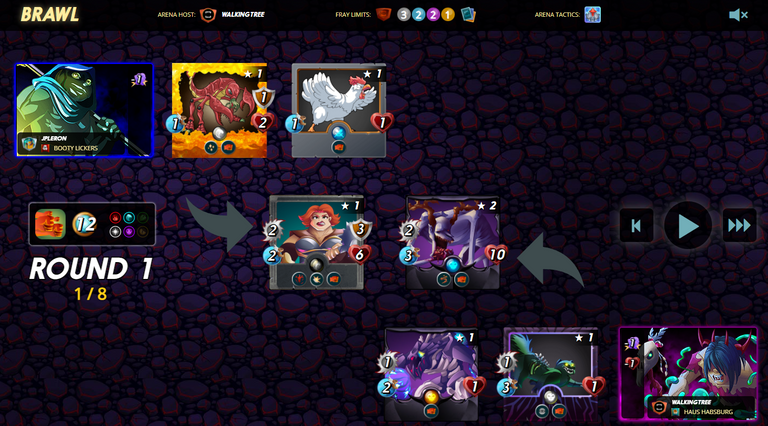 Match 4: Defeated - https://splinterlands.com?p=battle&id=sm_hAGoz7G9XKfYunWkoHP4&ref=jpleron
My opponent had a great line-up. With two support monster healing the HP and repairing the armor of their tank. While on my side, since Ranged monster was not available, I opted to use Bortus and Djinn Oshannus if ever my opponent uses Magic attacks.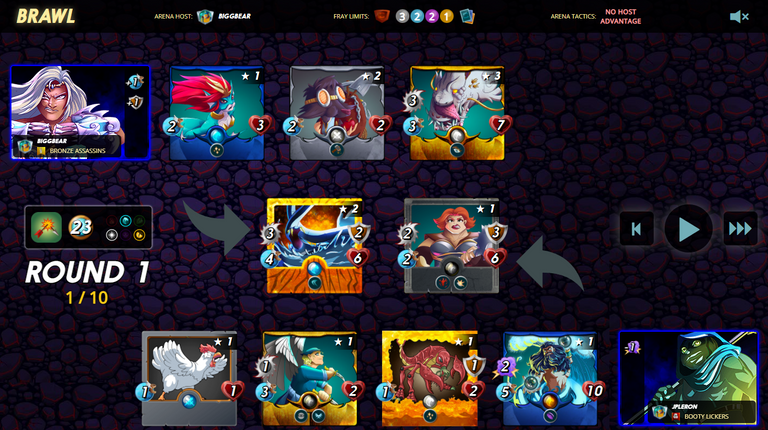 Match 5: Defeated - https://splinterlands.com?p=battle&id=sm_G3N5n1NX7WGfZnOOpWjF&ref=jpleron
Chaos Dragon's Scattershot combined with Blast rule was hard to counter here. But the MVP in this match was Quora Towershead. It has two attacks, Magic and melee which was good for a blast rule. It also has a self Heal. It's one the best Gladius cards out there.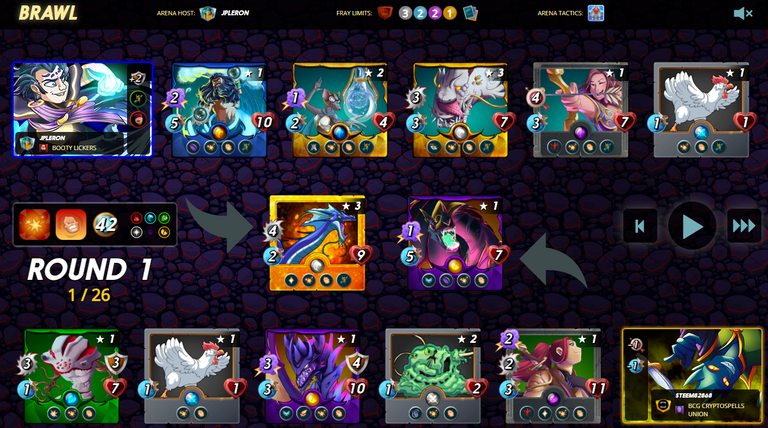 Match 6: Victory - https://splinterlands.com?p=battle&id=sm_CWIBlXVfDXqvs534Cypq&ref=jpleron
I opted for a melee brawl fight against my opponent who also uses the same Summoner. This was my chance to use one of my legendary Gladius card Fina Voxom, so I won't miss this chance.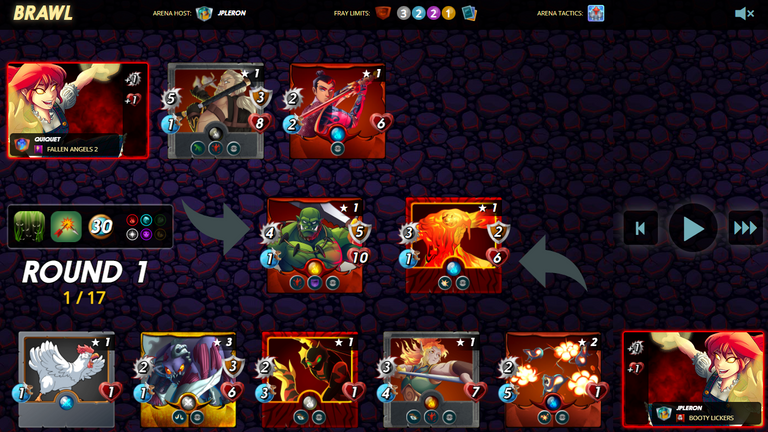 Gladius Pack Opening
Here's what I got on my 4th Gladius case. Still waiting for my first gold foil legenedary :)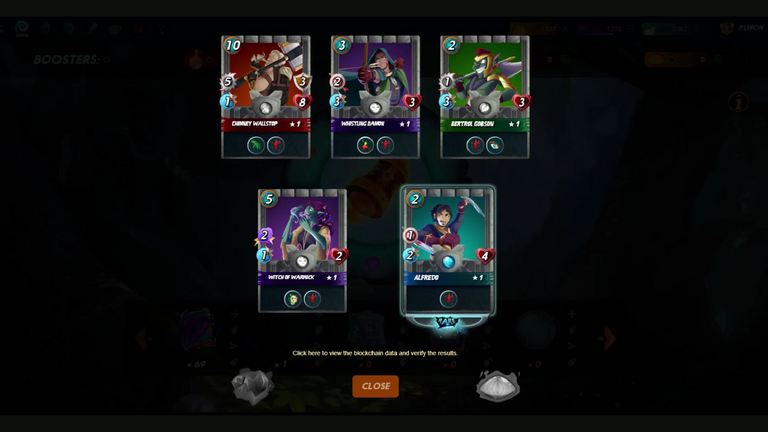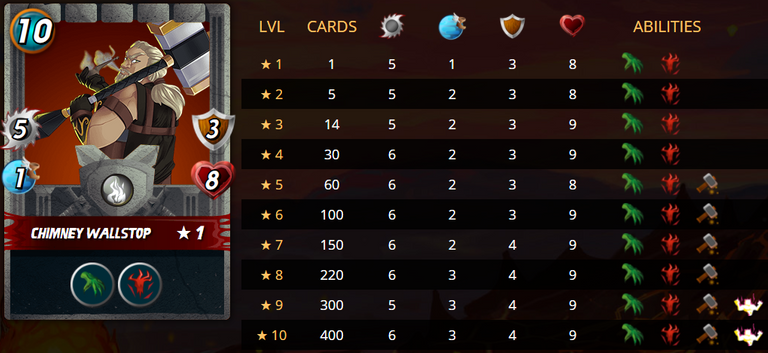 Chimney Wallstop is a good secondary tank. With its Reach ability, it can attack even in the second position. It also ha Armor Repair on its higher level so definitely a good monster to have.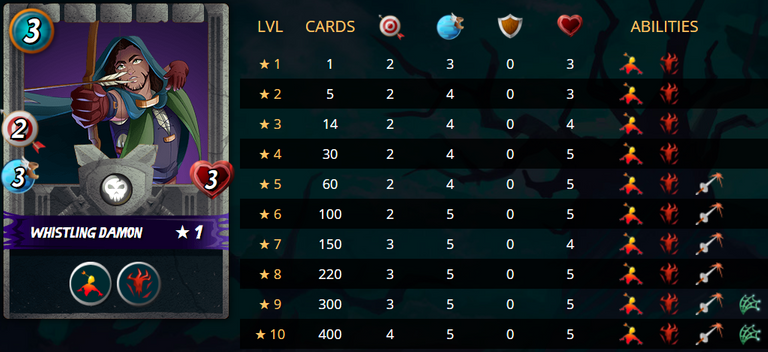 Whistling Damon is good for low mana cap battle. With Snipe and Pierce ability, its a good backline monster to have.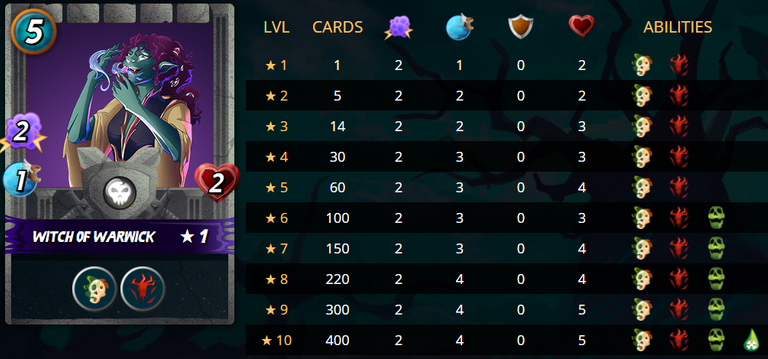 Witch of Warwick is similar to the new Magic monster in Death from Chaos Legion with Life Leech ability. With the Bloodlust ability, it gets stronger every time it kills, and it may even reach a point in which Life Leech will make it sustain the attacks from enemy. Combined this with Byzantine Kitty, it can be a replacement for Ancient Lich in low mana battle.

Bertrol Gobson is also a good for low mana battles. With Opportunity ability paired with Bloodlust, it can easily stacks up its stats.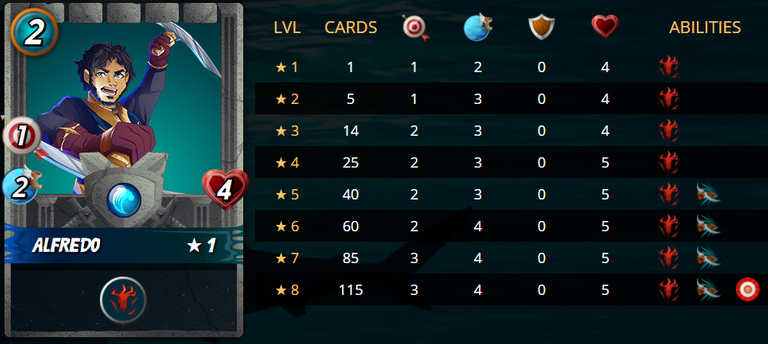 Alfredo is good for low mana cap battle as well. On its max level, it can have True Strike ability which is good for high speed and abilities related to evading attacks.

If you want to know more about the game, you can visit their website at https://splinterlands.com?ref=jpleron
Splinterlands is a digital, collectible card game built on blockchain technology. It is similar in concept to games like Magic the Gathering and Hearthstone where you build up a collection of cards, which all have various different stats and abilities, and use them to battle other players in skill-based matches. By using blockchain technology, players can buy, sell, and trade their digital assets freely just as if they were physical cards, and all transactions are recorded publicly and immutably.
Use my referral link to register and I will give you some cards to help you start your own Splinterland journey.
---
---