Finishing the Guild Brawl with 5 Undefeated Frays to secure the top spot
---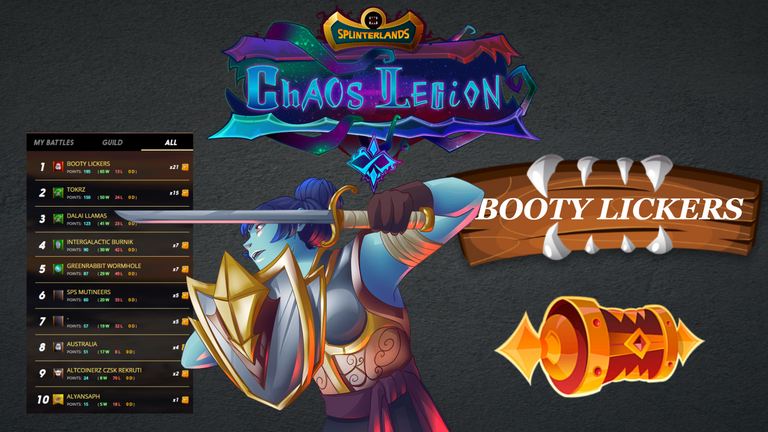 Hey Guys, its time to give the results of our latest guild brawl this 11th of May. We have five players in this brawl with undeated record. This is currently the best record we got so far in participating the guild brawl.
If you want to check my previous post about why you need to join guild brawls, check this link. You can also check my post about our guild requirement in this link

GUILD RANKINGS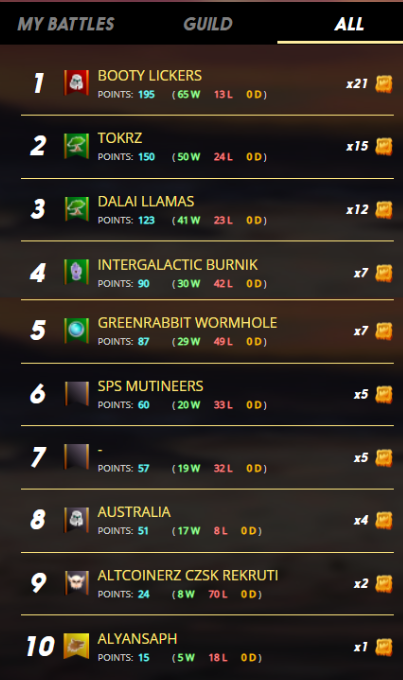 We ranked 1st this time with each of participating members receiving 1,131 Merits and 21 Crowns for our guild. We outscored the 2nd place by 45 points to secure the top spot and only lost by 13 matches.
Our guild currently ranked 255 overall. This is far from the 166th place we had in the previous month.
---

TOP BRAWLERS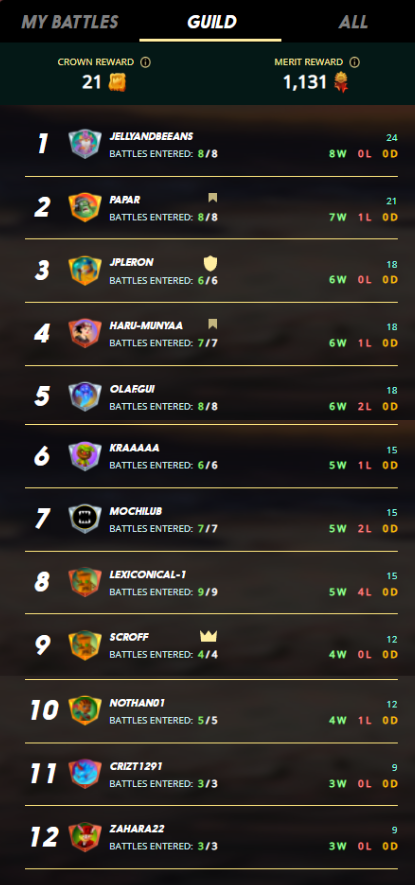 We have 5 players that are UNDEFEATED in this brawl. A big round of applause to @jellyandbeeans @jpleron @scroff @crizt1291 @zahara22. Let's keep this rolling...
And of course, aside from those guys, we have other members who also done their part to secure the top spot.
Each of us received 1,131 Merits and our guild received 21 Crowns
---
Booty Lickers Brawl Rewards:
Aside from the merits we get in brawl rewards, our guild leader also gives DEC rewards to the member who gets the most win per Tier.
Tier1: Fray1 - Fray4 = 25 DEC
Tier2: Fray5 - Fray7 = 50 DEC
Tier3: Fray8 - Fray10 = 100 DEC
Tier4: Fray11 - Fray13 = 150 DEC
And these rewards are multiplied based on the guild performance (1st place is x4, 2nd place is x3, 3rd place is x2).
Aside from that, members who are undefeated in they frays gets DEC rewards as well.
For members who are undefeated and the Tier champ will get the same reward on thier tier. While members who are undefeated but are not the tier champ gets half of the reward on their tier.
And here are the results of the latest brawl (05/11/2022):
Guild - 1st place - 21 crowns | 1,131 merits
TIER1: @jellyandbeeans 8 wins | 25 x 4 (1st) = 100 DEC
TIER2: @olaf.gui 6 wins | 50 x 4 (1st) = 200 DEC
TIER3: @papar 7 wins | 100 x 4 (1st) = 400 DEC
TIER4: @scroff 4 wins | 150 x 4 (1st) = 600 DEC
Additional rewards on top of Tier rewards:
Undefeated & Tier Champ = Tier prize x 1
Undefeated = Tier prize x .5
Does your guild gives you that kind of motivation to perform your best in every brawl? If you haven't found a guild to join yet, I suggest to comment your ign below so we can check your profile just in case we have slots open.

Post Match Analysis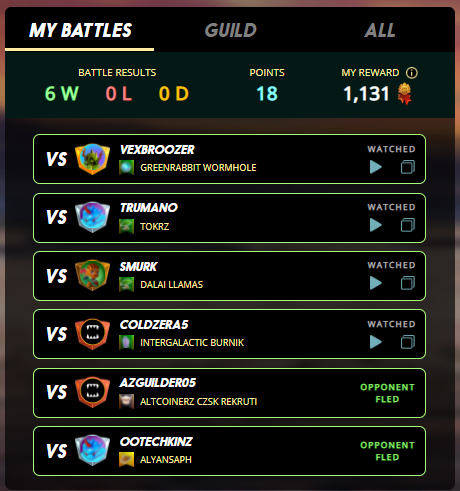 As I mentioned in my previous blog, I'm building my Chaos Legion deck for Silver league. I mostly collects gold foil cards for Common and Rare cards while normal foil for Epic and Legendary cards as of the moment. I still wanted to collect gold foil for both Epic and Legendary but right now I may rent this cards while I'm still continue to save DEC rewards and Hive rewards from posting contents.
So in this brawl, I am still playing at Fray10 with only Chaos Legion Silver League cap.
I spent around more or less 200 DECs in rentals since I rent for two days. I filled my frays early since I will be busy in the final day. As a suggestion, it is still better to submit frays within the last 24 hours specially if you have a lot of cards to rent. Renting cards for 1 day is way cheaper than to rent for 2 days. Also, in case you rent cards and submit battles early, you can still rent for 1 day then just extend the cards for those battles that are not yet completed. If the battle result was already determined, whether win or lose, there's no need to extend the rental for those cards since the result is already final.
As a result of this brawl, I managed to get 4 victories from battles and 2 from Opponent fled.
---
https://splinterlands.com?p=battle&id=sm_eS82IyHoklYcJGatv6hX&ref=jpleron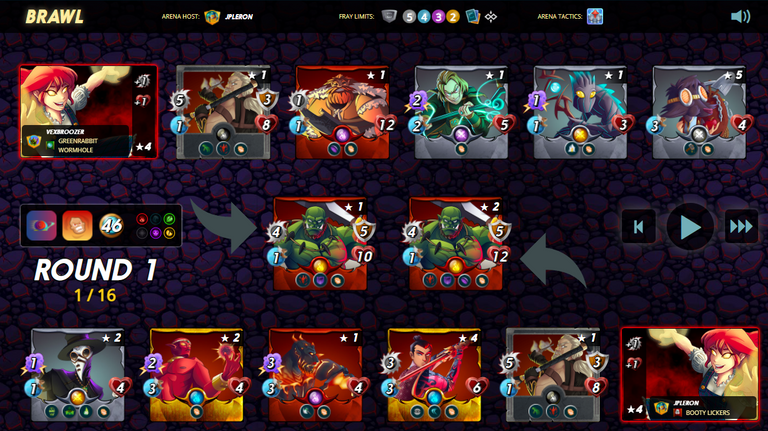 | Battle Condition | Description |
| --- | --- |
| Rule #1 | Reverse Speed: Monsters with the lowest Speed attack first and have the highest chance of evading attacks. |
| Rule #2 | Spreading Fury: All Monsters have the Enrage ability. |
| Mana Cap | 46 |
| Allowed Splinter | Fire, Death, Earth, and Dragon |
In this match, Spreading Fury will gave all monsters the Enrage ability. The Enrage ability works well for melee monsters since both Speed and Melee damage will increase due to the effect of Enrage. While Reverse Speed will allow Monsters with lower Speed to attack first and have a higher evasion rate.
This two ruleset combined will be perfect for Fire Splinter. Fire Splinter have a lot of Monsters with the lowest Speed stats. Also our Summoner Tarsa provides a Melee damage buff to all friendly monsters.
With this in mind, both of us selected the Fire Splinter. We almost have the same line-up with Grum Flameblade as our main tank and Chimney Wallstop as the 2nd tank.
| | Tarsa provides additional melee damage and health to each friendly monsters. As I mentioned, Fire Splinter will benefit from two ruleset that is why I used this one. |
| --- | --- |
| | Grum Flameblade has high armor and high HP with only 1 Speed. This is the best tank for this ruleset. Also since the Earth Splinter is available, it is also best to have Monsters with Void and Void Armor to counter a possible heavy Magic line-up. |
| | Chimney Wallstop is a melee monster with Reach ability that allows it to attack even in the 2nd position. It has high HP, high melee damage and only has 1 Speed. Again, one of the perfect monster for this ruleset. |
| | Tenyii Striker is a melee monster with Sneak ability that allows it to attack in any position and targets the enemy monster at the backline. |
| | Djinn Inferni has a Giant Killer ability which is very effective against monsters with high mana cost. We had 46 Mana cap which gives a lot of chance to encounter monsters with high mana cap. |
| | Djinn Apprentice is a Magic damage dealer and does not have any abilities. The reason why I used this monster is because I don't have enough melee monsters with Sneak or Opportunity ability. Having a magic damage will also deals damage directly to monster's health bypassing the armor. |
| | Doctor Blight is a neutral monster with Affliction and Camouflage at level 1 while getting Poison at level 2. Aside from not being targeted due to its Camouflage ability, the Poison ability really is a deadly attack once it's triggered. |
---
2. Match against @trumano
https://splinterlands.com?p=battle&id=sm_ARIhnT6Ob44RTnv7l2cb&ref=jpleron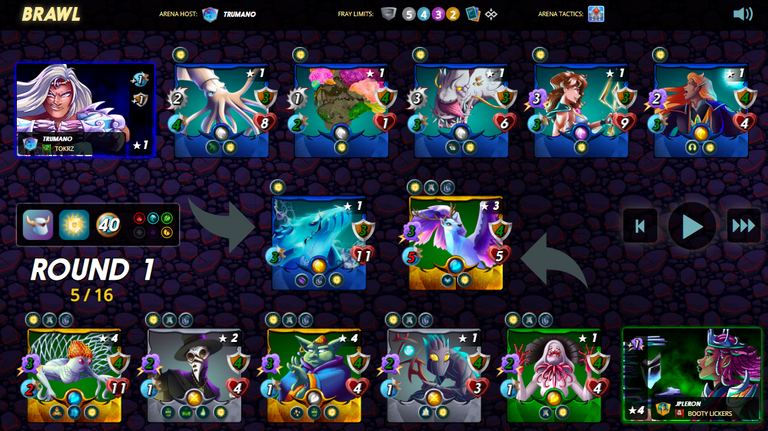 | Battle Condition | Description |
| --- | --- |
| Rule #1 | Armored Up: All Monsters have 2 Armor in addition to their normal Armor stat. |
| Rule #2 | Holy Protection: All Monsters have the Divine Shield ability. |
| Mana Cap | 40 |
| Allowed Splinter | Fire, Water, Earth, and Dragon |
With the Holy Protection and Armored Up ruleset, the probability of using a Magic line-up is very high since Magic damage bypass the Armors. Our enemy uses Baakjira as the main tank to counter our line-up. Fortunately, we were able to take down Baakjira quickly with the help of Poison damage and enhanced Magic damage from Obsidian's buff.
I placed Mycelic Slipspawn at the backline to force our enemy to attack it while using Spirit Hoarder's healing ability TRIAGE, to support it. Queen Mycelia's Protection gives additional 2 armors on top of the Armored Up rulset, leaving our our monsters with 4 Armors in total each.
Regal Peryton may have a low health but thanks to the Armor, Tank Heal ability, and Taunting from Mycelic Slipspawn, we managed to survive every round of attacks.
---
3. Match against @smurk
https://splinterlands.com?p=battle&id=sm_RG7v3EMRG1MwZXtWx8CB&ref=jpleron
| Battle Condition | Description |
| --- | --- |
| Rule #1 | Weak Magic: Magic attacks hit Armor before reducing Health. |
| Rule #2 | Lost Legendaries - Legendary monsters may not be used in this battles |
| Mana Cap | 17 |
| Allowed Splinter | Fire, Water, and Death |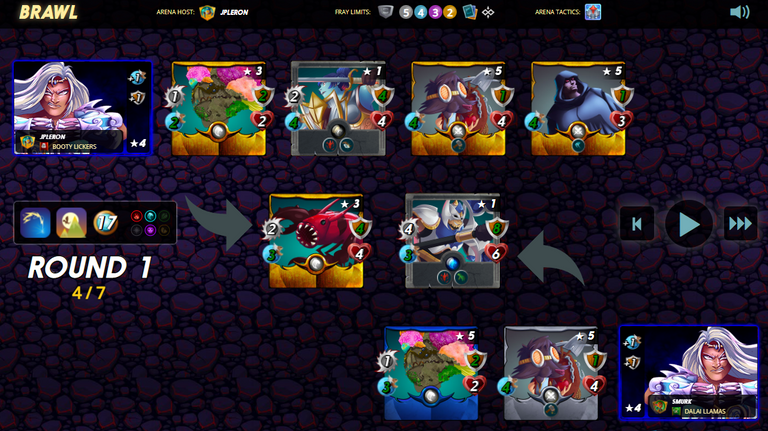 With the Weak Magic ruleset, it is recommended to use monsters with Armors or Summoners that provides additional armor to our monsters. This is the main reason why we both used Kelya Frendul as our summoner and Scavo Hireling for the Armor Repair ability.
The only difference in our line-up is that my opponent has only 1 Monster that can attack per round. His Relenor Cleaver may have 4 damage in total and can destroy the armor of our tank Cruel Sethropod in a single strike, but we have Scavo Hireling to repair it. Scavo Hireling can only heal 2 Armor but that is enough to absorb the damage from Relenor Cleaver in every round.
While on our line-up, aside from Cruel Sethropod, we also have Isgald Vorst that can deal damage. Isgald Vorst has the Opportunity ability which allows it to attack monsters with the lowest health. In this case, it targets Hardy Stonefish first and then proceed with enemy's Scavo Hireling. Scavo Hireling can only repair armor of one monster every round, but since we have two monsters that can deal damage to different monsters. Scavo Hireling will prioritized monsters whose armor received a lot of damage. In case of tie, it will prioritized monsters on the front line.
After Isgald Vorst eliminated Scavo Hireling, enemy's Relenor Cleaver will feel the damage from our two monsters. Also, after killing those 2 monsters at the backline, Isgald Vorst able to stack 4 melee damage from Bloodlust ability.
---
https://splinterlands.com?p=battle&id=sm_kCquRKRGuESGpvVIqku2&ref=jpleron
| Battle Condition | Description |
| --- | --- |
| Rule #1 | Earthquake: Non-flying Monsters take 2 Melee damage at the end of each round. |
| Rule #2 | Close Range: Ranged attacks may be used in the first position in battles. |
| Mana Cap | 44 |
| Allowed Splinter | Fire, and Life |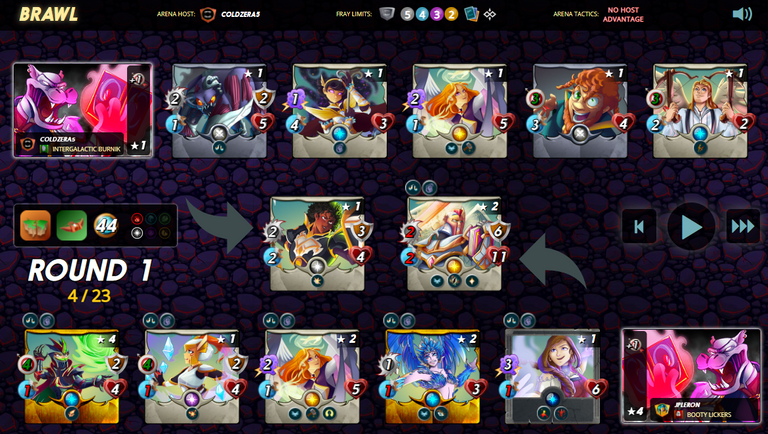 With the Earthquake ruleset, it is recommended to have monsters with Flying ability to avoid the 2 melee damage at the end of each round. Brighton Bloom Summoner grants Flying ability to all monsters but is not available due to Chaos Legion restriction. We have to rely with monsters that has Flying ability on its own. If in case you do not have Flying ability, having an Armor will somehow protect you from initial damage due to the Earthquake rule.
Also, since Close Range ruleset is available as well, having a Ranged monster may also be a good choice since they will be able to attack even at the first position.
With those two ruleset in mind, the perfect Splinter for this ruleset combination is Life Splinter. There are a lot of monsters from Chaos Legion Life Splinter that has Flying ability like Uriel the Purifier, Adelade Brightwing, and Celestial Harpy. As you can see, my opponent uses the same Life Splinter.
In order to utilize the increase ranged damage buff from General Sloan, I selected Prismologist and Portal Spinner. Both have high ranged damage and at the same time have Armors to absorb the damage from Earthquake. While our enemy ranged monsters did not have Armors to protect them from Earthquake. It is also good to have Armors since Adelade Brightwing has Armor Repair to heal it.
Our Gladius for this match is Captain Katie which has the Snipe ability. With 3 Magic damage, it easily killed enemy's Time Mage. Although it doesn't have Armors, once its Bloodlust ability is triggered, it will gain 1 additional stats to all (magic damage, speed, and health).
---
This is the end of my post analyis. Hopefully, you got something reading this post.
This is a bit short compare with my previous brawl report due to 2 of my opponent fled the match.
What do you think of the new guild brawl format? Do you miss the Untamed only frays?
Let me know in the comment section.
Till next time!!!

If you want to know more about the game, you can visit their website at https://splinterlands.com?ref=jpleron
Splinterlands is a digital, collectible card game built on blockchain technology. It is similar in concept to games like Magic the Gathering and Hearthstone where you build up a collection of cards, which all have various different stats and abilities, and use them to battle other players in skill-based matches. By using blockchain technology, players can buy, sell, and trade their digital assets freely just as if they were physical cards, and all transactions are recorded publicly and immutably.
Use my referral link to register and I will give you some cards to help you start your own Splinterland journey.
---
▶️ 3Speak
---
---