Taking some profit from Splinterlands due to HIVE price hike
I finally did it. After consulting with the coldest part of my soul and heart for aome time, I put 6 of my 261 cards on sale yesterday in the market of our beloved game Splinterlands. Well right now I only have 259 because 2 of the 6 cards sold out right away.
These 4 cards are still on the market for sale.


Making this decision, as I said, was not easy. Especially deciding which cards to sell was quite a long process. It is true that there are cards that one never or almost never uses in the game, that is normal to happen, but they are still your beloved cards (if you know what I'm talking about).
To be honest, with the 2 cards sold I have won more than 7 times what I spent in the game buying Alpha packages through Paypal, a few years ago when it started. And yesterday I also changed a part of the DECs that I have earned with the rent of some of my cards in the game.
I don't think taking profit is a bad thing, quite the opposite. Seeing how the value of all my cards has risen these two months has helped me a lot to decide, in fact this has been what has triggered the idea in my head that it was time to take some profits.
But the final decision was made thanks to the price increase of HIVE.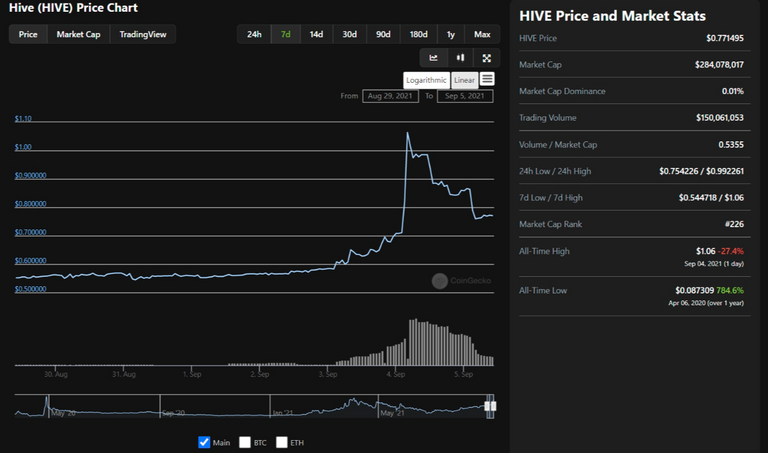 Well, it seems that I was not the only one trying to make some profit from the rise in the price of HIVE 😅
Due to the sale of the 2 cards and the DECs tokens yesterday I will now receive less tokens in the daily SPS token airdrop. For this reason, I am thinking of leaving the rest of the DECs that I will earn from the sale of the 4 cards that remain to be sold in the wallet to earn a little more SPS. By now I have made quite a bit of profit from the game.
Did you also make a profit on this HIVE price hike thanks to the Splinterlands game?
---
---