Splinterlands Art Contest Week 216! Tower Defense Spell Contest! | Heartbreath (Heartgiver)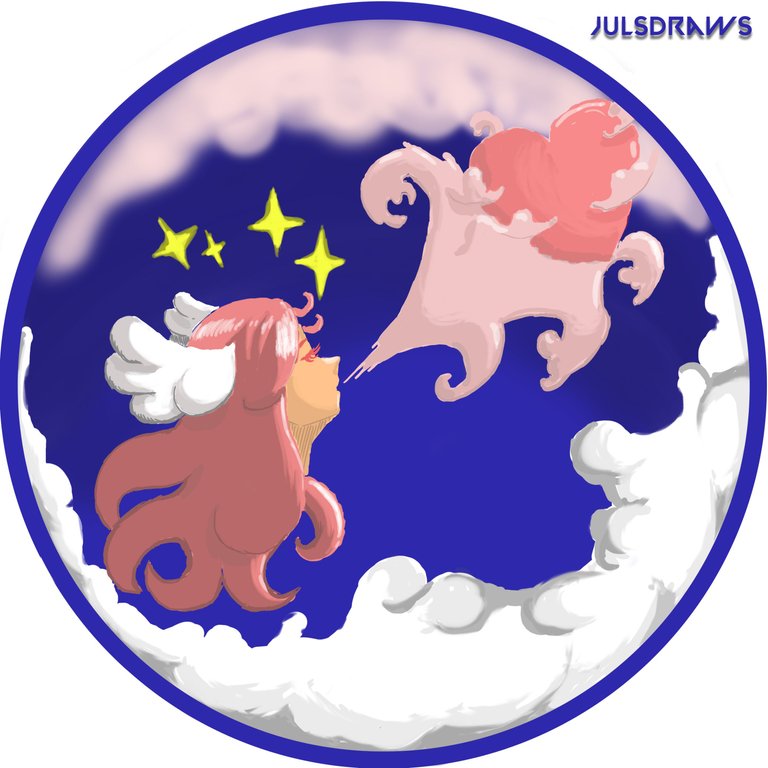 Hello, Hive! as well as Splinterlands! Looks like the theme for this week is different, and I've seen a lot of entries that weren't fit for this theme, perhaps because they were expecting the usual weekly character fanart contest, tho the concept for this week is really interesting but also really difficult because you are locked-in on a single word "heartgiver" which will be used later for a spell here on Splinterlands. Anyway the contest host said that we can rename the theme if we thought of a better or if we could think of another name that sounds and would fit their taste. So with that in mind i named mine to be "Heartbreath" yeah like you know sounds like heartbeat.
Kamusta Hive at Splinterlands! Mukhang maraming entries ngayong linggo ang hindi tugma o akma sa tema ng contest ngayong linggo, siguro dahil nagexpect din sila na kapareha padin ng mga nakaraang tema ang mangyayari, medyo interesting yung concept ngayon linggo ngunit kasabay nito ay mahirap din sya dahil limitado ka lang sa theme o concept na "heartgiver" na kalaunan ay gagamitin para sa graphics ng spell dito sa splinterlands. Anyway, sinabi naman ng contest host na maaari mong palitan yung pangalan na heartgiver kung may iba kaming naiisip na bagong pangalan na sa tingin namin ay mas maganda o mas akma sa kanilang panlasa. At dahil dyan binago ko yung pangalan ng spell at ginawa kong "heartbreath"oo tama katunog sya ng heartbeat.
My idea for this particular art piece is an angel-like lady breathing a mist in the shape of a heart, which is why I dubbed it "heartbreath." I believe I have reached my limit for my art skills by merely grinding and drawing without taking any online classes; so, after this painting, I will strive to complete a specific art lesson; this will also enable me to develop my own style, as my style or techniques are currently quite diverse. In addition, I developed the lady with the little wings on her head, which is typical of most isekai or mmorpg healer characters.
Ang idea ko sa partikular na artpiece na ito na parang anghel na bumubuga ng hamog or mist na korteng puso, kaya naman pinangalanan ko itong "heartbreath". Mukhang medyo narating ko na yung ceiling nung aking kakayahan o skills bilang isang artist o mangguguhit sa pamamagitan ng paggagrind lamang at hindi pag-aaral ng anumang lessons, at dahil dyan pagkatapos netong maipost ko dito sa community ay magtetake ako ng mga lessons sa art, siguro dito ko din madedevelop ang aking sariling style dahil medyo diverse o magulo pa ang aking techniques. In addition to that, ginawa ko tong binibini na may maliit na pakpak sa kanyang ulo which is kadalasan nating nakikita sa mga isekai anime or sa mga laro na mmorpg kadalasan merong design na ganan ang mga healer doon.
Drawing Process
Drawing Materials/Applications used: Photoshop cc 2018, XP-Pen Artist 12

First, sketch out the guidelines that will act as a guide for the lineart. I draw an imprecise circle here because I'll be tracing it with the elipse tool.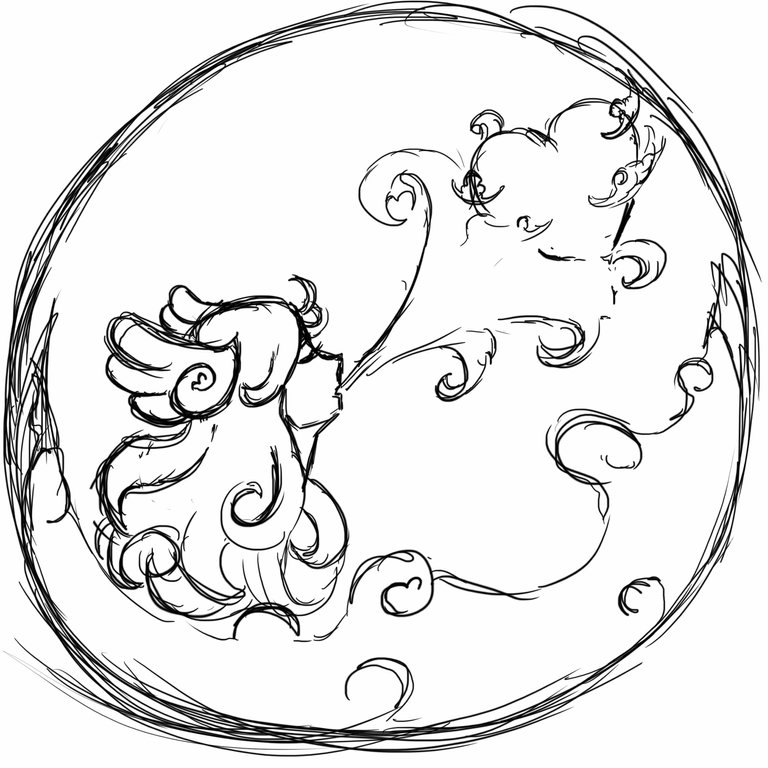 Next is to draw a layer on top of it which will be my preliminary lineart so that i wouldn't mess with the colors, this is also a clean line that will serve as my boundaries for coloring.


I darkened the circle first with dark blue (which also appears a touch purplish), because I'm not comfortable with merely a white background. Also, because the little wings are white, as I assumed before I started coloring the subject, I will be conscious and confused if I do not create a darker backdrop color.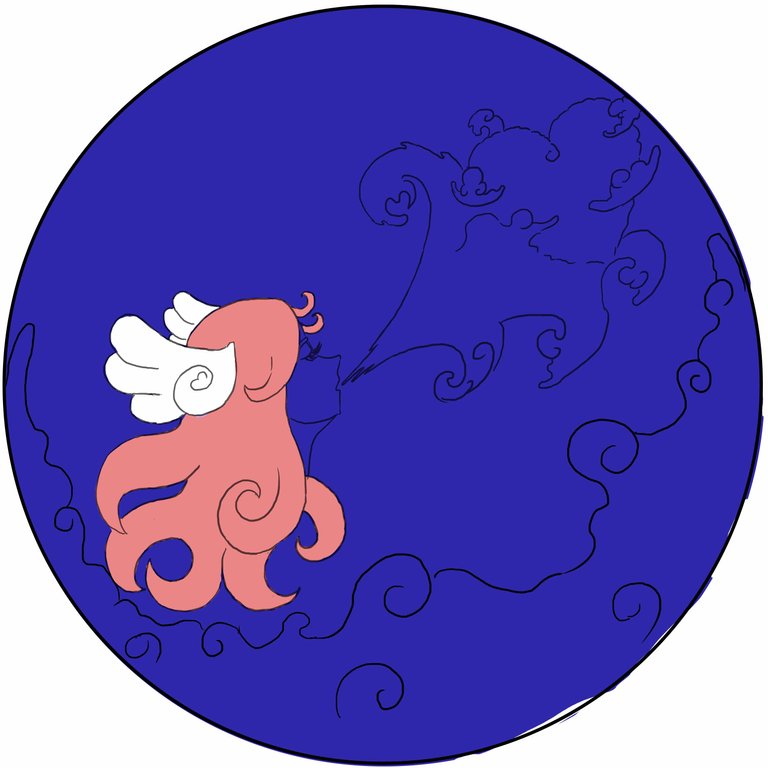 Next is to color the base of the heart-shaped mist or smoke with light pink color, this will serve as our base color for our subject including the lady.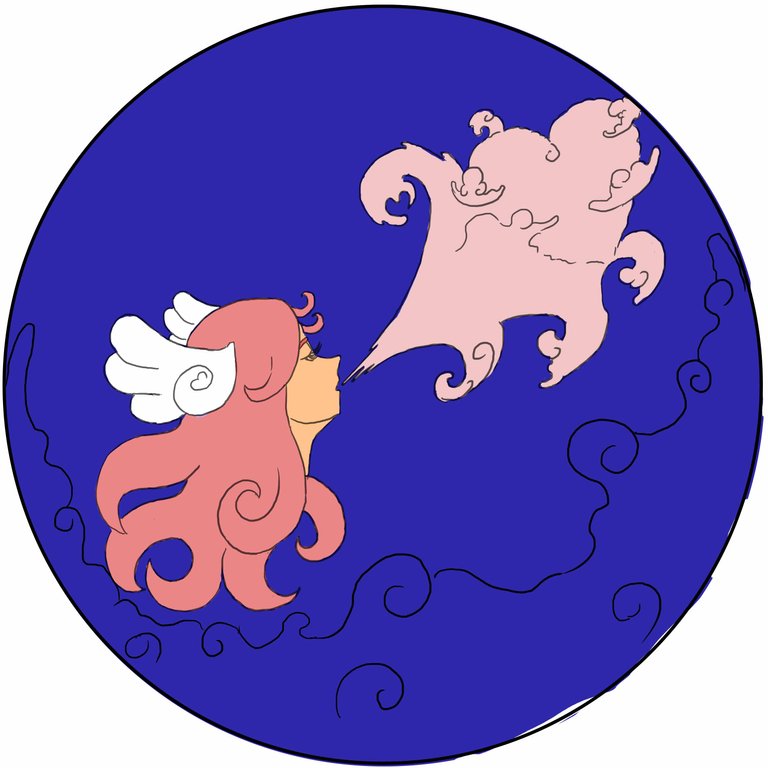 Now i also started working with the clouds as well as the background layer at the same time, my reason is i am experimenting what design would fit my character.

The next step would be to render each section and add small touches to make my artwork look polished. Of course, this includes removing unnecessary elements and adding hues and accents.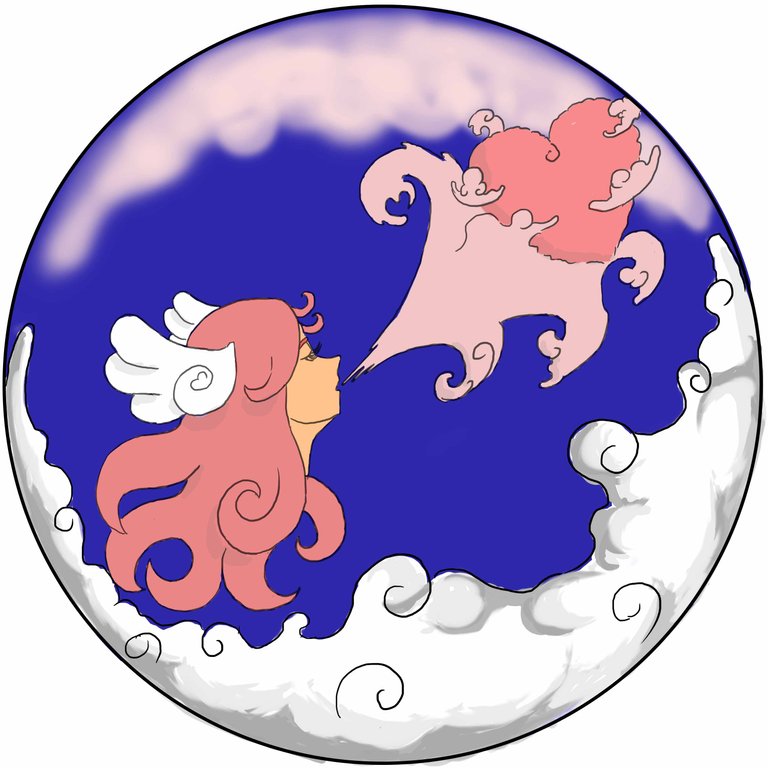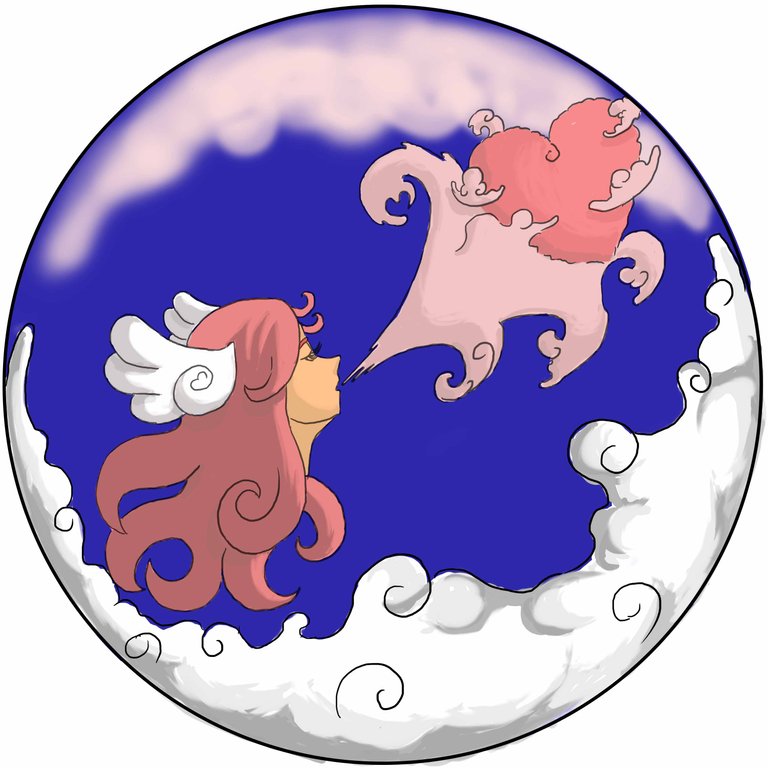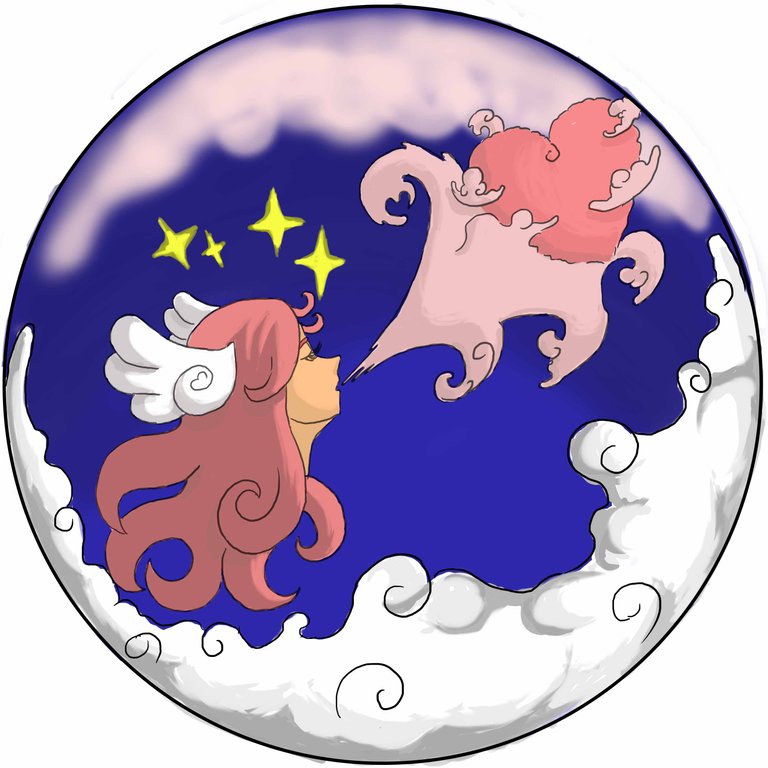 Final Output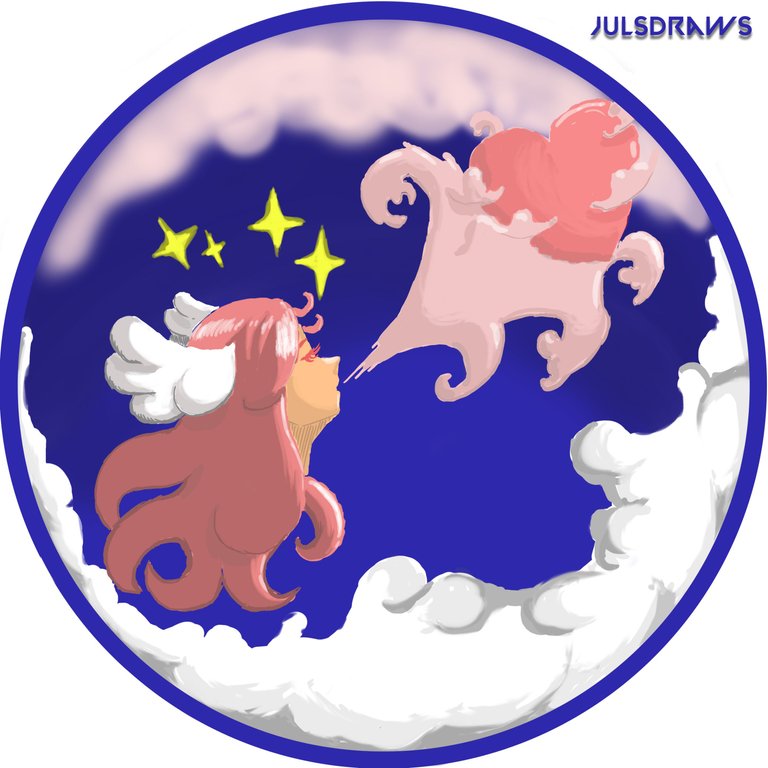 I also want to create my own graphics footer, since I am pretty envious of some of the fantastic artists here.
---
---