Earthquake and Taunt strategy [EN-PT-BR]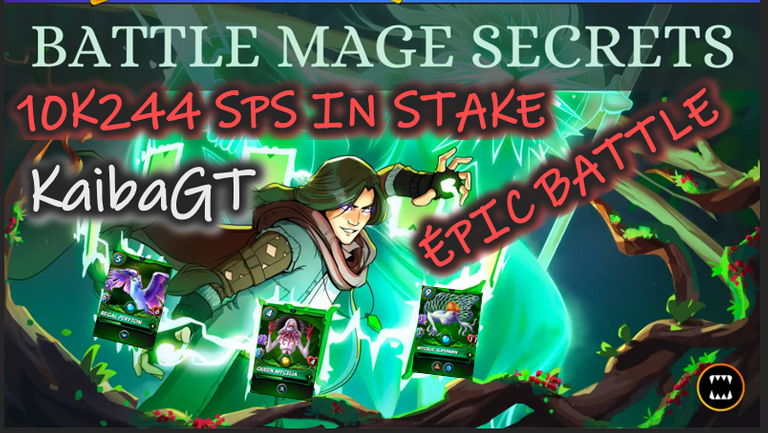 Hello everyone, this week our weekly secrets battle post is about the earthquake rule, where if you don't have a shield or the ability to fly, you will take a lot of damage!!!
Below I will demonstrate in a battle how much the shield and taunt can make a difference and define a battle.
MYCELIC SLIPSPAWN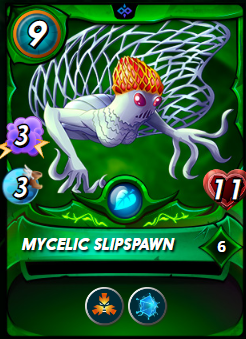 ..."Mycelic Slipspawn was first encountered on the fringes of the Praetoria swamps, in areas where the fetid waters meet the forests and jungles. It is highly toxic and grows to substantial size. Death is uncommon for those who touch its fibrous body, however, the side effects of its toxins can cause a long list of illnesses and ailments, leaving its victims severely debilitated...."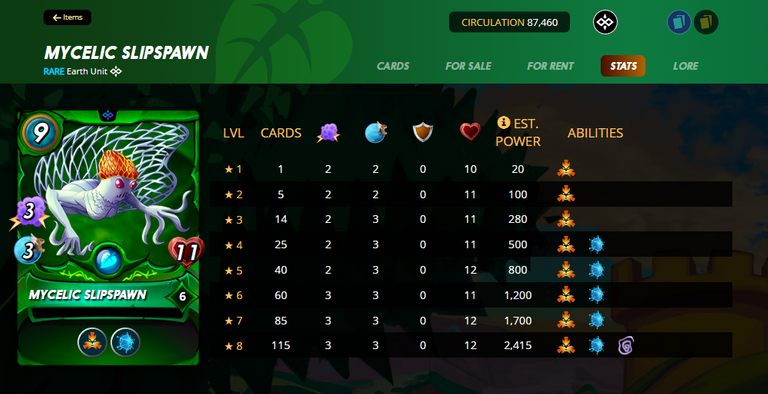 MYCELIC SLIPSPAWN is a rare card that currently has 87,460 regular cards in circulation and 7,313 Gold Foil , its abilities make it an extremely tanky card with high magic damage.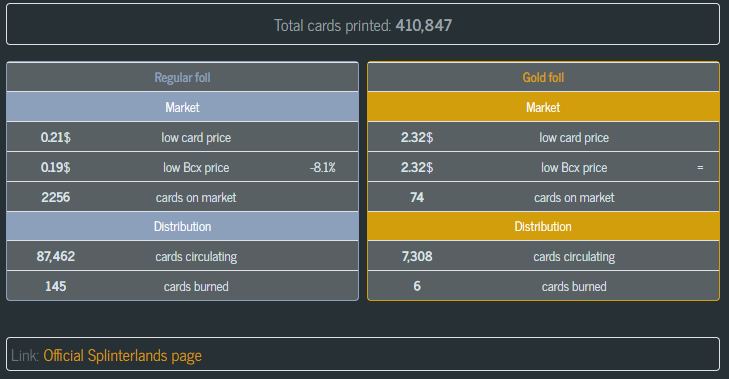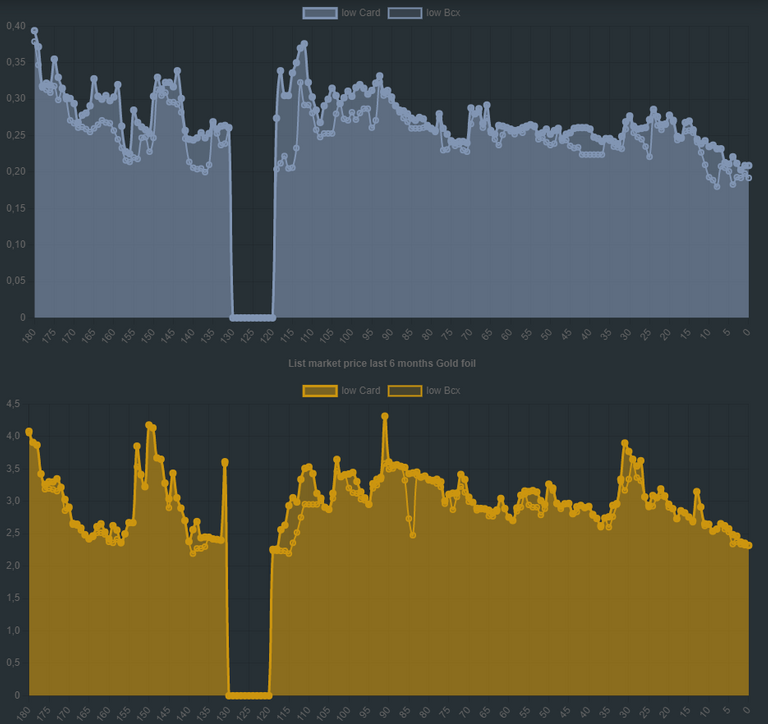 Currently the value of the regular letter is at $0.21 and the gold foil at $2.32, which is well below its peak in the last 6 months of $0.394 and $4.31.
The strengths :
LEVEL 6 HAS:
TAUNT:
All enemy Monsters target this Monster (if they can).
FORCEFIELD:
This Monster only takes 1 damage from attacks with 5+ power.
3 magic damage.
3 of speed.
11 of life.
Negative Points:
Cost of 9 mana.
Does not have a shield.

THE BATTLE: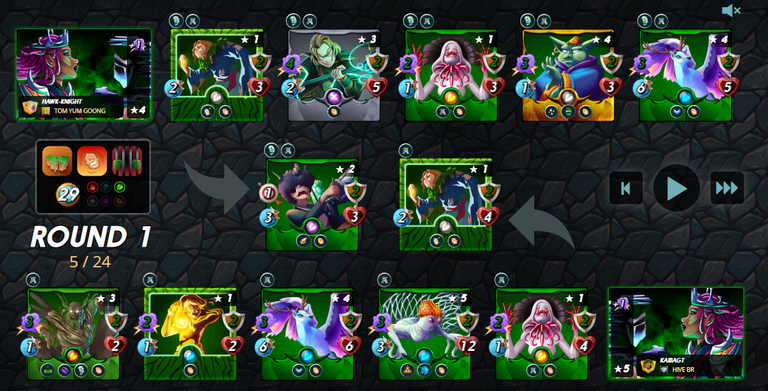 The rules for this battle were: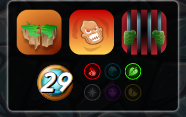 EARTHQUAKE:
Non-flying monsters take 2 melee damage at the end of each turn.
SPREADING FURY:
All Monsters have the Enrage ability.
KEEP YOUR DISTANCE:
Monsters with melee attack cannot be used in battles.
29 mana.
ALLOWED ONLY FIRE/EARTH DECKS.
Based on the rules mentioned above were chosen for this battle: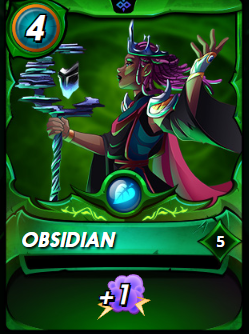 Our sumer is OBSIDIAN which increases magic damage by +1 from all allied monsters.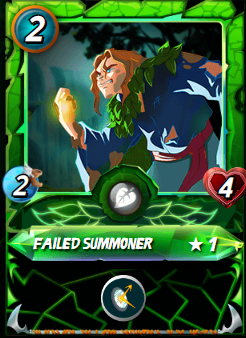 1st FAILED SUMMONER, this common card is extremely powerful, it has great defensive power because it has 4 life, 2 speed and its ability that protects it.
MAGIC REFLECT:
When hit with magic damage, reduces magic damage back to the attacker.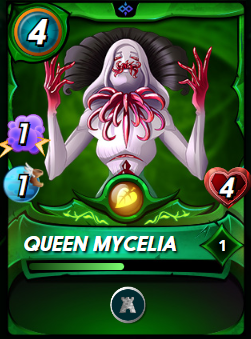 2nd QUEEN MYCELIA: Extremely powerful legendary card that will protect us in relation to the battle rule.
PROTECT:
All ally Monsters gain +2 Armor.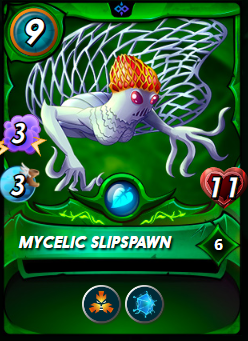 3rd MYCELIC SLIPSPAWN, extremely powerful rare card with a lot of damage and speed, in addition to its essential ability for victory.
TAUNT:
All enemy Monsters target this Monster (if they can).
FORCEFIELD:
This Monster only takes 1 damage from attacks with 5+ power.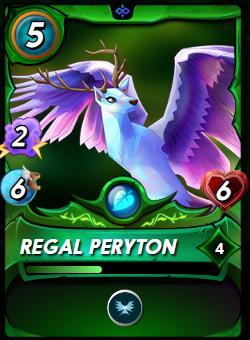 4th REGAL PERYTON: Rare card with high speed and magic damage.
FLYING:
Has an increased chance to avoid melee or ranged attacks from monsters that do not have Flying, +25% evasion chance.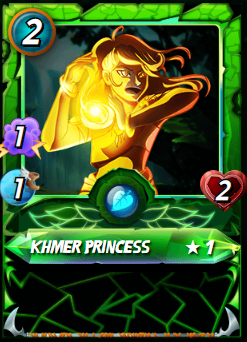 5th KHMER PRINCESS: Common card, with magic damage and low mana cost.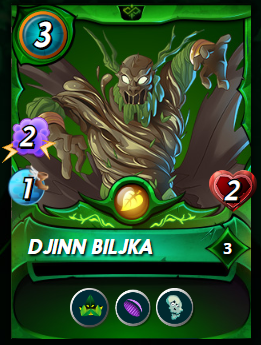 6th DJINN BILJKA:
CAMOUFLAGE:
This Monster cannot be targeted by attacks unless it is in First Position.
VOID:
Reduced damage from magical attacks.
WEAKEN:
Reduces the health of all enemy monsters.

FINAL CONSIDERATIONS:
The opponent focused on trying to heal more damage with GOBLIN PSYCHIC and REGAL PERYTON, but my MYCELIC SLIPSPAWN managed to hold a lot of damage.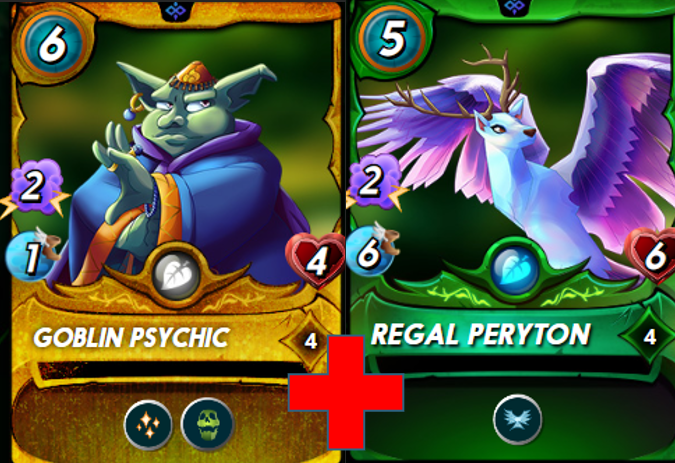 In ROUND 3 4/5 we can see that the game is over for the opponent, in this round the opponent no longer has an option to win, all his cards are annihilated.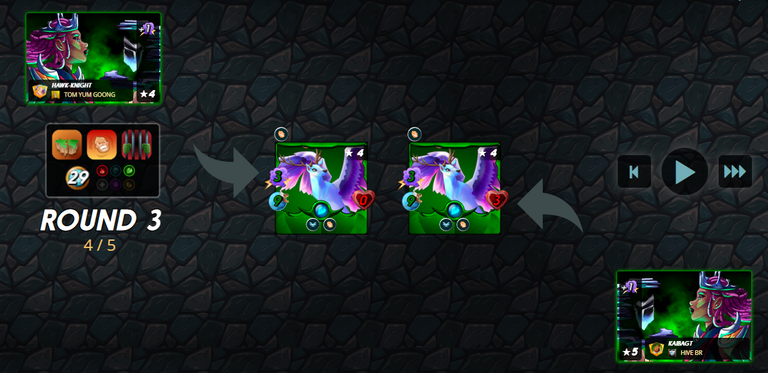 I currently have rented cards at GOLD 2 MODERN. This battle took place in modern GOLD 2, yielded 3.808 RP and 0.116 SPS.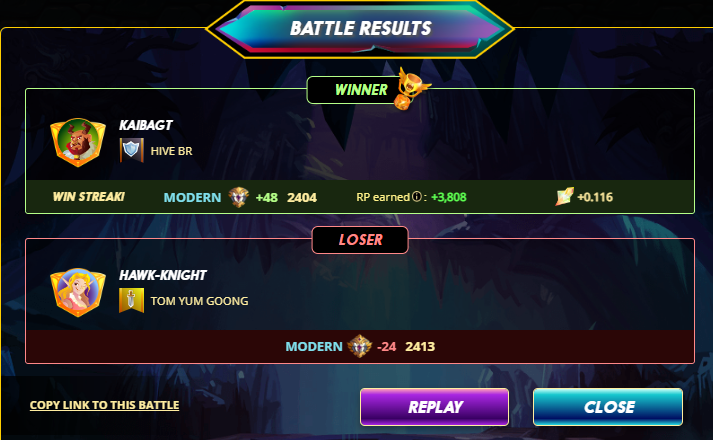 Remembering that in this battle, I took a punishment of -29% for using two ghost cards and 36% for low level cards, which greatly reduced my rewards, so it is important to always try to use the cards at the correct levels for each link, each time but I'm evolving my deck, including recently I put TARSA level 6, but it's still weak.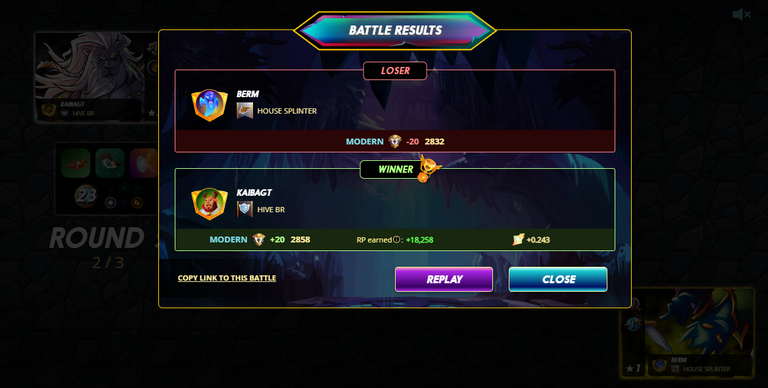 Follow the battle link below:

My Current Staking Scenario: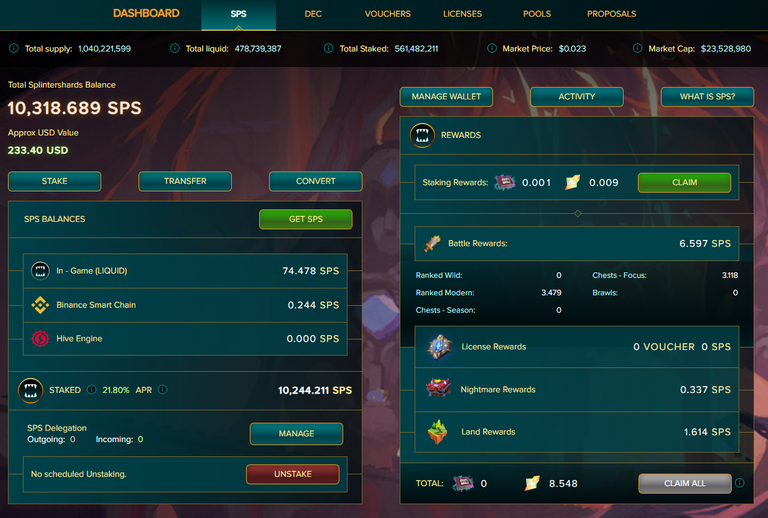 I currently have 10,318,689 SPS, of which 10,244,211 are staking.
I continue to believe in a continuation of the appreciation of the SPS in the long term and increasing the amount of currency in staking to also increase my voting power in splinterlands, in addition to that this will be used for ranked.
As we can see on the site https://tribaldex.com/trade/SPS, the currency follows a downward trend in the short term and a devaluation trend in the long term chart.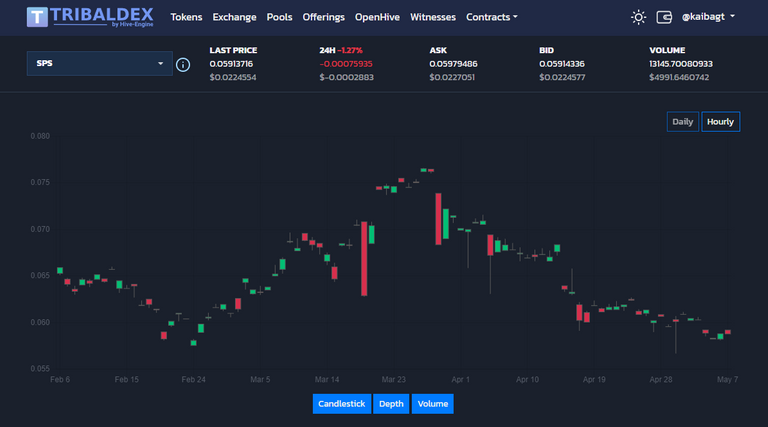 In addition to the SPS, I'm also staking all the tokens I'm earning through the hive, it's still a low value, but I believe in a possible rise in cryptos soon.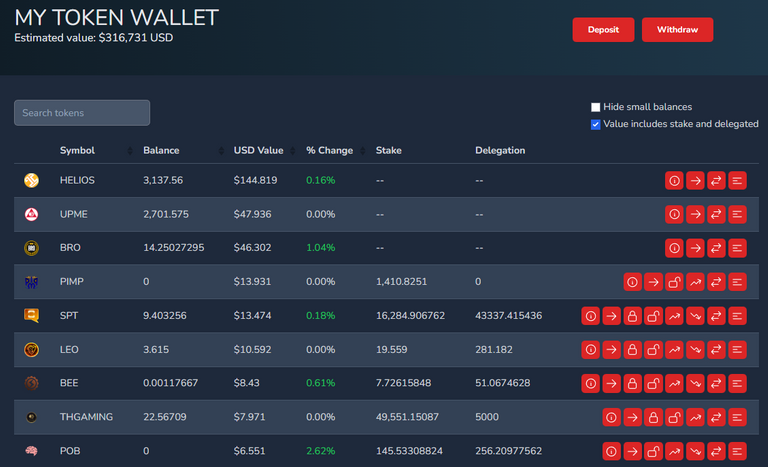 Once again, I had changes in my nine largest positions in the tokens, namely: #HELIOS, #UPME, #BRO, #PIMP, #SPT, #LEO, #BEE, #THGAMING AND #POB.
And my portfolio is staying above $315 dollars. ranging from $315 dollars to $330 dollars.

REFERRAL LINKS:
Did you like my battle? What do you think about the rule with Earthquake? Do you have a suggestion for improvement in the post or in splinterlands??? Do you want to comment on your strategy??? Comment and Share!!!
#splinterlands @splinterlands is the best nft game #play2earn @play2earn I've ever known, a nice, friendly and sustainable environment!
If you want to start playing here is my referral link:
Twitter:
Thank you, soo much my friends!!!
Join the Hive-BR community, click on the banner below to join our Discord.


PT-BR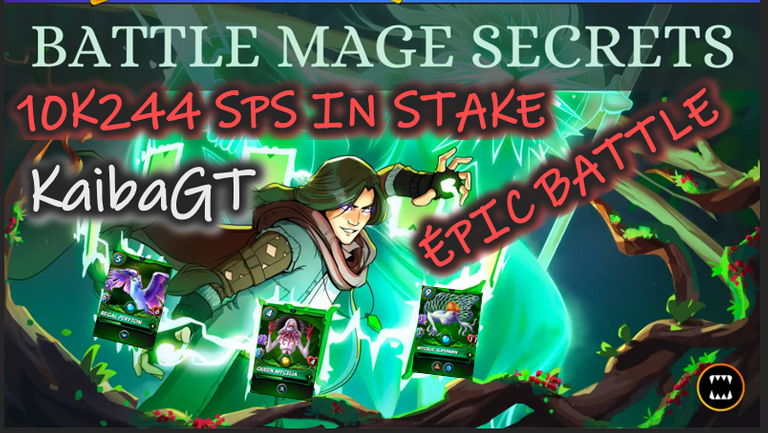 Olá pessoal, essa semana o nosso post de batalha secrets semanal é sobre a regra de earthquake, onde caso você não possua escudo ou a habilidade de voar, irá tomar muito dano!!!
Abaixo vou demonstrar em uma batalha o quanto o escudo e o taunt podem fazer diferença e definir uma batalha.
MYCELIC SLIPSPAWN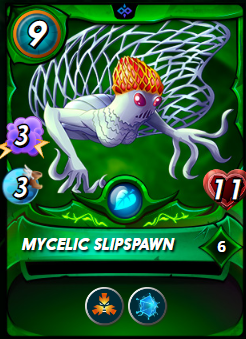 ..."Mycelic Slipspawn foi encontrado pela primeira vez nas margens dos pântanos de Praetoria, em áreas onde as águas fétidas se encontram com as florestas e selvas. É altamente tóxico e atinge um tamanho substancial. A morte é incomum para aqueles que tocam seu corpo fibroso, no entanto, os efeitos colaterais de suas toxinas podem causar uma longa lista de doenças e enfermidades, deixando suas vítimas gravemente debilitadas...."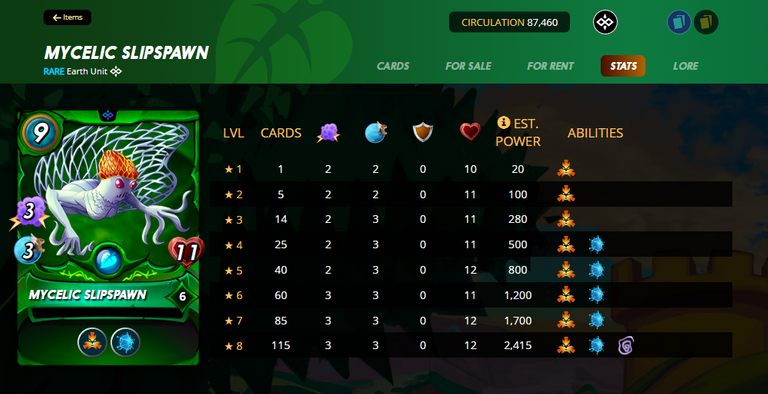 MYCELIC SLIPSPAWN é uma carta rara que atualmente tem 87,460 cards regulares em circulação e 7,313 Gold Foil , suas habilidades a deixam uma carta extremamente tanker, com alto dano magico.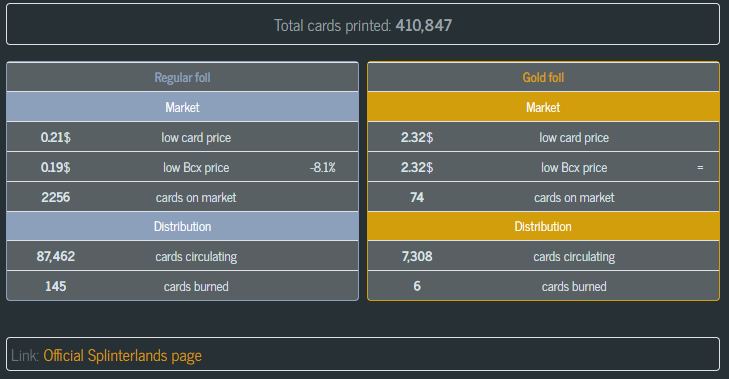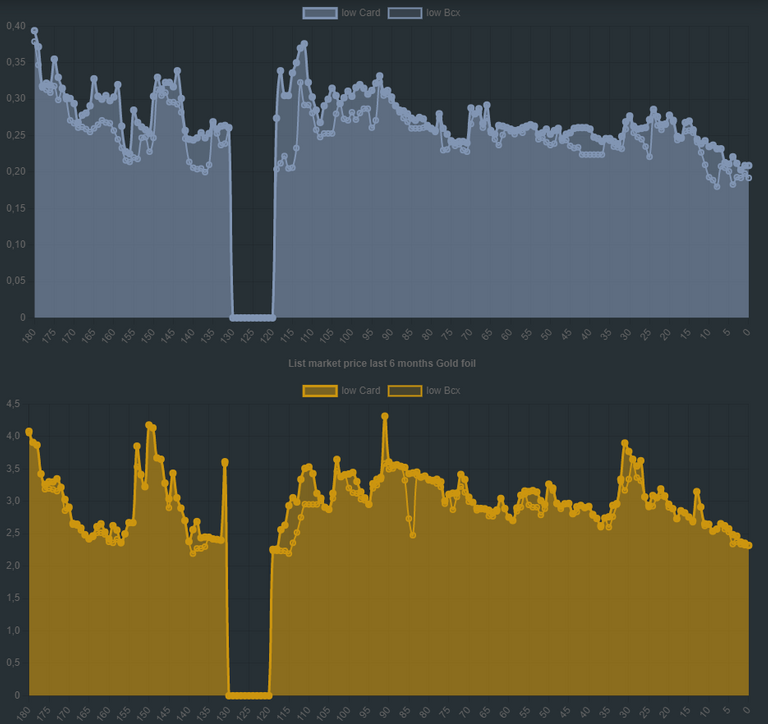 Atualmente o valor da carta regular está em 0.21$ e a gold foil em 2.32$, o que está bem abaixo do seu auge nos últimos 6 meses que era de 0,394$ e 4,31$.
Os pontos fortes :
LEVEL 6 POSSUI:
TAUNT:
Todos os Monstros inimigos têm como alvo este Monstro (se puderem).
FORCEFIELD:
Este Monstro sofre apenas 1 dano de ataques com poder 5+.
3 de dano magico.
3 de speed.
11 de vida.
Pontos negativos:
Custo de 9 de mana.
Não possui escudo.

A BATALHA: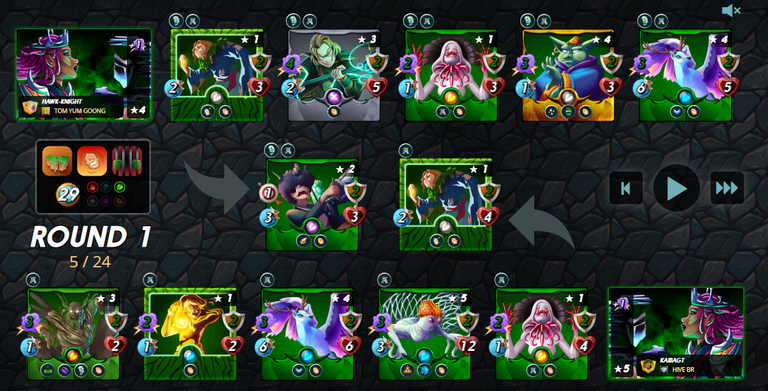 As regras para essa batalha foram: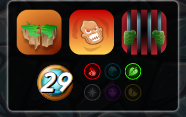 EARTHQUAKE:
Monstros não voadores recebem 2 de dano corpo a corpo no final de cada rodada.
SPREADING FURY:
Todos os Monstros têm a habilidade Enrage.
KEEP YOUR DISTANCE:
Monstros com ataque corpo a corpo não podem ser usados em batalhas.
29 de mana.
PERMITIDO APENAS OS DECKS DE FOGO/TERRA.
Com base as regras mencionadas acima foram escolhidas para essa batalha: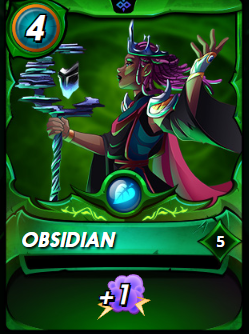 O nosso sumoner é OBSIDIAN que aumenta dano magico em +1, de todos os monstros aliados.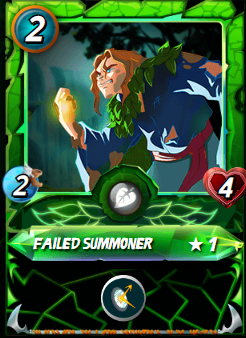 1º FAILED SUMMONER, essa carta comum é extremamente poderosa, tem grande poder defensivo pois tem 4 de vida, 2 de speed e sua habilidade que a protege.
MAGIC REFLECT:
Quando atingido com dano mágico, reduz o dano mágico de volta ao atacante.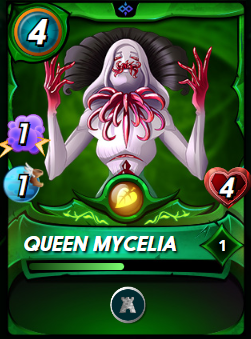 2º QUEEN MYCELIA: Carta lendaria extremamente poderosa e que vai nos proteger em relação a regra de batalha.
PROTECT:
Todos os Monstros aliados ganham +2 de Armadura.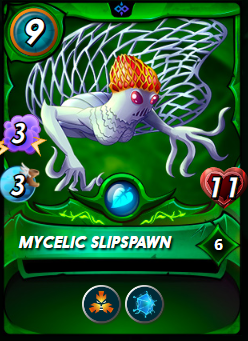 3º MYCELIC SLIPSPAWN, carta rara extremamente poderosa com muito dano e speed, além de sua habilidade essencial para vitória.
TAUNT:
Todos os Monstros inimigos têm como alvo este Monstro (se puderem).
FORCEFIELD:
Este Monstro sofre apenas 1 dano de ataques com poder 5+.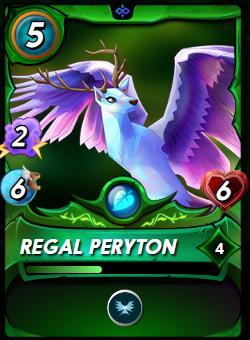 4º REGAL PERYTON: Carta rara com alta speed e dano magico.
FLYING:
Tem uma chance maior de evitar ataques corpo a corpo ou à distância de monstros que não possuem a habilidade Voar, +25% de chance de evasão.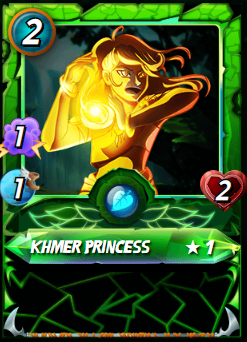 5º KHMER PRINCESS: Carta comum, com dano magico e baixo custo de mana.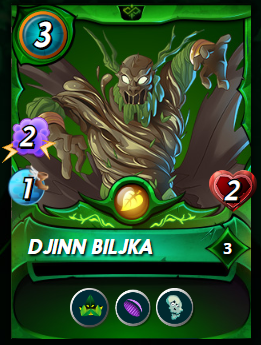 6º DJINN BILJKA:
CAMOUFLAGE:
Este Monstro não pode ser alvo de ataques a menos que esteja na primeira posição.
VOID:
Dano reduzido de ataques mágicos.
WEAKEN:
Reduz a vida de todos os monstros inimigos.

CONSIDERAÇÕES FINAIS:
O oponente focou em tentar usar cura mais dano com o GOBLIN PSYCHIC e REGAL PERYTON, porém meu MYCELIC SLIPSPAWN conseguiu segurar muito dano.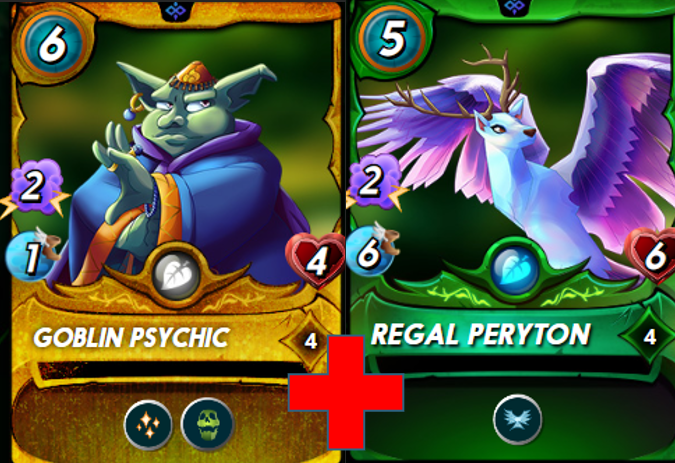 No ROUND 3 4/5 podemos observar que acabou o jogo para o oponente, neste round o oponente já não tem mais opção de vitória, todas suas cartas são aniquiladas.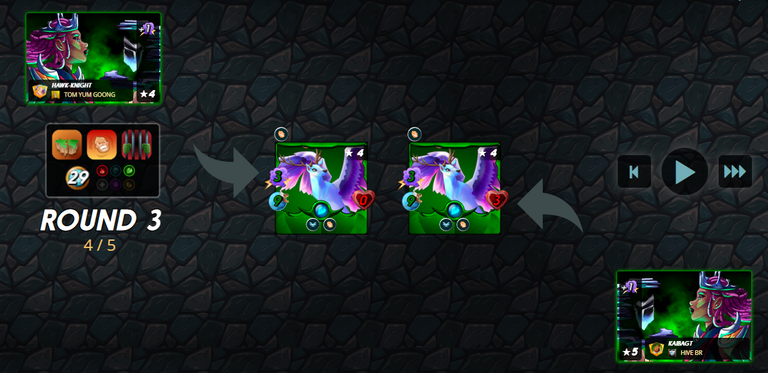 Atualmente estou com cartas alugadas no GOLD 2 MODERN. Essa batalha ocorreu no modern GOLD 2, rendeu 3,808 de RP e 0.116 de SPS.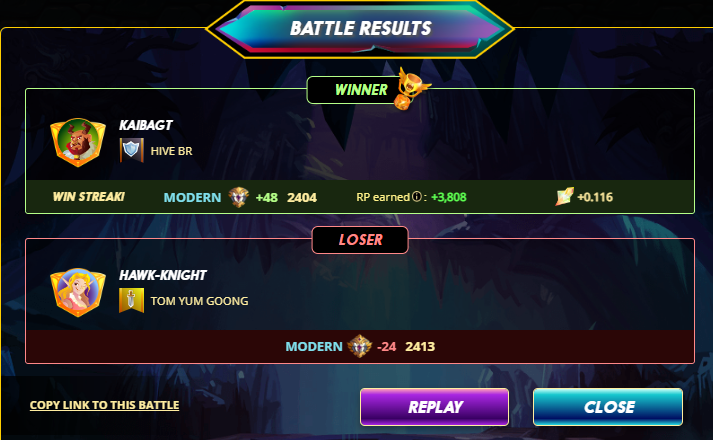 Lembrando que nessa batalha, tomei punição de -29% por usar duas cartas fantasma e 36% por cartas low level, o que reduziu e muito minhas recompensas, por isso é importante sempre tentar utilizar as cartas em níveis corretos para cada elo, cada vez mais estou evoluindo meu deck, inclusive recentemente coloquei TARSA level 6, porém ainda está fraca.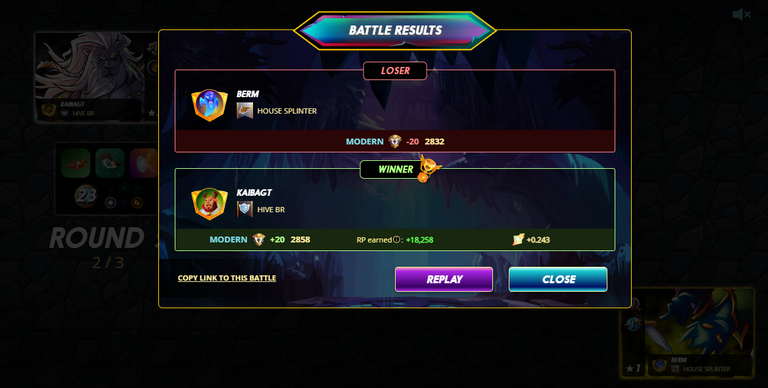 Segue o link da batalha abaixo:

Meu Cenario de staking atual: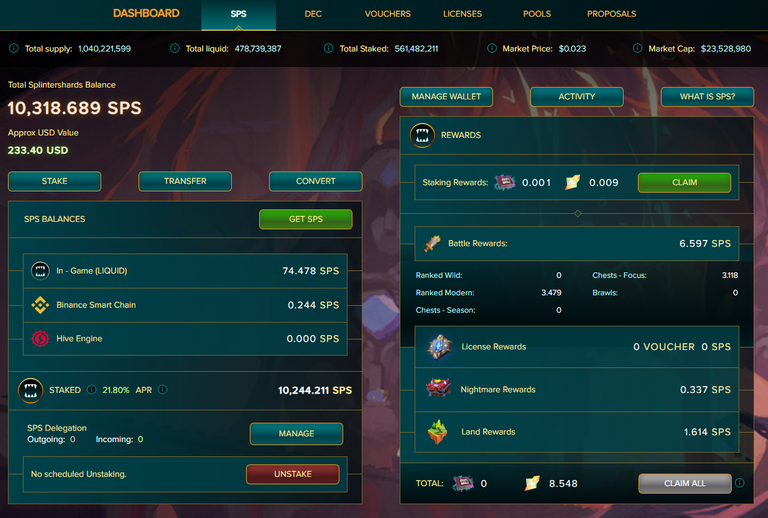 Atualmente estou com 10,318.689 SPS, sendo que 10,244.211 estão em staking.
Continuo acreditando em uma continuação da valorização do SPS no longo prazo e aumentando as quantidade da moeda em staking para também aumentar o meu poder de voto no splinterlands, além de que isso vai ser utilizado para as rankeadas.
Como podemos ver no site https://tribaldex.com/trade/SPS a moeda segue em uma tendencia baixa no curto prazo e de desvalorização no gráfico de longo prazo.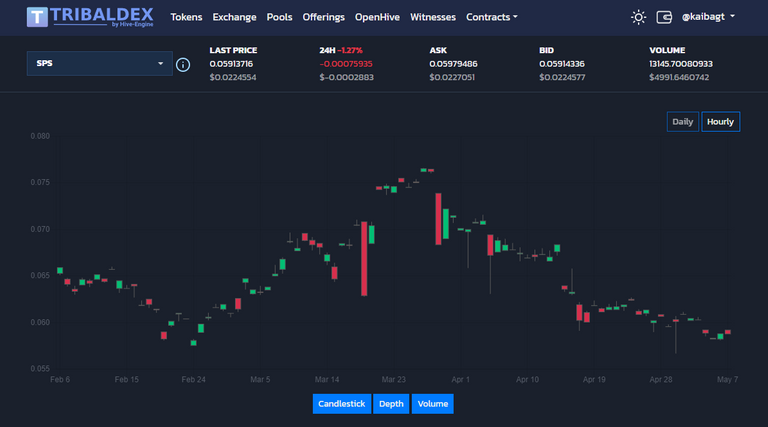 Além do SPS, também estou fazendo staking de todos tokens que estou ganhando pela hive, ainda é um valor baixo, porém acredito em uma possível alta nas cryptos logo logo.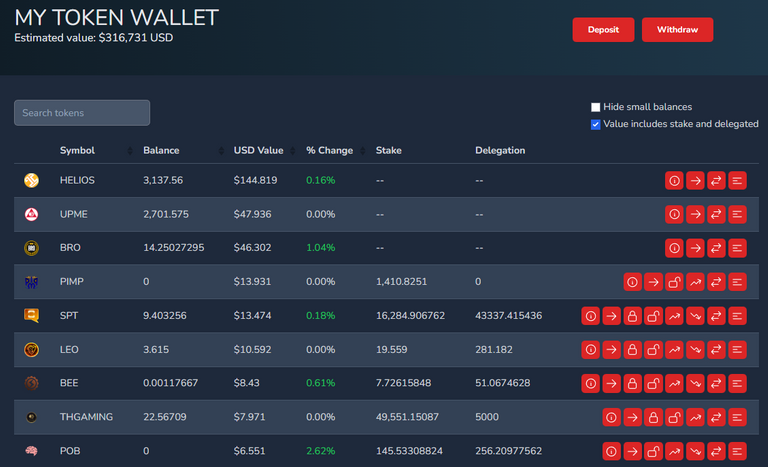 Sendo novamente tive alteração nas minhas nove maiores posições nos tokens, sendo eles: #HELIOS, #UPME, #BRO, #PIMP, #SPT, #LEO, #BEE, #THGAMING E #POB.
E a minha carteira está se mantendo acima de $315 dólares. oscilando entre $315 dólares a $330 dólares.

REFERRAL LINKS:
Gostou da minha minha batalha? O que você pensa sobre a regra com Earthquake? Tem uma sugestão de melhoria no post ou no splinterlands??? Quer comentar a sua estratégia??? Comente e Compartilhe!!!
#splinterlands @splinterlands é o melhor jogo nft #play2earn @play2earn que já conheci, um ambiente agradável, amigável e sustentável!
Se você quiser começar a jogar aqui está o meu link de referência:
Twitter:
Muito obrigado meus amigos!!!
Participe da comunidade Hive-BR, clique no banner abaixo para entrar no nosso Discord.

---
---