In reverse speed only low speed win? [EN-PT-BR]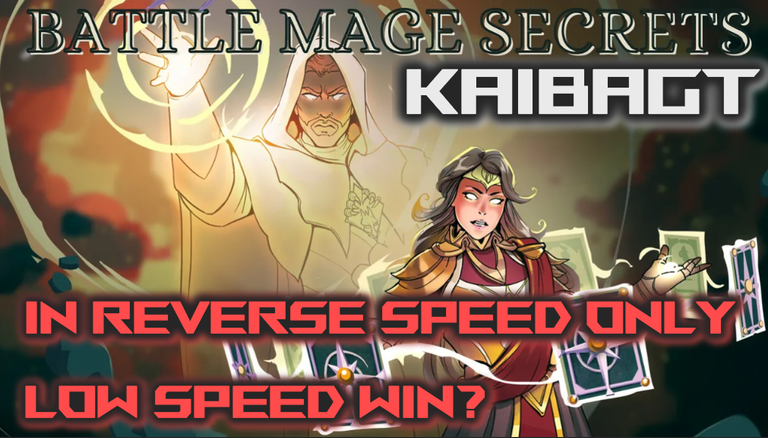 Hello everyone, this week our weekly battle secrets post is about the Reverse speed rule, a very powerful rule, which can even have an impact if you evolve some cards too much, because the less speed, the more powerful you start the battle!
Below I will demonstrate in a battle that even though I played wrong, I managed to win.

THE BATTLE: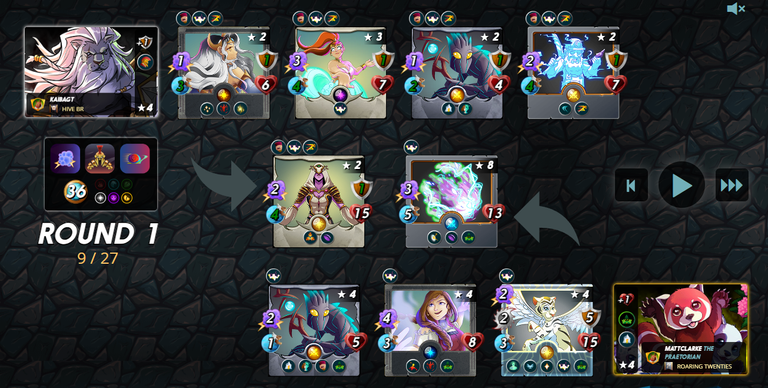 The rules for this battle were: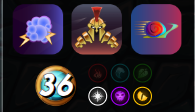 Wands Out:
Only monsters with magic attacks can be used in battle.
Are You Not Entertained:
An additional gladius card can be used in battle.
Reverse Speed:
Monsters with lower speed attack first and have a greater chance of evading attacks.
36 mana.
ONLY LIFE/DEATH/DRAGON DECKS ALLOWED.
Based on the rules mentioned above, they were chosen for this battle: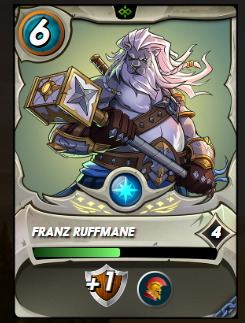 Our summoner is FRANZ RUFFMANE who allows the use of a gladius card and increases the shield of all monsters by +1.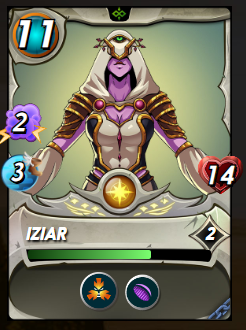 1st IZIAR: He is our extremely powerful frontline tanker, one of the strongest legendary soulbound in my opinion,
TAUNT:
All enemy Monsters target this Monster (if they can).
VOID:
Reduced damage from magic attacks.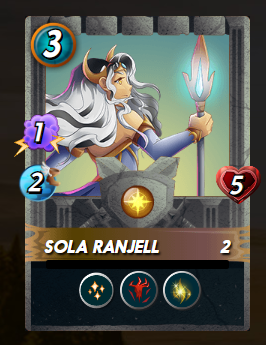 2nd SOLA RANJELL: Legendary gladius card, with great healing power.
TANK HEAL:
Restores a portion of the Monster's health in first position each round, restores 1/3 of the maximum health, rounded up
BLOODLUST:
Each time you defeat an opponent, you receive +1 to all stats.
CLEANSE:
Removes all negative effects from the Monster in first position on the allied team.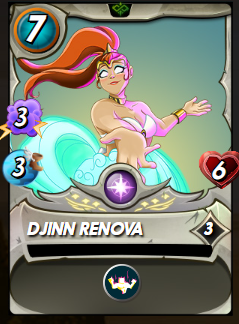 3rd DJINN RENOVA: Our buffer with his skill and great magic damage.
STRENGTHEN:
All allied monsters have increased health by +1.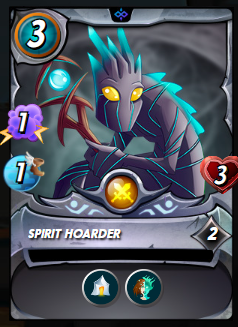 4th SPIRIT HOARDER: Extremely powerful card, very strong with buff and debuff.
TRIAGE:
Heals the monster on the allied defense line that suffered the most damage, the healing is the maximum health divided by 3, rounded down. The minimum is 2.
DISPEL:
When this monster hits an enemy, it eliminates all positive status effects from that enemy.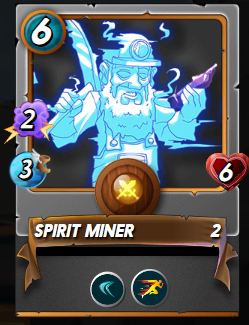 5th SPIRIT MINER: Very powerful legendary card
DODGE:
Has a greater chance of evading melee or ranged attacks. +25% dodge against melee/ranged combat
SWIFTNESS:
All allied monsters have increased speed by +1

FINAL CONSIDERATIONS:
The opponent used cards with reflect magic, debuffs and protections, as well as a powerful summoner and gladius card, but my healing composition ended up sweeping the opponent out of the battle, without losing any cards.
In round 7 8/11 we see that the opponent has been completely decimated and I still have all the cards.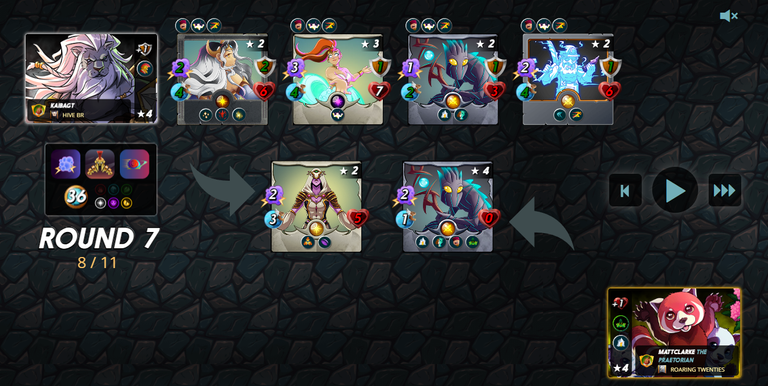 This battle took place on WILD Diamond 3 and yielded 17,815 RP and 0.917 SPS.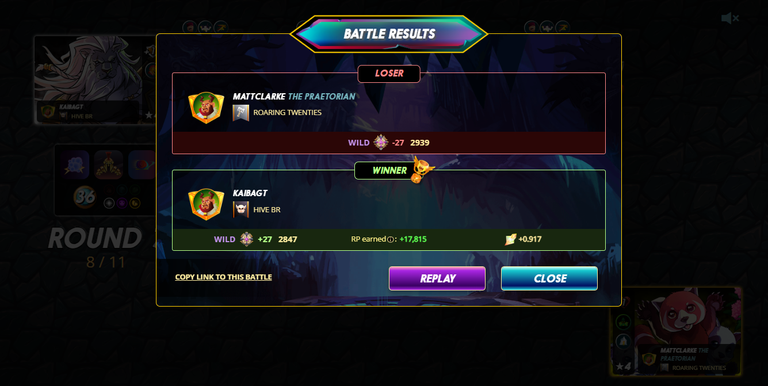 Follow the battle link below:
Reverse Speed Vs Lux: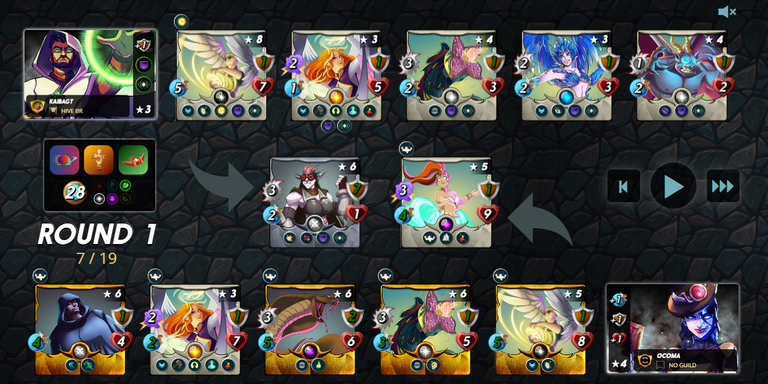 My current staking scenario: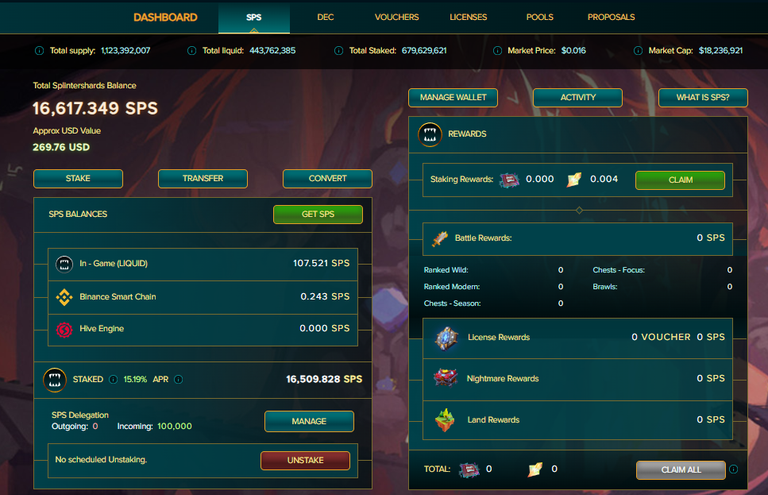 I currently have 16,617,349 SPS, 16,509,828 of which are staked and another 100k rented.
I continue to believe in a continuation of the appreciation of SPS in the long term and increasing the amount of coin staked to also increase my voting power in splinterlands, in addition to this being used for ranked.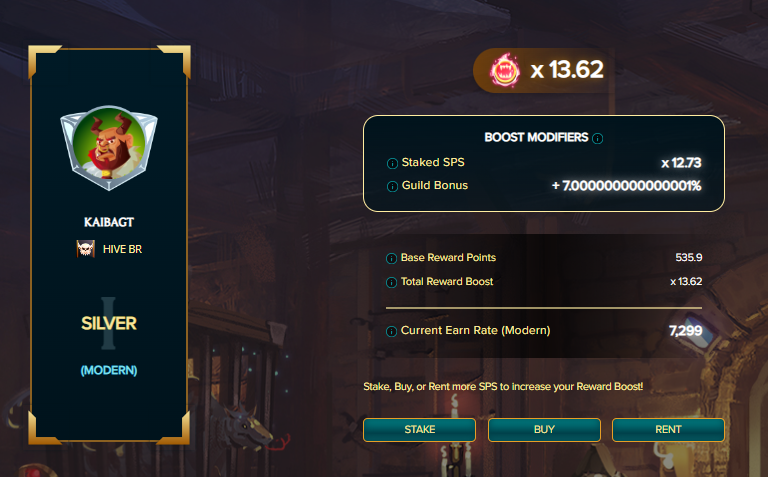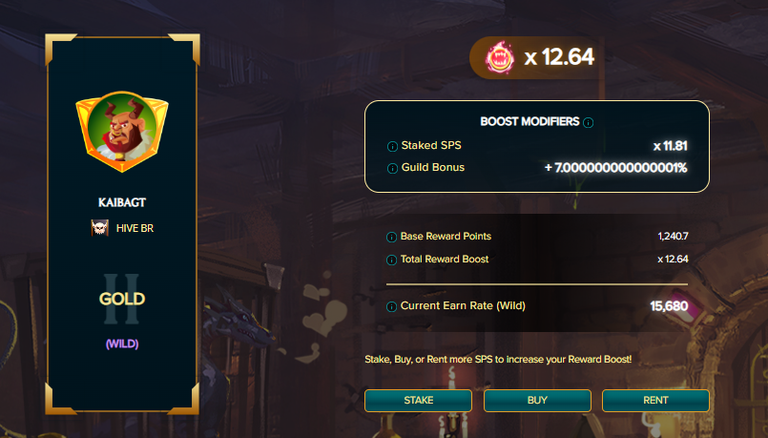 With the current amount of SPS I have, I'm getting x.12.73 on Silver 1 modern and x.12.64 on GOLD 2 Wild.
As we can see on the [Tribaldex] website (https://tribaldex.com/trade/SPS) the currency is now following an undefined trend in the short term and appreciation on the long-term chart.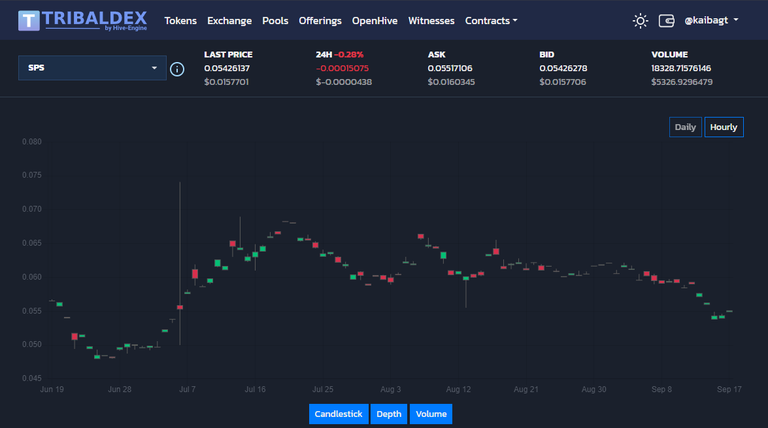 In addition to SPS, I am also staking all the tokens that I am earning through Hive, it is still a low value, but I believe in a possible rise in cryptos soon.
And my hive portfolio has dropped a little in value and is staying between $320 dollars and $330 dollars.

REFERRAL LINKS:
Did you like my battle? What do you think about the Reverse Speed rule? Do you have a suggestion for improving the post or splinterlands??? Do you want to comment on your strategy??? Comment and Share!!!
#splinterlands @splinterlands is the best nft game #play2earn @play2earn I've ever come across, a nice, friendly and sustainable environment!
If you want to start playing here is my referral link just click below:
If you like my content and don't want to miss any more posts, consider following my Twitter and hive profile.
Twitter: OKaibaGT or if you prefer click on the link below.
Thank you very much my friends!!!
Join the Hive-BR community, click on the banner below to join our Discord.


PT-BR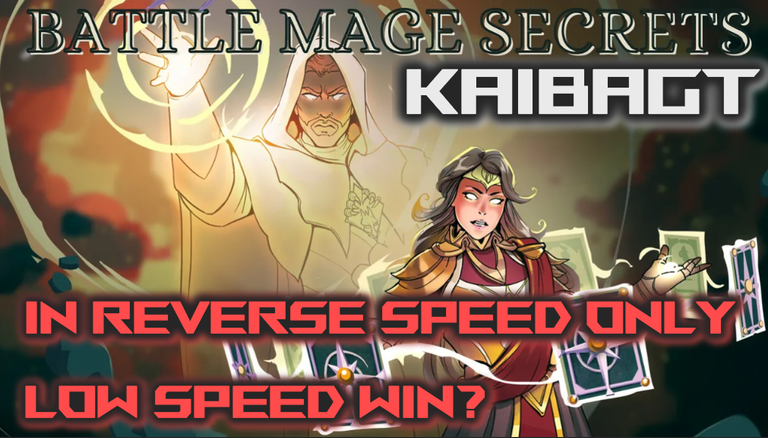 Olá pessoal, essa semana o nosso post de batalha secrets semanal é sobre a regra de Reverse speed, uma regra muito poderosa, que inclusive pode impactar e muito caso você evoluiu demais algumas cartas, pois quanto menos speed, mais poderoso você começa a batalha!
Abaixo vou demonstrar em uma batalha que mesmo jogando errado, consegui ganhar.

A BATALHA: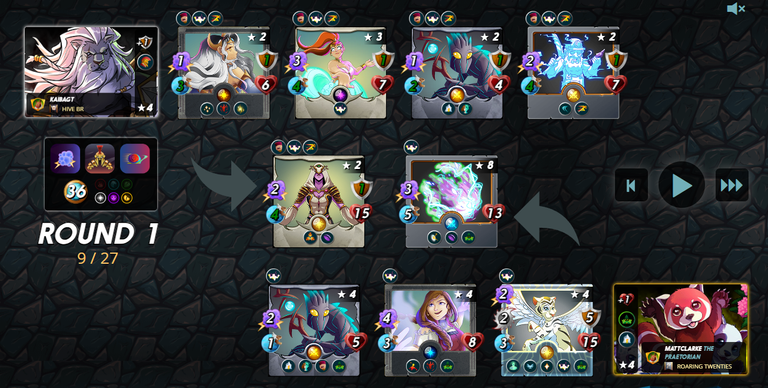 As regras para essa batalha foram: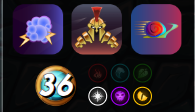 Wands Out:
Apenas monstros com ataque magico podem ser utilizados na batalha.
Are You Not Entertained:
Uma carta gladius adicional pode ser utilizada em batalha.
Reverse Speed:
Monstros com menor velocidade atacam por primeiro e tem chance maior de evasão de ataques.
36 de mana.
PERMITIDO APENAS OS DECKS DE VIDA/MORTE/DRAGÃO.
Com base as regras mencionadas acima foram escolhidas para essa batalha: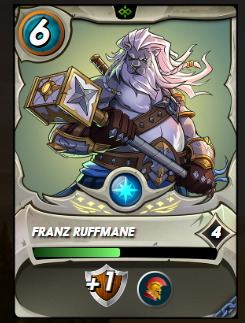 O nosso summoner é FRANZ RUFFMANE que permite a utilização de uma carta gladius e aumenta o escudo de todos os monstros em +1.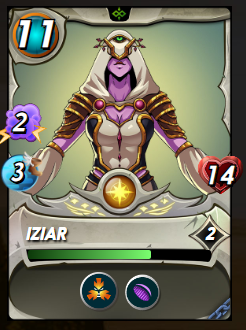 1º IZIAR: É o nosso tanker de linha de frente extremamente poderoso, uma das soulbound lendarias mais fortes na minha opinião,
TAUNT:
Todos os Monstros inimigos têm como alvo este Monstro (se puderem).
VOID:
Dano reduzido de ataques mágicos.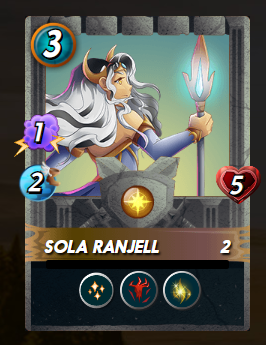 2º SOLA RANJELL: Carta gladius lendária, com grande poder de cura.
TANK HEAL:
Restaura uma parte da vidae do Monstro na primeira posição a cada rodada, restaura 1/3 da vida máxima, arredondado para cima
BLOODLUST:
Cada vez que derrota um oponente, recebe +1 em todas as estatísticas.
CLEANSE:
Remove todos os efeitos negativos do Monstro na primeira posição da equipe aliada.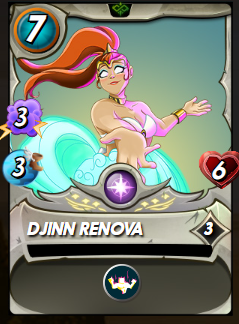 3º DJINN RENOVA: Nosso buffer com sua habilidade e grande dano magico.
STRENGTHEN:
Todos os monstros aliados aumentaram a vida em +1.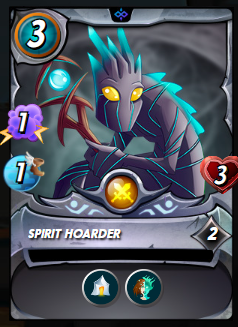 4º SPIRIT HOARDER: Carta extremamente poderosa, muito forte com buff e debuff.
TRIAGE:
Cura o monstro da linha de defesa aliada que sofreu mais dano, a cura é a vida máxima dividida por 3, arredondada para baixo. O mínimo é 2.
DISPEL:
Quando este monstro atinge um inimigo, ele elimina todos os efeitos de status positivos desse inimigo.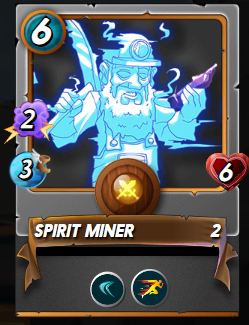 5º SPIRIT MINER: Carta lendaria muito poderosa
DODGE:
Tem uma chance maior de escapar de ataques corpo a corpo ou de longo alcance.+25% de esquiva contra combate corpo a corpo/à distância
SWIFTNESS:
Todos os monstros aliados aumentaram a velocidade em +1

CONSIDERAÇÕES FINAIS:
O oponente utilizou cartas com reflect magia, debuffs e proteções, além de um poderoso summoner e carta gladius, porém minha composição de cura acabou varrendo o oponente da batalha, sem perder nenhuma carta.
No round 7 8/11 vemos que o oponente foi totalmente dizimado e ainda possuo todas as cartas.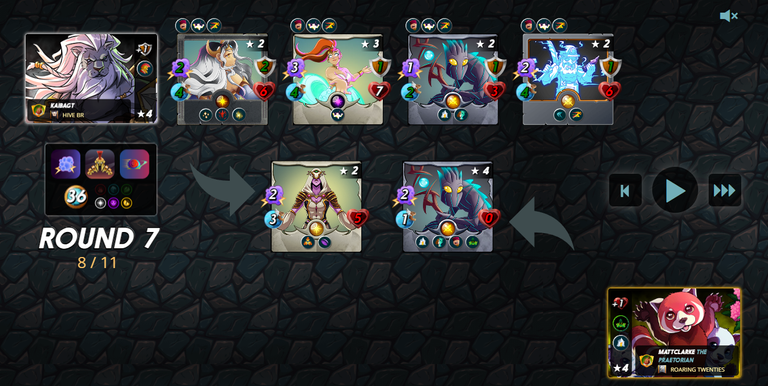 Essa batalha ocorreu no WILD Diamante 3 e rendeu 17,815 RP e 0.917 SPS.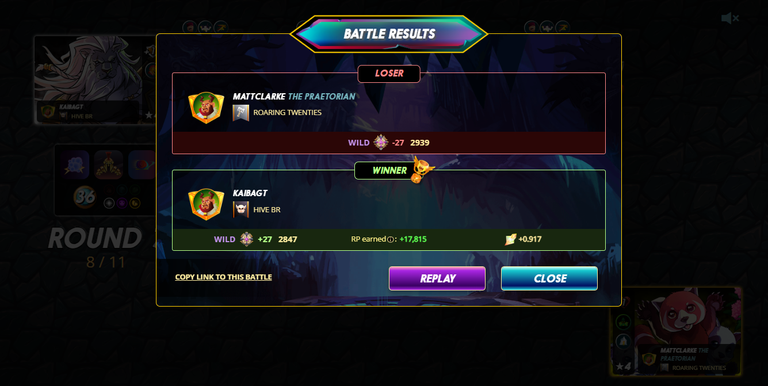 Segue o link da batalha abaixo:
Reverse Speed Vs Lux: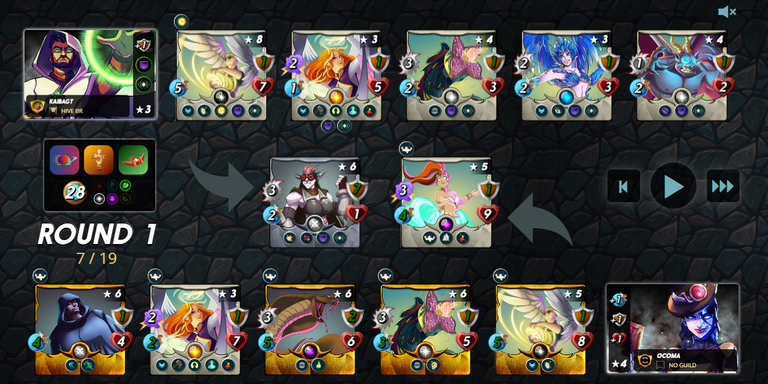 Meu Cenário de staking atual: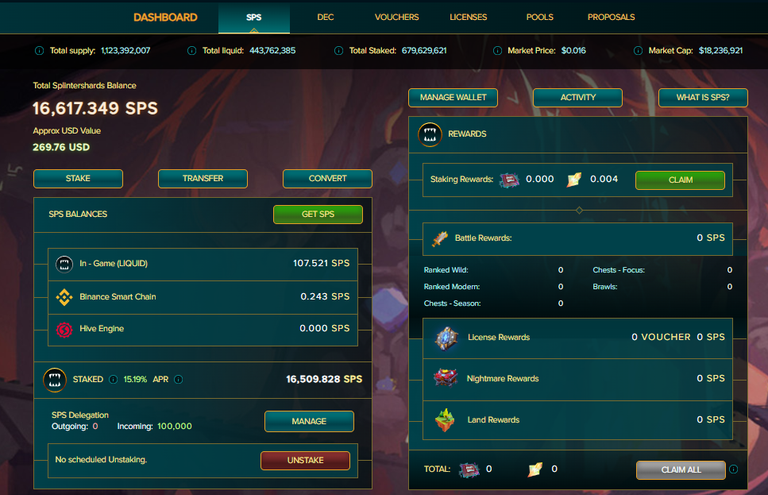 Atualmente estou com 16,617.349 SPS, sendo que 16,509.828 em staking e mais 100k alugados.
Continuo acreditando em uma continuação da valorização do SPS no longo prazo e aumentando as quantidade da moeda em staking para também aumentar o meu poder de voto no splinterlands, além de que isso vai ser utilizado para as ranqueadas.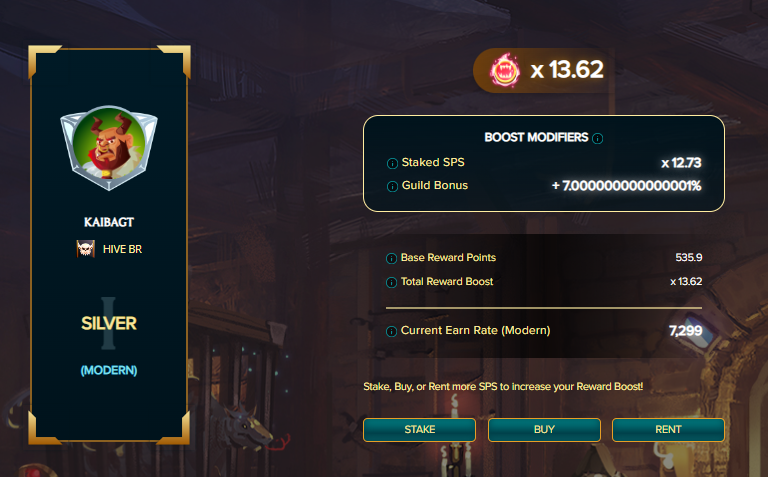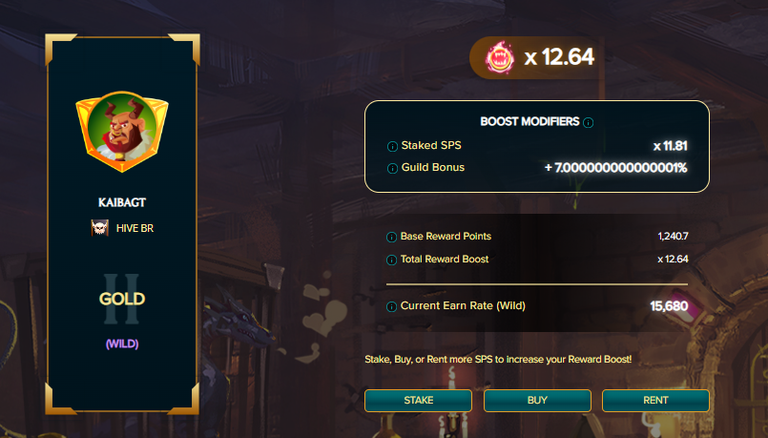 Com a quantidade atual de SPS que tenho, estou conseguindo x.12.73 no Prata 1 modern e x.12.64 no GOLD 2 Wild.
Como podemos ver no site da Tribaldex a moeda agora segue em uma tendência indefinida no curto prazo e de valorização no gráfico de longo prazo.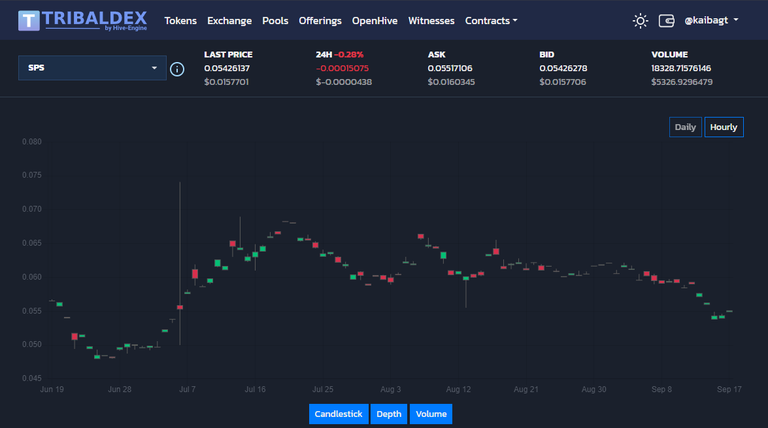 Além do SPS, também estou fazendo staking de todos tokens que estou ganhando pela hive, ainda é um valor baixo, porém acredito em uma possível alta nas cryptos logo logo.
E a minha carteira na hive caiu um pouco de valor e está se mantendo entre $320 dólares a $330 dólares.

REFERRAL LINKS:
Gostou da minha minha batalha? O que você pensa sobre a regra de Reverse Speed? Tem uma sugestão de melhoria no post ou no splinterlands??? Quer comentar a sua estratégia??? Comente e Compartilhe!!!
#splinterlands @splinterlands é o melhor jogo nft #play2earn @play2earn que já conheci, um ambiente agradável, amigável e sustentável!
Se você quiser começar a jogar aqui está o meu link de referência basta clicar abaixo:
Caso goste dos meus conteúdos e não queira perder mais nenhuma postagem considere seguir o meu twitter e perfil da hive.
Twitter: OKaibaGT ou se preferir click no link abaixo.
Muito obrigado meus amigos!!!
Participe da comunidade Hive-BR, clique no banner abaixo para entrar no nosso Discord.

Posted using Neoxian City
---
---