THE FUTURE OF SPLINTERLANDS: GUILDS, RANKED, and Market Listing Fees [EN-PT-BR]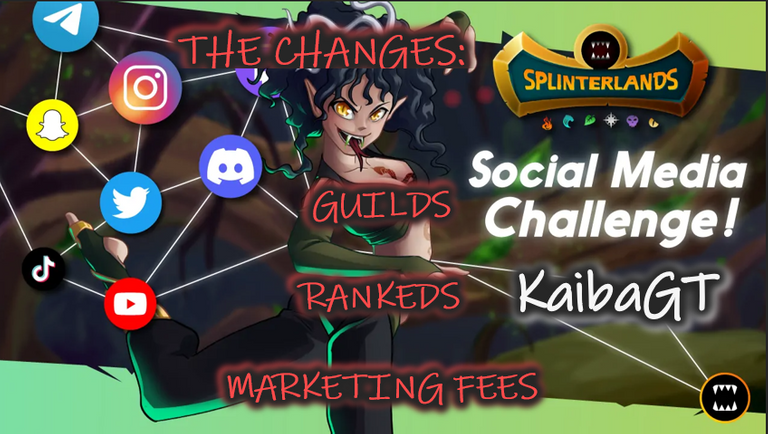 The change in the strategy of guilds, and the new directions of Splinterlands.
Hello everyone, this week our media challenge post is about some important changes in the game and how they affect the base player and the game economy.

GUILDS:
First we had the news in our last ama, that we will no longer have guild alliances, but guild constructions, new ones and some changes.
Now let's get to some important data: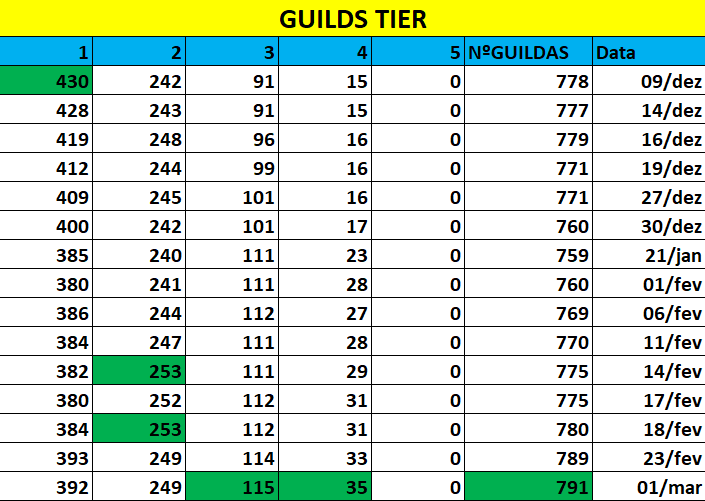 If you look at it since December 9th, we were facing a reduction of guilds participating in the brawl, reaching the minimum of 759 participating guilds on January 21st.
When we look at March 1, we had the record of guilds participating in the brawl, we reached the mark of 791 guilds, with emphasis on the record in tier 3 and 4.
Another interesting fact is that the number of tier 1 guilds has decreased considerably, which shows that we have a more active player base in the guild, this is good because team play motivates you to improve and evolve.
So I think the decision to focus on evolving guilds and not guild alliances is good to make the game disputed, since guild alliances could leave 2 or 3 guilds with the best rewards, so everyone has the possibility to evolve and win.
However, an important point arises the costs.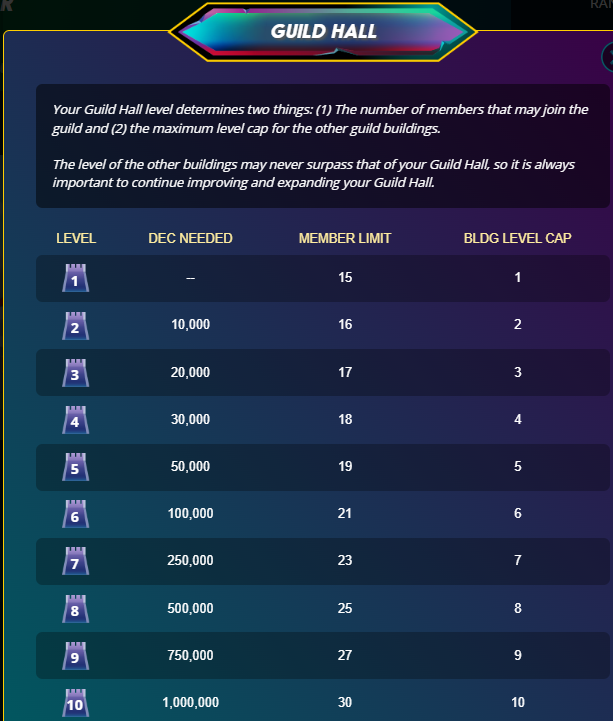 Today to place the cheapest building (Hall) at level 10, it will cost approximately 2,710,000 dec that is approximately 2066.94 Dollars. Being that just to have an idea, today the buildings of hall lvl 9/10 cost more than half of the total of the other levels 1,750,000 that is 1333 Dollars.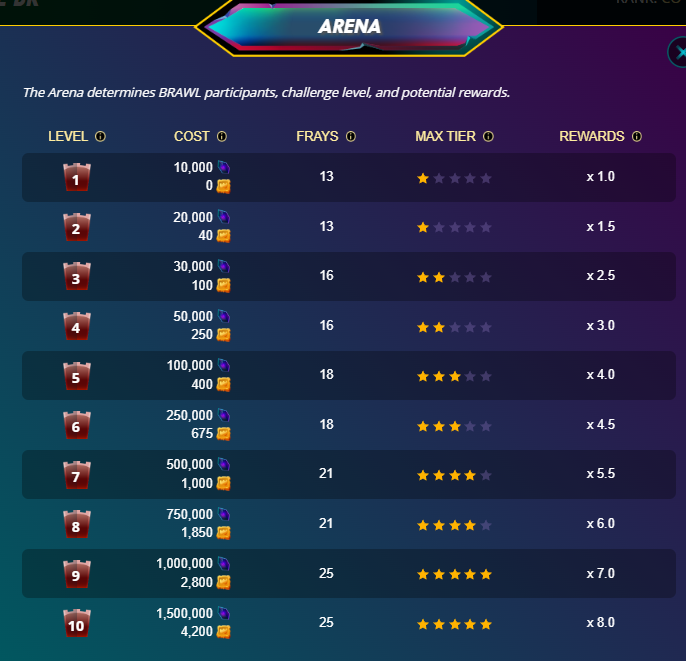 The other buildings currently cost a total of 4,215,000 Dec or approximately 3215 Dollars. Once again just to give you an idea, today the other buildings at lvl 9/10 cost more than half of the total of the other levels 2,500,000 that is 1907 Dollars.
The total today to have a full level 10 guild would be 11711 dollars.
Basically, I believe that having more buildings in the guild is beneficial for family/community play, and we may even have a gladiator brawl mode in the future, for example: player x player with the use of a summoner and only 3 brawl cards, for example, where all members can participate.
However, if the focus is to increase the level of the guilds and the cost continues to increase exponentially in other buildings, it is possible that this will drive away the new guilds/players, as they would be discouraged by the high cost of evolution, since an extra level should probably cost around 750k dec which would be about 572 dollars.

RANKED:
Another extremely good news was announced in the last brawl the season resets will be redone.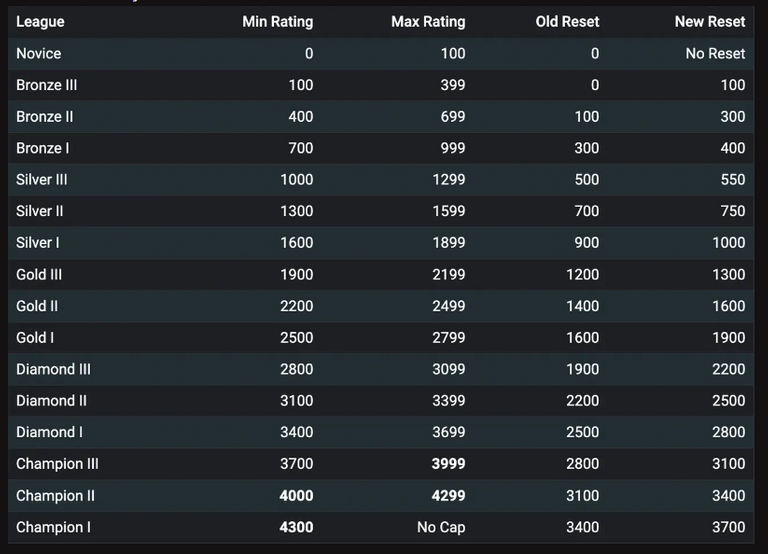 I found it particularly difficult for you to finish, for example, gold 1 and be reset to silver 1, because you have all the advantage of having the highest level cards for the fight, and with that, the rewards decrease, now in this new reset mode, for example if you finish gold 1, you will start gold 3.
I still think and would leave a suggestion, that 50 rating should be added to the end of these numbers in division three, for example instead of 1900, the reset would be 1950, as this gives the player the opportunity to play at least two games without dropping from a tier .
In addition, the player who, after the reset, is afk, will continue in the same link. (example: the player played and ended up with diamond 3, then after the reset he dropped to gold, but he did not play any game in the season, in the next reset he remains gold.)
These changes show how much the team is focused on improving the player experience, which makes me happy instead of how much the team is changing the game for the better.

Market Listing Fees:
The fees for listing cards for sale, which I think is good at a certain point, as it avoids people frantically listing and removing cards, and with that creates greater stability for the game's trade.
However, in cards sales i see that the greatest difficulty is in placing this fee without a minimum listing value. For example letters of a few cents, it may be unfeasible for people to put them up for sale, cancel and put them up again.
For more information, visit the official link below:
https://peakd.com/splinterlands/@splinterlands/market-listing-fees-and-expiration

FINAL CONSIDERATIONS:
The chart below shows some interesting data, as well as an increase in the number of transactions and daily battles in recent days, but a drop in the number of total active players, but with an increase in new players.
I see the @splinterlands team focused on improving and bringing greater gameplay and attractiveness to new and old players, we are still in a downward economic scenario, and probably in my opinion we will face this by the end of 2023, Splinterlands is changing to have more interaction with the community and that players who are part of a guild are like a family.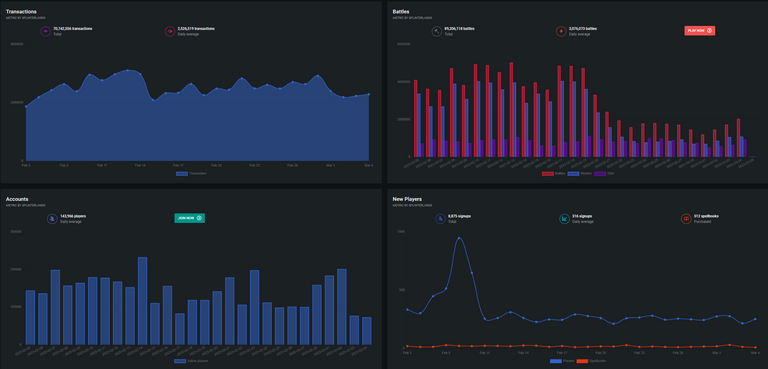 My Current Staking Scenario: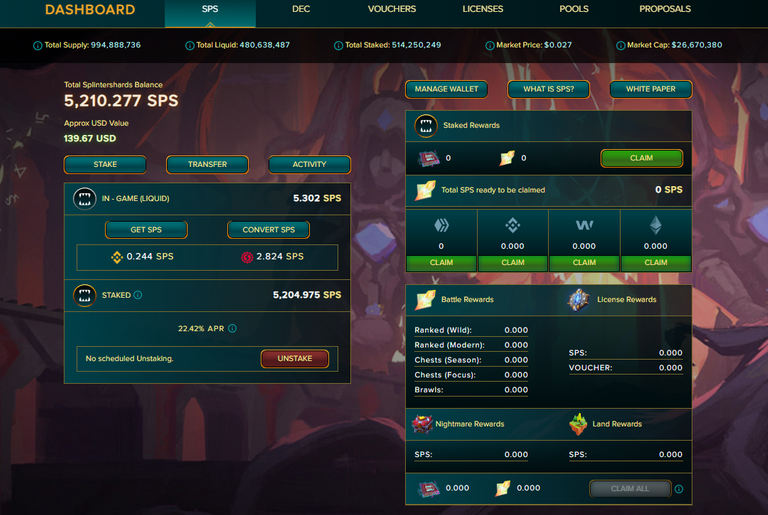 I currently have 5,210,277 SPS with 5,204,975 in STAKING.
I continue to believe in a continuation of the appreciation of the SPS in the long term and increasing the amount of coin staking to also increase my voting power in splinterlands.
As we can see on the website https://tribaldex.com/trade/SPS, the currency follows a neutral trend in the short term and devaluation in the long term chart.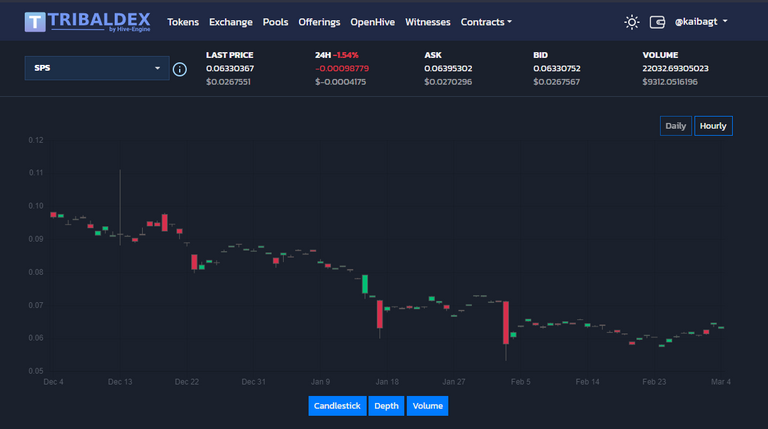 In addition to the SPS, I'm also staking all the tokens I'm earning through the hive, it's still a low value, but I believe in a possible rise in cryptos soon.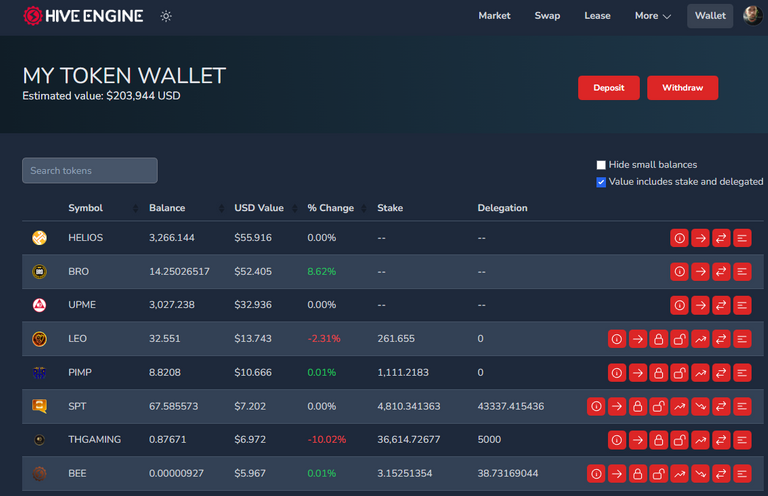 Once again, I had changes in my eight largest positions in the tokens, namely: #HELIOS, #BRO, #UPME, #LEO, #PIMP, #SPT, #THGAMING AND #BEE.
And my wallet is holding between $200 to $205.


REFERRAL LINKS:
What do you think about card listing rates, changes to guilds and ranked? Are you enjoying the amount of soulbound cards dropped daily? Do you have a suggestion for improvement in the post or in splinterlands??? Do you want to comment on your strategy??? Comment and Share!!!
*Text divider images obtained by the hive-br community.
#splinterlands @splinterlands is the best nft game #play2earn @play2earn I've ever known, a nice, friendly and sustainable environment!
If you want to start playing here is my referral link:
Twitter:
Thank you, soo much my friends!!!
Join the Hive-BR community, click on the banner below to join our Discord.


PT-BR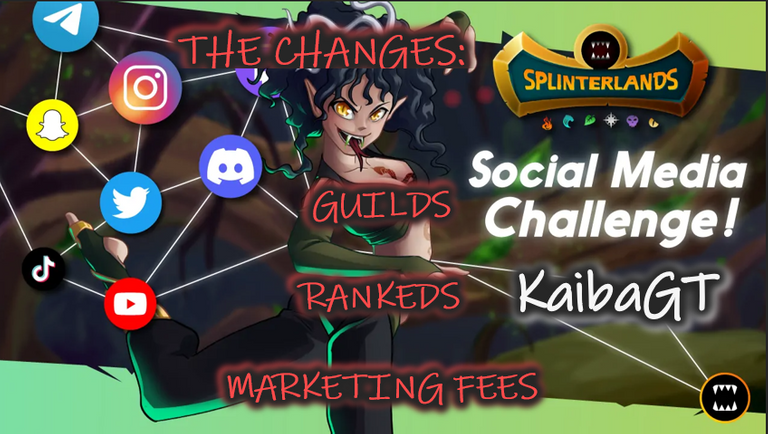 A mudança na estratégia das guildas, e dos novos rumos do splinterlands.
Olá pessoal, essa semana o nosso post de media challenge é sobre algumas mudanças importantes no jogo e como elas afetam a player base e a economia do jogo.

GUILDAS:
Primeiro tivemos a noticia no nosso ultimo ama, que não teremos mais alianças de guildas, mas sim construções de guildas, novas e algumas mudanças.
Agora vamos a alguns dados importantes: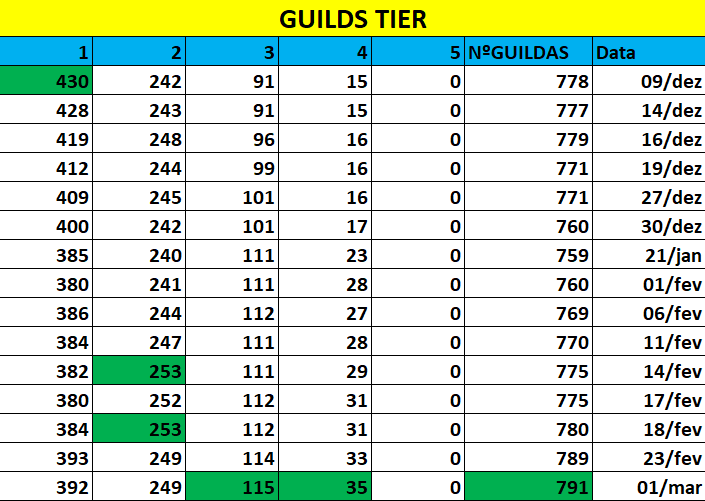 Se observar desde nove de dezembro estávamos enfrentando uma redução de guildas participantes do brawl, chegando ao mínimo de 759 guildas participantes em 21 de janeiro.
Ao observarmos em 01 de março tivemos o recorde de guildas participantes no brawl, atingimos a marca de 791 guildas, com destaque para o recorde em tier 3 e 4.
Outro dado interessante é que o numero de guildas tier 1 diminuiu consideravelmente, o que mostra que temos uma player base mais ativa na guilda, isso é bom pois o jogo em equipe lhe motiva a melhorar e evoluir.
Então acho que a decisão de focar em evoluir as guildas e não alianças da guilda é bom para deixar o jogo disputado, visto que alianças de guilda poderiam deixar 2 ou 3 guildas donos das melhores recompensas, assim todos tem a possiblidade de evoluir e ganhar.
Porém surge um ponto importante os custos.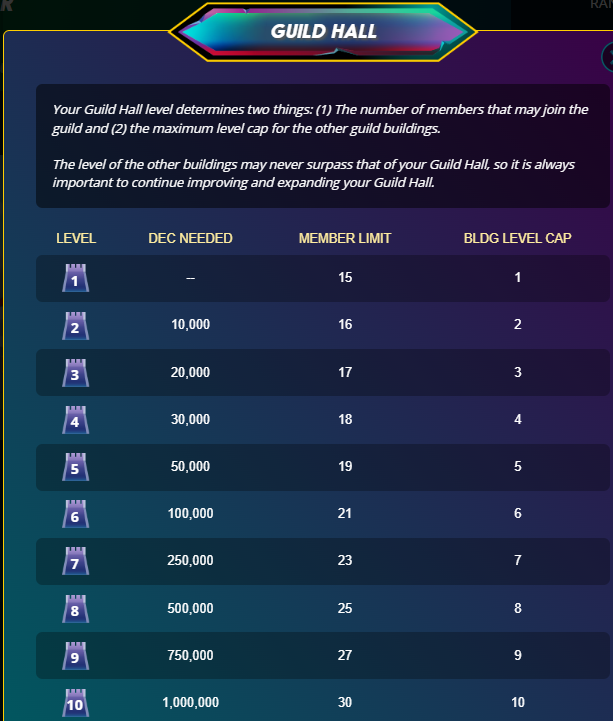 Hoje para colocar a construção mais barata (Hall) no nível 10, vai aproximadamente 2,710.000 de dec ou seja, aproximadamente 2066,94 Dólares. Sendo que apenas para ter uma ideia, hoje as construções do hall lvl 9/10 custam mais da metade do total dos outros leveis 1,750.000 ou seja 1333 Dólares.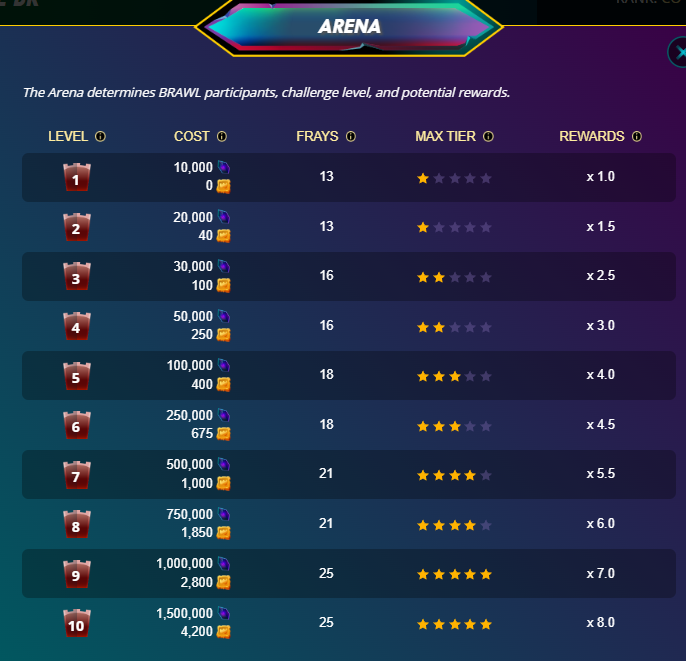 As demais construções atualmente custam o total de 4,215.000 Dec ou seja aproximadamente 3215 Dólares. Sendo que novamente apenas para ter uma ideia, hoje as demais construções no lvl 9/10 custam mais da metade do total dos outros leveis 2,500.000 ou seja 1907 Dólares.
O total hoje para ter uma guilda level 10 full seria 11711 dólares.
Basicamente, acredito que ter mais construções na guilda é benéfico para o jogo em família/comunidade, inclusive podemos ter futuramente talvez um modo gladiador brawl por exemplo : player x player com uso de um summoner e somente 3 cartas brawls por exemplo, onde todos os membros podem participar.
Porém se o foco for aumentar o level das guildas e o custo continuar aumentando exponencialmente nas outras construções, é possível que isso afaste as novas guildas/players, pois iriam desanimar com o alto custo de evolução, visto que provavelmente um level a mais deveria custar em torno de 750k dec o que seria mais ou menos 572 dólares.

RANKEADA:
Mais uma noticia extremamente boa foi anunciada no ultimo brawl as redefinições de temporada serão refeitas.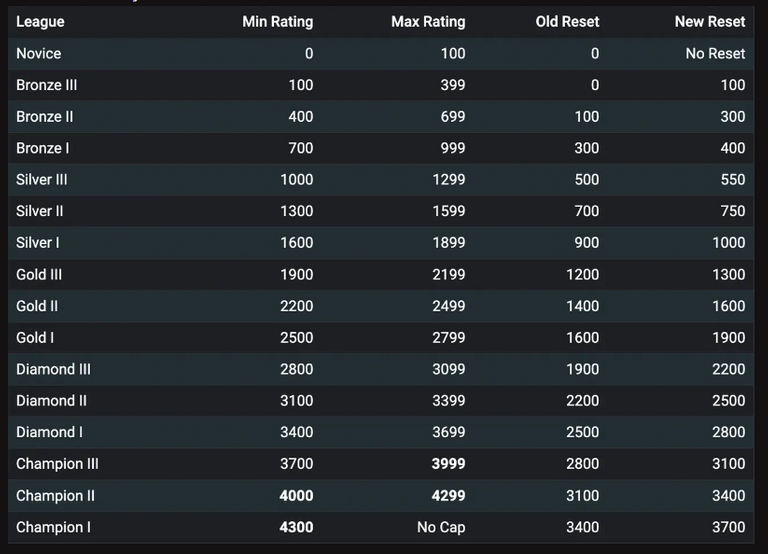 Particularmente achava complicado você terminar por exemplo gold 1 e ser resetado para o prata 1, pois você toda a vantagem de ter as cartas level mais alto para a luta, e com isso diminui as recompensas, agora nesse novo modo de reset, por exemplo se você terminar gold 1, você começara gold 3.
Ainda acho e deixaria uma sugestão, que fosse adicionado 50 de rating no final desses números nos divisão três, por exemplo em vez de 1900, o reset fosse 1950, pois isso da a oportunidade de o player jogar no mínimo duas partidas sem cair de tier.
Além disso o jogador que após o reset, ficar afk, continuará no mesmo elo. (exemplo o jogador jogou e terminou diamante 3, ai após o reset caiu para o gold, porém não jogou nenhuma partida na temporada, no proximo reset ele continua gold.)
Essa mudanças mostram o quanto a equipe está focada em melhorar a experiencia dos jogadores, o que me deixa feliz em vez o quanto a equipe está mudando o jogo para melhor.

Market Listing Fees:
As taxas para listar cartas para venda, o que eu acho que em certo ponto é bom, pois evita a pessoa ficar listando e removendo freneticamente as cartas, e com isso cria uma estabilidade maior para o comercio do jogo.
Porém, nas vendas de cartas, vejo que a maior dificuldade está em colocar essa taxa sem um valor mínimo de listagem. Por exemplo cartas de poucos centavos, podem ficar inviável da pessoal colocar para venda, cancelar e colocar novamente.
Para saber mais acesse o link oficial abaixo:
https://peakd.com/splinterlands/@splinterlands/market-listing-fees-and-expiration

CONSIDERAÇÕES FINAIS:
O gráfico abaixo mostra alguns dados interessantes, bem como o aumento no numero de transações e batalhas diárias nos últimos dias, porém uma queda no numero de players ativos totais, mas com um aumento em novos jogadores.
Vejo a equipe do @splinterlands focada em melhorar e trazer maior jogabilidade e atratividade para os novos e antigos players, estamos em um cenário econômico de queda ainda, e provavelmente na minha opinião vamos enfrentar isso até o final de 2023, Splinterlands está mudando para ter mais interação com a comunidade e que os jogadores que fazem parte de uma guilda sejam uma família.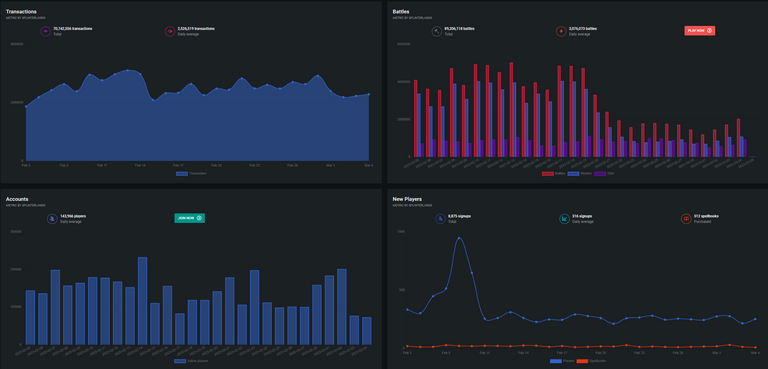 Meu Cenário de staking atual: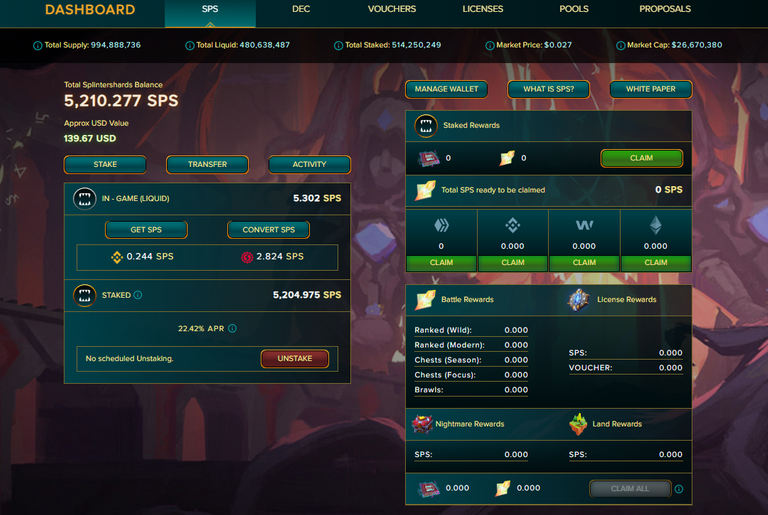 Atualmente estou com 5,210.277 SPS sendo 5,204.975 em STAKING.
Continuo acreditando em uma continuação da valorização do SPS no longo prazo e aumentando as quantidade da moeda em staking para também aumentar o meu poder de voto no splinterlands.
Como podemos ver no site https://tribaldex.com/trade/SPS a moeda segue em uma tendencia neutra no curto prazo e de desvalorização no gráfico de longo prazo.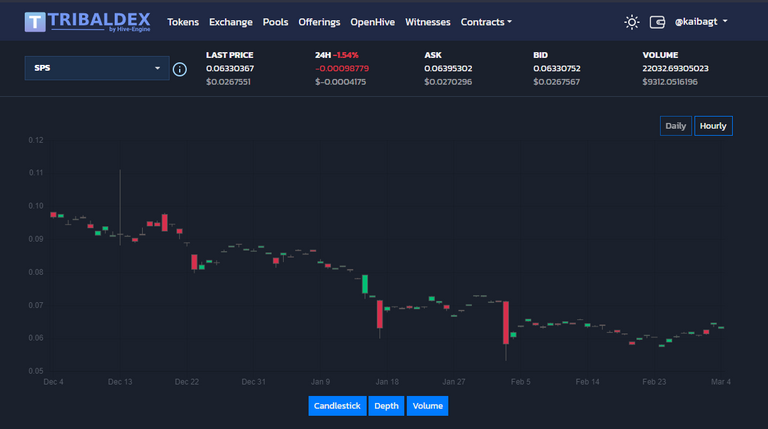 Além do SPS, também estou fazendo staking de todos tokens que estou ganhando pela hive, ainda é um valor baixo, porém acredito em uma possível alta nas cryptos logo logo.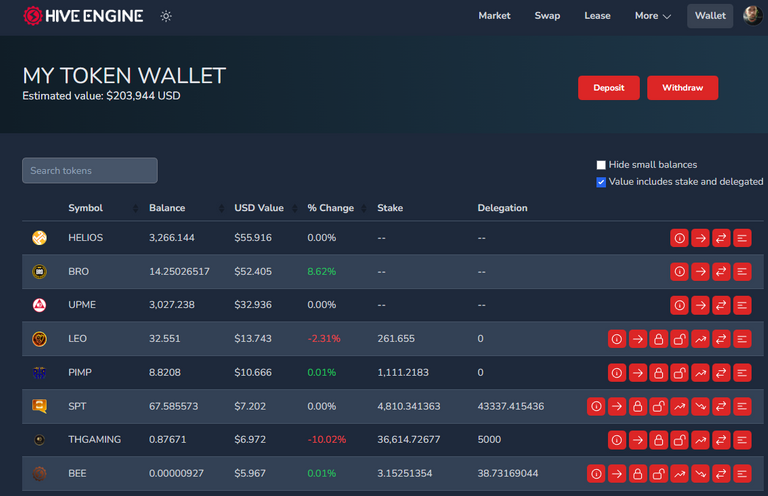 Sendo novamente tive alteração nas minhas oito maiores posições nos tokens, sendo eles: #HELIOS, #BRO, #UPME, #LEO, #PIMP, #SPT, #THGAMING E #BEE.
E a minha carteira está se mantendo entre $200 dólares a $205 dólares.


REFERRAL LINKS:
O que você pensa sobre as taxas de listagem de cartas, mudanças nas guildas e rankeada? Esta gostando da quantidade de cartas soulbounds dropadas diariamente? Tem uma sugestão de melhoria no post ou no splinterlands??? Quer comentar a sua estratégia??? Comente e Compartilhe!!!
*Imagens divisor de texto obtido pela comunidade hive-br.
#splinterlands @splinterlands é o melhor jogo nft #play2earn @play2earn que já conheci, um ambiente agradável, amigável e sustentável!
Se você quiser começar a jogar aqui está o meu link de referência:
Twitter:
Muito obrigado meus amigos!!!
Participe da comunidade Hive-BR, clique no banner abaixo para entrar no nosso Discord.

---
---