THE NEW RULES AND CHANGES PROPOSALS [EN-PT-BR]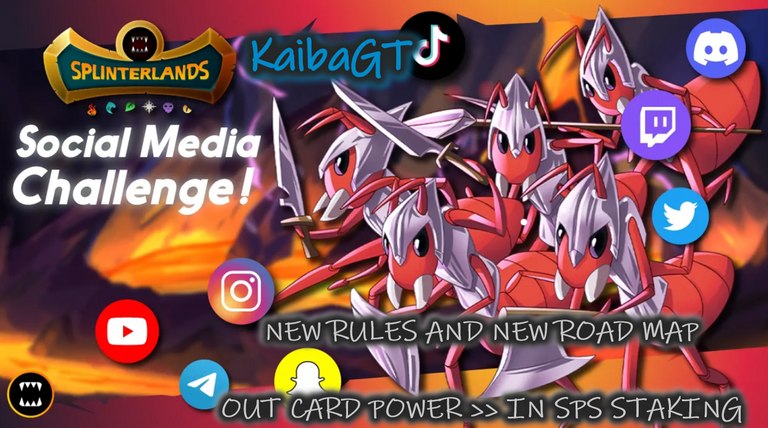 NEW BATTLE RULES: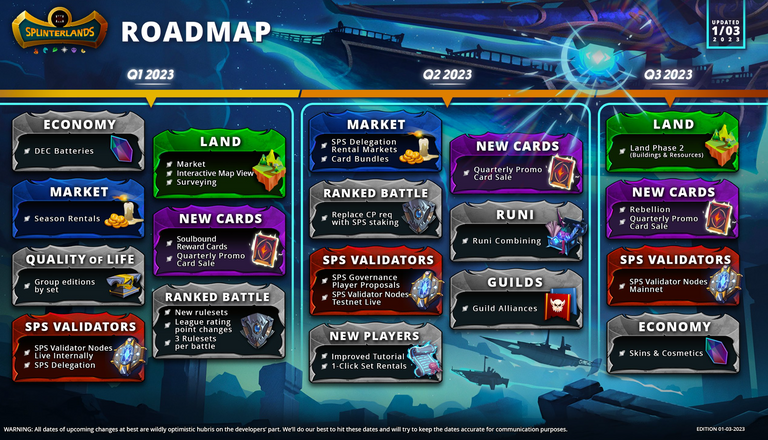 Hello everyone, today I'm going to comment a little about the new rules, I've already faced two of the new rules, one of them is "Ferocity" and the other "Aimless"
1st Aimless : All allied monsters receive Scattershot skill at the beginning of the battle.
Scattershot:
This monster's attacks hit a random enemy target.
2nd FEROCITY:
All Monsters have the rage ability.
FURY:
This Monster does double damage to targets with the Taunt ability.
These rules are interesting because they use a greater variety of cards, below I'll leave two examples of these fights, these rules make some cards more valuable, which can pass as "forgotten" and lost in the current format.
As released by @splinterlands, a format with 3 rules per battle is intended to be added, this is very interesting, as it will make the ranked ones much more disputed and differentiated.

NEW PROPOSALS:
In addition to the rule changes, a proposed change from CP to SPS in staking as a criterion in ranked battle was also announced today. We still don't have much information regarding how this proposal and update will be done, I would particularly like the idea of keeping the amount of CP as a requirement, as this helps to value the cards, but adding a minimum amount of SPS in staking for each tier /liga, this would help to increase/stabilize the value of SPS, which is currently at 0.025 cents of dollars, and would increase the value of the tokens, in addition to making more players have a voting power in the proposals of the community, and you what you think of this proposal? comment below your opinion!!!

THE BATTLE: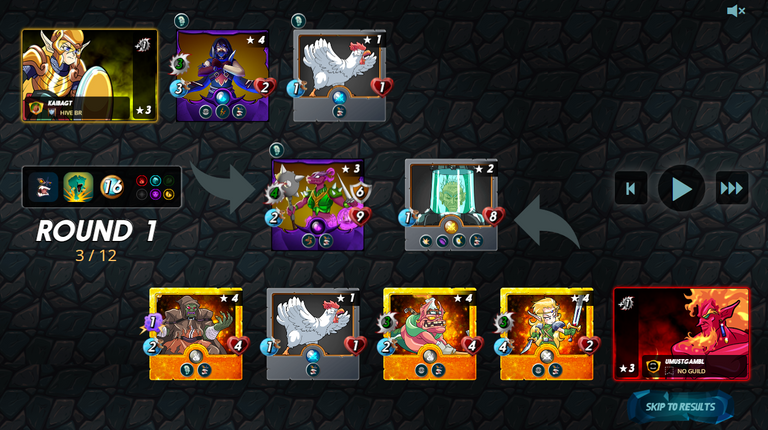 The rules for this battle were:

FEROCITY:
All Monsters have the rage ability.
FURY:
This Monster does double damage to targets with the Taunt ability.
16 mana.
ALL DECKS ALLOWED EXCEPT LAND AND LIFE.
Based on the rules mentioned above were chosen for this battle: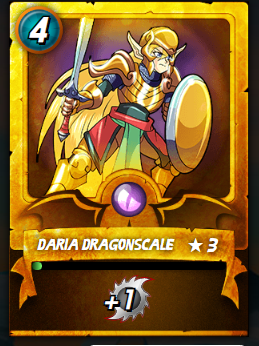 Our sumer is DARIA DRAGONSCALE which increases melee physical damage of all allies by +1.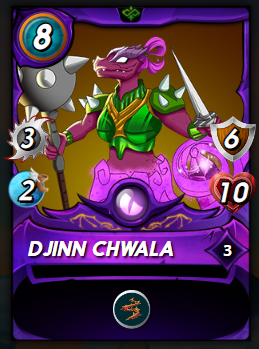 1st DJINN CHWALA, this card has great power both offensive because it has 3 attack and 2 speed, and defensive because it has 6 shield and 10 life, in addition to its passive that will help to be our tanker.
THORNS
When hit with a melee attack, deal damage back to the attacker
Has a maximum of 2 damage.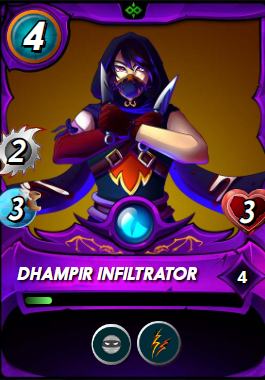 2nd DHAMPIR INFILTRATOR:
SNEAK:
Targets the last Monster on the enemy Team instead of the first Monster.
DOUBLE STRIKE:
The monster attacks twice each round.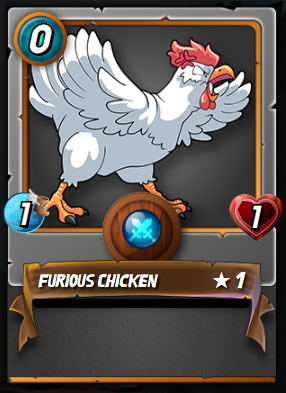 4th FURIOUS CHICKEN:
Card with 0 mana cost.

FINAL CONSIDERATIONS:
As you can see, the opponent had excellent cards, but the power of thorns plus shield, along with the speed of the infiltrator, was essential for the victory.
When observing the ROUND 3 3/4 we can see that the game is over for the opponent, in this round the opponent doesn't have any card with attack anymore.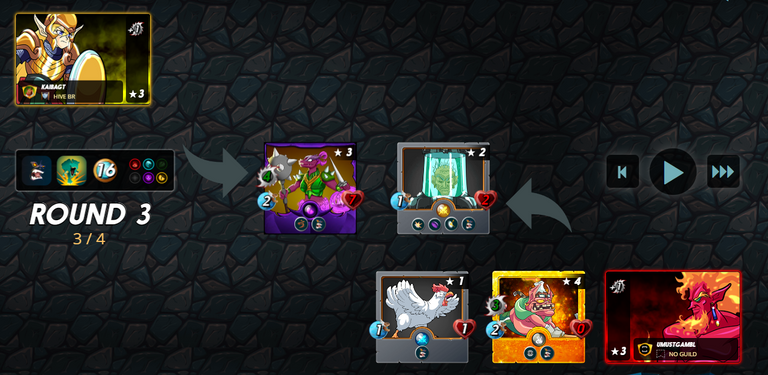 I'm currently in GOLD 2 WILD and GOLD 1 MODERN, this battle yielded 0.277 SPS and 9.002 RP.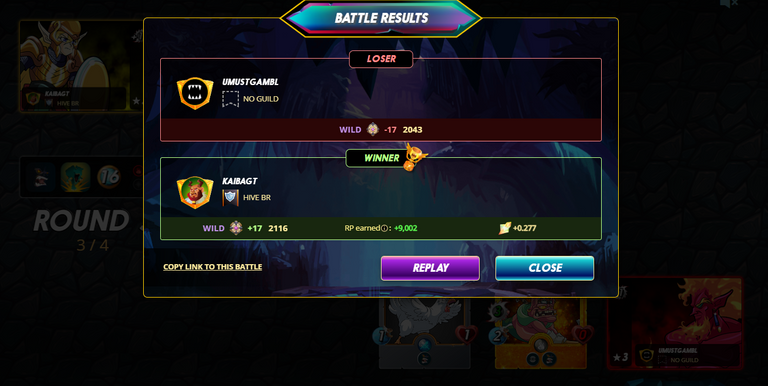 Follow the battle link below:
Follow the link of the second battle below:

My Current Staking Scenario: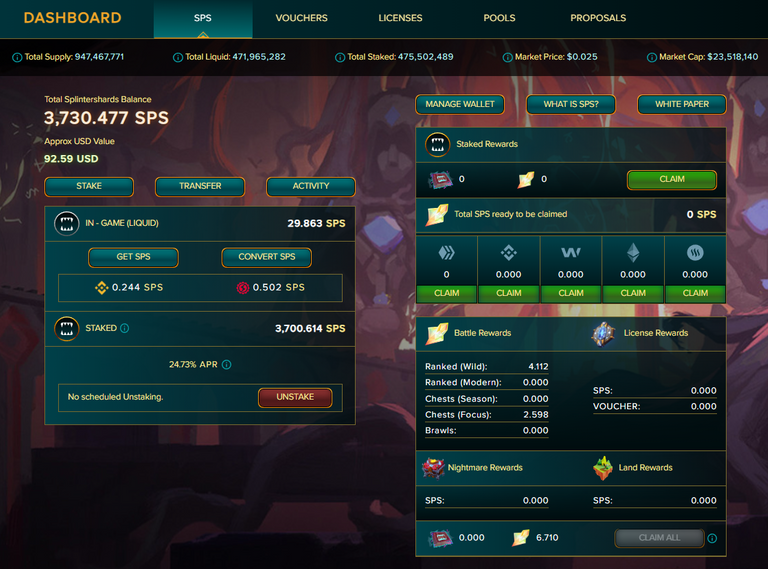 I currently have 3,730,477 SPS of which 3,700,614 are staking.
I continue to believe in a continuation of the appreciation of the SPS in the long term and increasing the amounts of the coin staking to also increase my voting power in splinterlands.
As we can see on the website https://tribaldex.com/trade/SPS, the coin is on a downward trend in the short/long term, which was already predicted a slight drop by the splinterlands team, based on the new SPS rewards from Land, TD and Brawl.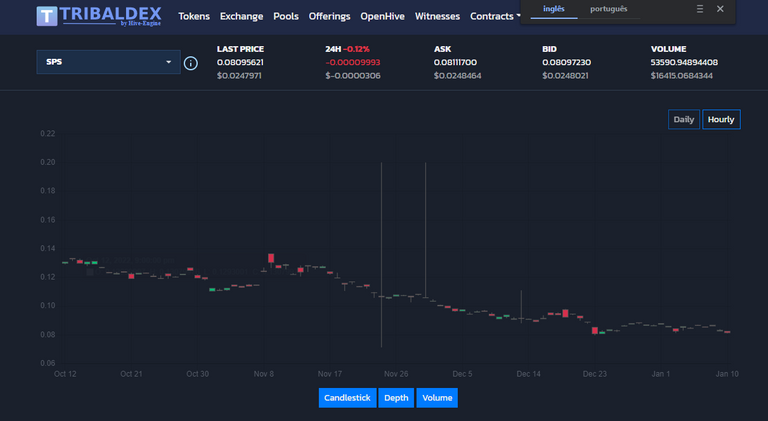 In addition to the SPS, I'm also staking all the tokens I'm earning through the hive, it's still a low value, but I believe in a possible rise in cryptos in the coming years.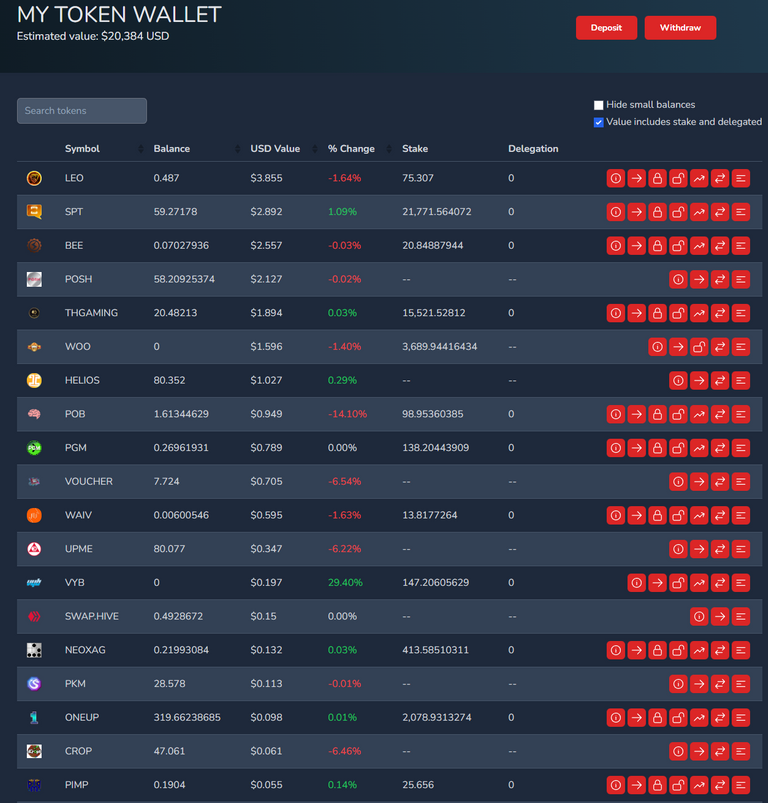 Once again, I had changes in my six biggest positions in the tokens, namely: #LEO, #SPT, #BEE, #POSH, #THGAMING AND #WOO.
For the first time, my tokens surpassed 20 Dollars.

REFERRAL LINKS:
Did you like my battle? Do you have a suggestion or want to share yours? Comment and Share!!!
#splinterlands @splinterlands is the best nft game #play2earn @play2earn I've ever known, a nice, friendly and sustainable environment!
If you want to start playing here is my referral link:
Twitter:
Thank you, my friends!!!
Join the Hive-BR community, click on the banner below to join our Discord.


PT-BR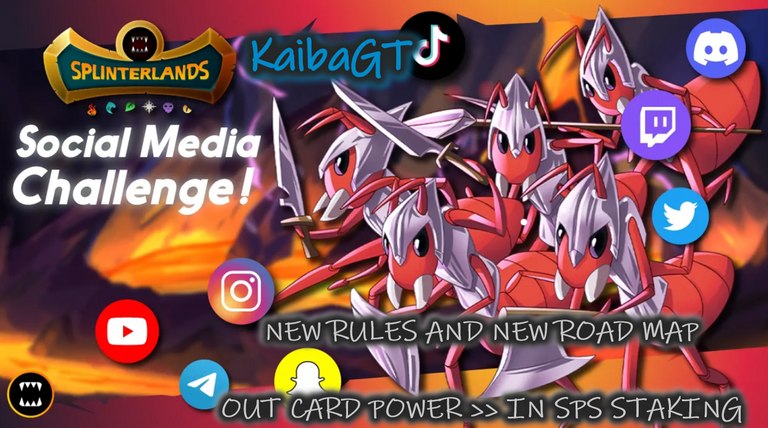 NOVAS REGRAS DE BATALHA: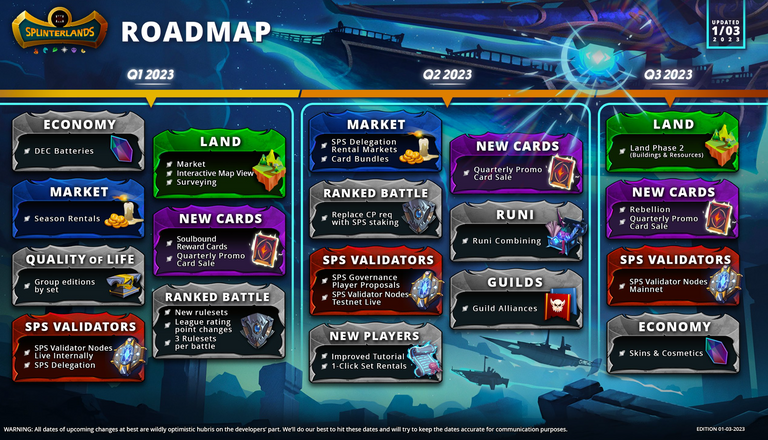 Olá pessoal, hoje vou comentar um pouco sobre as novas regras, já enfrentei duas das novas regras, uma delas é a "Ferocity" e a outra "Aimless"
1º Aimless : Todos os monstros aliados recebem Scattershot habilidade no começo da batalha.
Scattershot:
Os ataques deste monstro atingem um alvo inimigo aleatório.
2º FEROCITY:
Todos os Monstros têm a habilidade de fúria.
FURIA:
Este Monstro causa o dobro de dano aos alvos com a habilidade Taunt.
Essas regras são interessantes pois fazem utilizar uma maior variedade de cartas, abaixo vou deixar dois exemplos dessas lutas, essas regras fazem valorizar algumas cartas, que podem passar como "esquecidas" e perdidas no formato atualmente.
Conforme divulgado pela @splinterlands pretende ser adicionado um formato com 3 regras por batalha, isso é muito interessante, pois vai tornar muito mais disputado e diferenciado as ranqueadas.

NOVAS PROPOSTAS:
Além das mudanças nas regras, também hoje foi anunciado uma proposta de mudança de CP para SPS em staking como critério na ranked batalha. Ainda não temos muitas informações referente a como vai ser feito essa proposta e atualização, eu particularmente iria gostar da ideia de manter a quantidade de CP como requerimento, pois isso ajuda valorizar as cartas, mas adicionasse uma quantidade mínima de SPS em staking para cada tier/liga, isso ajudaria a aumentar/estabilizar o valor dos SPS, que atualmente está em 0,025 centavos de dólares, e iria valorizar mais os tokens, além de fazer mais jogadores ter um poder de voto nas propostas da comunidade, e você o que pensa dessa proposta? comente em baixo sua opinião!!!

A BATALHA: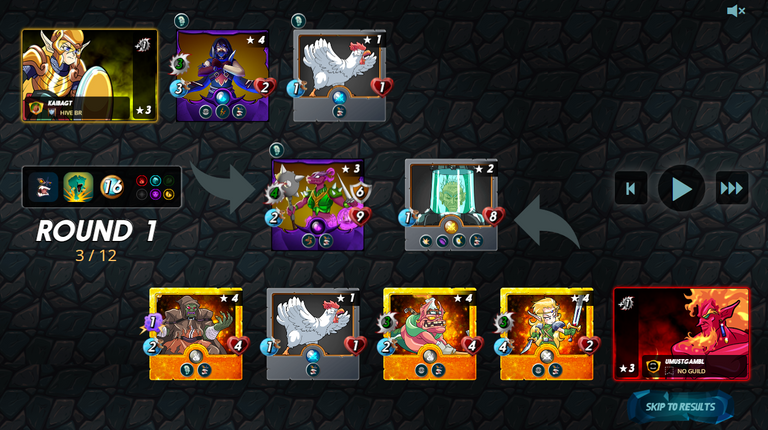 As regras para essa batalha foram:

FEROCITY:
Todos os Monstros têm a habilidade de furia.
FURIA:
Este Monstro causa o dobro de dano aos alvos com a habilidade Taunt.
16 de mana.
TODOS DECKS PERMITIDOS COM EXCEÇÃO DE TERRA E VIDA.
Com base as regras mencionadas acima foram escolhidas para essa batalha: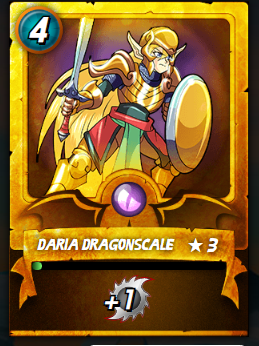 O nosso sumoner é DARIA DRAGONSCALE que aumenta o dano fisico melee de todos os aliados em +1.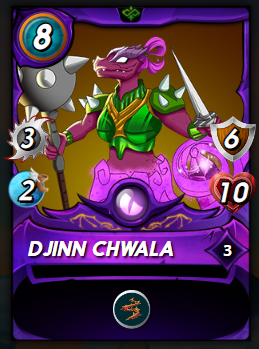 1º DJINN CHWALA, essa carta tem grande poder tanto ofensivo pois tem 3 de ataque e 2 de speed, quanto defensivo pois tem 6 e de escudo e 10 de vida, além de sua passiva que ajudara a ser o nosso tanker.
THORNS
Quando atingido com um ataque corpo a corpo, causa dano de volta ao atacante
Tem um máximo de 2 de dano.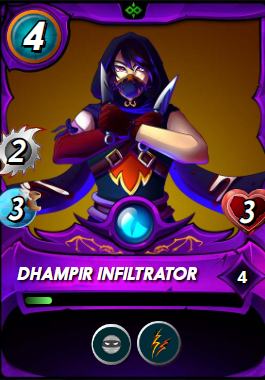 2º DHAMPIR INFILTRATOR:
SNEAK:
Alveja o último Monstro da Equipe inimiga em vez do primeiro Monstro.
DOUBLE STRIKE:
O monstro ataca duas vezes a cada rodada.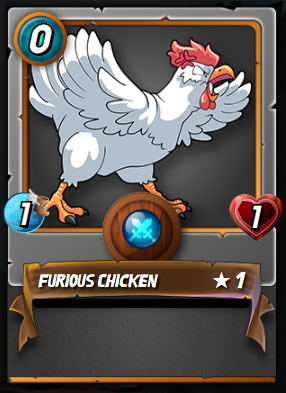 4º FURIOUS CHICKEN:
Carta com custo de 0 de mana.

CONSIDERAÇÕES FINAIS:
Como podem observar, o oponente tinha cartas excelentes, mas o poder de thorns mais escudo, junto com a velocidade do infiltrator, foi essencial para a vitoria.
Ao observar o ROUND 3 3/4 podemos observar que acabou o jogo para o oponente, neste round o oponente não tem mais nehhuma carta com ataque.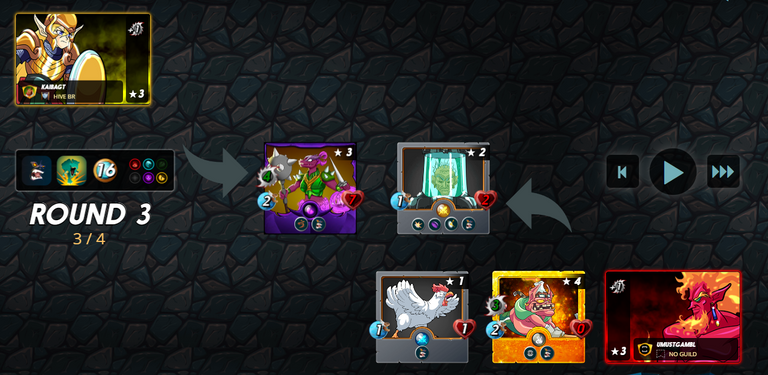 Atualmente estou no GOLD 2 WILD e GOLD 1 MODERN, essa batalha rendeu 0.277 de SPS e 9,002 de RP.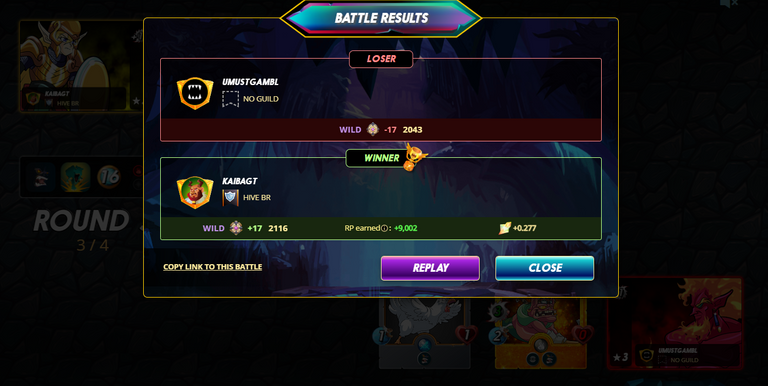 Segue o link da batalha abaixo:
Segue o link da segunda batalha abaixo:

Meu Cenario de staking atual: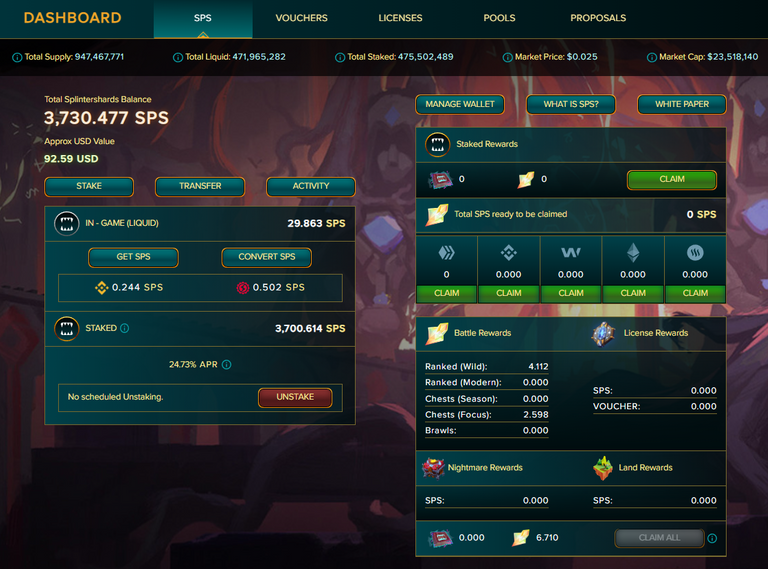 Atualmente estou com 3,730.477 SPS sendo que 3,700.614 estão em staking.
Continuo acreditando em uma continuação da valorização do SPS no longo prazo e aumentando as quantidade da moeda em staking para também aumentar o meu poder de voto no splinterlands.
Como podemos ver no site https://tribaldex.com/trade/SPS a moeda segue em uma tendencia de queda no curto/longo prazo , o que já era previsto uma leve queda pela equipe do splinterlands, com base as novas recompensas de SPS da Land, TD e Brawl.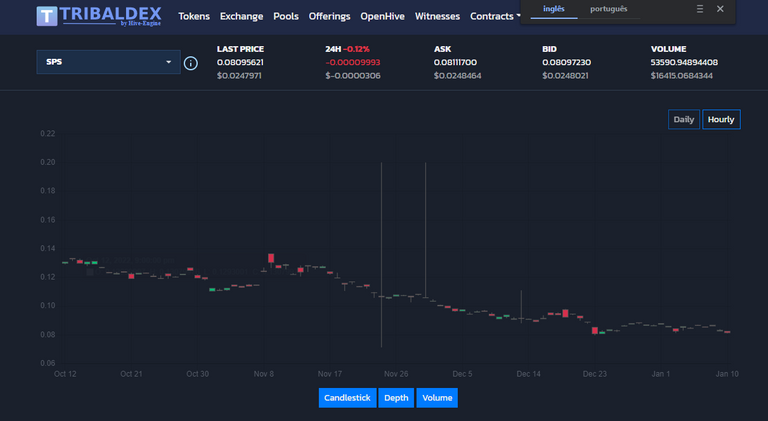 Além do SPS, também estou fazendo staking de todos tokens que estou ganhando pela hive, ainda é um valor baixo, porém acredito em uma possível alta nas cryptos nos próximos anos.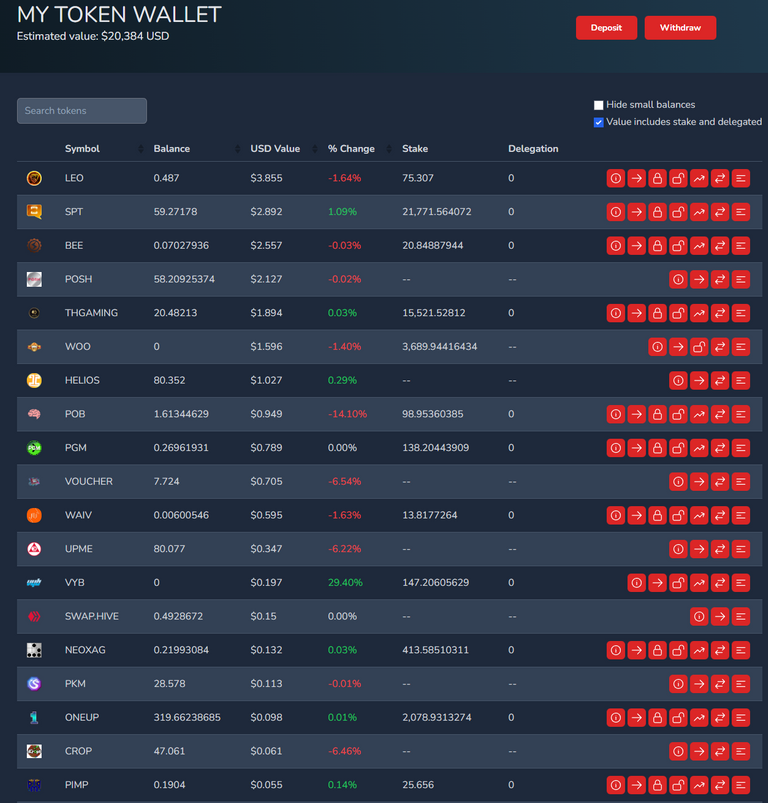 Sendo novamente tive alteração nas minhas seis maiores posições nos tokens, sendo eles: #LEO, #SPT, #BEE, #POSH, #THGAMING E #WOO.
Pela primeira vez, meus tokens passaram de 20 Dólares.

REFERRAL LINKS:
Gostou da minha minha batalha? Tem sugestão ou quer contar a sua? Comente e Compartilhe!!!
#splinterlands @splinterlands é o melhor jogo nft #play2earn @play2earn que já conheci, um ambiente agradável, amigável e sustentável!
Se você quiser começar a jogar aqui está o meu link de referência:
Twitter:
Muito obrigado meus amigos!!!
Participe da comunidade Hive-BR, clique no banner abaixo para entrar no nosso Discord.

---
---