TOURNAMENT SECRETS: AQUA AND CLOSE RANGE. [EN-PT-BR]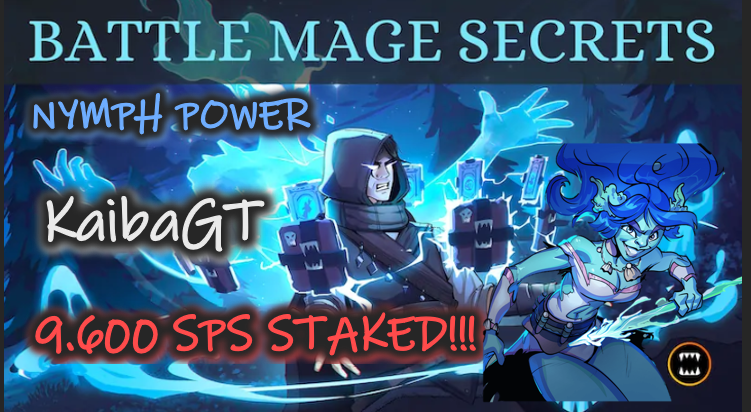 Hello everyone, this week our weekly secrets battle post is about the CLOSE RANGE rule, where ranged attacks can be used in the first position in battles, in the specific battle that only one monster was used with ranged attack.
COASTAL NYMPH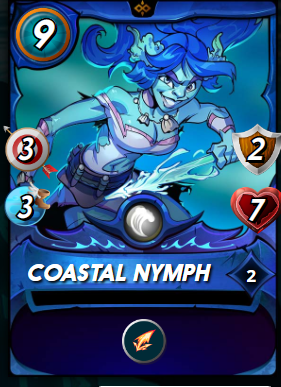 ..."The coastal nymphs inhabit the shores of the Isles of Lemell. They are a feisty, feisty sliver of nymphs, quickly enraged and up for a fight. They travel the archipelagos on large driftwood rafts, scavenging the bottom of the sea and selling their findings to local villages."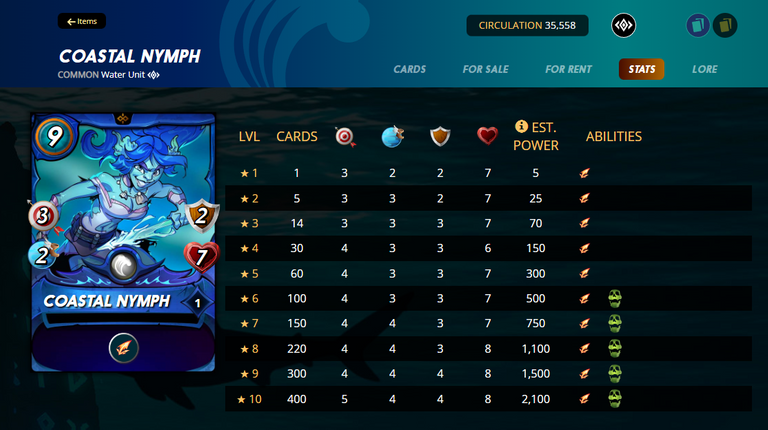 COASTAL NYMPH is a common riftwatchers card that currently has 35,558 regular cards in circulation and 3,585 Gold Foil
According to the website https://www.splintercards.com/rift-coastal-nymph, 226,522 cards have already been printed.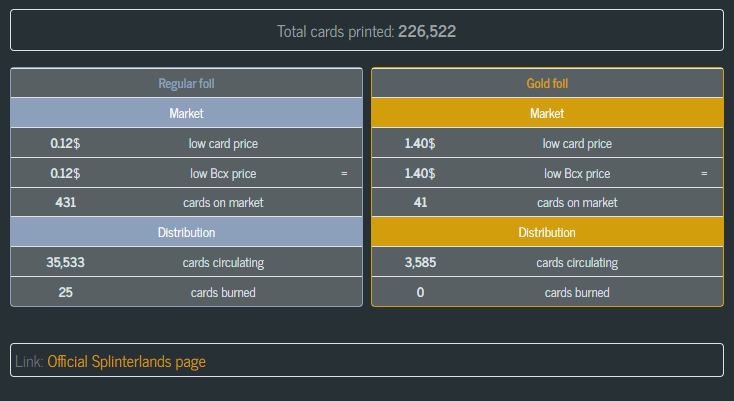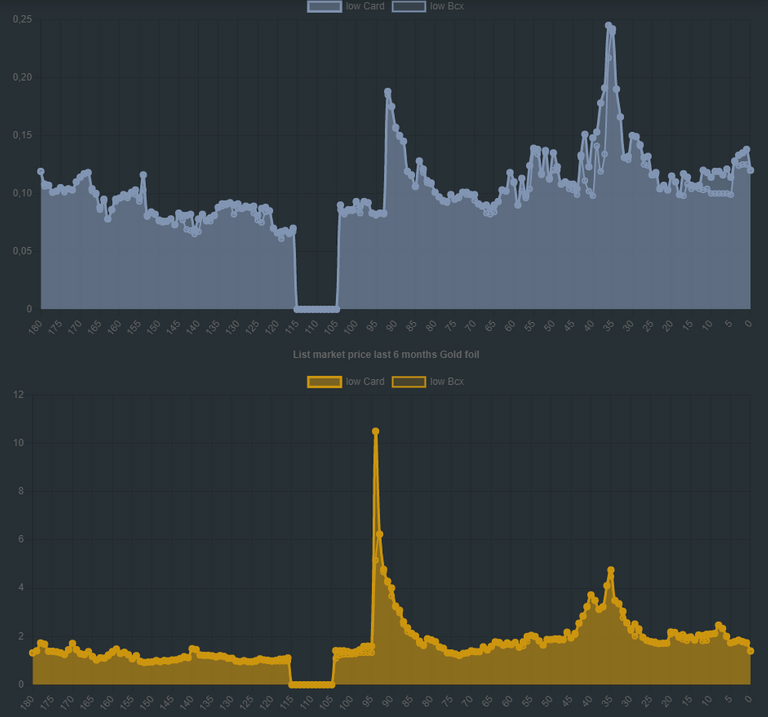 If we analyze the values at the peak of the last few months, the regular card was worth $0.245 and the gold foil $10.50, currently both are worth $0.12 and $1.40, respectively.
If you analyze proportionally, gold foil is extremely cheap compared to its highest value.
Level two the card has:
The strengths :
SCATTERSHOT:
This monster's attacks hit a random enemy target.
3 ranged damage
3 of speed
7 life
Negative Points:
Cost of 9 mana.
2 shield.

THE BATTLE: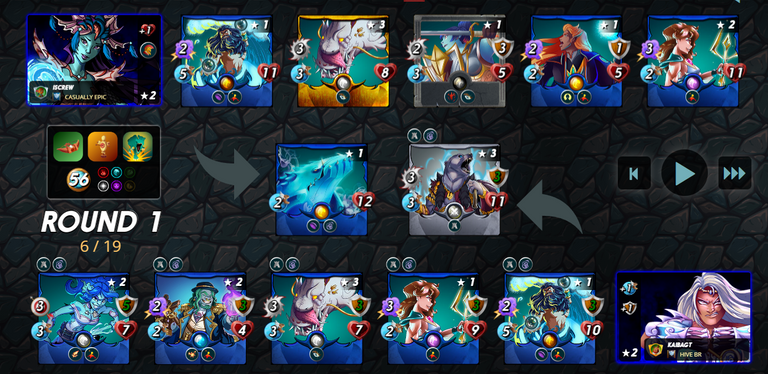 The rules for this battle were: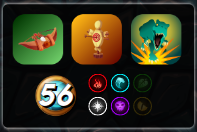 CLOSE RANGE:
Ranged attacks can be used in first position in battles.
TARGET PRACTICE:
All Ranged and Magical monsters have the Snipe Ability.
STAMPED:
The trample ability can be activated multiple times per attack if the trampled Monster is killed.
56 mana.
ALLOWED ALL DECKS EXCEPT EARTH/DRAGON.
Based on the rules mentioned above were chosen for this battle: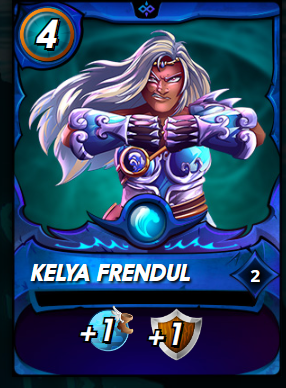 Our sumer is KELYA FRENDUL which increases the speed and shield by +1 of all allied monsters.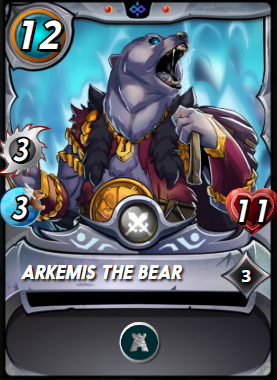 1st ARKEMIS THE BEAR, this common card is extremely powerful, it has great power both offensive because it has 3 damage and 3 speed, and defensive because it has 11 life.
PROTECT:
All ally Monsters gain +2 Armor.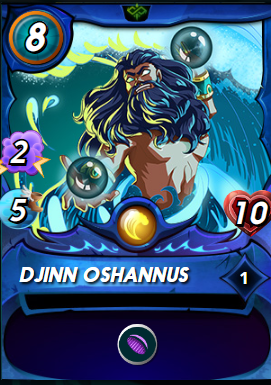 2nd DJINN OSHANNUS, this card will be our second front line, it has 5 speed and 2 magic damage in addition to 10 life and its important ability.
VOID:
Reduced damage from magical attacks.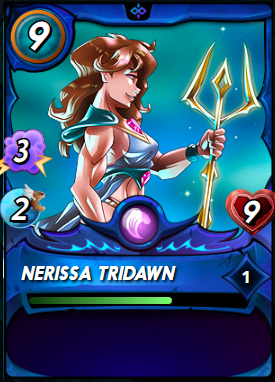 3rd NERISSA TRIDAWN, high magic damage and health.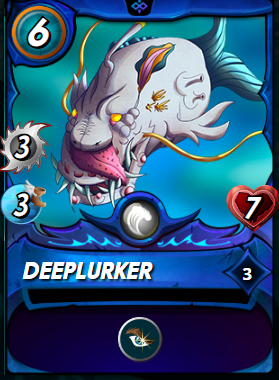 4th DEEPLURKER:
OPPORTUNITY:
Monsters with the Opportunity Ability can attack from any position and will target the enemy Monster with the lowest health.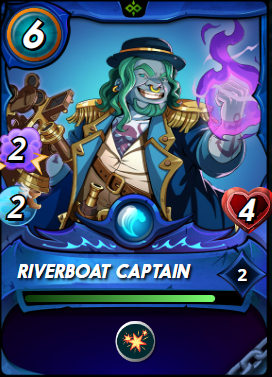 5th RIVERBOAT CAPTAIN:
BLAST:
Deals additional damage to Monsters adjacent to the target Monster.
Additional damage equals main damage divided by 2.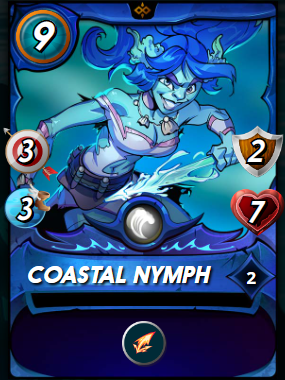 6th COASTAL NYMPH:
SCATTERSHOT:
This monster's attacks hit a random enemy target.

FINAL CONSIDERATIONS:
The opponent focused on using gladius with opportunity to win, which is an extremely powerful card, but my bear tanked the front line a lot, and thessim guaranteeing me victory.
In ROUND 7 4/4 we can see that the game is over for the opponent, in this round the opponent no longer has a victory option, all his cards are annihilated and I still have two monsters with practically full life.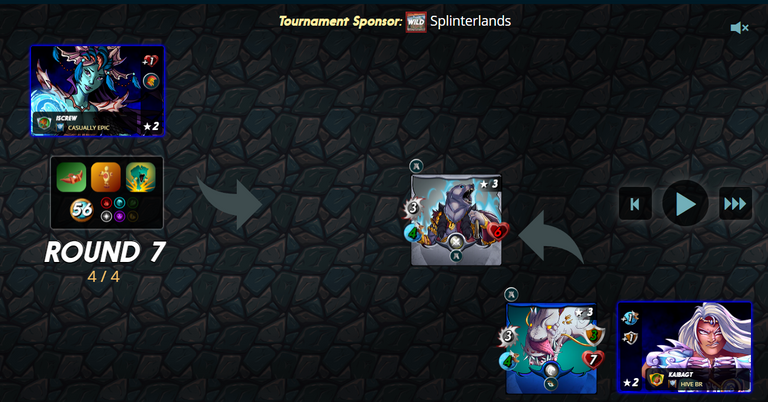 I currently have rented cards at GOLD 2 MODERN.
Follow the battle link below:

My Current Staking Scenario: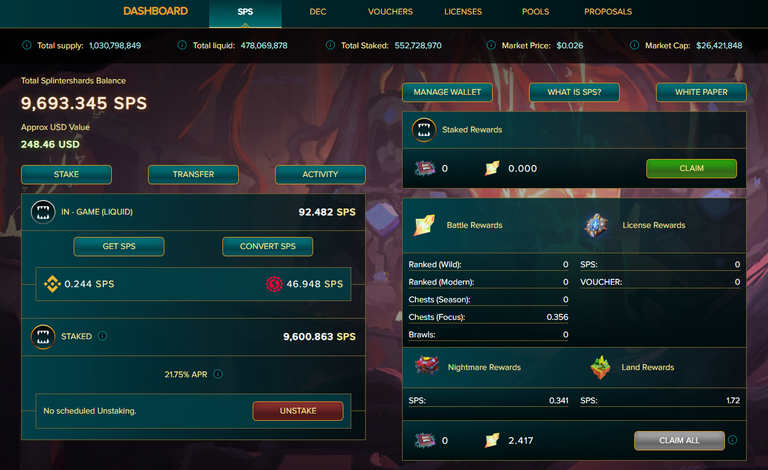 I currently have 9,693,345 SPS, of which 9,600,863 are staking.
I continue to believe in a continuation of the appreciation of the SPS in the long term and increasing the amount of currency in staking to also increase my voting power in splinterlands, in addition to that this will be used for ranked.
As we can see on the site https://tribaldex.com/trade/SPS, the currency follows a downward trend in the short term and a devaluation trend in the long term chart.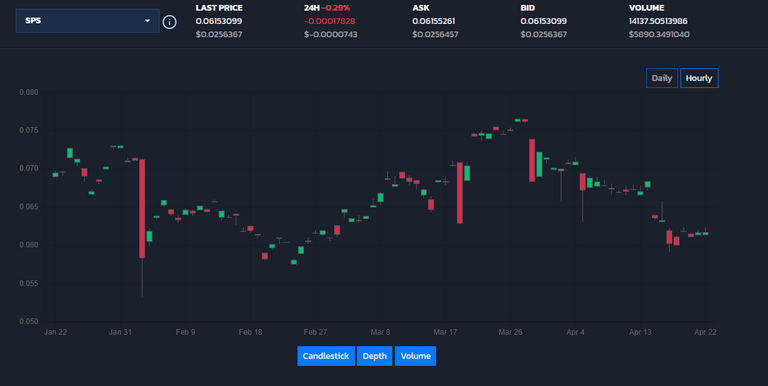 In addition to the SPS, I'm also staking all the tokens I'm earning through the hive, it's still a low value, but I believe in a possible rise in cryptos soon.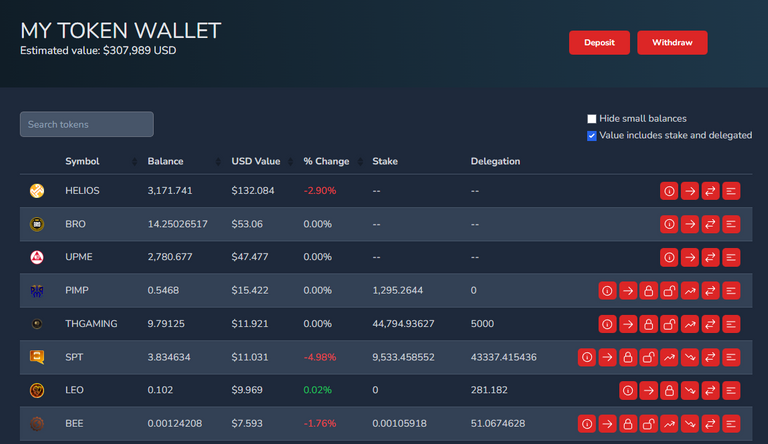 Once again, I had changes in my eight largest positions in the tokens, namely: #HELIOS, #BRO, #UPME, #PIMP, #THGAMING, #SPT #LEO AND #BEE.
And my portfolio is staying above $300. ranging from $300 dollars to $310 dollars.

REFERRAL LINKS:
Did you like my battle? What do you think about the rule with CLOSE RANGE? Do you have a suggestion for improvement in the post or in splinterlands??? Do you want to comment on your strategy??? Comment and Share!!!
#splinterlands @splinterlands is the best nft game #play2earn @play2earn I've ever known, a nice, friendly and sustainable environment!
If you want to start playing here is my referral link:
Twitter:
Thank you soo much, my friends!!!
Join the Hive-BR community, click on the banner below to join our Discord.


PT-BR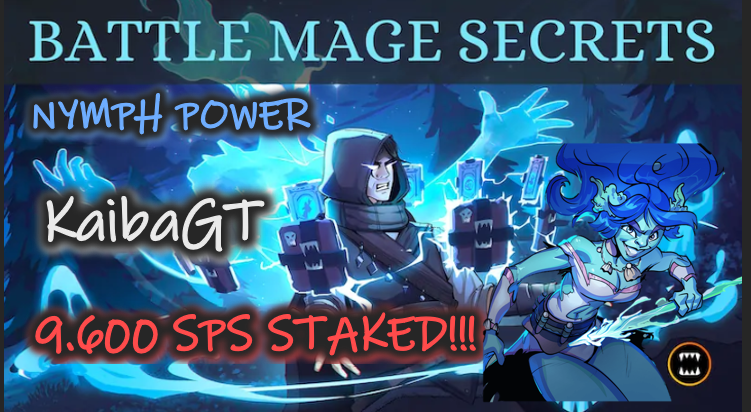 Olá pessoal, essa semana o nosso post de batalha secrets semanal é sobre a regra de CLOSE RANGE, onde ataques à distância podem ser usados na primeira posição em batalhas, na batalha especifica essa apenas um monstro foi utilizado com ataque ranged.
COASTAL NYMPH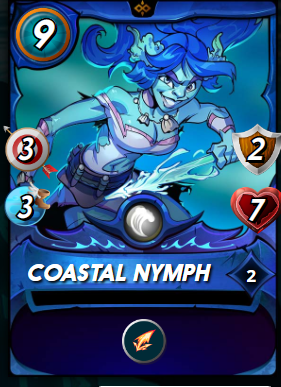 ..."As ninfas costeiras habitam as costas das ilhas de Lemell. Eles são uma lasca de ninfas agitadas e mal-humoradas, que se enfurecem rapidamente e se levantam para uma briga. Eles viajam pelos arquipélagos em grandes jangadas de madeira flutuante, vasculhando o fundo do mar e vendendo suas descobertas para as aldeias locais."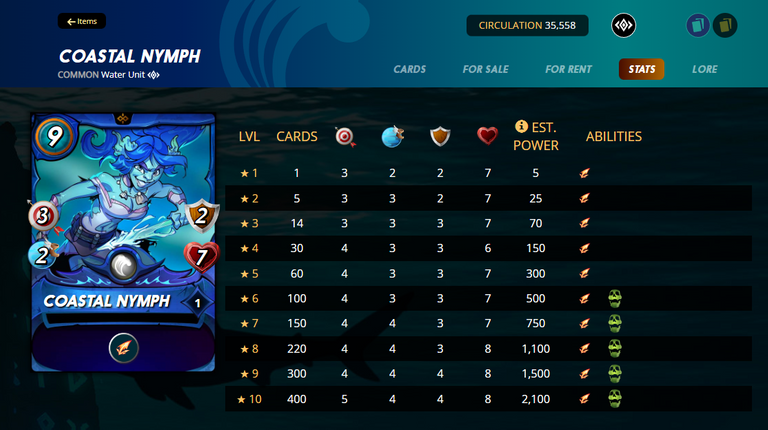 COASTAL NYMPH é uma carta riftwatchers comum que atualmente tem 35,558 cards regulares em circulação e 3,585 Gold Foil
Conforme o site https://www.splintercards.com/rift-coastal-nymph, já foram printadas 226,522 cartas.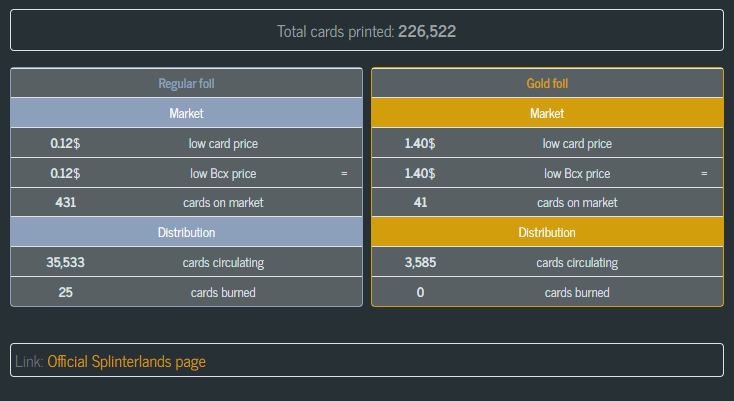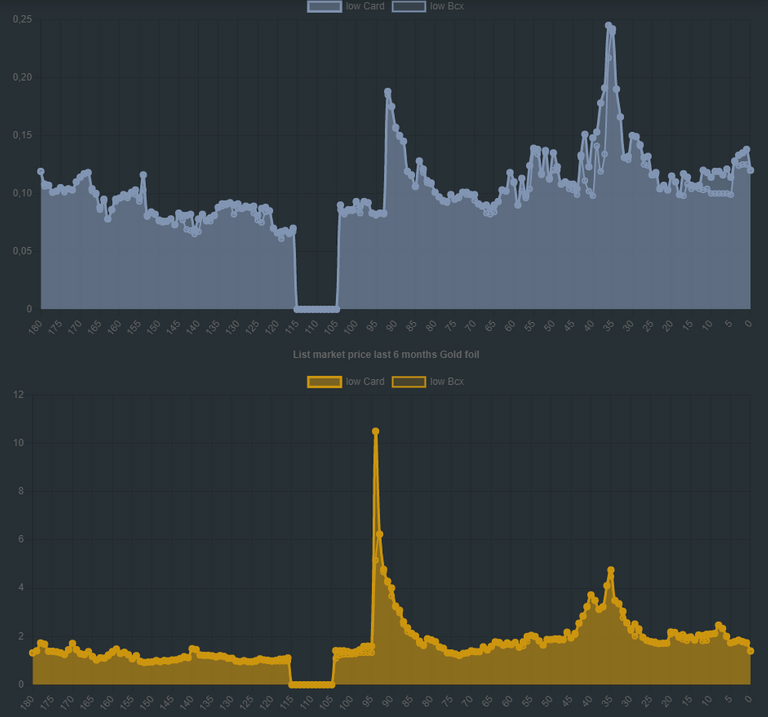 Se analisarmos os valores no auge dos últimos meses a carta regular chegou a valer $0,245 e a gold foil $10,50, atualmente ambas estão valendo respectivamente $0,12 e $1,40.
Se analisar proporcionalmente a gold foil está extremamente barata comparada ao seu maior valor.
Level dois a carta tem:
Os pontos fortes :
SCATTERSHOT:
Os ataques deste monstro atingem um alvo inimigo aleatório.
3 de dano ranged
3 de speed
7 de vida
Pontos negativos:
Custo de 9 de mana.
2 de escudo.

A BATALHA: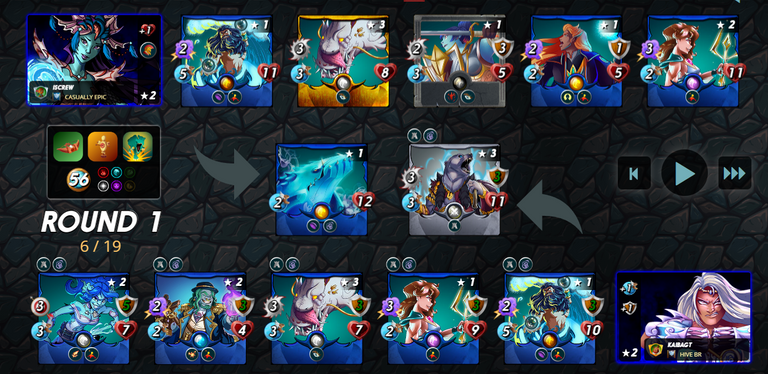 As regras para essa batalha foram: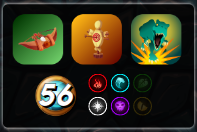 CLOSE RANGE:
Ataques à distância podem ser usados na primeira posição em batalhas.
TARGET PRACTICE:
Todos os monstros de ataque à distância e mágicos têm a habilidade Snipe.
STAMPEDE:
A habilidade Atropelar pode ser ativada várias vezes por ataque se o Monstro pisoteado for morto.
56 de mana.
PERMITIDO TODOS OS DECKS COM EXCEÇÃO DE TERRA/DRAGÃO.
Com base as regras mencionadas acima foram escolhidas para essa batalha: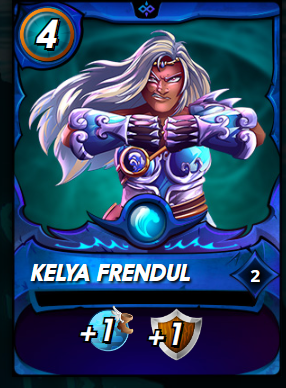 O nosso sumoner é KELYA FRENDUL que aumenta o speed o escudo em +1, de todos os monstros aliados.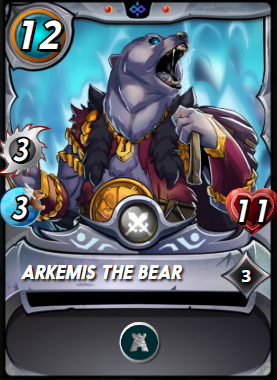 1º ARKEMIS THE BEAR, essa carta comum é extremamente poderosa, tem grande poder tanto ofensivo pois tem 3 de dano e 3 de speed, quanto defensivo pois tem 11 de vida.
PROTECT:
Todos os Monstros aliados ganham +2 de Armadura.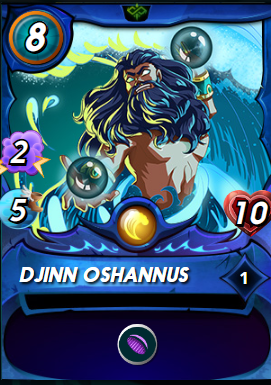 2º DJINN OSHANNUS, está carta será nosso segundo front line, possui 5 de speed e 2 de dano magico além de 10 de vida e sua importante habilidade.
VOID:
Dano reduzido de ataques mágicos.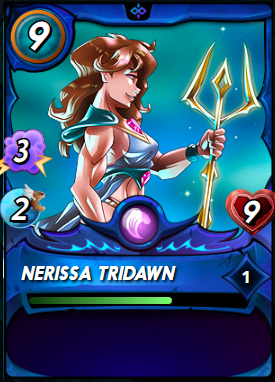 3º NERISSA TRIDAWN, alto dano magico e vida.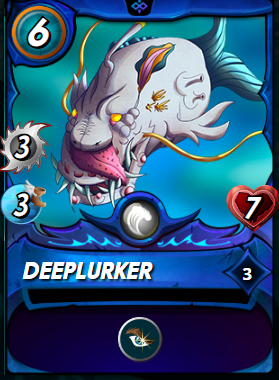 4º DEEPLURKER:
OPPORTUNITY:
Monstros com a habilidade Oportunidade podem atacar de qualquer posição e terão como alvo o Monstro inimigo com menos vida.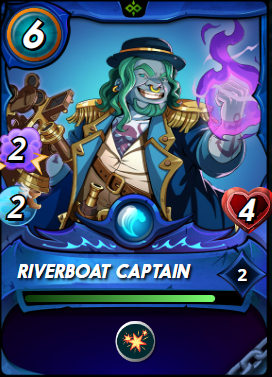 5º RIVERBOAT CAPTAIN:
BLAST:
Causa dano adicional aos Monstros adjacentes ao Monstro alvo
Dano adicional é equivalente ao dano principal dividido por 2.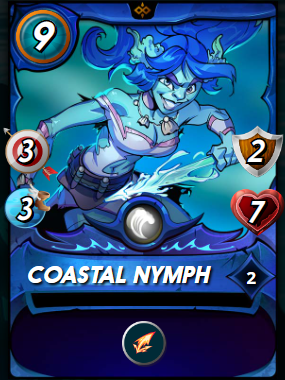 6º COASTAL NYMPH:
SCATTERSHOT:
Os ataques deste monstro atingem um alvo inimigo aleatório.

CONSIDERAÇÕES FINAIS:
O oponente focou em usar a gladius com opportunity para vencer, que é uma carta extremamente poderosa, mas o meu urso tankou muito a front line, e assim me garantindo a vitoria.
No ROUND 7 4/4 podemos observar que acabou o jogo para o oponente, neste round o oponente já não tem mais opção de vitória, todas suas cartas são aniquiladas e ainda possuo dois monstros com praticamente a vida cheia.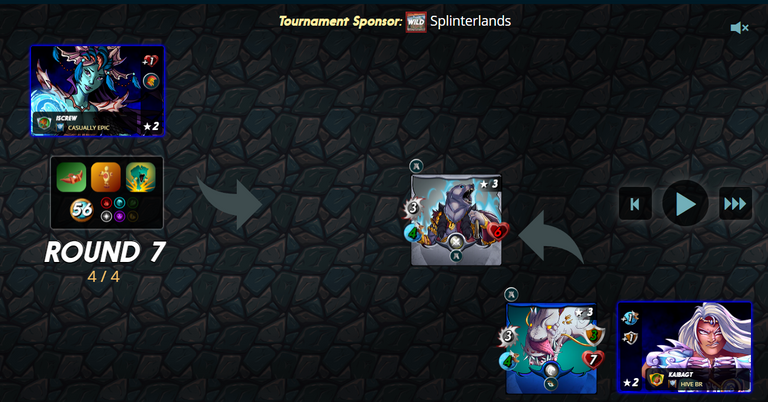 Atualmente estou com cartas alugadas no GOLD 2 MODERN.
Segue o link da batalha abaixo:

Meu Cenario de staking atual: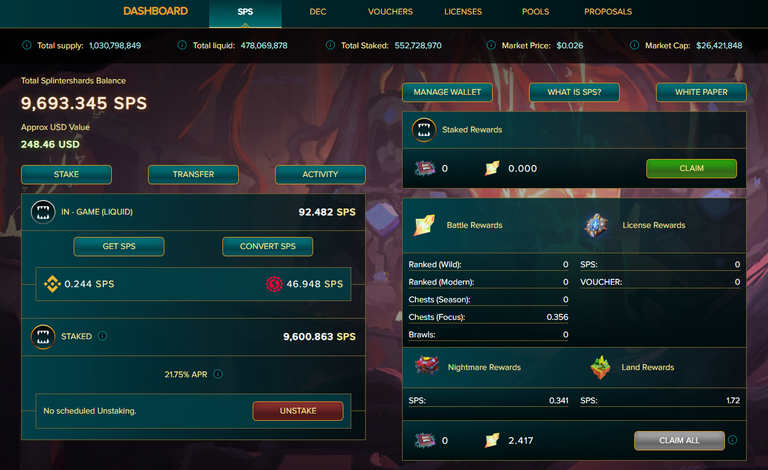 Atualmente estou com 9,693.345 SPS, sendo que 9,600.863 estão em staking.
Continuo acreditando em uma continuação da valorização do SPS no longo prazo e aumentando as quantidade da moeda em staking para também aumentar o meu poder de voto no splinterlands, além de que isso vai ser utilizado para as rankeadas.
Como podemos ver no site https://tribaldex.com/trade/SPS a moeda segue em uma tendencia baixa no curto prazo e de desvalorização no gráfico de longo prazo.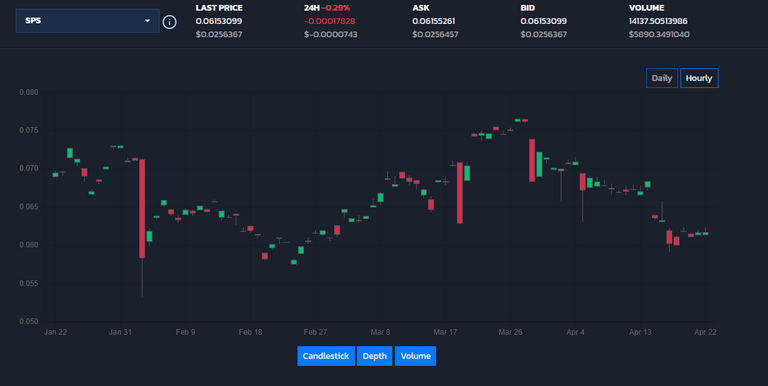 Além do SPS, também estou fazendo staking de todos tokens que estou ganhando pela hive, ainda é um valor baixo, porém acredito em uma possível alta nas cryptos logo logo.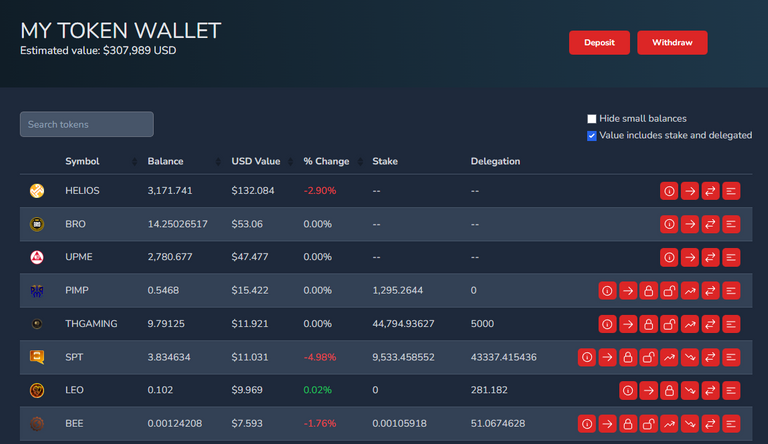 Sendo novamente tive alteração nas minhas oito maiores posições nos tokens, sendo eles: #HELIOS, #BRO, #UPME, #PIMP, #THGAMING, #SPT #LEO E #BEE.
E a minha carteira está se mantendo acima de $300 dólares. oscilando entre $300 dólares a $310 dólares.

REFERRAL LINKS:
Gostou da minha minha batalha? O que você pensa sobre a regra com CLOSE RANGE? Tem uma sugestão de melhoria no post ou no splinterlands??? Quer comentar a sua estratégia??? Comente e Compartilhe!!!
#splinterlands @splinterlands é o melhor jogo nft #play2earn @play2earn que já conheci, um ambiente agradável, amigável e sustentável!
Se você quiser começar a jogar aqui está o meu link de referência:
Twitter:
Muito obrigado meus amigos!!!
Participe da comunidade Hive-BR, clique no banner abaixo para entrar no nosso Discord.

---
---