Life Leech NEW World Record - The Leechiest Leechy Leech I Ever Did See...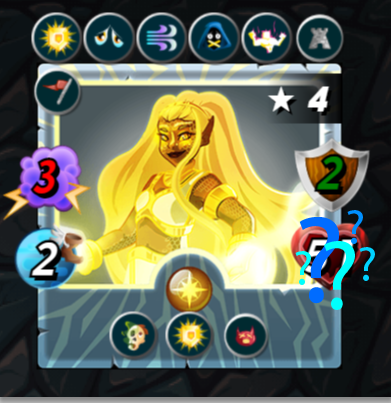 Hey guys, kevanko70 here!
Just crushed the previous record of 49. And the sky's the Limit!
It's kinda random, but kinda one of my favorite parts of using the Life Splinter...
++WHAT IS IT?!?!++
Seeing how high my life leech / heal squad's life can climb before the timer runs out on (hopefully) my enemy...
++Previous World Record: 49 LIFE on a single card++
++Current World Record: 51 LIFE on a single card++
++WATCH FOR YOURSELF++ - Watch the record setting battle in the link below!
https://splinterlands.com?p=battle&id=sl_8e682452616c70ab11adefeb7e1634c8&ref=kevanko70
I'll break down the match, my lineup and my personal Strat and show you guys the Summoner / Monster Cards I used to get me there. Hopefully, I can keep improving the lineups and perhaps beat this record down the road~
++Match Type++



Fog Of War(Fog) / Taking Sides(Colors)
No Sneak or Snipe / No Neutrals Allowed
50 Mana Maximum
++My Lineup (HOORAY!)++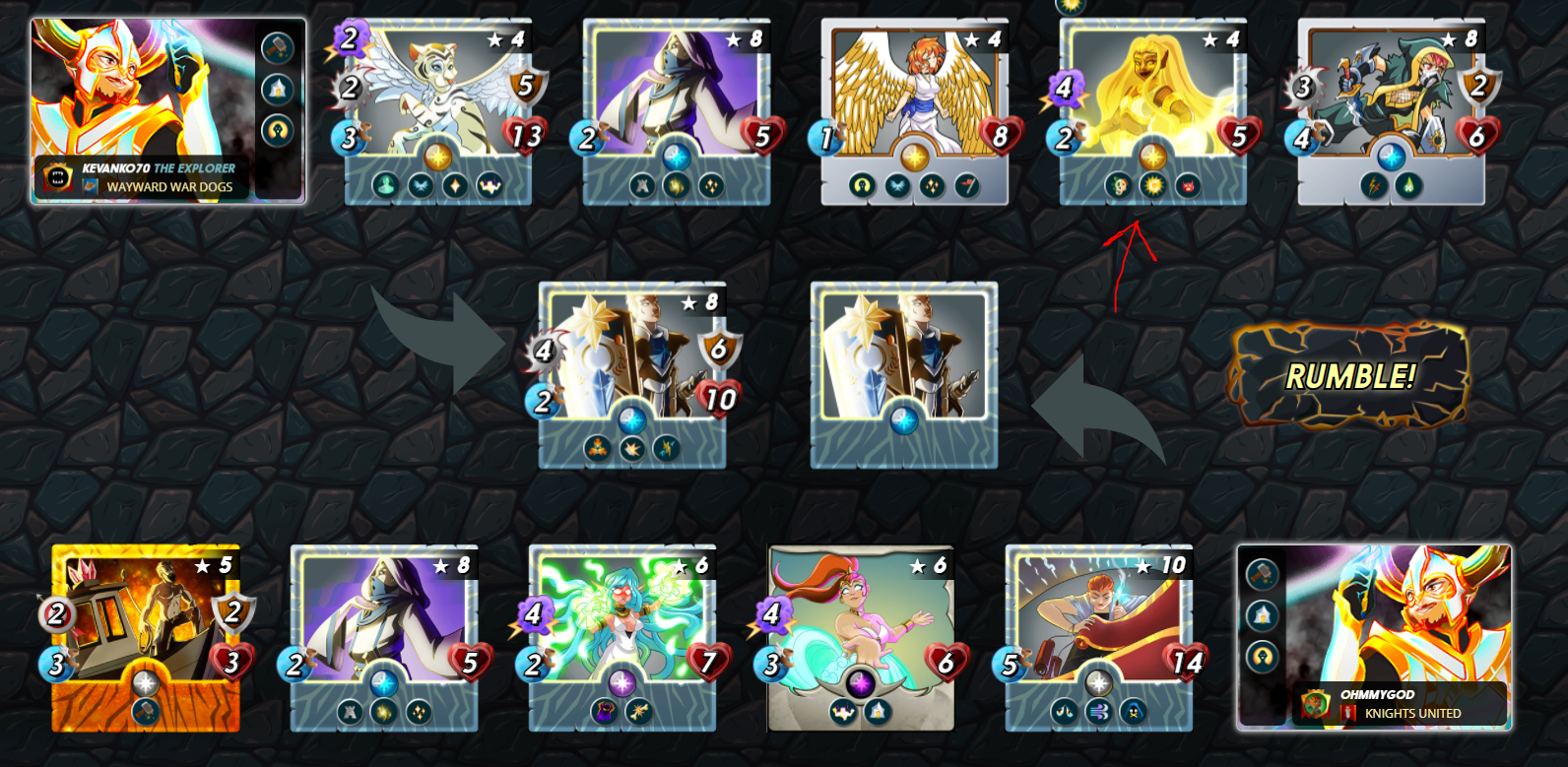 ++My Opponent's Trash Lineup(BOO!)++
(j/k lol - shoutout to @OhmMyGod for using a Chanseus matchup and really letting us ride this one out... It takes two to tango and break a Life Leech Personal Record!)
++Key Players++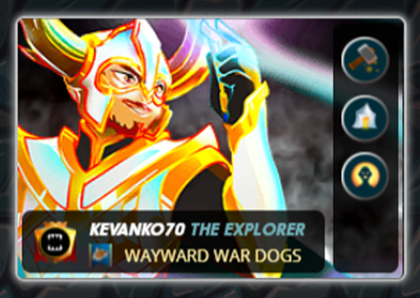 1 - Chanseus the Great - And great he is... I'd be suprised to see someone break one of these Life Leech Records without using him... (I guess maybe a Byzantian Kitten could probably give him a run for his money though - But that's here nor there, back to the lineup!) His Ressurect, Repair and Triage abilities make him ideal for setting this record. He brings back your tank, restores somebody's armor every round and he'll heal one of your rear troops each round in the event of a sneak or opportunist on the opponent's roster.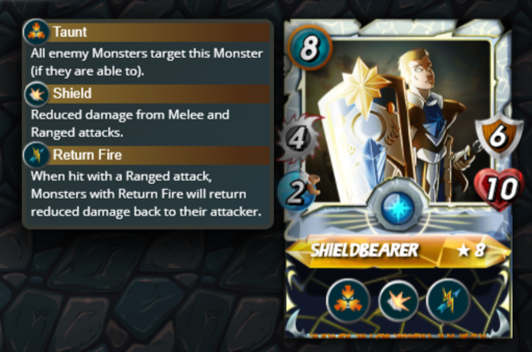 2 - Shieldbearer- You're gonna need a tank that you can keep alive for the long haul, and him having taunt keeps the opponents from attacking anyone else until he's put down. The Shieldbearer coupled with Chanseus's Repair / Resurrect, Truthspeaker's added armor, cleanse and heal, and the Angel Of Light's heal ressurect and inspire should keep him in the game as long as possible and even give him a +1 attack boost. Let's fucking go!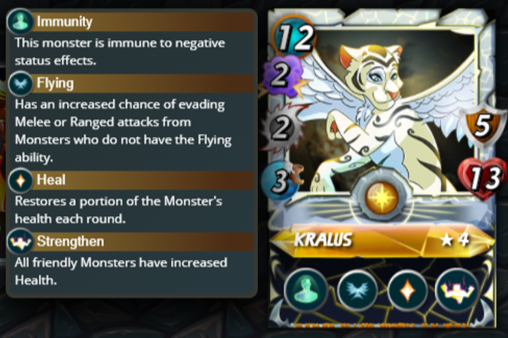 3 - Kralus- The shieldbearer can't go it alone as your only tank if you're trying to break a life leech record. The Kralus serves as a secondary tank and has the added bonus of a secondary magic attack as well. He/She/Its 5 armor couple with it's heal factor will allow you to squeak out some more tank-work even after the shieldbearer is long dead and gone.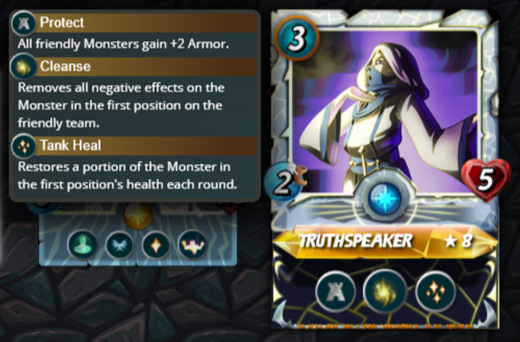 4 - Truthspeaker - Performing in more of a service / medic role, the truthspeaker provides adequate support with Tank Heal, Cleanse and Protect, Keeping those tanks standing upright, armored and healthy.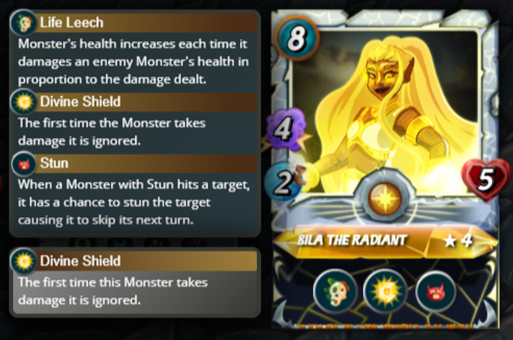 5 - Bila the Radiant - The all important card in this mix cuz she's the Leech-o-stess with the mostess, and if you're gonna go for a record might as well knock a couple enemies out along the way~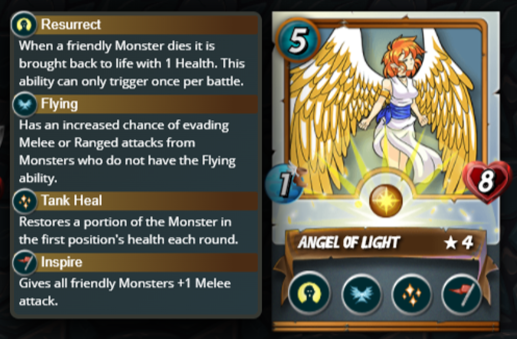 6 - Angel of Light - Once again, a service / medic role, cuz after all, we're going for the Gold and this is all about longevity! Rule one of breaking this record, don't lose those tanks! Her/Its(Do angels have a gender? Somebody google that for me...) Tank heal and Resurrect can keep those Tanks up and running, and get them back on their feet if they die!
++Not-So-Honorable Mention++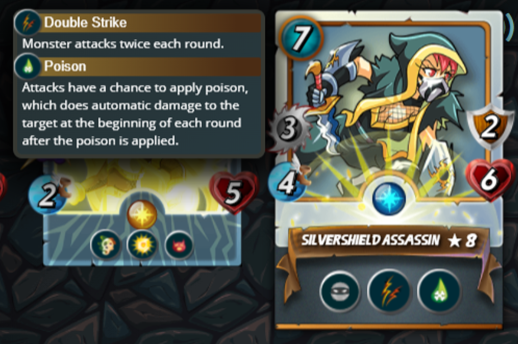 7 - Silvershield Assassin - figured I'd mention if before you guys rip me a new one in the comments... It's a Fog of War(FOG) Match, the SS Assassin is basically useless in this fight, and I'm a Double-Ass for using it. But having it do less-than-nothing could've been the reason the match lasted so long, so gotta give credit where credit's due...
@Silvershield Assassin: Thanks Bro~
++The Strat++ - Keep your tanks alive as long as possible, if they die, bring em back. Hearts up, Shields Up, Repair and Heal. Protect your Leech at all costs and keep them alive for the entirety of the ride. And get yourself a dope Summoner to lend a hand.
++The Match++ It's a pretty long one as you might expect, both teams using Life Splinter and especially dual-Chanseuses(Chanseii?!?) tends to cause that to happen. But the key to the record is a long drawn out match, where your Leech can just keep suck, suck, sucking away at the opponents.
++The Glorious Moment++ for those of you that aren't going to watch a full vid of the match up above, I have snipped for you, a snippet (you're welcome) So you can take a peak at what a monster-life-leech setup can do for you.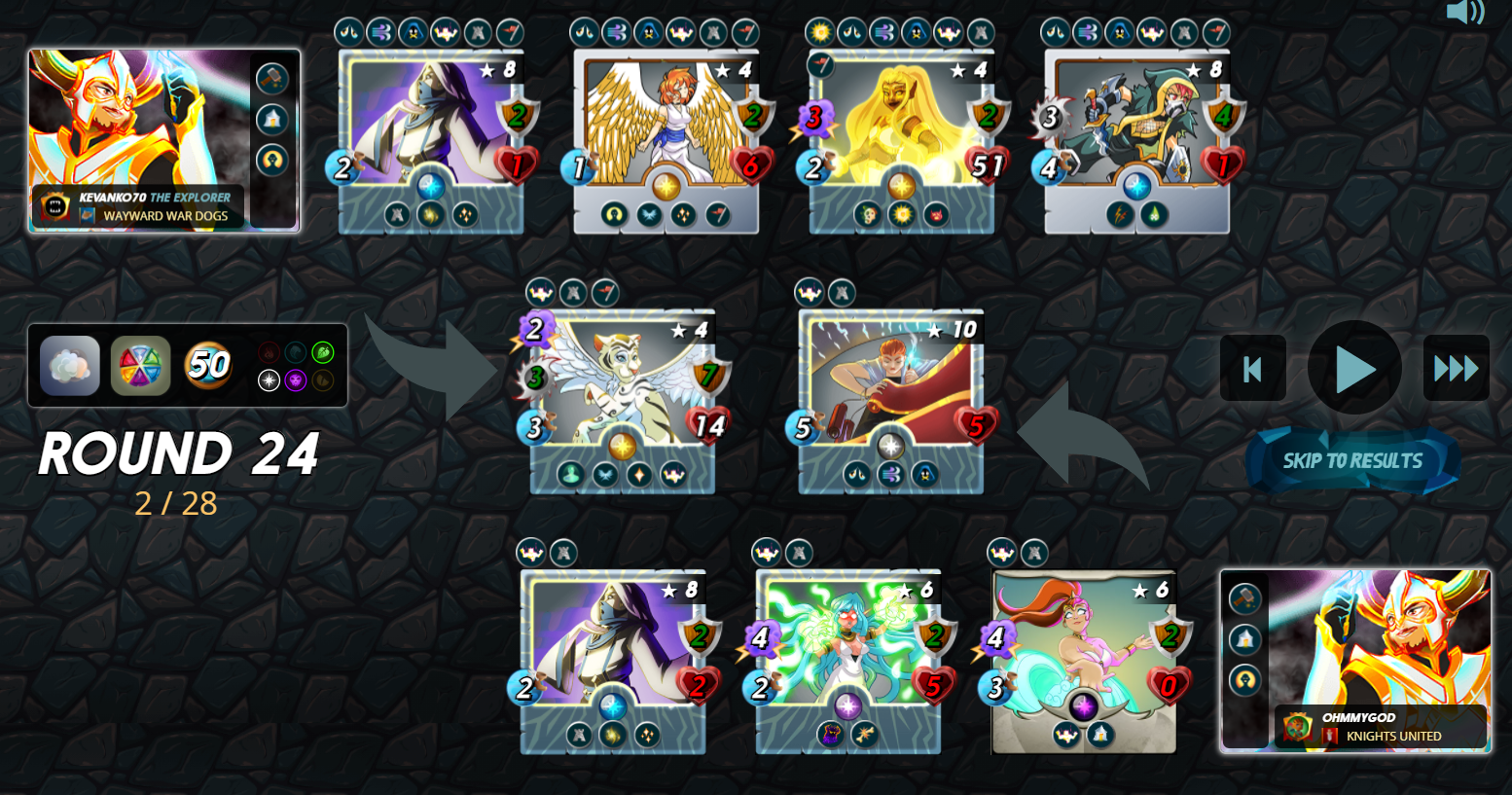 ++The Result++ (Probably wouldn't have posted this part had I lost, but for posterity and record keeping purposes here it is...)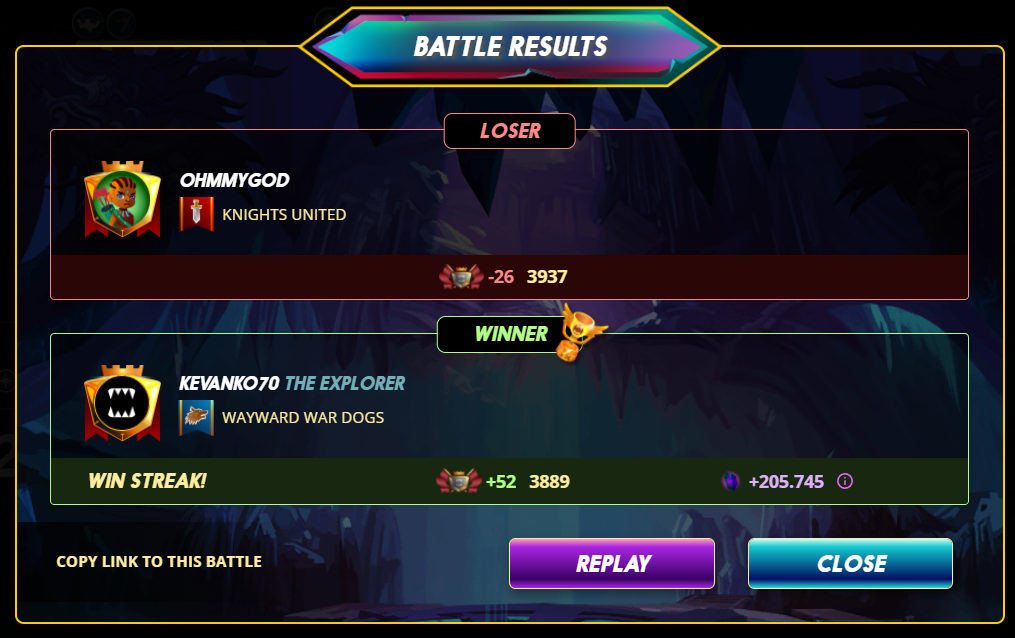 Feel free to like / comment below;
Let me know who I should've used instead of the Assassin, or what your highest life leech record is so far.
I'll set the bar here, 51.
Table Set.
Challenge Issued.
Let's see how high it can go and we'll get Guinness out here and set a world record! (mmmm.... Guinness...)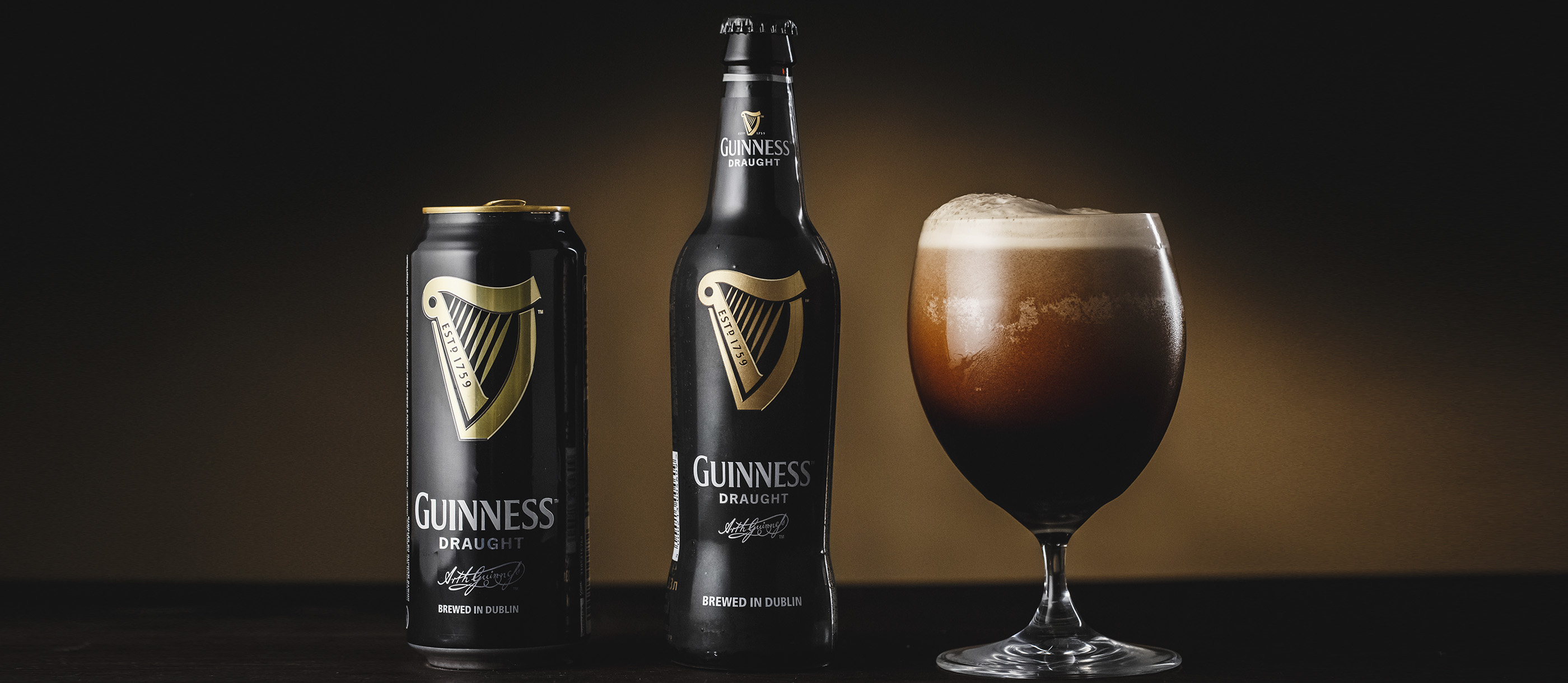 Thanks for reading, hope you liked it!
Aaaaannnnnd - If you haven't signed up and bought yourself a spellbook at this time, what are you waiting for?!?
Click the link below to sign up with my referral code!
https://splinterlands.com?ref=kevanko70
And if you're looking for a guild the Wayward War Dogs are recruiting. Looking for some advanced Players to help our guild out in the foil Frays~



https://splinterlands.com/?p=guild&id=f9e9bd2c5d4b07bbcdb75262630ccb19e1305d5b&tab=about
++END RANT++
Posted using Splintertalk
---
---