TRAITS MAPPING : EARTH SPLINTER MELEE CARD
Since Chaos Legion brought Obsidian as the starter Summoner for Earth Splinter, magic cards seemed to be the most frequently used cards in this Splinter. This make melee cards quite rare to be used in Earth Splinter formation (with exception to Mustang Unicorn which is selected mostly for its Void ability). But this is a bias conception, and the truth might be far from it. If we listed the whole melee collection as we will see below, Earth Splinter have a various number of melee cards. And you might be surprised, caused this melee collection have promising potential like you never seen in other Splinter.


Number of Card by Rarity and Mana
| Rarity | 1 Mana | 3 Mana | 4 Mana | 5 Mana | 6 Mana | 7 Mana | 8 Mana | 9 Mana | 10 Mana | 11 Mana | 12 Mana |
| --- | --- | --- | --- | --- | --- | --- | --- | --- | --- | --- | --- |
| Normal | 1 | 3 | 2 | 3 | 2 | 2 | | 1 | | | |
| Rare | | | | | | | 2 | | | | |
| Epic | | | | | | | | | 1 | | |
| Legendary | | | | | | | | | | 1 | 1 |
Earth Splinter bring a total of 19 melee cards to its collection. A bit more than Water Splinter, but still less than Fire Splinter. Cards are available on all mana level (with exception to 2 mana). To simplify the term for mana range, let's say assign naming to these range:
| Mana Range | Range Term |
| --- | --- |
| 0 - 3 mana | Low Mana |
| 4 - 7 mana | Mid Mana |
| 8 - 10 mana | High Mana |
| 11+ mana | High-End Mana |
With these grouping, we could conclude that the cards are concentrated on the Low Mana and Mid Mana range. There are 3 to 3 cards available on each mana levels on this range. The High Mana and High-End Mana have fair number of cards, but more limited variety with only single cards on each mana levels.
By the rarity type, the composition of this collection is very similar to Water Splinter. The majority of the cards are Normal type, meanwhile Rare, Epic, and Legendary combined make a total of 5 cards. The peculiar thing, the Normal type cards stretch from the Low Mana to Mid Mana, while Rare type cards could only be found on 8 mana, and Legendary cards are found only in the High-End Mana.
To sum up the profile, this collection have a very good affordability having Low Mana and Mid Mana cards constitute of Normal type cards. The unique thing is this collection have the most 10+ mana cards compared to other melee collection (Fire Splinter and and Water Splinter so far). Each of this 10+ mana also come from different edition, Grund (No.10) from Chaos Legion, Terraceous Hulk (No.11) from Soulbound, and Oaken Behemoth (No.12) from Untamed.


Traits Mapping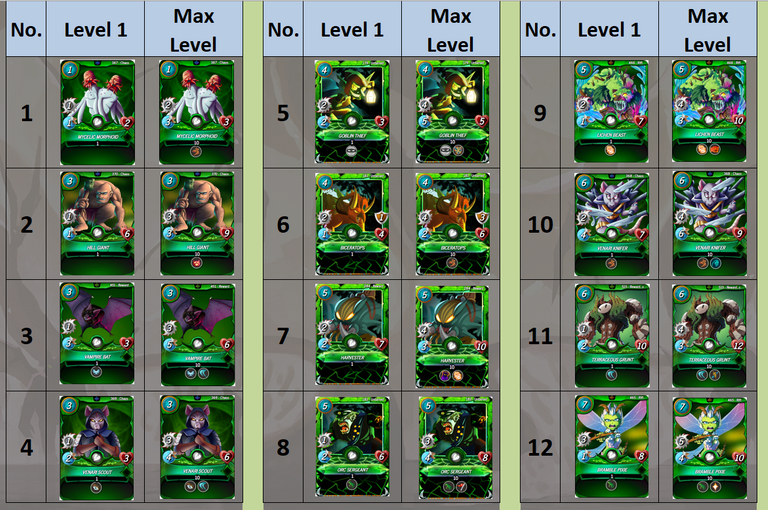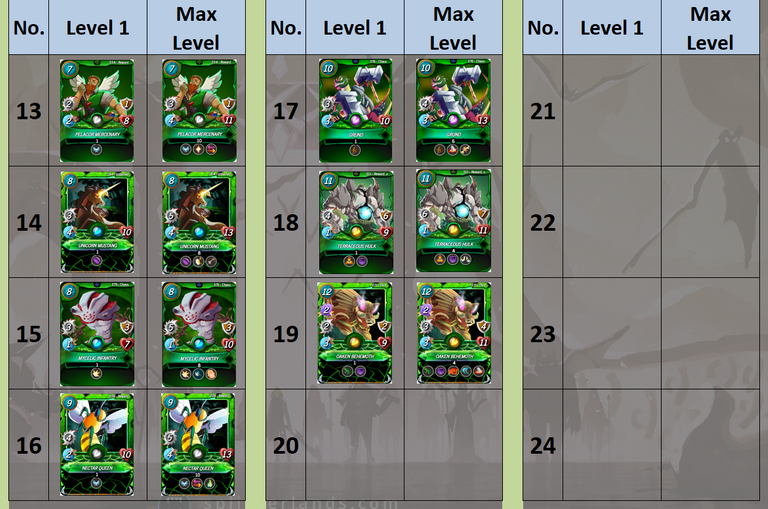 Chaos Legion editions have been the most contributor for this collection mostly for the Low Mana (between 1 to 3 mana). Meanwhile Untamed although are less than Chaos Legion, most of them have filled the Mid Mana (between 4 to 5 mana).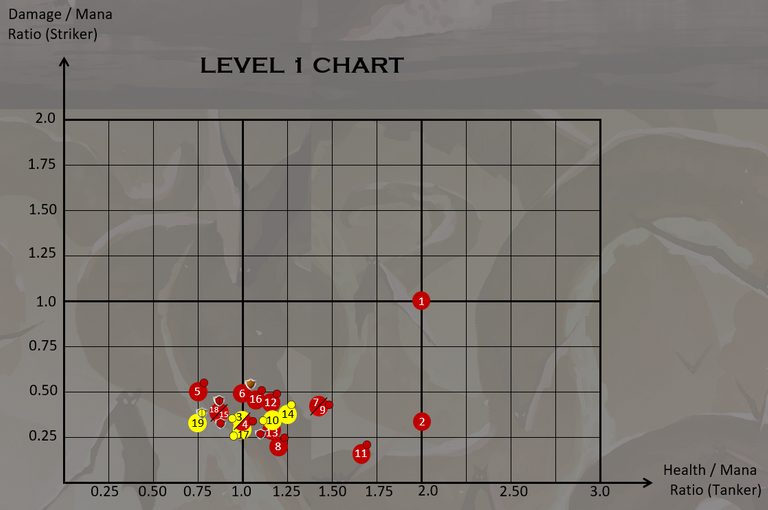 The Level 1 Chart shows a very high profile on health, with most of the cards have reached health-mana ratio beyond 1.0 tick (compare this with the Water Splinter melee cards). And there's a good mana mix, with some of them coming from the high mana level, take for example Grund (No. 17), Nectar Queen (No. 16), and Terraceous Grunt (No. 11). A fourth of the collection have armort traits which complemented the health profile, although most of these cards come from the High and High-End Mana range. Damage-mana ratio have a decent start under the 0.50 tick. But the good point, the cards are less scattered and gathered on the range of 0.25 to 0.50 tick.
Speed doesn't start pretty well with only a total of 5 yellow nodes. Other than that, the starting ability are quite in number with most cards having 1 abilities and only 2 cards having 2 abilities.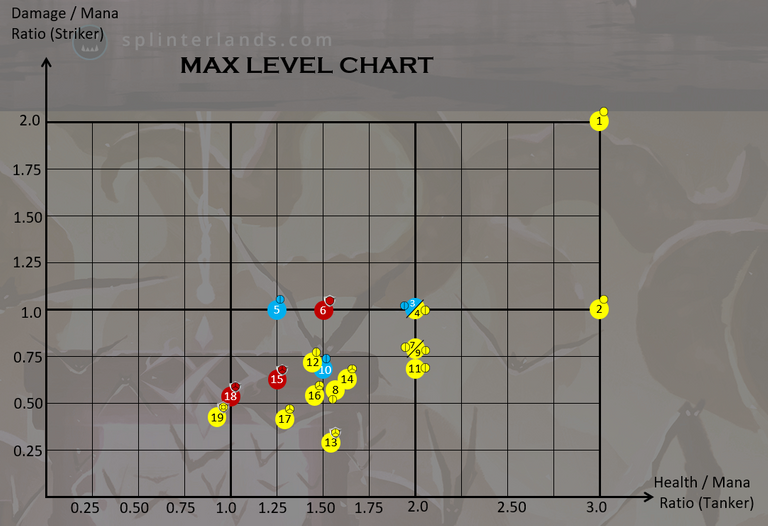 Max Level Chart somehow shows a significant changes but less than what I expexted, considering the substantial number of Normal type cards. The average health-mana ratio has shifted in quite amount but not very much. Most cards have reached near the right side of the SOUTH quadrant with a good mix between Low and Mid Mana cards. Take for example Terraceous Grunt (No. 11) and Unicorn Mustang (No. 14). In contrary damage-mana ratio gain significant growth but become more scattered on the range between 0.50 to 1.00 tick. The highest damage-mana ratio still come from Low Mana cards, which then followed by some Mid Mana cards like Venari Knifer (No.10) and Bramble Pixie (No. 12). Armor doesn't grow very much in value, so we can ignore it.
Speed also gained some growth with most cards become yellow nodes. But still there are only a handful of the blue nodes. Number of abilities also limited, except for Oaken Benemoth (No. 19) which have solid Striker and Tanker abilities. And yet this card might cost too much to be used in most battle, except of course on the max cap (99 mana) battle.


Abilities Mapping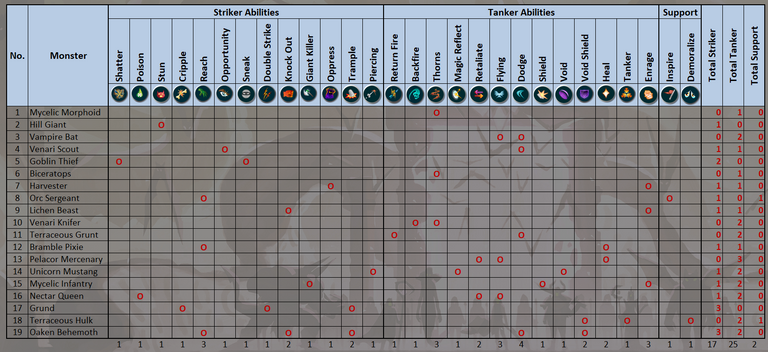 Earth Splinter seemed to bring the most extreme discrepancies of abilities number between the major grouping. There's only a total of 2 Support Abilities which is Inspire and Demoralize. There purpose are minor, but since Inspire is possessed by Orc Sergeant (No. 8) which cost only 5 mana; the effect become very cost effective for battle with medium mana cap.
Tanker Abilities still dominate in melee cards collection. Rather than having Defensive Abilities (like Shield, Void, etc.), this collection have majority in Evasion Booster (Flying and Dodge) which distributed almost equally between the Low Mana up to High-End Mana range. Other than that, Thorns, Enrage, and Heal are the next most popular abilities. Heal gained powerful leverage by bringing a total of 4 health each round being possessed by Bramble Pixie (No. 12) and Pelacor Mercenary (No. 13).
Striker Abilities are less in number but have almost same variation as Tanker Abilities. Reach still dominate in the melee collection. Reach is more useful in Orc Sergeant (No. 5) which combined with its Inspire ability would make a good combo to boost the damage of the main Tanker. In contrary Bramble Pixie (No. 12) abilities seemed to less correlated, since Heal would be more useful for main Tanker in the first row which surely will sustain the damage. Other than that Reach, there are only 1 card owning Sneak and 1 card owning Opportunity in total. Trample are the second most popular abilities which owned only by the highest mana cards. Grund with its Double Strike bring much leverage to Trample being triggered. Other abilities doesn't seemed to stood out and overshadowed more by the Tanker Abilities.

Personal Thought
This final section, I give my personal thought for several card mentioned below.
'1. Hill Giant & Vampire Bat
Earth Splinter have some of the best Tanker cards for cards costing less than 3 mana. Hill Giant started with a huge 6 health and grow even more reaching 9 health on max level. Hill Giant could easily substitute any Mid Mana card to be in par in term of health. Vampire Bat might not have health as much as Hill Giant. But owning Flying, Dodge, and even a 5 speed sum up this card to be the most evasive cards among the Low Mana cards.
'2. Pelacor Mercenary
I think Pelacor Mercenary could be considered as a very independent Tanker cards. The combination of Flying, Heal, and Retaliate, and fair amount of speed seemed to be the best combination to counter against formation with balanced attack type. At least the evasion would help minimize melee and ranged damage, and Heal would mend any incoming magic attack.
'3. Grund
In my previous posts, I called Grund as a "Whirldwind". Double Strike turn Grund into a precious card. But its not easy to have Double Strike on melee cards which would be target from incoming attack. Luckily Grund have huge amount of health which enough to withstand several attack. But still I prefer to pair Grund with cards with Taunt ability just to prolong its survivability.
---
---