TRAITS MAPPING : NON-STRIKING CARD
Non-Striking Card is a definition for any card which doesn't have damage traits. Some of us might have used this card in all kind of situation. Whether putting it in the back-row to benefit from any buff and debuff abilities, or in the front-row as formidable and unbreakable wall; and last but not the least as cannon fodder to fill up any empty row. So through this post, I will give my analysis on several Non-Striking Card across all Splinter faction. Let's begin first by the general counts.
Number of Card by Faction and Mana Level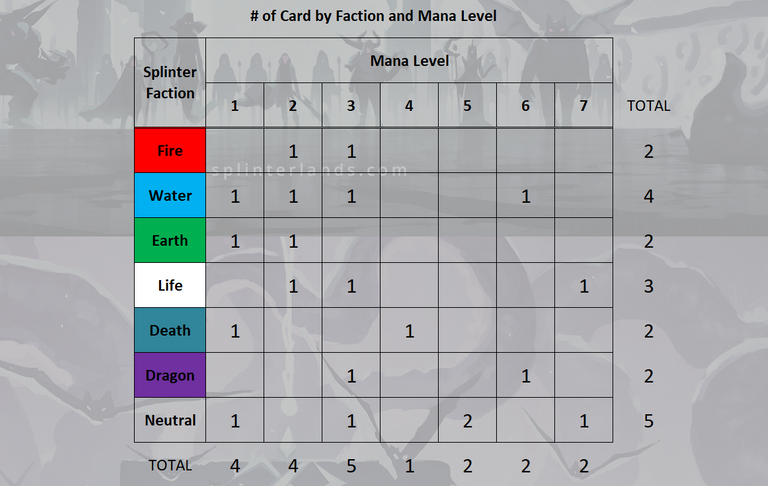 I've gathered a total of 20 Non-Striking Card across all Splinter from Untamed, Dice, Reward, Chaos Legion, and Riftwatchers editions. According to the table above, there's at least 2 card on each Splinter, with extra card on Water and Neutral. Around 70% are cards with 3 or less mana, where Water splinter have the complete collection from 1 to 3 mana. One important point, Neutral play important role to complement other Splinter, as Neutral have the most card (5 card), and 3 of which are a high mana card. On the next section we will dive deeper into other characteristics.

Traits Mapping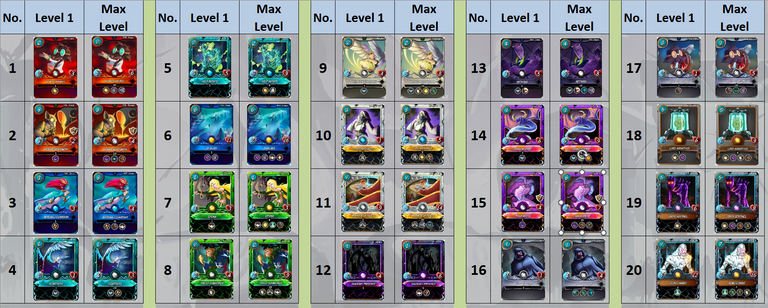 Since Non-Striking Card doesn't have damage traits, then I'll simplify the chart by reducing it to horizontal line to map the Health-Mana Ratio. Other signs and indicators can follow the existing guide (you can follow this link and the update link here).
The Level 1 Chart show that cards are distributed evenly between low health and medium health card. With no attack, then it's important for these cards to have at least double the endurance (health) than most general cards. Its reflected as more than half of the cards are positioned in the south quadrant (between 1 to 2 ratio). Ability looks decent with most cards have only single ability. In term of speed, although there's only 5 medium speed (yellow) and 3 high speed (blue) cards, these figure are better than other traits mapping I've made before. One thing to notice, there's a propensity that higher health card have a higher speed (as we can that two of the top five health-mana ratio are blue nodes).
The unavailability of damage means there's more room for health, speed, and abilities growth. The Max Level Chart show health shifted a lot, as top five nodes in term of health have reach 4.0 ratio. Although this top five nodes consist only 1 and 2 mana card, it's still very formidable compared to other most low mana card. Speed dominance take place as there's 9 blue nodes spread evenly over the chart. Speed may seemed less useful, as these cards couldn't strike earlier; but speed also important for evasion. And if combined with large health and healing abilities, high evasion can give room for heal pace up with incoming damage.
The last thing is about abilities. Non-Striking Card couldn't survive without accompanied by other striking card. Therefore these cards must have a tactical meaning as a whole formation, and that came from the abilities. Each card gained significant amount of abilities as they reached max level. Almost all of the cards have at least 3 abilities. In the next section, we will take a deeper look by grouping certain abilities and see how it's importance to support the card itself.

Abilities Mapping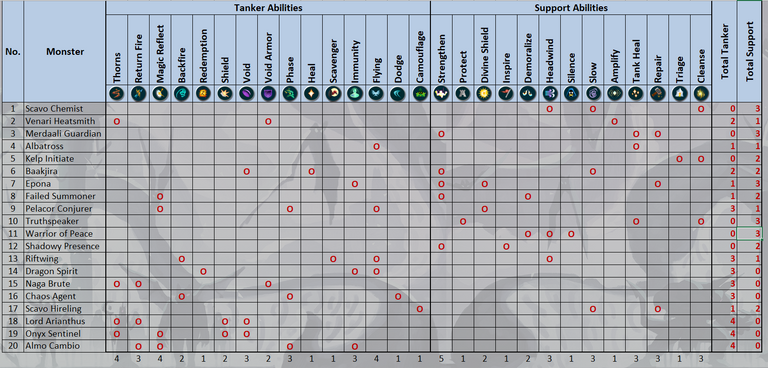 I've divide abilities into two main group. Tanker Abilities is all abilities which effect benefit only the owner, whether damage-counter, damage reduction, evasion, or healing. In the contrary, Support Abilities meaning all abilities which effect benefit not only the owner but also other cards (both allies or foes). This including all kind of buff, debuff, or healing.
By dividing abilities into these groups, we can understand whether a card play role better as a Tanker or Support. Tanker are more simple to be used, these card are needed solely for their endurance (health) on the front-row (or ON last-row to deflect Sneak attack). In contrary Support are more complex to be used. Support would only be useful with the more number of cards take benefit from its abilities. Meanwhile most Support abilities have low endurance and therefore need sufficient protection. Balance would be needed to ensure the benefit and cost of using Support.
The table will list the card name (numbering correspond to reference number in the Traits Mapping), the list of abilities possessed at Max Level. And then at the rightmost column we can count the number of abilities for each group, which determine the tendency of the card. Let take for example, Merdaali Guardian have 3 Support Abilities, which is Strengthen, Tank Heal, and Repair.
By relating abilities with traits, we could see the effectiveness of these abilities (for example Protect and Void Armor would be effective if the card have high health and high armor). Several things to note from the table shown:
All cards from Dragon and Neutral Splinter fall into Tanker abilities type (except Scavo Hireling); while cards from Fire, Water, Earth, Life, and Death Splinter mostly fall into Support abilities type.
Thorns, Magic Reflect, and Strengthen are abilities with most appearance.
Damage-counter abilities (Thorns, Return Fire, Magic Reflect, Backfire, and Redemption) seemed to be the most prominent abilities as it possessed by most Tanker card. Meanwhile evasion ability (Flying and Dodge) more prominent in the Support card.

Personal Thought
This final section, I give my personal thought for several card mentioned below.
.1. Naga Brute
| | |
| --- | --- |
| ________________ | Naga Brute is a truly brutal card. The card might have the lowest health-mana ratio (see reference No.15); but possessing the Void Armor and the gargantuan 9 armor have made Naga Brute a formidable wall. Front row would be the best position for Naga Brute, as he should absorb all melee and ranged damage, and benefit from Thorn and Return Fire ability. Combining card with Repair ability will be beneficial, not only for greater max armor, but also for any leftover damage. |
.2. Pelacor Conjurer
| | |
| --- | --- |
| ________________ | If Naga Brute would be called the brutal one, then Pelacor Conjurer should be called the cunning one. 8 health for 2 mana is a big bargain. And still With Flying ability and 5 speed, we could expect 45% to 55% evasion rate, which means Pelacor Conjurer are able endure attack as long as Naga Brute able. Although there's drawback that this card would lost from magic damage. |
---
---