Battle Mage Secrets: Immortalis x Sand Worm
Edited in Canva Pro.
---
For best user-experience, view in Ecency. Some text styling does not work in Peakd.
---
𝕴𝖓𝖙𝖗𝖔𝖉𝖚𝖈𝖙𝖎𝖔𝖓
The set of these rules for this battle is made to sabotage me.
Odd Ones Out is one of the rules of combat that I don't like. I felt very limited when I have this rule of combat simply because my main monster, Chain Golem, is an 8 mana. My other favorite monsters are also Chaos Dragon and Djinn Oshannus which are all monsters with even mana.
The only saving grace is Life Splinter's Uriel the Purifier. However, in this battle, Life is disabled. However, in this battle, I can still fight and achieve the win using what I learned so far.

Immortalis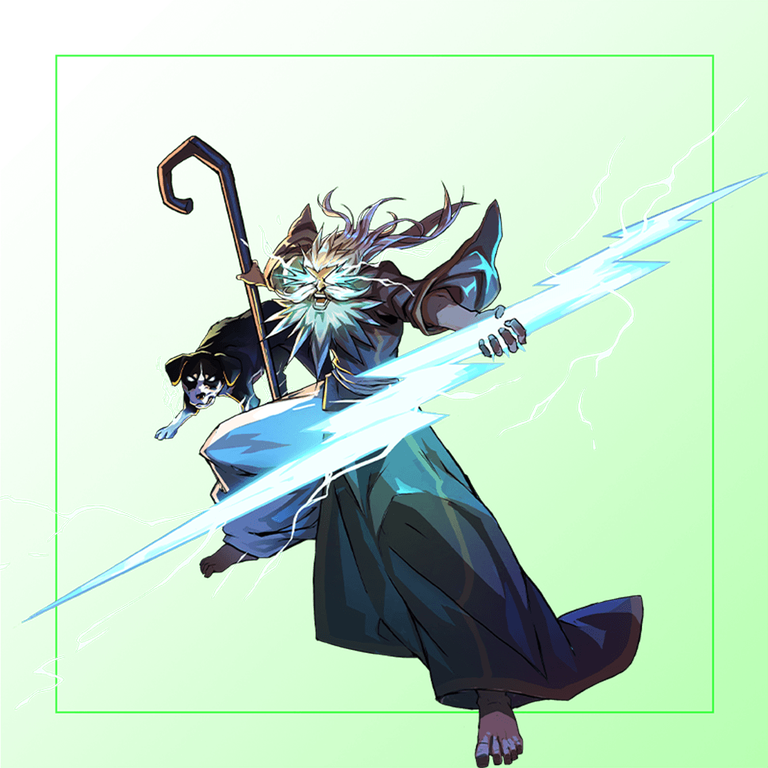 𝔓𝔥𝔬𝔱𝔬 𝔣𝔯𝔬𝔪 𝔪𝔶 𝔖𝔭𝔩𝔦𝔫𝔱𝔢𝔯𝔩𝔞𝔫𝔡𝔰 𝔞𝔠𝔠𝔬𝔲𝔫𝔱.
---
𝔉𝔲𝔩𝔩 𝔏𝔬𝔯𝔢 𝔠𝔞𝔫 𝔟𝔢 𝔣𝔬𝔲𝔫𝔡 𝔬𝔫 𝔖𝔭𝔩𝔦𝔫𝔱𝔢𝔯𝔩𝔞𝔫𝔡𝔰 ℭ𝔞𝔯𝔡 𝔏𝔬𝔯𝔢 𝔓𝔞𝔤𝔢.
---
Sand Worm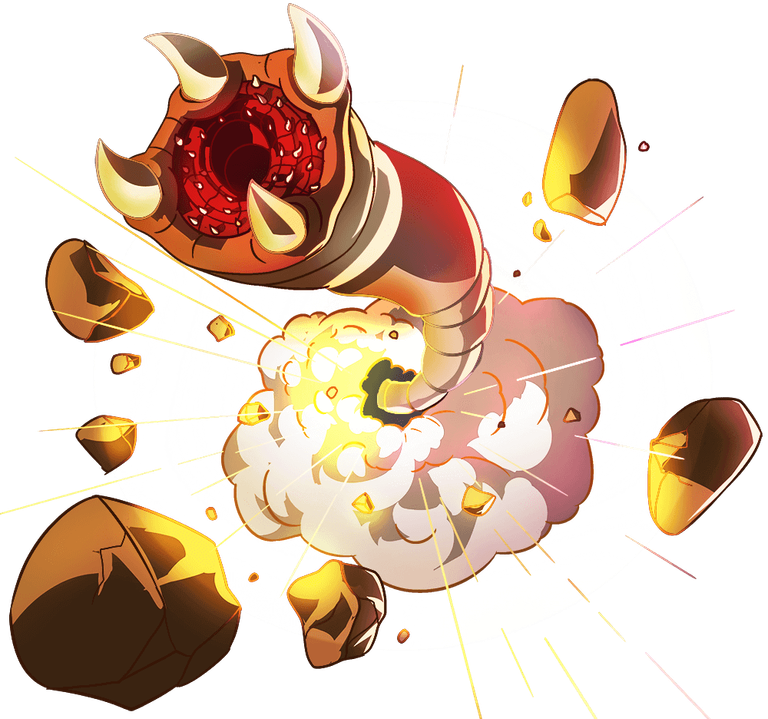 𝔓𝔥𝔬𝔱𝔬 𝔣𝔯𝔬𝔪 𝔪𝔶 𝔖𝔭𝔩𝔦𝔫𝔱𝔢𝔯𝔩𝔞𝔫𝔡𝔰 𝔞𝔠𝔠𝔬𝔲𝔫𝔱.
---
𝔉𝔲𝔩𝔩 𝔏𝔬𝔯𝔢 𝔠𝔞𝔫 𝔟𝔢 𝔣𝔬𝔲𝔫𝔡 𝔬𝔫 𝔖𝔭𝔩𝔦𝔫𝔱𝔢𝔯𝔩𝔞𝔫𝔡𝔰 ℭ𝔞𝔯𝔡 𝔏𝔬𝔯𝔢 𝔓𝔞𝔤𝔢.
---
---

Immortalis
---
Market Price | Buy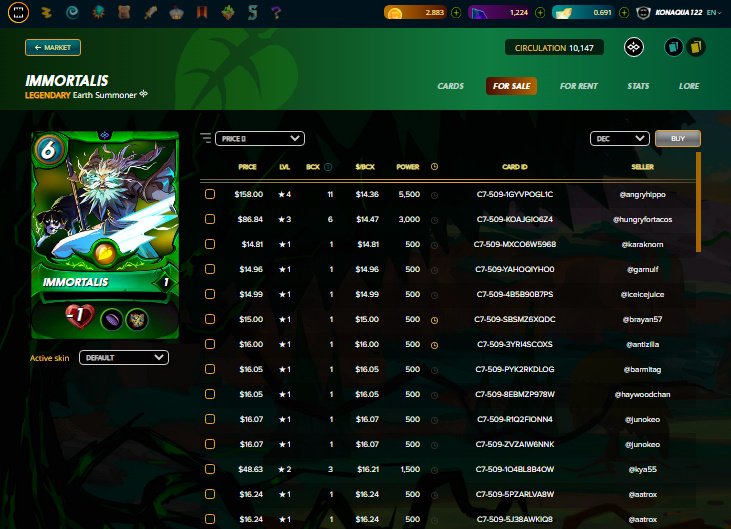 𝔓𝔥𝔬𝔱𝔬 𝔣𝔯𝔬𝔪 𝔪𝔶 𝔖𝔭𝔩𝔦𝔫𝔱𝔢𝔯𝔩𝔞𝔫𝔡𝔰 𝔞𝔠𝔠𝔬𝔲𝔫𝔱.
I am both happy and sad about the price of Immortalis. I am happy because his price is holding out unlike other legendaries like Djinn Oshannus who started from $40+ and now, down to less than $1.
I am also sad because with how high Immortalis's price is, I probably won't get him for a long time since I can get more lower cost legendaries than him and in this game, the more cards you have, the better your chances is on unexpected situations.
Market Price | Rent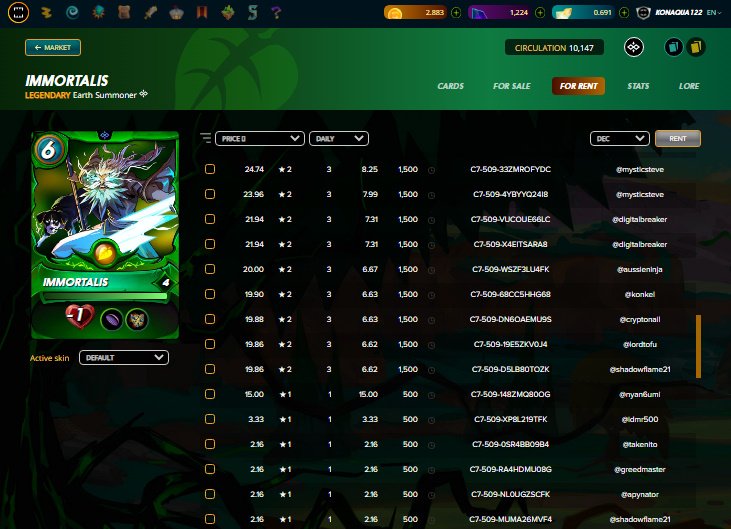 𝔓𝔥𝔬𝔱𝔬 𝔣𝔯𝔬𝔪 𝔪𝔶 𝔖𝔭𝔩𝔦𝔫𝔱𝔢𝔯𝔩𝔞𝔫𝔡𝔰 𝔞𝔠𝔠𝔬𝔲𝔫𝔱.
The price of level 1 and level 2 rentals are night and day. You can get a level 1 for 2 DEC per day and a level 2 for a little less than 20 DEC per day.
You need at least a level 2 legendary for Silver and Gold league to use the monsters to their fullest.
---

Sand Worm

---
Market Price | Buy
𝔓𝔥𝔬𝔱𝔬 𝔣𝔯𝔬𝔪 𝔪𝔶 𝔖𝔭𝔩𝔦𝔫𝔱𝔢𝔯𝔩𝔞𝔫𝔡𝔰 𝔞𝔠𝔠𝔬𝔲𝔫𝔱.
For a common card, Sand Worm is a bit pricey. However, his damage is always welcomed when it hit. You can get your copy of Sand Worm for $0.40 for a level 1 and a $4.05 for a level 2.
Market Price | Rent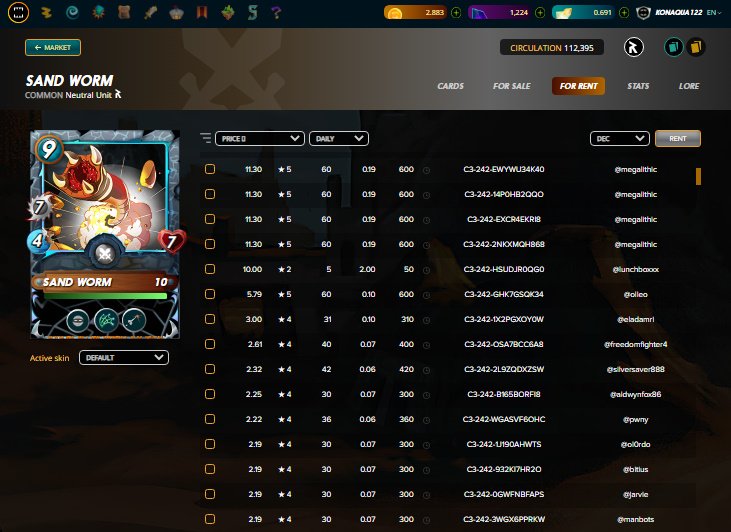 𝔓𝔥𝔬𝔱𝔬 𝔣𝔯𝔬𝔪 𝔪𝔶 𝔖𝔭𝔩𝔦𝔫𝔱𝔢𝔯𝔩𝔞𝔫𝔡𝔰 𝔞𝔠𝔠𝔬𝔲𝔫𝔱.
Sand Worm's rental is a bit good. You can get a level 1 for 0.10 DEC per day, level 4 for 1.93 DEC per day and a level 5 for 5.79 DEC per day.

Stats | Immortalis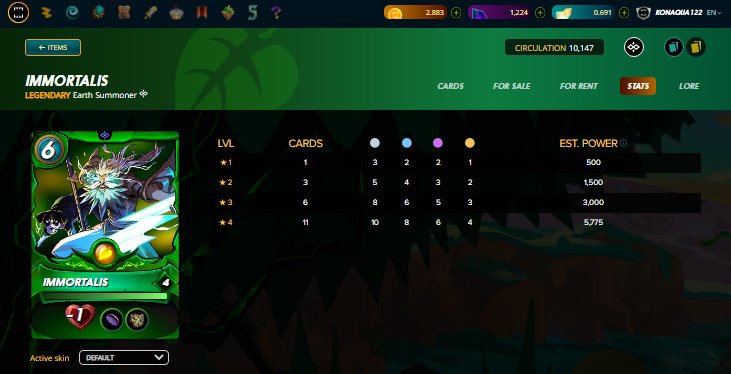 𝔓𝔥𝔬𝔱𝔬 𝔣𝔯𝔬𝔪 𝔪𝔶 𝔖𝔭𝔩𝔦𝔫𝔱𝔢𝔯𝔩𝔞𝔫𝔡𝔰 𝔞𝔠𝔠𝔬𝔲𝔫𝔱.
Legendary summoners can give you a lot of flexibility with the monsters even at low levels.
Abilities
-1 health
. Reduce opponent's max health by 1 with a minimum of 1.
Works the same as Weaken ability. Reducing opponent's max health also reduces opponent's possible Tank Heal and Heal abilities.
---

Inherent
Monsters with Void ability halves the magic damage they take. Any magic damage that is already 1 before the effect applies are negated.
When a summoner gives that effect to the monster, I call those "Inherent" abilities. When the summoner use the ability instead of giving them to the monsters, such as Byzantine Kitty's Tank Heal ability, I call this, "Non-Inherent" abilities.
---

Inherent
When a monster with Shatter ability hits an opponent, they remove the target's armor after damage calculation.
Describing this ability is funny because it reminds me of Yugioh and other Yugioh players may recognize. So, damage is applied first before the shatter effect is applied. This makes this ability less powerful than it seems.

To explain this properly, I will go step by step:


Say the two battling monsters are Chain Golem with 8 health and 5 armor and Venari Marksrat with 1 range damage and Shatter ability.
When Venari Marksrat attacks, he hits the Chain Golem' armor first reducing the 5 armor to 4.
After the damage calculation, Shatter ability activates removing the 4 armor.
This leaves Chain Golem with 8 health and 0 armor after Venari Marksrat's attack.
---
𝔄𝔟𝔦𝔩𝔦𝔱𝔦𝔢𝔰 𝔡𝔢𝔰𝔠𝔯𝔦𝔟𝔢𝔡 𝔞𝔟𝔬𝔳𝔢 𝔞𝔯𝔢 𝔣𝔯𝔬𝔪 𝔖𝔭𝔩𝔦𝔫𝔱𝔢𝔯𝔩𝔞𝔫𝔡𝔰 𝔲𝔰𝔦𝔫𝔤 𝔪𝔶 𝔞𝔠𝔠𝔬𝔲𝔫𝔱.
---
---

Stats | Sand Worm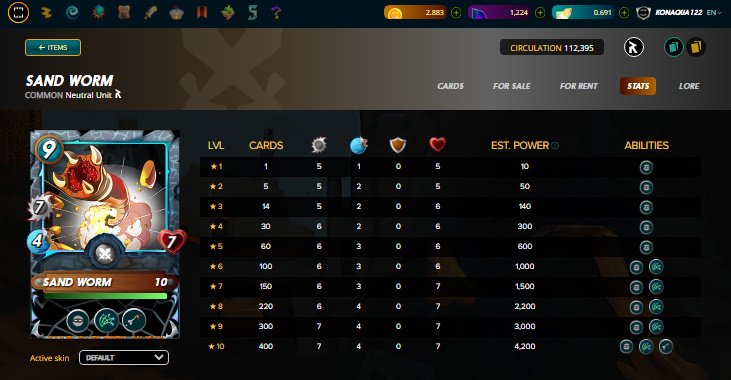 𝔓𝔥𝔬𝔱𝔬 𝔣𝔯𝔬𝔪 𝔪𝔶 𝔖𝔭𝔩𝔦𝔫𝔱𝔢𝔯𝔩𝔞𝔫𝔡𝔰 𝔞𝔠𝔠𝔬𝔲𝔫𝔱.
Sand Worm is always a good card to be in your arsenal due to his high damage. He is an effective solution to opponents who likes to use Taunt monsters and strategies.
Abilities

At Level 1 Sneak is unlocked. Sneak prioritizes the opponent's monsters placed on the last position for attack. Sneak allows melee monsters to attack from other positions.
While Sneak ability is easy to counter, Sand Worm's Sneak attacks are not. His insane damage can one hit most of the monsters on the game and if you are not ready to face him, Sand Worm can and may take out your whole team.
---

At level 6 Snare is unlocked. Snare removes the opponent's Flying ability upon hit. These attacks will never miss.
This is a good ability because Sand Worm's weakness is speed. He has high damage but if he won't hit your opponent, it would be for nothing.
---

At Level 10 Piercing is unlocked. Excess damage done to the opponent's armor will damage the monster's health instead.
Normally, to counter Sneak and monsters that attack your back row, you use monsters with Protect ability or summoners like Kelya Frendul. If your monster has 5 damage and the target has 1 armor and 1 health, without piercing, you need to attack it twice. The excess damage to the armor will go to nothing and you need to attack it another time to reduce the health.
---
𝔄𝔟𝔦𝔩𝔦𝔱𝔦𝔢𝔰 𝔡𝔢𝔰𝔠𝔯𝔦𝔟𝔢𝔡 𝔞𝔟𝔬𝔳𝔢 𝔞𝔯𝔢 𝔣𝔯𝔬𝔪 𝔖𝔭𝔩𝔦𝔫𝔱𝔢𝔯𝔩𝔞𝔫𝔡𝔰 𝔲𝔰𝔦𝔫𝔤 𝔪𝔶 𝔞𝔠𝔠𝔬𝔲𝔫𝔱.
---

Battle Highlights

Click the link below to see the full battle:
https://splinterlands.com/?p=battle&id=sl_d7d8a17a8e993b55c8d09c452829ec7d
---

Rules of Combat


𝔓𝔥𝔬𝔱𝔬 𝔣𝔯𝔬𝔪 𝔪𝔶 𝔖𝔭𝔩𝔦𝔫𝔱𝔢𝔯𝔩𝔞𝔫𝔡𝔰 𝔞𝔠𝔠𝔬𝔲𝔫𝔱.
37 Mana Cap. Total mana cost of all monsters must not exceed 37 mana.
Odd Ones Out Rules of Combat. Only monsters with odd mana cost can be used during this battle.


All elements unlocked except for Water and Dragon Elements. Summoners and Monsters from these elements cannot be used during this battle.
---

Abilities Used During This Battle












---
𝔄𝔟𝔦𝔩𝔦𝔱𝔦𝔢𝔰 𝔲𝔰𝔢𝔡 𝔦𝔫 𝔱𝔥𝔦𝔰 𝔟𝔞𝔱𝔱𝔩𝔢 𝔞𝔯𝔢 𝔣𝔯𝔬𝔪 𝔖𝔭𝔩𝔦𝔫𝔱𝔢𝔯𝔩𝔞𝔫𝔡 𝔲𝔰𝔦𝔫𝔤 𝔪𝔶 𝔞𝔠𝔠𝔬𝔲𝔫𝔱.
---
---
Monsters in RED are my opponent's. Those in BLUE are mine.
---

Round 1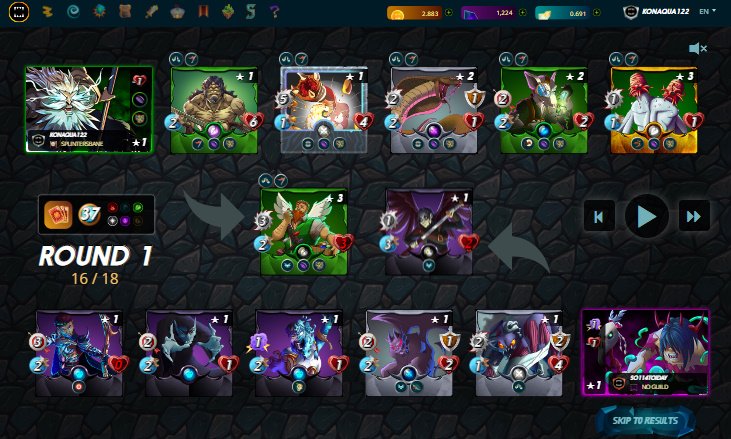 𝔓𝔥𝔬𝔱𝔬 𝔣𝔯𝔬𝔪 𝔪𝔶 𝔖𝔭𝔩𝔦𝔫𝔱𝔢𝔯𝔩𝔞𝔫𝔡𝔰 𝔞𝔠𝔠𝔬𝔲𝔫𝔱.
Sand Worm's Sneak attack killed Dhampir Stalker.
---

Round 2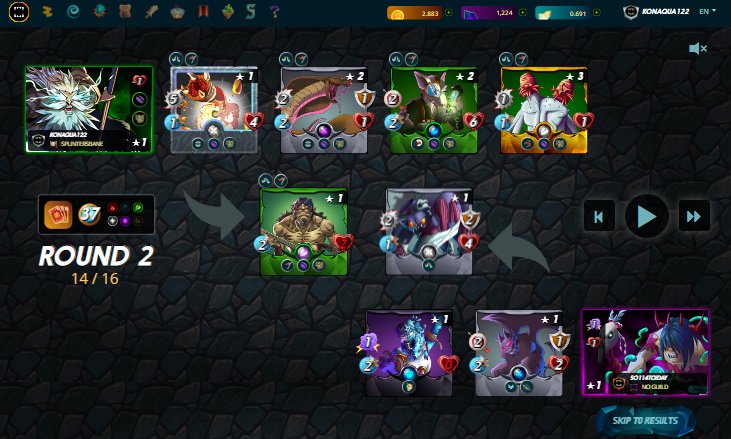 𝔓𝔥𝔬𝔱𝔬 𝔣𝔯𝔬𝔪 𝔪𝔶 𝔖𝔭𝔩𝔦𝔫𝔱𝔢𝔯𝔩𝔞𝔫𝔡𝔰 𝔞𝔠𝔠𝔬𝔲𝔫𝔱.
Venari Seedsmith's attack killed Pelacor Deceiver.
Soul Strangler's attack killed Pelacor Mercenary.
Uraeus's Sneak attack killed Soul Strangler.
Sand Worm's Sneak attack killed Life Sapper.
---

Round 3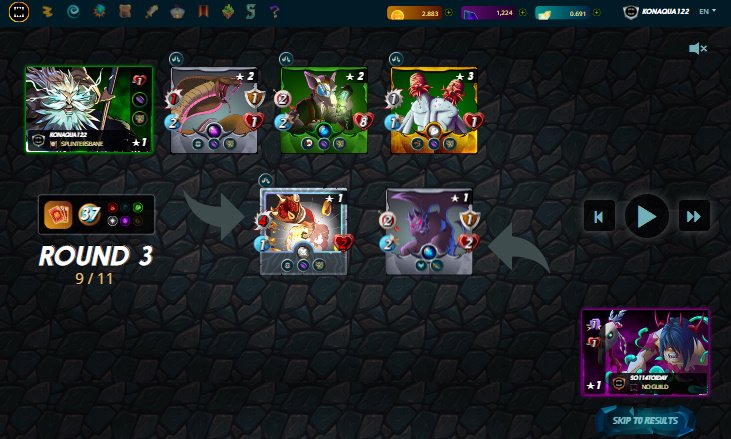 𝔓𝔥𝔬𝔱𝔬 𝔣𝔯𝔬𝔪 𝔪𝔶 𝔖𝔭𝔩𝔦𝔫𝔱𝔢𝔯𝔩𝔞𝔫𝔡𝔰 𝔞𝔠𝔠𝔬𝔲𝔫𝔱.
Gargoya Devil's attack killed Thane Newsong.
Sand Worm's attack killed Disintegrator.
---

Round 4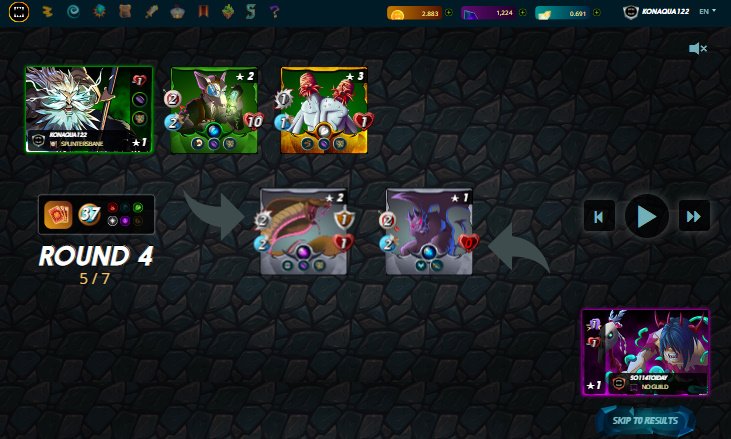 𝔓𝔥𝔬𝔱𝔬 𝔣𝔯𝔬𝔪 𝔪𝔶 𝔖𝔭𝔩𝔦𝔫𝔱𝔢𝔯𝔩𝔞𝔫𝔡𝔰 𝔞𝔠𝔠𝔬𝔲𝔫𝔱.
Gargoya Devil's attack killed Sand Worm.
Uraeus's Sneak attack killed Gargoya Devil.
---
---

---

ᒪIᑎEᑌᑭ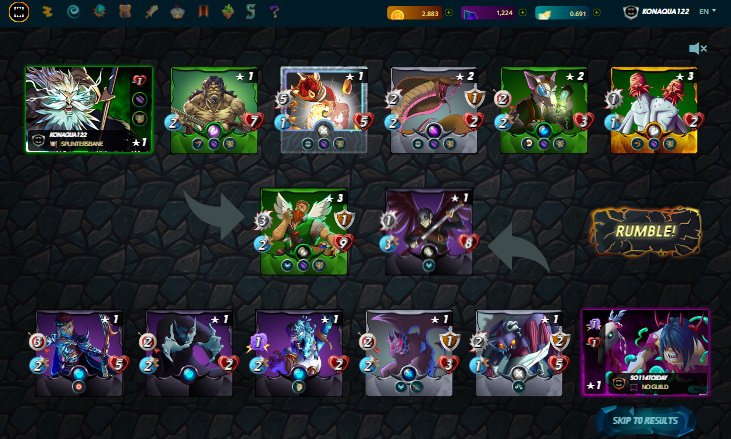 𝔓𝔥𝔬𝔱𝔬 𝔣𝔯𝔬𝔪 𝔪𝔶 𝔖𝔭𝔩𝔦𝔫𝔱𝔢𝔯𝔩𝔞𝔫𝔡𝔰 𝔞𝔠𝔠𝔬𝔲𝔫𝔱.
Summoner: Immortalis: Legendary summoner that is not only good against magic focused teams but also armor focused teams.
Pelacor Mercenary: Strong backup melee tank who's defense is focused on evading opponent's attacks with his Flying ability and speed.
Thane Newsong: Used for his Inspire ability that increases team's melee damage.
Sand Worm: A slow monster with big damage. At early level, his 5 base damage is very scary if not properly evaded.
Uraeus: Has 2 melee damage with Sneak ability and an extra armor.
Venari Seedsmith: Really good monster due to his Scavenger ability.
Mycelic Morphoid: I have an extra mana so I added Mycelic Morphoid which would serve as Scavenger fodder.
---

ᗪIᗪ YOᑌᖇ ᔕTᖇᗩTEGY ᗯOᖇKEᗪ?

Yes.
The main strategy is to use Thane Newsong's Inspire ability to increase the melee damage and focus on that. Uraeus and Sand Worm would work as the main damage focus eliminating pesky opponents with their Sneak abilities.
---

ᗯᕼᗩT ᗯIᒪᒪ YOᑌ TᖇY ᗪIᖴᖴEᖇEᑎTᒪY ᑎE᙭T TIᗰE?

None. If I would change something, I would probably need to redo a whole team because I think this is a good lineup already.
For Odd Ones Out, though, I'd like to get my hands on this monster called, "Terraceous Hulk." He has 9 health, 6 armor, 4 damage Taunt ability and Void Armor. He has 11 mana cost so he fits this rule of combat. The only problem is he's a legendary Soulbound Rewards monster so you cannot buy or trade him and can only get him through daily or end of season chests.
---
𝑫𝒐 𝒚𝒐𝒖 𝒍𝒊𝒌𝒆
Immortalis x Sand Worm in Odd Ones Out Rules of Combat
? 𝑾𝒉𝒚 𝒐𝒓 𝑾𝒉𝒚 𝒏𝒐𝒕?
Yes. While they may not be my best picks because as I said, Life is disabled in this battle, they are still a good combination. Immortalis's Shatter eliminates the opponent's armor so Sand Worm can get a clear hit. Surprisingly, Sand Worm's low speed also works in this advantage. With Uraeus and other Sneak monsters, they would be able to attack first, then trigger the Shatter, then lastly, Sand Worm's 5 damage goes through.

This post is an entry for Splinterland's Battle Mage Secrets contest.
Other sources that I do not own are cited under their respective photos. Photos and drawings without cited sources are mine and made for this post.
Animated Banners and Dividers are edited in Canva Pro.
Some of the fonts used are from instafonts.io
---

If I seem to forget to cite other sources, this would be unintentional. Please leave it on the comments below to be added in the post. Thanks.

---
If you're interested in playing the game, support me by registering using my referral link here
---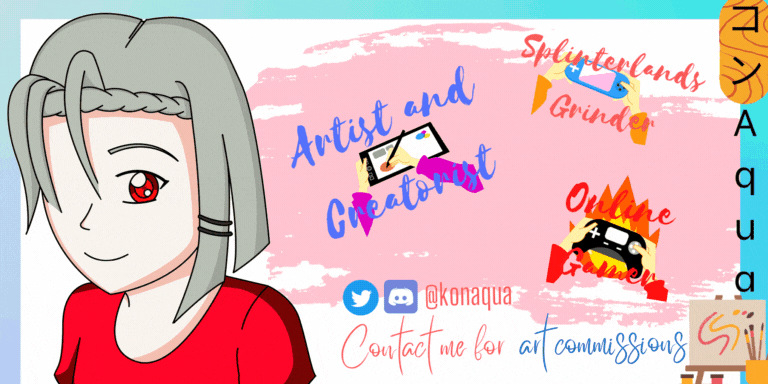 GӨӨD ᄂЦᄃK ΛПD KΣΣP GЯIПDIПG!

---
---