Share Your Battle: Conqueror Jacek x Coreaul Lurker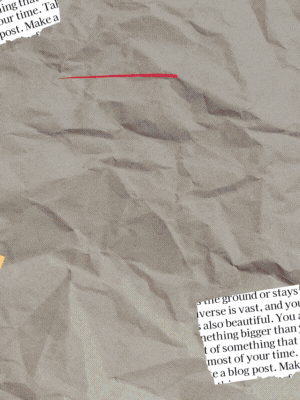 Edited in Canva Pro.
---
𝕴𝖓𝖙𝖗𝖔𝖉𝖚𝖈𝖙𝖎𝖔𝖓
This is a cheaper version of the Byzantine Kitty version that you can be used in Modern format. Due to the nature of the combo, this is much better in the Wild format where Alpha and Beta series monsters are allowed to be used.
Also, I've done this before as a trial when Chaos Legion initially launched and that went really bad. I'm not sure if I posted it. I don't think I did because I think that didn't work. This time, though, it's a bit better as I was doing it in Bronze League back then and a very needed ability from Coeurl Lurker was needed to be unlocked before it worked properly.

Conqueror Jacek
Jacek rules the lands long ago in the age of gods and myth. He claimed unimaginable feats like the sun as his own or an enormous phoenix that he uses in battle. No one in stronger than Conqueror Jacek in terms of Fire magic.
Jacek's mortal enemies are the proud and powerful race of efreets. However, for ages, Conqueror Jacek was undefeated. It was a young efreeti named Janai who devised a strategy to beat the undefeated tyrant. Janai trapped Conqueror Jacek in a material plane away from his greatest source of strength. As Conqueror Jacek became complacent and overconfident, the ruse worked.
Janai promised Jacek tributes and sacrifices but instead, he was brought to the bottomless dormant volcano in the rim of Praetoria's Abyssal Caldera. At the bottom are armies of efreet. They snared Jacek's phoenix in a great net of flame. Jacek was enraged and started swinging scythes of flame slaying ranks and legions of efreets in the process. The attacks on the conqueror continued but the fire giant stood strong.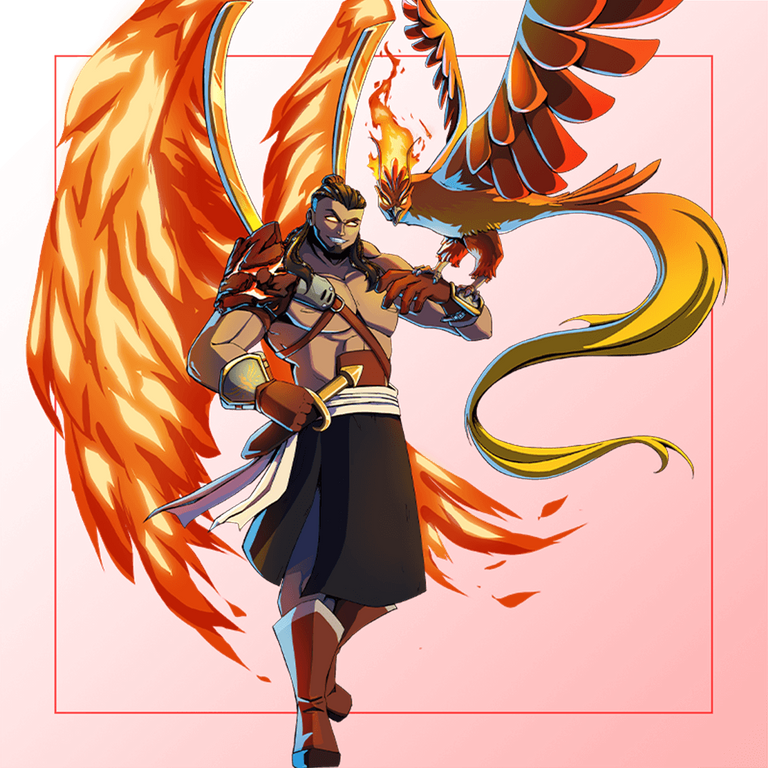 𝔓𝔥𝔬𝔱𝔬 𝔣𝔯𝔬𝔪 𝔪𝔶 𝔖𝔭𝔩𝔦𝔫𝔱𝔢𝔯𝔩𝔞𝔫𝔡𝔰 𝔞𝔠𝔠𝔬𝔲𝔫𝔱.
---
𝔉𝔲𝔩𝔩 𝔏𝔬𝔯𝔢 𝔠𝔞𝔫 𝔟𝔢 𝔣𝔬𝔲𝔫𝔡 𝔬𝔫 𝔖𝔭𝔩𝔦𝔫𝔱𝔢𝔯𝔩𝔞𝔫𝔡𝔰 ℭ𝔞𝔯𝔡 𝔏𝔬𝔯𝔢 𝔓𝔞𝔤𝔢.
---
Coeurl Lurker
The Coeurl Lurker was first seen on Lemell by the Riftwatchers and thought to tame it as a weapon. However, it was evasive as it can even slaying an entire squad of hunters. One survivor described it as a sleek, cat-like creature with terrible fangs and claws. It had four tentacles tipped with thorns, two each on its shoulders and hindquarters, and the tail of a scorpion. The tentacles were used as a weapon to pierce its opponents, throw it in the nearest tree and pounce for the killing blow.
With the Riftwatcher's desperation, they called the greatest hunter in Lemell, a wild elf named Ilyana Daelen. After nin long weeks, Ilyana managed to ensnare a male and a female. The Riftwatchers trained them until they would respond to basic commands from a third handler.
There was one problem with the plan. Regardless of how much training the beasts went under, they will still become a beast at heart. Eventually, the Coeurl Lurkers turned on their tamers. They attacked the Riftwatchers as much as what they would do againt Chaos Legions.
For proof, just ask what's left of their first two handlers.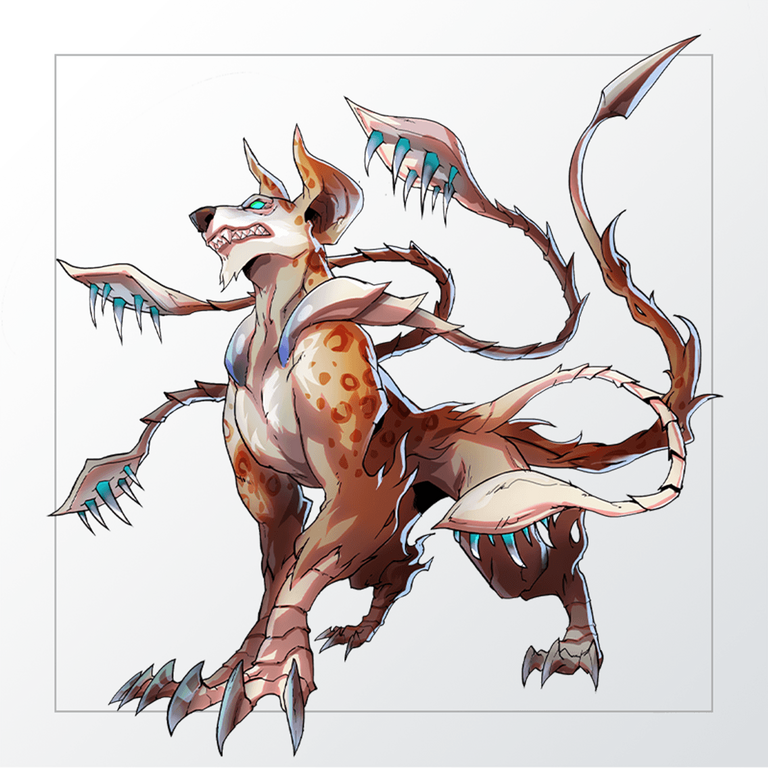 𝔓𝔥𝔬𝔱𝔬 𝔣𝔯𝔬𝔪 𝔪𝔶 𝔖𝔭𝔩𝔦𝔫𝔱𝔢𝔯𝔩𝔞𝔫𝔡𝔰 𝔞𝔠𝔠𝔬𝔲𝔫𝔱.
---
𝔉𝔲𝔩𝔩 𝔏𝔬𝔯𝔢 𝔠𝔞𝔫 𝔟𝔢 𝔣𝔬𝔲𝔫𝔡 𝔬𝔫 𝔖𝔭𝔩𝔦𝔫𝔱𝔢𝔯𝔩𝔞𝔫𝔡𝔰 ℭ𝔞𝔯𝔡 𝔏𝔬𝔯𝔢 𝔓𝔞𝔤𝔢.
---
---


Conqueror Jacek

---
Market Price | Buy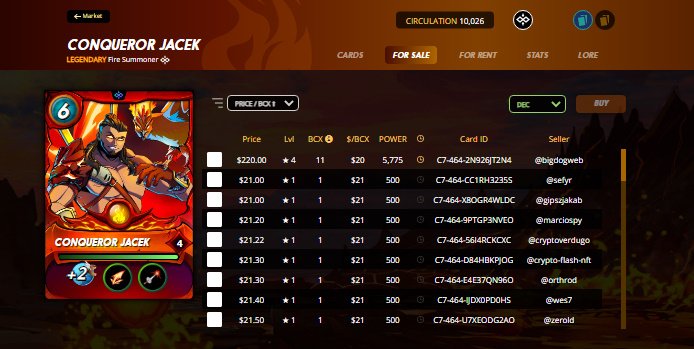 𝔓𝔥𝔬𝔱𝔬 𝔣𝔯𝔬𝔪 𝔪𝔶 𝔖𝔭𝔩𝔦𝔫𝔱𝔢𝔯𝔩𝔞𝔫𝔡𝔰 𝔞𝔠𝔠𝔬𝔲𝔫𝔱.
Since Conqueror Jacek can only be obtained via airdrops, the price for it still looms at around $21 lowest at level 1. This makes getting this specific summoner harder than normal and you are required to buy a specific amount of Chaos Legion packs in order to get your hands in Conqueror Jacek. (Or you can buy in the marketplace for a set amount.)
Market Price | Rent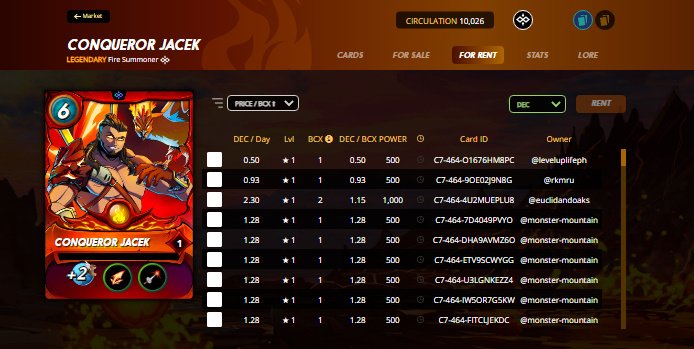 𝔓𝔥𝔬𝔱𝔬 𝔣𝔯𝔬𝔪 𝔪𝔶 𝔖𝔭𝔩𝔦𝔫𝔱𝔢𝔯𝔩𝔞𝔫𝔡𝔰 𝔞𝔠𝔠𝔬𝔲𝔫𝔱.
A level 1 of Conqueror Jacek can be rented for 1.28 DEC per day or less. If you don't rent it at the start of the season, the level 2 may cost you for up to 20 DEC per day. I tried renting it for this test a few days towards the end of the season and it cost me around 25 DEC per day.
---

Coeurl Lurker

---
Market Price | Buy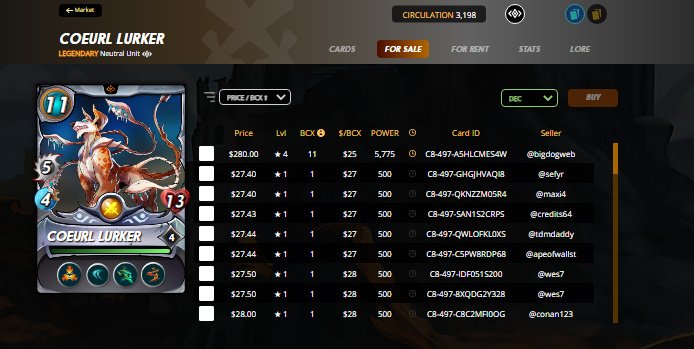 𝔓𝔥𝔬𝔱𝔬 𝔣𝔯𝔬𝔪 𝔪𝔶 𝔖𝔭𝔩𝔦𝔫𝔱𝔢𝔯𝔩𝔞𝔫𝔡𝔰 𝔞𝔠𝔠𝔬𝔲𝔫𝔱.
Coeurl Lurker, on the other hand, despite also being a legendary summoner, costs quite a bit more. Right now, the cheapest level 1 is for $27.40. While this is above average price, I would say it would still increase more in the future as Splinterlands will soon stop the sell for Chaos Legion which will increase the difficulty of obtaining this card.
Market Price | Rent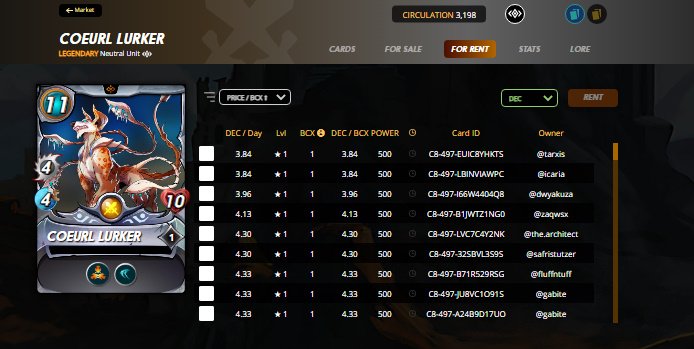 𝔓𝔥𝔬𝔱𝔬 𝔣𝔯𝔬𝔪 𝔪𝔶 𝔖𝔭𝔩𝔦𝔫𝔱𝔢𝔯𝔩𝔞𝔫𝔡𝔰 𝔞𝔠𝔠𝔬𝔲𝔫𝔱.
While the price of buying this card is high, renting it is still quite low, unless you're renting a level 2 which would cost you around 40-60 DEC per day. Unfortunately, for this combo, you're required to use a level 2 since the Phase ability is really important as magic damage does not miss regardless of the attacker and target's speed difference, unless the target has the Phase ability.
In other words, a level 1 Coeurl Lurker, even if he has 8 speed (with swiftness and other combos), will still be hit with a 1 speed magic damage type.

Stats | Conqueror Jacek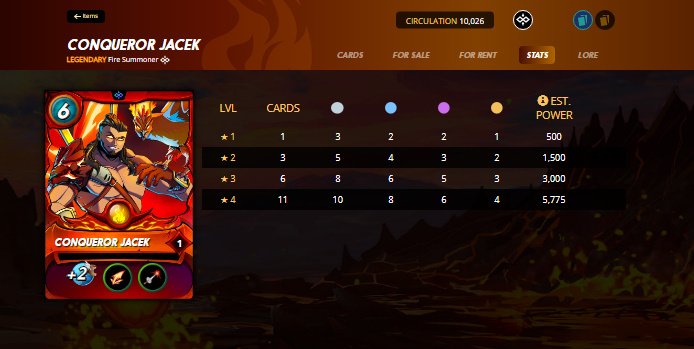 𝔓𝔥𝔬𝔱𝔬 𝔣𝔯𝔬𝔪 𝔪𝔶 𝔖𝔭𝔩𝔦𝔫𝔱𝔢𝔯𝔩𝔞𝔫𝔡𝔰 𝔞𝔠𝔠𝔬𝔲𝔫𝔱.
Conqueror Jacek is a legendary fire summoner released in Chaos Legion series. He's one of the airdrop rewards that you get once you reach a certain number of packs bought. Ability-wise, I don't think he's super strong or at least I haven't maximized his potential yet. For now, I think abusing the speed is the best build for him and he's a main component for the combo we're going to see this week.
Abilities
+2 Speed. Increases the team's speed which has two major benefits. The higher the speed of the monster, the earlier they can act and has higher chance to hit an opponent and evade an attack as well.

Piercing (Inherent).
Any excess damage to the target's armor is inflicted to its health. If a monster with 4 armor attacks an opponent with 5 health and 1 armor, the monster will damage the 1 armor and the rest of the 3 damage will be inflicted to its health.

Scattershot (Inherent).
Monsters with range and/or magic damage type with Scattershot ability will have their target change to a random opponent.
For some reason, this ability seems to supersede any target modifying ability.
This means that if your monster has Sneak ability and Scattershot ability, the Sneak ability will be disabled and the target for the attack will change to random. This, however, only works on range and magic damage type. Melee monster's targetting, if they have Sneak, remains the same.
---
---

Stats | Coeurl Lurker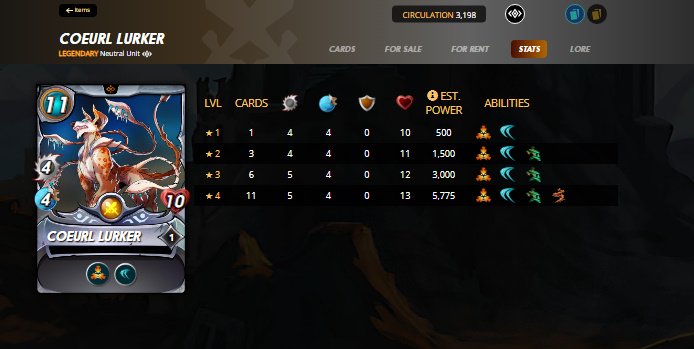 𝔓𝔥𝔬𝔱𝔬 𝔣𝔯𝔬𝔪 𝔪𝔶 𝔖𝔭𝔩𝔦𝔫𝔱𝔢𝔯𝔩𝔞𝔫𝔡𝔰 𝔞𝔠𝔠𝔬𝔲𝔫𝔱.
While Coeurl Lurker's damage and speed is on the high side, I would say that he's only on the decent part and not actually strong. He only has 10 health and without any armor while being an 11 mana cost monster.
Coeurl Lurker's role will, most of the time, be a tank. This means he would, most of the time, be on the front shielding the other monsters from damage. So, while he has a high damage, the decent only health becomes a problem if your opponent's attacks starts hitting you.
Abilities
At level 1, Taunt and Dodge abilities are unlocked.
Monsters with Taunt abilities forces their enemies to target them for attacks. As of this writing, I've found three situations that overlaps this ability/rule.
Opponent monster is melee and attacking from first position.
Opponent's monster has Reach ability, and is a melee and attacking from first or second position.
Opponent's monster has Scattershot ability, and is a range and/or magic damage type which changes the target to a random monster.
The first and second exemptions is easy to understand but the last one, I am not sure why Taunt doesn't work. It doesn't seem to be a bug but it seems like Scattershot ability take the priority over every targetting changes including Taunt.

Dodge
increases the monster's evasion rate by 25%. To make the computation easier, it's like adding 2.5 speed on Coeurl Lurker but without the advantage of increasing the chance to attack first.
---

At level 2, Phase is unlocked. Monsters with magic damage that attacks a monster with Phase ability has a chance to miss. The hit/miss calculation is the same as if the magic damage is a melee or range damage type.
Since at level 1, Coeurl Lurker has Dodge increasing his evasion rate by 25%, this now also applies for magic damage in relation to Phase.
---

At level 4, Thorns is unlocked.
Melee monsters that attack the monster with Taunt ability gets inflicted by 2 damage when it hits. While this ability is useful in higher league, it's not as strong when it comes to Coreaul Lurker whose main strategy is evading attacks. If the opponent monster misses, even if it's melee, the Thorns damage will not apply.
---
𝔄𝔟𝔦𝔩𝔦𝔱𝔦𝔢𝔰 𝔡𝔢𝔰𝔠𝔯𝔦𝔟𝔢𝔡 𝔞𝔟𝔬𝔳𝔢 𝔞𝔯𝔢 𝔣𝔯𝔬𝔪 𝔖𝔭𝔩𝔦𝔫𝔱𝔢𝔯𝔩𝔞𝔫𝔡𝔰 𝔲𝔰𝔦𝔫𝔤 𝔪𝔶 𝔞𝔠𝔠𝔬𝔲𝔫𝔱.
---

Battle Highlights

Click the link below to see the full battle:
https://splinterlands.com/?p=battle&id=sl_b67a629fa20b13476abeda28f2778559
---

Rules of Combat


𝔓𝔥𝔬𝔱𝔬 𝔣𝔯𝔬𝔪 𝔪𝔶 𝔖𝔭𝔩𝔦𝔫𝔱𝔢𝔯𝔩𝔞𝔫𝔡𝔰 𝔞𝔠𝔠𝔬𝔲𝔫𝔱.
99 Mana Cap. Total mana cost of all monsters must not exceed 99 mana.
Super Sneak Rules of Combat.


All elements unlocked except for Water, Life and Earth Elements. Summoners and Monsters from this element cannot be used during this battle.
---

Abilities Used During This Battle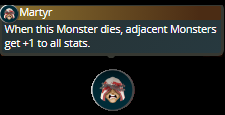 ---
𝔄𝔟𝔦𝔩𝔦𝔱𝔦𝔢𝔰 𝔲𝔰𝔢𝔡 𝔦𝔫 𝔱𝔥𝔦𝔰 𝔟𝔞𝔱𝔱𝔩𝔢 𝔞𝔯𝔢 𝔣𝔯𝔬𝔪 𝔖𝔭𝔩𝔦𝔫𝔱𝔢𝔯𝔩𝔞𝔫𝔡 𝔲𝔰𝔦𝔫𝔤 𝔪𝔶 𝔞𝔠𝔠𝔬𝔲𝔫𝔱.
---
---
Monsters in

RED

are my opponent's. Those in Bold font are mine.
---

Round 3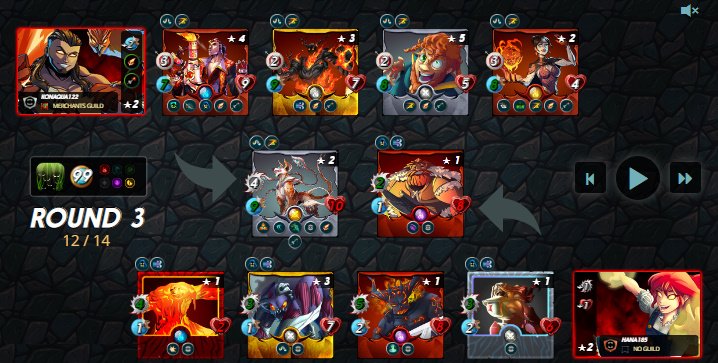 𝔓𝔥𝔬𝔱𝔬 𝔣𝔯𝔬𝔪 𝔪𝔶 𝔖𝔭𝔩𝔦𝔫𝔱𝔢𝔯𝔩𝔞𝔫𝔡𝔰 𝔞𝔠𝔠𝔬𝔲𝔫𝔱.
Supply Runner's Scattershot attack killed

Antoid Platoon.

Tusk the Wide's

attack killed Firecaller.
Martyr effect on Coreaul Lurker.
---

Round 5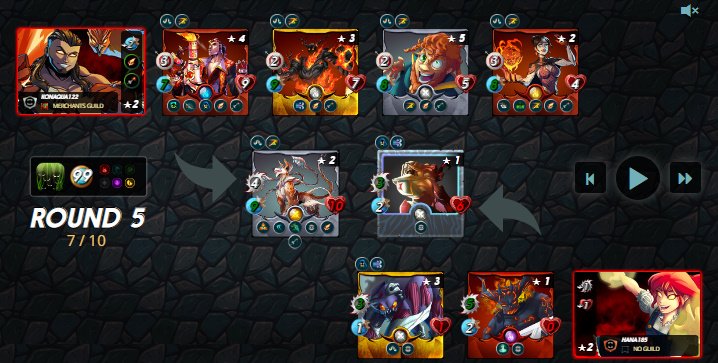 𝔓𝔥𝔬𝔱𝔬 𝔣𝔯𝔬𝔪 𝔪𝔶 𝔖𝔭𝔩𝔦𝔫𝔱𝔢𝔯𝔩𝔞𝔫𝔡𝔰 𝔞𝔠𝔠𝔬𝔲𝔫𝔱.
Ash Mirage's Scattershot attack killed

Living Lava.

Coreaul Lurker's attack killed

Tusk the Wide.

Tinderlock's Scattershot attack killed

Forgotten One.
---

Round 6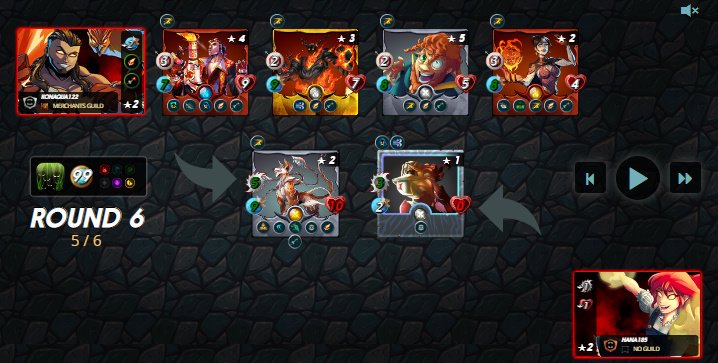 𝔓𝔥𝔬𝔱𝔬 𝔣𝔯𝔬𝔪 𝔪𝔶 𝔖𝔭𝔩𝔦𝔫𝔱𝔢𝔯𝔩𝔞𝔫𝔡𝔰 𝔞𝔠𝔠𝔬𝔲𝔫𝔱.
Ash Mirage's Scattershot attack killed

Disintegrator.

Countess Sinash's Scattershot attack killed

Elven Defender.
---
---

---
𝑫𝒐 𝒚𝒐𝒖 𝒍𝒊𝒌𝒆
Coeurl Lurker Combo
? 𝑾𝒉𝒚 𝒐𝒓 𝑾𝒉𝒚 𝒏𝒐𝒕?
Kind of. While I REALLY like this combo, I have some of questions with how the hit/miss chance were coded. According to this post, this is how evasion chance is computed:
(Speed Difference x 10%) + 25% (if there is dodge) + 25% (if there is flying against non-flying monsters) + 15% (if there is blind) = Evade Chance
This means to calculate Coeurl Lurker's evasion versus a 1 speed monster has...
(4 base speed + 2 speed from Conqueror Jacek + 1 speed from Supply Runner + 1 Speed from Countess Sinash + 1 Speed from Firecaller's Martyr) = 9 Speed total
((9 spd - 1 spd) x 10%) + 25% (Dodge) = 115% against monster with 1 speed, 105% evasion against monsters with 2 speed.
Now, during the battle, one monster with 2 speed was able to hit me before the Firecaller dies meaning, at that point, my Coeurl Lurker only has 8 speed giving the 2 speed monster a 5% chance to hit me. Surprisingly, he did that in 2 tries. While it is legitimate and there is an actualy chance of hitting me, I find it hard to accept that a 5% chance can hit you in two tries.
So, again, while I like this combo, I'm just not sure of how reliant is this because of the wonky hit/miss mechanics that this game has but is still a cool core to build on to.
---

ᒪIᑎEᑌᑭ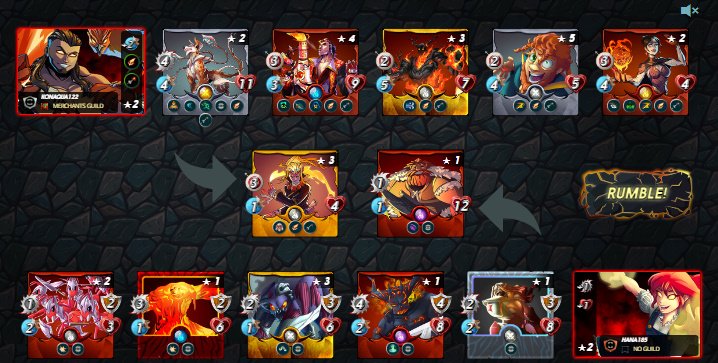 𝔓𝔥𝔬𝔱𝔬 𝔣𝔯𝔬𝔪 𝔪𝔶 𝔖𝔭𝔩𝔦𝔫𝔱𝔢𝔯𝔩𝔞𝔫𝔡𝔰 𝔞𝔠𝔠𝔬𝔲𝔫𝔱.
Summoner: Conqueror Jacek: Has +2 Speed for all of your ally monsters. Substitute for Byzantine Kitty. Also gives Scattershot that changes all of your range and magic damage monster's target to random. Gives Piercing ability to all monsters that allow them to damage the opponent's health for the difference between their damage and opponent's armor.
Firecaller: Placed in first position because I want him to die for the Martyr effect which increases Speed, Damage and Health of allied monsters surrounding her.
Coeurl Lurker: I placed him second because of the Super Sneak rule of combat which gives him the Sneak ability that allows him to attack from any position prioritizing the last position monster. Has Taunt to redirect all attacks to him. Has Dodge to increase the evasion chance by 25% and has Phase to allow Coeurl Lurker evade magic damage as well. Phase's miss chance compute as normal based on the monster's speed and other abilities.
Tinderlock: Has Close Range that allows him to attack while on the first position. Has Silence that reduces all magic damage by 1 with a minimum of 1 as long as this monster is alive. Has Last Stand that increases all of his stats by 50% if he's the last monster on the player's board.
Ash Mirage: Has Headwinds that reduces all opponent's range damage by 1 with a minimum of 1 as long as this monster is alive.
Supply Runner: Has Swiftness that increases all ally's speed by 1 as long as this monster is alive. One of the main components of this combo.
Countess Sinash: Has Swiftness that increases all ally's speed by 1 as long as this monster is alive. One of the main components of this combo. Camouflage that protects her of being targetted by other monster. Not really useful as Taunt already redirects the damage to Coeurl Lurker.
---

ᗪIᗪ YOᑌᖇ ᔕTᖇᗩTEGY ᗯOᖇKEᗪ?

Yes. The main idea of this is having Coeurl Lurker getting the most speed as possible. Conqueror Jacek add an extra 2 speed, Supply Runner adds extra 1 speed along with Countess Sinash for a total of 4 speed for everyone. In addition to this, Firecaller's Martyr also adds another 1 Speed along with other stats for a total of 5 speed added to Coeurl Lurker's 4 Speed.
This makes Coeurl Lurker at a good 9 Speed (90% evasion), with Dodge (25% evasion) ability and Phase (allows evasion to apply to magic damage). This means 115% evasion against monster with 0 speed or 105% evasion against monster with 1 speed.
This makes Coeurl Lurker a really good monster to evade attacks while forcing everyone to attack him because of Taunt.
---

ᗯᕼᗩT ᗯIᒪᒪ YOᑌ TᖇY ᗪIᖴᖴEᖇEᑎTᒪY ᑎE᙭T TIᗰE?

As mentioned, if you have a budget,
Byzantine Kitty, a dragon summoner, is better.
However, renting a level 2 of that legendary Untamed summoner will 100% drill your wallet. The cheapest I've seen for that ranges around 150 to 200+ DEC per day for a level 2 depending on when you would rent. That's why I prefer this version where the summoner is much cheaper, although, the Byzantine Kitty was more proper and stronger. Byzantine Kitty's Tank Heal allows your Coeurl Lurker to restore those unforseen hits by the enemy which would be good if you opponent is using monsters with more than 1 speed.

This post is an entry for Splinterland's Share Your Battle contest.
Other sources that I do not own are cited under their respective photos. Photos and drawings without cited sources are mine and made for this post.
Animated Banners and Dividers are edited in Canva Pro.
Some of the fonts used are from instafonts.io
---
If I seem to forget to cite other sources, this would be unintentional. Please leave it on the comments below to be added in the post. Thanks.
---
If you're interested in playing the game, support me by registering using my referral link here
---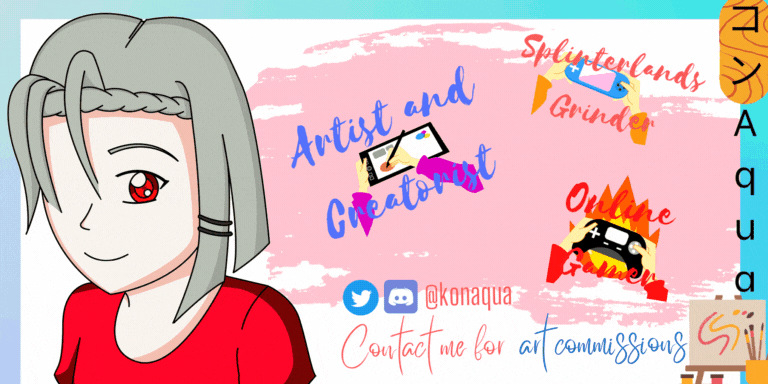 GӨӨD ᄂЦᄃK ΛПD KΣΣP GЯIПDIПG!

---
---