Share Your Battle: Waka Spiritblade x Harklaw

Edited in Canva Pro.
---
𝕴𝖓𝖙𝖗𝖔𝖉𝖚𝖈𝖙𝖎𝖔𝖓
I've come to terms with my budget and quadrupled my season rentals. That way, I can climb to Silver, or probably even Gold. My goal for now is to get to the leaderboards. Those DEC rewards when you get to the top 20 can help me get some new cards because as of this moment, I threw all my card purchase budget to my card rental budget meaning I probably won't be able to procure new cards unless I get it from rewards or getting in the Top 20 leaderboards.
Only time can tell if my decision was right.
On the other hand, I'm enjoying playing more because I'm not constricted with whatever I want to play with. The new combos are also awesome because in Silver, I've unlocked some of the next abilities of the monsters in the rift.

Waka Spiritblade Lore
If you want to know the card lore, click on the link I added below. But for now, let me tell you a different kind of lore, the lore of how Waka Spiritblade came into existence.
A few months back, Splinterlands had a partner with a rapper named Waka Flocka Flame and a group called LOAK. They deviced a very limited card, totalling to only 1000 in the entire world, that you can use as an AR avatar, while being a card in Splinterlands. Waka Spiritblade can be freely transfered between WAX and Splinterlands depending if you wanted to have a strong max level summoner or to show it off as an amazing avatar to your AR friends.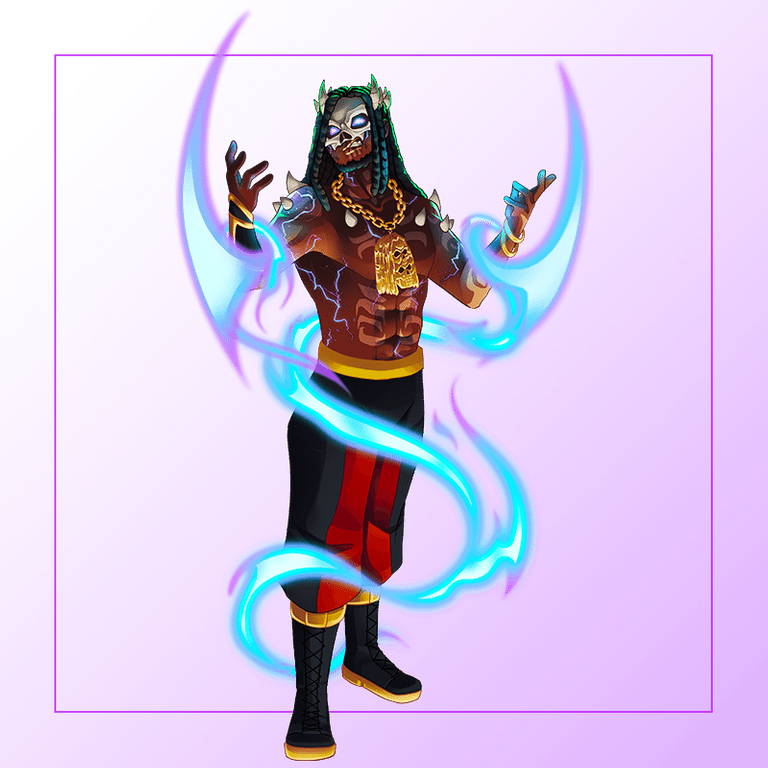 𝔓𝔥𝔬𝔱𝔬 𝔣𝔯𝔬𝔪 𝔪𝔶 𝔖𝔭𝔩𝔦𝔫𝔱𝔢𝔯𝔩𝔞𝔫𝔡𝔰 𝔞𝔠𝔠𝔬𝔲𝔫𝔱.
---
𝔉𝔲𝔩𝔩 𝔏𝔬𝔯𝔢 𝔠𝔞𝔫 𝔟𝔢 𝔣𝔬𝔲𝔫𝔡 𝔬𝔫 𝔖𝔭𝔩𝔦𝔫𝔱𝔢𝔯𝔩𝔞𝔫𝔡𝔰 ℭ𝔞𝔯𝔡 𝔏𝔬𝔯𝔢 𝔓𝔞𝔤𝔢.
---
Harklaw Lore
Harklaw was seen as a very thoughtful demon graciously staying behind in order to help with the conversion and advancement of others. Little that the Lord of Darkness know that such an act never existed. Harklaw has an ulterior motive of getting the loyalty of the people, including some of the Dark Lord's closest allies in order to dethrone him forever.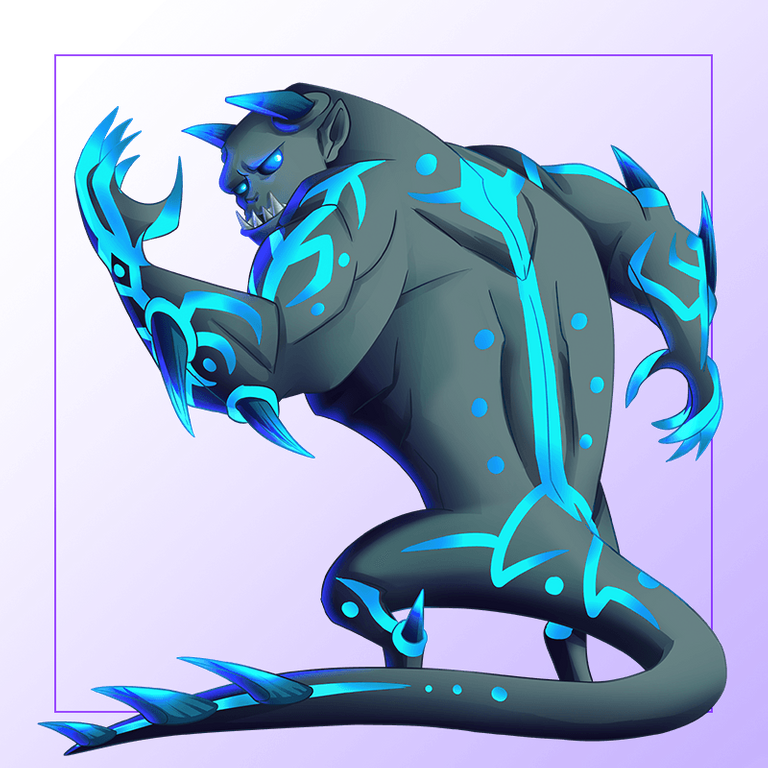 𝔓𝔥𝔬𝔱𝔬 𝔣𝔯𝔬𝔪 𝔪𝔶 𝔖𝔭𝔩𝔦𝔫𝔱𝔢𝔯𝔩𝔞𝔫𝔡𝔰 𝔞𝔠𝔠𝔬𝔲𝔫𝔱.
---
𝔉𝔲𝔩𝔩 𝔏𝔬𝔯𝔢 𝔠𝔞𝔫 𝔟𝔢 𝔣𝔬𝔲𝔫𝔡 𝔬𝔫 𝔖𝔭𝔩𝔦𝔫𝔱𝔢𝔯𝔩𝔞𝔫𝔡𝔰 ℭ𝔞𝔯𝔡 𝔏𝔬𝔯𝔢 𝔓𝔞𝔤𝔢.
---
---


Waka Spiritblade

---
Market Price | Buy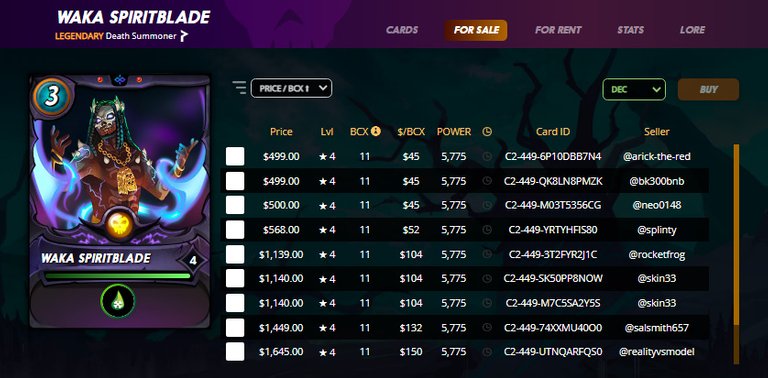 𝔓𝔥𝔬𝔱𝔬 𝔣𝔯𝔬𝔪 𝔪𝔶 𝔖𝔭𝔩𝔦𝔫𝔱𝔢𝔯𝔩𝔞𝔫𝔡𝔰 𝔞𝔠𝔠𝔬𝔲𝔫𝔱.
If you wasn't able to get him on the release, don't bother getting one unless you're filthy rich or planning to stay in the game for like 10 years or something. Waka Spiritblade is a promo card that will get you to enjoy the game a lot for how strong it is so if you're staying for long, maybe he can be worth the price.
The cheapest I've found is around $499. That's pretty steep given that it's only a regular card and not a gold foil. However, that's probably to be expected since there's only a limited Waka Spiritblade in the world, 960 regular foils, and 4 gold foils for a total of 1000 copies. That's the maximum amount of Waka Spiritblade that can be found in this world.
Market Price | Rent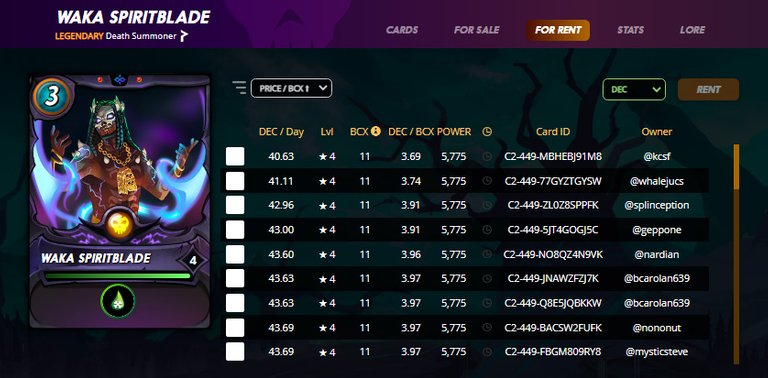 𝔓𝔥𝔬𝔱𝔬 𝔣𝔯𝔬𝔪 𝔪𝔶 𝔖𝔭𝔩𝔦𝔫𝔱𝔢𝔯𝔩𝔞𝔫𝔡𝔰 𝔞𝔠𝔠𝔬𝔲𝔫𝔱.
Normally, you can see around 40-50 DEC rental price for Waka Spiritblade. However, on some occassions, you can get him at lower price. I got a 24.999 one a few days ago searching different marketplaces. I think a powerful max level summoner though is very cheap for the 40 DEC and I'm happy that I got him lower than that.
---

Harklaw

---
Market Price | Buy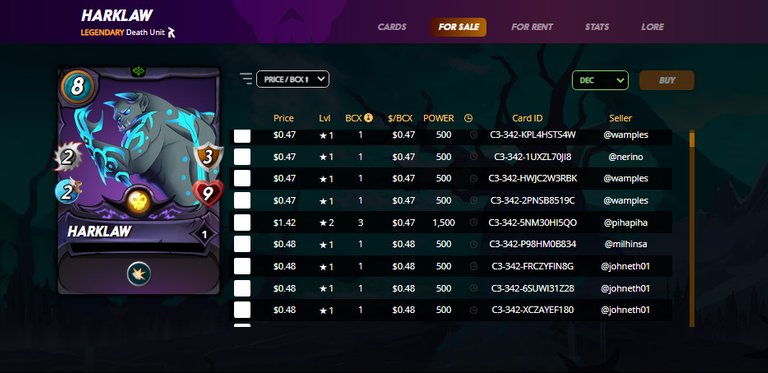 𝔓𝔥𝔬𝔱𝔬 𝔣𝔯𝔬𝔪 𝔪𝔶 𝔖𝔭𝔩𝔦𝔫𝔱𝔢𝔯𝔩𝔞𝔫𝔡𝔰 𝔞𝔠𝔠𝔬𝔲𝔫𝔱.
Harklaw's purchase price is kind of low for a useful legendary monster. You can even buy a level 2 for $1.42. However, if you're going for a level 2, just buy three $0.47, which would to tal to $1.41. If you get some a little less, it's more worth the price.
Market Price | Rent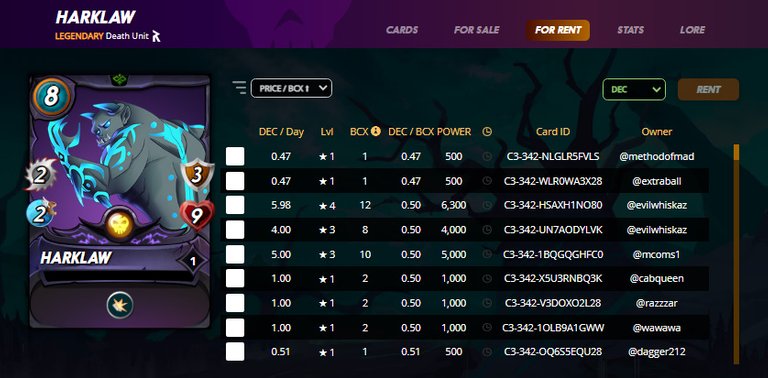 𝔓𝔥𝔬𝔱𝔬 𝔣𝔯𝔬𝔪 𝔪𝔶 𝔖𝔭𝔩𝔦𝔫𝔱𝔢𝔯𝔩𝔞𝔫𝔡𝔰 𝔞𝔠𝔠𝔬𝔲𝔫𝔱.
There's not a lot of level 2s that you can rent in the game's marketplace. So, on those occassions, I use @Peakmonsters and able to get a level 2 for 2.79 DEC per day. Recently, I've noticed that the prices are lower than they used to so I'm experimenting on how much I would spend for renting in Silver. In the future, probably Gold. Less than 10 DEC to me per card is probably okay for a level 2 legendary and key cards. This 2.79 DEC rental is very worth the price for the combo.

Stats | Waka Spiritblade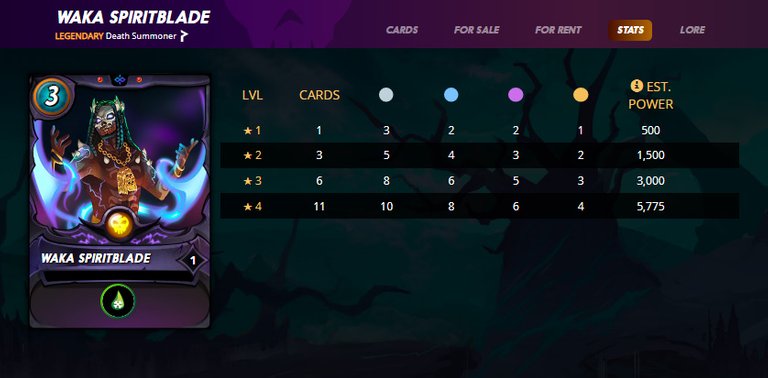 𝔓𝔥𝔬𝔱𝔬 𝔣𝔯𝔬𝔪 𝔪𝔶 𝔖𝔭𝔩𝔦𝔫𝔱𝔢𝔯𝔩𝔞𝔫𝔡𝔰 𝔞𝔠𝔠𝔬𝔲𝔫𝔱.
ALL Waka Spiritblades are and will always be max level regardless if it's a gold foil or not. This means, that you can summon level 10 commons, level 8 rares, level 6 epics and level 4 legendaries.
However, these will always be limited to your current league. For example, even with the information above, you can only use a max of 3 commons, 2 rares, 2 epics, 1 legendary for a Bronze match, equivalent to a level 1 Waka Spiritblade. 5 commons, 4 rares, 3 epics, 2 legendaries for Silver league.
---
Abilities

Waka Spiritblade grants Poison ability to all of your monsters. Poison ability allows your monters to have a chance to inflict poisoned status effect to monsters they attack.

Poisoned monsters take 2 true damage at the start of their turn. This damage cannot be negated or decreased. Poisoned status can be removed by Cleanse ability or if the monster get resurrected after death.
---
---

Stats | Harklaw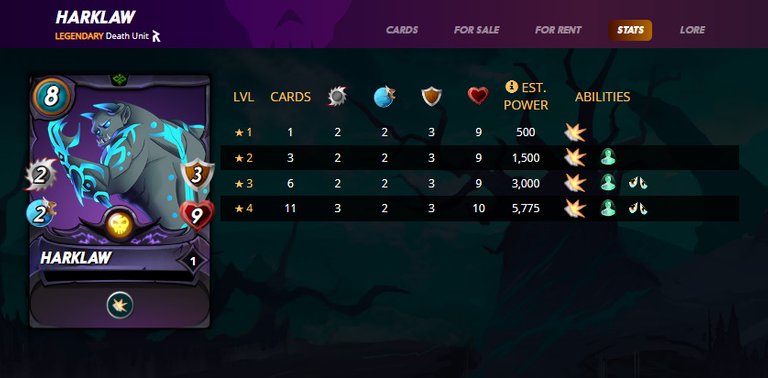 𝔓𝔥𝔬𝔱𝔬 𝔣𝔯𝔬𝔪 𝔪𝔶 𝔖𝔭𝔩𝔦𝔫𝔱𝔢𝔯𝔩𝔞𝔫𝔡𝔰 𝔞𝔠𝔠𝔬𝔲𝔫𝔱.
Harklaw is a very strong underrated card. Even I thought he was weak before I tested him with Waka Spiritblade. The damage and speed is decent but he's very durable. Durability is the reason why he's my tank because the poison damage will deal with everything. I just needed someone that's not going to die quick and there lies Harklaw.
---
Abilities

At level 1, Shield ability is unlocked. Shield ability halves all melee and range damage taken by the monster. If the melee or range damage is already 1 before the it was halved, the damage is negated and turns to 0.
---

At level 2, Immunity ability is unlocked. Monsters with Immunity are invulnerable to negative effects such as poison. Good ability to use in Noxious Fumes Rule of Combat.
---

At level 3, Demoralize ability is unlocked. Demoralize decreases all melee damage by 1 with minimum of 1 as long as this monster is alive. Good ability when the rule of combat dictates that you can only use melee monsters.
---
𝔄𝔟𝔦𝔩𝔦𝔱𝔦𝔢𝔰 𝔡𝔢𝔰𝔠𝔯𝔦𝔟𝔢𝔡 𝔞𝔟𝔬𝔳𝔢 𝔞𝔯𝔢 𝔣𝔯𝔬𝔪 𝔖𝔭𝔩𝔦𝔫𝔱𝔢𝔯𝔩𝔞𝔫𝔡𝔰 𝔲𝔰𝔦𝔫𝔤 𝔪𝔶 𝔞𝔠𝔠𝔬𝔲𝔫𝔱.
---

Battle Highlights

Click the link below to see the full battle:
https://splinterlands.com/?p=battle&id=sl_b77dda6fb9d92afd38a2ab45adc838c7
Other Battles:
https://splinterlands.com/?p=battle&id=sl_c17204ad61a66a8e9a80c2be4aed8e14
https://splinterlands.com/?p=battle&id=sl_b94a5ce4cfcb17f1e2bbfca6da59e972
https://splinterlands.com/?p=battle&id=sl_baa765ac3e151964c0f027cbf8957866
---

Rules of Combat


𝔓𝔥𝔬𝔱𝔬 𝔣𝔯𝔬𝔪 𝔪𝔶 𝔖𝔭𝔩𝔦𝔫𝔱𝔢𝔯𝔩𝔞𝔫𝔡𝔰 𝔞𝔠𝔠𝔬𝔲𝔫𝔱.
19 Mana Cap. Total mana cost of all monsters must not exceed 19 mana.
Close Range Rules of Combat. This rule of combat gives all monsters on the board the Close Range ability. Close Range allows range monsters to attack while on first position.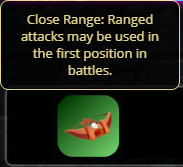 Earthquake Rules of Combat.This rule of combat inflicts 2 melee damage to monsters without Flying ability at the start of each round. This means that this Earthquake damage can be negated if you have the Flying ability. This damage can also be reduced by half if your monster have the Shield ability.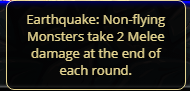 All elements unlocked except for Water and Earth Elements. Summoners and Monsters from this element cannot be used during this battle.
---

Abilities Used During This Battle








---
𝔄𝔟𝔦𝔩𝔦𝔱𝔦𝔢𝔰 𝔲𝔰𝔢𝔡 𝔦𝔫 𝔱𝔥𝔦𝔰 𝔟𝔞𝔱𝔱𝔩𝔢 𝔞𝔯𝔢 𝔣𝔯𝔬𝔪 𝔖𝔭𝔩𝔦𝔫𝔱𝔢𝔯𝔩𝔞𝔫𝔡 𝔲𝔰𝔦𝔫𝔤 𝔪𝔶 𝔞𝔠𝔠𝔬𝔲𝔫𝔱.
---
---
Monsters in

RED

are my opponent's. Those in Bold font are mine.
---

Round 1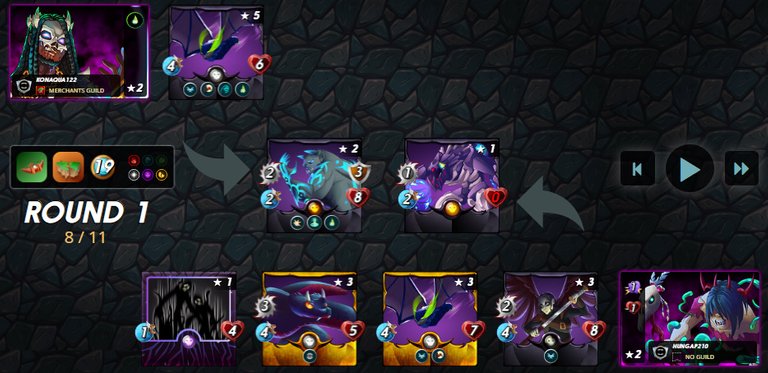 𝔓𝔥𝔬𝔱𝔬 𝔣𝔯𝔬𝔪 𝔪𝔶 𝔖𝔭𝔩𝔦𝔫𝔱𝔢𝔯𝔩𝔞𝔫𝔡𝔰 𝔞𝔠𝔠𝔬𝔲𝔫𝔱.
Silent Sha-vi's

Sneak attack killed Tower Griffin.
Harklaw's attack killed

Corpse Fiend.

Harklaw Poisons

Pelacor Deceiver.
---

Round 3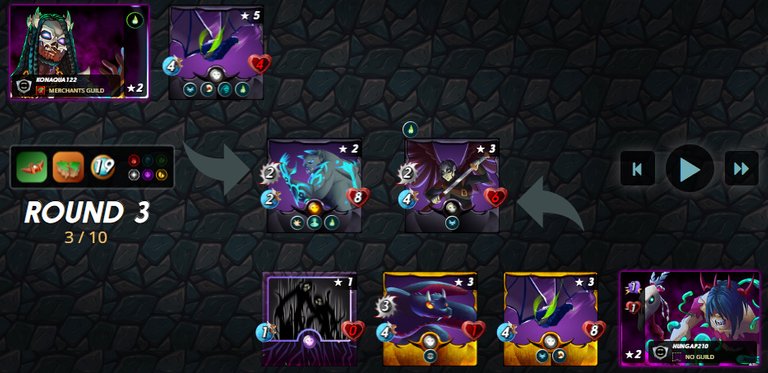 𝔓𝔥𝔬𝔱𝔬 𝔣𝔯𝔬𝔪 𝔪𝔶 𝔖𝔭𝔩𝔦𝔫𝔱𝔢𝔯𝔩𝔞𝔫𝔡𝔰 𝔞𝔠𝔠𝔬𝔲𝔫𝔱.
Earthquake's damage killed

Shadowy Presence.
---

Round 4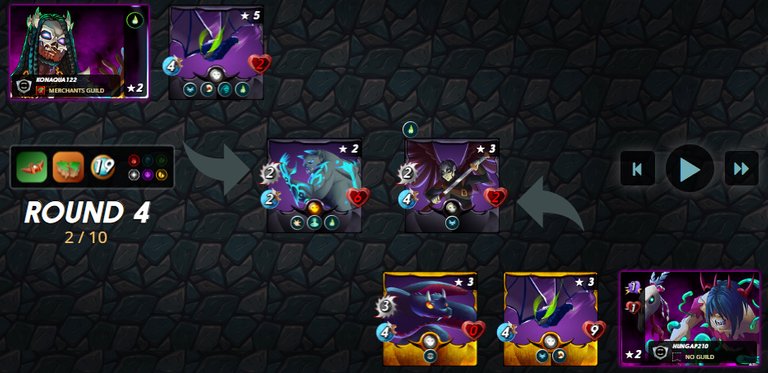 𝔓𝔥𝔬𝔱𝔬 𝔣𝔯𝔬𝔪 𝔪𝔶 𝔖𝔭𝔩𝔦𝔫𝔱𝔢𝔯𝔩𝔞𝔫𝔡𝔰 𝔞𝔠𝔠𝔬𝔲𝔫𝔱.
Earthquake's damage killed

Silent Sha-vi.

Harklaw's Poison damage killed

Pelacor Deceiver.
---

Round 6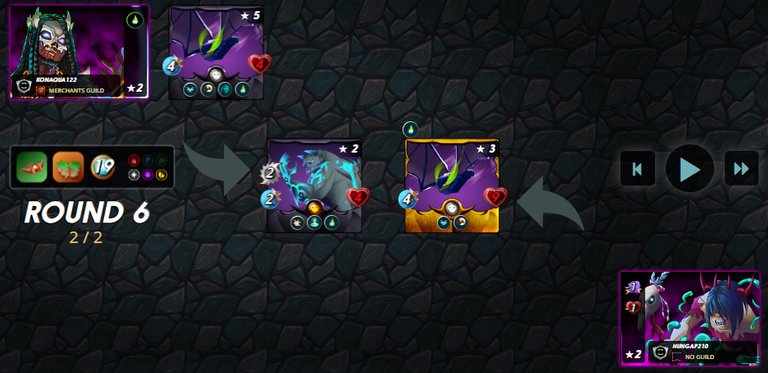 𝔓𝔥𝔬𝔱𝔬 𝔣𝔯𝔬𝔪 𝔪𝔶 𝔖𝔭𝔩𝔦𝔫𝔱𝔢𝔯𝔩𝔞𝔫𝔡𝔰 𝔞𝔠𝔠𝔬𝔲𝔫𝔱.
Harklaw Poisons

Riftwing.
---

Round 10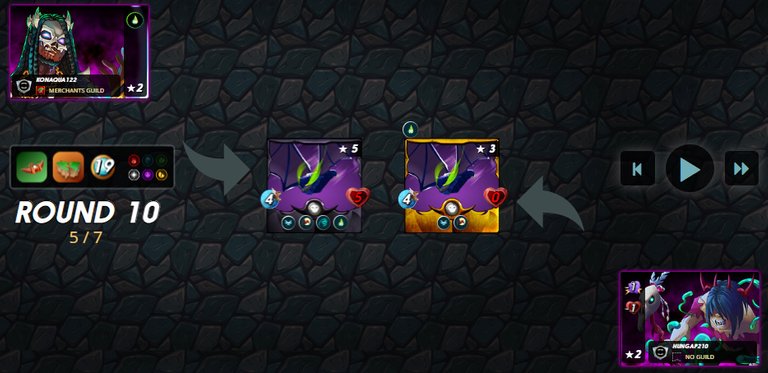 𝔓𝔥𝔬𝔱𝔬 𝔣𝔯𝔬𝔪 𝔪𝔶 𝔖𝔭𝔩𝔦𝔫𝔱𝔢𝔯𝔩𝔞𝔫𝔡𝔰 𝔞𝔠𝔠𝔬𝔲𝔫𝔱.
Earthquake's damage killed Harklaw.
Harklaw's Poison damage killed

Riftwing.
---
---

---
𝑫𝒐 𝒚𝒐𝒖 𝒍𝒊𝒌𝒆
Waka Spiritblade and Harklaw Combo
? 𝑾𝒉𝒚 𝒐𝒓 𝑾𝒉𝒚 𝒏𝒐𝒕?
Yes. I really like the combo of Waka Spiritblade and Harklaw. The only thing that's stopping me before was the high price of Waka Spiritblade's rental because of him being a promo card. But this combo is pretty strong and you can use it in all mana caps since you only need 11 mana, while the lowest mana cap is 12.
If the rule of combat doesn't stop you or the prohibition of using Death element, then I would use this all day and rack up rating left and right.
---

ᒪIᑎEᑌᑭ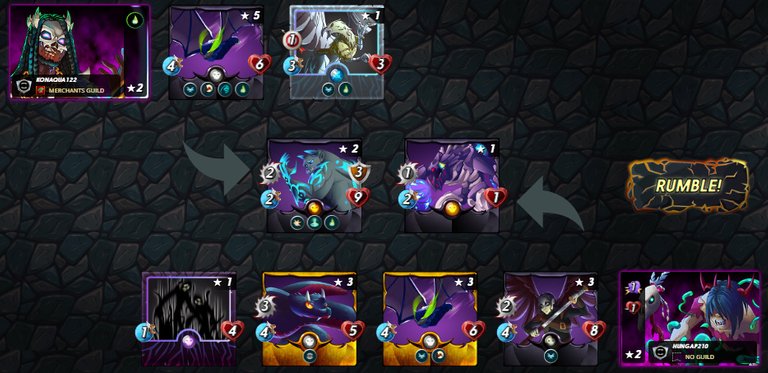 𝔓𝔥𝔬𝔱𝔬 𝔣𝔯𝔬𝔪 𝔪𝔶 𝔖𝔭𝔩𝔦𝔫𝔱𝔢𝔯𝔩𝔞𝔫𝔡𝔰 𝔞𝔠𝔠𝔬𝔲𝔫𝔱.
Summoner: Waka Spiritblade: A low cost summoner that gives all monsters Poison ability. Poison is actually the main damage for this composition.
Harklaw: Has high health and armor with Shield ability to reduce damage from melee and range damage. The longer he survives, the greater the impact of poison.

Riftwing: Has Flying, Scavenger and Backfire abilities. Flying increases the evasion rate againt non-flying opponents and negates Earthquake damage, Scavenger gives him extra health everytime a monster dies, Backfire inflicts 2 damage whenever opponent misses an attack. Secondary wall for the poison-oriented build.

Tower Griffin: Has Flying ability at level 1. I just added him there because I needed an extra monster with Flying ability that negates the Earthquake damage.
---

ᗪIᗪ YOᑌᖇ ᔕTᖇᗩTEGY ᗯOᖇKEᗪ?

Yes. In one of my Lorna Shine battles, I've learned that using monsters with Shield abilities in Earthquake Rules of Combat are still a good thing. Since Shield ability reduces the damage of Earthquake by half, even at 1 extra damage per turn, it's not as bad.
Also, the poison ability is really strong because even if the monster dies after he inflicted the poison, like what happened in this game, the poison still applies which means your opponent still takes damage even if that monster with poison is dead.
---

ᗯᕼᗩT ᗯIᒪᒪ YOᑌ TᖇY ᗪIᖴᖴEᖇEᑎTᒪY ᑎE᙭T TIᗰE?

If there was no Earthquake rule of combat, I would've used Magi Necrosi instead of Riftwing and Tower Griffin. Magi Necrosi has Camouflage ability allowing him to not be targetted by attack as long as the monster on the first position is still alive. He also has a Snipe ability which prioritizes non melee monsters as his targets.
Magi Necrosi on board means they needed to kill Harklaw first before getting to him which is a hard thing to do if you don't have magic damage. Then, Waka Spiritblade's Poison slowly kills the opponent from both the front and the back with this combo.

This post is an entry for Splinterland's Share Your Battle contest.
Other sources that I do not own are cited under their respective photos. Photos and drawings without cited sources are mine and made for this post.
Animated Banners and Dividers are edited in Canva Pro.
Some of the fonts used are from instafonts.io
---
If I seem to forget to cite other sources, this would be unintentional. Please leave it on the comments below to be added in the post. Thanks.
---
If you're interested in playing the game, support me by registering using my referral link here
---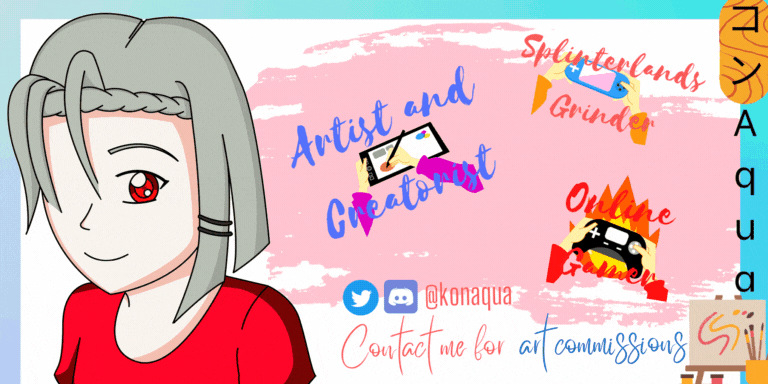 GӨӨD ᄂЦᄃK ΛПD KΣΣP GЯIПDIПG!

---
---