Summoner's Week: General Sloan

Edited in Canva Pro.
---
𝕴𝖓𝖙𝖗𝖔𝖉𝖚𝖈𝖙𝖎𝖔𝖓
For my goal of improving my gameplay, I wanted to buy and/or level up my summoners first. For now, I each week, I would level up a random summoner up a level. This would allow me to use higher level monsters and avoid surprises.
In addition to this, I'll also give a few tips regarding those summoners like their compatible cards and rules of combat. I hope this would help, not only me, but also the readers of my articles in getting higher league easier.
This week, we will be featuring General Sloan from the Life Splinters.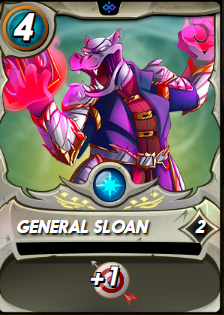 Edited in Canva Pro.



General Sloan is a rare summoner from the Chaos Legion. Honestly, he's a bit tricky to use because the his ability is increasing range monster's damage. While the ability is straightforward, there are quite a few limitations on the monsters which puts him in my tricky list.



While the ones below can be interchanged depending on your perspective, this is how I view General Sloan and it's strengths and weaknesses
---
Pros
Range monsters are low mana cost. A lot of range monsters such as Xenith Archer and Herbalist are low mana. This makes General Sloan good on Bronze and Silver league as these leagues have the highest chance of low mana fights.
Range monsters have high speeds. Speed determines not only the evasion rent but also the turn order. The higher the speed, the earlier they act. This means that high speed with high damage, by the help of General Sloan, means you can eliminate opponents before they can act.
Life Splinters have the best Weapons Training monsters. This is specifically talking about Avis Sturgis and Zyriel. Monsters with Weapons Training ability adds damage type and the ability to attack on passive monsters. This means if you put Scavo Hireling or Truthspeaker beside Zyriel or Avis Sturgis, they two monsters would get the ability to attack based on what the damage type of the monster with the Weapons Training ability.
---
Cons
Range monsters cannot attack while in first position. Unless you have Close Range ability, a range monster can only attack from positions 2nd to 6th. This makes General Sloan's ability useless if your monsters take the tank position.
Good Life or Neutral Range monsters are expensive. Most of the good monsters are epic and legendary. Cards like Hero of the Beyond is one of the cards you really want for its Close Range ability.
General Sloan can easily get countered. Usually, a Life Splinter will use a lot of range monsters due to General Sloan being a starter summoner (You can use a level 1 even if you don't own it.). The same logic can be applied with Earth Splinter's Obsidian or Fire Splinter's Tarsa. If your opponent knows what they are doing, General Sloan can easily get countered and this can lose you games.



Rank

Rules of Combat

Description


Photo from my Splinterlands Account.

Explosive Weaponry: This gives all monsters on the board the Blast ability that deals extra damage on the monsters beside the main target. This is strong on range builds because they have high speed. Range monsters generally attack first which means you attack the main target and then another with this rule of combat possibly eliminating monsters at the back before even killing the main tank.

Range monsters also has a lot of good Snipe monsters such as Mantoid or Lone Boatman which adds danger to this rule of combat.


Photo from my Splinterlands Account.

Going the Distance: What's the best way to have General Sloan as your summoner than when you can only use range monsters? This is very straightforward and really strong as long as you are not countered.


Photo from my Splinterlands Account.

Close Range: One main problem of range monsters are they cannot attack while on first position. Close Range rule of combat gives all monsters the Close Range ability that allows range monsters to attack while on first position. This basically removes the biggest weakness of using a range monster.



| | | |
| --- | --- | --- |
| Rank | Rules of Combat | Description |
| | Photo from my Splinterlands Account. | Fire and Regret: This one's pretty simple. This rule of combat gives all monsters on the board the Return Fire ability that inflicts half of the damage dealt by a range monster back to its attacker. To make it simple, with this rule of combat, you take damage when you use a monster with range damage type. |
| | Photo from my Splinterlands Account. | Armored Up: Armored Up gives all monsters on the board an extra 2 armor. However, armor only affects Melee and Range damage. This means with Armored Up, it would take you a few more turns than normal to eliminate opponent's monsters if you do a full range build. |
| | Photo from my Splinterlands Account. | Lost Magic: This may come to you as a surprise. If you saw my last entry in the Splinterlands' Battle Mage Secrets, Lost Magic means you cannot use monsters with Magic damage type. This leaves you with Melee and Range as your options. Why is that a bad thing? It's because of one ability called "Shield." Shield ability halves all melee and range damage. Without magic damage, this means this ability is 100% sure shot. Even if you increase your damage with General Sloan, that's still halved if your opponent uses monsters with Shield ability. |



| | | |
| --- | --- | --- |
| Rank | Monster | Description |
| | Photo from my Splinterlands Account. | Venari Crystalsmith: Venari Crystalsmith is a must in any Life Splinter builds. Her Tank Heal is a really good support ability while having 1 range damage from levels 1 to 3. At level 4, she starts to become a threat with 2 range damage increased to 3 with the help of General Sloan. You can level her to 4 at Silver League and up. |
| | Photo from my Splinterlands Account. | Mantoid: A neutral summoner with Snipe ability. Mantoid is another hidden beast with damage of 3 at level 4. This can be further increased to 4 with the help of General Sloan. Snipe ability ignores melee and any monsters in the first position and prioritizes non melee monsters. This means with Mantoid, a 4 damage can insta-kill a lot of good supports such as Venari Crystalsmith and Merdaali Guardian, which, coincidentally, both have Tank Heal abilities. |
| | Photo from my Splinterlands Account. | Zyriel: I will keep this a secret for now because I am planning to focus on her next week. There's a lot to cover so it would be best to keep it a secret for now to avoid confusion. Just for the record, this is the BEST card to combo with General Sloan and you will learn about it next week. |




Photo is from my Peakmonsters Account.
This is a low mana team comp that you can use and win games. If you lack mana due to the rule set, you can remove or change Pelacor Arbalest. This is a tried and tested team composition which is very strong in Bronze league.

Lineup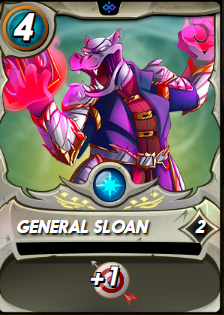 General Sloan: The main summoner that increases all of your monster's range damage by 1.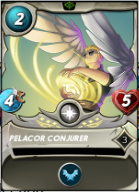 Pelacor Conjurer: 2 mana cost 5 health monster. He has no attack but his speed and Flying ability is good enough to make a lot of monsters miss.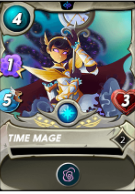 Time Mage: 4 mana cost with 1 magic damage and Slow ability. Slow ability and Swiftness is prioritized to abuse the turn order.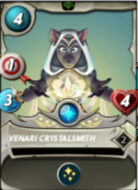 Venari Crystalsmith: A healer and damage dealer in one.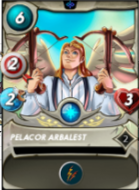 Pelacor Arbalest: Has Double Strike ability allowing him to attack twice in one round. His health is pretty low and may be targetted by Opportunity monsters often.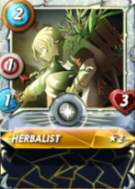 Herbalist: 2 mana cost monster with 1 range damage. He gets a Cleanse ability at level 3 which may be good in certain rules of combat.
Xenith Archer: Another 2 mana cost monster with 1 range damage. He has no abilities but good enough to be a filler monster.

Battle Sample


Photo is from my Splinterlands Account.
This is a quick sample of a battle I've done recently. I think this highlights a lot of good range cards that are also compatible with General Sloan
Just quick summary or highlight. No need to say what happened per round.
> > Click here to view the battle < <

To be honest, I decided to make this series as an excuse for myself to start leveling up my summoners. I was really frustrated recently from the lack of SPS not allowing me to earn any rewards in Silver. In Bronze, I tend to lose battles a lot because I'm more comfortable in Silver and the extra abilities the monsters possess.
For example, Chain Golem is very strong in Silver because of his Shield and Void combination but in Bronze, he's only as strong as Living Lava and dies instantly against mage comps. I had to find a way to survive Bronze as I level up my summoners and monsters as well as increasing my SPS stake.
Doing this series, not only I get to level up summoners but I also discover powerful combinations I don't usually use. General Sloan and Zyriel is an example to that. Another is General Sloan's compatibility with low mana monsters such as Herbalist and Xenith Archer in order to win low mana fights.

This post is an entry for Splinterlands Social Media Contest.
Other sources that I do not own are cited under their respective photos. Photos and drawings without cited sources are mine and made for this post.
I do not own the video nor the photos above the timestamps. All of those are credited to the creator who is mentioned throughout this article.
Animated Banners and Dividers are edited in Canva Pro.
Some of the fonts used are from instafonts.io
---
If I seem to forget to cite other sources, this would be unintentional. Please leave it on the comments below to be added in the post. Thanks.
---
If you're interested in playing the game, support me by registering using my referral link here
---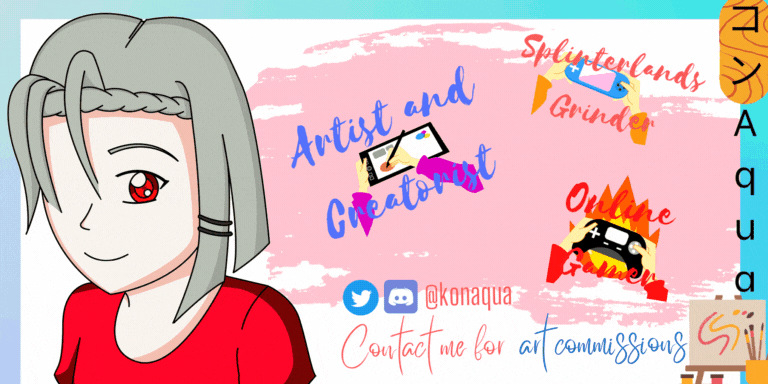 ℋ𝒶𝓋ℯ 𝒶 𝑔ℴℴ𝒹 𝒹𝒶𝓎!

---
---