The Ultimate Counter in Lost Magic that Nobody Uses.

Edited in Canva Pro.
---
For best user-experience, view in Ecency. Some text styling does not work in Peakd.
---
𝕴𝖓𝖙𝖗𝖔𝖉𝖚𝖈𝖙𝖎𝖔𝖓
I was amazed by this monster really early and bought her as part of my Golden Trio. I thought this monster was really strong and I was pretty sure I was going to use her very often.
I was correct.
This combo and strategy isn't necessarily knew but I don't think a lot of players think about it as overpowered. When the Rule of combat is Lost Magic, this one ability comes to mind and this specific monster comes to play. Check this perfect battle that I got, where my opponent was so overwhelmed, they never got a chance in a million years.

Camila Sungazer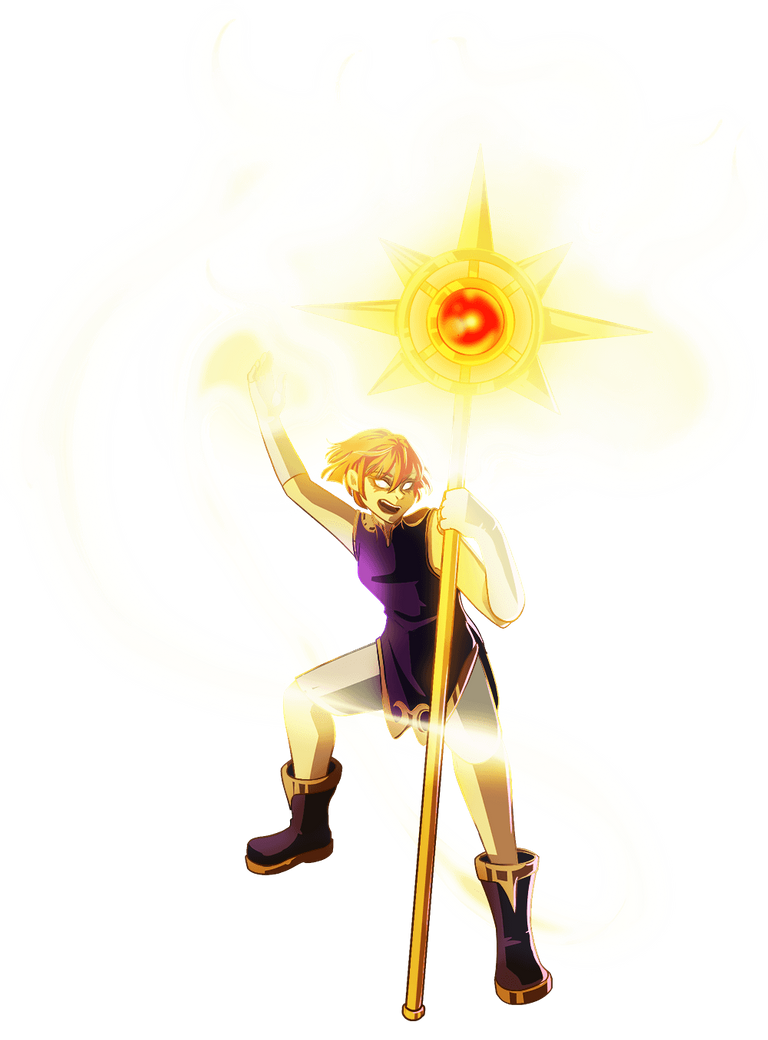 𝔓𝔥𝔬𝔱𝔬 𝔣𝔯𝔬𝔪 𝔪𝔶 𝔖𝔭𝔩𝔦𝔫𝔱𝔢𝔯𝔩𝔞𝔫𝔡𝔰 𝔞𝔠𝔠𝔬𝔲𝔫𝔱.
---
𝔉𝔲𝔩𝔩 𝔏𝔬𝔯𝔢 𝔠𝔞𝔫 𝔟𝔢 𝔣𝔬𝔲𝔫𝔡 𝔬𝔫 𝔖𝔭𝔩𝔦𝔫𝔱𝔢𝔯𝔩𝔞𝔫𝔡𝔰 ℭ𝔞𝔯𝔡 𝔏𝔬𝔯𝔢 𝔓𝔞𝔤𝔢.
---
Chaos Knight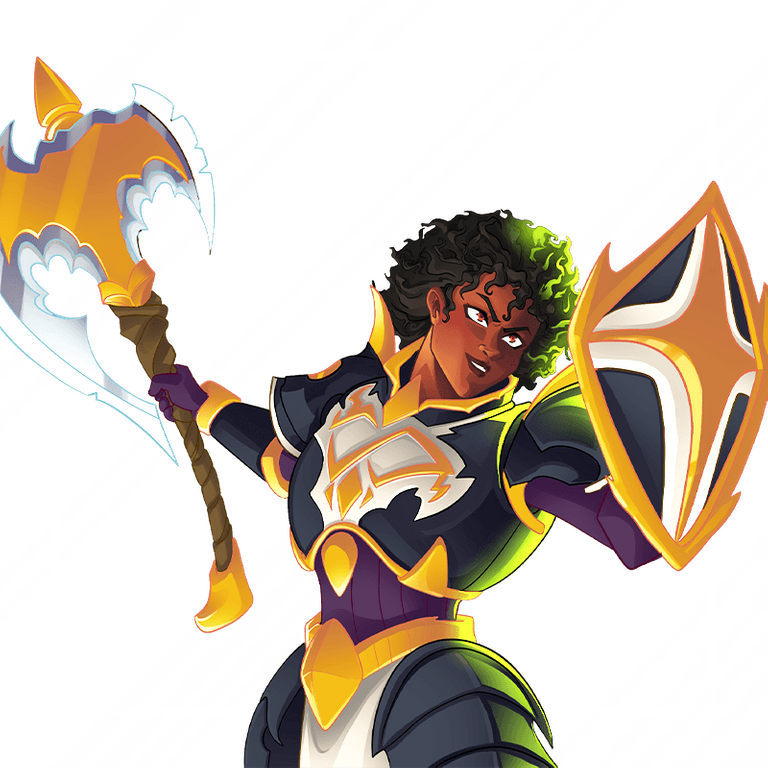 𝔓𝔥𝔬𝔱𝔬 𝔣𝔯𝔬𝔪 𝔪𝔶 𝔖𝔭𝔩𝔦𝔫𝔱𝔢𝔯𝔩𝔞𝔫𝔡𝔰 𝔞𝔠𝔠𝔬𝔲𝔫𝔱.
---
𝔉𝔲𝔩𝔩 𝔏𝔬𝔯𝔢 𝔠𝔞𝔫 𝔟𝔢 𝔣𝔬𝔲𝔫𝔡 𝔬𝔫 𝔖𝔭𝔩𝔦𝔫𝔱𝔢𝔯𝔩𝔞𝔫𝔡𝔰 ℭ𝔞𝔯𝔡 𝔏𝔬𝔯𝔢 𝔓𝔞𝔤𝔢.
---
---


Camila Sungazer

---
Market Price | Buy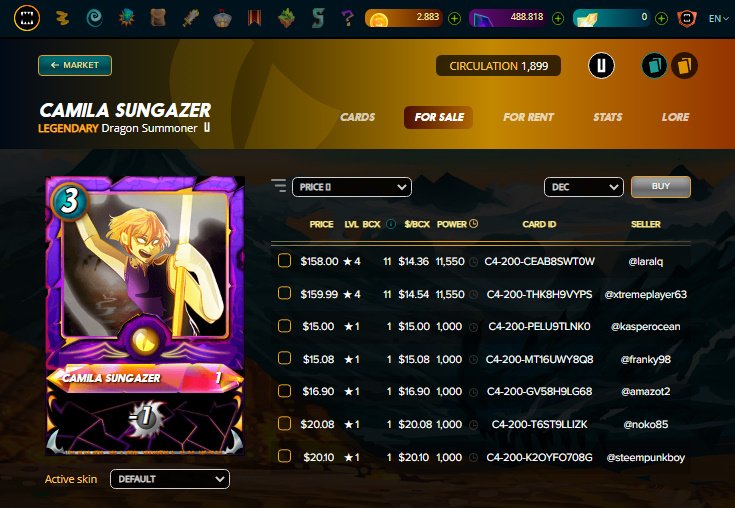 𝔓𝔥𝔬𝔱𝔬 𝔣𝔯𝔬𝔪 𝔪𝔶 𝔖𝔭𝔩𝔦𝔫𝔱𝔢𝔯𝔩𝔞𝔫𝔡𝔰 𝔞𝔠𝔠𝔬𝔲𝔫𝔱.
The price of Camila Sungazer is very volatile. I don't know why but her price always jumps between $15 to $20+. The price is good especially in lower league because this monster has very low mana cost.
A level 1 Camila Sungazer can already allow you to use max leveled monster in Bronze league.
Market Price | Rent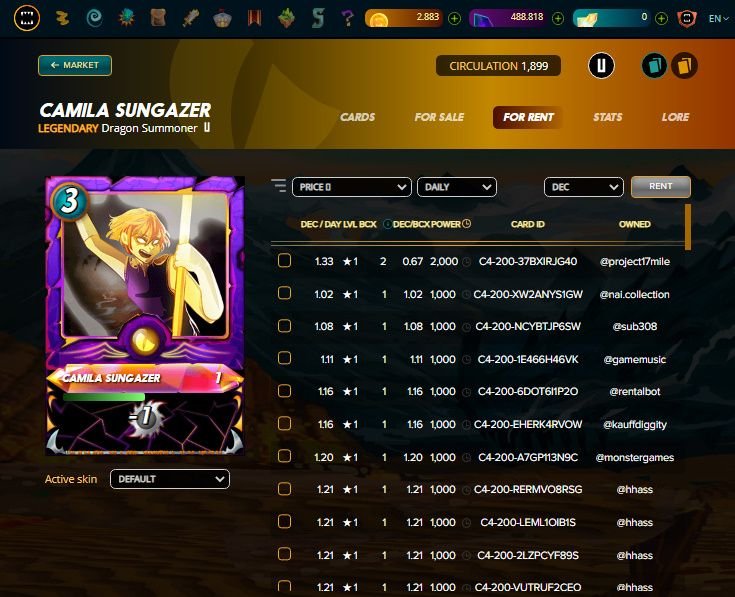 𝔓𝔥𝔬𝔱𝔬 𝔣𝔯𝔬𝔪 𝔪𝔶 𝔖𝔭𝔩𝔦𝔫𝔱𝔢𝔯𝔩𝔞𝔫𝔡𝔰 𝔞𝔠𝔠𝔬𝔲𝔫𝔱.
Camila Sungazer's rental price is weird. Let me show you why.
So, while you can rent a level 1 for 1.33 DEC per day, the next level jumps up too much in price that it's not even funny. There's so much difference in the price and it makes me think that it's due to the demand in Silver and Gold.
A level 2 legendary allows you to play level 5 commons, level 4 rares, level 3 epics, level 2 legendaries.
So, the CHEAPEST rental price for a level 2 is 35.98 DEC per day which is 27x pricier than the level 1.
---

Chaos Knight

---
Market Price | Buy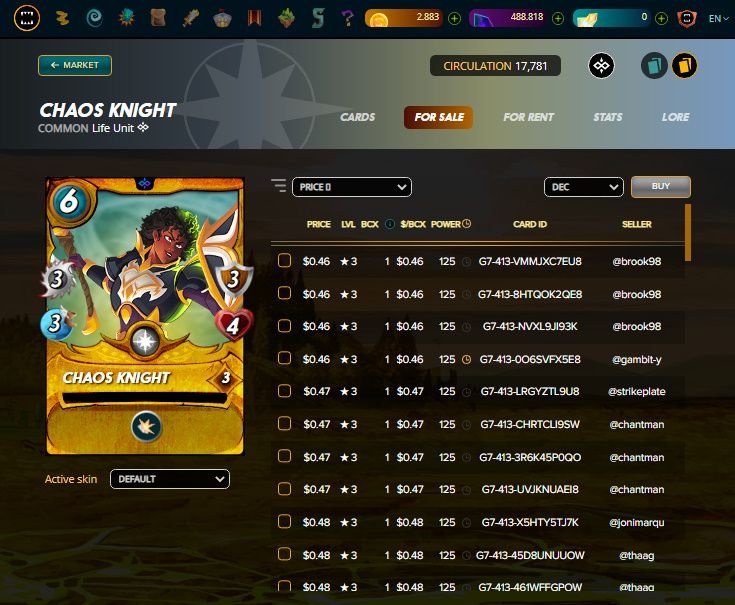 𝔓𝔥𝔬𝔱𝔬 𝔣𝔯𝔬𝔪 𝔪𝔶 𝔖𝔭𝔩𝔦𝔫𝔱𝔢𝔯𝔩𝔞𝔫𝔡𝔰 𝔞𝔠𝔠𝔬𝔲𝔫𝔱.
For Chaos Knight, I would only be listing the Gold foil because they are really cheap. A gold foil starts at higher level and gives you 10% bonus focus points per win.
A gold level 3 Chaos Knight can be purchased for only $0.46 which is the max level you can use in Bronze league.
Market Price | Rent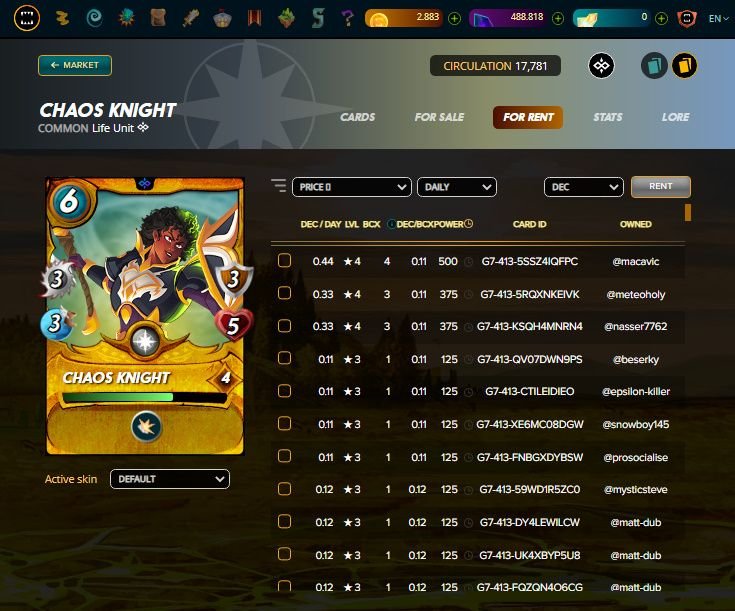 𝔓𝔥𝔬𝔱𝔬 𝔣𝔯𝔬𝔪 𝔪𝔶 𝔖𝔭𝔩𝔦𝔫𝔱𝔢𝔯𝔩𝔞𝔫𝔡𝔰 𝔞𝔠𝔠𝔬𝔲𝔫𝔱.
The rental price for the gold one is cheap as well. You can rent a gold Chaos Knight for 0.11 DEC per day for a level 3 and 0.44 DEC per day for a level 4.
Renting and buying a gold foil of this card is much efficient not only because it's cheap but also because of the bonus focus point it gives.

Stats | Camila Sungazer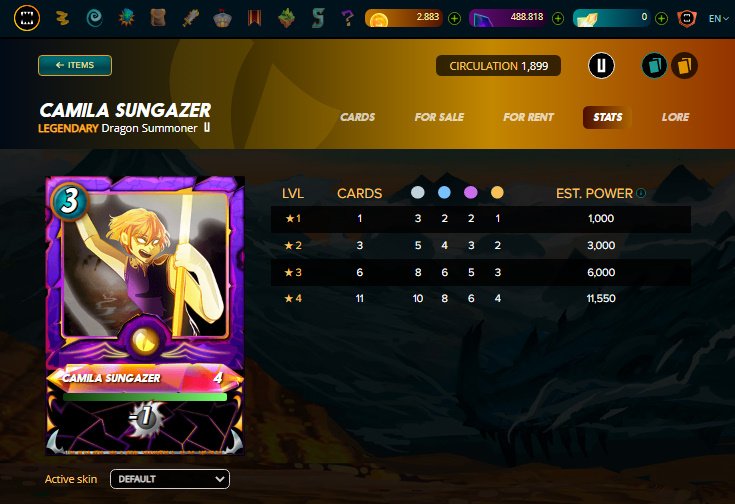 𝔓𝔥𝔬𝔱𝔬 𝔣𝔯𝔬𝔪 𝔪𝔶 𝔖𝔭𝔩𝔦𝔫𝔱𝔢𝔯𝔩𝔞𝔫𝔡𝔰 𝔞𝔠𝔠𝔬𝔲𝔫𝔱.
A legendary summoner from Untamed Series. She's one of the most efficient summoner in the game because not only her ability is very generic, she also has only 3 mana cost. A difference of 1 mana cost is really important since that 1 mana cost can give you the difference between a powerful monster versus a useless one.
Abilities

Decreases all opponent's melee damage by 1 with a minimum of 1. If the opponent's monster has 1 damage before the effect applies, they are unaffected. This has the same effect as Demoralize.
---
---

Stats | Chaos Knight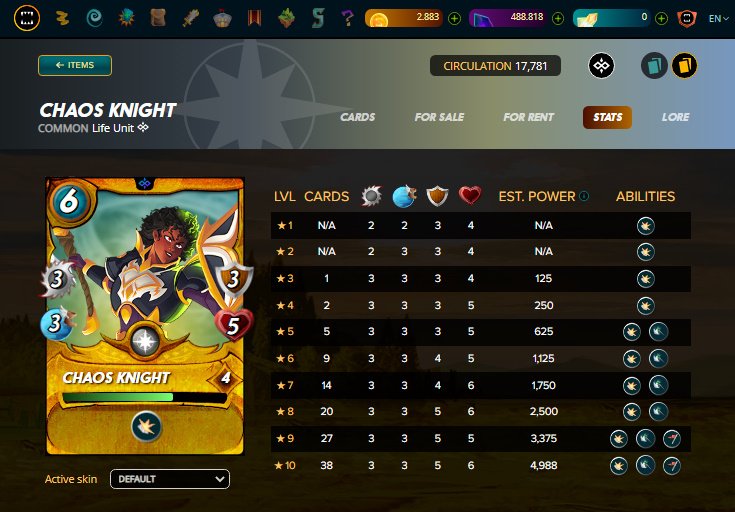 𝔓𝔥𝔬𝔱𝔬 𝔣𝔯𝔬𝔪 𝔪𝔶 𝔖𝔭𝔩𝔦𝔫𝔱𝔢𝔯𝔩𝔞𝔫𝔡𝔰 𝔞𝔠𝔠𝔬𝔲𝔫𝔱.
High damage monster with decent defensive stats. I don't use this monster as a defence most of the time because she is very prone to magic damage. However, in Lost Magic rule of combat, she is close to a God.
Abilities

At level 1, Shield is unlocked. Monsters with Shield ability halves all melee and range damage by 1 with a minimum of 1. Any melee and range damage that is already 1 before the effect applies becomes 0 and is blocked.
In Lost Magic, where magic damage cannot be used, monsters with Shield are very strong as they halves both the damage types available. It's 100% chance that they would halve the damage and isn't up to chance in this rule of combat.
---

At level 5, Giant Killer is unlocked. Monsters with Giant Killer deals double damage to opponents with 10 mana cost or more.
Since Chaos Knight has high damage innately, Giant Killer is a scary ability. If you manage to increase his damage to 5 by having two other monsters with Inspire ability, Chaos Knight can one shot Djinn Oshannus.
---

At level 9, Inspire is unlocked. Inspire increases all of your monster's melee damage by 1. This effect affects this monster as well increasing her damage to 4.
With the strategy listed above, you only need one other Inspire monster to one shot a Djinn Oshannus with this monster.
---
𝔄𝔟𝔦𝔩𝔦𝔱𝔦𝔢𝔰 𝔡𝔢𝔰𝔠𝔯𝔦𝔟𝔢𝔡 𝔞𝔟𝔬𝔳𝔢 𝔞𝔯𝔢 𝔣𝔯𝔬𝔪 𝔖𝔭𝔩𝔦𝔫𝔱𝔢𝔯𝔩𝔞𝔫𝔡𝔰 𝔲𝔰𝔦𝔫𝔤 𝔪𝔶 𝔞𝔠𝔠𝔬𝔲𝔫𝔱.
---

Battle Highlights

Click the link below to see the full battle:
https://splinterlands.com?p=battle&id=sl_0059fa8a3ab5ed326395487f33cdadb7&ref=konaqua122
---

Rules of Combat


𝔓𝔥𝔬𝔱𝔬 𝔣𝔯𝔬𝔪 𝔪𝔶 𝔖𝔭𝔩𝔦𝔫𝔱𝔢𝔯𝔩𝔞𝔫𝔡𝔰 𝔞𝔠𝔠𝔬𝔲𝔫𝔱.
20 Mana Cap. Total mana cost of all monsters must not exceed 20 mana.
Lost Magic Rules of Combat. During this battle, monsters with Magic damage type cannot be used.


All elements unlocked. Summoners and Monsters from all elements can be used during this battle.
---

Abilities Used During This Battle






---
𝔄𝔟𝔦𝔩𝔦𝔱𝔦𝔢𝔰 𝔲𝔰𝔢𝔡 𝔦𝔫 𝔱𝔥𝔦𝔰 𝔟𝔞𝔱𝔱𝔩𝔢 𝔞𝔯𝔢 𝔣𝔯𝔬𝔪 𝔖𝔭𝔩𝔦𝔫𝔱𝔢𝔯𝔩𝔞𝔫𝔡 𝔲𝔰𝔦𝔫𝔤 𝔪𝔶 𝔞𝔠𝔠𝔬𝔲𝔫𝔱.
---
---
Monsters in RED are my opponent's. Those in BLUE are mine.

Round 2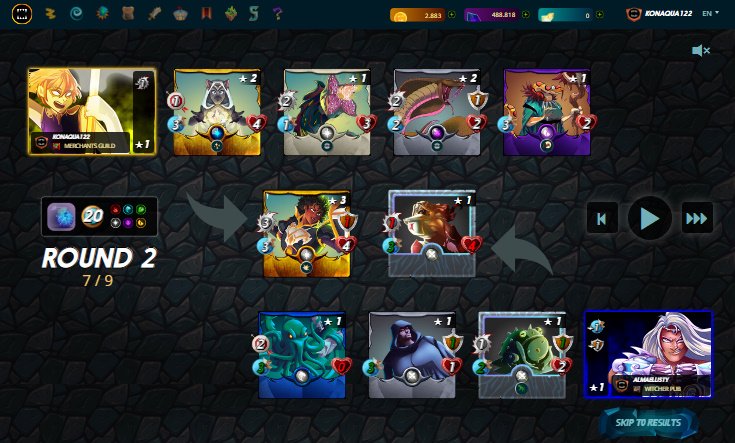 𝔓𝔥𝔬𝔱𝔬 𝔣𝔯𝔬𝔪 𝔪𝔶 𝔖𝔭𝔩𝔦𝔫𝔱𝔢𝔯𝔩𝔞𝔫𝔡𝔰 𝔞𝔠𝔠𝔬𝔲𝔫𝔱.
Stitch Leech's Sneak attack killed Kulu Swimhunter.
---

Round 3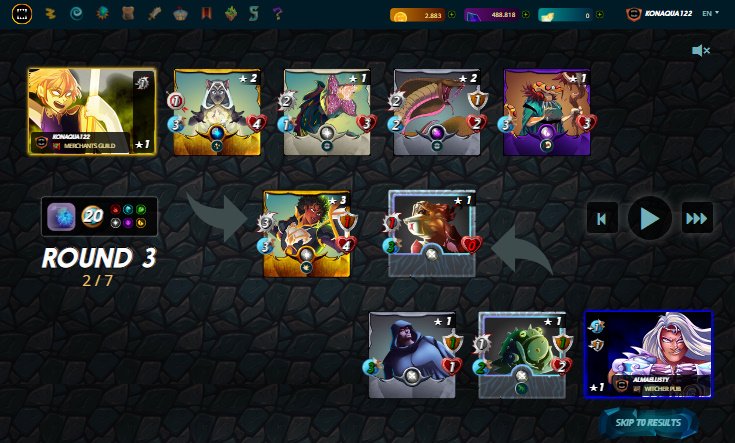 𝔓𝔥𝔬𝔱𝔬 𝔣𝔯𝔬𝔪 𝔪𝔶 𝔖𝔭𝔩𝔦𝔫𝔱𝔢𝔯𝔩𝔞𝔫𝔡𝔰 𝔞𝔠𝔠𝔬𝔲𝔫𝔱.
Chaos Hunter's attack killed Elven Defender.
---

Round 4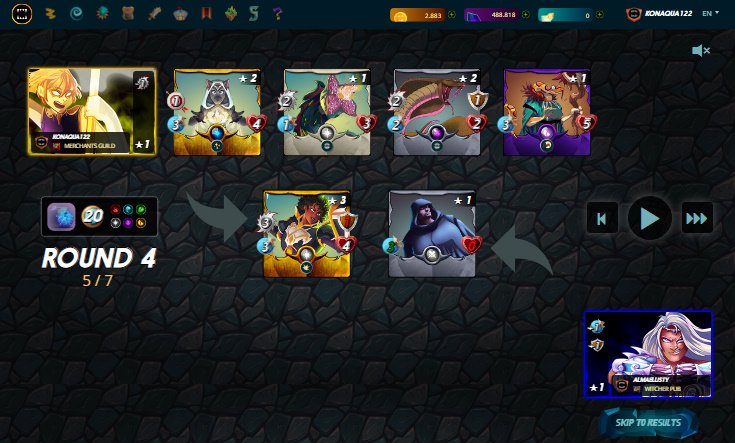 𝔓𝔥𝔬𝔱𝔬 𝔣𝔯𝔬𝔪 𝔪𝔶 𝔖𝔭𝔩𝔦𝔫𝔱𝔢𝔯𝔩𝔞𝔫𝔡𝔰 𝔞𝔠𝔠𝔬𝔲𝔫𝔱.
Chaos Hunter's attack killed Horny Toad.
Uraeus's Sneak attack killed Chaos Agent.
---
---

---

ᒪIᑎEᑌᑭ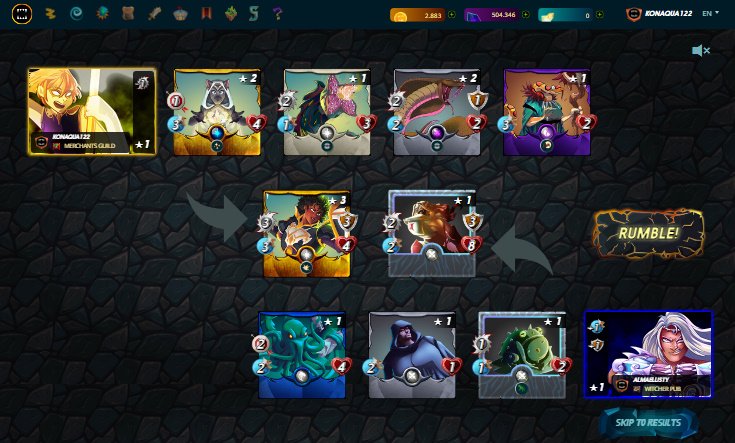 𝔓𝔥𝔬𝔱𝔬 𝔣𝔯𝔬𝔪 𝔪𝔶 𝔖𝔭𝔩𝔦𝔫𝔱𝔢𝔯𝔩𝔞𝔫𝔡𝔰 𝔞𝔠𝔠𝔬𝔲𝔫𝔱.
Summoner: Camila Sungazer: Decreases all opponent's melee damage by 1 with a minimum of 1.
Chaos Knight: High damage monster with Shield ability that halves melee and range damage. Good front line and complements with Camila Sungazer.
Venari Crystalsmith: A 4 mana cost monster with range damage and Tank Heal ability that restores health of the monster in the first position each round. Supports Chaos Knight to survive longer.
Stitch Leech: A 3 mana cost monster with Sneak ability allowing him to attack while in any position prioritizing the last opponent's monster.
Uraeus: 3 mana cost monster with 2 base damage at level 2 and Sneak ability allowing him to attack while in any position prioritizing the last opponent's monster.
Kra'ar Xoc: 1 mana cost monster that has Scavenger ability which gains +1 max health for every monster that dies.
---

ᗪIᗪ YOᑌᖇ ᔕTᖇᗩTEGY ᗯOᖇKEᗪ?

Yes. Shield with a restoration support such as Tank Heal and Repair is very strong combination. This ensures that you tank won't die as easily and with monsters like Chaos Knight who, technically, prioritizes damage in her stats, she can solo the whole opponent's team given that she has a support that increases her survivability.
---

ᗯᕼᗩT ᗯIᒪᒪ YOᑌ TᖇY ᗪIᖴᖴEᖇEᑎTᒪY ᑎE᙭T TIᗰE?

None. For this battle, there's nothing I wanted to change. However, an idea is changing Venari Crystalsmith to Scavo Hireling. With that, you would have an extra mana. Remove Kra'ar Xoc and then add Battering Ram for that Opportunity ability.
So, the other form would be:
Chaos Agent
Scavo Hireling (Repair might be better than Tank Heal in this game)
Stitch Leech
Battering Ram (Technically, you changed Kra'ar Xoc to this monster so he can attack.)
Uraeus (Placed last for his armor if opponent decides to play a Sneak monster)
---
𝑫𝒐 𝒚𝒐𝒖 𝒍𝒊𝒌𝒆
Chaos Knight and Camila Sungazer in Lost Magic Rule of Combat
? 𝑾𝒉𝒚 𝒐𝒓 𝑾𝒉𝒚 𝒏𝒐𝒕?
Yes. To me, this is a bit the same with Chain Golem x Camila Sungazer that I did before. Shield is really strong in Lost Magic rule of combat because there are only three common damage types in Splinterlands, Magic, Range and Melee.
If you remove Magic, you will be left with Range and Melee, in which, Shield ability halves. This gives you a huge advantage as you see in this battle.

This post is an entry for Splinterland's Battle Mage Secrets contest.
Other sources that I do not own are cited under their respective photos. Photos and drawings without cited sources are mine and made for this post.
Animated Banners and Dividers are edited in Canva Pro.
Some of the fonts used are from instafonts.io
---

If I seem to forget to cite other sources, this would be unintentional. Please leave it on the comments below to be added in the post. Thanks.

---
If you're interested in playing the game, support me by registering using my referral link here
---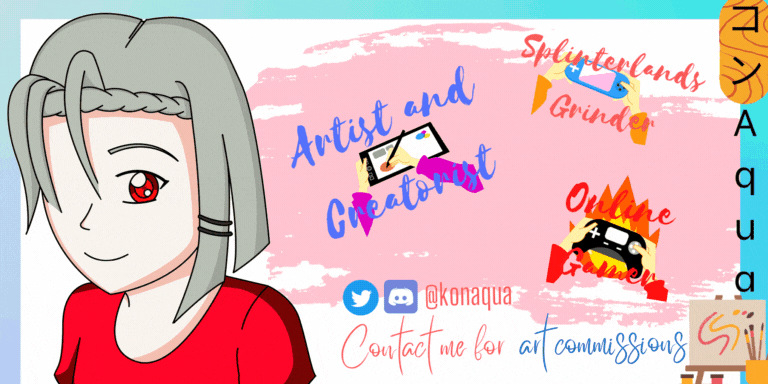 GӨӨD ᄂЦᄃK ΛПD KΣΣP GЯIПDIПG!

---
---