Share Your Battle, Weekly Challenge, Double Shot of Grund!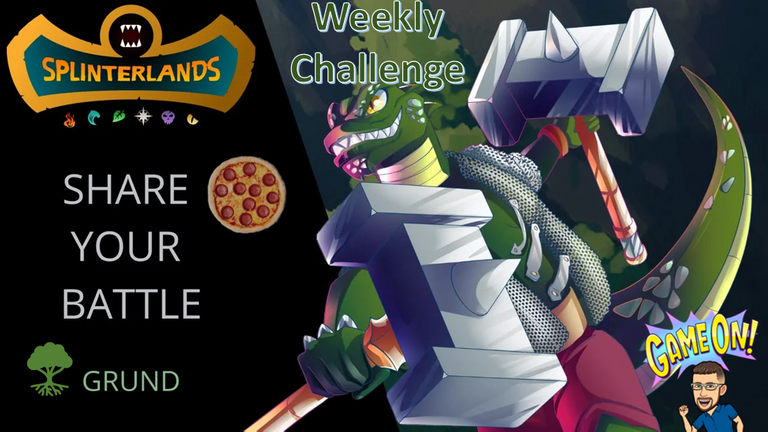 The double shot with this one is amazing, I love Grund, the double strike is awesome, but just look at that smile, how can you not love the artwork on this card, he looks so happy, the story below adds to it even more!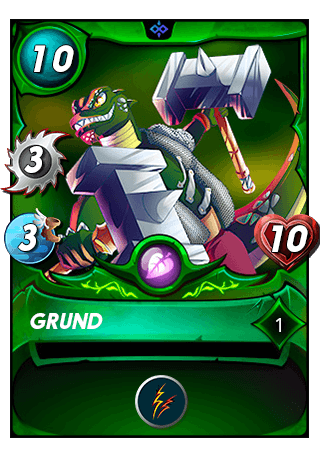 Grund is a decent tank, but is really good on super sneak rulesets as well. The 10 mana, is a chunk, but the 3 melee attack and 3 speed is nice, but then add in the 10 health it is a solid card, but then, add the ability of the double strike, oh yeah, 6 damage a round, awesome!
---
Before we get to the battle, let's look at the history and the lore that has been written about the Grund (by Splinterlands.com):
Grund has spent his entire life in the lowlands of Praetoria and has grown to love the land and its people. First introduced to the lore of battle as a hatchling, he has studied it ever since with enthusiasm. When he became a juvenile his hands found steel, an old rusting sword abandoned and forgotten in the swamp by some intrepid explorer. Before long it became an extension of himself as he applied all he had learnt, quickly mastering blade work. From then on, he became obsessed with the art of armed combat and he practised with any weapons he could get his hands on.
When he first met Bera Dallin in New Everitt he couldn't help but marvel at her martial prowess. After having spent some time with her he became proficient in the use of the warhammer. His great strength meant that he could hold one in a single hand and so it wasn't long before he acquired another and began to dual wield them in combat.
Grund is well loved amongst the people of Praetoria and he is a staunch defender of them, his strong ideals of honour and justice infused within in from a young age. When he heard of the Chaos Legion invasion, Grund took up his hammers in anger and sought them out immediately.
---
Shadows came from everywhere, spilling over the small wall that used to keep the wild animals at bay and clambering over the outbuildings that held the settler's stock of animals. The smallholding hadn't been built for long but the people had hoped that because of its vicinity to Mount Praetorous, the area would soon grow and become busy with trade, especially considering the earth was so fertile here. But now a strange light had appeared in the distant sky and hordes of monsters had descended upon the land.
Gasps of fear and sobbing sounded behind him as the pack of dark creatures encircled them. The snarling, howling and spitting, causing the children to scream, their cries only increasing the fervour of the fell beasts that stalked them. Grund widened his stance and gripped the warhammers, feeling the leather creak beneath his strong grasp. This is what he had sort ever since the portal had opened, an opportunity to save the people, a chance to smash the enemy into annihilation.
As the first wave came at him, he spun to meet them, his hammers crushing flesh and bone, sending broken bodies flying through the air. More and more pressed in upon him but he only laughed, his attack becoming a dance of death, the righteous energy inside of him spilling forth and feeding his strength. When he was done the enemy lay everywhere, the dead broken, the dying wailing with their last breaths. He looked to the others that crouched beyond the wall and beckoned them forward, uncertainty now in their eyes.
"Is this all you've got?" he called. "Please tell me this is not your best and you have more to offer."
---
The battle that we are examining for this one is a higher mana cap at 42 plus:
Back to Basics: Monsters lose all abilities.
Weak Magic: Magic attacks hit Armor before reducing Health.
This ruleset is harder since you are looking for damage but you don't have too many boosts to things, but the health helps a lot.
Here is the quick link to the battle, from the Modern Silver League: (Link) however, I will break it down, then you might want to watch again.
---
First up, the Summoner: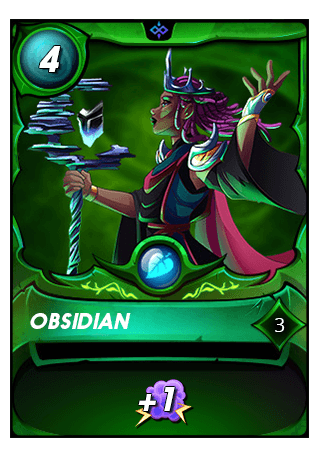 This is an Earth splinter challenge, so you kind of need an Earth summoner, in steps Obsidian, adding a boost to magic damage which is key to winning this one.
---
The front line was Grund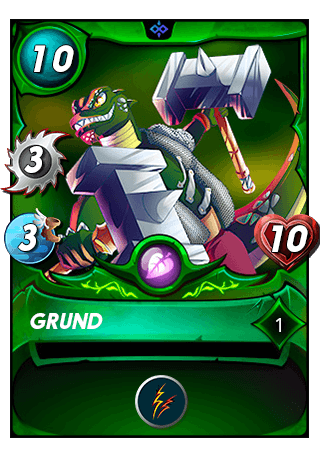 I put grund upfront on this one due to the 10 health, but also the 3 speed he should be able to get 1 hit off which is a decent hit.
---
Next up is the Infantry: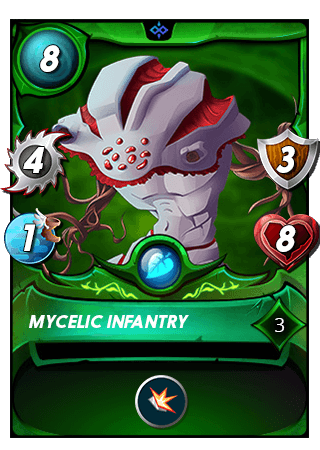 This card is here, a slower speed, so after the Mercenary dies, this one steps in, but the 3 shields and the 8 health will keep it alive to keep those back rows alive on this one.
---
The next card I have I really do like: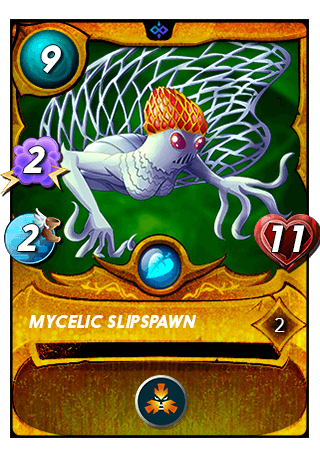 I put this one in the third spot for it to be the tank, after I knew that the other 2 would die, the high health will keep it up longer, but with the 3 magic damage coming in, it does a good amount of damage to the other team!
---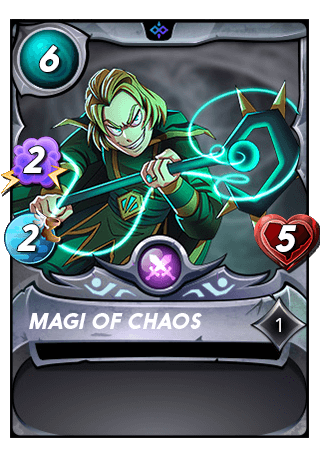 A good card, 5 health, but it comes 3 damage which is important for this fight.
---
Next, Djinn Biljka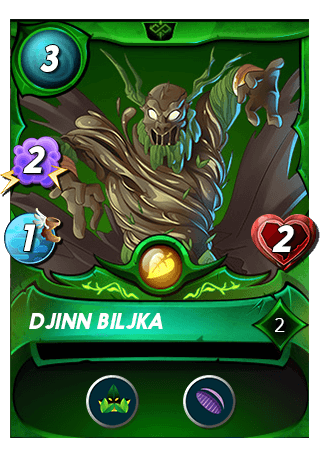 Another good reward card, at level 2, 2 magic damage, which becomes 3 with Obsidian, but with only 3 mana cost, a good addition!
---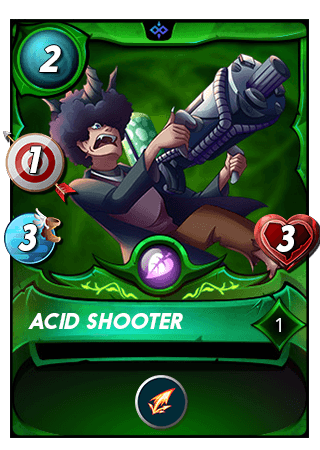 This is just a filler card since I had 2 mana left after the hefty cards up front, but 1 damage every round is not a bad thing.
---
So, my initial thoughts on this one is that you are only allowed to use fire, earth, and death, I felt going with earth and having that boost to magic, will help overcome a lot. Especially since water and dragon was not an option, not as many shields, so the magic could help me out. I had the hefty people up front, so I needed some juice in the back, that was why the chaos mage, Biljka, and the acid shooter in the back. My combo of Grund and the Mycelic Infantry worked out well, Grund died, then the Infantry got a hit in, which was a good thing! I had enough health to stick around and beat the other team.
---
If you want to play the Earth splinter, you need Grund, well worth the investment, I am 1 card away from leveling him up, which will happen within in the next week, so go buy it now and add it to your collection!
---
Overall, this was a really good battle for me, and when you are watching a battle, you always need some Pizza! If you are looking for a great area of Positivity along with a great community, com join the Pizza Family!
You can find them here: Awesome Pizza Discord
I do want to say thank you for reading all of this and have a wonderful week!
Dr. Kqaos
---
Splinterlands
If you are confused by this post, start here! If you use my referral link I will send you 200 DEC to get started!
Rising Star
Great music NFT and a way to support up and coming musicians!
Sorare
Still learning this one, but it is a football (American Soccer), easy to set up and go!
Star Citizen Referral code: STAR-LRKQ-D6NK
Space game, still in alpha development, playable, very immersive, sign up with the referral code it will give you money in the game along with both of us receiving a free ship!
Unmineable
A great way to get into Crypto mining, easy to set up, code gets you a 0.25% fee discount, uses the graphics card while you are not using your computer, or you can mine with just your CPU.
---
Photos come from PowerPoints stock image, Bitmoji with Splinterlands logo on top of it, or my own screen shots of Splinterlands, along with the image that they provided for the Weekly Challenge.
---
---