Social Media Challenge, Brawl Report #66, Fighting the Cold with some Pizza!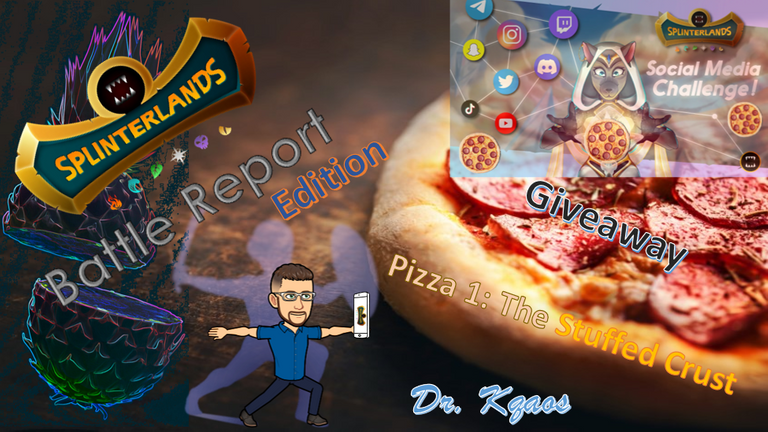 This image is the healing of the Pizza, or the sickness. Maybe it started because when my grandmother is sick, she would want a cheese pizza instead of chicken noodle soup. I am the same way, give me that pizza! Additionally, it has been cold outside, so having that pizza to warm you up is always nice! Hive pizza is great too, comment below to receive a slice!
I am also doing the Social Media Challenge that Splinterlands puts out there, let's get awareness of an awesome game, follow me on twitter and retweet! @DrKqaos If you are not playing Splinterlands yet, click on any of the battles or the link towards the bottom, would love to have you! So let's start with the flying pizza protection, the Pelacor Conjurer! However, if we get up to 100 upvotes on this post, it will come out to the Venari Crystalsmith, the card in the picture, to heal your sickness!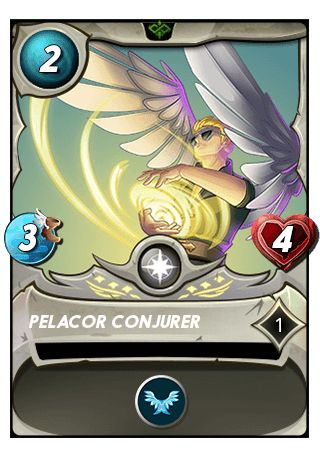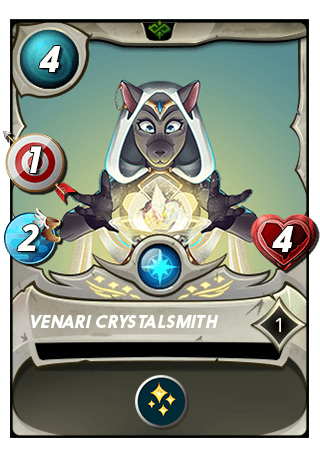 Rules:
• Leave a comment with your username, along with your
Favorite thing on a Pizza
(Remember to answer this, the last giveaway only one person did!)
•
No repost, upvote or tips, !PIZZA, !BEER, !WINE, !LOL, etc. required, but if you want to I will be appreciative!
• When this post pays out, a winner will be decided by random name picker (
https://filoz.info/picker/
)
• Winner will need to comment within 48 hours on the winning post, I want to make sure it is going to someone alive! No response, no winnings, but I want to send it out, the prize will roll over to my next brawl report.
---
As I post this SPS is currently trending at $0.027, a big hit on this one, like all crypto, it has been creeping up about 0.001 cent every 3 or 4 days, at least that is an upward trend! Additionally, there are 284,082 packs to go until the next airdrop, they are dropping fast for the next summoner, for Chaos Legion, and 68,456 gems to go for the next Riftwatchers air drop!
---
Since I have been looking at cards a little bit more, the lore really pops, and this one, usually I am looking at the gladiators here, but this time, I am going for the card in the picture, it is one of my favorites!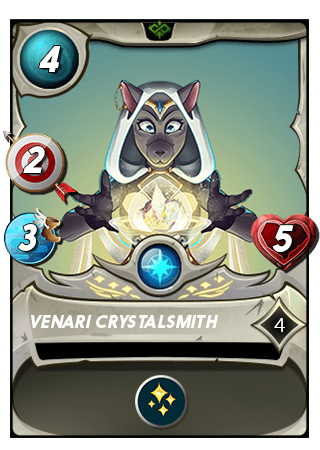 The Lore behind the Venari Crystalsmith by Splinterlands:
Banished from Below 1 of 5 - There are many civilizations on the Planet whose existence has always gone unknown in the Splinterlands. Some of them are part of distant continents, with whom the Splinterlands became disconnected centuries ago, long before the great Splintering. Others reside under the deep water of the Outer Ocean, similar to the way merfolk thrive in the Water Splinter of ΛZMΛRÉ. Still, when considering all the people of the world, it is always easy to overlook those who dwell under the ground. For a round Planet as large as this one, there is nearly endless three-dimensional space beneath the surface, and much of that space is inhabited.*
At the center of the Planet, there is a living core, believed to be made of molten rock. This core engine is the origin of all mana and magical power on and around the Planet. From the core, mana arteries extend upward toward the surface and emerge as mana flows, springs and fountains on every part of the Planet.
---
We are getting better at this with 12 out of the 16 filled, we are looking for a Gold Foil Silver Brawler if anyone is interested! I am in the Bronze league with only Chaos Legion cards, with 8 battles to my name.
---
Battle #1 (Link)
Starting off on the road with this one! 22 mana, light only, cleanse and melee only, ouch! I'm going with Grandmaster rathe on this one with Light, hoping that the extra armor will help me out. They went with ranted damage, but also Tatiana, that will hurt! My strategy worked for a nice win!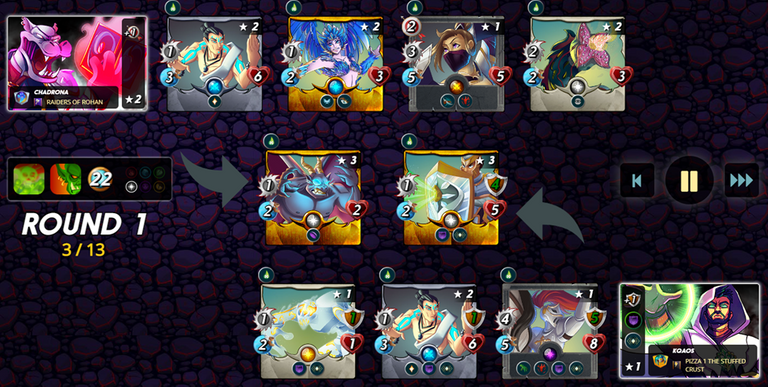 ---
Battle #2 (Link)
Starting out with the strategy talk with @theacks before I get to the home arena. Looking at 40 mana, small fry and knockout rulesets. I'm going fire on this one, hoping that my gladiator will have some strong hits from sneak. They went earth, that extra hit point will make a difference, along with the opportunity attack, the worst is the queen. A couple of misses for me, but their gladiator took off and knocked me out.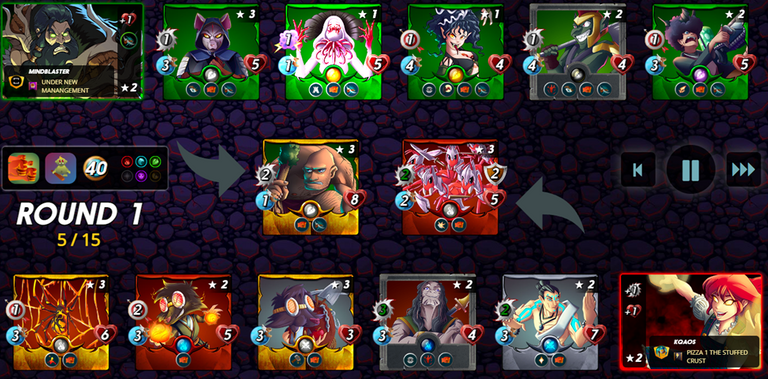 ---
Battle #3 (Link)
Staying in the home arena this time with 60 mana, magic reflect, and blast, ouch, I am going to go water on this one, looking at that blast with a quick speed and double opportunity attack, while using a taunt up front. They went water as well on this one, a little different lineup, with the taunt at the back. This was a close one, but I came through with my gladiator getting those kills!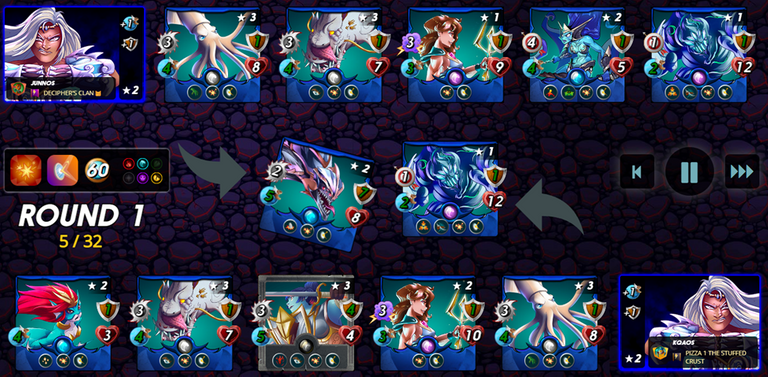 ---
Battle #4 (Link)
Now we are back on the road again for this fight, they set us up with 12 mana, and blast. I am going to try something a little different, I am going with Death and Thaddius, using Trapp to decrease their health by 2, hopefully it will work for me! They went water, they want that shield is my guess. I did not set up my backline well enough for it to work.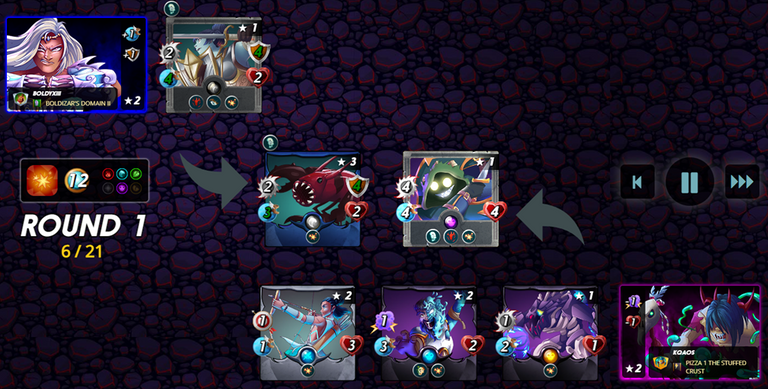 ---
Battle #5 (Link)
Staying away from home on this one to start the second half, no healing, magic reflect and 36 mana. I'm going light on this one with Rathe again, hoping that they make a mistake with magic, the amplify would help me a lot. They went light on this one, but using sloan, but a lot of damage coming my way still. My strategy worked! Having that extra shield helps a lot!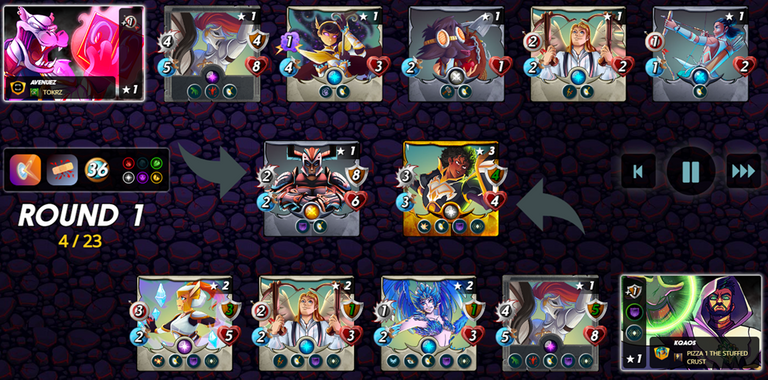 ---
Battle #6 (Link)
Back home again, let's make this a good one! Starting with 48 mana, cripple, and return fire. I am going water for that speed, even though the cripple will hurt a lot. They went death, that will hurt my damage output with 2 magic users in the group. All those shields, and the resurrect really helped me win this one!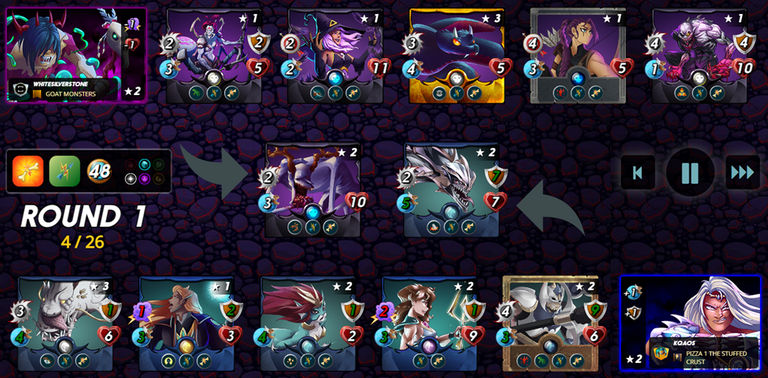 ---
Battle #7 (Link)
It is nice to know that the worst I can do at this point is 50/50, but I want that to be better staying in the home arena. Looking at 21 mana, and Aimless, everyone has scattershot. I am going water on this one for the double opportunity along with that extra shield. They went water as well on this one, only with the guy that gives reach and trample, I hope my leveled gladiator can go to town on this one! Just barely pulled that one off! The one level made the difference!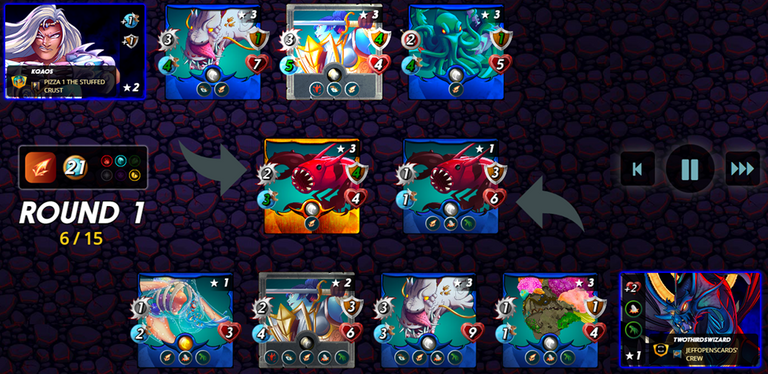 ---
Battle #8 (Link)
The last fight of this brawl with going on the road. Looking at 27 mana, and super sneak along with equalizer, so everyone has the same amount of health. This might be dumb… but I am going with earth, grund and quora to hopefully crush the backline. They went water on this one, they will be decreasing my melee, but let's see how this goes! It went well, the thorns that I had at the end my line worked out well for me!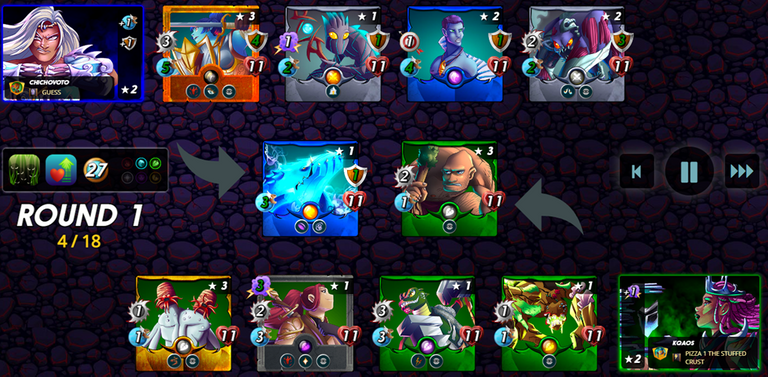 ---
There is just about 2 hours and 45 minutes to go, I am sitting 5 and 2, I like that start! The guild is currently sitting in 3rd, we have it by 10, with about 90 battles to go, we are 1 behind second place, but they have 15 more fights than us.
I ended up 6 and 2, very respectable! The guild as a whole did well, we ended up in 2nd! Due to that we received 2450 merits, and 18.533 SPS!
---
Due to those merits, another gladius pack, nothing much though: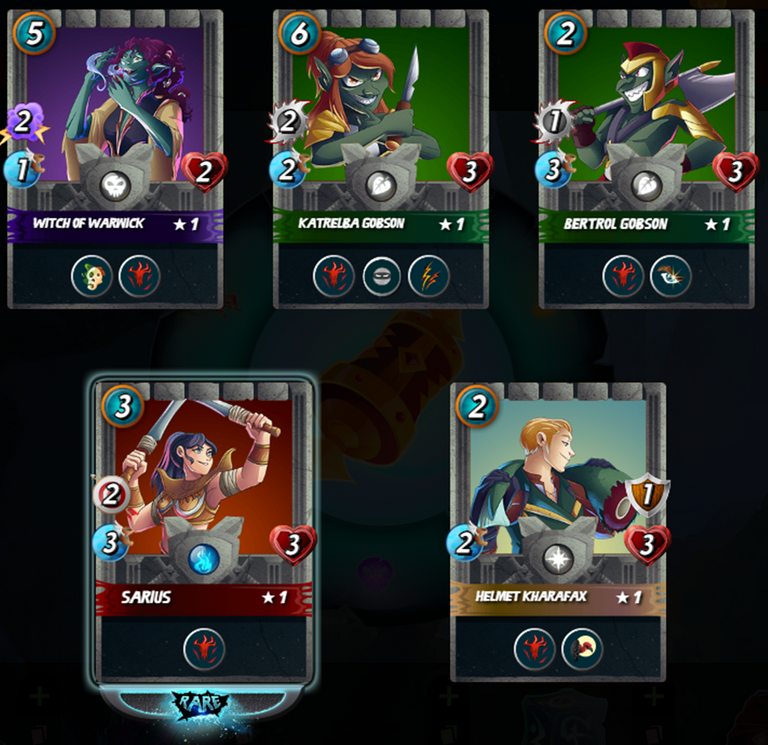 ---
Check out other Pizza Guild Brawls, all of these people are entered into a contest for one unit SBI as well, come join the Pizza Fam:
@candnpg Splinterlands Share Your Battle Challenge — PIZZA Brawl Report
@relf87 Guild Brawls With Pizza 2 - We Are Top Again!
@blitzzzz Splinterlands & PIZZA Brawl Report : My 70th Brawl Report with 🍕PIZZA 2 The Deep Dish Guild🍕 ⚜️⚔️🛡️🔥🐉
@vaynard86 Social Media Challenge: Splinterlands Weekly (Jan 13 - Jan 19) + Brawl Report
@pulubengdugs PIZZA 420 The Calzones Brawl Report #3
@chefbgob Pizza420 guild brawl 1-20-23
---
Giveaway Pings
@amaillo
@luizeba
@irisworld
@h3m4n7
@blitzzzz
@shawnmichael-gt
@koodies
@postapocgamer
@jfang003
@henruc
@bokica80
@relf87
@cogie88
@candnpg
@chefbgob
@qoogohome
@mercysalifu
@thoth442
@bonehead752
@marcinxyz
@urkanon
@criptosectadepit
@urkanon
@plicc8
@theacks
@danideuder
@vagabond42069
@zekelol
@waynechuasy
@xheadhunterz
@eijibr
@yokosama
@treefrognada
@rtonline
@vaynard86
@pulubengdugs

Thank you for reading this far, additionally, I do want to thank the people in Pizza, a great place to hang out! I have learned a lot from it and there are great people and a very positive community.
You can find them here: Awesome Pizza Discord
I'm starting to track the Pizza token a little bit more as well, it is currently sitting at $0.01807, a great time to join the Pizza family and share the Pizza Love!
At some point I will be doing some other posts about my experiences in Crypto, but here are some links if you are interested in some other NFT Games or other games as well!


Splinterlands
If you use my referral link I will send you 200 DEC to get started!
Layer 2 Labs
A Great community for Splinterlands, with games and a faucet to help players as well, new name as well, was Splinterlabs.
Rising Star
Great music NFT and a way to support up and coming musicians!
Sorare
Still learning this one, but it is a football (American Soccer), easy to set up and go!
Star Citizen Referral code: STAR-LRKQ-D6NK
Space game, still in alpha development, playable, very immersive, sign up with the referral code it will give you money in the game along with both of us receiving a free ship!
Unmineable
A great way to get into Crypto mining, easy to set up, code gets you a 0.25% fee discount, uses the graphics card while you are not using your computer, or you can mine with just your CPU.
---
Let me know if there are any questions, you can find me in the messages here or in the Pizza Discord.
Remember to reach across the aisle and talk to someone that might be different than you, you might be amazed at the person you find!
Lastly, thank you again, remember you are awesome and have a wonderful week!
Dr. Kqaos
---
Photos come from PowerPoints stock image, Bitmoji with Splinterlands logo on top of it, or my own screen shots of Splinterlands, pizza dividers by @candnpg
Disclaimer: This is my opinion, not financial advice.
---
---