Guild HiveBR a todo vapor ! // HiveBR Guild at full Speed! [PT-BR/ENG]

Olá a todos queridos amigos da comunidade, quem vos fala é @legalizabrazil para trazer com gosto um post de hoje exaltando o empenho que todos os membros que participam da guild @hivebr.spt estão tendo e com isso garantindo boas colocações de nossa guild nos últimos Brawl!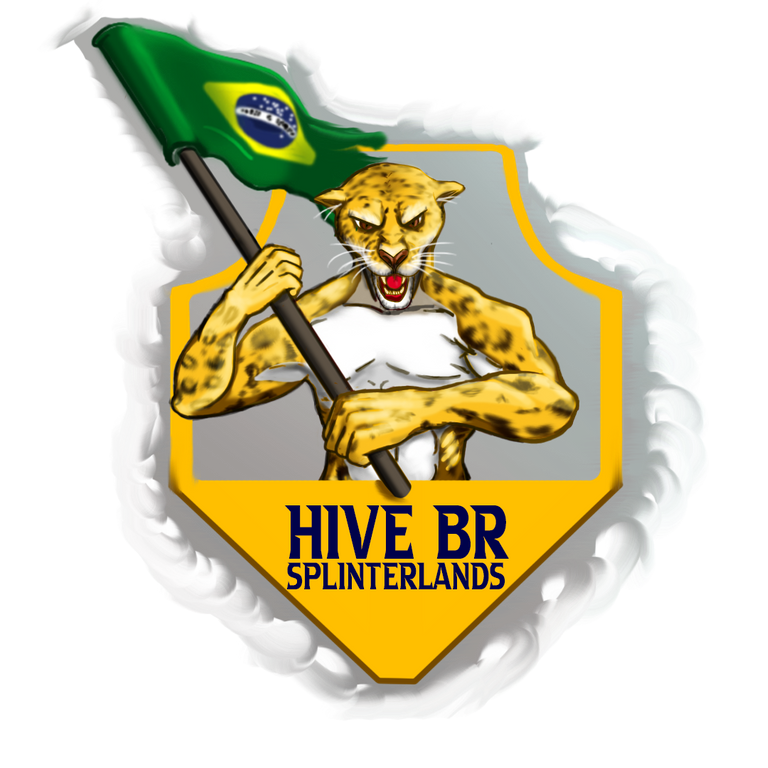 img sources: Splinterlands and freepik

HIVE BR GUILD
Nossa Guild foi criada em Outubro de 2021 pelo @michupa , hoje com mais de um ano de existência sustenta expressivos numeros em questão de participação e posicionamento. A guild esteve presente em todos os brawls desde sua criação e sustenta uma média de preenchimento de Fray em 95%! Além disso a média de posição nos Brawls que disputa está atualmente em 3º colocado!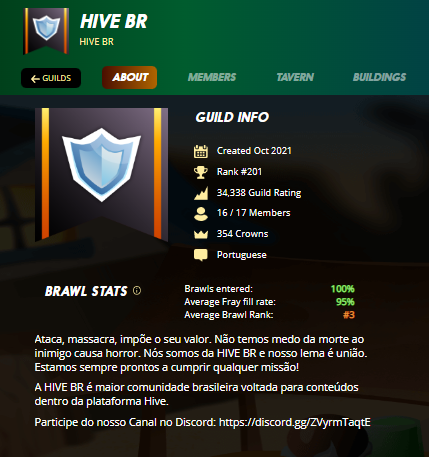 A Guild Hive BR é relativamente nova e nós nos reunimos no Discord da HiveBR, lá temos roles e canais específicos para discussão sobre as estratégias da guild e coordenação das doações, atualmente esse trabalho tem sido feito pelo @kaibagt e tem trazido resultados incríveis.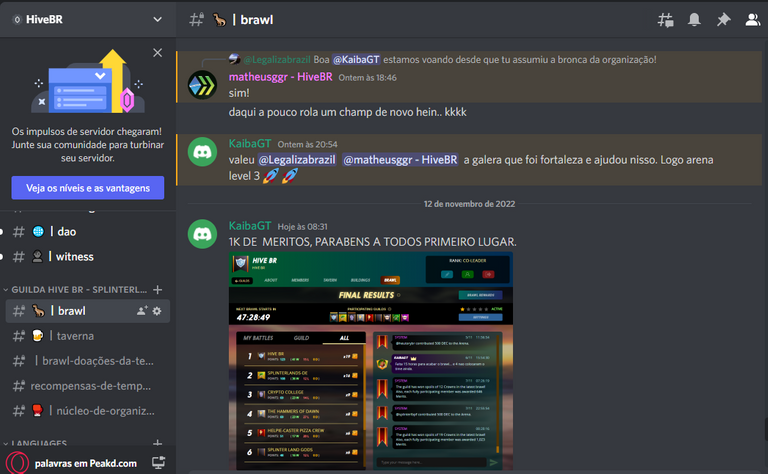 Nossa Guild está em #201 no rank geral de Guilds e creio eu que isso é alto se levar em consideração que ainda estamos no tier 1, ainda temos um longo caminho pela frente, mas com certeza nos tornaremos uma guild destaque no futuro!
---
NOSSOS VALIOSOS MEMBROS
A parte mais importante de uma Guild são seus membros e a HiveBR está repleta de pessoas extremamente competentes, tanto no jogo quanto no ecossistema da Hive sempre criando conteúdo de qualidade em várias comunidades e ajudando novos membros sempre que aparecem no discord.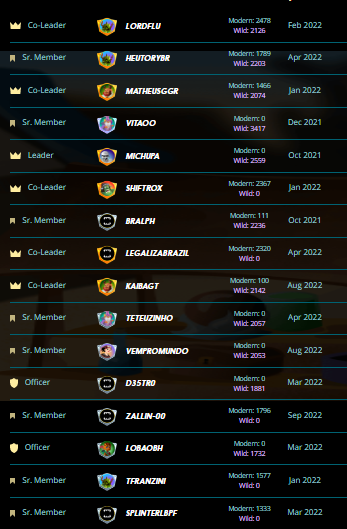 ---
ULTIMO BRAWL DISPUTADO
Nosso ultimo brawl foi um dos melhores que disputamos, todo mundo que entrou em um Fray também enviou a sua composição e tivemos um preenchimento de 100% e não somente enchemos o s frays como tivemos uma excelente taxa de vitória ficando alguns pontos na frente do segundo colocado.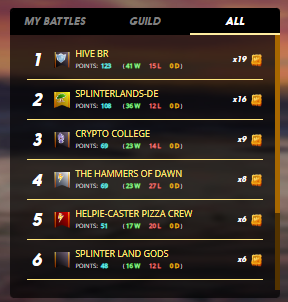 Isso rendeu para cada membro que participou um total de mais de 1k Merits, isso é mais da metade do necessário para comprar 1 pack. Por enquanto ainda não está sendo distribuido SPS para guilds, mas estamos nos preparando e organizando para começar a receber nossa cota de SPS.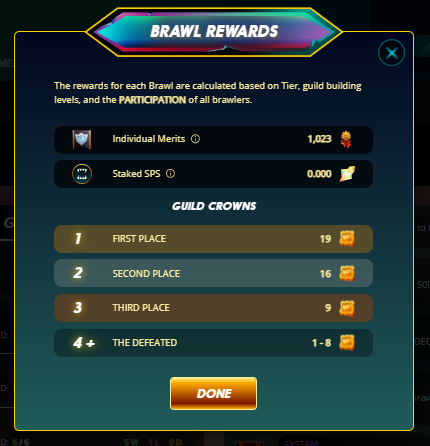 ---
O FUTURO
Estamos muito empolgados em continuar progredindo como uma guild, todos estão empenhados e fazendo sua parte preenchendo todos os frays e fazendo doações para a guild. Estamos nos organizando coletivamente pois sabemos que assim colheremos frutos. Estou vendo que todos membros estão se dedicando e cumprindo sua parte, com o tempo ganharemos mais notoriedade dentro do cenário de Splinterlands!
No momento estamos fazendo doações para aumentar o lvl de nossas construções, estamos progredindo para aumentar a nossa tier e consequentemente as nossas recompensas recebidas.

Por enquanto a doação está em 500DEC por temporada, não é muito mas não estamos exigindo mais que isso para não se tornar um fardo para os membros. O que você acham, esse valor é alto ?





ENGLISH VERSION




to all dear friends of the guild, exalted is @legalizabrazil to bring with the friends who participate in the guild @hivebr.spt are having and with that our good intentions Fight!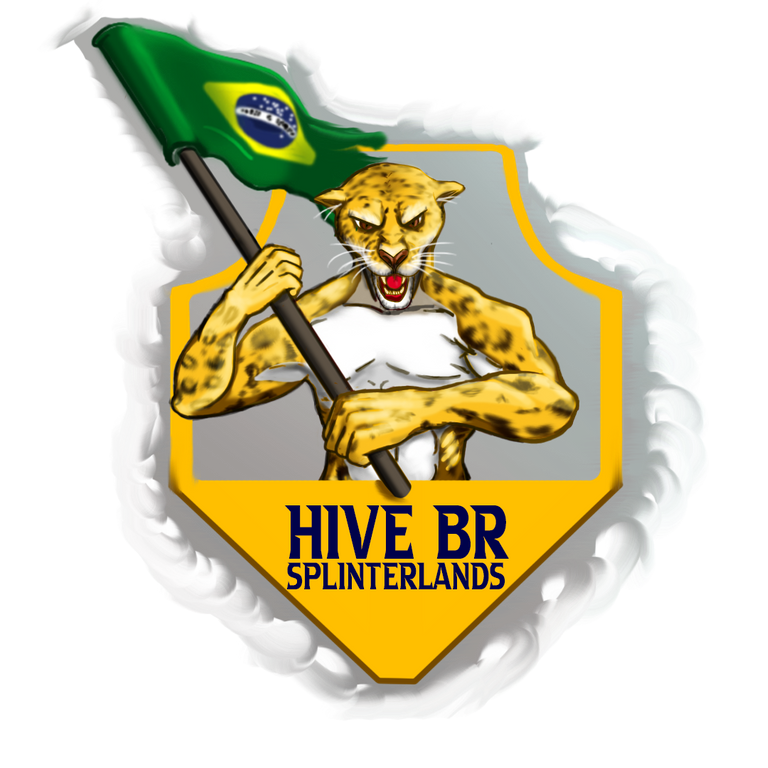 HIVE BR GUILD
Our Guild was created in October 2021 by @matheusggr, today with more than a year of existence, it sustains expressive numbers in terms of participation and positioning. The guild has been present in every brawl since its inception and sustains an average Fray fill at 95%! In addition, the average position in the Brawls he is playing is currently in 3rd place!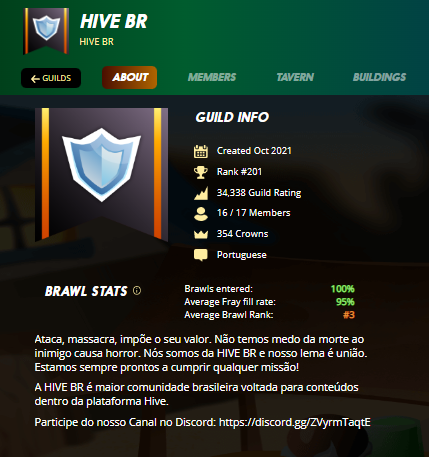 Guild Hive BR is relatively new and we met on Discord from HiveBR, there we have specific roles and channels for discussion about guild strategies and coordination of donations, currently this work has been made by @kaibagt and has brought amazing results.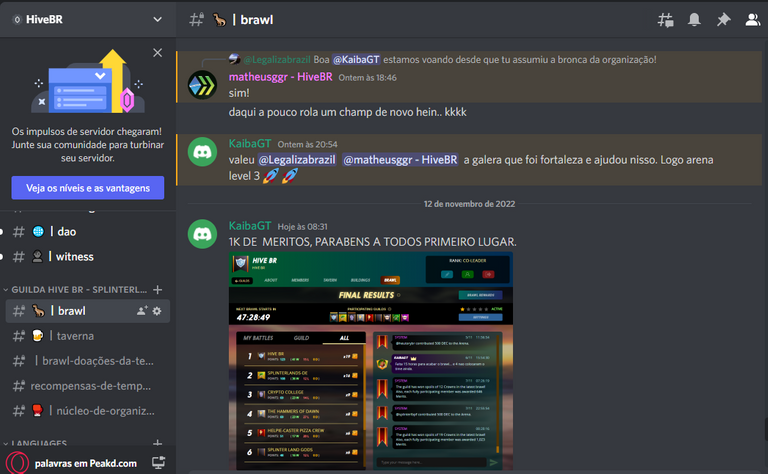 Our Guild is at #201 in the overall Guild Rank and I think this is high considering that we are still in tier 1, we still have a long way to go, but we will definitely become a prominent guild in the future!
🇧🇷
OUR VALUABLE MEMBERS
The most important part of a Guild is its members and HiveBR is full of extremely competent people, both in the game and in the Hive ecosystem always creating quality content in various communities and helping new members whenever they appear on discord.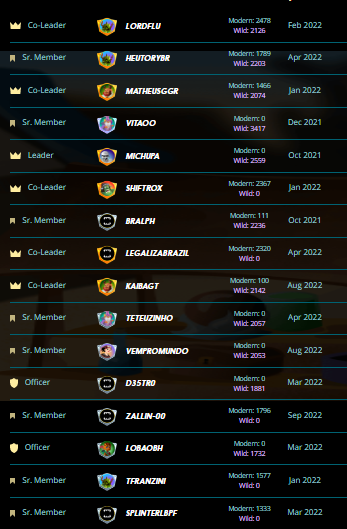 🇧🇷
LAST DISPUTED BRAWL
Our last brawl was one of the best we played, everyone who entered a Fray also sent their composition and we had a 100% fill and not only did we fill the frays but we had an excellent win rate getting a few points ahead of the second place .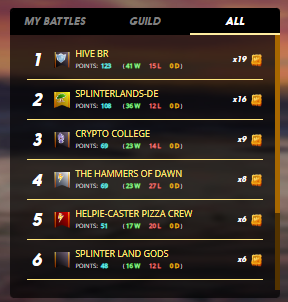 This earned each member who participated a total of more than 1k Merits, that's more than half of what it takes to buy 1 pack. SPS for guilds is still not being distributed for now, but we are preparing and organizing to start receiving our share of SPS.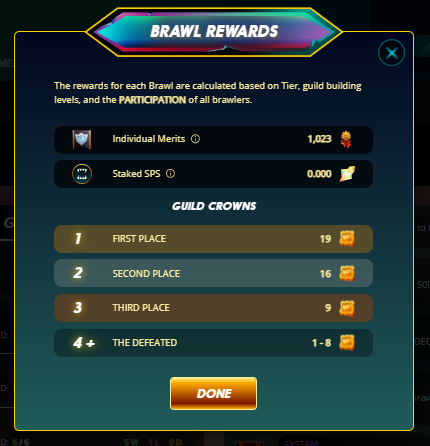 🇧🇷
THE FUTURE
We are very excited to continue progressing as a guild, everyone is committed and doing their part by filling all frays and making donations to the guild. We are organizing collectively because we know that we will reap the rewards in this way. I can see that all members are dedicating themselves and fulfilling their part, with time we will gain more notoriety within the Splinterlands scenario!
At the moment we are making donations to increase the lvl of our buildings, we are progressing to increase our tier and consequently our rewards received.

For now the donation is at 500DEC per season, it's not much but we're not demanding more than that so it doesn't become a burden on the members. What do you think, is this value high?
---
---