[PT-BR/ENG] SE PREPARE PARA A LIGA HIVE BR como estar pronto para lutar de igual para igual nos TORNEIOS DA LIGA HIVE BR ! / GET READY FOR THE HIVE BR LEAGUE how to be ready to fight as equals in the HIVE BR LEAGUE TOURNAMENTS!

Olá pessoal, o post de hoje é especial e tem o objetivo de preparar a todos para lutar de igual para igual na LIGA HIVE BR! Vou explicar de maneira simples sobre o torneio, como se inscrever e participar e o melhor de tudo, como ter a chance de disputar de igual pra igual com qualquer um da liga e fique tranquilo que você vai ter o suficiente para participar!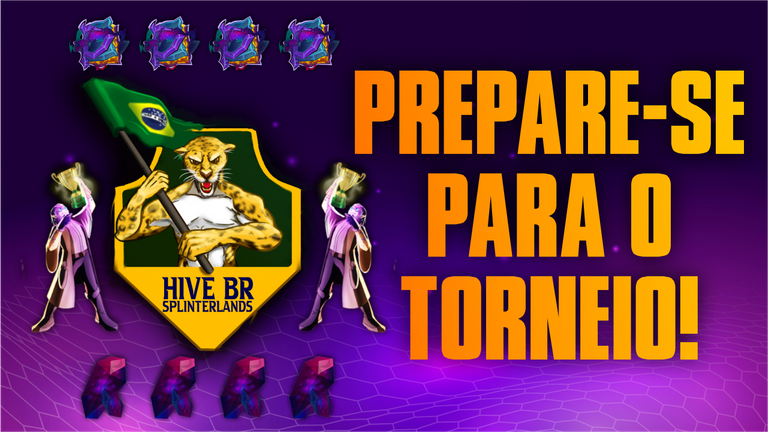 img sources: Splinterlands, cover bg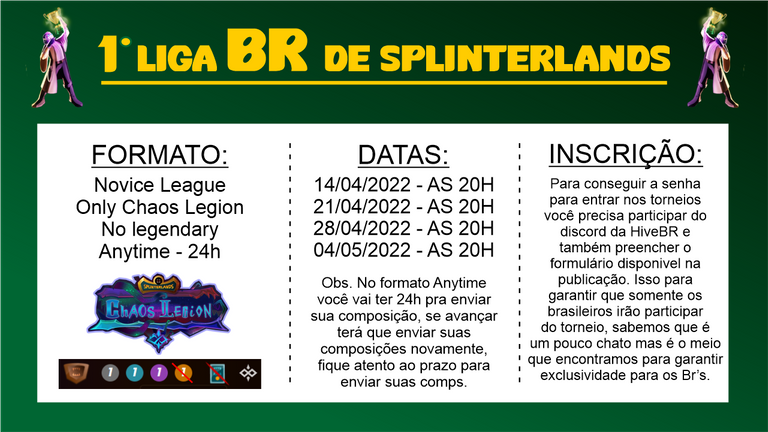 Segundo o banner de informações a modalidade é
• Novice League • Only Chaos Legion • No Legendary •
Obs.: O torneio não usa cartas Reward, nem mesmo as da edição Chaos Legion.
---

AS CARTAS QUE VOCÊ POSSUI
É importante saber que as cartas startes podem ser usadas em torneios por enquanto, então quando lemos que é um torneio novice podemos entender que todas as cartas startes lvl 1 podem ser usadas no torneio, ou seja, você já tem a maioria das cartas quando cria sua conta. O único investimento que você pode fazer para estar de igual para igual com os outros competidores é alugar ou comprar as cartas ÉPICAS da edição Chaos Legion. Como não é permitido lendárias, as únicas cartas que irão te faltar são as épicas pois elas não vem no conjunto de starter cards.

AS CARTAS QUE VOCÊ NÃO POSSUI
Como disse anteriormente, as cartas que irão lhe faltar caso não tenha nenhuma delas são as épicas da edição Chaos Legion. Todas elas tem imensa utilidade, principalmente em determinadas regras então eu considero ser importante você conseguir elas seja alugando nos dias do torneio ou comprando, abaixo segue mais detalhes.


---

Irei simular o caso de você não ter nem uma das cartas épicas da edição Chaos Legion no cenário de compra e de aluguel pela https://peakmonsters.com/ para saber com base no dia de hoje qual o valor do investimento para estar par a par com os competidores.
COMPRANDO
O valor de compra hoje de todas as 17 cartas épicas da coleção Chaos Legion está em US$26,02 (R$129,99) ou 17.756 DEC.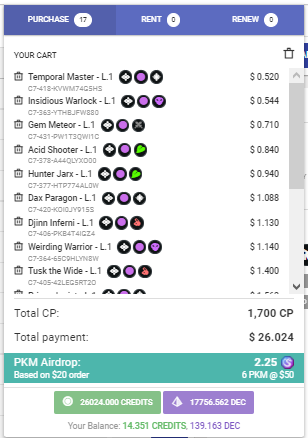 ALUGANDO
O valor de aluguel hoje de todas as 17 cartas épicas da coleção Chaos Legion está em US$0,016(R$0,08) ou 10,95 DEC. Mas quero lembrar que o torneio dura três dias então se for alugar, por segurança deixe para alugar e jogar ao final do primeiro dia e alugue por 3 dias.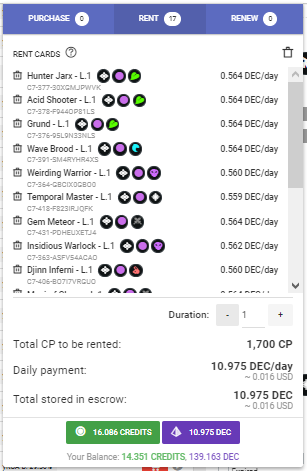 A resposta é sim!
As cartas épicas nessa modalidade são extremamente importantes por vários motivos, vou tentar sintetizar alguns dos motivos para qual você deve ter as cartas épicas disponíveis.
OPÇÕES PARA REGRAS
Os torneios são competitivos pois costumam usar bastante regras e de forma variada, então não espere por partidas standard, é bem provavel que toda partida você terá regras diferentes. As cartas épicas além de serem naturalmente fortes, em algumas regras o seu valor aumenta consideravelmente, tornando-as a melhor escolha para sua composição.

---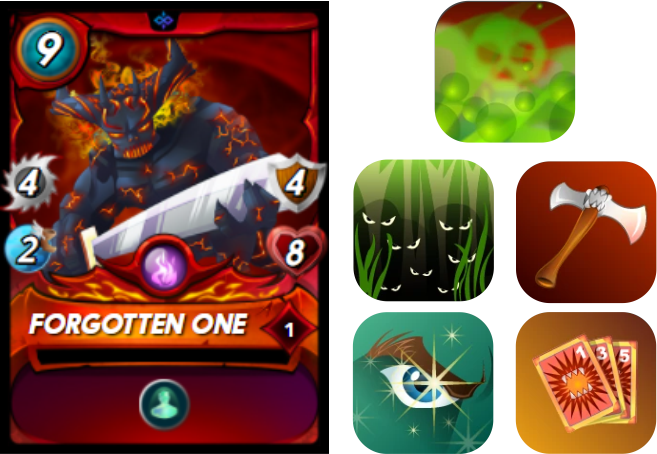 O Forgotten One por exemplo é uma das cartas mais fortes da edição em uma regra de Poison, graças a sua habilidade de imunidade ele não toma o dano causado por poison no fim do turno. Além dessa habilidade, outras regras podem vir a aumentar o seu valor e sua utilidade durante a batalha, regras como sneak, melee mayhem e Equal opportunity possibilitam que ele ataque mesmo estando nas posições de trás. Graças a seu custo e status ela é uma carta poderosa.
---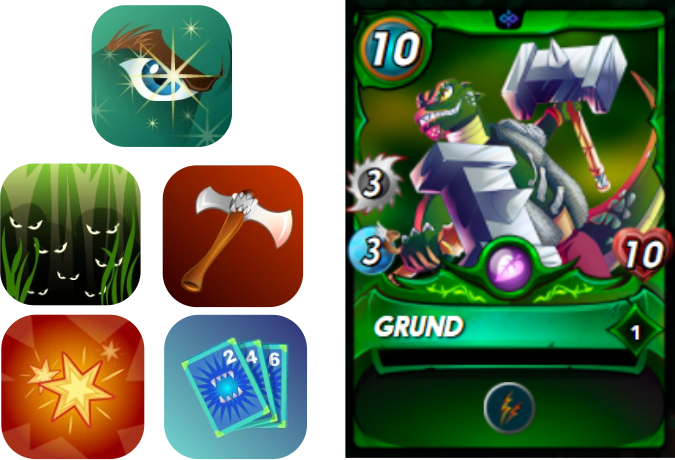 Outra carta que podemos usar de exemplo é o Grund com sua Habilidade de Double Strike. Quando tem uma que possibilita o ataque de unidades corpo a corpo mesmo estando na linha de trás, o Grund consegue fazer um estrago! Double strike é uma skill muito forte que faz o seu monstro atacar duas vezes, 6 de dano em uma liga novice é bastante. Aos poucos você percebe que ter mais opções é o mais interessante.
---
• BATALHAS COM HIGH MANA CAP •
Outro ponto importante é que em partidas de mana cap alto muitas vezes você nem terá cartas o suficiente para gastar toda a mana, porém tendo as épicas você vai poder ter um board com cartas fortes e vai ter usado mais manas disponíveis.

Então pessoal é isso, as cartas épicas são muito importantes para você conseguir alcançar bons resultados no campeonato, a utilidade delas em determinadas regras é simplesmente absurda e pode ganhar a partida sozinhas, considere ao menos alugar as que você não tem.



Se você realmente está iniciando no jogo e não tem DEC pra alugar nem para o primeiro dia de torneio, me manda uma mensagem no discord da HiveBR depois de fazer a inscrição que eu vo te doar esse DEC para o primeiro torneio, ficando até em 20º você vai conseguir DEC suficiente para o próximo torneio!
Para quem ainda não sabe, a premiação do torneio e mais detalhes da Liga Brasileira de Splinterlands está publicada nesse post:
Premiação: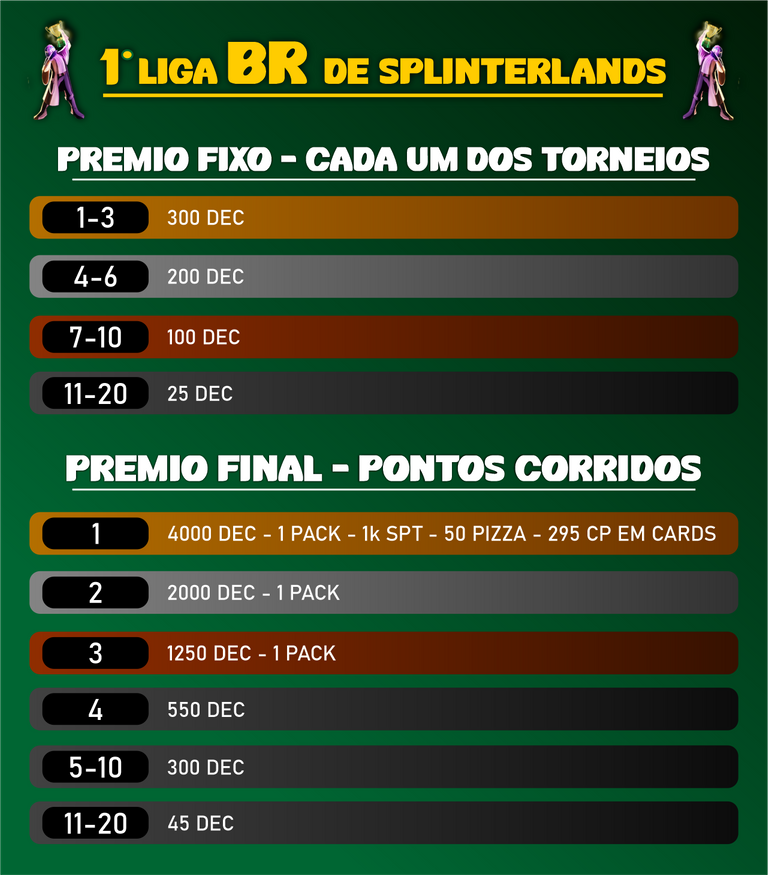 Então é isso pessoal, espero que através desse post você tenha entendido a necessidade de ter as cartas épicas disponíveis e tenha aprendido mais sobre o formato e como se preparar! Estude bastante as regras e tente participar de torneios do mesmo formato para ir se acostumando. Esse é o primeiro torneio da comunidade da HiveBR então tenho certeza que será muito divertido jogar contra players da comunidade.
Vejos vocês no campo de batalha!









Hello everyone, today's post is special and aims to prepare everyone to fight on equal terms in LIGA HIVE BR! I will explain in a simple way about the tournament, how to register and participate and best of all, how to have the chance to compete on equal terms with anyone in the league and rest assured that you will have enough to participate!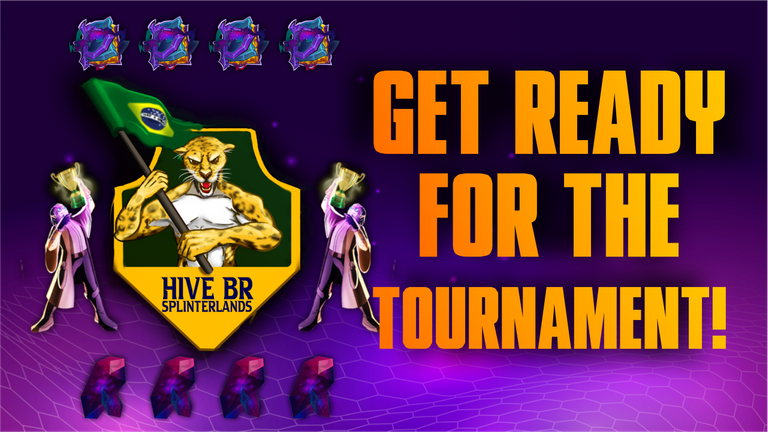 img sources: Splinterlands, cover bg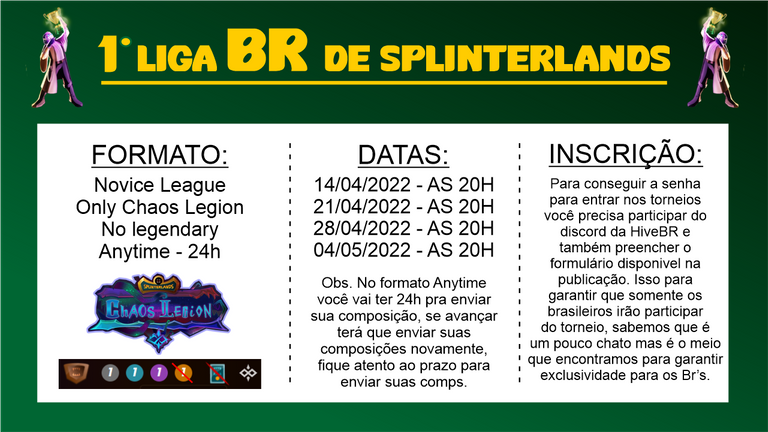 According to the information banner, the modality is
• Novice League • Only Chaos Legion • No Legendary •
Note: The tournament does not use Reward cards, not even those from the Chaos Legion edition.
---

THE CARDS YOU OWN
It is important to know that start cards can be used in tournaments for now, so when we read that it is a novice tournament we can understand that all lvl 1 start cards can be used in the tournament, that is, you already have most of the cards when you create your account. The only investment you can make to be on par with the other competitors is to rent or buy the EPIC Chaos Legion Edition cards. As legendary is not allowed, the only cards you will be missing are epics as they do not come in the starter card set.

THE CARDS YOU DON'T HAVE
As I said before, the cards that you will be missing if you don't have any of them are the Chaos Legion edition epics. All of them are very useful, especially in certain rules so I think it's important that you get them either by renting on the days of the tournament or by buying, below are more details.


---

I will simulate the case that you do not have even one of the epic cards of the Chaos Legion edition in the purchase and rent scenario by https://peakmonsters.com/ to know based on today what is the investment value to be at par. pair with competitors.
SHOPPING
The purchase price today for all 17 epic cards in the Chaos Legion collection is US$26.02 or 17,756 DEC.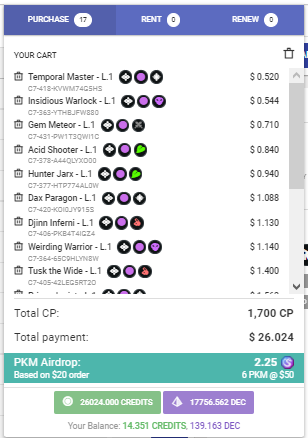 RENTING
The rental price today for all 17 epic cards in the Chaos Legion collection is US$0.016 (R$0.08) or 10.95 DEC. But I want to remind you that the tournament lasts three days so if you are going to rent it, for safety, leave it to rent and play at the end of the first day and rent it for 3 days.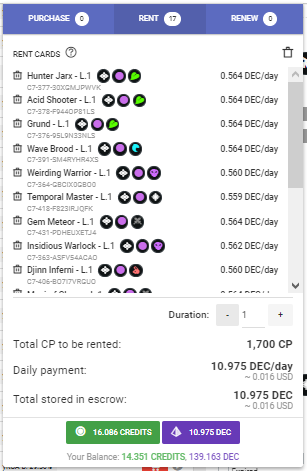 The answer is yes!
Epic cards in this mode are extremely important for several reasons, I will try to summarize some of the reasons why you should have epic cards available.
OPTIONS FOR RULES
Tournaments are competitive because they tend to use a lot of rules and in a varied way, so don't expect standard games, it's quite likely that every game you'll have different rules. Epic cards in addition to being naturally strong, in some rules their value increases considerably, making them the best choice for your composition.

---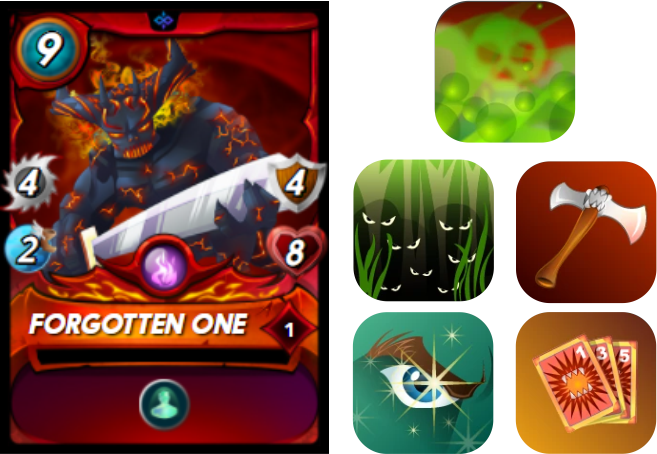 The Forgotten One for example is one of the strongest cards of the edition in a Poison's rule, thanks to its immunity ability it doesn't take the damage caused by poison at the end of the turn. In addition to this ability, other rules can increase its value and utility during battle, rules such as sneak, melee mayhem and Equal opportunity allow him to attack even when he is in the back positions. Thanks to its cost and status, it is a powerful card.
---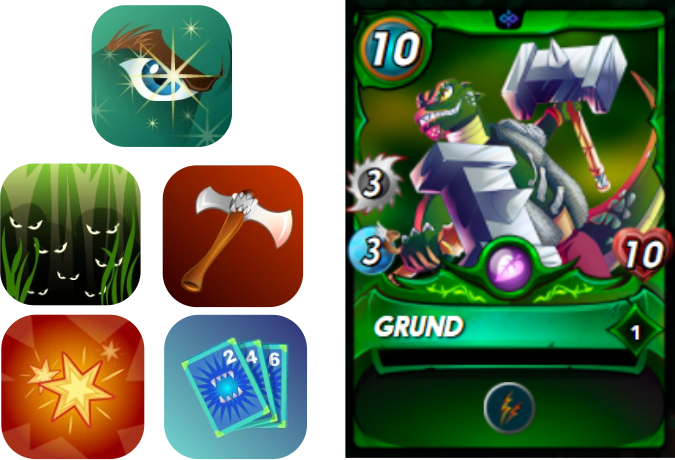 Another card that we can use as an example is Grund with his Double Strike Ability. When you have one that allows melee units to attack even when you're in the back row, Grund can do some damage! Double strike is a very strong skill that makes your monster attack twice, 6 damage in a novice league is enough. Gradually you realize that having more options is the most interesting.
---
• BATTLES WITH HIGH MANA CAP •
Another important point is that in high mana cap games many times you won't even have enough cards to spend all your mana, but having the epics you will be able to have a board with strong cards and you will have used more mana available.

So guys, that's it, epic cards are very important for you to achieve good results in the championship, their usefulness in certain rules is simply absurd and you can win the game alone, consider at least renting the ones you don't have.



If you are really starting in the game and don't have DEC to rent even for the first day of the tournament, send me a message on HiveBR discord after registering and I'll give you this DEC for the first tournament, even getting 20th you will get enough DEC for the next tournament!
For those who still don't know, the tournament awards and more details of the Brazilian League of Splinterlands are published in this post:
Awards: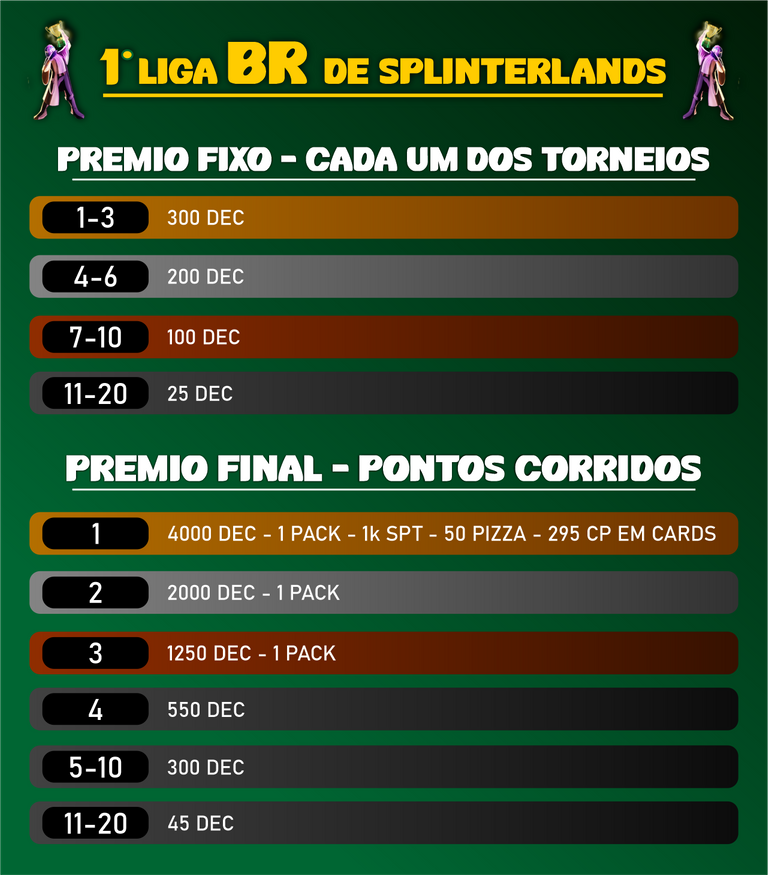 So that's it folks, I hope that through this post you have understood the need to have the epic cards available and have learned more about the format and how to prepare! Study the rules a lot and try to participate in tournaments of the same format to get used to it. This is HiveBR's first community tournament so I'm sure it will be a lot of fun to play against players from the community.
See you on the battlefield!

---
---