"Share Your Battle" Weekly Challenge!! Antoid Platoon, a little ant bites!!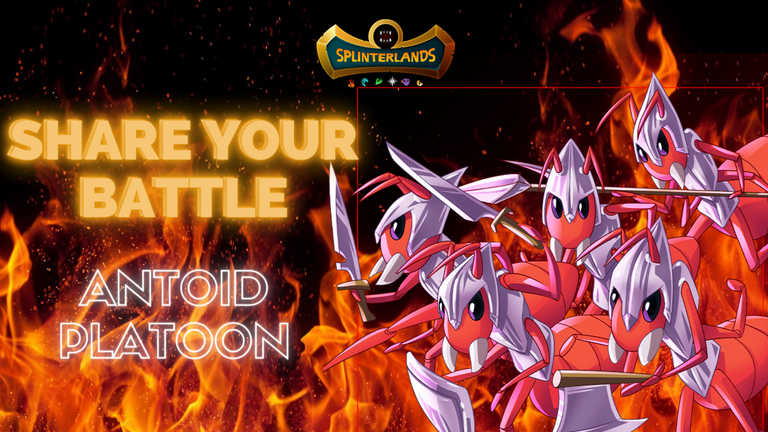 Introduction
As some know I dedicate myself to music and this week I dedicated a lot of time to the Logan Hate project, so much so that it was impossible for me to be active with the daily focus on Splinterlands, so I took a few hours to do a self-analysis and see how I can organize myself better to solve logistics problems that surely with a better agenda I will be able to solve it, one of my constants has always been to create more content in Hive, I would even love to make daily content, especially from Splinterlands, but I know that sometimes because of that shortage There is not much time left to plan content and these challenges allow you to create it without having to plan too much, now I think all that time we save on thinking can be dedicated to writing a post with a lot of depth.

In this week's challenge They encourage the use of the common card of CL Antoid Platoon and although to tell the truth it is not one of my favorite cards, much less one that I use regularly in my strategies, it is worth using it to try to learn new strategies and make the game more dynamic.
The intention was to use the card at level 6 where the ants develop the extra scavenger or scavanger ability, this in order to try to take advantage of the poison or earthquake rules since it could gain life points for each monster killed in combat.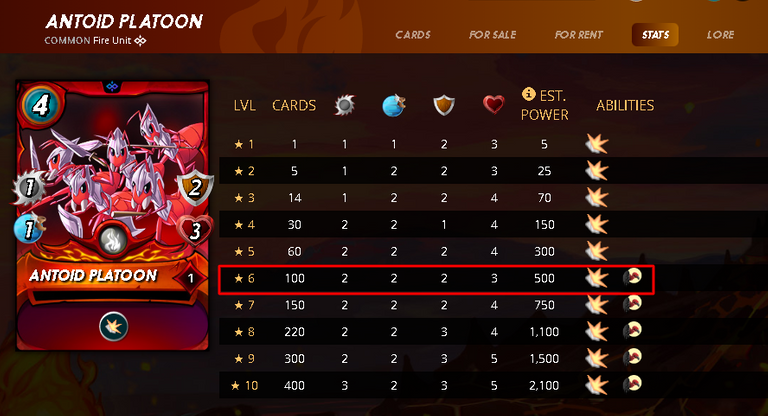 With this I have at least an idea of ​​how I plan to organize the strategy according to the rules. So it's time for the challenge.

Once I press the battle button and find an opponent, the first thing I notice is that the splinter of fire, the rules of the battle, the mana and finally the splinters recently used by my opponent are checked.
So in summary in the next battle if I will be able to use the fire splinter, unfortunately the rule does not benefit the Antoid Platoon card since it does not have much life and when removing the shield it is very exposed, but the mana is enough to establish a strategy in which his two skills can work better and for my fortune I realized that my rival in his last games has only used level 2 summoners and only one splinter so there is more probability of predicting his game and anticipating.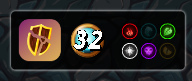 Since I could see that I had an advantage, I decided to use the ants as a kind of main shield, taking advantage of their shield ability, but before going into battle I would like to tell you a little about each of the cards I use.
At the moment I am in the gold league 1 so I can use summoners up to level 6 but according to my experience with a level 5 summoner it would be enough to compete and especially to summon the ants at level 6 and Malric Hell is one of the cheaper level 5 summoners to rent, so I decided on this one.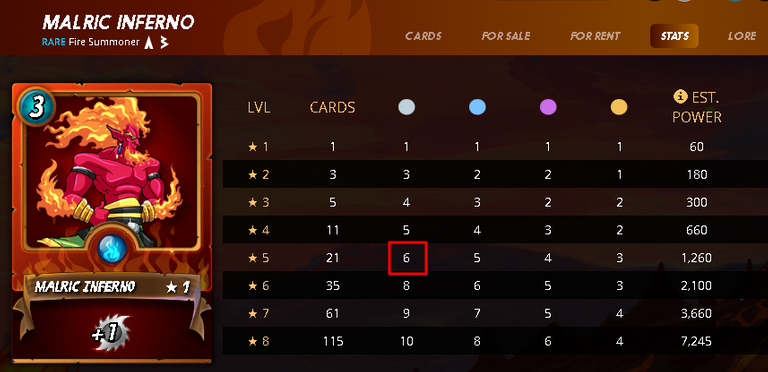 What tank to use? By having 32 mana points, the chances of choosing a good tank increase and as I told you that in the first position I would use the ants, the next one should be one that can protect my monsters from range and at the same time can do damage, for which after a few seconds Lord Arianthus became the best option for me. One of my favorite cards and one of the first that I was able to take to level 3 in my beginnings in splinterlands.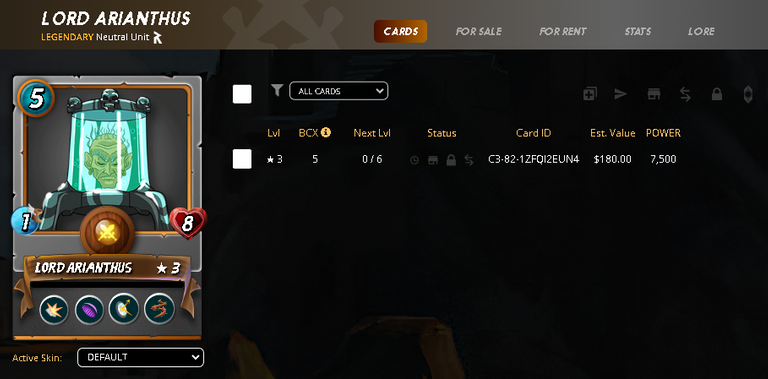 We already have two tanks, it's time to choose range monsters to deal damage to the rival.
To enhance Malric Inferno's ability I have to use cards that can attack from any position but use Meele, that's how I chose Sand Worm and Uraeus since they are two cards that have the sneak ability.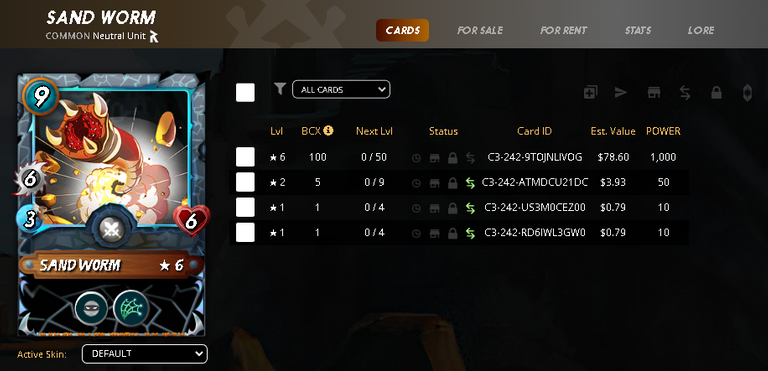 I used Uraeus at the end of the lineup, it is one of the best epic CL reward cards, taking advantage of the fact that it would have more speed than my rival and knowing that it would not have a magic sneak monster, it could be a great offensive decision since it can poison his ranged attacker which would allow my tank to stand up for more turns.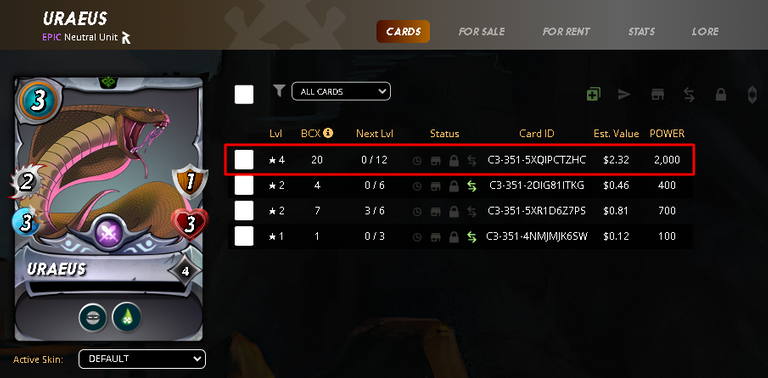 Defining those two monsters as my main attackers, I had 8 mana points left and two slots to add two monsters, with respect to those, I looked for a card that added abilities and increased stats, especially in speed, and that also had ranged attacks, such as magic for example.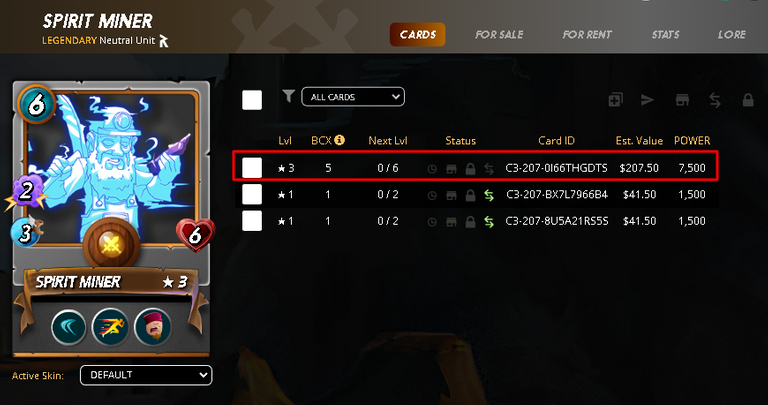 Ultimately I only had 2 mana so I filtered through the cards and looked for a card that could deal damage and had really good speed and that's how I ended up with my lineup.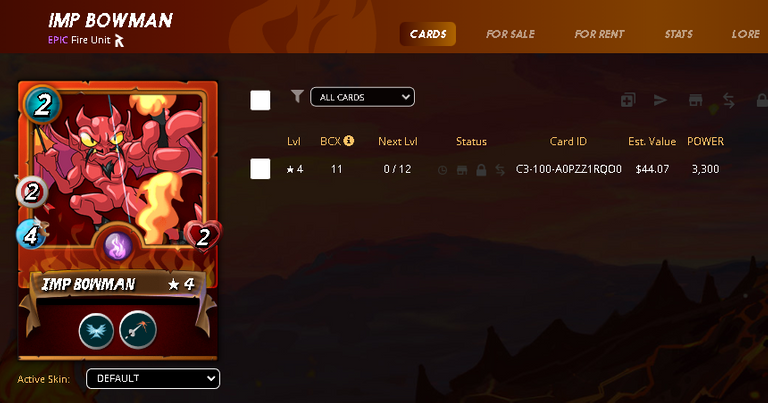 Fire Vs Life, as expected my opponent used the summoner he was using regularly in his last games, most likely he would be participating in his daily approach, something that gave me a lot of advantage.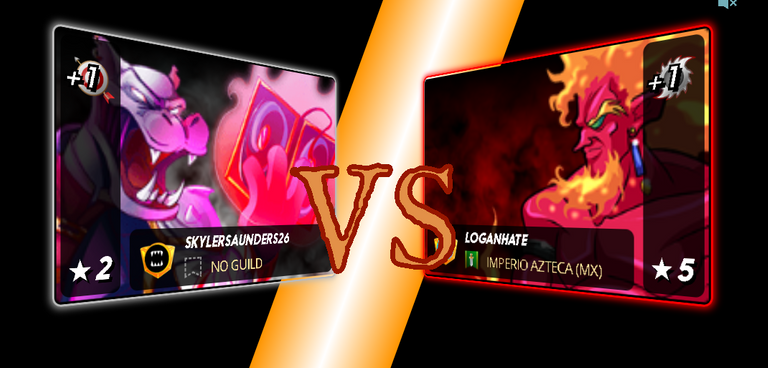 From this moment I knew that I could win, in any of the captures you can find the link for the battle.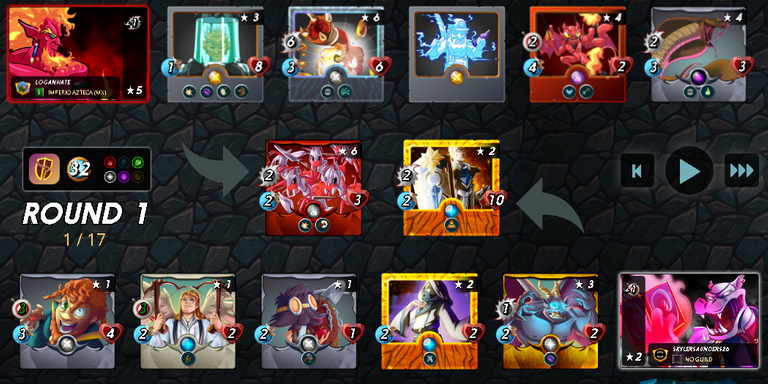 By round 2 my rival had already lost his first two monsters and was losing starting the 3rd his third card which left him at a complete disadvantage, while our ants even with 1 life managed to add one more point of life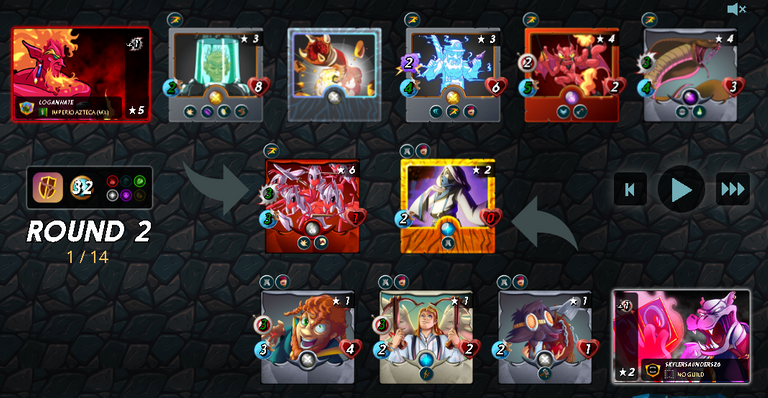 In that same turn the combat was decided since our ants managed to increase their life stats up to 5 and giving the final blow to the rival's last monster.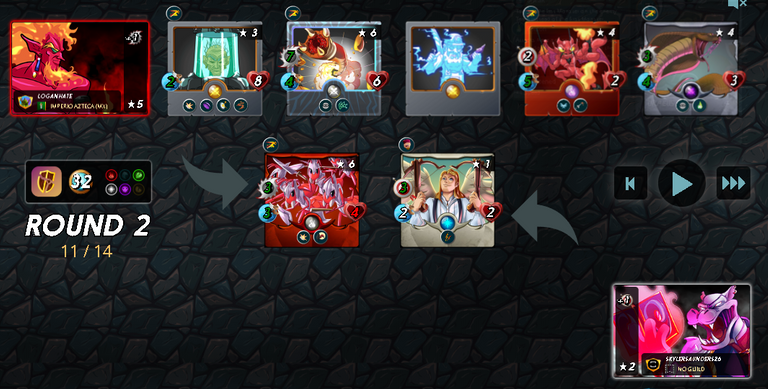 This time I had to win, thanks to @ SKYLERSAUNDERS26 for the battle, much success. To be honest I don't think ants are one of my cards to consider leveling up at the moment, but they were fun to use in this challenge.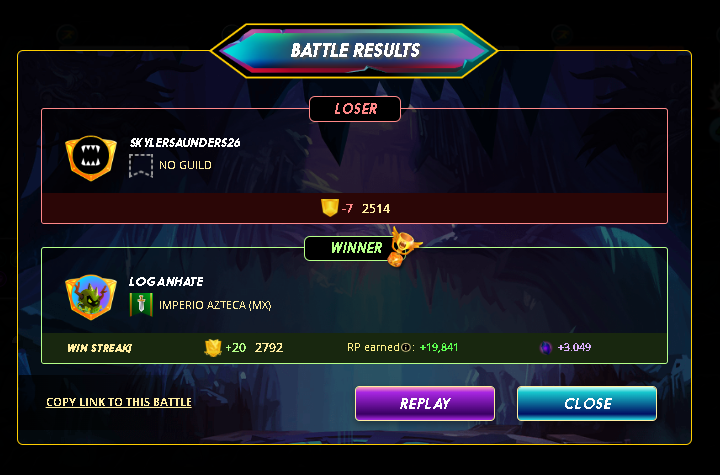 ---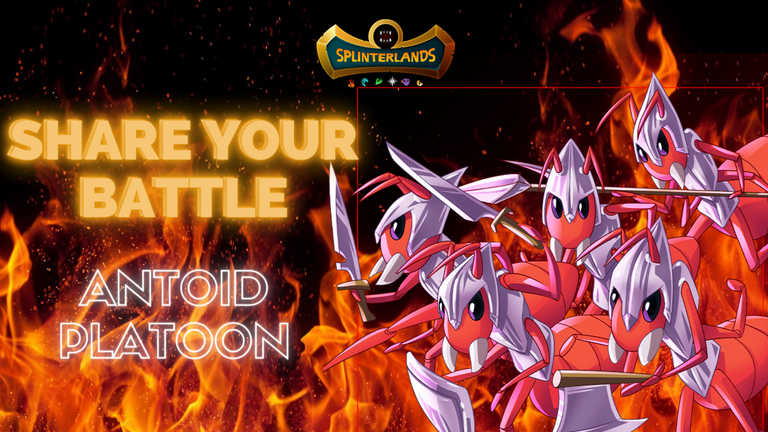 Como algunos saben me dedico a la música y esta semana le dedique mucho tiempo al proyecto de Logan Hate, tanto que me fue imposible estar activo con los focus diarios en Splinterlands, así que me tomé unas horas para hacer un autoanálisis y ver de que forma puedo organizarme mejor para solucionar problemas de logística que seguramente con una mejor agenda podré solventarlo, una de mis constantes siempre ha sido crear mas contenido en Hive, incluso me encantaría hacer contenido diario, sobre todo de Splinterlands, pero se que a veces por esa escases de tiempo no queda mucho para planear contenido y estos retos permiten crearlo sin necesidad de planear demasiado, ahora todo ese tiempo que ahorramos en pensar creo que se puede dedicar a escribir un post con mucho fondo.

En el reto de esta semana incentivan a usar la carta común de CL Antoid Platoon y aunque a decir verdad no es una de mis cartas favoritas mucho menos una que uso habitualmente en mis estrategias, vale la pena utilizarla para intentar aprender nuevas estrategias y hacer mas dinámico el juego.
La intención era utilizar la carta en nivel 6 donde las hormigas desarrollan la habilidad extra de carroñero o Scavanger, esto con el fin de intentar aprovechar las reglas de veneno o terremoto ya que podría ganar puntos de vida por cada monstro caído en combate.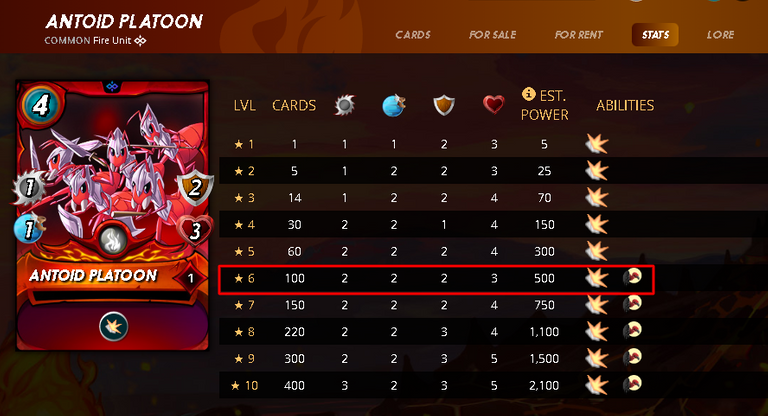 Con esto ya tengo al menos una idea de como planeo organizar la estrategia segun las reglas. Así que es momento del reto.

Una vez que presiono el botón batalla y encuentro un contrincante lo primero en lo que me fijo es en que esté marcada la astilla de fuego, las reglas de la batalla, el maná y por último las astillas usadas recientemente por mi contrincante.
Así que en resumen en la siguiente batalla si podré usar la astilla de fuego, desafortunadamente la regla no beneficia a la carta Antoid Platoon ya que no tiene mucha vida y al quitarle el escudo queda muy expuesta, pero los maná son suficientes para establecer una estrategia en la que pueda funcionar mejor sus dos habilidades y para mi fortuna me di cuenta que mi rival en sus útimas partidas a usado solo invocadores de nivel 2 y solo una astilla entonces hay mas probabilidad de predecir su juego y anticiparme.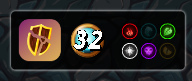 Como pude percibir que tenia ventaja decidí usar a las hormigas como una especie de escudo principal aprovechando su habilidad de shield, pero antes de pasar a la batalla me gustaría platicarles un poco sobre cada una de las cartas que use.
En estos momentos me encuentro en la liga oro 1 por lo que puedo utilizar invocadores hasta nivel 6 pero según mi experiencia con un invocador nivel 5 sería suficiente para competir y sobre todo para invocar a las hormigas en nivel 6 y Malric Infierno es uno de los invocadores a nivel 5 mas baratos para rentar, por lo que me decidí por este.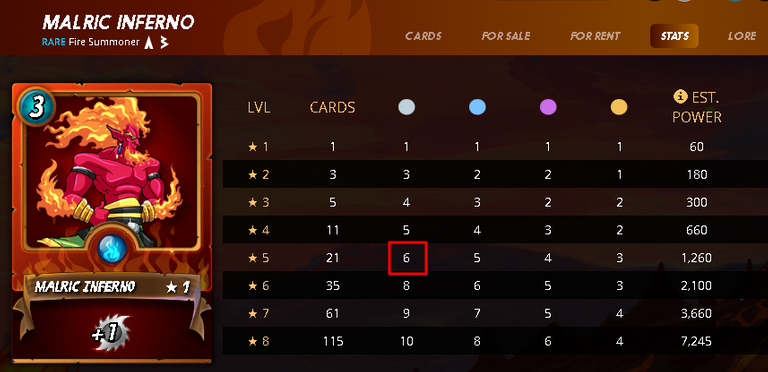 ¿Qué tanque usar? Al tener 32 puntos de maná las posibilidades de elegir un buen tanque se incrementan y como les comente que en primera posición usaría a las hormigas la siguiente debería ser uno que pueda proteger a mis monstros de rango y que al mismo tiempo pueda hacer daño, por lo que después de unos segundos Lord Arianthus se me hizo la mejor opción. Una de mis cartas favoritas y de las primeras que pude llevar a nivel 3 en mis inicios en splinterlands.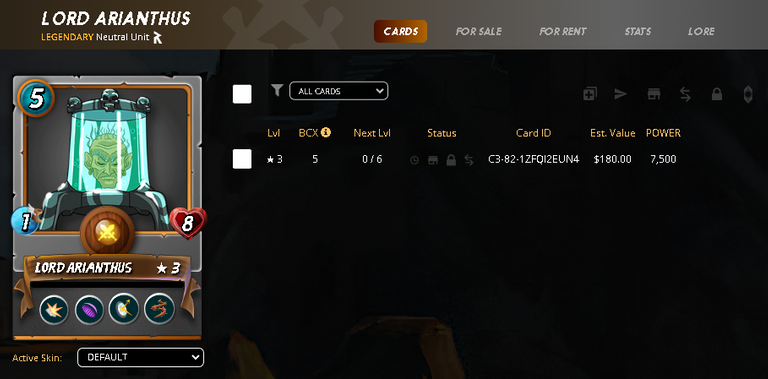 Ya tenemos dos tanques, es momento de elegir monstros de rango para que hagan daño al rival.
Para potencializar la habilidad de Malric Inferno tengo que utilizar cartas que puedan atacar desde cualquier posición pero que usen Meele, fue así como elegí a Sand Worm y a Uraeus ya que son dos cartas que poseen la habilidad sneak.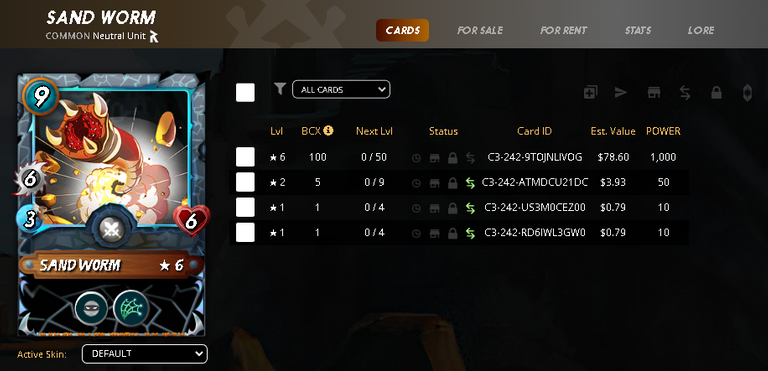 A Uraeus lo utilicé al final de la alineación, es una de las mejores cartas épicas de recompensa CL, aprovechando que tendría mas velocidad que mi rival y sabiendo que no tendría un monstro con sneak de magia podría ser una gran decisión ofensiva ya que puede envenenar a su atacante de rango lo que permitiría a mi tanque estar de pie por mas turnos.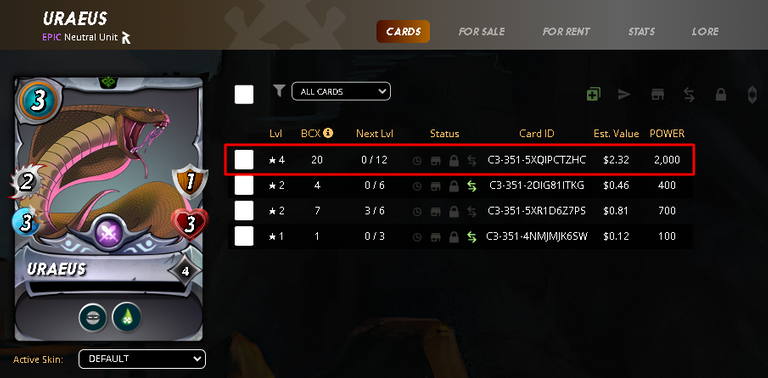 Defidiendo esos dos monstros como mis atacantes principales me quedaban 8 puntos de maná y dos casillas para agregador dos monstros, con respecto a esos busque una carta que sumara habilidades y aumentara stats sobre todo en velocidad y que también tuviese ataques de rango, como magia por ejemplo.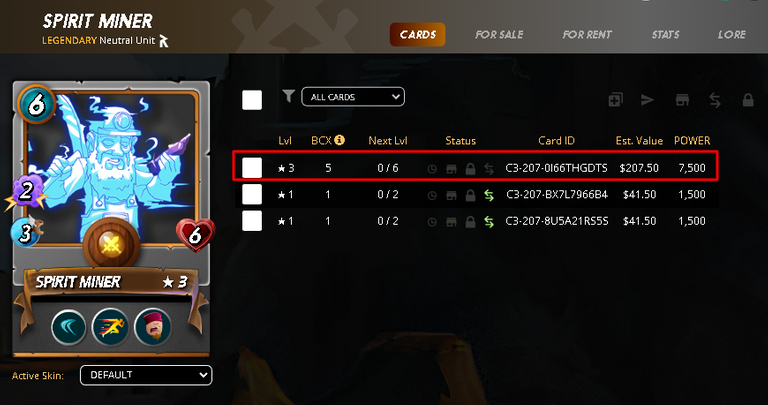 Por ultimo solo tenía 2 puntos de maná así que filtre las cartas y busque una carta que pudiera hacer daño y tuviese muy buena velocidad y así fue como terminé mi alineación.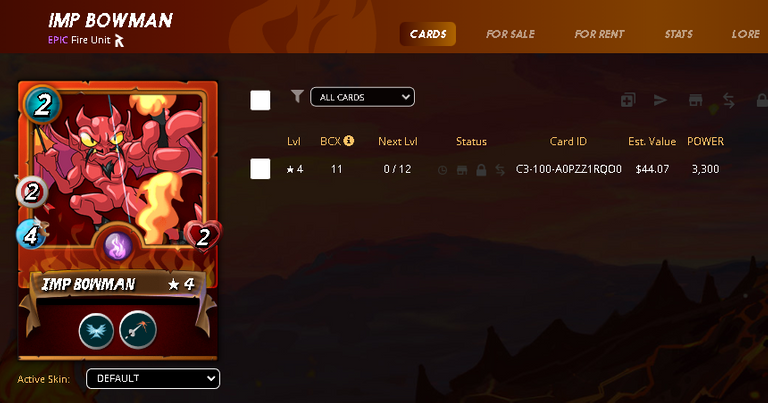 Fuego Vs Vida, como esperaba mi rival utilizo al invocador que estaba usando regularmente en sus ultimas partidas, lo mas probable es que estaría participando en su enfoque diario, algo que me dio mucha ventaja.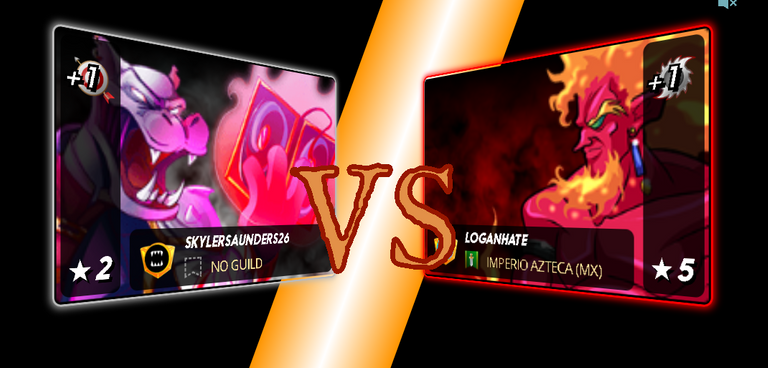 Desde este momento supe que podría ganar, en cualquiera de las capturas puedes encontrar el enlace para la batalla.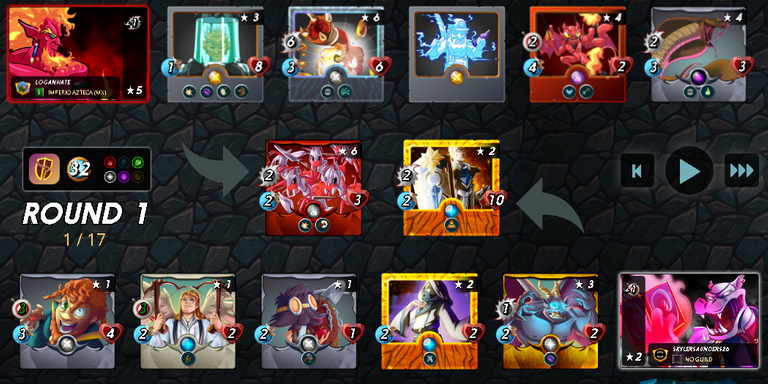 Para el round 2 mi rival ya había perdido sus primeros dos monstruos y estaba perdiendo iniciando el 3ero su tercer carta lo que lo dejaba en completa desventaja, mientras que nuestras hormigas aun con 1 de vida lograba sumar un punto mas de vida.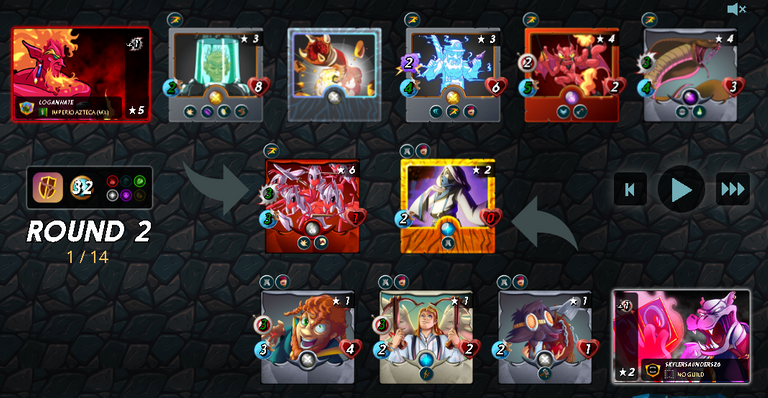 En ese mismo turno se decidía el combate ya que nuestras hormigas lograron aumentar sus stats de vida hasta 5 y dándole la estocada final al último monstruo del rival.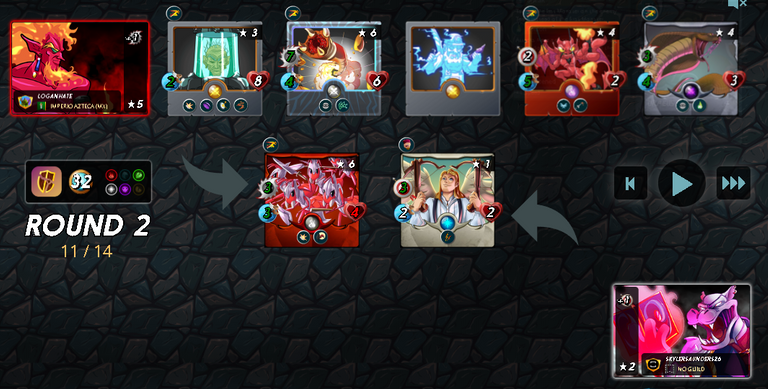 En esta ocasión me toco ganar, gracias a @SKYLERSAUNDERS26 por la batalla, mucho éxito. Para ser honestos no creo que las hormigas sean una de mis cartas que considere subir de nivel por el momento, pero fue divertido utilizarlas en este reto.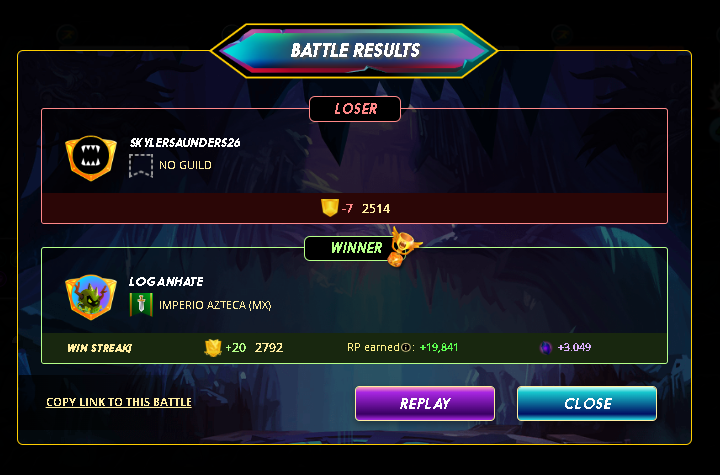 Posted using Splintertalk
---
---