SHARE YOUR BATTLE Weekly Challenge : Kulu Swimhunter 🐙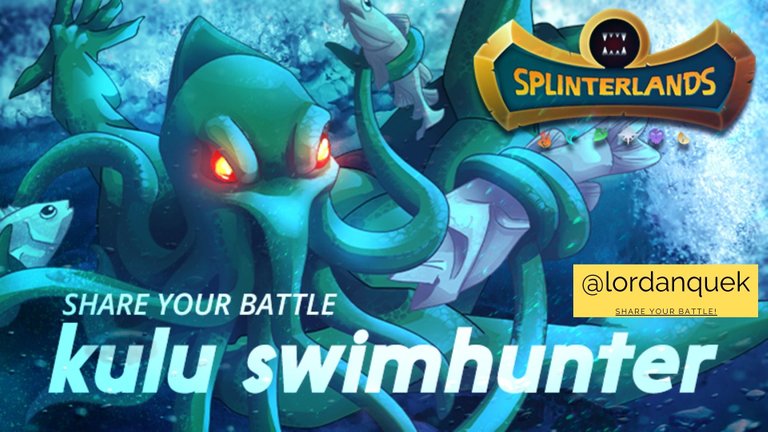 😍 Watch the battle 😍
⬆ If you wanna watch the full video ⬆



Consider this a guide for ≤ Gold league players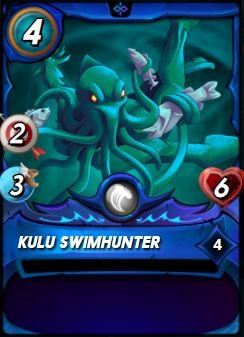 Edition: CHAOS LEGION
Rarity: COMMON
Element: WATER
Attack: RANGED
Ruleset : BLAST , CLOSE RANGE

Kulu Swimhunter have decent damage and its usually used for battles with 4 mana and below. However, at level 4 it got pretty decent health point and with close range, I have placed it in the third position for it to tank some damage when it comes to it. If you have been following my post, you will realize that this is my favorite setup for water splinter except kulu was the wild card this time and I used it for its decent health point and speed. I will provide the reasoning for the lineup below

| Splinter | Mana Cost | Position | Reason |
| --- | --- | --- | --- |
| Kelya Frendul | 4 | Summoner | + 1 speed , + 1 armor |
| Diemonshark | 8 | 1st | Trample, If trample happens , It will deal 8 damage + 4 blast damage |
| Flying Squid | 7 | 2nd | Reach with high damage and durability |
| Kulu Swimhunter | 4 | 3rd | Close range ruleset in place so it is my third tank |
| Deeplurker | 6 | 4th | Deals 5 damage with opportunity |
| River Hellondale | 7 | 5th | Inspire gives all melee + 1 damage and resurrect |
| Axemaster | 7 | 6th | Double strike with blast is too good to give it a pass! |
| Total Mana: | 43 | | |
*Special thanks to @koodies with his blogging tools that came up with the table above!


I rented a lvl 4 Kulu for 1.5 dec for a day as I do not have a lvl 4 kulu. I feel that level 1 Kulu got lesser use case (like for 4 mana and below battles perhaps) as it got only 4 health points and 2 speed.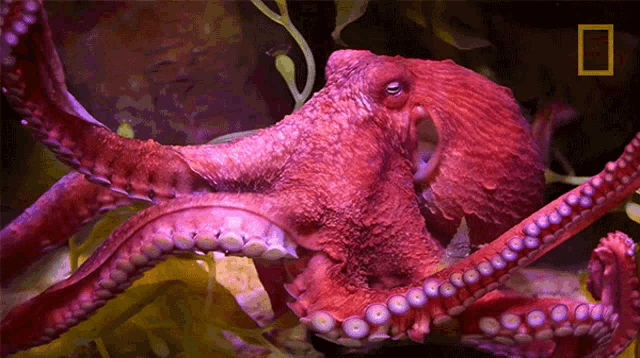 I realized that we got a squid and an octopus in the game !
Fun fact: octopuses are extremely intelligent, with a larger brain for their body size than all animals except birds and mammals.
For those that are interested to know who I am you can check out my post on my self intro as well!
> https://peakd.com/hive-125125/@lordanquek/my-self-introduction-to-hive <
Would like to include word of the day for a start !
"Happiness is an attitude. We either make ourselves miserable, or happy and strong. The amount of work is the same." - Francesca Reigler (Artist)

Check out these individuals for awesome content and giveaways!
@gameboyali @drabs587, @gank & @walkingkeys @splinterlandshq , @ivarbjorn, @luthien12, @skyn, @lyerpald @thercek, @rentaw03, @sgt-dan, @cmmndrgarlic @mhowii , @Marcuswahl (Splinterlands Colosseum), @bladesong @confusedminer @dubclub @zapf-brannigan, @splinternews, @solymi, @bokica80, @holoz0r, @opuntia, @noempathy , @godislove777, @clove71 , @nytehawker , @foreveraverage , @groovy828 ,@nardianspl , @tradergl3n , @sharmanhd , @christislord , @chaoabunga (wherechaoat) ,@myeong , @splinterwolves , @zerginggamer , @aftersound , @wesquin703 , @missquibble , @snarkymouse




Shoutout to Rising Star. Earn tradeable Starbits and build your Music Band for free here:


TWITTER : https://twitter.com/lordanquek
#splinterstats #hive-13323 #spt #1up #oneup #spl #sps #dec #hivegaming #steemmonsters #monster-curator #splintertalk #leofinance #splinterlandshq #hive-engine #peakd #risingstar #pizza #starbits #play2earn #ecency #saltgang #splinterlands #proofofbrain #pizza #hivepizza #nosleepgang #hivegaming
---
---