My Journey in Rising Star in the Month of October!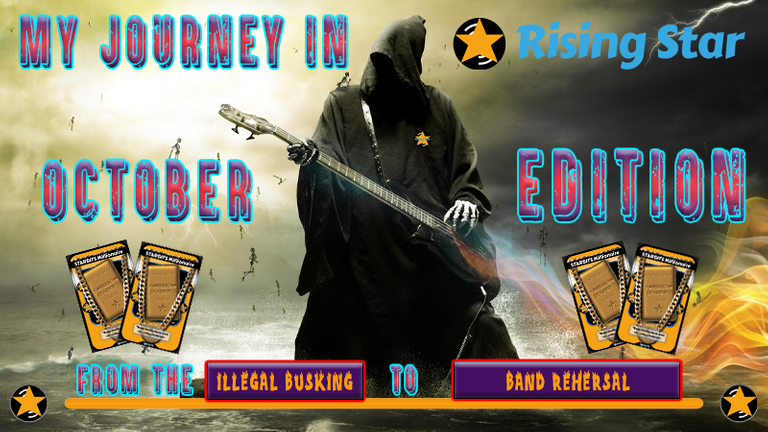 ---
I would like to Welcome every fellow musicians in my blog about my journey in this wonderful and relaxed game. I have started playing this game at the beginning of May and that time I didn't realised how awesome and deep this game is. Once I found out that this game is much more than clicking on missions I have started recording my stats day by day. 👀
Today I would like to share my progress throughout in October and I would like to continue doing that in every month. My account is not that big to worth doing that that day by day, because it will be boring as not much is happening, but I thought an overview would be interesting with graphs and explanations how I do things daily and what are the result of that.
In the month of October I managed to unlock the "County Tour" Zone on the map and I started to do my first Band Rehersal missions. 😇
I hope it will be interesting to come along on my journey and enjoyable to everyone. 😇 Let's go than!

My Ranking 😊 and the number of Total Active Players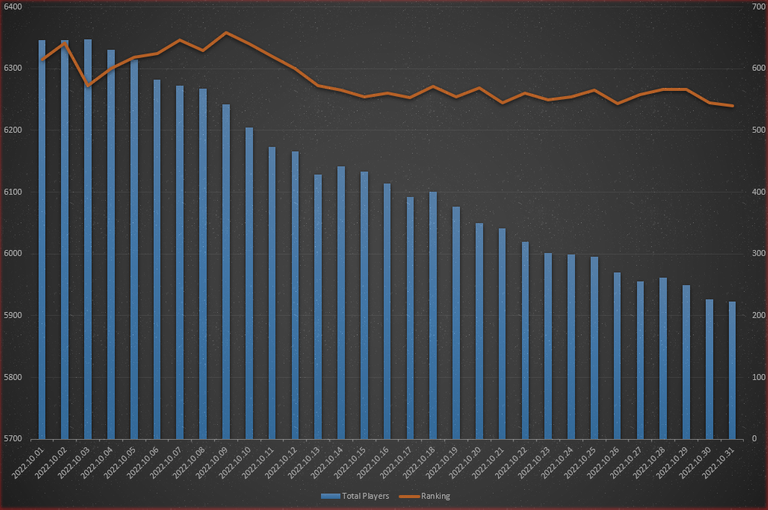 Click on the picture for higher resolution
The number of active players are still going down with 423 player from the beginning of October till the end. I have no idea why is this happening, because this game is amazing and I love playing it day by day. 😇
I managed to reach my rank around 520 and in here it is started to go down really difficult, because all the people around me are serious players. 😏
I try to play as much as I can and as long as I have Pizza and Energy, so I can maximise the my gain. Recently I started to buy some unique cards to help lower my Rank and I will keep an eye on that to buy more and more. 😉
---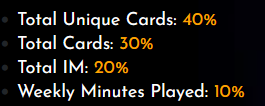 My Daily Starbits and Record Staking Income 🤑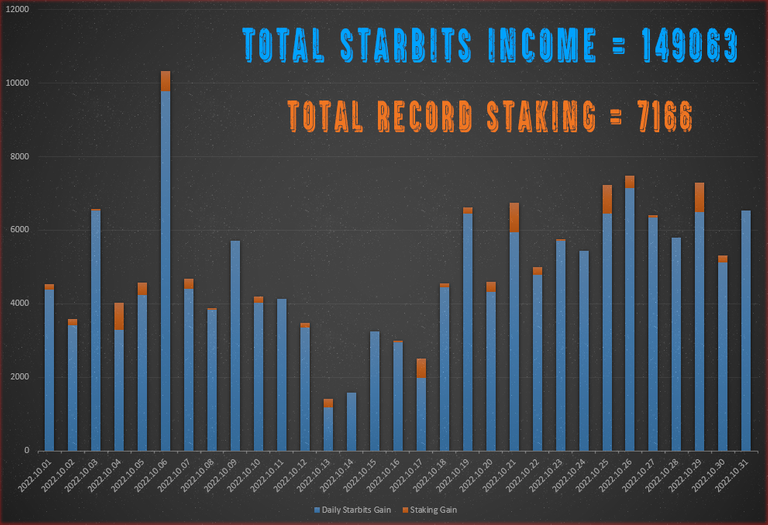 Click on the picture for higher resolution
I lost a bit of income in October and I think the reason is that I started to run some "Promote Fan Club" missions, which doesn't yield any Starbits doing it.
My record staking increased almost twice compared to last month and I will further stake as much as I can. 😁

My Skill 🎹 - Ego 😎 - Fans 👨‍👩‍👧 - Luck 🍀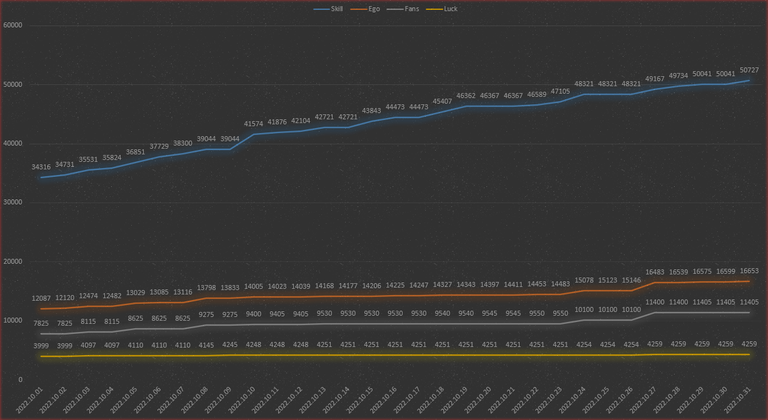 Click on the picture for higher resolution
These are the main 4 stats in the game and as you can see I have a steady growth thorughout the month. I am increasing my skill with Piano Lessons and luckily I have way higher Skill than my Ego otherwise there will be a reduction in my income.😏
I have kept going increasing my collection and all my stats in the game by playing it. I have more and more understanding about the game mechanics, which is helping my to improve my account. 😉
Luckily my Skill is much much higher than my Ego, so I am safe to play to get full rewards from my missions.

Uniques 💎- Cards 📚 - IM 🤑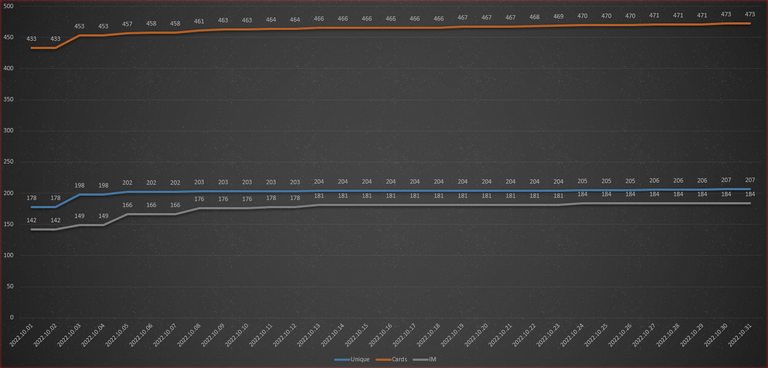 Click on the picture for higher resolution
Here you can see my entire Card Collection. I am trying to buy only few cards in day by day, because I don't know if the price of the cards are going on lower levels or not at least following this tactic I can DCA (Dollar Cost Average) my expenses. 😊
---
Changes throughout the Year 😇
| Stats | 01 June | 01 July | 01 August | 01 September | 01 October |
| --- | --- | --- | --- | --- | --- |
| Level | 26 | 39 | 48 | 59 | 71 |
| Total Players | 7482 | 7280 | 6961 | 6578 | 6346 |
| Starbits Income | 56200 | 74110 | 130220 | 156530 | 149063 |
| Record Staking | 3632 | 6331 | 697 | 4420 | 7166 |
| Skill | 2552 | 5602 | 9046 | 16926 | 34316 |
| Ego | 2100 | 3278 | 5566 | 8827 | 12087 |
| Fans | 1650 | 2045 | 3535 | 5625 | 7825 |
| Luck | 492 | 1046 | 1827 | 2138 | 3999 |
| Unique | 28 | 61 | 100 | 142 | 178 |
| Cards | 48 | 101 | 163 | 223 | 433 |
| IM | 28 | 34 | 57 | 104 | 142 |
This is an overall statistics (If you are crazy about stats like myself 😊) month by month about the growth of my account. 😉

I hope you liked my little journey in the last month serie and I wish we will all grow in the future, because this is such an amazing game. 😇 Thank you to all of you who took the patience to read it through! 🙏
---
If you are just starting this game you can use my referral link to sign-up and if you want some free Starbits please have a look on my profile, because I am continously doing daily giveaways! 😉
---
---