BEATRIX IRONHAND Futurama Style
---
Hello to all my dear artist friends! Lorentm is back with a new adaptation of the drawing style I've been using, this time inspired by the TV series Futurama! It's been a long time since I chose a character from this series, this time I wanted to combine the characters of Beatrix Ironhand and Amy Wong. I want to express my sincere thanks to the Splinterlands community for giving me this opportunity to share my art through their social media section, thank you for supporting my passion and allowing me to continue growing as a digital artist! I'm excited to see what will come out of this collaboration and I can't wait to share more of my creations with you!
The process of creating my adaptation of "Beatrix" to the Futurama style began with the analysis of the two characters, both Beatrix and Amy, here I analyzed the similarities shared by both characters, having a clearer idea of what I wanted, I began to sketch the drawing, taking Amy as the structure for the body, once I finished the sketch, I proceeded to modify it in order to achieve a similarity to Beatrix, then I moved to the outline stage where I refined the previous sketch, then I moved to the coloring stage, here I used the same colors as the previous sketch, I proceeded to modify it in order to achieve a similarity to Beatrix, then I moved on to the outlining stage where I refined the previous sketch, to then move on to the coloring, here I used the same colors of the card as a reference and then applied shadows and glows to give more life to the work, finally I designed a night scene, surrounded by trees. The end result was a vibrant, Futurama-style adaptation of the original "Beatrix" drawing. Overall, it was an exciting and challenging process that required a lot of research, attention to detail and experimentation. But in the end, I was very pleased with the result.
¡Hola a todos mis queridos amigos artistas! ¡Lorentm está de vuelta con una novedosa adaptación del estilo de dibujo que he venido usando, esta vez inspirado en la serie de televisión Futurama! Ya hacía mucho tiempo que no elegía algún personaje de esta serie, en esta oportunidad quise combinar los personajes de Beatrix Ironhand y Amy Wong. Quiero expresar mi más sincero agradecimiento a la comunidad de Splinterlands por brindarme esta oportunidad de compartir mi arte a través de su sección de redes sociales. ¡Gracias por apoyar mi pasión y permitirme seguir creciendo como artista digital! ¡Estoy emocionada de ver lo que surgirá de esta colaboración y no puedo esperar a compartir más de mis creaciones con ustedes!
El proceso de creación de mi adaptación de "Beatrix" al estilo de Futurama comenzó con el análisis de los dos personajes, tanto de Beatrix como el de Amy, acá analice las similitudes que compartían ambos personajes, teniendo una idea más clara de lo que quería, empecé a bocetear el dibujo, tomando como estructura para el cuerpo a Amy, una vez termine el boceto, procedí a modificarlo con el fin de lograr una similitud a Beatrix, luego pase a la etapa de delineado donde refine el boceto anterior, para posteriormente pasar al coloreado, acá use como referencia los colores mismos de la carta y luego aplique sombras y brillos para darle más vida a la obra, finalmente diseñe un escenario de noche, rodeada de árboles. El resultado final fue una adaptación vibrante y fiel al estilo de Futurama del dibujo original "Beatrix". En general, fue un proceso emocionante y desafiante que requirió de mucha investigación, atención al detalle y experimentación. Pero al final, quedé muy satisfecha con el resultado.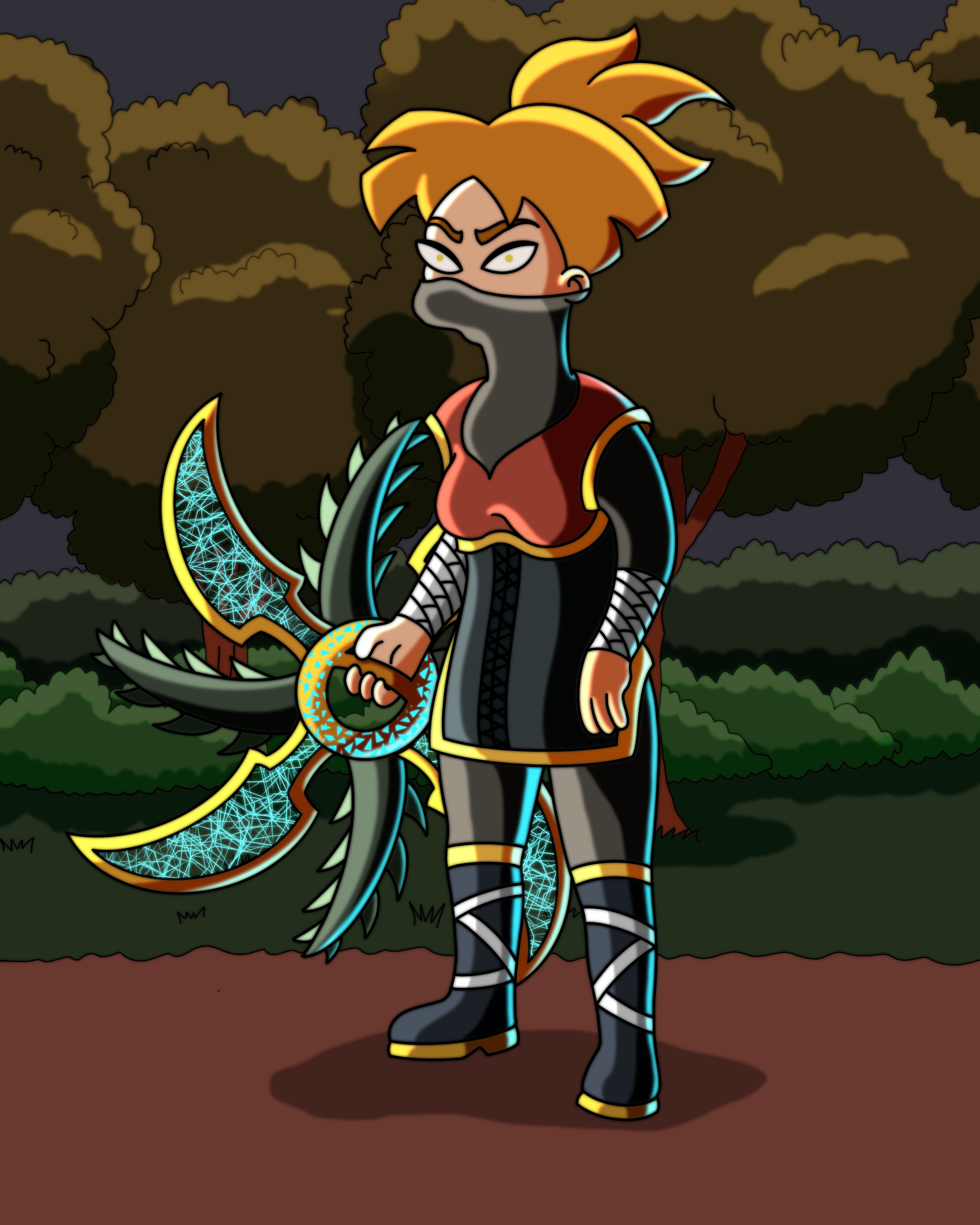 Known for standing her ground despite any odds, this royal daughter detests being called a princess but takes her position very seriously. Beatrix leads the Maglarian defense forces when needed and spends most of her days training in the ancient boomerang arts of her people. Originally, boomerangs were used to catch unruly mountain goats and other small hillside creatures, but they were elevated to the status of epic weaponry when the Goblins attempted their historic invasion of Maglar, some 200 years ago.
Conocida por mantenerse firme a pesar de cualquier adversidad, esta hija real detesta que la llamen princesa, pero se toma muy en serio su posición. Beatrix lidera las fuerzas de defensa maglarianas cuando es necesario y pasa la mayor parte del día entrenándose en las antiguas artes del bumerán de su pueblo. Originalmente, los bumeranes se utilizaban para capturar cabras montesas revoltosas y otras pequeñas criaturas de las laderas, pero se elevaron a la categoría de armamento épico cuando los Goblins intentaron su histórica invasión de Maglar, hace unos 200 años.
---
Process / Proceso





---
Layer Technique Breakdown
---
Materials / Materiales
The tools I used for the drawing were the following:
Android tablet.
Capacitive pen (Stylus).
Ibis Paint X program.
Brushes: Pencil, Airbrush, Fuzzy, Marker.
Las herramientas que use para el dibujo fueron las siguientes:

Tableta Android.
Lápiz Capacitivo (Stylus).
Programa Ibis Paint X.
Pinceles: Lapiz, Aerografo, Difumino, Rotulador.
Reference / Referencia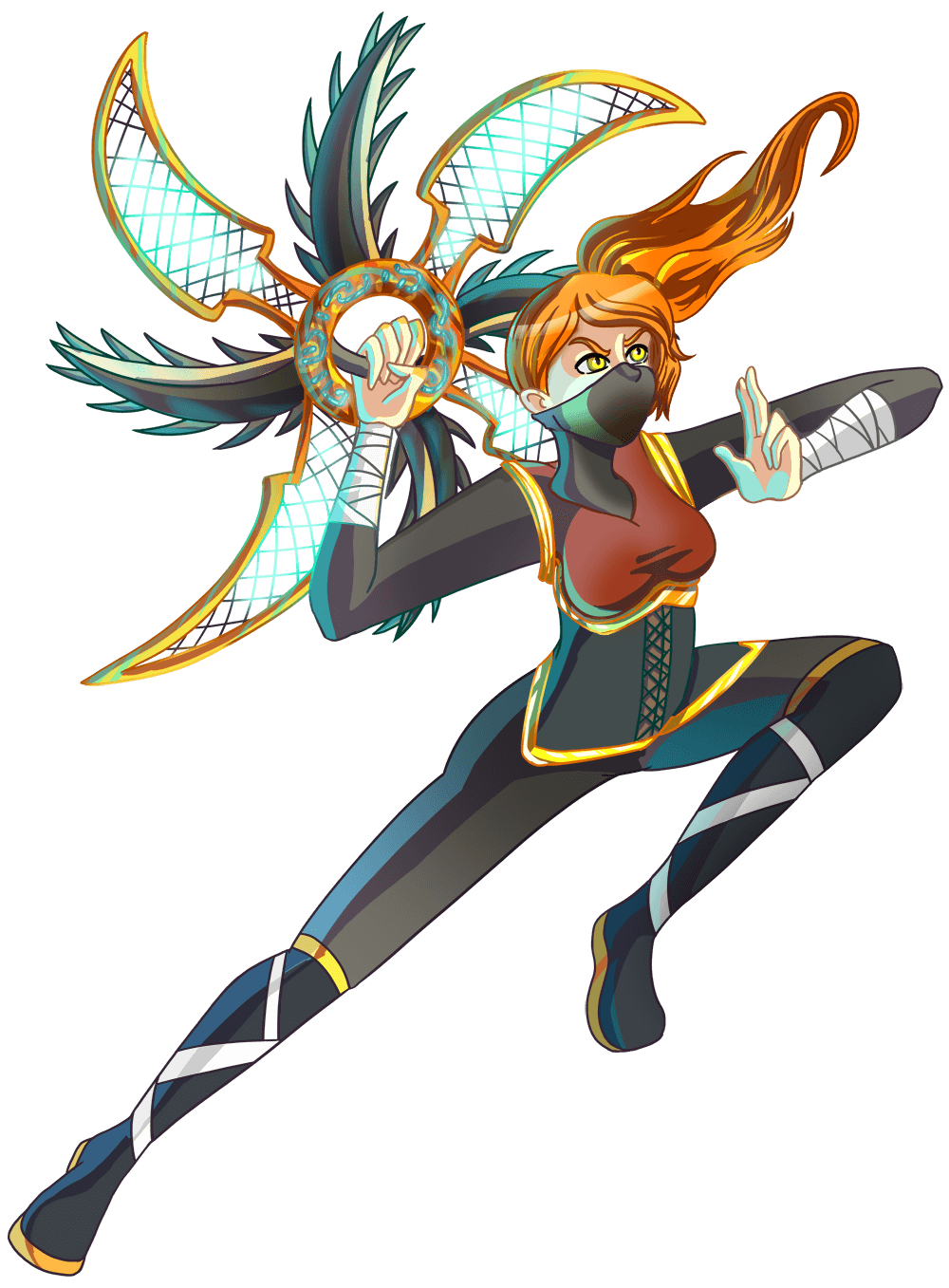 Reference link / Link de referencia
---
Thanks for reading and getting here, see you in the next post.
Gracias por leer y llegar hasta aqui, nos vemos en el siguiente post.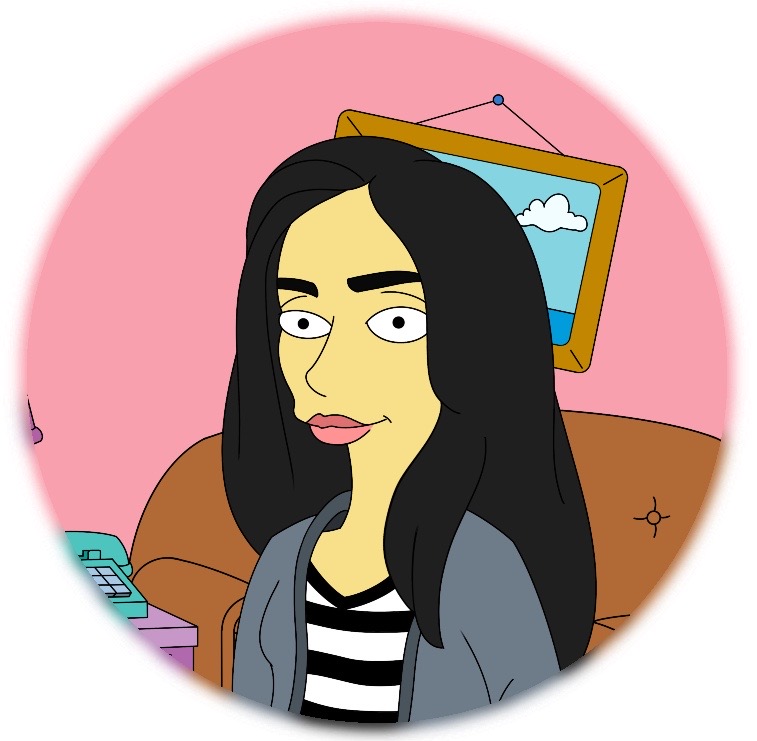 Discipline is the power of all professionalism.
La disciplina es el poder de todo profesionalismo.
---
---