Pelacor Mercenary Simpsons Style
---
Hi guys Lorentm is back to present you another artwork inspired by the Splinterlands characters, this time it was the Simpsons turn, I definitely love to make these adaptations, there are so many combinations that can be made, although sometimes I find it difficult to choose which characters to combine, with patience, creativity and some luck I come up with crazy and interesting ideas hehe, I even think that I have improved a little in the drawings I've been doing, I compare them with the first ones I made for the art contest and if I notice a certain improvement, in the strokes, colors and even in the way of shading, because that is the idea to improve at every moment 😊.
For this occasion I used the characters Pelacor mercenary on the splinterlands side and Willie on the Simpsons side, talking a little bit about how I make the choices, first I take a Simpsons character as a base idea and with that one in mind I start looking through the whole list of cards, I try to find some similarity, in this case I used as a reference point, the hair color and the beard that both share and from there the creation work starts. 😊
Hola chicos Lorentm esta de vuelta para presentarles otra obra inspirada en los personajes de Splinterlands, esta vez le tocó el turno a los Simpsons, definitivamente me encanta realizar estas adaptaciones, son tantas las combinaciones que se pueden realizar, aunque algunas veces se me resulta difícil elegir cuáles personajes combinar, con paciencia, creatividad y algo de suerte se me ocurren ideas locas e interesantes jeje, hasta pienso que he mejorado un poco en los dibujos que he venido haciendo, los comparo con los primeros que realicé para el concurso de arte y si noto una cierta mejoraría, en los trazos, los colores y hasta en la forma del sombreado, pues esa es la idea mejorar en cada momento 😊.
Para esta ocasión use a los personajes de Pelacor mercenary por la parte de splinterlands y Willie en el lado de los Simpsons, hablando un poco en como hago las elecciones, primero tomo a un personaje de los Simpsons como idea base y con ese en mente empiezo a buscar en toda la lista de cartas, trato de encontrar alguna similitud, en este caso use como punto de referencia, el color del cabello y la barba que ambos comparten y desde allí empieza el trabajo de creación. 😊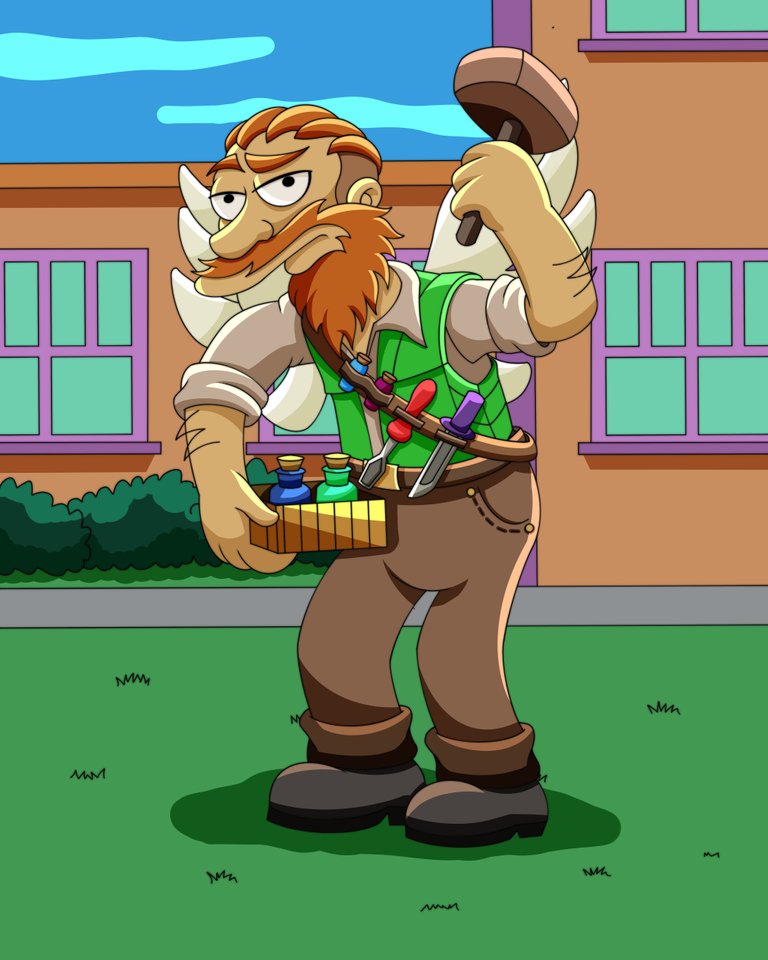 Many centuries ago, the Pelacor followed the prophet, Edalus, on what has become known as the 'Exile.' They followed him into the Mountains of Fire surrounding Mount Praetorous. For generations they lived alone in these mountains, hidden away. They were taught to worship the sun and moon gods, Solaki and Lunaki, deities dreamt into existence from the bones of Edalus' dead parents and his zealous mind. The scriptures read that the two Gods were carried into the heavens upon pieces of consecrated land, torn from the World to raise them high, so that their worshipers would always look up to them and forever be beneath their great heavenly power.
Hace muchos siglos, los Pelacor siguieron al profeta Edalus en lo que se conoce como el "Exilio". Le siguieron hasta las Montañas de Fuego que rodean el Monte Pretoro. Durante generaciones vivieron solos en estas montañas, escondidos. Se les enseñó a adorar a los dioses del sol y la luna, Solaki y Lunaki, deidades soñadas a partir de los huesos de los padres muertos de Edalus y de su celosa mente. En las escrituras se lee que los dos dioses fueron llevados a los cielos sobre trozos de tierra consagrada, arrancados del Mundo para elevarlos a lo alto, para que sus adoradores siempre los miraran y estuvieran para siempre bajo su gran poder celestial.
---
Process / Proceso





---
Layer Technique Breakdown
---
Materials / Materiales
The tools I used for the drawing were the following:
Android tablet.
Capacitive pen (Stylus).
Ibis Paint X program.
Brushes: Pencil, Airbrush, Fuzzy, Marker.
Las herramientas que use para el dibujo fueron las siguientes:

Tableta Android.
Lápiz Capacitivo (Stylus).
Programa Ibis Paint X.
Pinceles: Lapiz, Aerografo, Difumino, Rotulador.
Reference / Referencia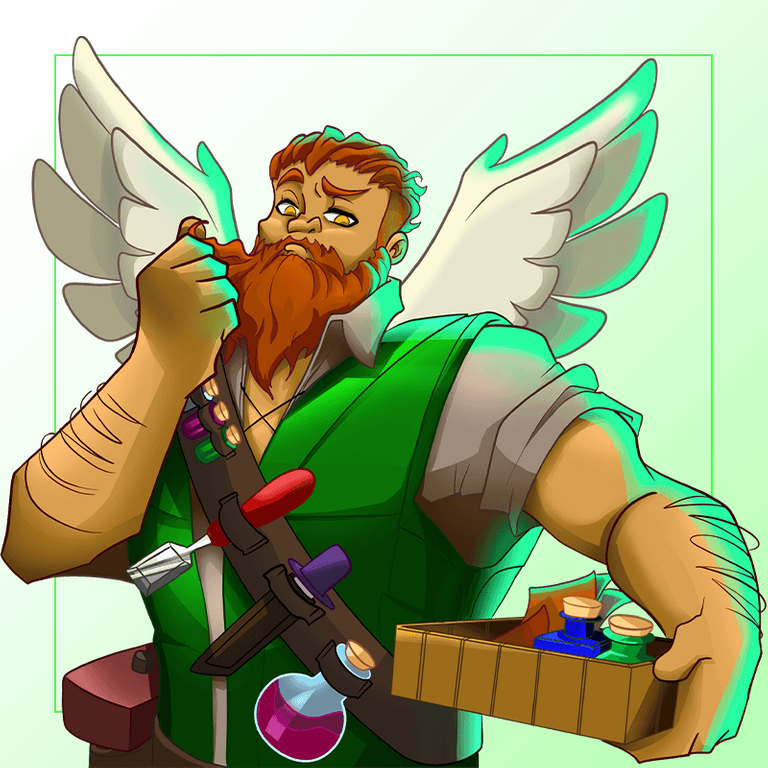 Reference link / Link de referencia
---
Thanks for reading and getting here, see you in the next post.
Gracias por leer y llegar hasta aqui, nos vemos en el siguiente post.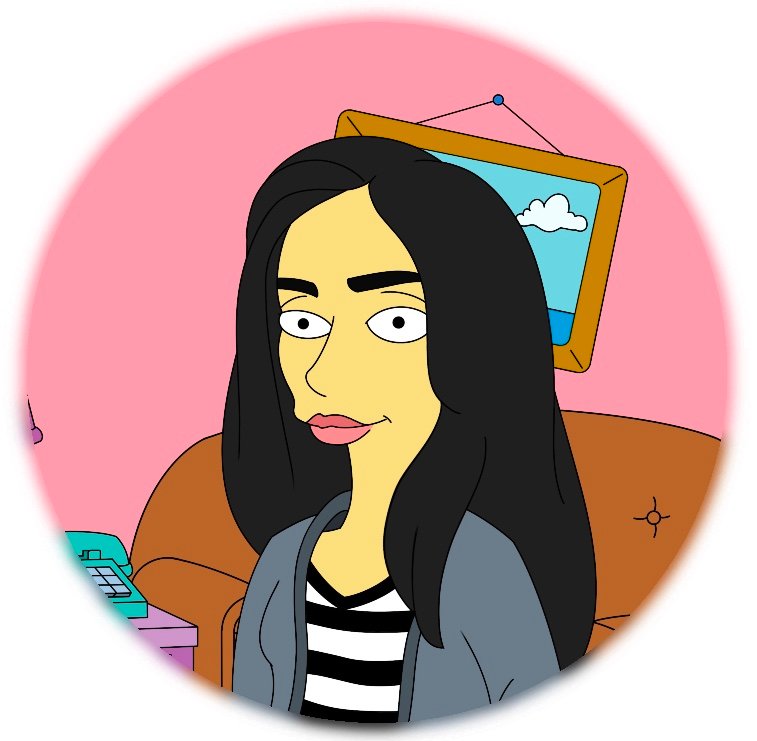 Discipline is the power of all professionalism.
La disciplina es el poder de todo profesionalismo.
---
---
---