Risultati del Focus Quotidiano su Splinterlands - Disable Focus - (ITA/ENG) - Results of the Daily Focus on Splinterlands - Disable Focus
Buonasera a tutti e ben ritrovati.
Approfittando, in questo martedì nel quale si festeggia San Valentino, di un giorno di ferie, che mi sono concesso per passare la giornata assieme a mia moglie, e, nel frattempo, per disbrigare anche alcune commissioni che già da fin troppo tempo stavo rimandando, eccomi rispuntare con il mio consueto post giornaliero, dedicato, in questo caso, ai risultati delle mie missioni giornaliere su Splinterlands.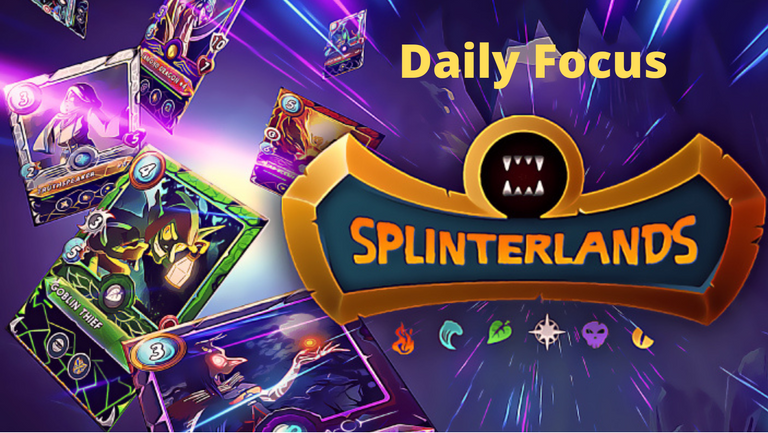 Come avevo già, per altro, argomentato ieri, infatti, credo che prendersi un po' di tempo, ogni tanto, per se stessi e per la nostra famiglia, sia di fondamentale importanza, soprattutto quando, durante le nostre settimane lavorative, finiamo per accumulare, pesantemente, stress e nervosismo, magari come nel mio caso, a causa di ambienti malsani.
Nonostante, quindi, ritrovandomi piuttosto sotto di ferie, visto che, tra le 3 settimane estive ed il periodo natalizio, durante i quali la ditta chiude, rimane difficile rimanere sopra ed averne ancora a disposizione per usarle a proprio piacimento, sia stato costretto ad usufruire di un permesso non retribuito, sono stato più che felice di poter trascorrere questa giornata ben lontano dal mio attuale posto di lavoro, per potermi godere qualche momento sereno con mia moglie.
L'unica nota stonata della giornata, è stata una spiacevole sensazione di malessere che, da metà mattinata, mi ha preso a braccetto senza abbandonarmi per un discreto lasso di tempo, dovuto, con ogni probabilità, alla mia pressione un po' ballerina, e, visto che, da qualche giorno, non sono poi così in forma, nel pomeriggio ho deciso di effettuare "il tagliando dei 50.000 km", e, di conseguenza, mi sono recato dal mio dottore di famiglia per farmi segnare un po' di controlli.
In realtà, infatti, devo dire che, anche se non ho idea del perché, è da quando mi sono beccato quella maledetta influenza, che mi ha letteralmente steso, poco prima di Natale, che non sono mai più ritornato completamente in forma, visto che, da allora, quasi quotidianamente mi sento sfinito e senza forze, e se, inizialmente, non ci facevo caso più di tanto, ora mi sono rotto le scatole, e ho deciso di capire se dietro non ci sia qualche altra motivazione.
Approfittando, quindi, del tempo a disposizione offertomi da questa giornata un po' particolare, ho finalmente deciso, anche se un po' malvolentieri, di vedere di prendermi cura di me stesso, per evitare la possibilità di potermi ritrovare, più avanti, di fronte a qualche problema un po' più serio del previsto.
Ma queste mie divagazioni personali, con le quali tendo a dilungarmi a volte un po' troppo, nulla c'entrano con l'argomento principale di questo mio post, e, di conseguenza, direi che è arrivato il momento di iniziare a parlare della reale protagonista dello stesso.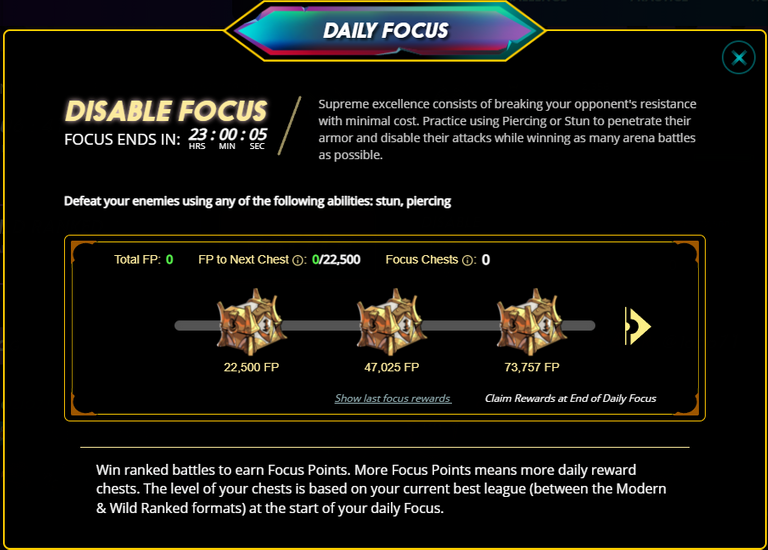 Il Focus della giornata in questione era, in questo caso, di tipo Disable, ovvero una delle quattordici nuove sfide, aggiunte qualche tempo fa al gioco, per dare più varietà allo stesso, che portano il totale delle missioni giornaliere sorteggiabili, a ben venti, rispetto alle sei iniziali.
In questo nuova sfida, per poter ottenere un numero di punti maggiori quando si vincono gli scontri contro i propri avversari, si dovrebbero, durante l'arco di 24 ore a disposizione, utilizzare carte, all'interno dei propri schieramenti, con le abilità Piercing, e Stun.
Essendo sbarcato, nel giorno precedente, al livello Diamond III, la difficoltà, che già nei giorni precedenti non scherzava per niente, di fronte alla quale mi sono ritrovato, era decisamente ancora più tosta di prima, e, di conseguenza, non mi è stato affatto facile evitare un discreto numero di sconfitte che, per un attimo, mi hanno fatto rischiare di finire, nuovamente, al livello sottostante.
Fortunatamente tutto questo non è successo, e, seppure tra mille difficoltà, mi è riuscito di chiudere questa stagione, appena conclusasi, al livello di cui sopra, che, se in precedenza era praticamente il mio minimo sindacale, dato che in precedenza riuscivo addirittura ad arrivare, saltuariamente, a quello Champions, adesso rappresenta il massimo delle mie aspettative, anche se spero, prima o poi, di tornare a situazioni migliori.
Purtroppo, però, al contrario, il quantitativo di scrigni che sono riuscito ad accaparrarmi è stato decisamente modesto, visto che mi è riuscito di concludere la giornata, con un risultato finale pari ad un totale di solo quattro di questi ultimi, anche se, in questo caso, teoricamente di livello superiore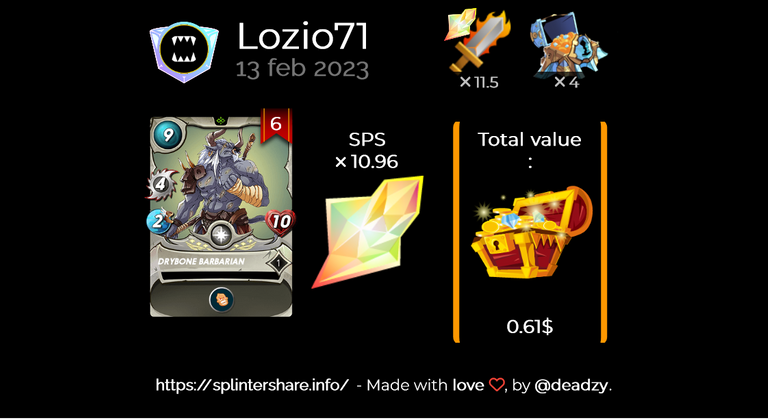 La speranza, a questo punto, era che, trattandosi di bauli più pregiati, mi fosse concessa la possibilità di ritrovarmi di fronte a ricompense adeguate, che potessero andare a compensare, con la loro qualità, la quantità piuttosto modesta degli stessi,
Per quanto non mi posso certo lamentare, visti anche i risultati precedenti, all'apertura dei suddetti, mi sono ritrovato davanti a 10,96 SPS, e, per concludere, a sei Drybone Barbarian dell'elemento vita, che non rappresentano, però, il risultato che avrei sperato giunto a questo punto.
Essendo arrivato al livello Diamond, e gareggiando, quindi, per scrigni che, teoricamente, dovrebbero essere più pregiati, sinceramente mi aspettavo delle rewards, tanto più visto l'andazzo degli ultimi giorni, che potessero piacevolmente sorprendermi, mentre, al contrario, non mi sono ritrovato davanti a nulla di particolarmente eccelso.
Dopo un po' di giornate decisamente piacevoli, con risultati in alcuni casi, oserei dire eccezionali, come la doppia leggendaria Gold Foil, però, direi che una giornata un po' più sottotono ci può anche stare, anche se ammetto che avrei sperato in tutt'altro.
Mi auguro, a questo punto, che possa darmi qualche soddisfazione in più, il primo finale di stagione di fronte al quale ci ritroviamo a seguito di questa nuova era, rappresentata dall'arrivo delle carte Soulbound che, da qualche giorno, stanno letteralmente stravolgendo l'andamento di questo gioco.
Era da tempo, infatti, che non ero così curioso di andare a scoprire che cosa ci potrà riservare questo evento, tanto più considerando che mi ritroverò, anche in questo caso, di fronte a scrigni di livello Diamond, che, teoricamente, dovrebbero riservarmi delle rewards di un certo livello, anche se, vista la giornata un po' deludente di oggi, non so cosa aspettarmi.
Non vorrei che, visto che le nuove carte hanno, per il momento, un valore pari allo zero, improvvisamente siano diventati più importanti, secondo secondo le metriche del gioco, gli SPS, e, di conseguenza, siano diventati questi i premi più preziosi, a discapito della carte.
In attesa di poter valutare questa ipotesi, magari già da domani, con l'apertura di ben 34 scrigni di livello Diamond, che sono quelli che sono riuscito a racimolare durante questa stagione, che si è appena conclusa, per il momento possiamo solo fare delle supposizioni fini a se stesse, e, di conseguenza preferisco soprassedere.
Vista lora che s'è fatta, alla quale aggiungerei il fatto che ancora non sono del tutto in forma, non vi voglio annoiare ulteriormente, e, di conseguenza, per il momento, non mi resta altro da fare se non, augurarvi una buona serata, o, almeno nell mio caso, una buonanotte, ed invitarvi, sempre che ne abbiate ancora voglia, a continuare a leggere i miei post ed a seguirmi.
P.S. Se non siete ancora iscritti a Splinterlands e volete iniziare anche voi a giocare a questo gioco potete iscrivervi da quì : Splinterlands
---
Good evening everyone and welcome back.
Taking advantage, on this Tuesday in which Valentine's Day is celebrated, of a day off, which I allowed myself to spend the day with my wife, and, in the meantime, also to take care of some errands that I had been putting off for far too long, here I am back with my usual daily post, dedicated, in this case, to the results of my daily missions on Splinterlands.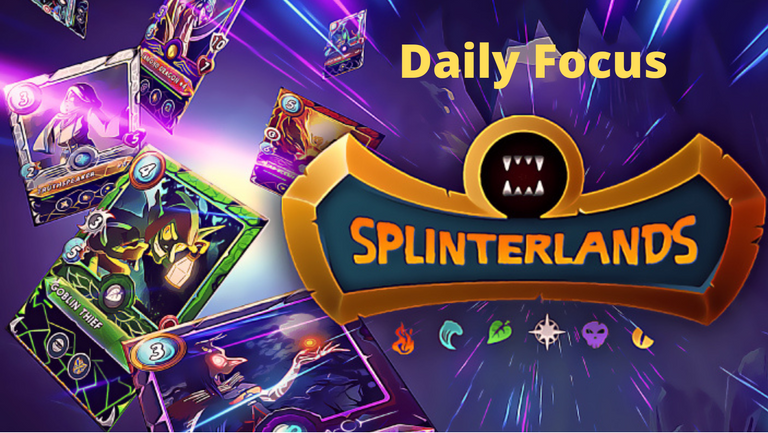 Indeed, as I had already argued yesterday, I believe that occasionally taking some time out for ourselves and for our family is of fundamental importance, especially when, during our working weeks, we end up accumulating , heavily, stress and nervousness, perhaps as in my case, due to unhealthy environments.
Despite, therefore, finding myself rather short of holidays, given that, between the 3 summer weeks and the Christmas period, during which the company closes, it remains difficult to stay on and still have some available to use them at will, I was forced to use of an unpaid leave, I was more than happy to be able to spend this day well away from my current workplace, to be able to enjoy some peaceful moments with my wife.
The only discordant note of the day was an unpleasant feeling of malaise which, from mid-morning, took me by the arm without abandoning me for a discrete amount of time, due, in all probability, to my somewhat bouncy pressure, and , since I haven't been in such good shape for a few days, in the afternoon I decided to carry out the "50,000 km coupon", and, consequently, I went to my family doctor to get a few checks done .
Actually, in fact, I have to say that, even if I have no idea why, it's since I caught that cursed flu, which literally knocked me down, just before Christmas, that I've never been completely back in shape, given that Since then, almost daily I feel exhausted and powerless, and if, initially, I didn't pay much attention to it, now I'm pissed off, and I've decided to understand if there isn't some other motivation behind it.
Taking advantage, therefore, of the time available to me offered by this somewhat particular day, I finally decided, even if a little reluctantly, to see if I could take care of myself, to avoid the possibility of being able to find myself, later on, facing to some problem a little more serious than expected.
But these personal digressions of mine, with which I tend to dwell sometimes a little too much, have nothing to do with the main topic of my post, and, consequently, I would say that the time has come to start talking about the real protagonist of the same.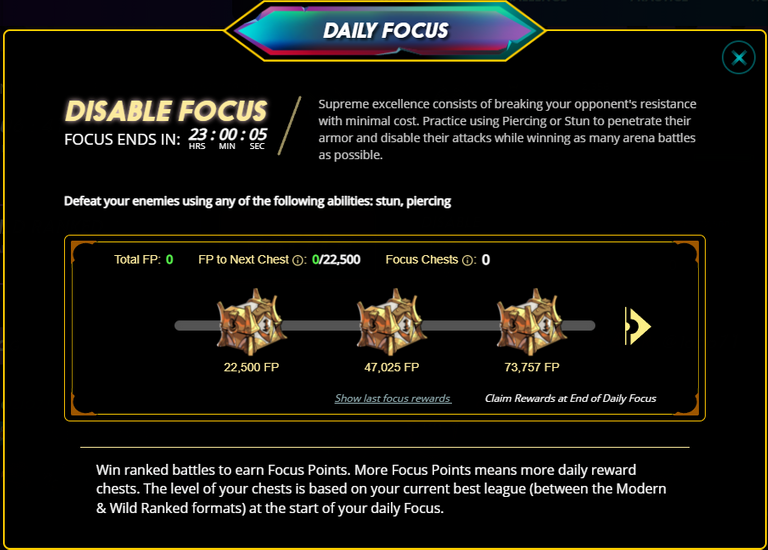 The Focus of the day in question was, in this case, of the Disable type, or one of the fourteen new challenges, added some time ago to the game, to give it more variety, which bring the total of daily missions that can be drawn, to twenty, compared to the initial six.
In this new challenge, in order to obtain a greater number of points when you win battles against your opponents, you should, during the 24 hours available, use cards, within your own deployments, with Piercing abilities , and Stun.
Having landed, the previous day, at the Diamond III level, the difficulty, which already in the previous days was not joking at all, faced with which I found myself, was decidedly even tougher than before, and, consequently, I was not not at all easy to avoid a fair number of defeats which, for a moment, made me risk ending up at the underlying level again.
Fortunately none of this happened, and, despite a thousand difficulties, I managed to close this season, which has just ended, at the above level, which, if previously it was practically my minimum wage, given that previously I was even able to getting to the Champions League occasionally, now represents the maximum of my expectations, even if I hope, sooner or later, to return to better situations.
Unfortunately, however, on the contrary, the quantity of caskets that I managed to grab was decidedly modest, given that I managed to end the day, with a final result equal to a total of only four of the latter, even if, in this case, theoretically of a higher level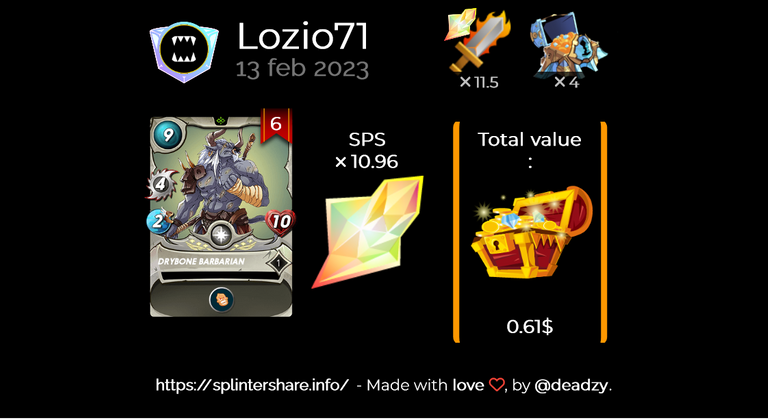 The hope, at this point, was that, since these were more valuable trunks, I would be granted the possibility of finding myself faced with adequate rewards, which could compensate, with their quality, the rather modest quantity of the same,
Although I certainly can't complain, also considering the previous results, at the opening of the aforementioned ones, I found myself in front of 10.96 SPS, and, finally, six Drybone Barbarians of the life element, which do not represent, however, the result I would have hoped for at this point.
Having reached the Diamond level, and therefore competing for caskets which, theoretically, should be more valuable, I sincerely expected rewards, especially given the trend of recent days, which could pleasantly surprise me, while, on the contrary, I I found myself in front of nothing particularly sublime.
After a few decidedly pleasant days, with results in some cases, I would dare to say exceptional, such as the legendary double Gold Foil, however, I would say that a slightly more subdued day could also fit, even if I admit that I would have hoped for all 'other.
I hope, at this point, that the first season finale in front of which we find ourselves following this new era, represented by the arrival of the Soulbound cards which, for some days, have been literally upsetting the world, can give me some more satisfaction. progress of this game.
In fact, it has been a long time since I was so curious to go and find out what this event can reserve for us, all the more considering that I will find myself, also in this case, in front of Diamond level chests, which, theoretically, should reserve me some rewards of a certain level, even if, given today's somewhat disappointing day, I don't know what to expect.
I would not like that, given that the new cards have, for the moment, a value equal to zero, suddenly the SPS have become more important, according to the metrics of the game, and, consequently, these have become the most valuable rewards, at the expense of cards.
Waiting to be able to evaluate this hypothesis, perhaps as early as tomorrow, with the opening of 34 Diamond level chests, which are the ones I managed to scrape together during this season, which has just ended, for the moment we can only make assumptions for their own sake, and consequently I prefer to postpone.
Given the time that has come, to which I would add the fact that I'm still not completely in shape, I don't want to bore you further, and, consequently, for the moment, there is nothing left for me to do except wish you a good evening , or, at least in my case, a good night, and invite you, if you still feel like it, to continue reading my posts and follow me.
P.S. If you haven't signed up for Splinterlands yet and want to start playing this game, you can sign up here: Splinterlands
---
---