Risultati del Focus Quotidiano su Splinterlands - Earth Focus - (ITA/ENG) - Results of the Daily Focus on Splinterlands - Earth Focus
Buonasera a tutti e ben ritrovati.
Con il weekend ormai alle nostre spalle, eccoci iniziare una nuova settimana lavorativa che, stando a come è iniziato questo lunedì, che mi ha messo subito i bastoni tra le ruote con un piccolo, ma fastidioso, imprevisto personale, temo sarà piuttosto in salita, ma, nonostante stanchezza e nervosismo già non manchino, eccomi ritornare con il mio consueto post quotidiano, dedicato, in questo caso, ai risultati delle mie missioni giornaliere su Splinterlands.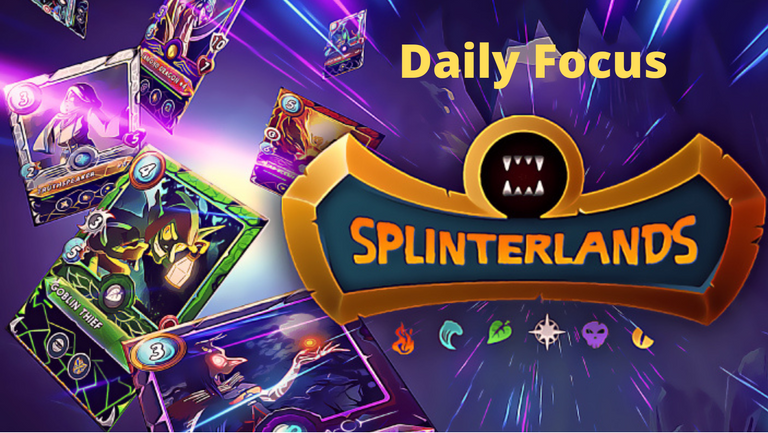 Anche se il piccolo episodio, di cui sopra, era fondamentalmente una cavolata, è stato decisamente spiacevole iniziare la mattinata già con un piccolo ostacolo da superare, e se a questo aggiungete che, subito dopo, il solito ignorante che comanda tutta la baracca ha iniziato a gironzolare, in lungo e in largo, nervosamente, all'interno dei vari reparti dell'azienda, pronto a rompere le scatole, vi lascio immaginare quanto sia stato piacevole il tutto.
Fortunatamente, dopo un attimo di sbandamento, sono riuscito a calmarmi, decidendo di non lasciarmi rovinare la giornata per una cosa da poco, e mi è riuscito di tornare a concentrarmi su tutt'altro, evitando di sprecare il mio tempo lamentandomi dell'accaduto, visto che non sarebbe servito a nulla,
Per quanto non sia facile, infatti, perdere tempo, ed energie, concentrandosi su un problema, invece che sulla sua soluzione, o, comunque, su eventuali alternative percorribili, non serve a nulla, ed anzi, probabilmente, dona ulteriore energia solare allo stesso, e, di conseguenza, ho cercato, fin da subito, di dedicare il mio tempo ad altro.
Anche perché ci sarebbe da aggiungere che, l'imprevisto di cui sopra, era, in realtà, prevedibile, ed è accaduto soprattutto per una mia disattenzione, e, di conseguenza, la responsabilità di quanto è accaduto, in fondo, è soltanto mia, e quindi devo accettarlo e, semplicemente, stare più attento le prossime volte.
L'unica cosa sulla quale potrei eventualmente recriminare in merito a questa giornata, è semplicemente la solita, ed ormai conosciuta, situazione lavorativa, che fa vivere in un ambiente malsano, pieno di nervosismo e tensioni che lo rendono sempre più insopportabile, ma, anche in questo caso, sarebbe solo una perdita di tempo inutile concentrarsi sul problema, e preferisco, quindi, al contrario, concentrarmi sulle possibili soluzioni, come il trovare un nuovo percorso lavorativo da intraprendere quanto prima possibile.
Ma queste sono solo le mie consuete divagazioni personali, dalle quali spesso mi faccio prendere la mano, che ben poco hanno a che fare con l'argomento di questo mio post, e, quindi, direi che è arrivata l'ora di iniziare a parlare della reale protagonista dello stesso, ovvero dell'ultima missione da me conclusa su Splinterlands.

Il focus della giornata della quale vi andrò a parlare, era di tipo Earth ovvero, una delle sfide storiche, che prevede, per raccogliere il maggior numero possibile di punti, nella speranza di ottenere un buon quantitativo di scrigni, di utilizzare, durante le 24 ore di tempo a disposizione, Summoners, e carte, principalmente dell'elemento terra, al limite in combinata con le cosiddette carte neutrali, per vincere quanti più scontri possibili contro i propri avversari.
Anche ieri, grazie anche al fatto di non essermi ritrovato con molto tempo a disposizione da dedicare al gioco, le cose sono andate come di consueto, e mi sono di nuovo tornato a trovare di fronte ad una difficoltà, secondo me piuttosto eccessiva, che mi ha causato dei problemi fin dalle prime battute.
Dopo una serie iniziale di sconfitte piuttosto pesanti, però, come mi è già capitato in altre occasioni, mi sono ritrovato davanti ad alcuni avversari alla mia portata, che mi hanno consentito di infilare una piccola serie di vittorie, consecutive, che mi hanno anche consentito di arrivare al livello Diamond III.
Sa già alla lega inferiore le cose si erano fatte difficili, vi lascio immaginare che cosa mi attendeva a quella superiore, dove sono stato accolto, fin da subito, da avversari decisamente molto forti, che mi hanno preso a schiaffi, ributtandomi subito da dove ero arrivato.
Tra alti e bassi, però, alla fine mi è riuscito di chiudere la giornata al livello superiore, il che mi consentirà di lottare, domani, almeno per un giorno, per degli scrigni di tipo Diamond, e di portarmi a casa un totale di otto bauli, che, per come è andata la giornata. definisco un risultato accettabile.

Come amo ribadire praticamente fin da sempre, però, per poter valutare com'è andata una giornata, e quali risultati si è riusciti ad ottenere, non è tanto la quantità dei suddetti che conta, quanto, piuttosto, la qualità dei contenuti che si celano a loro interno.
Un po' titubante, visto l'andazzo di alcuni giorni precedenti, ho proceduto all'apertura degli scrigni di cui sopra, e, fortunatamente, mi sono trovato davanti a 6 Alchemy Potion, 230 Merits, che utilizzerò quanto prima per l'acquisto di un pacchetto di carte Gladius, 1,422 SPS, 6 Dumacke Orc delle cosidette carte neutrali, 2 Octavia Shadowmeld, evocatore raro dell'elemento morte, e, per concludere, una Iidri Fyre, carta epica dell'elemento fuoco.
Dopo qualche giornata dove sono stato messo un po' più a dieta, quest'oggi devo ammettere che le cose non sono andate affatto male, visto che mi sono trovato di fronte ad un risultato decisamente più interessante dei giorni scorsi, grazie anche ad una carta epica, piuttosto interessante, che è stata il punto di forza della giornata.
Certo siamo ancora ben distanti dai colpi messi a segno nei primi giorni a seguito dell'avvento delle carte Soulbound, che credo mi rimarranno impressi piuttosto a lungo, poiché straordinari, ma, comunque, un bottino abbastanza soddisfacente, che mi consente di rimpinguare la mia collezione.
Vista questa piccola ripresa nella qualità della Rewards ricevute, sono decisamente curioso di vedere come andrà a finire, tanto domani, visto che riuscirò a competere per scrigni di livello Diamond, che, teoricamente, di conseguenza, dovrebbero essere migliori rispetto a quelli della lega Gold, quanto in occasione del finale di stagione, ormai prossimo, che mi auguro possa essere migliore del precedente, e riservarmi qualche sorpresa interessante.
In occasione di quello trascorso, infatti, devo ammettere che ero rimasto un pochettino deluso, poiché la quantità, e la qualità, delle carte di fronte alle quali mi ero ritrovato, erano ben al di sotto delle mie aspettative, tanto più visto alcuni colpi, decisamente fortunati, avuti in fase iniziale.
Da fan sfegatato di Splinterlands, anche se, al momento, le stesse hanno un valore pari allo zero, perché risultano bloccate, e, di conseguenza, non tradabili e/o scambiabili, sono proprio quest'ultime quelle che mi piacerebbe trovare in grossa quantità, ancora di più degli SPS, o di altre ricompense di altro genere, nonostante, magari, queste possano avere un controvalore più interessante.
Già dopodomani, comunque, saremo in grado di scoprire come sarà andata a finire questa nuova edizione, e, sinceramente, mi auguro di poter condividere con voi un lungo elenco di carte, della nuova edizione, che mi auguro anche essere particolarmente pregiate, così da rinforzare, adeguatamente, il mio mazzo.
A questo punto, non resta, quindi, che attendere e, visto che non mi va di annoiarvi ulteriormente con le mie divagazioni personali, per il momento, non mi resta altro da fare, se non porgervi i miei saluti, augurandovi una buona serata, ed invitarvi, sempre che ne abbiate ancora voglia, a continuare a leggere i miei post, ed a seguirmi.
P.S. Se non siete ancora iscritti a Splinterlands e volete iniziare anche voi a giocare a questo gioco potete iscrivervi da quì : Splinterlands
---
Good evening everyone and welcome back.
With the weekend now behind us, here we are starting a new working week which, according to how this Monday started, which immediately put a spoke in my wheels with a small, but annoying, personal unexpected event, I'm afraid will be rather uphill, but, despite tiredness and nervousness already there, here I am back with my usual daily post, dedicated, in this case, to the results of my daily missions on Splinterlands.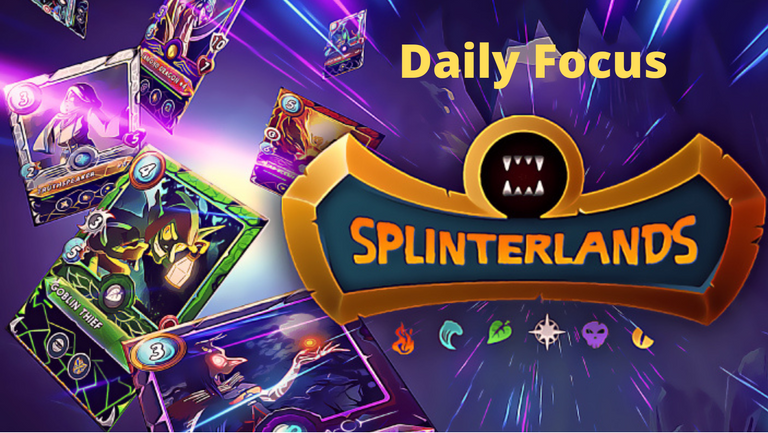 Even if the little episode mentioned above was basically bullshit, it was decidedly unpleasant to start the morning already with a small obstacle to overcome, and if you add to this that, immediately afterwards, the usually ignorant man who commands the whole shack started wandering around, far and wide, nervously, within the various departments of the company, ready to annoy you, I let you imagine how pleasant it all was.
Luckily, after a moment of confusion, I managed to calm down, deciding not to let my day be ruined by a trivial thing, and I was able to concentrate on something else entirely, avoiding wasting my time complaining about what had happened. since it would have been of no use,
Although it is not easy, in fact, wasting time and energy, concentrating on a problem, instead of on its solution, or, in any case, on possible viable alternatives, is useless, and indeed, probably, gives additional solar energy to the same , and, consequently, I immediately tried to devote my time to something else.
Also because we would have to add that the unexpected event mentioned above was, in reality, foreseeable, and it happened above all due to my carelessness, and, consequently, the responsibility for what happened, after all, is mine alone, and so I have to accept it and just be more careful next time.
The only thing I could possibly complain about regarding this day, is simply the usual, and by now known, work situation, which makes you live in an unhealthy environment, full of nervousness and tensions that make it increasingly unbearable, but, also in this case, it would just be a useless waste of time to focus on the problem, and I therefore prefer, on the contrary, to focus on possible solutions, such as finding a new career path to undertake as soon as possible.
But these are just my usual personal digressions, from which I often get carried away, which have very little to do with the subject of my post, and, therefore, I would say that the time has come to start talking of the real protagonist of the same, or of the last mission I completed on Splinterlands.

The focus of the day which I am going to tell you about, was of the Earth type, that is, one of the historical challenges, which foresees, in order to collect as many points as possible, in the hope of obtaining a good quantity of chests, to use, during the 24 hours of time available, Summoners, and cards, mainly of the earth element, at the limit in combination with the so-called neutral cards, to win as many battles as possible against your opponents.
Yesterday too, thanks also to the fact that I didn't have much time available to devote to the game, things went as usual, and I once again found myself faced with a rather excessive difficulty, which in my opinion it caused problems right from the start.
After an initial series of rather heavy defeats, however, as has already happened to me on other occasions, I found myself facing some opponents within my reach, who allowed me to put on a small series of consecutive victories, which also allowed me to reach Diamond III level.
You know things had already become difficult in the lower league, I let you imagine what awaited me in the higher league, where I was immediately welcomed by decidedly very strong opponents, who slapped me, immediately throwing me back from where I was arrived.
Through ups and downs, however, in the end I managed to close the day at the top level, which will allow me to fight for Diamond-type chests for at least one day tomorrow, and to take home a total of eight trunks, that, for how the day went. I define an acceptable result.

As I have loved to repeat almost always, however, in order to be able to evaluate how a day went, and what results we managed to obtain, it is not so much the quantity of the aforementioned that counts, but rather the quality of the contents that are hidden within them.
A little hesitant, given the trend of a few previous days, I proceeded to open the caskets mentioned above, and, fortunately, I found myself in front of 6 Alchemy Potions, 230 Merits, which I will use as soon as possible to purchase a pack of Gladius cards, 1,422 SPS, 6 Dumacke Orc of the so-called neutral cards, 2 Octavia Shadowmeld, rare summoner of the element of death, and, finally, an Iidri Fyre, epic card of the element of fire.
After a few days where I was put on a little more diet, today I have to admit that things didn't go bad at all, since I found myself faced with a decidedly more interesting result than the past few days, thanks also to a card epic, quite interesting, which was the highlight of the day.
Of course we are still a long way from the hits scored in the early days following the advent of Soulbound cards, which I think will remain with me for quite a long time, as they are extraordinary, but, in any case, a fairly satisfying loot, which allows me to replenish my collection.
Given this small upturn in the quality of the Rewards received, I'm definitely curious to see how it will end, especially tomorrow, since I will be able to compete for Diamond level chests, which, theoretically, consequently, should be better than those in the Gold league , as well as on the occasion of the season finale, now imminent, which I hope will be better than the previous one, and reserve me some interesting surprises.
On the occasion of the past one, in fact, I must admit that I was a little disappointed, since the quantity and quality of the papers I found myself in front of were well below my expectations, especially given some shots, decidedly lucky, had in the initial phase.
As a die-hard fan of Splinterlands, even if, at the moment, they have a value equal to zero, because they are blocked, and, consequently, not tradable and/or exchangeable, it is the latter ones that I would like to find in large quantities , even more than SPS, or other rewards of a different kind, although, perhaps, these may have a more interesting value.
Already the day after tomorrow, however, we will be able to find out how this new edition will end up, and, sincerely, I hope to be able to share with you a long list of cards, from the new edition, which I also hope will be particularly valuable, so as to properly reinforce my deck.
At this point, therefore, all that remains is to wait and, since I don't feel like boring you further with my personal digressions, for the moment, there is nothing left for me to do, except to send you my greetings, wishing you a good evening, and invite you, if you still feel like it, to continue reading my posts, and to follow me.
P.S. If you haven't signed up for Splinterlands yet and want to start playing this game, you can sign up here: Splinterlands
---
---