Risultati del Focus Quotidiano su Splinterlands - Healing Focus - (ITA/ENG) - Results of the Daily Focus on Splinterlands - Healing Focus
Buonasera a tutti e ben ritrovati.
Nonostante oggi sia sabato, primo giorno di un weekend tanto atteso, durante il quale mi auguravo di riuscire a riposare e a rilassarmi un po', gli impegni non sono assolutamente mancati, e se sono riuscito a trovare il tempo per fare quattro passi, dei quale sto approfittando per buttare giù queste mie poche righe, con le quali eccomi rispuntare con il mio consueto post quotidiano, dedicato, in questo caso, ai risultati delle mie missioni giornaliere su Splinterlands, è stato praticamente miracolo.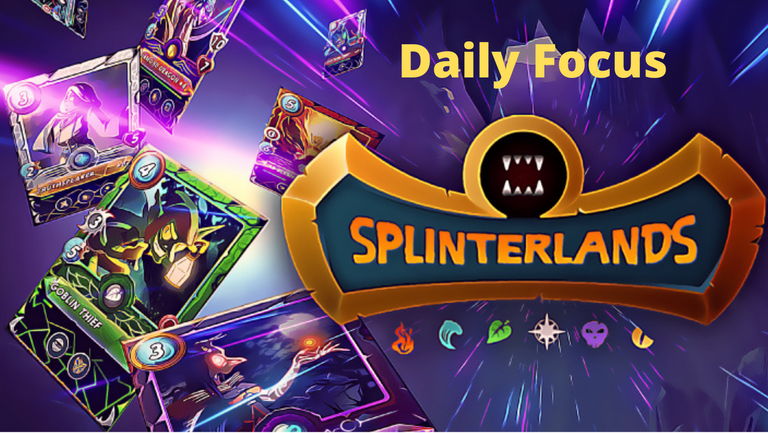 La giornata, infatti, è stata abbastanza pregna di impegni vari, sia personali, nel tentativo di portare avanti alcuni dei miei progetti, che si sono resi sempre più impellenti vista la situazione, che va, via, via, sempre peggiorando, all'interno dell'azienda per la quale lavoro, sia familiari, visto che ho dovuto parlare di alcune cose con i miei i genitori, per delle situazioni che dobbiamo vedere di sistemare, anche in questo caso, il prima possibile.
Purtroppo non tutto è andato come mi aspettavo, visto che uno degli incontri personali che ho avuto, per valutare una cosa, non si è concluso in maniera positiva come speravo, ma fortunatamente non ne faccio un dramma, visto ho già addocchiato un paio di altre occasioni che spero possano andare in maniera migliore, mentre, al contrario, mi peserà molto di più dovermi confrontare, prima o poi, con mia sorella, con la quale i rapporti sono piuttosto incrinati, dopo alcuni trascorsi poco piacevoli, per prendere delle decisioni in merito al discorso che riguarda la mia famiglia, ed alcuni beni.
Anche se, fortunatamente, ormai è già da tempo che non ha più combinato i casini che, per un certo periodo, ci avevano fatto uscire tutti un po' di testa, ammetto che l'idea di avere a che fare con lei, dopo quello che mi sono sentito dire, non è per me una cosa poi così piacevole, ma se servirà per sistemare alcune vicine familiari, dovrò, gioco forza, fare buon viso a cattivo gioco, e decidermi ad affrontare la cosa.
Riuscire, quindi, a trovare qualche momento solo per me stesso, per rilassarmi un po' e sgombrare la mente da un po' di pensieri, oggi non è stato decisamente molto semplice, ma tanto più viste alcune cose che mi hanno un po' infastidito, sono lieto di esservi riuscito, e di poter approfittare della cosa anche per questo mio nuovo articolo.
Mi auguro, almeno, che la serata che passerò in famiglia, con la consueta pizzata del sabato sera, possa rivelarsi serena e tranquilla, così da riuscire a godermi dei piacevoli momenti con loro senza altre menate di nessun genere.
Ma queste mie divagazioni personali, nulla c'entrano con l'argomento principale di questo mio post, e, di conseguenza, direi che è arrivato il momento di iniziare a parlare della reale protagonista dello stesso, ovvero dell'ultima missione da me completata.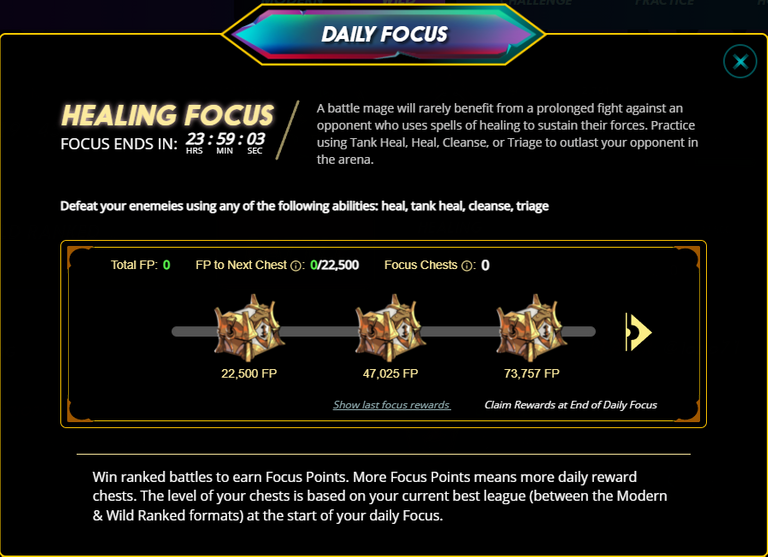 Il Focus di giornata era, in questo caso, per la seconda giornata di seguito, di tipo Healing, ovvero una delle quattordici nuove sfide, aggiunte, ormai parecchio tempo fa, al gioco, per dare più varietà allo stesso, che portano il totale delle missioni giornaliere sorteggiabili, a ben venti, rispetto alle sei iniziali.
In questa nuova sfida, per poter ottenere un numero di punti maggiori quando si vincono gli scontri contro i propri avversari, si dovrebbero, durante l'arco delle 24 ore messe a disposizione, utilizzare carte, all'interno dei propri schieramenti, con le abilità Heal, Tank Heal, Cleanse e Triage.
Durante la serata, le cose si sono fatte fin da subito molto complicate, visto che sono ancora molti gli avversari, di livello superiore, che stanno tentando, come del resto il sottoscritto, di farsi strada, sgomitando, per recuperare i livelli persi il prima possibile.
Trovandomi a combattere ancora al livello Silver, inoltre, come già detto ieri sera, a tutto questo si aggiungeva un ulteriore difficoltà, visto che sono così abituato, ormai da tempo, a combattere almeno al livello Gold, che ogni volta che mi ritrovo ai livelli inferiori, mi trovo un po' spaesato, poiché costretto ad utilizzare delle carte chevengono limitate nei loro poteri, e, di conseguenza, a dover rimodulare alcuni miei schieramenti.
Per assurdo, quindi, anche se sto utilizzando delle carte più forti, e quindi dovrei essere, teoricamente, avvantaggiato, a causa di questa situazione mi ritrovo, al contrario, piuttosto in difficoltà, ed infatti non mi è stato per niente facile vincere gli scontri che stavo affrontando.
Alla lunga, però, mi è comunque riuscito di chiudere la questione, e di concludere questa missione, riuscendo, non solo, finalmente, a risalire al livello Gold III, cosa che mi consentirà, da ora in avanti, di tornare ad utilizzare schieramenti ai quali sono un po' più abituato, anche se questo non vorrà dire che le cose si faranno facili, ma anche di portarmi a casa un totale di 10 scrigni, anche se di tipo Silver.

Come ogni giorno, quindi, rimaneva, a questo punto, solo da comprendere quali rewards mi avrebbe riservato il destino all'interno degli stessi, sperando che potesse continuare la piacevole distribuzione di quelle nuove carte che, devo mettere, mi stanno conquistando sempre di più, visto anche i notevoli colpi di fortuna avuti nei giorni scorsi.
All'apertura degli stessi, ho finito con ritrovarmi di fronte a una Legendary Potion, tre Alchemy Potion, 16 Merits, che mi torneranno utili per acquistare dei pacchetti di carte Gladius, da utilizzare per combattere all'interno della nuova Gilda alla quale mi sono associato, 0,465 SPS, due Firecaller e tre Ferox Defender dell'elemento fuoco, due Dumacke Orc delle cosiddette carte neutrali, e, per concludere, ad una Possessed Puppet dell'elemento morte.
Anche se niente di particolarmente eccelso, quindi, un bilancio giornaliero che, comunque, risulta andare ad allungare quella striscia di risultati positivi che, dall'inizio dell'era delle cosiddette Soulbound, ci sta piacevolmente sorprendendo, con ricompense degne di essere chiamate tali.
Dopo un periodo che stava piuttosto snervando moltissimi utenti, e che aveva iniziato a generare un malcontento strisciante che, ormai, era diventato abbastanza palpabile, all'interno di molti gruppi, e forum, dedicati a questo gioco, quindi, finalmente le cose sembrano aver preso un'altra direzione, e, in pochi giorni, il sentimento di moltissimi utenti è decisamente cambiato, visto che sta tornando un discreto entusiasmo nei riguardi dello stesso.
Non vi nascondo, ad esempio, che io per primo sono tra i suddetti, visto che è dall'inizio di questa "nuova epoca" che, praticamente ogni giorno, non vedo l'ora di riuscire a trovare un po' di tempo da dedicare al completamento delle missioni giornaliere, curiosissimo di poter scoprire quanti scrigni mi riuscirà di accaparrarmi, e, soprattutto, quale possa essere il loro contenuto.
Tra i lati positivi arrivati grazie a queste ultime novità appena introdotte, inoltre, sembra diventare sempre più evidente un notevole calo del numero dei Bot attivi all'interno del gioco, cosa che, sinceramente, non avrei realmente immaginato potesse succedere, e tutto questo porterà, quasi sicuramente, sempre che questo effetto sia duraturo e non semplicemente momentaneo, un notevole miglioramento nell'economia interna, visto che, finalmente, la smetteranno di continuare a depredare le pool delle ricompense giornaliere, e stagionali, facendo pesantemente incetta delle stesse.
Tutto questo, infatti, dovrebbe consentire una maggiore stabilità dei valori di tutti gli assets di Splinterlands, ed evitare quella fuga di liquidità che, da tempo, andava avanti, grazie alle continue svendite degli stessi, da parte di chi riusciva, con questi metodi, a farne facilmente, e senza fatica, incetta, alle spalle degli utenti reali, creando un notevole danno economico, tanto a questi ultimi, quanto, e soprattutto, a questo gioco.
Ora, però, non vi voglio annoiare ulteriormente, e, di conseguenza, per il momento, non mi resta altro da fare se non, augurarvi una buona serata, ed invitarvi, sempre che ne abbiate ancora voglia, a continuare a leggere i miei post ed a seguirmi.
P.S. Se non siete ancora iscritti a Splinterlands e volete iniziare anche voi a giocare a questo gioco potete iscrivervi da quì : Splinterlands
---
Good evening everyone and welcome back.
Although today is Saturday, the first day of a long-awaited weekend, during which I hoped to be able to rest and relax a bit, commitments have not been lacking, and if I have managed to find time to take a stroll, of which I'm taking the opportunity to write down these few lines of mine, with which I reappear with my usual daily post, dedicated, in this case, to the results of my daily missions on Splinterlands, it was practically a miracle.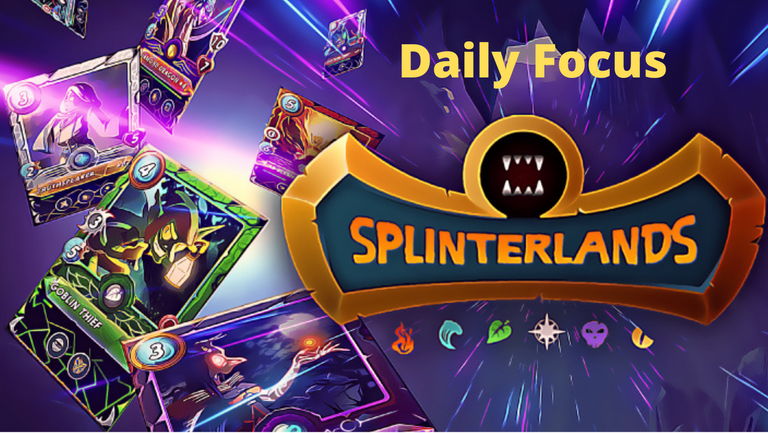 In fact, the day was quite full of various commitments, both personal, in an attempt to carry out some of my projects, which have become increasingly urgent given the situation, which is, away, away, getting worse and worse, inside of the company for which I work, both familiar, since I had to talk about some things with my parents, for situations that we need to see to fix, also in this case, as soon as possible.
Unfortunately not everything went as I expected, given that one of the personal meetings I had, to evaluate one thing, did not end as positively as I had hoped, but fortunately I don't make a big deal out of it, since I've already spotted a couple of other occasions that I hope will go better, while, on the contrary, it will weigh much more on me having to deal, sooner or later, with my sister, with whom relations are rather flawed, after some unpleasant pasts, to make decisions in about the speech that concerns my family, and some assets.
Even if, fortunately, it has been a long time since she has made the mess that, for a certain period, had made us all go a little crazy, I admit that the idea of having to do with her, after that what I heard, is not a very pleasant thing for me, but if it will be used to settle some close family members, I will have to, play my strength, make the best of a bad situation, and decide to face the thing.
Being able, therefore, to find a few moments just for myself, to relax a bit and clear my mind of a few thoughts today was definitely not very simple, but all the more so given some things that annoyed me a bit , I am pleased to have succeeded, and to be able to take advantage of it also for my new article.
I hope, at least, that the evening I'll spend with my family, with the usual pizza party on Saturday night, will be serene and peaceful, so that I can enjoy pleasant moments with them without further bullshit of any kind.
But these personal digressions of mine have nothing to do with the main topic of my post, and, consequently, I would say that the time has come to start talking about the real protagonist of the same, or the last mission I completed.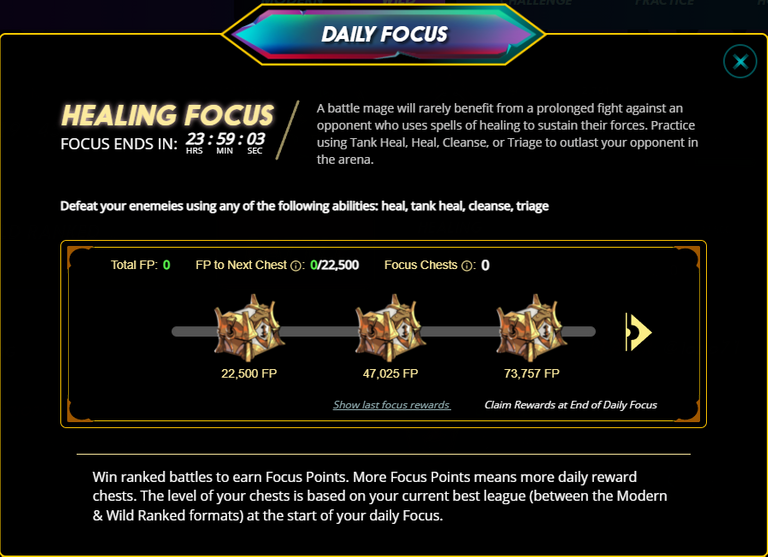 The Focus of the day was, in this case, for the second day in a row, of the Healing type, or one of the fourteen new challenges, added quite some time ago to the game, to give it more variety, which bring the total daily missions that can be drawn, at twenty, compared to the initial six.
In this new challenge, in order to obtain a greater number of points when you win battles against your opponents, you should, during the 24 hours available, use cards, within your own deployments, with the abilities Heal, Tank Heal, Cleanse and Triage.
During the evening, things immediately became very complicated, given that there are still many opponents, of a higher level, who are trying, like myself, to make their way, elbowing, to recover the levels lost the first possible.
Finding myself still fighting at the Silver level, moreover, as already mentioned yesterday evening, a further difficulty was added to all this, since I have been so used to fighting at least at the Gold level for some time now, that every time I find myself at the inferior, I find myself a bit lost, as I am forced to use cards that are limited in their powers, and, consequently, to have to remodulate some of my deployments.
Absurdly, therefore, even if I'm using stronger cards, and therefore I should, theoretically, have an advantage, due to this situation I find myself, on the contrary, rather in difficulty, and in fact it hasn't been easy for me to win the fights that I was facing.
In the long run, however, I still managed to close the question, and to conclude this mission, managing, not only, finally, to go back to the Gold III level, which will allow me, from now on, to go back to using deployments at which I'm a little more used to, although this doesn't mean that things will get easy, but also to bring home a total of 10 chests, albeit of the Silver type.

As every day, therefore, at this point, it only remained to understand what rewards fate would have reserved for me within them, hoping that the pleasant distribution of those new cards could continue which, I must put, are winning me over more and more , also given the considerable strokes of luck we have had in recent days.
Upon opening them, I ended up finding myself in front of a Legendary Potion, three Alchemy Potions, 16 Merits, which will come in handy for buying packs of Gladius cards, to be used to fight within the new Guild I joined associated, 0.465 SPS, two Firecallers and three Ferox Defenders of the element of fire, two Dumacke Orcs of the so-called neutral cards, and, finally, a Possessed Puppet of the element of death.
Even if nothing particularly sublime, therefore, a daily balance which, in any case, appears to extend that streak of positive results which, since the beginning of the so-called Soulbound era, has been pleasantly surprising us, with rewards worthy of being called such.
After a period that was rather unnerving many users, and which had begun to generate a creeping discontent that, by now, had become quite palpable, within many groups and forums dedicated to this game, finally things seem to have taken another direction, and, in a few days, the sentiment of many users has definitely changed, given that a fair amount of enthusiasm towards the same is returning.
I won't hide from you, for example, that I am the first to be among the aforementioned, since it's been since the beginning of this "new era" that, practically every day, I can't wait to be able to find some time to dedicate upon completion of the daily missions, very curious to be able to find out how many chests I will be able to grab, and, above all, what their content may be.
Among the positive sides that arrived thanks to these latest innovations just introduced, moreover, a significant drop in the number of active Bots within the game seems to become increasingly evident, which, honestly, I would not have really imagined could happen, and all this will lead almost certainly, provided that this effect is lasting and not simply momentary, a significant improvement in the internal economy, given that, finally, they will stop continuing to plunder the pools of daily and seasonal rewards, heavily hoarding them.
All this, in fact, should allow for greater stability of the values of all Splinterlands assets, and avoid that liquidity escape which, for some time, had been going on, thanks to the continuous sell-offs of the same, by those who managed, with these methods, to easily and effortlessly hoard it behind the backs of real users, creating considerable economic damage, both to the latter and, above all, to this game.
Now, however, I don't want to bore you further, and, consequently, for the moment, there is nothing left for me to do but wish you a good evening, and invite you, if you still feel like it, to continue reading my posts and to follow me.
P.S. If you haven't signed up for Splinterlands yet and want to start playing this game, you can sign up here: Splinterlands
---
---