Splinterlands Guild Brawl Battle Pizza 420 Calzones


Pizza 420 The Calzones Guild
What's good fam! We just finished our brawl battle and waiting for the next one this is the recap of the recent brawl we had and current updates from our guild.
Pizza Brawl Battle

I place an entry for
Bronze League / Alpha/Beta Set
. I was thinking I should play on the higher tier to earn more rewards while I can and before the $SPS Staking update. I were able to finish the battle on 3rd place 4 Wins-1Loss with 12 points, earning
919 Merit(s)
and
11.202 SPS
.

Although we finished at #7 from the whole brawl battle with
96 Points
, Total of
32 Wins- 48 Losses
. I hope we can do better next time.
Check out the 3speak video for the highlights of my brawl battle.

Brawl Battle 1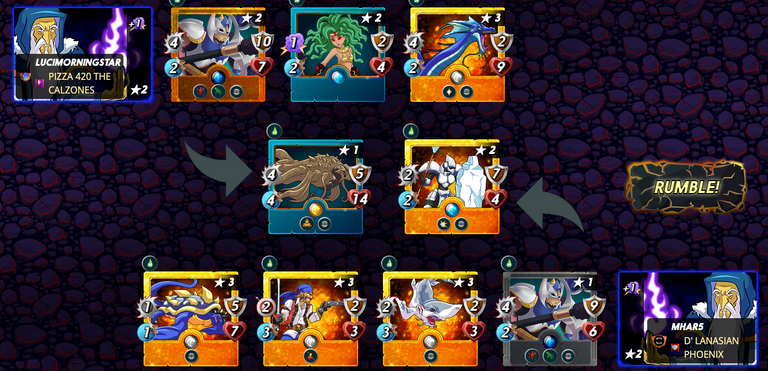 First Battle, The Splinter element was limited to Water, Light, and Dragon, All creatures had Sneak attack, Armored up, and Poison at every end of the round with Max Mana of 36. For this battle mainly focused on Creature cards that have high Health Points at the same position as my Sea Monster on the last position since it has a healing ability.
Rules of combat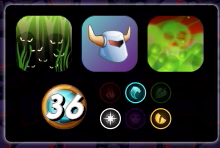 ---
Brawl Battle 2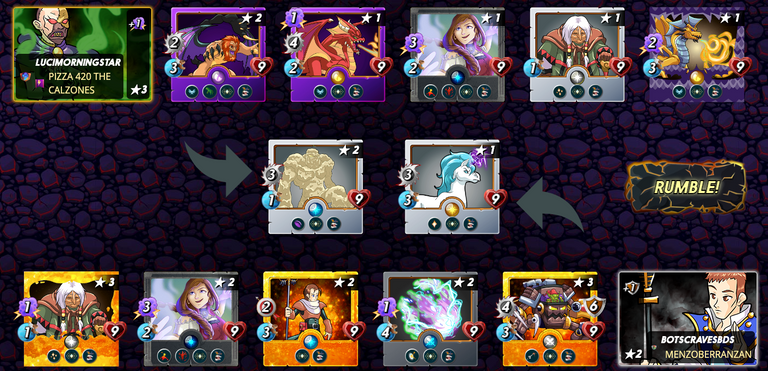 At 42 Mana pool I really thought I could pull this win, using Dragon Deck, with Equalizer, Ferocity, and Amplify ability. I think I used up too much of the Melee creatures and wasn't able to maximize the Magic damage fire power. so this is a hard lose battle versus light element.
Rules of combat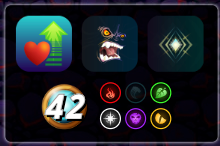 ---
Brawl Battle 3
The Opponent wasn't able to input an entry for, and marked as Opponent has fled. so this was a plus 1 easy win for me. Yosh!
Rules of combat
---
Brawl Battle 4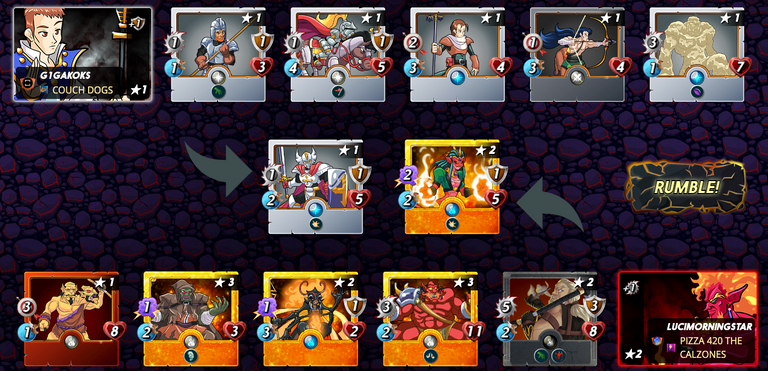 On this battle I took the opportunity of No legendary, No sneak or snipe, even with no heal. using the additional skill of Demoralize by Molten Ogre to decrease melee damage and used Naga fire wizard as Magic damage/tank and Chimney Wallstop as an extra hitter with reach. and so this was such an easy win!
Rules of combat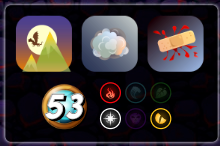 ---
Brawl Battle 5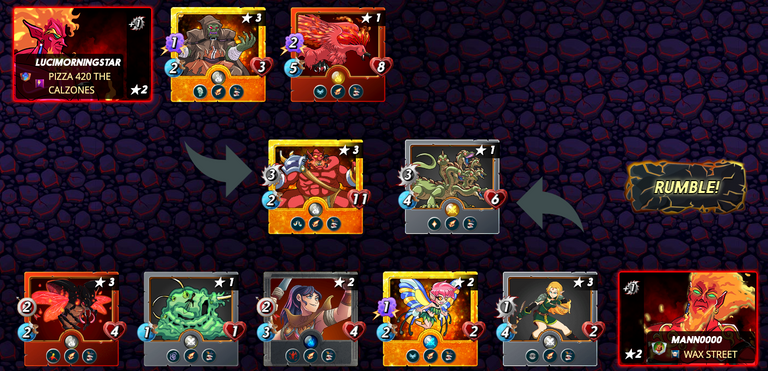 This battle was at minimum mana cap of 22, With the combat rule of Ferosity, Aimless, and odds number creatures only, I figured to use Molten Ogre that has Demoralize that decreases all melee attacks, assuming that the opponent will be using Fire Splinter as well. while using Magic damaging creatures to aimlessly hit other position.
Rules of combat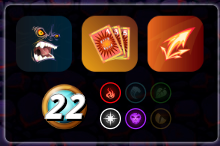 Guild Update

Level 5 - Guild Hall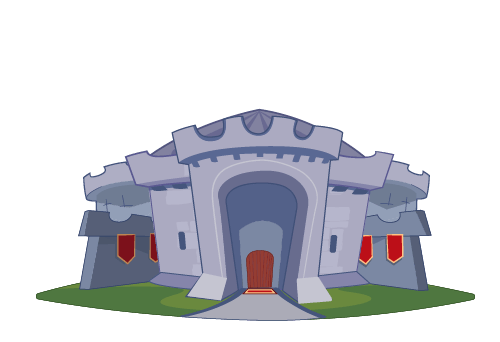 Pizza 420 The Calzone has a level 5 Guildhall, so we have
Max Member capacity of 19
, and currently we have
17 Members
. So if you still don't have a guild and looking for one, kindly comment down below, or visit
Hive-Pizza
discord
To know more about Hive Pizza community visit
https://hive.pizza
---
Level 4 - Lodge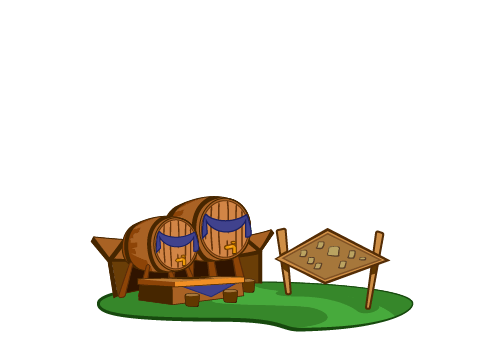 Currently, our lodge is at level 4, and we have a Reward bonus is at 4% and Shop discount at 2%, we need 14 Focus more and we get to upgrade to level 5.
---
Level 3 - Guild Arena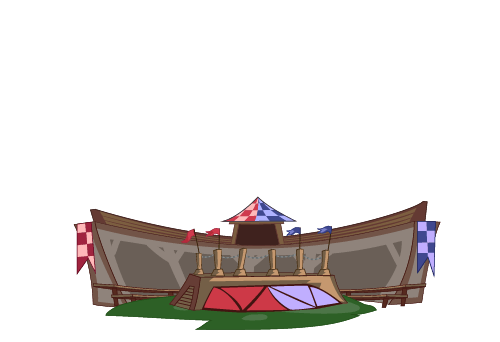 Our Arena is currently at Level 4 at Level 2 Tier and total of 16 Frays. It's our road to level 5!
---
Level 3 - Guild Barracks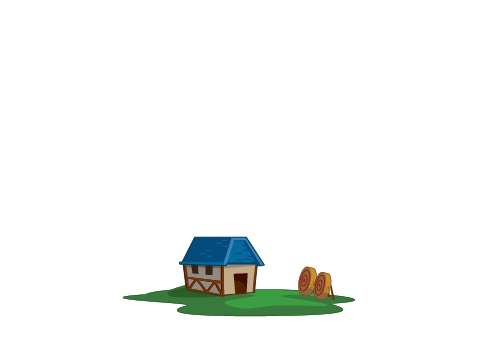 Our Barracks is aat level 3 and with tactics of 3, our current tactics are Advantage,Unleash 1, and Banish 1. This tactics are usable for our brawl battles.
---
Level 4 - Guild Store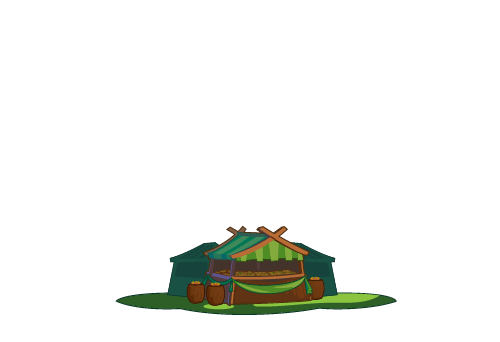 Our Guild store is at level 4 and 99,000 DEC more to upgrade so we can gain more Merits during brawl battles, currently our Merit bonus is at 60%
---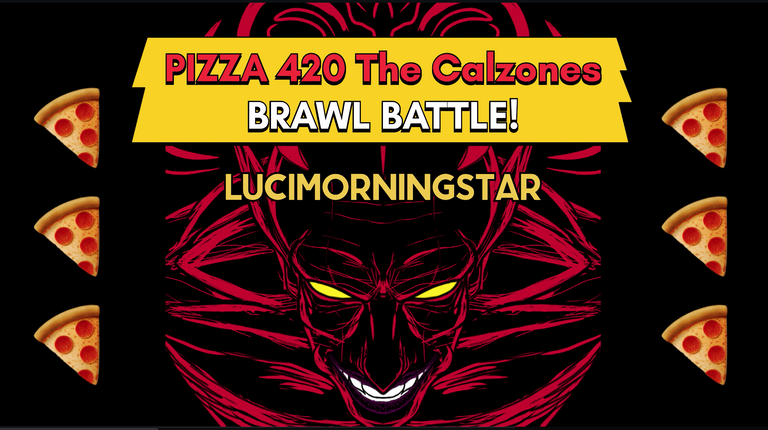 Splinterlands is a #play2earn #nft collection card battle game on #hive blockchain. One of the game features is Brawl battle where Guild battles compete with other guilds within the game. Start collecting your Splinterlands card, You can Earn by playing rank battles, Staking $SPS, Creating your original blog content, Art Design, Selling, or Leasing your Splinterlands cards!
If you want to create your own visit:
https://splinterlands.com?ref=lucimorningstar
Use Referral code: lucimorningstar
Join Splinterlands Commmunity Discord | Community | Instagram | Twitter

---
Play and Earn!
Splinterlands

CryptoBrewMaster

Dcity

HK

Risingstar

Q25.VIP

Card game battle
Brew your own beer
Create your City
Farm your Weed
Become a musician
Play Casino with real money
(Philippines only)

---

Photo source: © splinterlands in-game images, screen capture from in-game battles, pizza asset, artwork cover © lucimorningstar

Posted using Splintertalk
---
---