ᗯEEKᒪY ᗷᖇᗩᗯᒪ ᖇEᑕᗩᑭ #12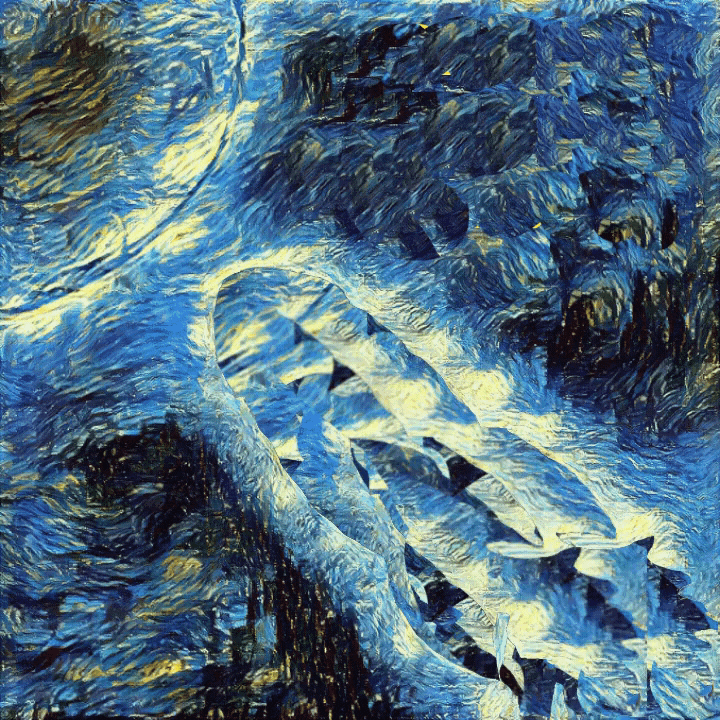 𝙶𝚛𝚎𝚎𝚝𝚒𝚗𝚐𝚜 𝚂𝚙𝚕𝚒𝚗𝚝𝚎𝚛𝚕𝚊𝚗𝚍𝚎𝚛𝚜 𝚊𝚗𝚍 𝙷𝚒𝚟𝚎𝚊𝚗𝚜!
𝙷𝚘𝚙𝚎 𝚢'𝚊𝚕𝚕 𝚑𝚊𝚟𝚒𝚗𝚐 𝚊 𝚐𝚘𝚘𝚍 𝚍𝚊𝚢 𝚝𝚘 𝚍𝚊𝚢!😁


This will be 𝕯𝖎𝖓𝖊𝖗𝖔 𝕵𝖚𝖊𝖌𝖔𝖘' 12th Weekly Brawl Recap, so let us relax a bit and review what happened in this week's brawl.

𝙾𝚟𝚎𝚛𝚊𝚕𝚕 𝙶𝚞𝚒𝚕𝚍 𝙿𝚎𝚛𝚏𝚘𝚛𝚖𝚊𝚗𝚌𝚎: 6𝚝𝚑 𝙿𝚕𝚊𝚌𝚎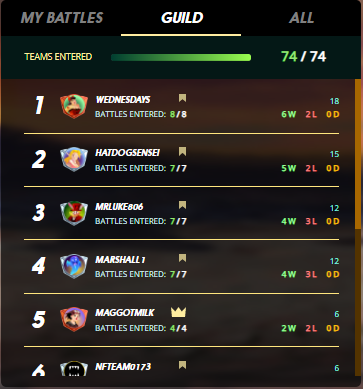 𝚆𝚎 𝚝𝚘𝚘𝚔 6𝚝𝚑 𝚙𝚕𝚊𝚌𝚎 , 𝚠𝚒𝚝𝚑 22 𝚠𝚒𝚗𝚜, 49 𝚕𝚘𝚜𝚜𝚎𝚜 𝚊𝚗𝚍 0 𝚍𝚛𝚊𝚠s. 🔥
𝚃𝚑𝚊𝚝 𝚐𝚒𝚟𝚎𝚜 𝚝𝚑𝚎 𝚐𝚞𝚒𝚕𝚍 𝚊 𝚜𝚙𝚘𝚒𝚕 𝚘𝚏 7 𝚌𝚛𝚘𝚠𝚗𝚜! 👑

𝙴𝚊𝚌𝚑 𝚙𝚕𝚊𝚢𝚎𝚛 was awarded 323 𝚖𝚎𝚛𝚒𝚝𝚜.🏅


𝙲𝚘𝚗𝚐𝚛𝚊𝚝𝚜 𝚐𝚞𝚢𝚜! 🎉😁





𝙼𝚅𝙿 𝙾𝚏 𝚃𝚑𝚎 𝙱𝚛𝚊𝚠𝚕



As with any competition, there will always be a competitor who tries his hardest to take the top spot! 🤠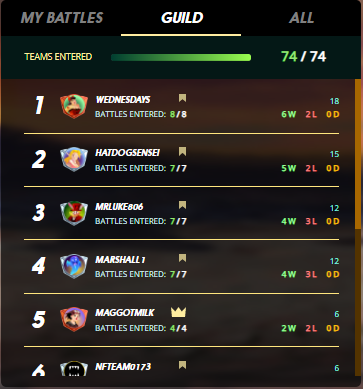 𝙲𝚘𝚗𝚐𝚛𝚊𝚝𝚞𝚕𝚊𝚝𝚒𝚘𝚗𝚜 @tdismorfic!
Y𝚘𝚞 𝚊𝚛𝚎 𝚘𝚞𝚛 𝙼𝚟𝚙 𝚘𝚏 𝚝𝚑𝚒𝚜 𝙱𝚛𝚊𝚠𝚕! 🎉🎉
𝚃𝚑𝚊𝚗𝚔 𝚢𝚘𝚞 𝚏𝚘𝚛 𝚍𝚘𝚒𝚗𝚐 𝚜𝚘 𝚖𝚞𝚌𝚑 𝚏𝚘𝚛 𝚘𝚞𝚛 𝙶𝚞𝚒𝚕𝚍! ♥️
𝙻𝚎𝚝 𝚞𝚜 𝚜𝚝𝚛𝚒𝚟𝚎 𝚝𝚘 𝚍𝚘 𝚘𝚞𝚛 𝚋𝚎𝚜𝚝 𝚊𝚐𝚊𝚒𝚗 𝚒𝚗 𝚝𝚑𝚎 𝚗𝚎𝚡𝚝 𝚋𝚛𝚊𝚠𝚕 𝚎𝚟𝚎𝚛𝚢𝚘𝚗𝚎!😁

𝙶𝚞𝚒𝚕𝚍𝚖𝚊𝚝𝚎 𝙱𝚛𝚊𝚠𝚕 𝙷𝚒𝚐𝚑𝚕𝚒𝚐𝚑𝚝𝚜



wαтcн ιт нere


In this battle, when the mana cap is high and the rulebook only allows melee monsters, @tdismorfic went all-in on melee power by summoning Sand Worm, who deals 5 damage per round.
Like that wasn't enough, @tdsmorfic also brought in Silvershield Knight, who gives all friendly monsters +1 melee damage, thereby increasing Sand Worm's melee damage to 6 damage per round!
Not only did @tdismorfic pump up her team, but she also used Disintegrator's Demoralize ability to decrease the opposition team's melee damage! What a brilliant play from @tdismorfic! 🔥



wαтcн ιт нere


Because magic monsters were not allowed in this battle, both teams were forced to rely on ranged monsters in the backline or monsters with sneak/opportunity, and @whitewolves did his part by primarily using ranged monsters in the backline and having a strong legendary summoner to boost his team's ranged damage by 1 point! The opponent clearly planned ahead by utilizing a death summoner, which counters @whitewolves' +1 ranged damage but is plainly insufficient to decrease the hits from the @whitewolves' powerful backline. GG ♟




Credits
Thanks to our Guild Leader and dear friend, @bananofarmer, for the dividers and signature image. 🚀

The layouts for this recap were heavily influenced by @pogier's brawl reports. Check out his posts here.

The intro thumbnail and outro were turned into Gifs using Canva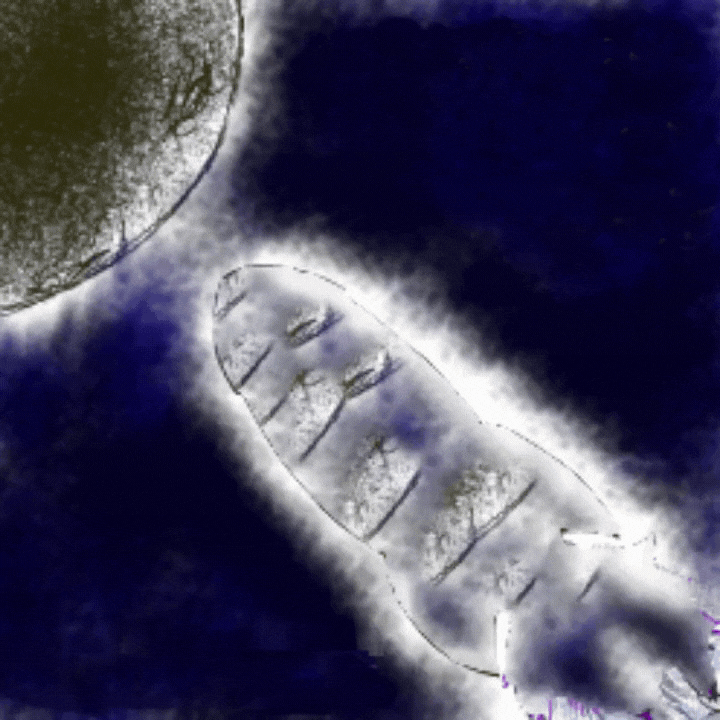 𝙽𝚎𝚠 𝚝𝚘 𝚜𝚙𝚕𝚒𝚗𝚝𝚎𝚛𝚕𝚊𝚗𝚍𝚜?
𝙲𝚘𝚗𝚜𝚒𝚍𝚎𝚛 𝚞𝚜𝚒𝚗𝚐 𝚖𝚢 𝚛𝚎𝚏𝚎𝚛𝚛𝚊𝚕 𝚊𝚗𝚍 𝙸 𝚠𝚒𝚕𝚕 𝚜𝚎𝚗𝚍 𝚢𝚘𝚞 𝚊 𝚏𝚛𝚎𝚎 𝚌𝚊𝚛d.😊
𝚑𝚝𝚝𝚙𝚜://𝚜𝚙𝚕𝚒𝚗𝚝𝚎𝚛𝚕𝚊𝚗𝚍𝚜.𝚌𝚘𝚖?𝚛𝚎𝚏=𝚖𝚊𝚐𝚐𝚘𝚝𝚖𝚒𝚕𝚔
---
---