Awesome earnings from Tournaments and Brawls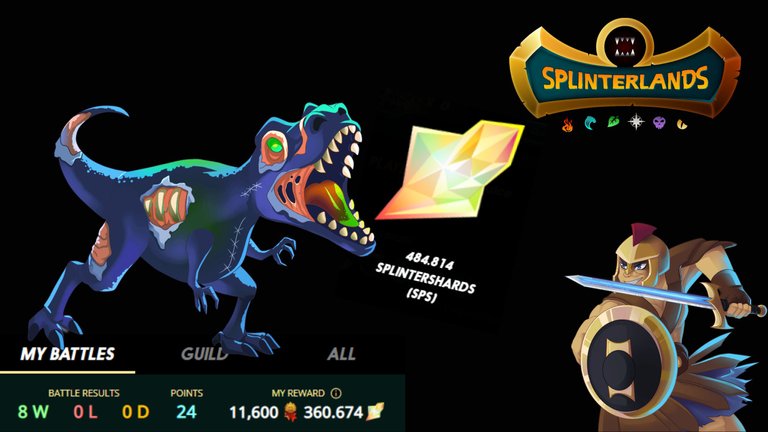 Hello my fellow Splinterlands lovers!
I wish you all and very warm and colorful weekend hope all of you are enjoying a nice day with your family and friends but don't forgot that the current ongoing splinterlands ranked season will be ended in next 18 hours, so if you haven't reach to your goal spot yet, you better keep trying cause we only have less than a day in hand before it hits zero. For me, I am also yet to reach my goal tier Champ II this time and still over hundred trophies away. But talking about season rewards, I have managed to collect 59 Champ level reward chests already and very close to my 60th one as you can from the screenshot below. Clearly my newly bought max level gold foil reward cards are helping me to earn more reward points per ranked win and in the other hand, the new Rift cards are also coming handy in this end season war along with the legendary water summoner Possibilus the Wise that I added into my playing collection just recently. Normally I would get stuck to collect 52-54 season chests every time, but this time I have collected at least 6-7 more chests than the usual, so I am very excited to open so many champ level chests at once tomorrow.
The last Focus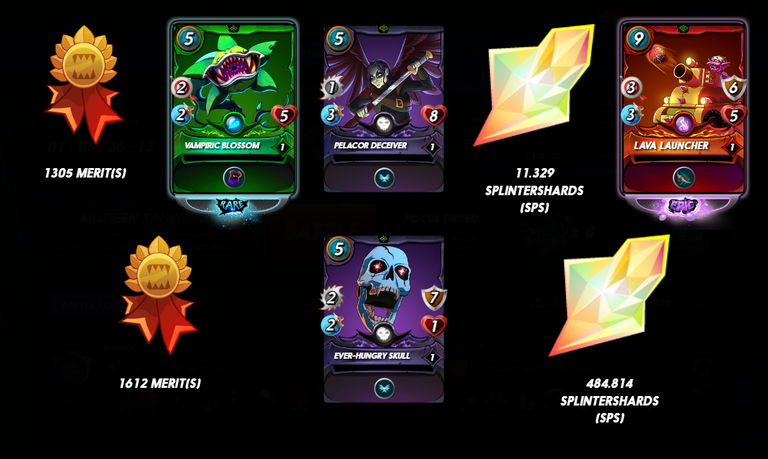 Now, looking at the daily focus mission, the last day I finished my daily mission by collecting 8 reward chests and finally this time, I pulled an awesome reward from one of those. Yes, finally mango got his hands on one of those big SPS chunk carrying chests and as you have already see in the thumbnail, I received 484.8 SPS from one of those loot bags and 11.3 from another while getting an epic, 1 rare, 2 commons and some merits from the rest ones. No doubt I am very happy with the outcome as it has been a really long time since I received a big SPS chest. Anyways, today I got the Dragon rule as my daily focus mission and it is the last focus mission for this season. I have already collected 6 focus chests and leaving the ECR to be recharged until the next morning before I go all burnt down. I will obviously collect the next 60th season chests and also try to collect as many more focus chests as possible until my ECR reaches down to a minimal position. Let's now wait and see how the last day blood bath goes for me.
Tournaments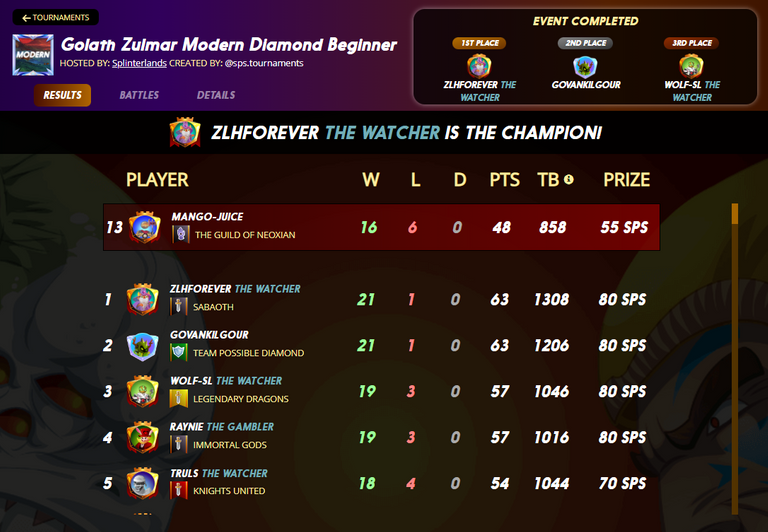 Now, it's a clear fact that apart from playing ranked matches, there are 2 more playing section in this game where you can compete and win good rewards and prizes, tournaments and brawls. I am partaking and trying to be better in both of them and also recommend all my fellow splinterlands players to participate into these competitions along side ranked matches to unlock the true earning potential from their card collection. There are always multiple tournaments listed in the events tab and also brawls ongoing on the other tab. No doubt, since I started participating in both of them, my SPS earning has also being increased by an awesome bar and as I keep increasing my card collection to play stronger, my earnings are also rising over Time. I have shared the results of one of the tournaments that I played recently and secured 13th position and won 55 SPS. Clearly I am a long away from having max modern format deck including all the cards but these small extra SPS earnings really increasing my staked SPS over time.
Brawls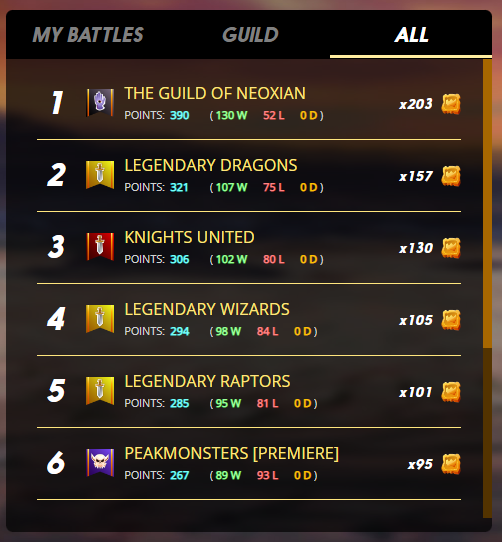 Moving on to brawls, I am glad to announce that our clan the Neoxian Guild has won the last brawl and secured the top place this time. I heartily congratulate all my fellow guild Players and especially our guild officer @xawi for this amazing win and even more to that, She played and won the 8 matches this time, a perfect score! Anyways, as for rewards the guild got total 203 crowns this time and every participant of our guild got rewarded with 360.674 SPS and 11,600 merits. Of you are already playing splinterlands and not playing brawls yet, maybe it motivates you to start right now.
I hope you liked reading my splinterlands activity post and also enjoyed seeing the tournament and brawls rewards. Let me know your thought un the comments below and I will be seeing you all in my next post.

Wish you all good luck on all of your future Splinterlands matches.
Thanks for visiting my post. Please come again!
Stay well and keep playing Splinterlands.
Want to start playing splinterlands? Click here
---
---
Posted using Splintertalk
---
---