Bought another 2 Max Riftwatchers Cards | My latest SL activities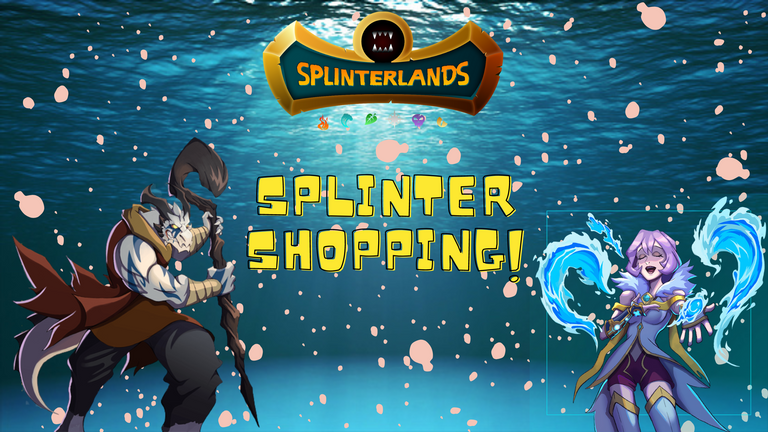 My dear Hivers!
I hope all of you are enjoying a pleasant day with your family and friends and also hope you are not over thinking about this ingoing brutal dip. And for those who plays splinterlands actively, things not not going with both DEC and SPS going lower everyday. But gladly, the splinterlands card market has also been affected with the dip and many card prices has come down. Basically almost all the cards (both from wild and modern format) is on good discount right now and even the newest Riftwatchers cards are selling for cheap if you are thinking to buy and upgrade them.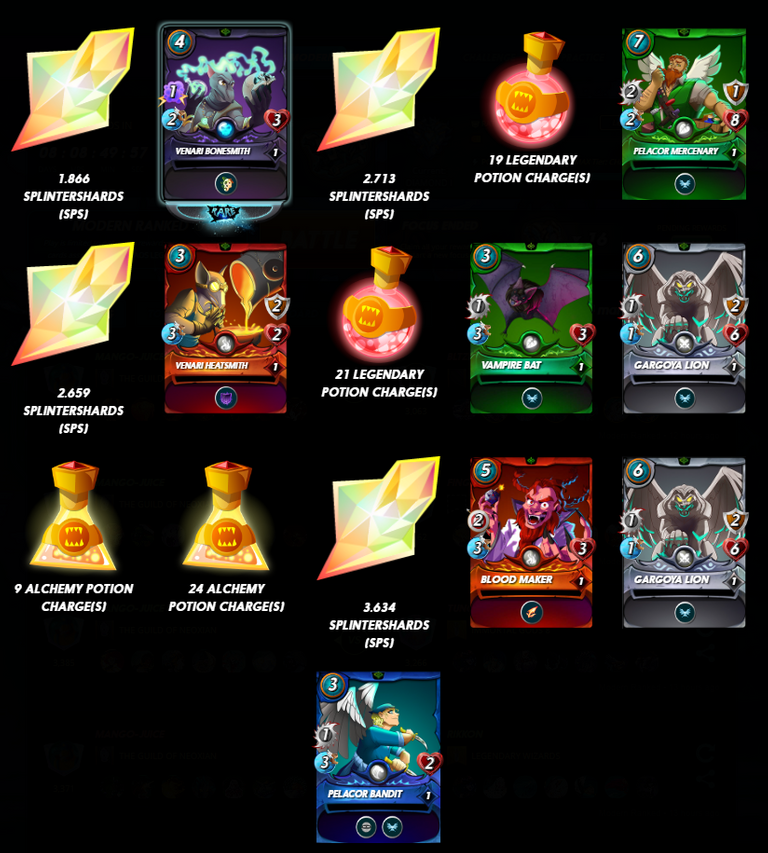 Now, as I shared my ranked activity the last day, I had reached the Diamond I tier and also collected 16 focus chests before end time. As I opened them today at morning, I received a decent outcome which contains 1 rare and 7 common cards, about 11 SPS and of course a bunch of alchemy and legendary potions. This time I was opening so many focus chests at once so I expected at least one good reward from those reward chests, but looking at the outcome, it seems that the luck isn't on on my side today so I will just ignore it and start working on my next focus mission. I already played for long time the last day which sucked my ECR down to almost 50% so I decided not to play much today. As you can see from above, I have got the BUFFS ruleset as my focus mission today and have collected only 6 chests and stopped playing after my ECR got reduced down to 62% right now. Looking the Season chests, Till now I have collected 20 reward chests but as we still have 8 days in hand before this season could end, let's see how much further I can go. On the other hand, I am planning to sneak into the Champ tier as soon as possible for this season as well, because in the last season it really helped me with way more reward points per ranked match win in champ. But, let's see how that goes as the competition is getting higher every day I am playing.
Splinter shopping

To Stay and Play in Champion or Diamond tier, it is important to upgrade your playing collection over time as they launch new cards. After the launch of the new Riftwatchers card-set, the playing styles are much changed now, especially in High mana limit matches, where those double digit mana cost Rift monsters are ruling the battlefield. So to stay and battle steadily and earn more rewards, I am also upgrading my playing collection by buying those awesome Rift cards one after another and today also, I bought another 2 important max level Rift cards from market which I am about share below. Thou adding them in, I have collected only 8 Rift cards do far and many more left to buy.
Whelp Herder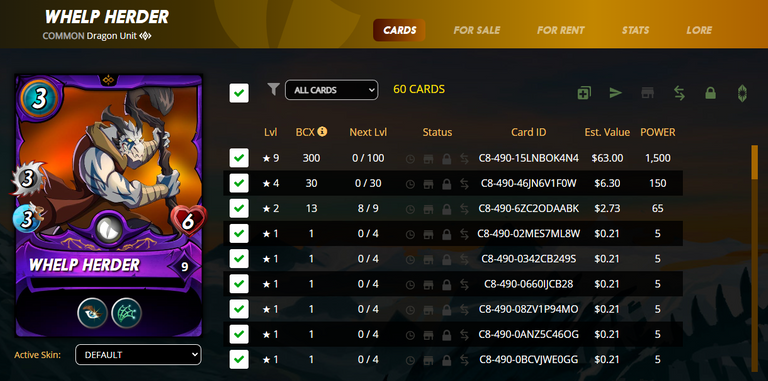 The first card that I bought today is the common edition melee Opportunity attacker Whelp Herder which belongs to the Dragon Splinter. I already had a level 4 (30 BCX) of this card but it was unusable against max cards. So today, when I was checking for Rift card prices, I calculated that I need to spend around 88$ more to buy the rest 370 BCX cards and a bulk 300 BCX card was listed for almost lowest BCX price.
So, as usual I went to the monstermarket.io website and select that 300 BCX card along with another one with 13 BCX and all rest required in 1 BCX cards and bought total 59 cards to make it 370 BCX in total. It costed me around 88$ to buy the bunch and used DEC to purchase them. For using their website, I also got an instant 3% cashback of 4,141.169 DEC in my Hive-Engine acc as you can see from above. However, After combining them into a max level 10 monster, I locked my card and also tested it out in a couple of matches.
Water Caller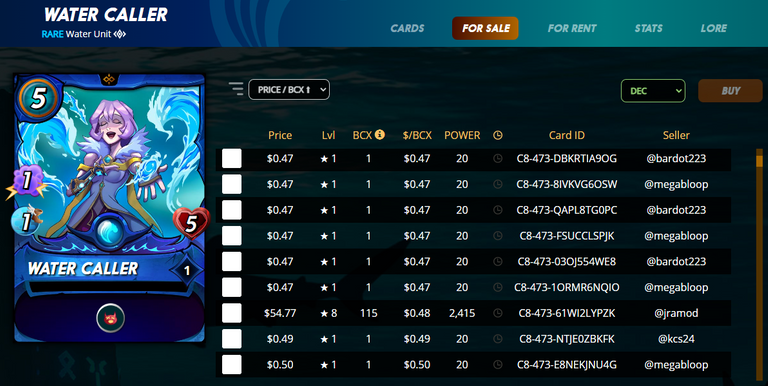 The second card that I bought is the Water Caller, a rare type magic attacker card with Stun and Reflection Shield which belongs to the Water Splinter and costs only 5 mana to be used in battles. I didn't have even a single BCX of this card and noticed that the price of this card also got lowered comparing a week ago. So I did the same steps this time as well and bought a level 5 (40 BCX) and all rest as 1 BCX cards and bought total 76 cards to make a max level which costed me around 54$. This time I bought credits with my liquid hive directly and used those credits to prices those cards in monstermarket.io. As usual, I received the 3% cashback this time also and got myself another 2,510.8 dec. On long term, These tiny cashbacks Really does help me to save some extra money and invest back in Splinterlands. Anyways, there are eye catching discounts on many other Rift and older edition cards too so if you are also missing some important cards in your deck, you may think about filling them right now.
I hope you liked reading my Splinterlands activity and shopping. Let me know your thoughts about these 2 cards that I have bought in the comments below and I will be seeing you all in my next post!
---
---
Wish all of you good luck on all of your Splinterlands journey.
Thanks for visiting my post. Please do visit again!
Stay well and keep playing Splinterlands.
Want to start playing splinterlands? Click here
Posted using Splintertalk
---
---