Finally climbed up the Champ III league | Brawl & focus reward showcase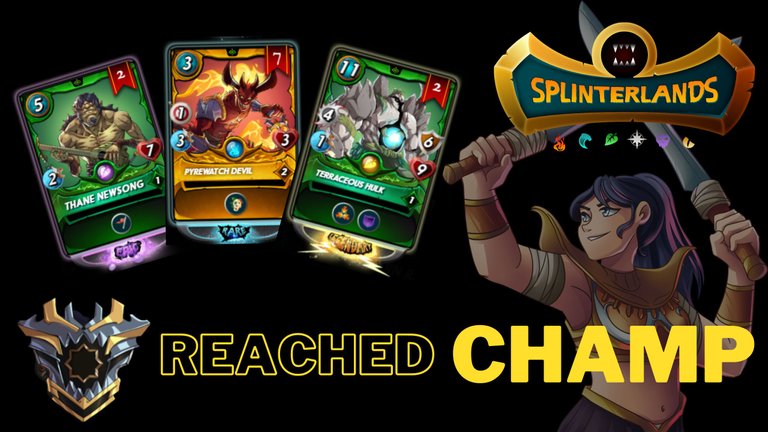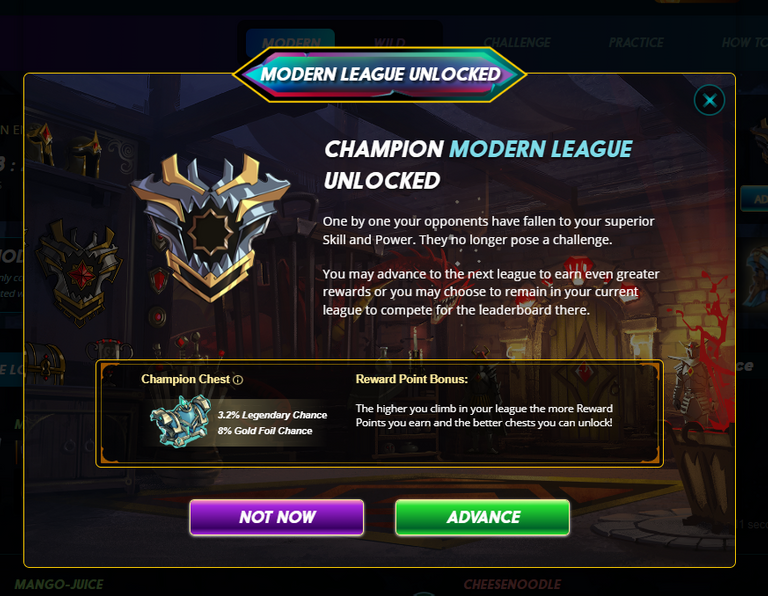 What's up warriors!
Well, the time has come players as it's the last day of this splinterlands season and if you don't know, we are about to complete playing the 105th ranked season tomorrow. I hope all of you have already done with your personal goals, be it to snatch in that top leaderboard positions or reaching a particular tier. If not, then let us try all together in this blood bath party because my own goal of reaching the CHAMP II tier is yet to be reached. I only come back 2 days ago in home and playing since and every now and finally just some time ago, I have successfully climbed up myself from Diamond I to Champ III and currently holding 4,015 trophies, so only 85 trophies more to collect to reach my goal. With another 23 hours left, I guess I will be able to reach it this time, but you cant be so sure because splinterlands players gets hyper active mostly during this last day of season and the battle arena become over crowded with players.
BRAWL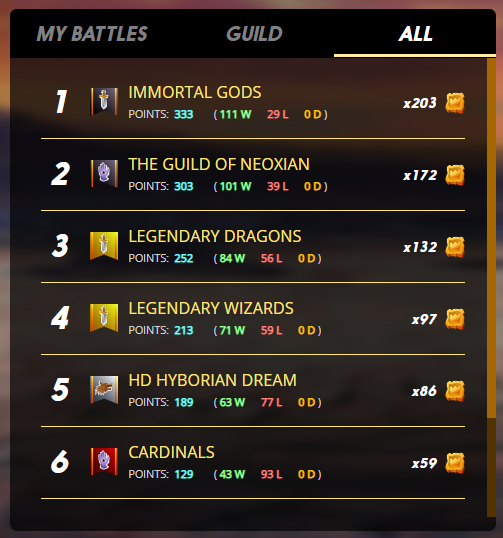 In case you have joined this game just recently and, brawl is a special Type of tournament where multiple guilds partake and fight against one another in order to teach top positions to het juicy SPS and merit as rewards. Apart from being active in Ranked play, I am also playing actively in brawls and I am in the Neoxian Guild since the beginning and fight in every brawl ongoing brawl. This time, our guild got the second place in leaderboard and while the guild got rewarded with 172 crowns, every guild member who played this brawl got rewarded with 224.222 SPS and 9,829 merits each. After the rewards got distributed, I checked my guild store and found out that I have collected over 40k Merits in my account which is enough to buy a whooping 20 gladius cases. Hopefully I will buy some gladius packs with the chunk and will share the outcome in my next post.

SEASON PROGRESS

However, in order to battle my way upto the champ III within a day, I had to play a lot of matches which got me a good number of daily focus chests and season chests. Till now and irrespective of the hazards, I have Gladly collected total 53 season chests so far and having almost another day in hand, I guess I can add another 4-7 chests. My ECR is also low at the moment and almost near 50%, so by tomorrow I will only reach around 70% by the time I start playing, but I am thinking to burnout my ECR bar this tome and then rest for a few days to het it recharged back. Mow let me share my last 3 focus rewards below. The first 2 of them were being opened while in Diamond I and the last one at champ III. Would we get to see any difference between diamond and champ level rewards! Let's see..
first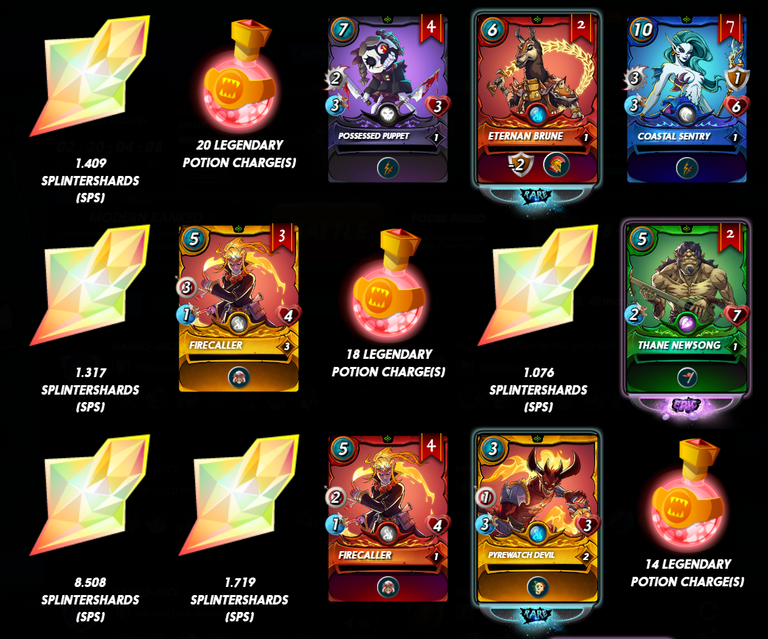 second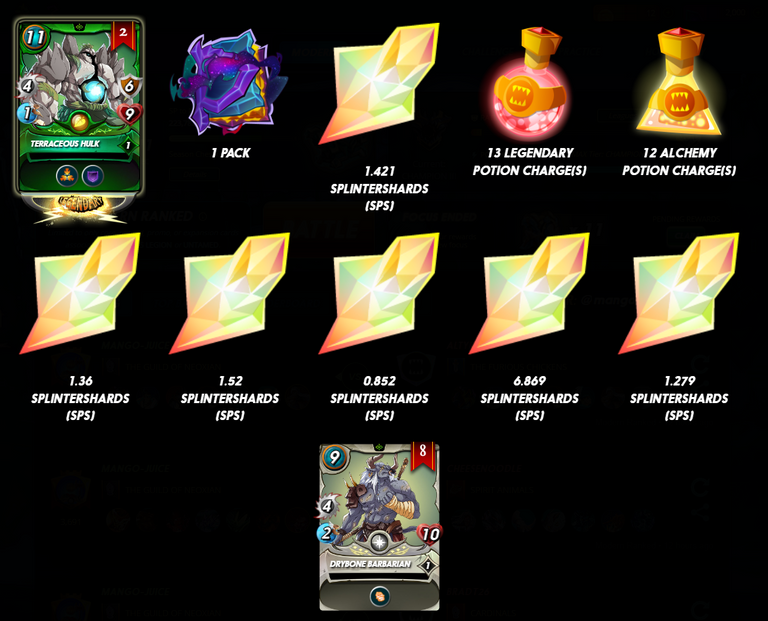 Okay, so as you can watch from the screenshots above, these are the 2 focus rewards in which I collected total 18 and 11 reward chests respectively and opened them at diamond level. I was happy with the rewards and I got 1 chaos pack, 2 legendaries, 2 epics with a bunch of good rare and common cards and for gold foil, I received 3 gold foil commons and 1 rare cards from those 2 focus rewards along with a bunch of SPS, potions and merits as usual.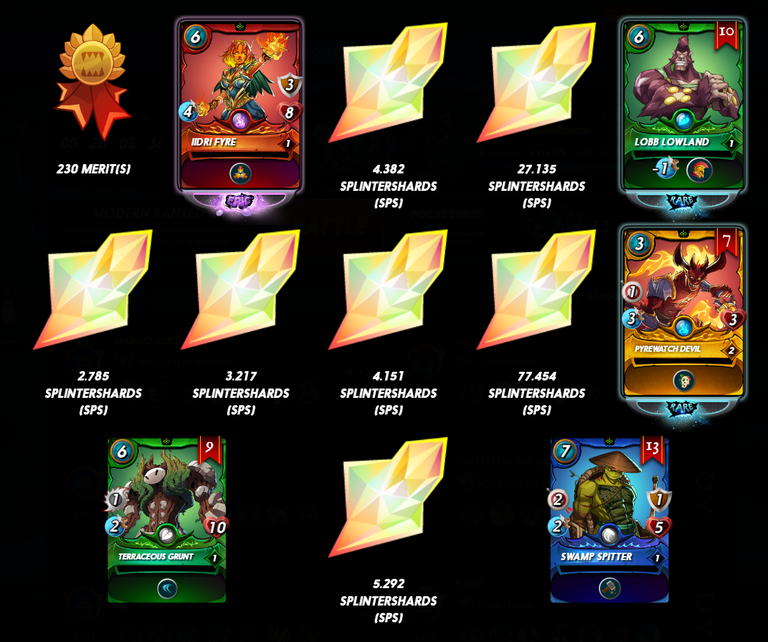 But as it can be seen here, the rewards that I got from today's first champ level focus chests are just amazingly amazing! I mean 7 gold foil rare from a single chest is definitely not an average outcome and I also got 2 SPS rewards with double digit number which is very very rare now in diamond league. I also received an epic card, 10 rare summoner cards and 24 common cards along with 230 merits and total 124.316 SPS just from those 13 reward chests that I opened. It is clear like water that the reward outcome in champ league is way better, far above than even Diamond Top I tier. I am keep trying to buy new cards so that I become stronger and reach champ league as fast as I can because the more you play here, the more you win!

Wish you all good luck on all of your future Splinterlands matches.
Thanks for visiting my post. Please come again!
Stay well and keep playing Splinterlands.
Want to start playing splinterlands? Click here
Posted using Splintertalk
---
---