Finally reached Diamond I tier | 8 Focus Chests opening | Crypto and Splinterlands Market Watch on 26th Oct, 2022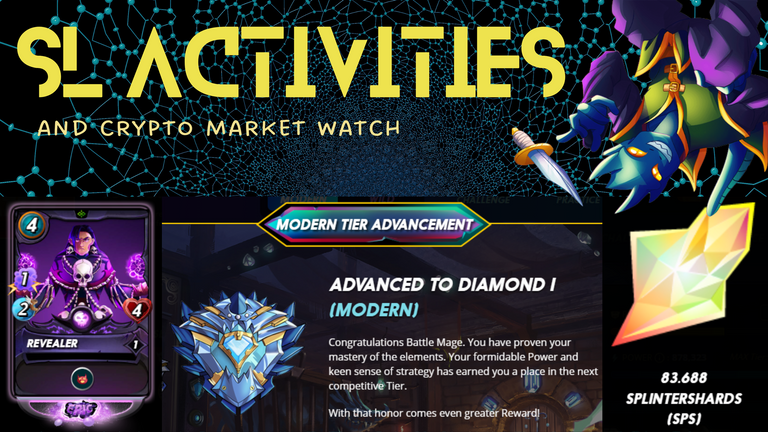 What's up my fellow Splinternerds!
I wish all of you all happy day ahead and hope you all are enjoying the game and also filling your daily focus and Season Chests. Well, we have already came near the end of this current season and only have 5 days in hand. Till now, I have only collected 30 season chests so fat this time and don't think I will reach 45 chests like the last time. On the other hand, my ECR also got low after playing ranked matches today for quite a time. But, I have successfully reached Diamond I and resting with 3442 trophies now as you can see from the stat below.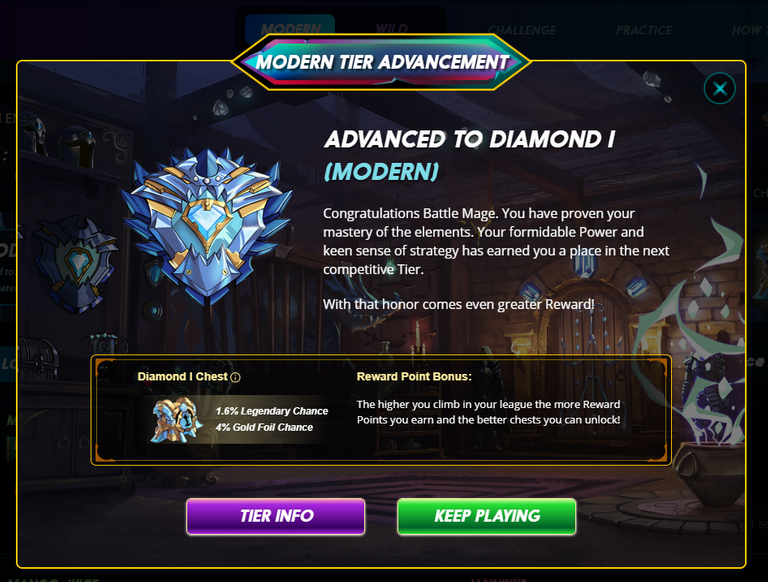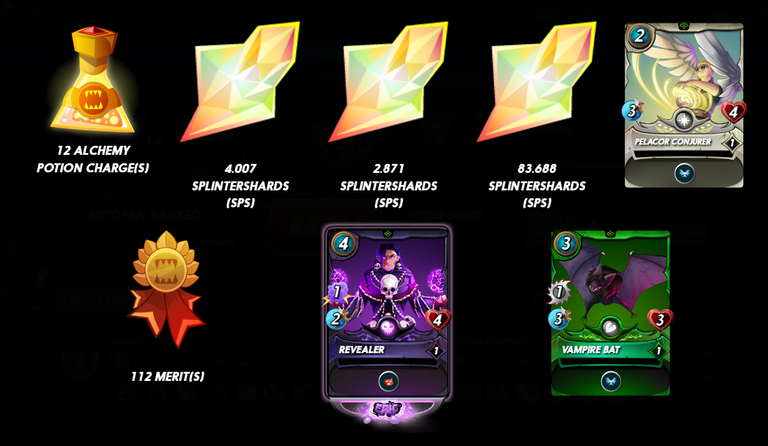 As you can from the screenshot above, these are my outcomes of the last focus chests opening where I complete the Focus mission with total 8 chests the last day. But I am happy that 2 of those 8 chests got some special magic applied to them as I pulled 83.68 SPS and a nice epic card from those 2. Thou right now the chaos edition reward cards are selling for dirt cheap at market, I think they will increase in price over time as more and more people buy them for playing or renting. Anyways, I have collected 6 chests again for today where I got the Anti Melee ruleset as my daily focus mission. Thou there's still plenty of time left, I stopped collecting anymore as my ECR went down to about 64%, so I will just let it charge overnight and possibly play play again at same time. But, with 258 trophies still left to collect while getting matched against the most furious players and bots, it's pretty complex now to reach champ, especially when you are not having many of the cards.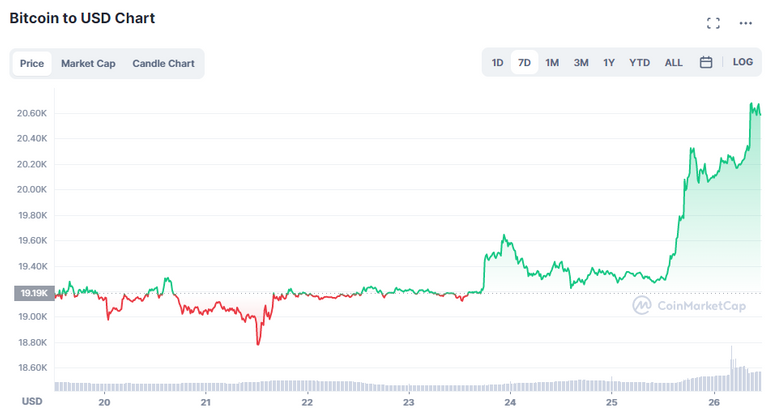 Okay now, let us take a quick look at the current market to see what's the current situation in there. Gladly, the market is seeing a hood pump today and the major dominator BTC is currently being traded for 20,572$ per unit with a sharp uptrend of +6.78% within last 24 hours as you can see from the graph above. The other giant ETH has also got pumped well and currently being traded for 1,422$ per unit with a +12.98% growth in price over the last day. And as usual, along with BTC and ETH, most of the top 100 coins are currently green.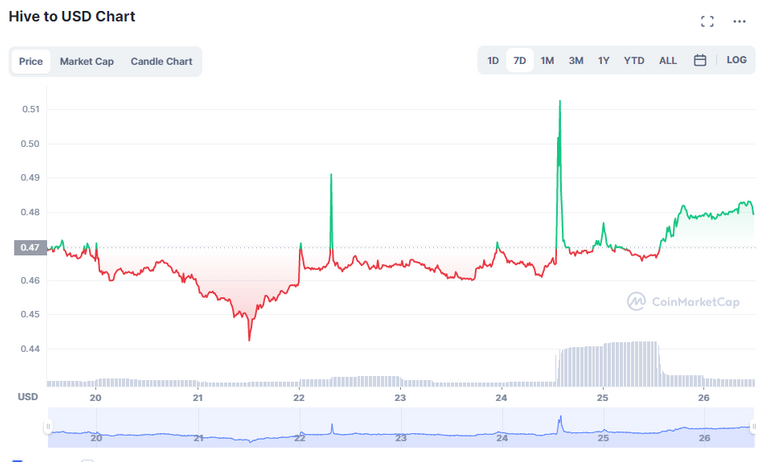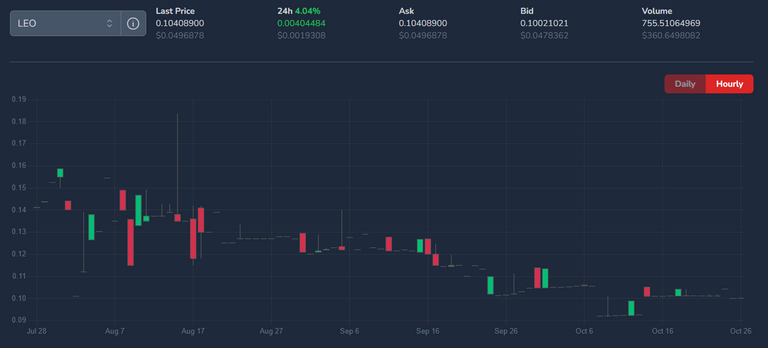 Now, looking at our beloved HIVE, looks like it has also got touched but just partially till now as of it's current price of 0.477$ per unit with a +2.19% growth in it's price within the last day. On the other hand, the stable coin HBD is right now selling for 0.998$ after it's recent low of 0.969$ this week. Now, looking at LEO aka Leofinance token, it os also performing well with a +4% growth in it's price within the last day and currently being traded for 0.0496$ per unit.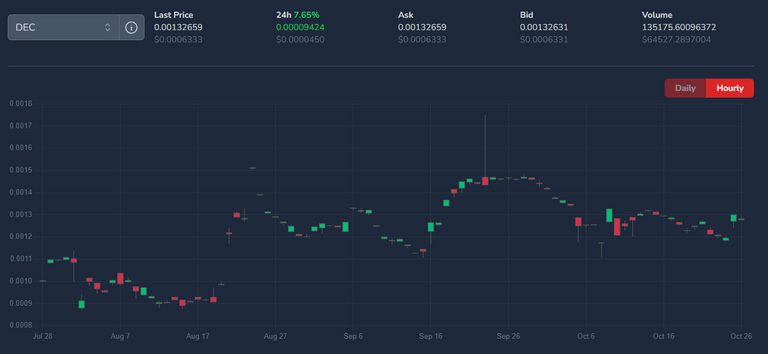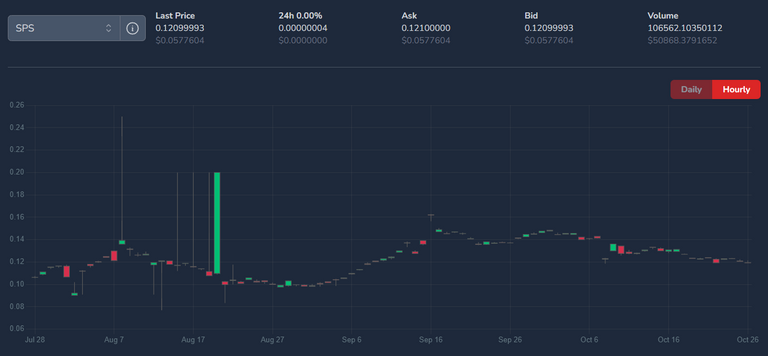 Now, moving on to the splinterlands assets and tokens, first the DEC is moving upwards with a good speed and with a +7.65% price rise within last day, it is right now being sold for 0.000633$ per unit. On the other hand, SPS aka Splintershards is performing downstream since last week and currently being sold for 0.057$ per unit with no change in price comparing last day. My eyes are really looking for it to reach 0.1$ price mark asap and as the GLG airdrop has started already from yesterday, hope it helps to rise the price a but from here. Next, vouchers are still loosing value over time and currently selling for only 0.236$ per unit whereas the Licence nodes are also selling for way cheaper now at 1,621$ only. Now looking onto packs, first the Chaos Legion packs are again selling for below 2$ in hive-engine with a current price of 1.855$ per pack but the Riftwatchers are still strongly holding their value and selling for 0.054$ right now and lastly, the Nightmare packs are also got way cheaper now with a current value of only 2.76$ per pack.
I hope you enjoyed my SL activity and crypto chart post. Please Let me know your thoughts about SL and the current market in the comments below and I will be seeing you all in my next post!
---
---
Wish all of you good luck on all of your Splinterlands journey.
Thanks for visiting my post. Please do visit again!
Stay well and keep playing Splinterlands.
Want to start playing splinterlands? Click here
Posted using Splintertalk
---
---