Finally sneaked into Champ II with 60 season chests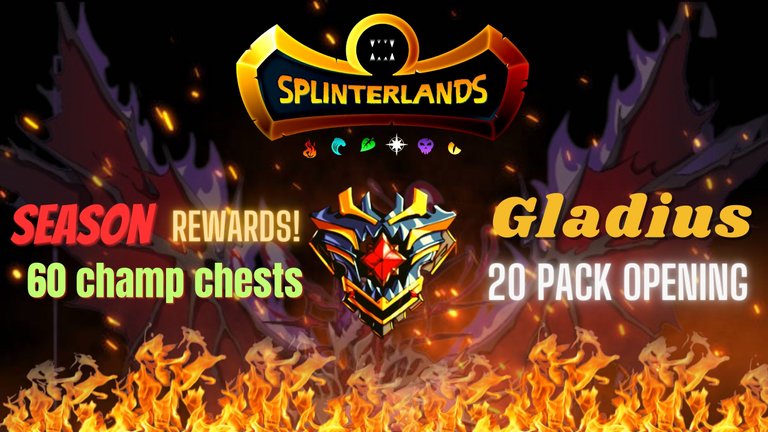 What's up my fellow warriors!
Well, another amazing splinterlands ranked season just ended and I hope that by now, many of you have already claimed your season reward chests. I wish all of you who successfully reached their goal destination in this season and also wanna say all the best to those who tried hard but couldn't. To be honest, even at modern format, if you don't have literally like all the summoner and monster cards, you can't win that easily in Champ Tier anymore. I am investing from time to time to buy all the new edition cards and right now I have a complete chaos deck only excluding the last airdrop summoner and counting rift cards, I have already bought moat of the legendaries and 2 summoners and also a good number of rare and common card. But still,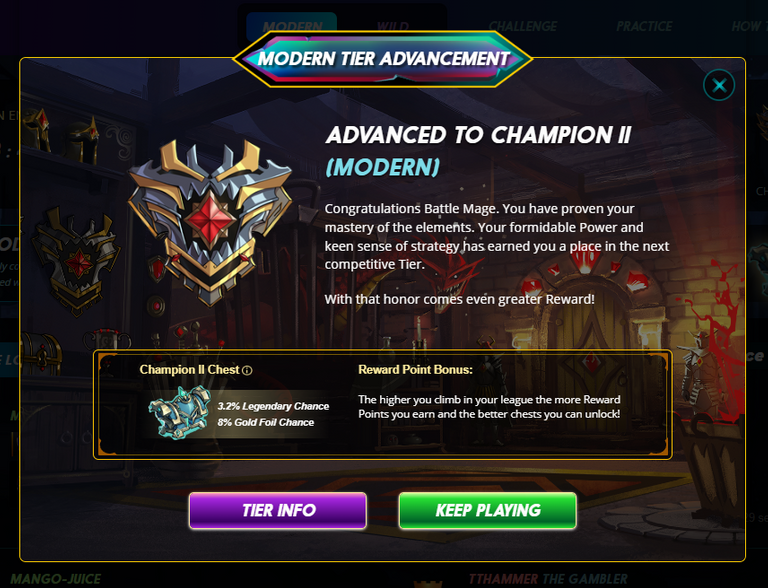 I am getting easily beaten while in champ tier because I don't have the many of those old untamed and Dice cards. But unlike the chaos and rift cards, the untamed set cards are way more costly than they used to be and mot possible for me to buy them with my limited earnings. But, I have trying my best this time to accumulate the complete chaos + rift set along with the rewards before the new edition cards get released and this set gets it's price pumped up.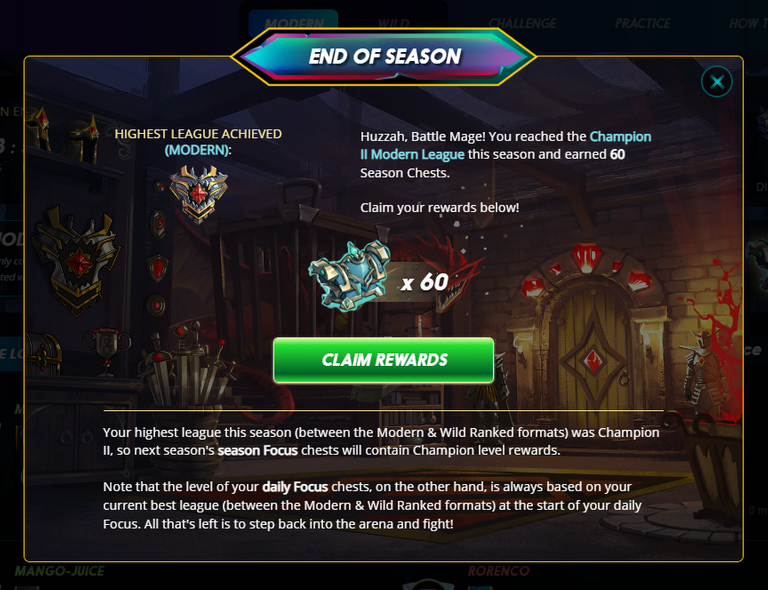 Anyways, after a long fight and blood shade in the champ III today, I somehow reached into champ II. I didn't rent any cards this time but have bought the IMMORTALIS summoner recently which helped me greatly today. I got also successful in gathering total 60 season chests for this time as well but due to over playing massively today, I have burned down my ECR bar down to 3%, all of these just to take that 60th chest which I am regretting doing now. As For my last focus mission of the season, I got the Healing ruleset today and collected total 12 focus chests which I am about to open a little later. Now, without further ado, let me share the outcome of my season rewards at below.
Season Rewards
As you can see, all my hard work for this season didn't go in vain as I have pulled some good cards and a bunch of SPS this time from all those 60 loot chests. As you can watch from above, I received 2 chaos packs and around 157.7 SPS and for cards, I received 8 gold foil commons, 1 legendary, 6 epics and a bunch of rare and common cards along with 10443 merits, 247 alchemy and 97 legendary potions. I gotta admit that slowly and steadily I am gathering those soul bound reward cards in my account and thou I haven't blessed with any gold foil legendary or even epic till now, I think with this rate of capture I can upgrade those commons and rares way sooner than epic and legendaries. But from my years of experience in playing this game, I know how a new cardset becomes important to have over time and it's always best to buy them while they sell for cheap. But for this vase in where we can not buy these cards off market, I definitely can tell that real players will play more seriously to own them faster before others and this taking the advantage in battle arena. So we can't afford to slow down on the process and have to keep collecting them from reward boxes.
Gladius pack opening
Now, let is move on to the next part and as I have already tweaked about it above in the screenshot, I finally got able to save some merits, around 40k+ and bought 20 gladius packs with it just recently. I play into brawls in repetitive manner and as a regular player, I certainly know the importance of having upgraded gladius cards in deck so that you can overpower the opponent easily. We can earn merits not from brawls reward only but from daily and season reward chests too and as I am actively playing both of them routinely in splinterlands, I am earning merit's with quite good rate. However, let me now share the pull from those 20 gladius cases below.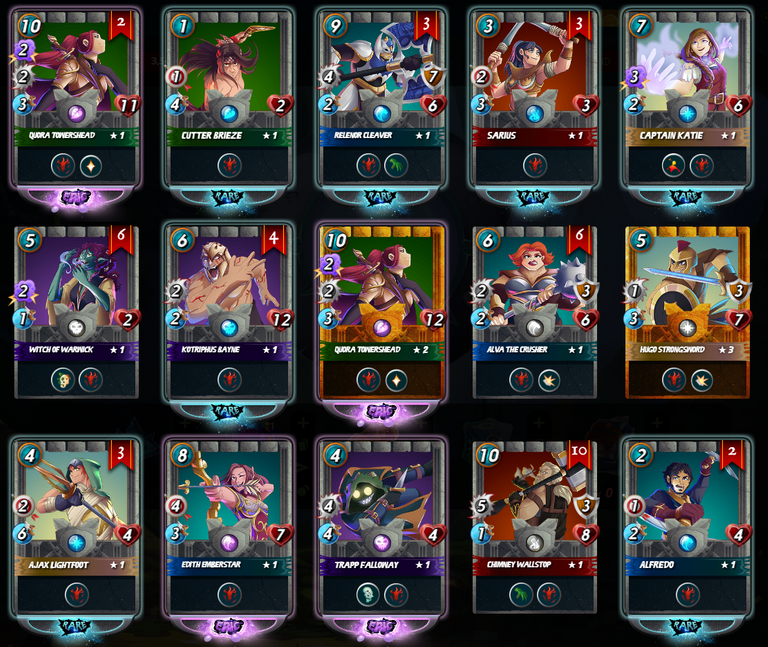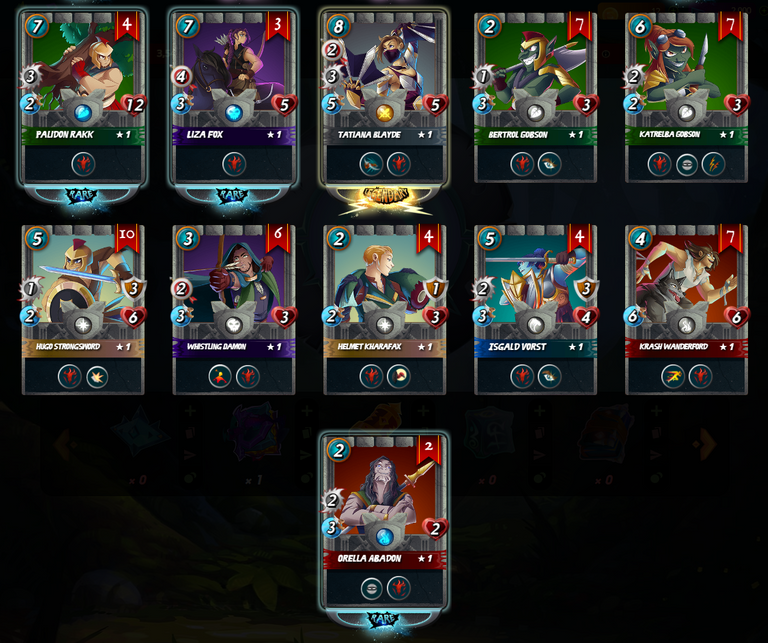 As you can see from above, this time the lick was really on my side and I pulled an amazing card, a gold foil epic QUORA NIGHTSHADE card along with my first legendary TATIANA BLAYDE, 4 epics and a handful of good rare and common gladius cards from these 20 packs. No doubt I am really happy with the outcome as I haven't pulled a gold Foil epic before and hope you guys enjoyed too. Let me know your thoughts and what's the best pull you got from this season reward in the comments below.

Wish you all good luck on all of your future Splinterlands matches.
Thanks for visiting my post. Please come again!
Stay well and keep playing Splinterlands.
Want to start playing splinterlands? Click here
Posted using Splintertalk
---
---