JARED SCAR - THE NEW CHAMPION FOR MELEE MAYHEM + SUPER SNEAK RULESET ??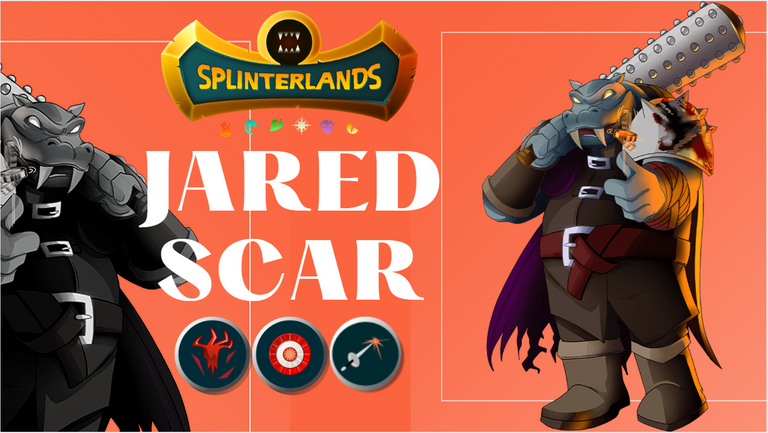 What's up my fellow splinterlands players!
Ii hope all of you are doing great with your splinterlands journey and playing your way thru your desired spot as the current season is ongoing and only 12 days and 15 hours left for this current season to end. Also, a great change is soon to be come into splinterlands because as they said in the latest Splinterlands town hall summery, most probably within august, they will replace the ranked match win rewards and chests rewards from DEC to SPS. A finite amount of SPS will be allocated after this and the higher tier you are playing, the more SPS you may get!
Unlike DEC, SPS will have a finite and more controlled distribution and circulation which will also help it's price in future I hope. Currently there's a decent dip going on with SPS and it is currently being sold for only 0.0665$ per unit with a -2.46% price decrease within last day. I am expecting more fluctuation with the price of splintershards but I hope it to go to the positive side ultimately and expect to see a good uptrend again. After the SPS airdrop got ended, the distribution supply went much low and it also affected the price to make an upward move. Now that we can again earn SPS via playing the game, let's see how that goes and affects it after the update gets launched.
---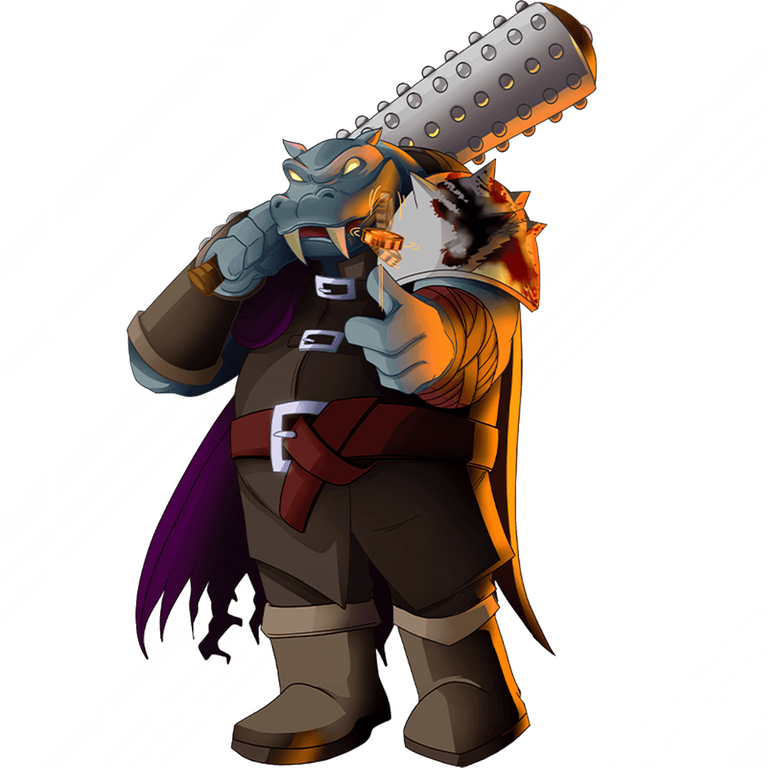 JARED SCAR
Now, let me move towards my main theme of this post as today, I am going to showcase a new legendary reward card Jared Scar which is getting popularity faster in the battlefield. It's A Legendary Giant Striker monster belongs to Life unit Reward edition. This monster needs 7 mana and Has a Big Melee Power to destroy big Monsters. It is Also known a Bloodlust monster.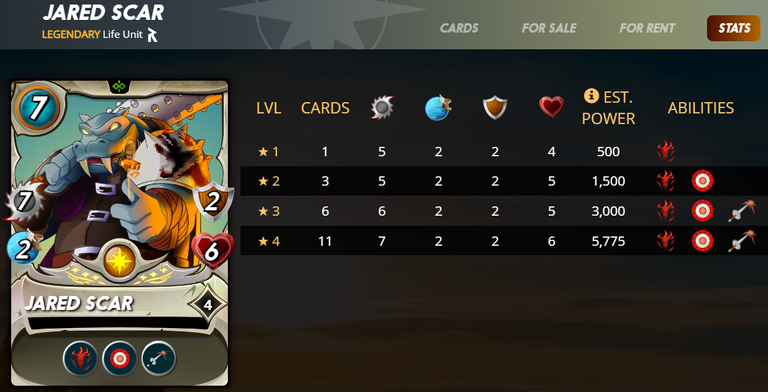 BRONZE
On the beginning stage of upgradation this legendary monster has 5 Melee attack at 2 speed with 2 shield and 4 health along with Bloodlust ability that use for reveals in the Glory of combat and Becomes more dangerous as the battle goes on. Every time it defeats an opponent, it gets +1 to all stats.
SILVER
On the 2nd stage of upgradation this legendary monster has 5 melee attack at 2 speed with 2 shield and 5 health Along with another ability of True Strike. This monster needs 3 legendary cards to reach this stage.
GOLD
This Legendary monster needs 6 cards to reach this stage. On this stage monster increases its attack power to 6 with 2 speed, 2 shield and 5 health Along with Bloodlust, True Strike and Piercing ability.
CHAMP
This Legendary monster needs 11 cards to reach the maximum stage of upgradation.
On this Max stage monster increases its power from 6 to 7, 2 speed, 2 shield and 6 health along with Bloodlust, True Strike, Piercing ability.
MOST IMPORTANT POINTS ABOUT JARED SCAR
It's a giant attacking monster which has 7 melee power, but also has low speed like turtle. But, it is very useful in melee mayhem and super sneak matches because of it's attacking abilities.

This monster has 3 Major Abilities that helps to destroy as well as defence. They are..
Bloodlust - this ability use for reveals in the Glory of combat and Becomes more dangerous as the battle goes on. Every time it defeats an opponent, it gets +1 to all stats(In the Reverse Speed ruleset,-1 to Speed).

True Strike - This Monster's attacks cannot miss and become the devil for enemies.

Piercing - If melee or Ranged attack damage is in excess of the target's Armour, the remainder will damage the target's Health.
MARKET STAT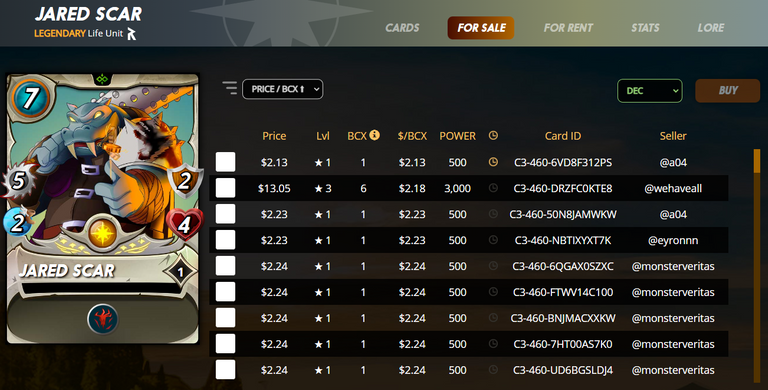 It's a legendary monster from Life Unit group and that's why this monster price is starting from $2.13 per bcx and will cost you about 3,778.132 DEC. And if you want to buy the maximum upgraded monster than you have to pay around 24.12$ so I consider than cheap for this furious giant. On the other side, the price of a gold foil of this card is starting from $97 for a level 2 (1 BCX).
Battle Line-up
---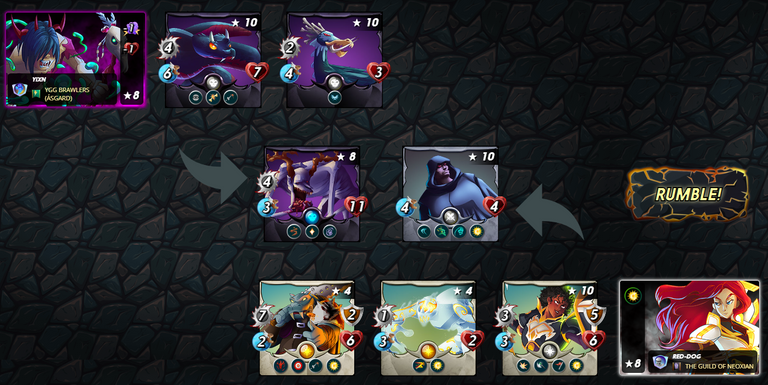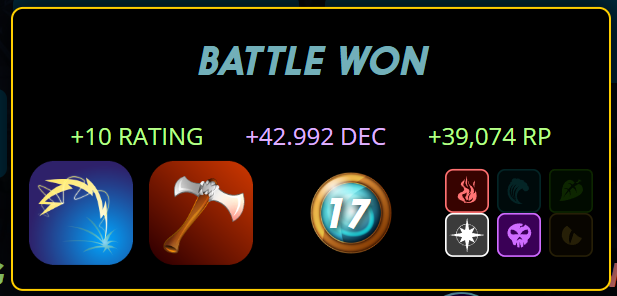 ---
mana Cap: 17
Splinters allowed: Fire, life and Death.
Ruleset:
Weak Magic - Magic monsters will hit shield before going for the health directly in this battle.
Melee Mayhem - All the melee monsters can attack the front enemy monster from any position in this battle.
---
---
CHAOS AGENT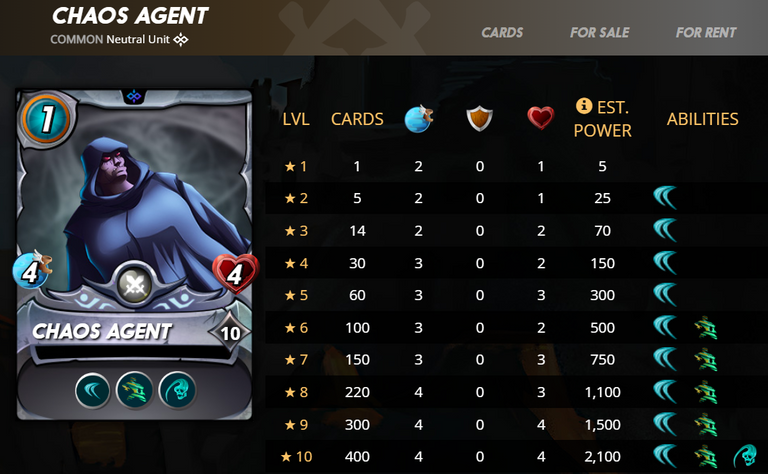 On this battle I put the Non-attacker monster Chaos Agent as my Front Position monster. This monster has 4 speeds,4 health along with Dodge, Phase, Backfire abilities that works as defensive method.
CHAOS KNIGHT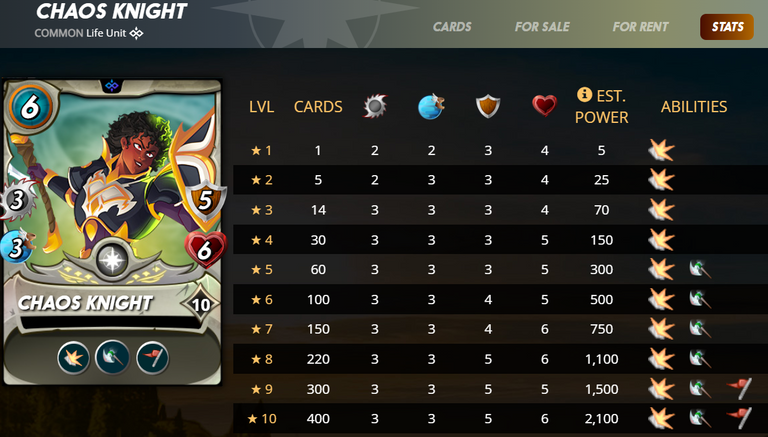 On the second position I placed my mid defensive monster. This monster has 3 Melee, 3 speed, 5 shield and 6 health Along with Shield, Giant killer, Inspire ability.
This abilities help to perform great moves.
SOUL FIEND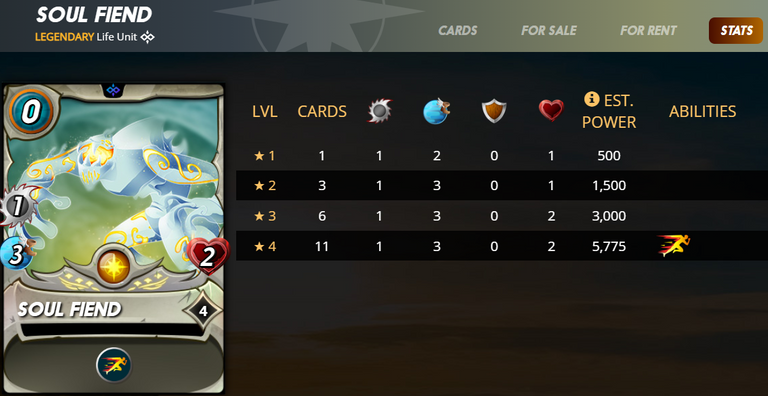 On the third position I placed 0 mana legendary monster. This monster has 1 melee,3 speed, 2 health along with Swiftness ability that helps to increase speed to all friendly monsters.
JARED SCAR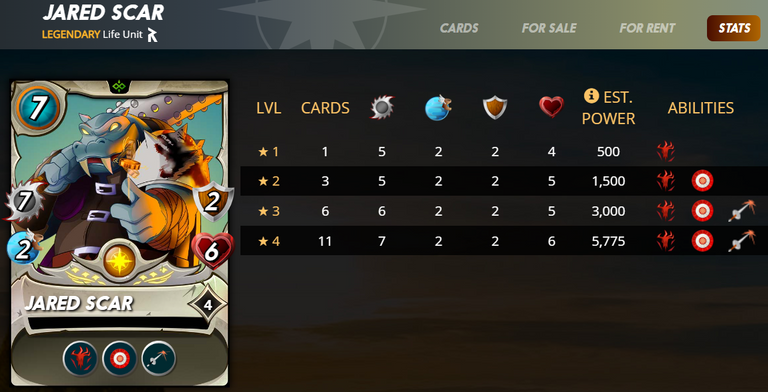 On the very Last/fourth position, I placed my Main Aggressive attacking monster. I have already wrote about this legendary monster at above so now let us move directly into the match.
BATTLE BEGINS ::-
ROUND 1 :-
On this very first round after got the all abilities and disabilities enemy monster the Silent sha-vi missed it's first strike towards my Main Attacking monster The Jared Scar by effect the Piercing ability. Enemy monster Carrion Shade also missed it's attack towards my Chaos Agent the non-attacker monster. After that my Soul Fiend Damaged enemy Cursed Windeku but enemy thorns missed to destroyed my Soul Fiend.
After that Enemy Cursed Windeku destroyed the Chaos Agent. After that my Chaos Knight damaged enemy the Cursed Windeku and got damaged my Chaos Agent by Thorns ability. My main Monster Jared Scar destroyed enemy Cursed Windeku but loose the shield ability by the Thorns ability.
ROUND 2 :-
On this round enemy monster the Silent sha-vi damaged my Chaos Knight and my 0 mana legendary Soul Fiend monster damaged enemy Silent sha-vi. After that my Main monster The Jared Scar destroyed enemy Silent sha-vi monster. After that enemy monster Carrion Shade damaged my Chaos Knight but destroyed when my Chaos Knight did the Giant attack towards it.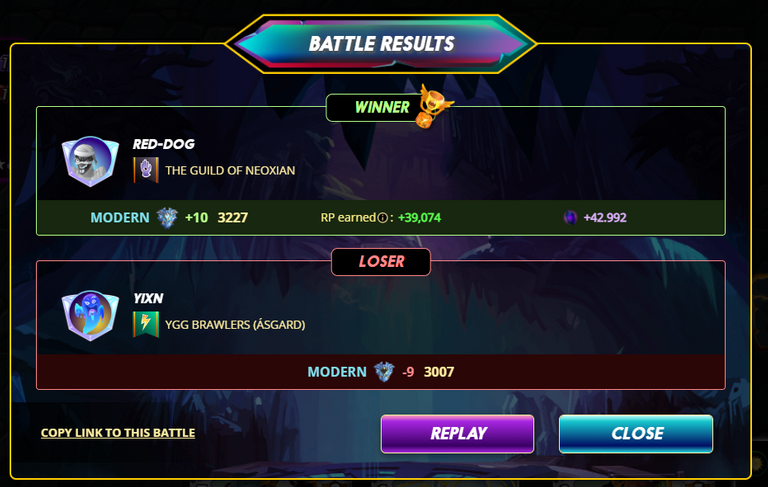 It was really an awesome and knowledgeful match to me. It was just recently that I bought this Life Giant and was testing him in different types of matches, and after experiencing how powerful he can become with that True Strike + Piercing ability, I soon after lave in love for Jared Scar and will use him more in melee mayhem + Super Sneak ruleset matches. Do you also have this Battle hungry Giant in your collection and do you use him in battles or you prefer other monsters over it ? Let me know your feelings in the comment below and I will be meeting you all in my next post!
---
---
Wish you all good luck on all of your future Splinterlands matches.
Thanks for visiting my post. Please come again!
Stay well and keep playing Splinterlands.
Want to start playing splinterlands? Click here
Posted using Splintertalk
---
---