Just bought 2 more maxx Riftwatchers cards - are they good enough ??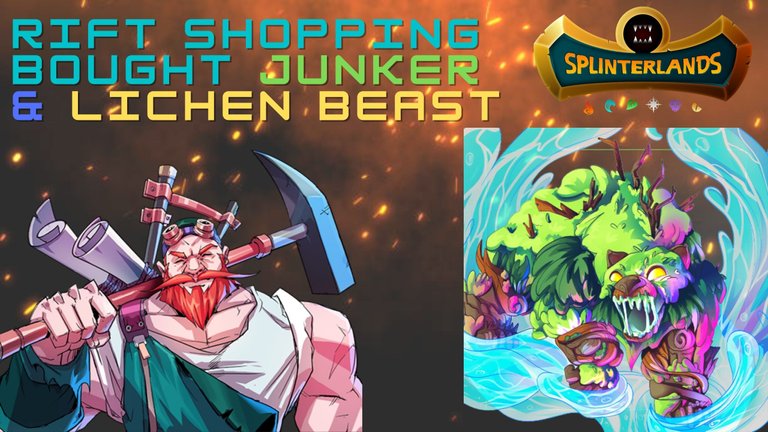 What's up my fellow splinterlands players!
I hope all of you are doing well in your life and I guess all of you splinterlands players are playing with your best and collecting those shiny focus and season reward chests. Well, as for the last season, it was a hectic one for me and I couldn't even give my 100% due to my marriage ceremony. But, gladly it wasn't that bad as I have collected total 62 season chests this time and also entered into the Champ league days before the season end. But sadly, I couldn't jump into the Champ II tier before end time but it's all good and I am happy that at least I completed the last season with decent score and didn't get messed up. And yes, I have also opened my season reward chests which I am about to share below. But before that, let us take a quick look into the current crypto market to see what's the current scenario in there.
Market Watch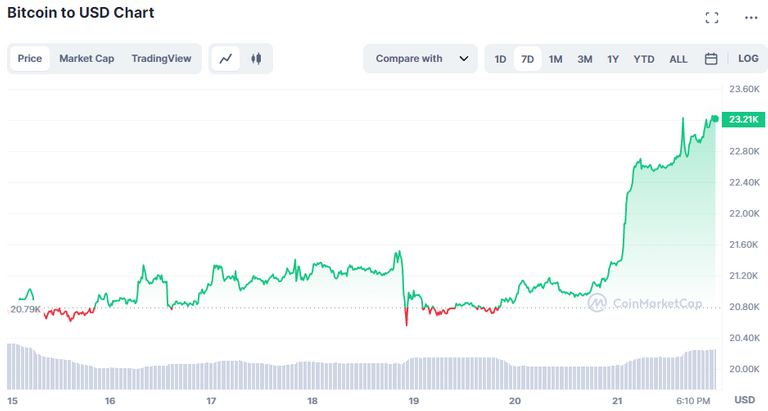 First of all, let us take a look into the BTC and as you can see from the screenshot above, we are currently experiencing a good uptrend in the market and all for BTC, it is currently being traded for 23,209$ per unit with a massive 11.64% growth within last week. It's hard to believe that Only a couple of weeks ago it was trading for only 16.72k$ per unit and all of us were thinking when the bloody dip will come to an end. But right now, it looks like ours prayers got heard and finally the crypto community is happy to see this sudden uptrend. Not only BTC but almost every top coins and projects in crypto is flying upside now. The other major coin ETH has also broke it's long position around 1,200$ and currently being sold at 1,654$ per unit with a whooping 8.12% growth from it's last week position and our beloved Hive is also not behind and from it's position below 0.29$, it is currently being traded for 0.386$ per unit while HBD is selling for a little bit above it's pegged price.
SPS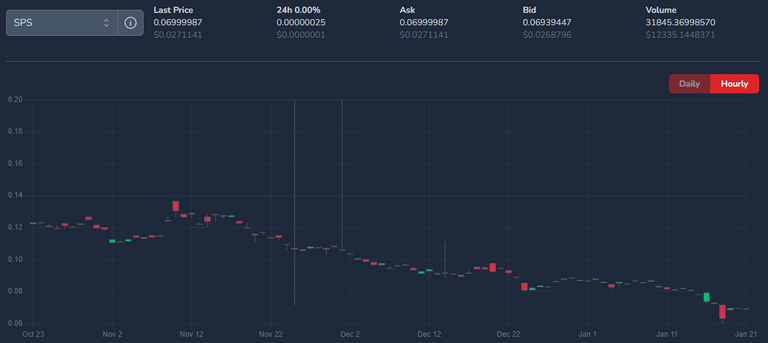 Now, looking at the splinterlands universe, first let us take a look into the SPS token as it is the main man of splinterlands now. Well, I am collecting and saving SPS for multiple months now and I am glad to say that I have already crossed 50k staked milestone. But today I bought 2 riftwatchers cards using some SPS from my wallet. However, the price of SPS was sitting down for quite some time and stayed around 0.023$ without any movement for a long time. But due to this grand uptrend, it finally broke out from it's 0.023$ price and currently being sold For 0.0271$ per unit and I am very positive that on long term, it will touch 0.1$ price, maybe sooner than I expecting.
DEC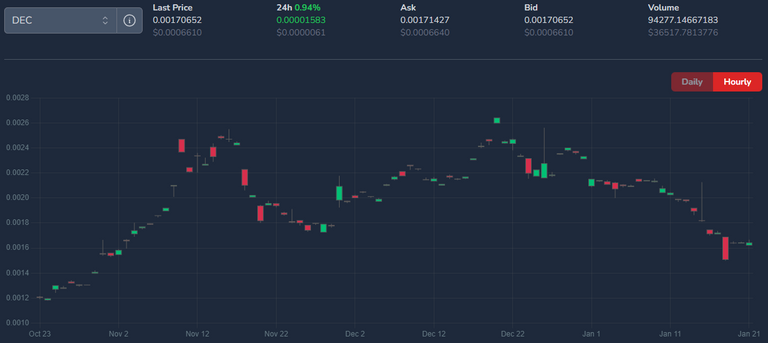 On the other hand when talking about DEC, it's clear that the official splinterlands team is working hard, thinking and applying multiple strategies to bring the dec back to it's pegged value and right now, the pump has worked like a charm upon it and DEC is finally moving upward and trading for 0.000661$ per unit with a negligible +0.94% change in it's price. Vouchers also gained a little bit more value and currently being sold for 0.0952$ and looking at packs, the chaos packs are right now selling for 1.936$ in Hive-Engine while the Rift packs have gained even more value and trading for 4.54$ per pack.
Splinter Shopping
I told above that I unstaked and used some of my staked SPS to buy 2 Riftwatchers cards and I am having a feeling that soon the Rift card prices will catch a rocket speed just like the past mini set did in past. Let me share those 2 cards at below and why I bought them.
Junker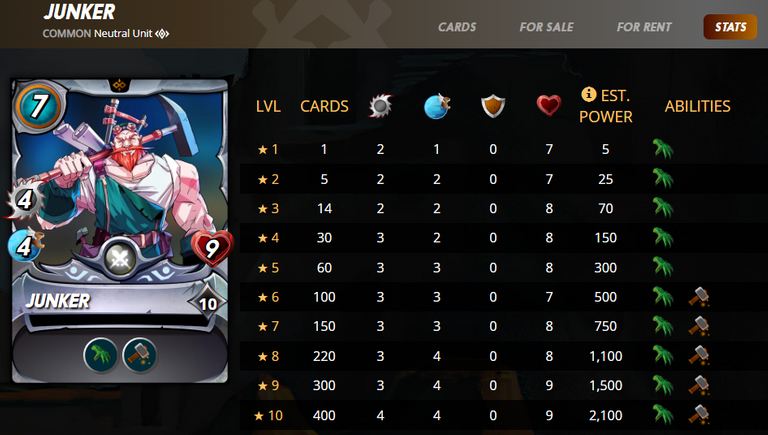 The first card that I bought is the Junker and it's a common type melee attacking card that belongs to the Neutral splinter. This monster costs 7 mana to be used in battles and it comes with the reach ability from it's initial level which means it can attack from the second position as well. I really liked this card and already got this card playing against me often nowadays. This card is a good choice for medium to large mana limit matches, especially when you want to make your front section of your lineup a little more defensive. This card also possesses Repair ability from 6th level means it can repair broken armour of any of your friendly monsters from silver tier and above.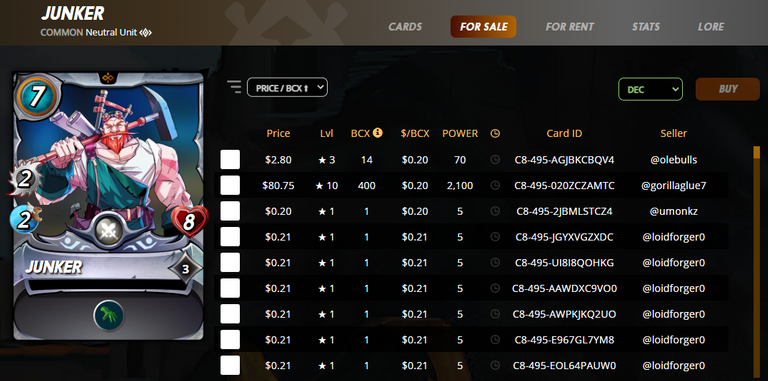 I got a good deal today as I found a max level Junker listed just for 80.75$ (0.20$ per BCX) so I thought to finally add this card into my collection. It costed me 125041 DEC to make the purchase and as usual, I used the monstermarket.io website and received instant 3% dec cashback which was around 3751 dec.
Lichen Beast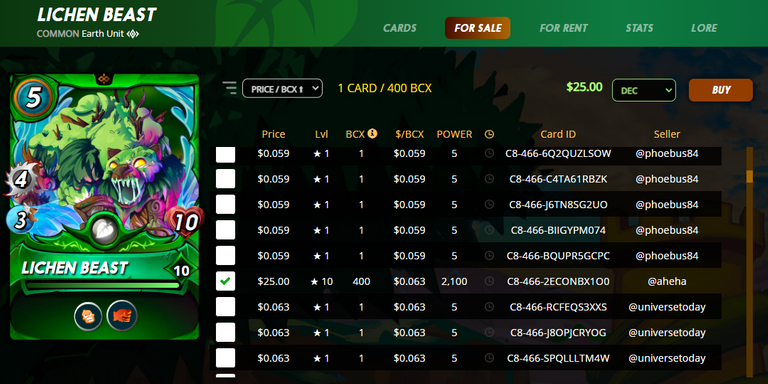 As you have guessed already from the thumbnail above, The second card that I bought is none other than the Lichen Beast and it's the cheapest rift card selling right now. Many thinks that this card is not that useful maybe and that's why in spite of being s rift edition card, this one is selling for cheap in card market and today while I was browsing the market, I found a max level listed for only 25$. So, I didn't waste anymore time and bought this card using the same website and added it into my playing collection. This time, I got around 1172 dec as cashback to make the purchase through monstermarket.


Lichen Beast is a common edition Rift card that belongs to the Earth splinter and it costs 5 mana to be used in battles. It is a melee attacking card and possesses 4 melee attack at 3 speed with 10 health along with 2 abilities - Enrage and Knock out at max level. There are only a couple of cards in Earth and Neutral splinter with Stun ability so the Knock Out ability will not be useful that much. But I like it's large amount of health along with good melee attack and the Enrage ability and already trying to use it in small to medium mana limit matches to find out it's true potential. Now, let's see if I can find a sweet spot for this card and of you are also playing with it, please let me know your views about this particular green beast in the comments below.
I hope you liked reading my crypto market watch and splinterlands shopping post. I wish you all the best with your season progress and will be seeing you all in my next one.. until then..

Wish you all good luck on all of your future Splinterlands matches.
Thanks for visiting my post. Please come again!
Stay well and keep playing Splinterlands.
Want to start playing splinterlands? Click here
---
---
Posted using Splintertalk
---
---