Major update in ranked and season rewards in Splinterlands and my thoughts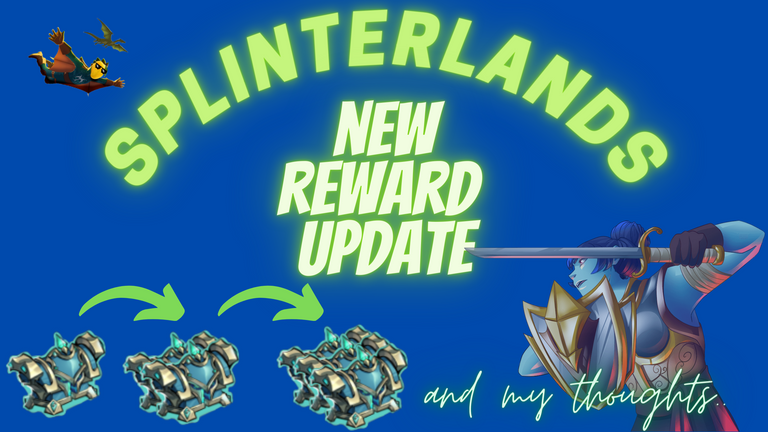 What's up my fellow Splinterlands players!
I hope all you are having a nice day and also enjoying the game at it's best! There is literally a lot going on into the world of Splinterlands as they have entirely changed the new ranked play reward system which got applied from this season start. Many are liking it and some are disliking, which is very normal to me. For me, I think this is a huge move for the splinterlands game and the founders and team has thought deep into this. And Yes, After playing a couple of days with this new update, I gotta say I really like the new reward update. In one sentence- it's harder now, but more reward making.
---

---
Focus points (FP) and Season Points (SP)
---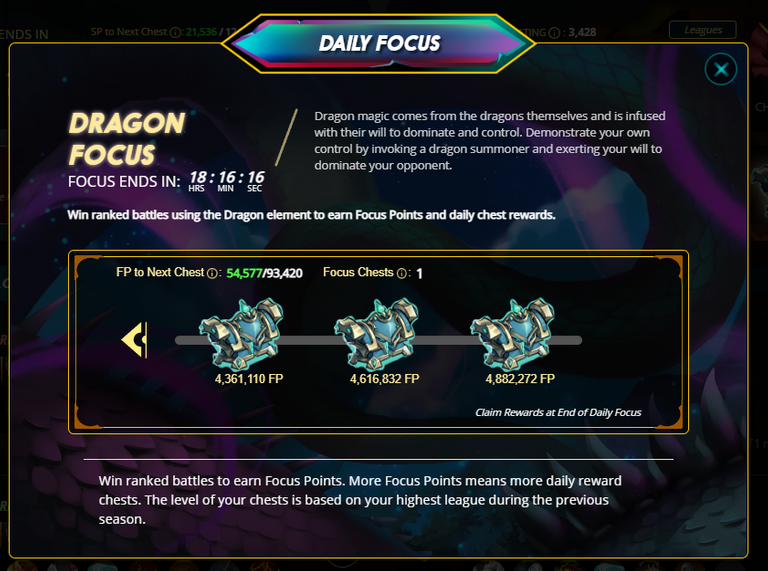 ---
Now, there are no more daily quests and has been replaced with Focus chests. Now, you get focus mission with a specific splinter per day and the more you play and win using summoner within that splinter, your focus points gets increased and you unlock more and more chests. The focus is also have a 24 hours timer, But in this new focus mode to unlock more chests, you have to play a lot of matches to get a good number of focus cheats daily. There are a total of 30 Focus chests that you can collect maximum per day.
---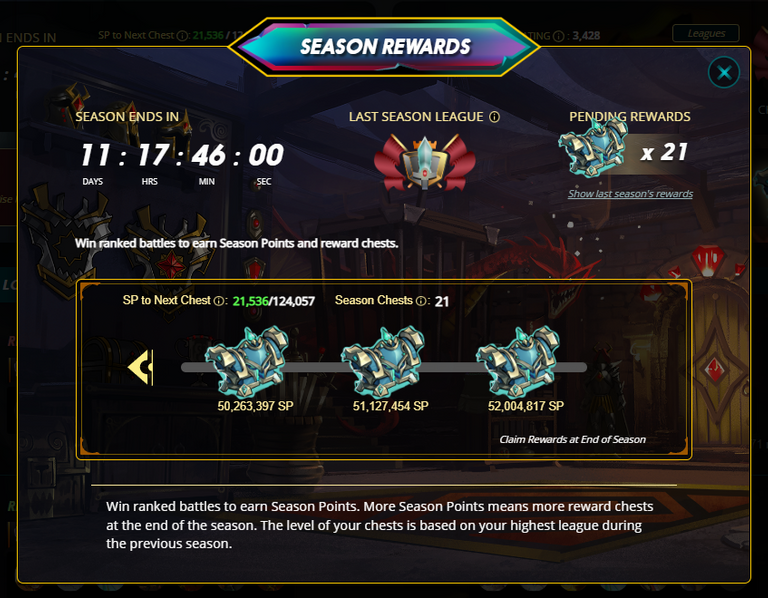 ---
The old season reward has also got changed with season point chests and the more season points you earn within a season, the more chests you get as reward. There are total 150 chests that can be collected as season rewards and any ranked match win earns you season points. So, it doesn't have anything to do with daily focus splinters. To collect all of those 150 chests, I have to collect 52,004,817 Season Points (SP) as I am in Diamond I. As you can see from the above screenshot, I have only collected 21 so far as I am too focused on focus 😅 and I have already drained down my ECR to 37% and I guess that's the case of many reading this.
My thoughts
It's not only getting hard to play and win a good number of ranked matches with a specific splinter within a day, but it's also affecting the ECR badly while we are doing so. Either you sacrifice your daily focus by winning only a couple of chests and concentrate on the long goal and also maintain a good health of you ECR to earn a decent dec amount from daily play, or you can become aggressive, tell Alvidaa to your dec winnings per match and probably better rewards from season rewards and go all in into the daily focus chests and earn as much as you can. Because there are 30 chests daily to be won if you perform really well, and thats 30x 15 days = 450 chests! Insane right? But yes, you have to earn 4,882,272 Focus points (FP) in Diamond I within the 24 hours timeline and that is sure gonna be hard. So which side you are on? Let me know in the comment because I myself am super confused lol XD
Anyways, I had decided to collect about 5 or 6 chests per day from focus and it hurt my ECR badly. I also went using summoners from se splinter repeatedly which made to me too exposed with the non favoring rulesets and by showing same splinter in all previous battles to the enemy. So, I have decided to let my ECR heal back to 60% at least and I will just stick with 3-5 chests per day, depending on the splinter I get and the strength I hold for that one. I am fighting in Diamond I currently and still 11 days for for this season to end. So, I am thinking to tier up to Champ and collect more dec prize and and rewards… but let's see how it goes.
Analysing Rewards after the new Update
I wouldn't say I performed well, but when I was struggling to secure even the 10k dec leaderboard prize on the last hour, I decided to move forward to champ and when it was only about half an hour left, I rushed myself to Champ III from Diamond I and also reached the Champ II tier within tome and secured 120 reward chests. I know that those new reward cards will start getting distributed with the season rewards and who could leave such a glorious moment to have 120 chests and more chances to get them into collection right? Well I did opened them right away after the results and I shared I got from Champ II at below.
Season Rewards
---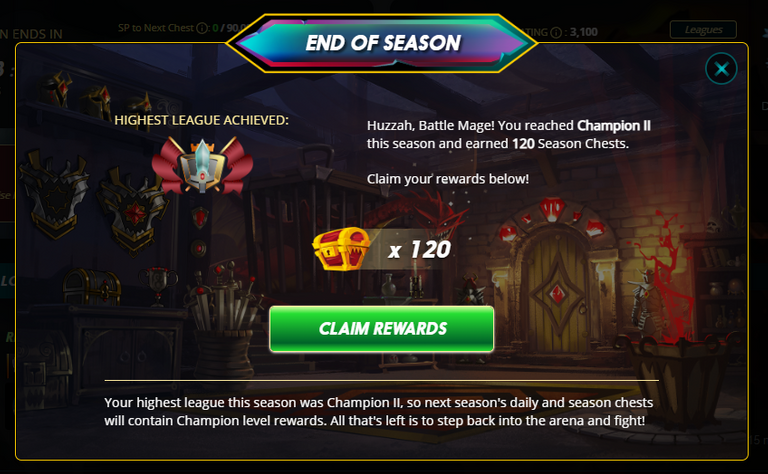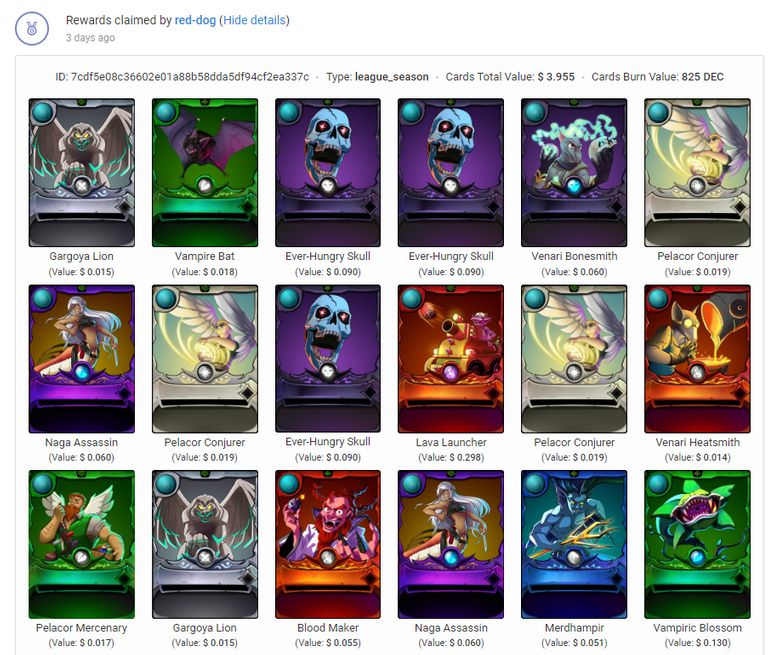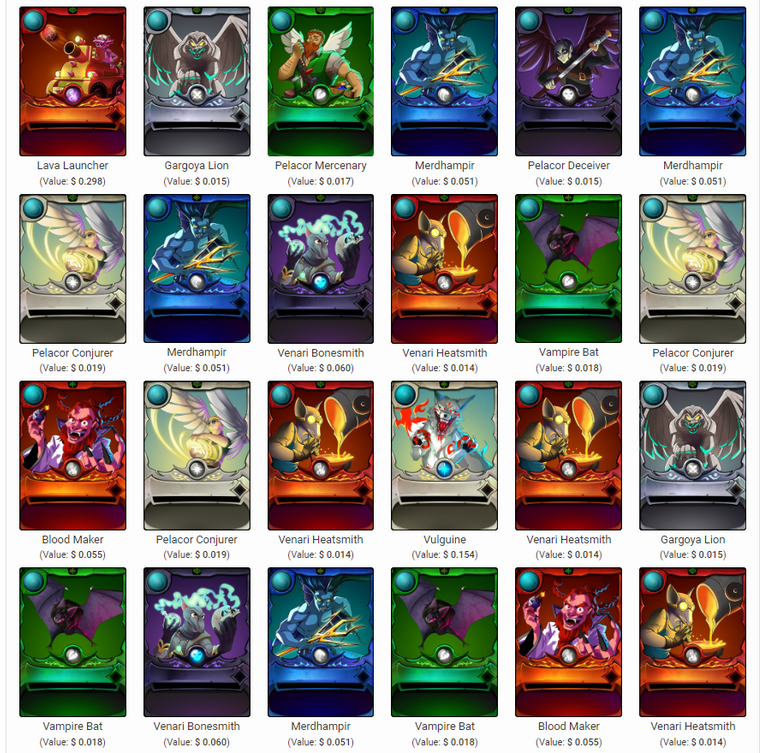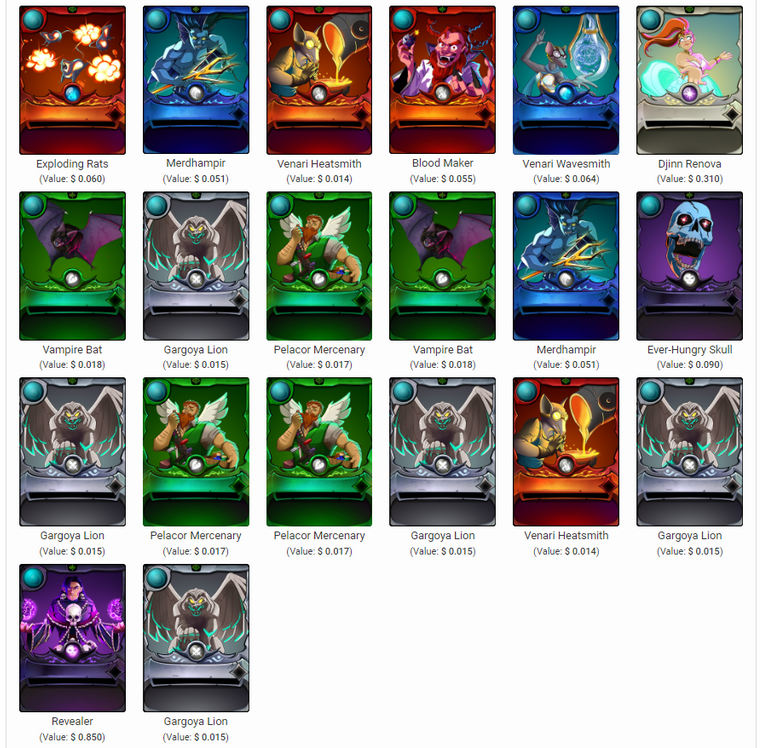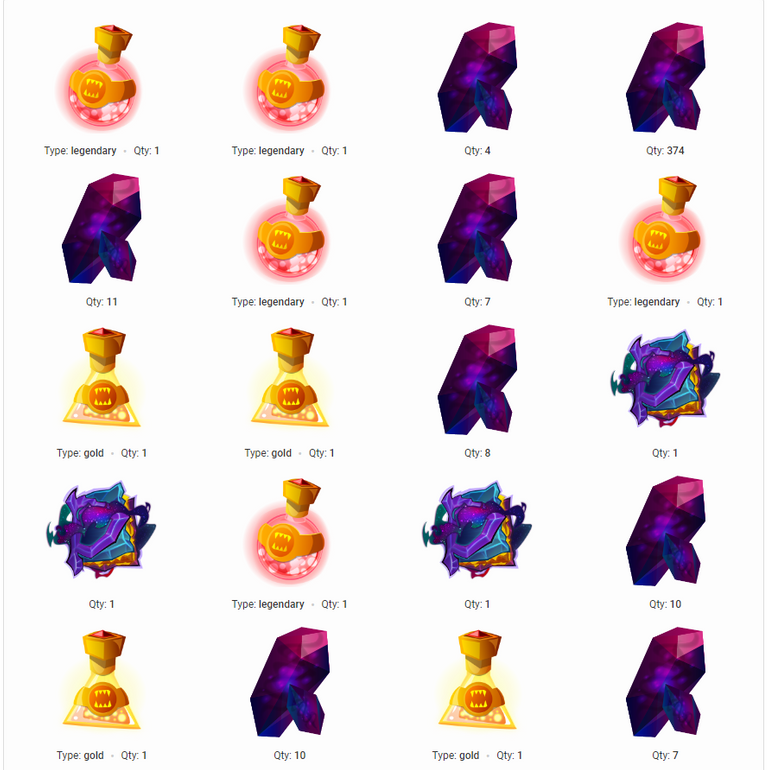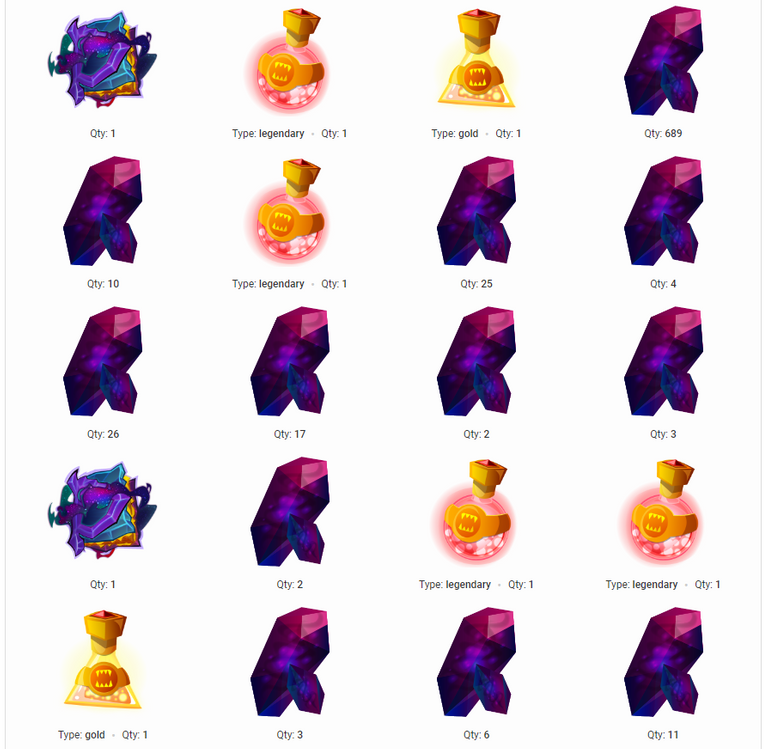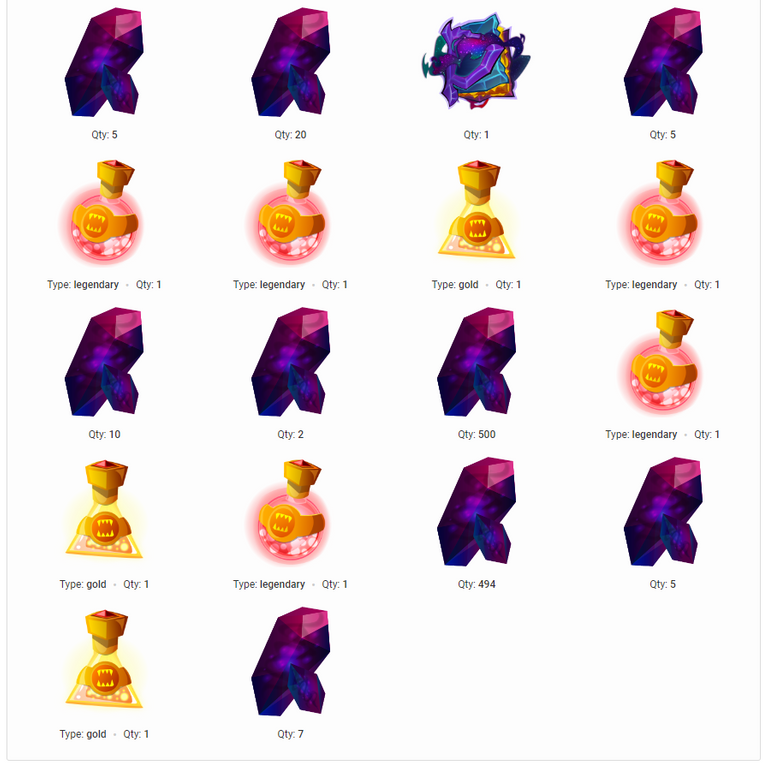 ---
I got 6 Chaos packs, 5 epic cards, 9 rare cards and rest common cards.. and a lot of dec because some dec chunks were closer or even bigger then 500 each. That's a reward I could only only visualise in my widest dreams but splinter made it happen with the new reward system.
Last 3 Focus rewards
---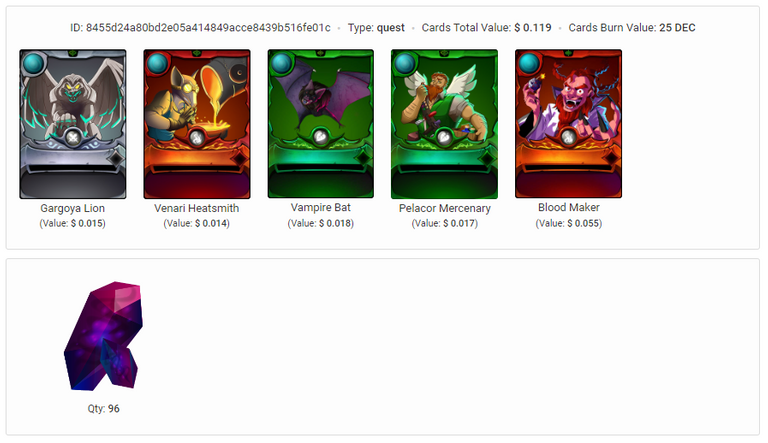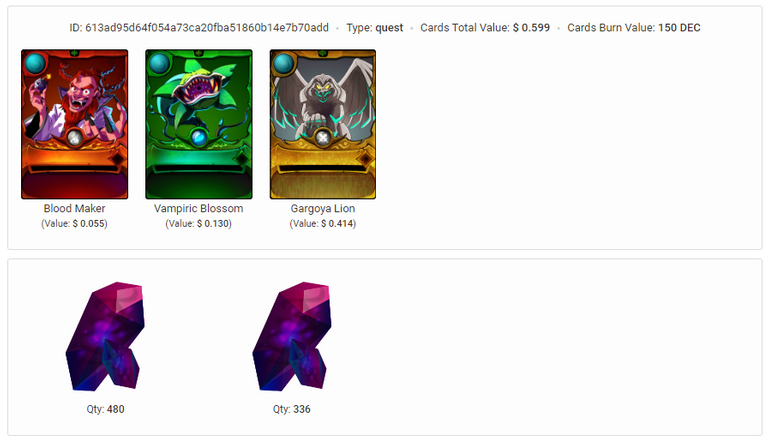 ---
Now, let's look at my last 3 focus rewards that I earned after the update. In these last 3 days, I didn't played for long, only 2 - 2.5 hours daily but due to my fast placings and repeated choosing of same splinter, I lost a lot of matches and also drained down my ECR badly.
As you can see both from the last season and these 3 focus rewards, we are getting a way more dec mow from some chests. This thing will fulfil the dec loss we are making with the bad ECR. Maybe one more chest and it may recover a dec amount that you would get from 20 wins. The risks are bigger now and so does the rewards. So we have to think carefully before choosing or doing anything. I am thinking to try both strategies, each every season and find out which one is working better.
Brawl update
---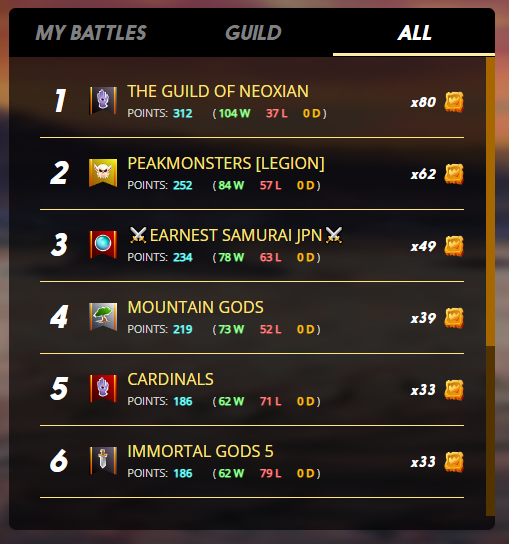 ---
Ok now, let's talk about the last splinterlands brawl match. Our guild decided to move down to tier II and it was out first match back in Tier II. Gladly, we again won the first spot with 312 points - 104 wins and 37 losses. I am also happy to get back my favourite alpha/beta fray and this time I scored 7 wins and 2 losses. All of our guild fighters who played and submitted all of their fray matches got rewarded with 5000 merit points and our guild got rewarded with 80 Crowns! I have 5372 merits now and will again save my merits until I make a good stack and open at least 25 packs at once, and try out my luck once again with the Gladius cards.
Wish you all good luck on all of your future Splinterlands matches.
---
Thanks for visiting my post.
Stay well and keep playing Splinterlands.
Want to start playing splinterlands? Click here
Posted using Splintertalk
---
---