My activity in Splinterlands Brawls, Focus Chests openings and card shopping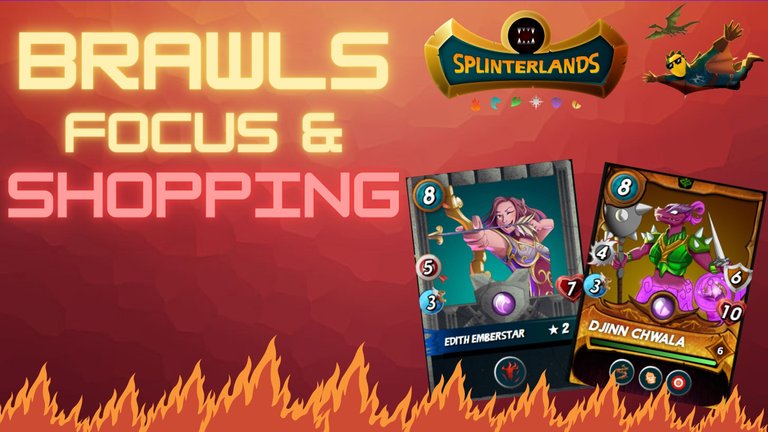 What's up my fellow Splinternerds!
I hope all of you are having a nice day with your family and friends and also enjoy this beautiful #NFT game in your meantime. Well, the time is passing by faster and we have already come near the end of this current Splinterlands season. Right now, we have only four days and 19 hours left for this current season timer to hit zero so clearly, there is not much time left so we need to act better and focus on our goals for this season. For me, I have completed my first goal already by reaching into the champions League in ranked matches and now, my aim is to gather as many focus and season chests as possible before the time runs out. Till now, I have managed to score 45 season chests so far which is still a bit less than me Goal number, but having a few more days in hand, I think I can gather around another 10 and making it total 55 chests for this season. I will also try to enter into champ II tier but the competition is growing day by day and as I am missing some very important summoners and cards from both old and new editions, it really gets hard to defeat opponents as I go up. On the other hand, there's some good news for us too as the crypto market seems to be reviving and showing positive candles recently and the price of SPS is also stopped going low anymore from 0.023$ and now tracing itself upwards and also touched 0.025$ just recently, so I feel very happy to see this and hope the rise continues.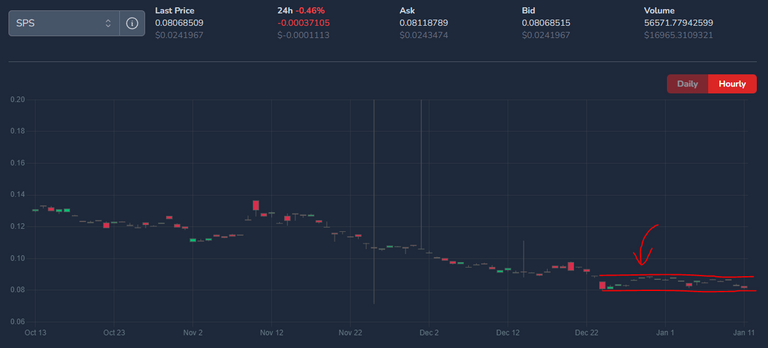 ---
Season Progress
Now, talking about my season progress, the last day I finished the daily focus mission by collecting total 11 reward chests and opened them while in Diamond I tier. I got the Impair rule as my focus mission but I didn't focus on using more focus active cards in my lineups because I was already too focused to reach into Champ league. But, I played for quite a time in the last day so I end up collecting a fat number of rewards chests anyways by the time I stopped playing. As you can above, the rewards were pretty average this time and I got only around 20.8 SPS total from the outcome along with 2 common cards, 230 merits and of course a bunch of alchemy potions as well. But as I have reached Champions already, from tomorrow I will be opening champ level focus reward chests and I am eagerly waiting to watch if it makes a difference at all.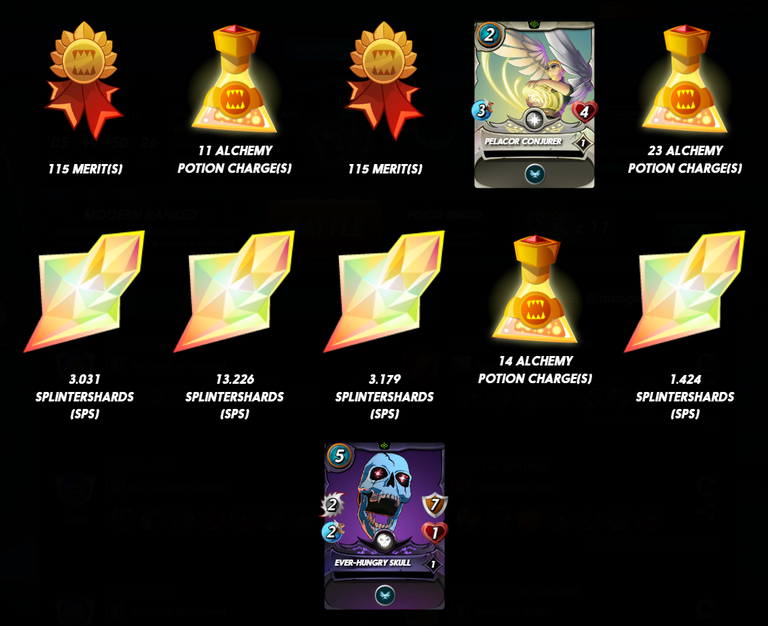 ---
Brawls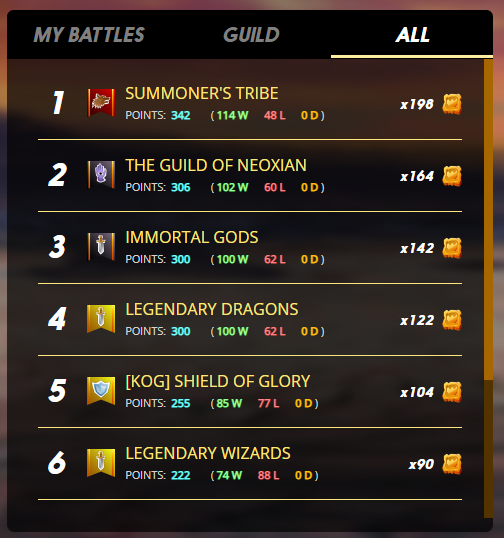 Moving on to brawls, our Neoxian Guild have completed playing another brawl and it was an intense one with multiple top guilds as our opponents. But we performed very well and secured the second place this time and also have defeated 2 strong guilds Immortal Gods and Legendary Dragons. As for rewards, this time the guild got total 164 crowns and each participating member was awarded with 353.24 SPS and 9,372 merits each. Well, that's a lucrative prize bundle that we all got from a single brawls and as I said earlier, the SPS earnings from brawls are eye catchy and really motivates me even more to make a better collection each day. Anyways, with this single brawl I got almost 10k merits so I thought to buy some more Gladius packs with these merits and open them right away. I did the same and bought 5 glad cases from the guild store and at below, I have shared the pull.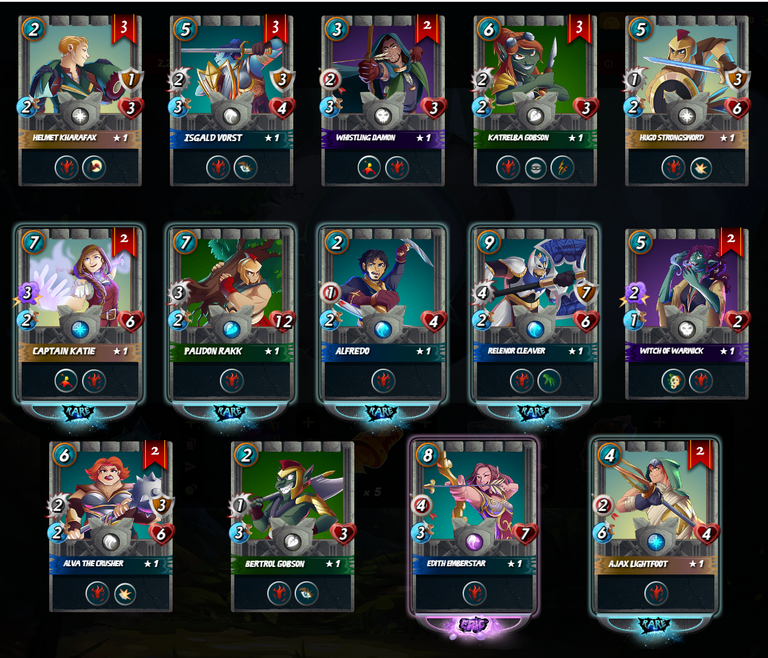 As you can see from the screenshots above, I have got 1 epic, 7 rares and rest common cards from these 5 gladius packs but sadly, no legendary or gold foil cards got pulled off by me. But I am not complaining as I will soon collect another bunch of merits and try much luck again. I am close to make my Gladius cards into silver level and as we will see more use cases with these gladius cards in future. I feel that it's very important to upgrade them over time or one will fall behind in the race and I hope you all are playing brawls too and building these soul bounded cards over time.
---
Splinter Shopping
Now, before finishing this post, let me share one last update as I again went for a shopping after collecting some money in Splinterlands. If you have read my previous post, you already know that I am right now after cheap gold foil reward cards and making them max level one after another. I have already bought almost all the newest edition common cards and some epic and rares too and made them max level for very cheap rate. Today, as I was looking into the gold foil market l, I got another good deal on Djinn Chwala and saw that I can buy 10 BCX cards and make a max gold foil level for just 23.86$. It was a good deal for a max gold foil epic card and as the card market price is rising again, I didn't delay an decided to buy the cards immediately.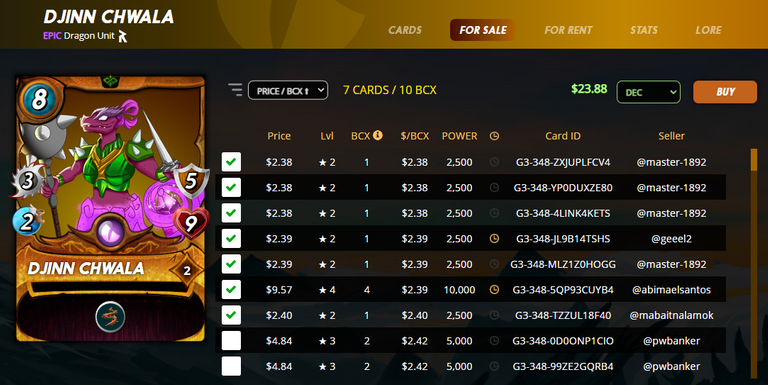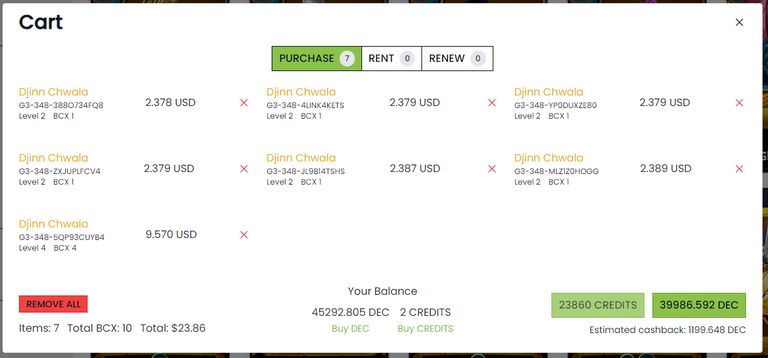 As usual I went to the monstermarket.io and selected those cards that I wanted to buy, making it total 10 BCX. I used dec as my purchasing token and as for reward, this time also I received the 3% instant cashback which was around 1200 sec into my hive-engine account. Now, counting this one I now have total 4 max level gold foil epics now in my playing collection. If during the next bull market the splinterlnads card market gets able to catch up with the bill run, these max level gold foil cards will be worth hundreds of dollars hopefully and I may generate an very good return. But right now, I will use these gold foils for playing so that I generate more SPS and chest reward points per ranked match win.
I hope you liked reading my splinterlands activity post and also enjoyed the gladius packs and focus reward chests opening. Let me know your thought un the comments below and I will be seeing you all in my next post.

Wish you all good luck on all of your future Splinterlands matches.
Thanks for visiting my post. Please come again!
Stay well and keep playing Splinterlands.
Want to start playing splinterlands? Click here
---
---
Posted using Splintertalk
---
---